Player Analysis: Nicolas Pépé vs. Southampton
It's fair to say that Nicolas Pépé's sequel season at Arsenal has hardly set the Premier League alight, managing only four starts (prior to Southampton) with the majority of minutes played as a substitute. Whilst, his league minutes dwindled Pépé continued to graft in the Europa League, contributing with two goals and two assists in three starts. Heading into the first international break, he was quoted saying:
"My goal is to play more, to have a little more playing time. A player who plays is happy. For me, I would like to play a little more to find a smile again,"
Upon his return from the international stint, he found himself in the starting line-up against Leeds United. An opportunity to cement his place in the first team and reinforce his quotes. Instead, he let down his teammates and manager by getting sent off early into the second half.
The Ivorian got into an altercation with defender Ezgjan Alioski, the two clashed at numerous points during the game, but Pépé reached his breaking point first and headbutted the Leeds player. Minutes later, VAR had intervened and left Anthony Taylor with no choice but to show Arsenal's record signing a red card. Following the game Arteta made these chastising comments:
"It is unacceptable. Unacceptable. At this level you cannot do it. With 10 men it is a big disadvantage. I really liked the personality of the team when Pépé let the team down, how we stuck to what we had to do and had a moment or two to win the game, but obviously it makes it really difficult."
Ouch. With that Pépé was banished to the fringes, back to Europa League football and confidence now shot to smithereens. But it is often within these key instants, a football players' career can be clearly defined. Events that make-or-break a player, which can curtail or unveil their ability.
Since the red card, Pépé has continued to play in Europa League, working his way back into the manager's good books and helping Arsenal top their group. Yet, since the expiration of his suspension, Gabriel Martinelli has returned, Bukayo Saka has continued with outstanding performances and Pierre-Emerick Aubameyang has rediscovered form. Consequently, Pépé has been unable to force his way into the starting line-up. However, the recent omission of Aubameyang due to personal reasons, meant Pépé was handed his fifth starting position in the Premier League. Here's how it went.
Catastrophic Start 
An inclement night as rain lashed across Saint Mary's, Pépé started at left wing with his favoured right wing position reserved for the immoveable Saka. The Arsenal side had seen a resurgence in form with four wins out of five (Premier League), starting to creep up the table to familiar settings. Now they faced a Southampton side which had just knocked them out of the FA Cup a mere three days prior to the match and it was looking like the Saints were about to deal another heavy blow. 
A well-crafted, pin-point corner from James Ward-Prowse found Stuart Armstrong in acres of space to lash home a volley past Leno in the opening three minutes. The culprit in question? Pépé, who was caught napping at the edge of the box.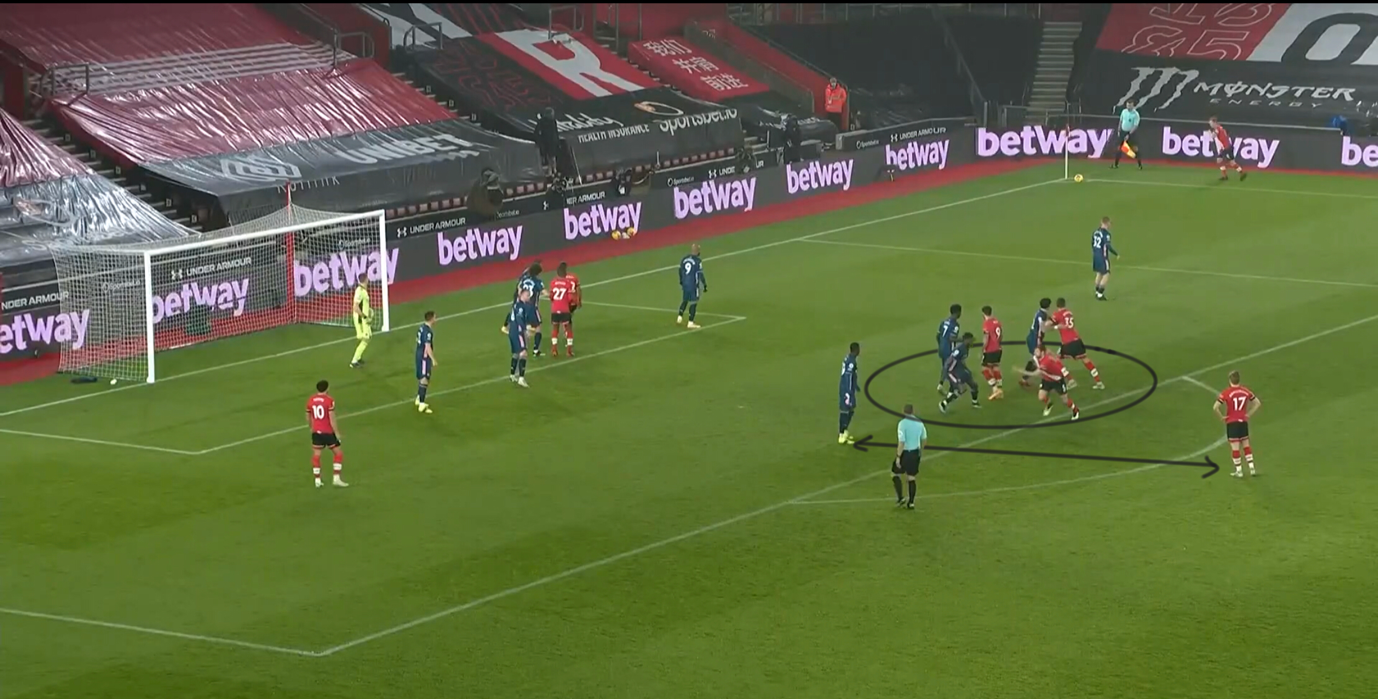 Pépé tasked with marking the edge of the box, notably occupied by Armstrong. Danny Ings, Jack Stephens and Jan Bednarek are all bunched together in the build-up to the corner.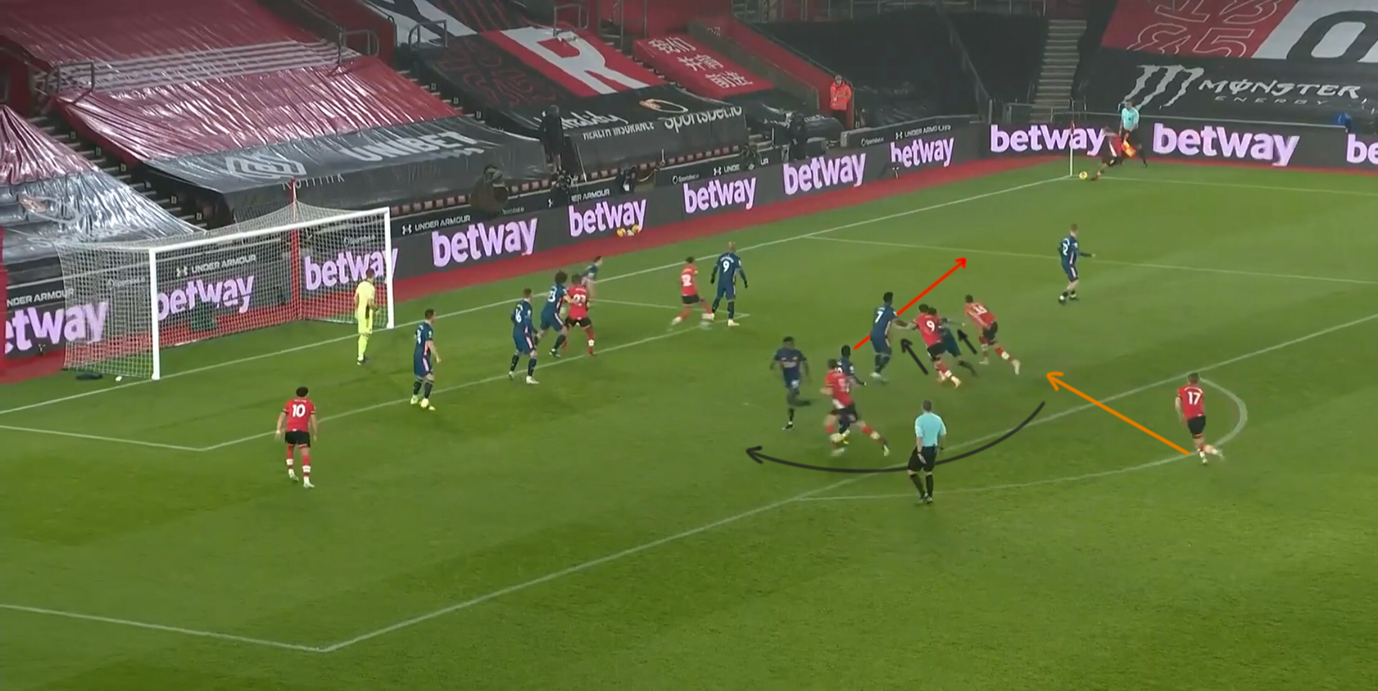 All Southampton players move to create space, while Pépé is caught ball watching as Armstrong starts to attack the space which his teammates are moving out of.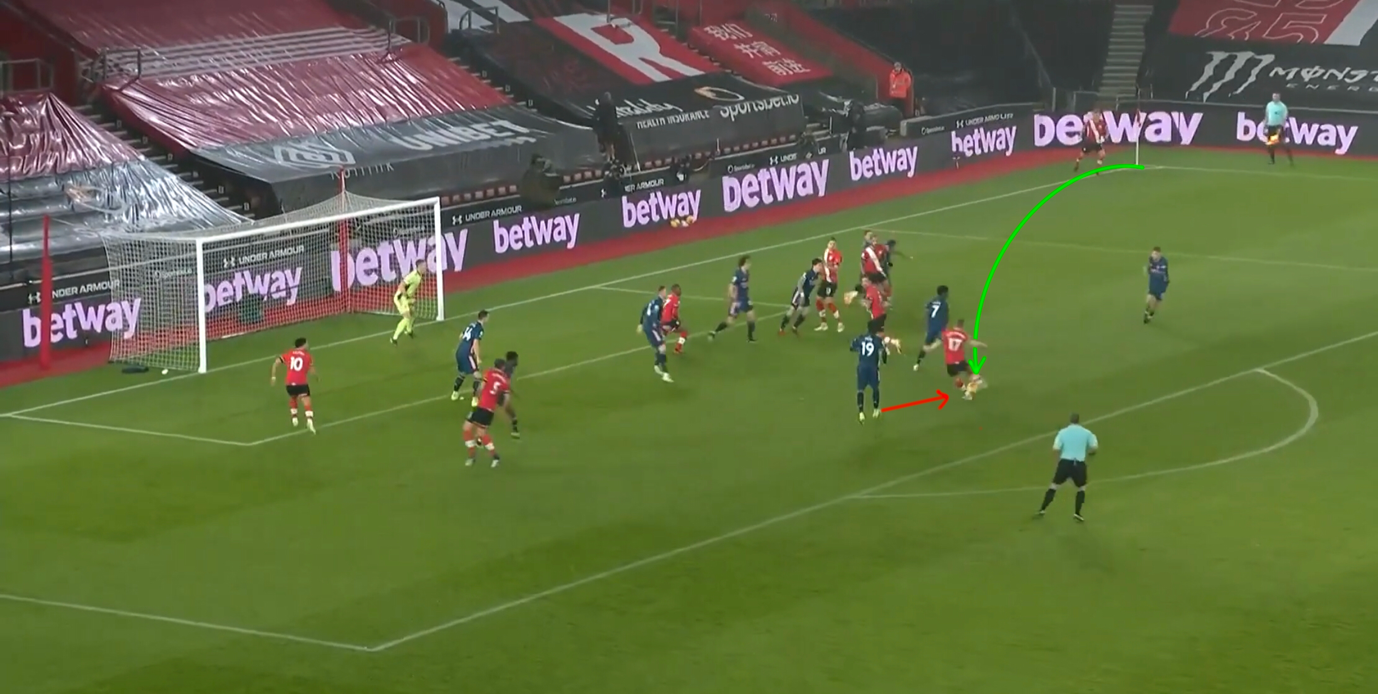 Ward-Prowse perfectly places the cross past Saka, and Armstrong beats Pépé to the ball and lashes a strike past Bernd Leno to put the hosts one goal up in the third minute.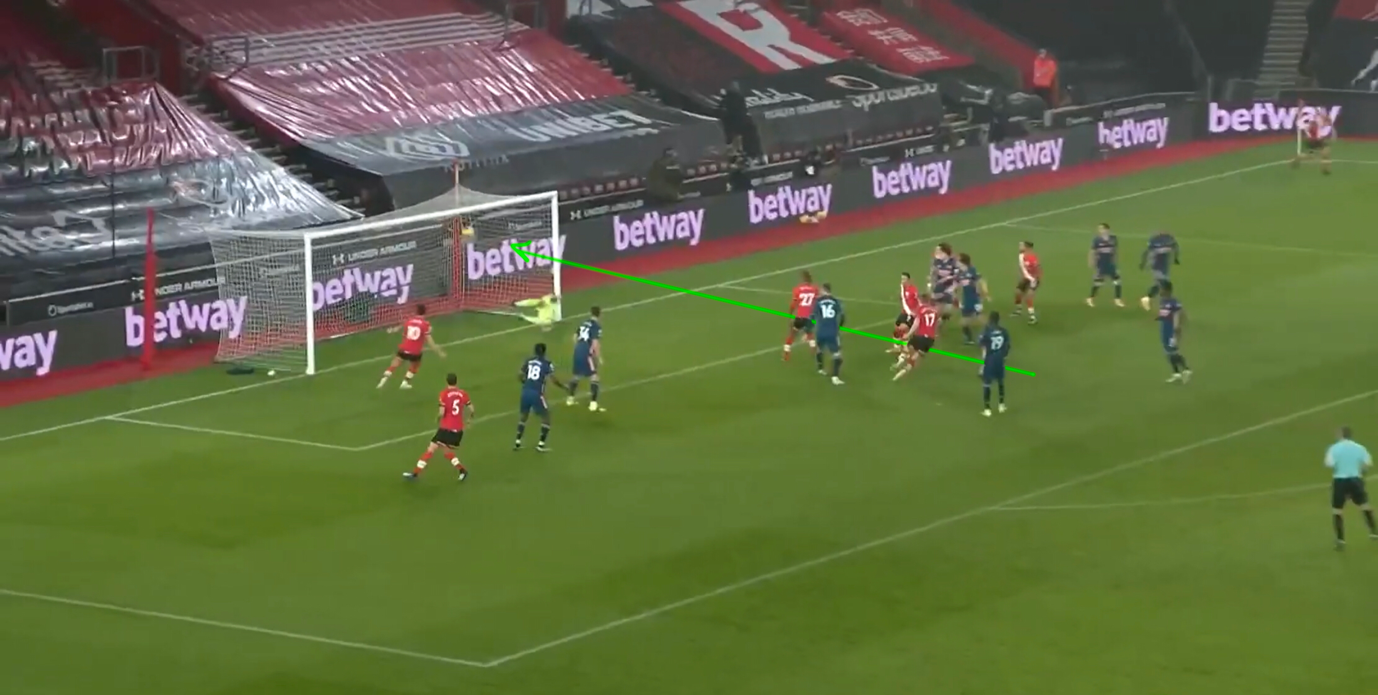 Immediate Redemption
With Aubameyang out, who can drag Arsenal to victories? Games gone past have seen the experienced players go missing relying on youngsters, which is unsustainable as the start of this season has shown for the Gunners. Pépé, in particular, is a player many expected to be a difference-maker but has often fallen short this season. However, rather than shying away from play and fading from the match, he was quick to redeem himself and turn the tide by scoring the equaliser.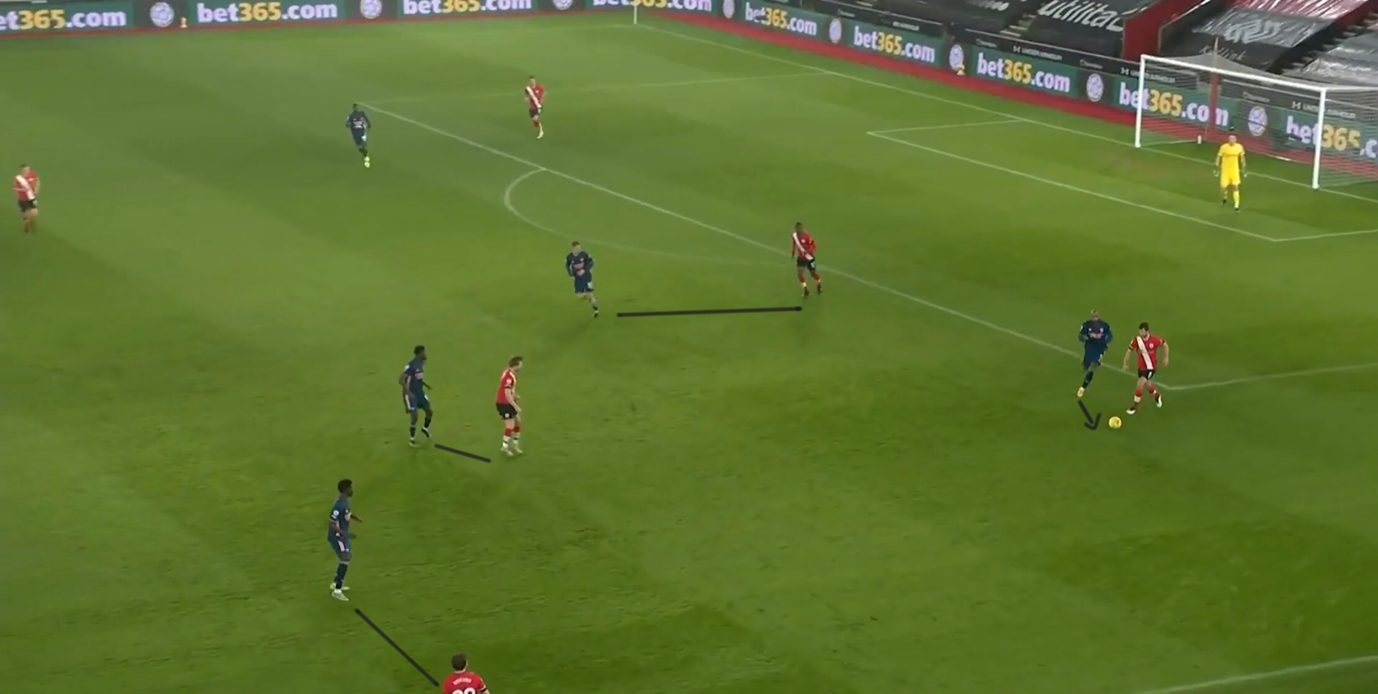 Arsenal are playing a high press with Alexandre Lacazette, Thomas Partey, Emile Smith Rowe and Saka suffocating the space allowed for Southampton to play out.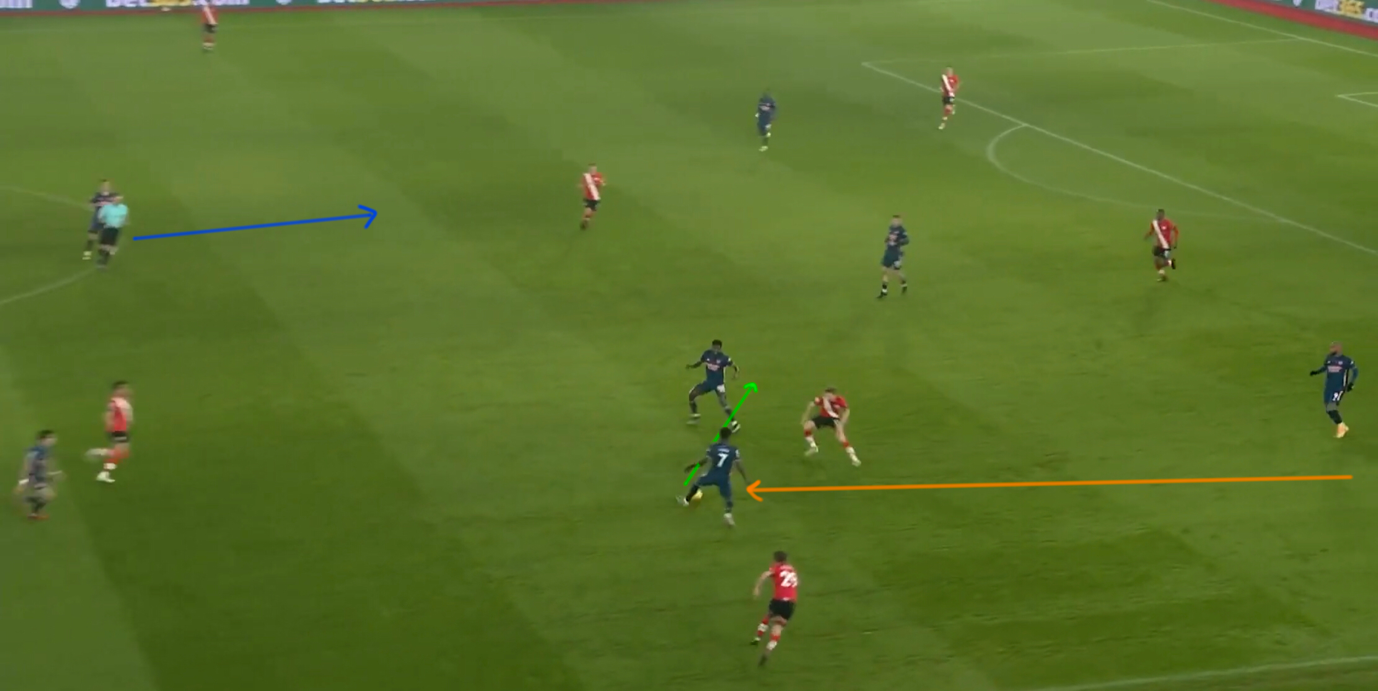 Lacazette disrupts play forcing a bad pass that Saka intercepts and immediately passes into Partey. As a result, Southampton are now exposed with players stretched across their own half.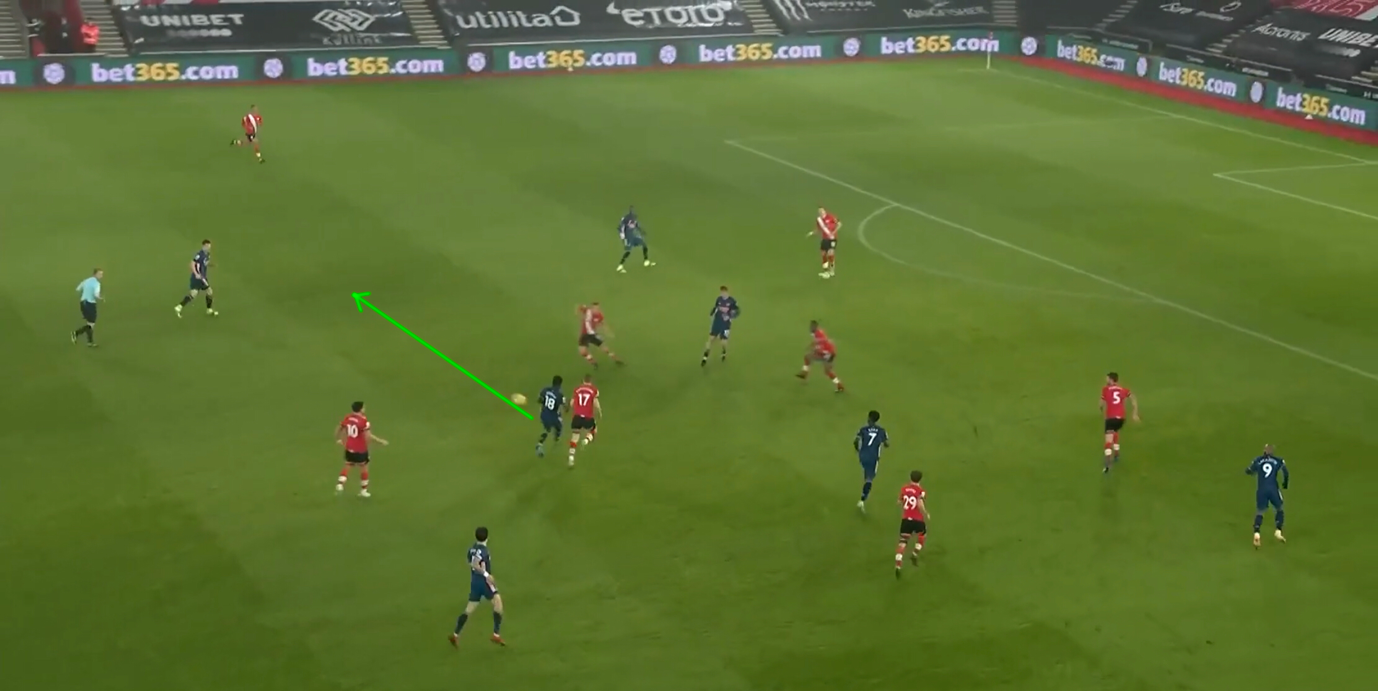 Partey plays the ball across to Granit Xhaka whilst Yan Valery is out of position and Bednarek is isolated one-on-one with Pépé, giving Arsenal the advantage.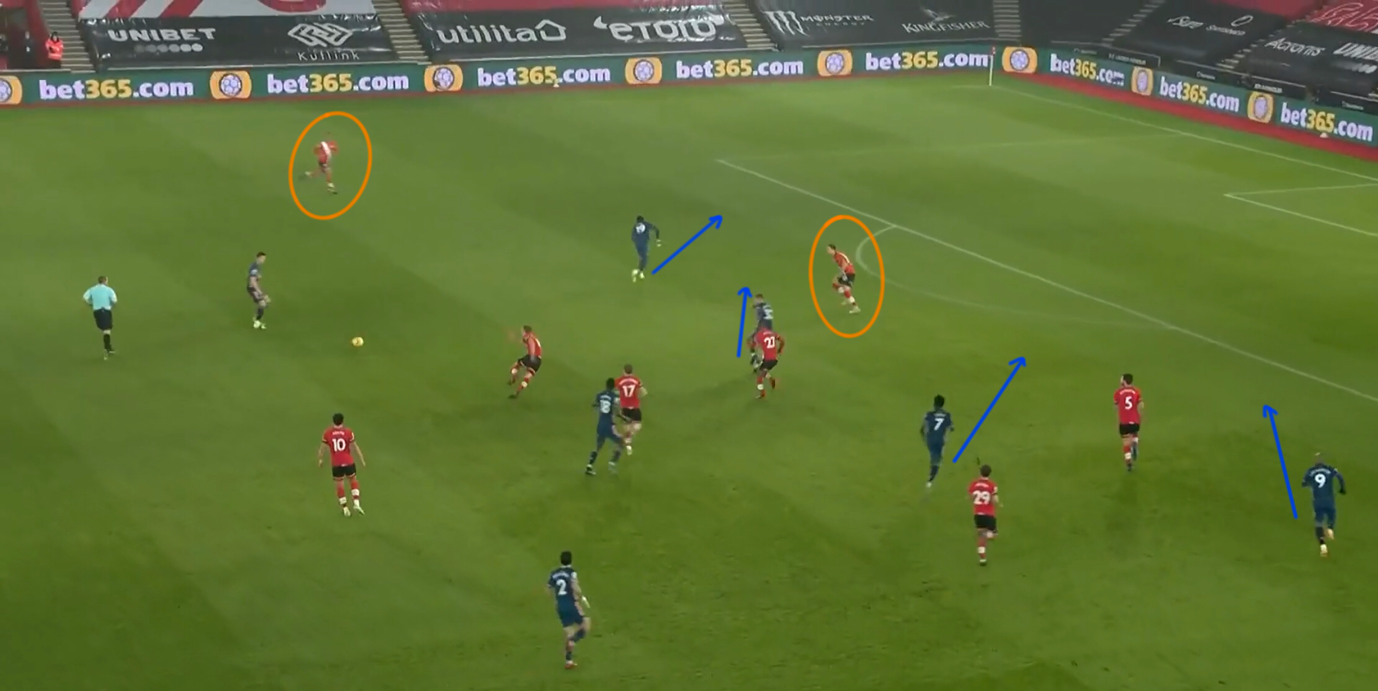 Recognising the space, the Ivorian winger sprints to make himself an option.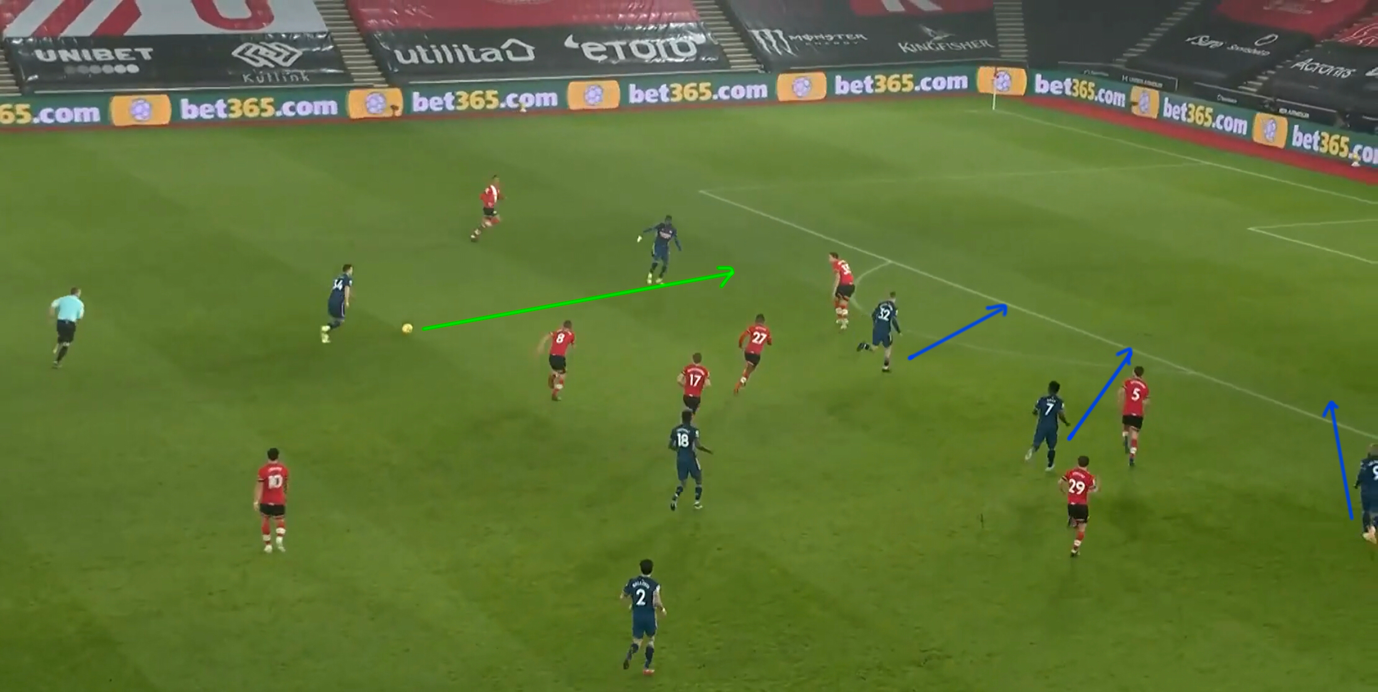 Pépé opens up his body to receive on his dominant foot between Bednarek and Valery.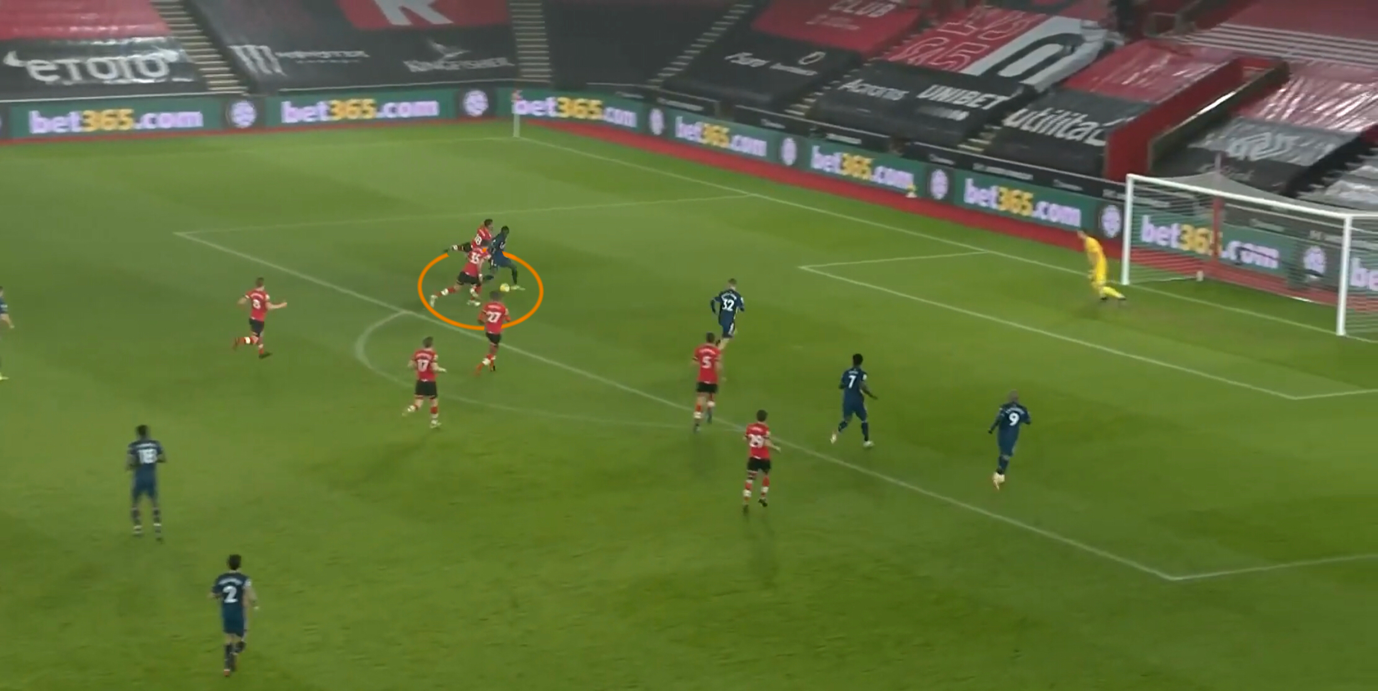 After exhibiting impressive strength to hold off Valery, Pépé can then either play the pass to a teammate or attempt the shot.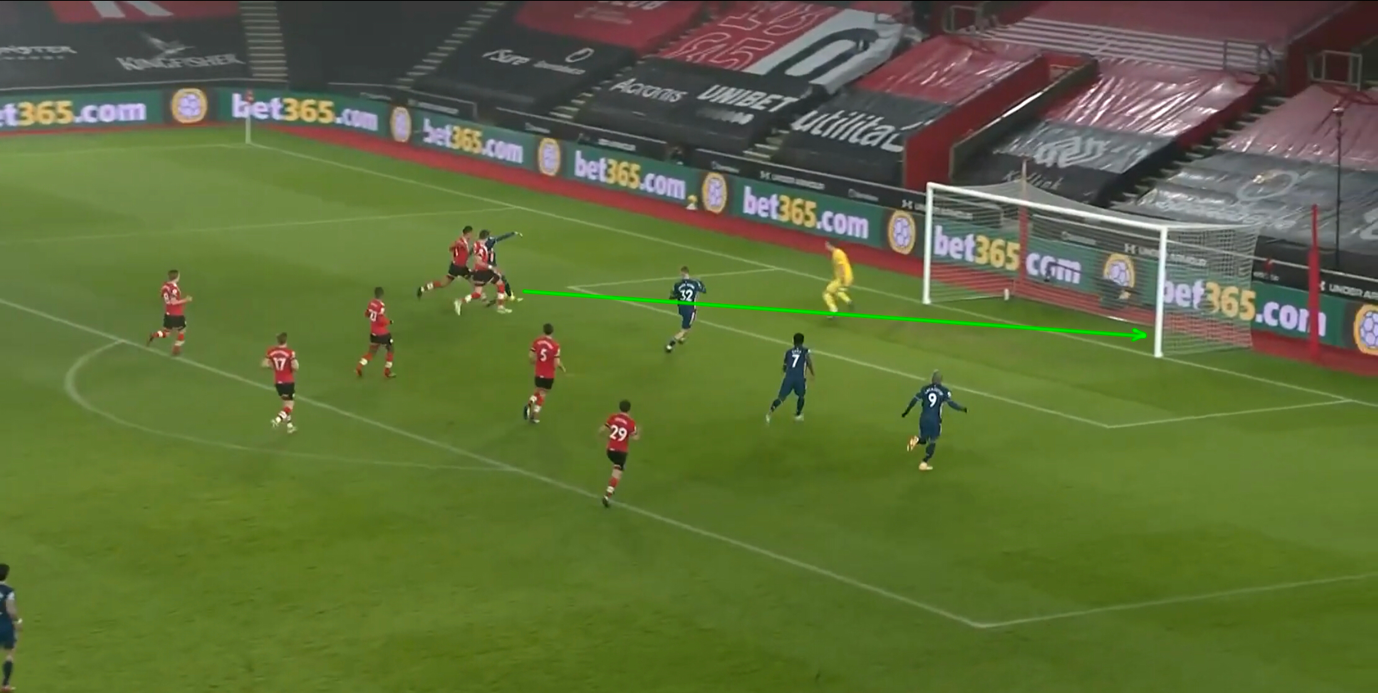 Rather than play a cross to Smith Rowe, Saka or Lacazette, Pépé attempts to beat Southampton goalkeeper Alex McCarthy on his left. He makes no mistake with the finish, beating McCarthy with confidence and composure.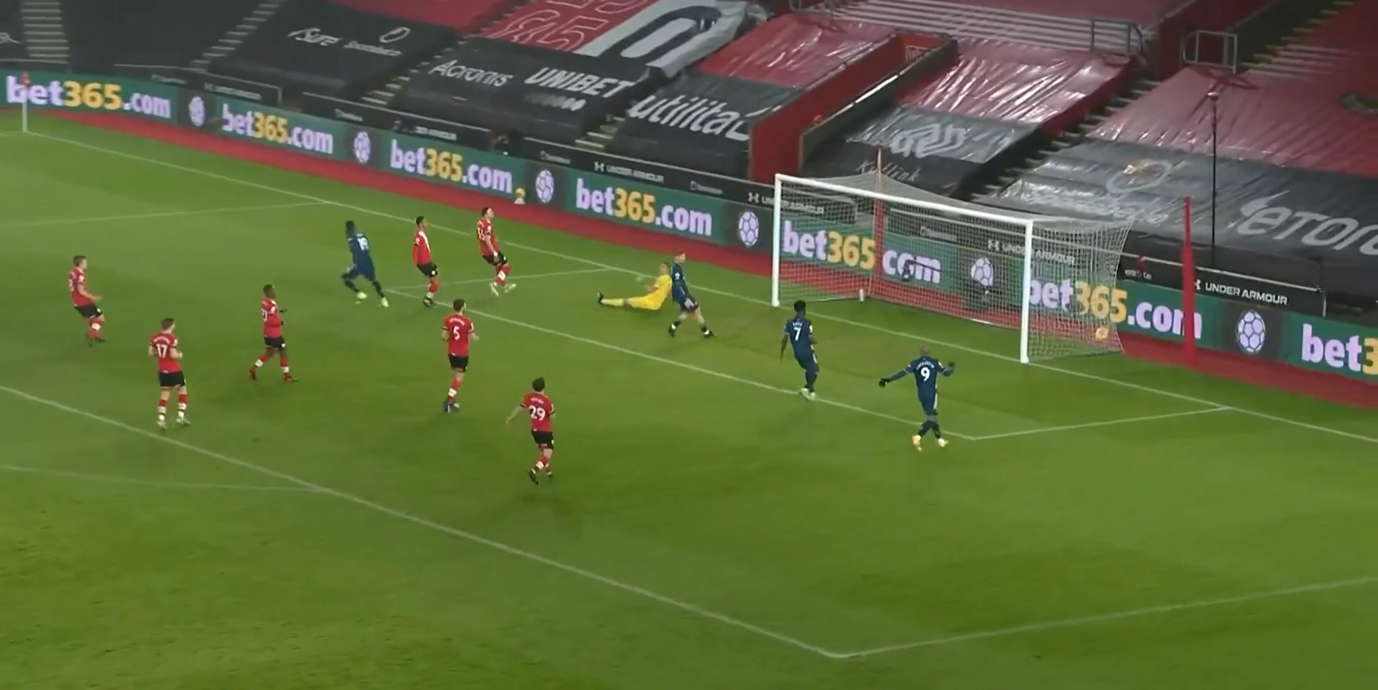 Pépé continued to grow into the game making attacking runs, combining well with teammates and terrorising defenders with 4/5 successful dribbling attempts. Every long ball directed towards him, he challenged winning 5/7, one of which resulted in the second goal courtesy of Saka. As shown by his heat map, he adapted well on the left whilst being backed up by the naturally inclined right-back Cédric Soares who also had an impressive performance.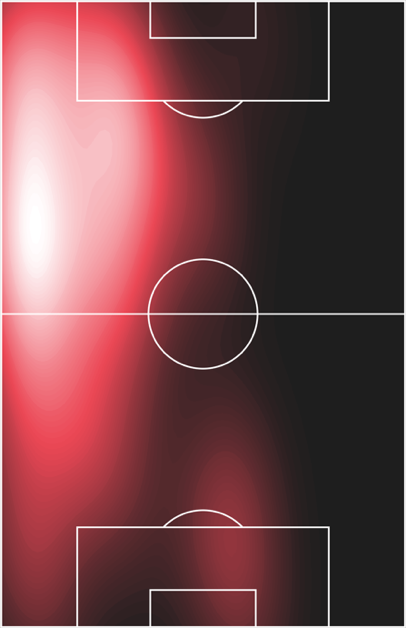 Photo: Twenty3/Wyscout
The Ivorian also contributed defensively with interceptions, defensive tackles (2), and dropping deep when required. These are vital to playing in Arteta's team, due to the strong emphasis on defensive duties. Pépé's performance finished with a showboating run exhibiting the similar swagger and confidence etched across his breakout 2018/19 season with Lille. In his post-match press conference, a content Mikel Arteta said:
"Nico's played on the right but played on the left today and I think he was really good. He looks much more settled and convincing. He looked more confident so overall I'm delighted."
Conclusion
Following a tough away win to build on the Arsenal resurgence, Nicolas Pépé must now look to improve some fundamental aspects of his game. His decision-making has been questionable; he tends to take on one too many players and sometimes fails to recognise when to release the ball. But, against Southampton, he was the opposite, putting on a positive display that Arsenal will be wishing they can see more of with their captain out for the foreseeable future. 
Now, the chance has presented itself, Pépé should be sure not to let down his manager as he did against Leeds. With youngsters establishing their roles and new incomings such as Martin Ødegaard, starting positions will grow harder to attain. If Pépé hopes to continue to start, he needs to have more consistent performances like the commanding display he showed against Southampton or he could quite easily find himself back on the bench.
By: Toby Rathborne
Featured Image: @GabFoligno / Stuart MacFarlane – Arsenal FC