Player Analysis: Nikola Vlašić
It's said that every child mirrors their parents in both words and deeds. Examples are plenty worldwide, perhaps even for you and your parents. So how does this concept work when your father is a national decathlete and your mother a cross-country skier? Well, you follow in your father's footsteps and earn yourself a couple of Olympic medals. Actually, what if it is your sister who does that?
If you somehow find yourself in this predicament and blessed with the genetics of an innumerable nature, you and Nikola Vlašić have more in common than perhaps you knew. In a footballing or greater natural context, the debate of nature vs nurture rages on within all likelihood, never yielding a solid consensus. If there were ever a footballer who could provide a microcosm into this contentious area, it might be Vlašić.
You can debate the likelihood that upon birth, Vlašić was destined for athletic superiority and a career in professional sports; however, there is no room for denying the skill and technical nouse that flows through this Croatian's veins, all due to a diet of hard work and football since a child. To football fans worldwide, the semi-ironic idea of "Project Mbappé" is half-joke and half-wish. However, to Joško Vlašić, the concept of nurturing a child to the peak of the proverbial mountain was a challenge, not a laughing matter.
The day was May 31, 2002, this marked the first baby steps towards footballing stardom as Josko began to coach Nikola. Nikola was not a baby at the time, however, he was not much more senior at only four-and-a-half. The training involved a myriad of strategies, one-on-one, physical activity or even father and son taking on a gang of older kids at the local school playground. Joško's talents were firmly in cultivating A class athletes; when it came to footballing skills, he often deferred to the legendary Tomislav Ivić, who spent hours honing Nikola's craft.
Joško has even been quoted saying that before a single contract was signed, Nikola had scored around "30,000 goals", a feat surely unmatched by anyone who walks the earth. As Nikola headed to Croatian giants Hajduk Split, so did Joško, who was tasked with revamping the youth set-up. Vlašić broke into Hajduk's first team in 2014 with a debut goal against Dundalk in UEFA Europa League qualifying; and he still holds the record as the youngest Hajduk player to score in international competition.
The 16-year-old featured extensively in his first season and developed into the Split side's key man towards the end of his tenure. Vlašić managed to captain Hajduk five times before his twentieth birthday, as at the age of 19, he was entrusted with the vice-captain role. It was the 2016/17 campaign that saw Vlašić thrust into the limelight and, as a result, the transfer rumour mill. 12 goal involvements in that season's HNL and a solid European campaign suggested that he was soon destined for his big move west.
It was during the 17/18 UEL qualifiers when Vlašić secured his move, a stage on which he did much of his best work. A head-turning performance in both legs against Everton saw the Merseyside club drag the Croat back to Liverpool, with Hajduk receiving £9.6 million in return. A stop-start period in England saw Vlašić excite some and concern others, ultimately failing to make enough of an impact of new appointment Marco Silva to be guaranteed playing in the following season.
Without the guarantee of time on the pitch, Vlašić placed himself in the shop window. Russian giants CSKA Moscow were the first to bite and secure Vlašić's services for a handsome fee of £14m. Since Vlasic's arrival in Russia, he has yet to look back, firmly establishing himself as one of if not the best player in the RPL. Whilst at the VEB Arena, Vlašić has been involved in one of the clubs most iconic moments, a UCL double over European kings, Real Madrid.
Throughout his time in Moscow, interest has hovered but has failed to materialise into anything substantial. As the 20/21 season comes to an end, it increasingly feels like Vlašić has outgrown the bright lights of Moscow and is destined for pastures new. Coupled with CSKA's faltering campaign which runs the risk of the red-blues failing to secure European football for the first time since 1998, it would be logical to assume that Vlašić may soon try his hand again in one of Europe's top five leagues.
Stylistic Features and Tendencies
A debate that is not limited to football is substance vs style and finding the perfect ratio between the two competing factors. Does substance supersede style in football even though people pay to watch the most entertaining, or do they pay to see their team win regardless of what is on offer visually? What Vlašić has is both in abundance, one of those rare players at least during his time in Russia who can terrorise opponents whilst looking the part.
Like a long-sleeved and gloved Thierry Henry, or a masked Lebron James, when Vlašić rocks up to a ground rocking a pair of gloves, a long sleeve thermal and low socks, it's akin to the proverbial assassin slipping on his black gloves. On the pitch, Vlašić is CSKA Moscow. His gravity and skill mean that everything that CSKA does directly or indirectly is affected by the Croatian's presence.
When on the ball, Vlašić is reliable and well versed in beating his man, resulting in him being a perfect option for progression. Off the ball, he is speedy and a willing runner who often provides a late or wide option for any cavalry charge. When out of possession, Vlašić is unspectacular, as it is then when he can recharge his batteries; however, it would be unfair to label him as lazy off the ball as he still puts in a concerted effort.
Whilst striking the ball either a pass or a shot, Vlašić has a certain swagger which only accompanies those who are sure of their talents. When it's a pass, it is most often accurate, and distance really proves to be of little consequence. When his sights are on goal, Vlašić is accurate and provides a striking technique that often sees the ball savagely bend and dip, providing few correct answers for the goalkeeper.
In the RPL ecosystem, Vlašić sticks out like a sore thumb, a player who is both stylistically and statistically top of his class. Questions will be raised over his ability to transform this domineering style in the event of a step up in level; however, the maturity gained whilst in Russia should relegate the relative failure of Everton to the back of the mind and should see Vlašić afforded a clean slate and fair trial.
Video Analysis
One of Vlašić's most valuable skills is his ability to navigate in tight spaces and progress his side up the pitch whilst the ball is between his feet. In domestic affairs, this is vital as CSKA are often faced with tightly packed defences. Opponents know of Vlašić's ability on the ball, so they often force double or triple teams to stop the Croat. Often these overmatched situations come out negative for the side with the numerical advantage, which is seen in the clip below.
Credit & Source: Metrica Sports
Here we see Vlašić packed out by three Ufa players; their intent is to crowd him and win the ball back as you would assume a 3v1 leaves only one result. However, despite their intentions, Vlašić, with less than a metre of space, can beat the three, nutmegging one and beating the other two with body movement and quick feet. Upon breaking past the three, he arrives in Ufa's third in a promising position. The idea that even with such manpower that Vlašić can slip past is assuring for CSKA players and fans and unnerving for the opposition.
Credit & Source: Metrica Sports
Vlašić may encounter tight spaces more often; however, his ability to discard defenders and progress in open space is impressive and an aspect of his game that has undoubtedly contributed to the fan club of suitors he has mustered. In addition, his pace, power, and close control make him a menace to deal with when on the break.
This is crystal clear in the clip above. Here we see Vlašić pick up the ball wide left around the halfway line. Ahead of him, there is plenty of space to drive into, which he does. He is confronted by a Zenit defender who is part of a rectangle of four attempting to contain Vlašić.
He beats the first defender with a stepover, which then collapses the defensive arrangement. With space he manufactured, Vlašić is afforded the time and space to pick out a pass, which he does to an open runner on the right-wing. This shows Vlašić's ability to create space, allowing him time to pick out the right ball or shot.
Credit & Source: Metrica Sports
Vlašić's dribbling acumen only puts him in the right places; the rest relies on his ability to put the ball in the right place. However, when it comes to moving the ball to the feet of teammates, Vlašić is outstanding. Whether it be short or long, Vlašić can consistently identify and supply teammates across the pitch.
The clip below shows the practical synthesis of his movement and passing. Here we see Vlašić receive the ball out to the left; immediately, he is earmarked by three defenders, and a fourth is forced to manage Vlašićand a teammate. As he moves further to the left, he drags the defenders with him, with the four eventually being so in sync with each other, they make a straight line.
Realising this, Vlašić plays a ball inside, and his teammate sneaks out to pick it up and is then presented with a golden opportunity. Again, we see the gravity in which he provides for defensive matchups and the timing of his passes, which in this instance is perfect.
Credit & Source: Metrica Sports
Again, we see the advantage of a player like Vlašić as he can manufacture space and has an end product to match. In the clip above, we see Vlašić against Lokomotiv Moscow. Here Vlašić receives the ball out left with two defenders tasked with containing the Croat. Despite this, he spins away from them with his first touch, presented with an open byline and men in the box.
With two teammates packed around the six-yard box, Vlašić calmly slots it back to Alan Dzagoev, who has a golden opportunity to test the goalkeeper. Despite the lack of a goal or assist to show here, Vlašić was able to avert altitude sickness and slotted the right player in at the right time with the right ball. This clip exemplifies Vlašić's ability to negotiate pressure and teammates in quick-paced high-stakes settings.
Credit & Source: Metrica Sports
Drifting is a crucial feature of Vlašić's game; though it may not be as visually pleasing as the intentional oversteering of Brian O'Conner's Nissan Skyline GTR, it is still an effective and fundamental method of creating space and stretching defences. Beyond drifting out of position, Vlašić's control of speed is exemplary and allows him to compete with the most physically able. The clip below shows off Vlašić's deceleration as a method of creating space.
Vlašić picks up the ball between the lines and then proceeds right with two defenders on him. Briefly, he charges forward, but he then turns on the brakes which attracts a third defender. With three focused on Vlašić, CSKA has two forwards around the box with a single defender tasked with stopping them. Vlašić promptly delivers a floated back-post cross to Salomón Rondón's head, who somehow manages not to challenge the goalkeeper. 
Credit & Source: Metrica Sports
What separates Vlašić from the chasing pack in the RPL is his ability to consistently and calmly deliver the unexpected and unfancied. This has been evident in some of the previous clips; however, it is on full show in the clip above. The reputation that precedes Vlašić in Russia results in a tireless hounding of the Croat. From the throw-in, it had been decided that he would not see the first touch.
As a result, Vlašić doesn't see the ball initially; however, as a result of his teammates' runs, he is left with one defender on his back, who he posts up like his countrymen Toni Kukoč. The ball is played into Vlašić, who takes a single touch and then fires it into the space behind him with a back heel. The ball meets a teammate who is now unmarked and ready to deliver a ball into the box.
Credit & Source: Metrica Sports
Vlašić doesn't only excel at providing for his teammates but is also adept at finishing off chances, whether they be self-made or served up on a platter. Vlašić's ambidexterity makes it, so there are few angles that the Croat doesn't fancy a go from. His previously mentioned striking ability is on show on a match-by-match basis as he often rips it from deep with accuracy and swerves unmatched in Russia.
The clip above shows Vlašić's quick feet when it comes to bypassing a defender and getting a shot off in a densely packed area. He receives the ball with back to goal; he takes a quick touch, spins his man, and manages to get a convincing shot off despite the lack of backlift.
Credit & Source: Metrica Sports
Vlašić is not only effective in standoff situations; he provides a goal threat whilst on the break, most significant and influential as a late runner. This is best seen in a recent goal Vlašić scored whilst on international duty vs Sweden. Vlašić here provides a late run and option to the left-winger. 
The Croatian is relatively open as the Swedish defence is concerned with the winger and the forward, who is around the six-yard line. The ball is played into a teammate who then lays it off to Vlašić, who has passed it into the bottom right corner with a first-time finish.
Credit & Source: Metrica Sports
Vlašić's ability to strike the ball from a distance is undoubtedly his trump card when it comes to comparisons between him and his peers, domestically and continentally. The following two clips show this off clearly and also show the synthesis of dribbling, intelligence, and shooting. The clip above shows Vlašić receive an awkward high deflection a few metres outside the box.
The 23-year-old attacking midfielder is immediately confronted by a defender who has three teammates behind him holding the fort. Vlašić beats the first man and pushes the ball to the right. He then strikes the ball with his right, and the ball crashes into the opposite top corner, with the goalkeeper having zero chance of getting anywhere near.
Credit & Source: Metrica Sports
A perfect microcosm of everything good with Nikola Vlašić is found in the video above. He receives the ball between the lines and drifts wide. He makes his way forward but then finds defenders blocking him. He takes the ball inside and beats the first man with a stop and go, which buys him enough space to fire the ball into the top right corner from deep.
The only problem is that Vlašić has the undying confidence that this will be the outcome every time. Sure he has the evidence to show that he is able, but often his over-exuberance turns into frustration and wasted opportunity. Nonetheless, you would always prefer an overambitious 10 to one who lacks imagination and guts.
Statistical Analysis
The eye test has been processed, so now we move on to Vlašić's statistical analysis. Increasingly statistics have been fetishised and seen as the be-all and end-all of footballing evaluation; however, a synthesis between eye and number still remains the gold standard.
Shooting
As evidenced in the video portion, Vlašić is an ambitious and capable striker of the ball with the ambition to score from anywhere inside the opposition's half. This is evident when you consider his 3.5 shots p90 and that only 39.5% of them find their way to the target.
This, coupled with the shot map, corroborates that Vlašić attempts the unlikely and not that he is a poor finisher close to goal. This is also partly because he is often the first choice to strike dead balls for CSKA Moscow, so the Croat is afforded plenty of opportunities to add to his YouTube mixtapes.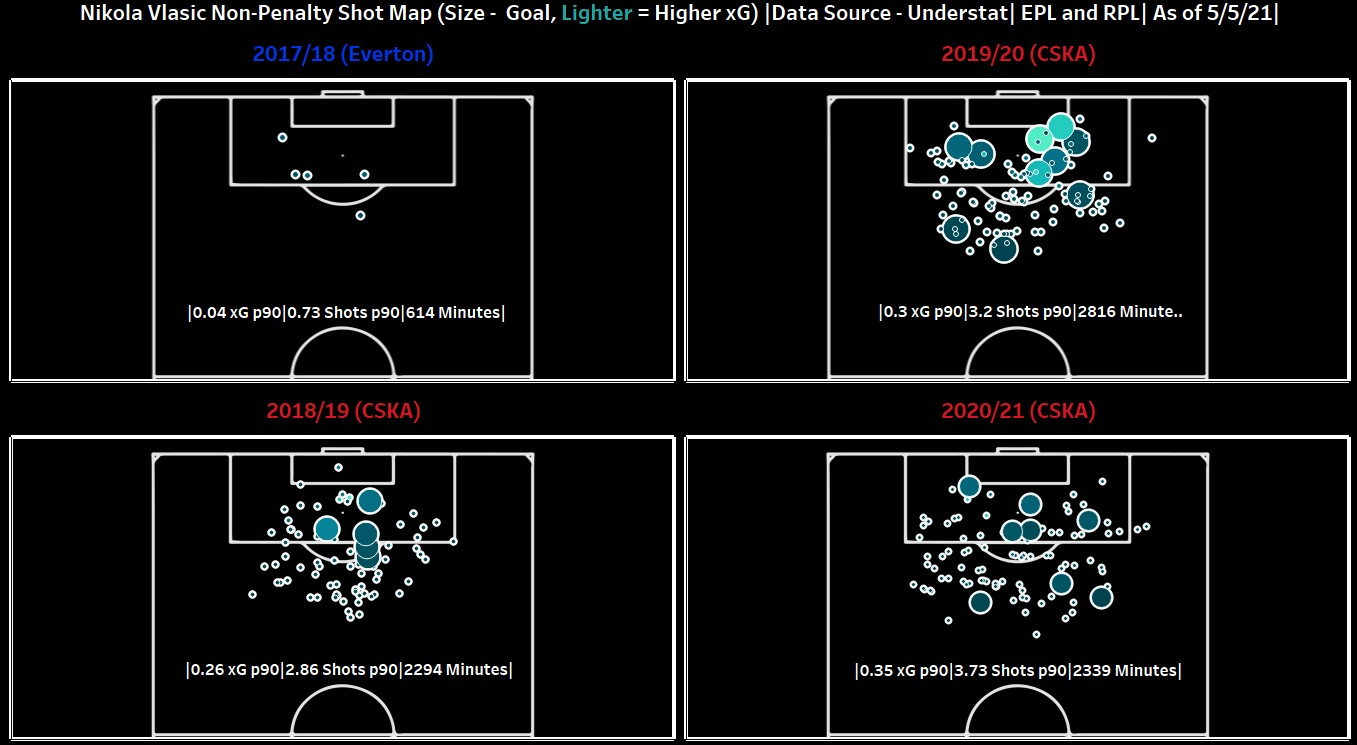 In a season that could be seen as a regression after last year, Vlašić still finds himself in the top 5 for Goals p90 for non-strikers but first when it comes to total goals, a feat more impressive when his creative numbers are considered later. In that same sample size, Vlašić takes the most shots p90, clearly showing that Vlašić, outside of those most advanced on the pitch, is the most trigger happy player in Russia and with good right.
Unfortunately, Vlašić often takes CSKA's penalties, and, for the most part, he has struggled, managing a measly 60% and 67% conversion rate over the two years he has taken spot-kicks in Russia. In the event of a step-up, he should be a net benefactor instead of a negative when it comes to striking on goal. He may frustrate at times; however, often all is forgiven when Vlašić sends a ball into the top corner from 30 yards, and let's hope that he does that with enough regularity to keep him in his employer's good books.
Passing
Though his shooting may be what gets fans off seats and the reason for his many fans, his passing and chance creation is the currency which Vlašić trades in. Vlašić's passes are all over the place because so is he. He enjoys an escapade on the pitch, moving around and linking play, often finding the killer ball. When it comes to chance creation which is evidenced by the maps below, Vlašić excels.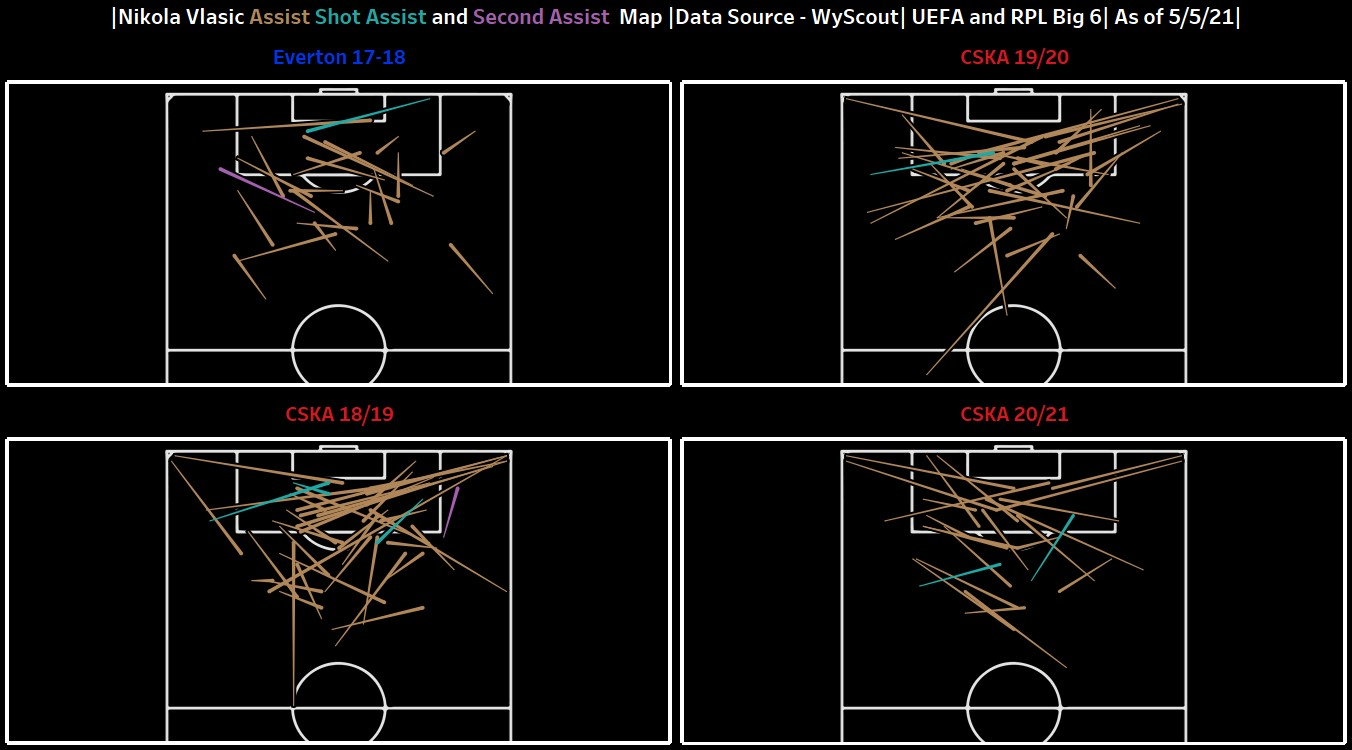 In that same non-striker data set, Vlašić finds himself second in key passes p90 with 1.09, just 0.02 of the top spot. The CSKA midfielder also finds himself third in shot assists p90 with 2.45, which is abundantly clear by all the orange lines on the graphic above.
Across the board, Vlašić finds himself comfortably in and around the top 10 for passing metrics in the RPL, which becomes even more impressive when you consider the workload placed on the Croat and how advanced he is, leaving little space for easy passes. A large percentage of his shot assists originate from corner kicks, most often an outswinging ball from the right corner flag.
Vlašić is tasked with on average 3.24 p90, and it is little surprise that CSKA devolves power. His ability when it comes to weighting and the altitude of passes surpasses most in Russia and indeed all in the CSKA squad. Vlašić's passing ability makes him a valuable commodity even when the goals dry up.
Movement
On and off the ball, Vlašić offers himself to teammates. His pace mixed with close control allow him to have the confidence that he will beat the men in front of him. Vlašić attempts 7.2 dribbles p90 and finds himself succeeding at an impressive rate of 59%. In fact, out of all RPL players with 1000+ minutes, Vlašić finds himself with the third-highest success out of those who attempt over 5 dribbles per game.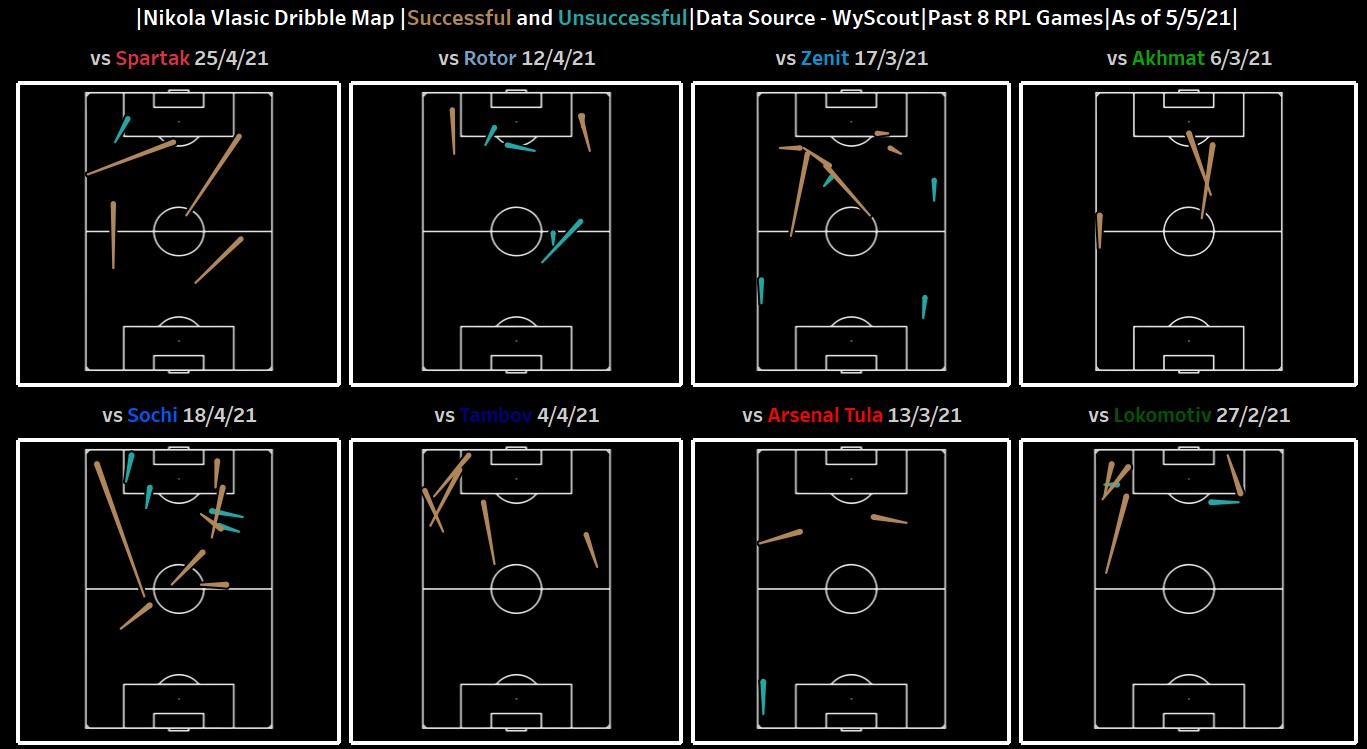 Considering the space in which he operates and the defensive schemes set to enable his downfall, Vlašić's ability to keep hold of the ball is elite. Vlašić continues his high work rate whilst out of possession as he attempts the 6th most progressive runs in the data set with 5.05 p90, with these often originating from his own half.
The dribble map above shows the demands placed upon him. The Croat is frequently asked to take on the arduous challenge of progressing the ball from his own to the opponents or from the middle third to the final third, despite the opposition's intentions.
Vlašić's modus operandi is starting on the left and drifting inwards as this allows him to cut in and shoot, pass, or turn back and continue to the byline and cross the ball. He is physically able and intelligent enough that he should remain a dynamic threat when moving with or without the ball once he arrives at a higher level.
Defending
By no stretch of the imagination is Vlašić a defensive stalwart or a player that strikes anxiety towards his attacking peers. Yet, despite this, he has never been asked to be a defensive specialist, as it's not of great importance to a man of his trade. The below graphic shows that Vlašić is not useless and certainly doesn't down tools when his team are out of possession.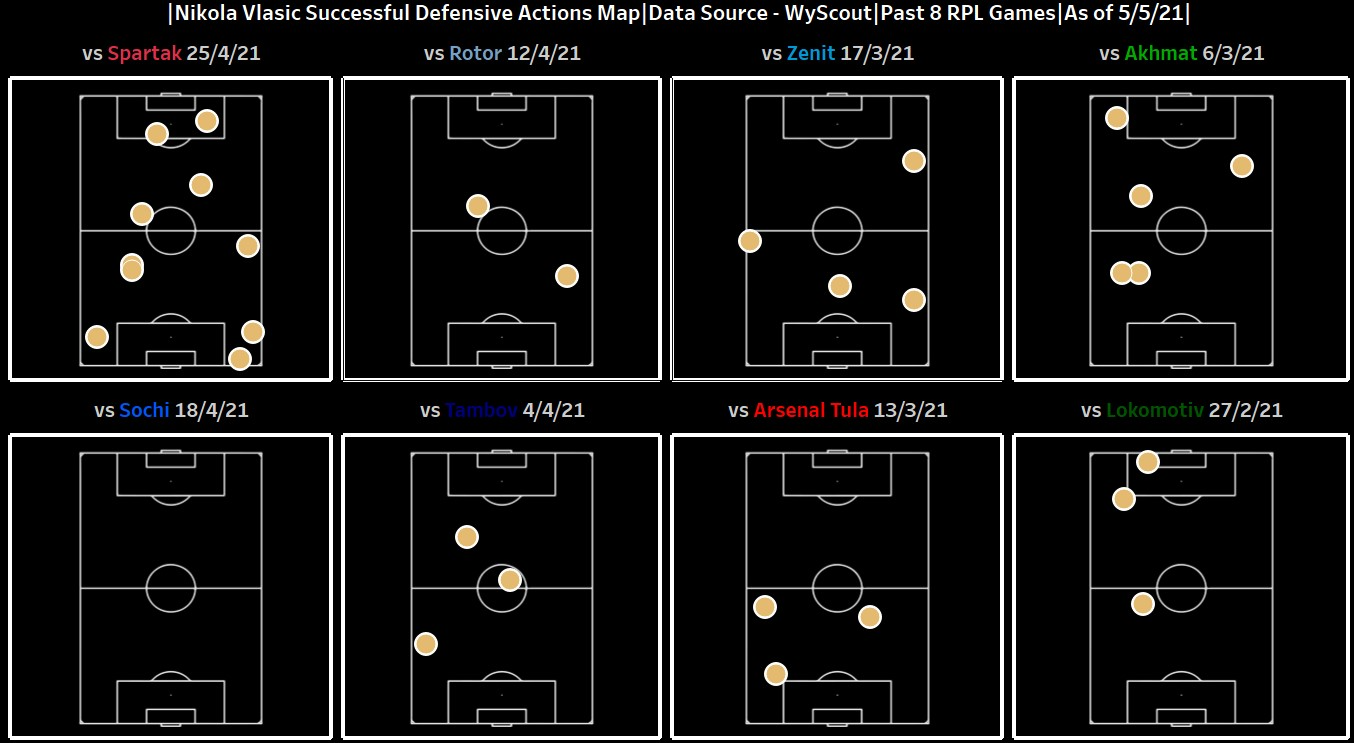 Vlašić has good physical tools and a solid work rate, making him a decent option in a press. I think the fact that a man of his on-ball acumen doesn't relegate defensive responsibilities to a pointless exercise should encourage potential suitors.
What Next?
Seemingly all roads lead to Milan this summer with the Rossoneri keen on securing the Croatian's services. With the possibility of Hakan Çalhanoğlu's exit, Nikola Vlašić would be an apt replacement for the Turkish playmaker. Vlašić provides a more youthful and dynamic option than the current AC Milan man. If Vlašić doesn't end up in Italy's north, his CV should see him playing in the UEFA Champions League next season.
For a contender or not is a question up to those who try to predict the inner workings of the transfer market. Vlašić's legacy in Moscow should be overwhelmingly positive, one of a man with skills beyond his surroundings and a man who provides a financial bounty that CSKA has seldom seen in its history.
By: Patrick Caskie
Featured Image: @GabFoligno / Pixsell / MB Media / Getty Images