Player Analysis: Noah Katterbach
At 19 years of age, Noah Katterbach has established himself as one of the hottest young fullbacks in the Bundesliga. Born in Simmerath, Germany, Katterbach began his development at TuS DJK Dreiborn before joining Köln's academy in 2008. He quickly progressed through the ranks for club and country, and on July 24, 2018, he was awarded with the Fritz Walter Medal in Gold for the under-17 age group, following in the footsteps of Timo Werner, Leon Goretzka, and Mario Götze.
After biding his time in the reserves, Katterbach made his professional debut for Köln on October 5, 2019, starting at left back in a 1-1 draw against Schalke. In doing so, he became the youngest player to appear in the Bundesliga that year. Katterbach quickly solidified a starting spot at left back under Markus Gisdol, as the newly-promoted side finished 14th in the Bundesliga, earning himself a contract extension to 2024.
Katterbach has picked up where he left off at the RheinEnergieStadion, earning the Fritz Walter Medal in Gold on August 19, 2020, this time given to the best German male player in the under-19 age group. Playing both at left back as well as a left winger, his performances for Effzeh have reportedly attracted attention from some of the Bundesliga's big hitters such as RB Leipzig, Borussia Dortmund and Bayern Munich.
Köln currently sit 17th in the league, one point above Arminia Bielefeld, who occupy the second automatic relegation spot, and one point below Mainz in 15th. If the Billy Goats do succumb to relegation, the teenage fullback could be a bargain buy on account of his creativity, technique, and ability to progress the ball in advanced areas. Let's take a deeper look at what makes Katterbach such a special talent.
Positioning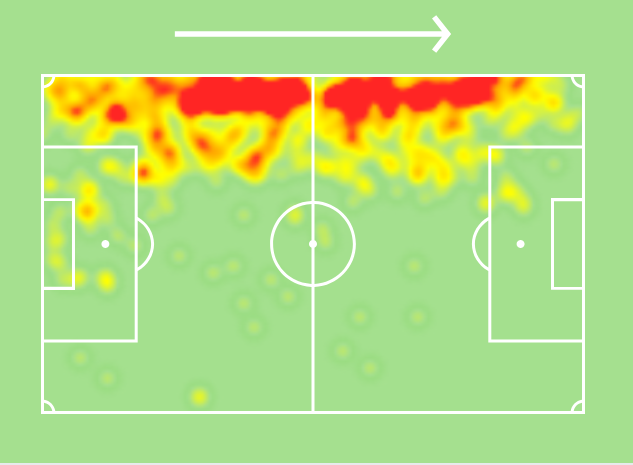 Photo: SofaScore
As seen above by Katterbach's heat map from the 2020/21 Bundesliga season, Katterbach is a player who can bomb up and down the entire left flank, utilizing his technical proficiency and calm on the ball to advance towards the byline and maneuver his way into the final third in order to link up with the likes of Elvis Rexhbecaj and Ismail Jakobs.
Katterbach perfectly suits Markus Gisdol's direct style of play thanks to his ability to scan the pitch and check his positioning before receiving a pass. We can get a better glimpse of his unique skillset and intelligence from the below example, when Köln hosted Bayer Leverkusen on December 14, 2019.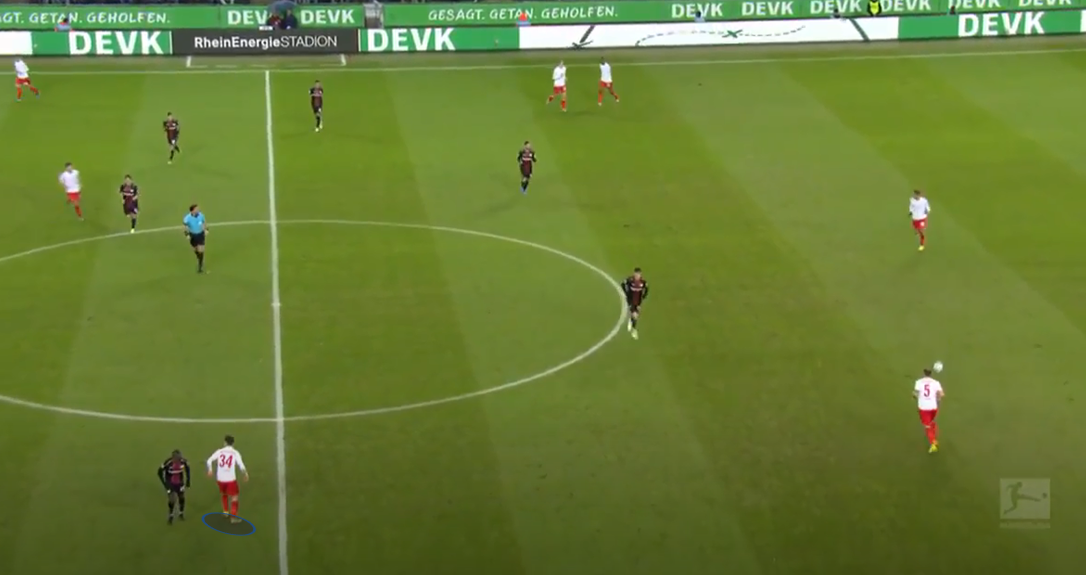 As Rafael Czichos receives a pass from Ellyes Skhiri, Katterbach checks his positioning to move clear of Moussa Diaby and be able to receive in between the lines. He is incredibly intelligent and knows where the opponents are and also knows what area to run into in order to set up an ideal passing lane for his teammates.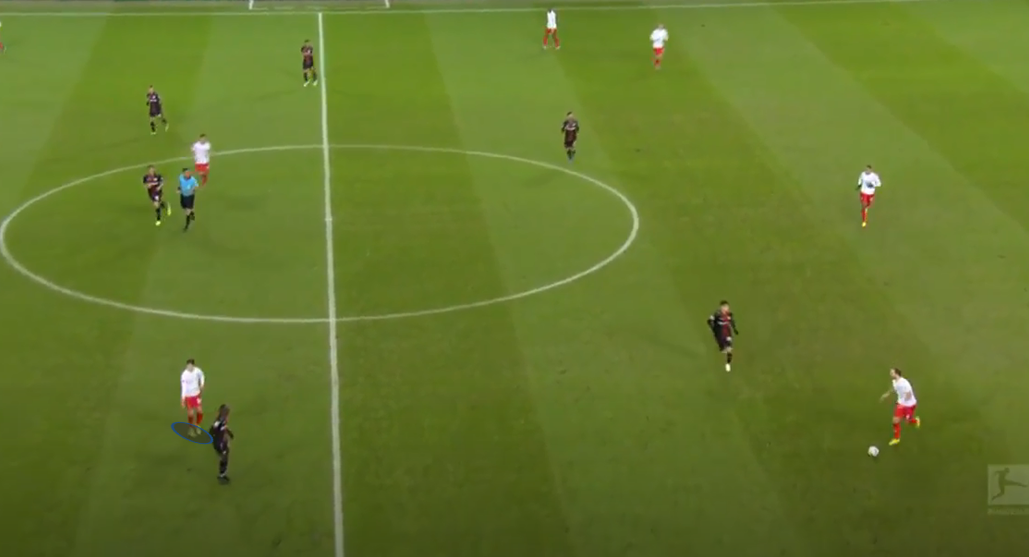 Often when there is a teammate on the ball who is preparing to make a pass, we will see Katterbach open up his body, make a piercing run towards the opponent's blindside, and allow his teammate a progressive passing lane. As Kai Havertz pressures Czichos, Katterbach is allowing the center back the option of playing a through ball towards the final third of the pitch.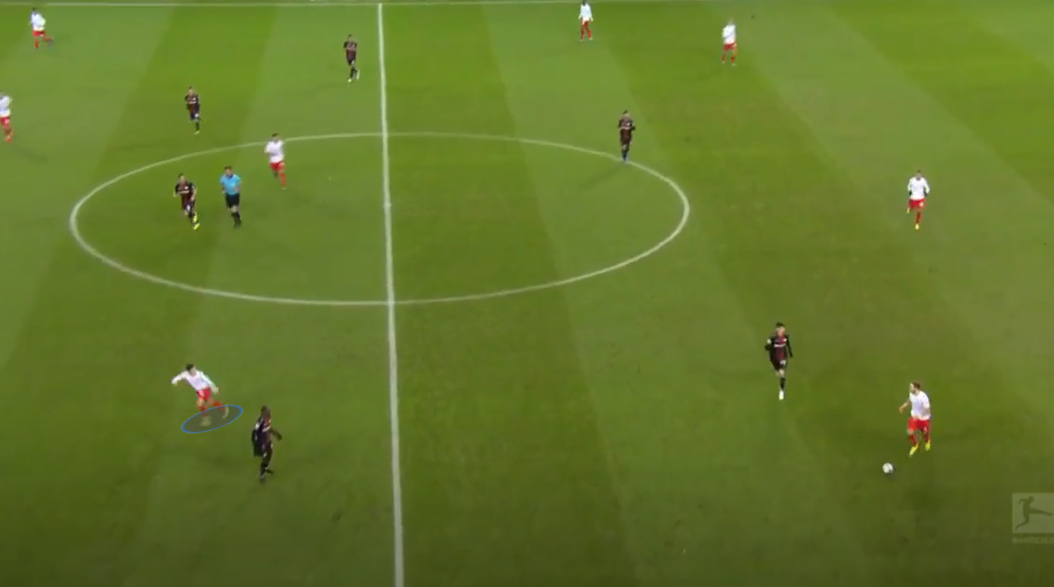 Passes and Dribbles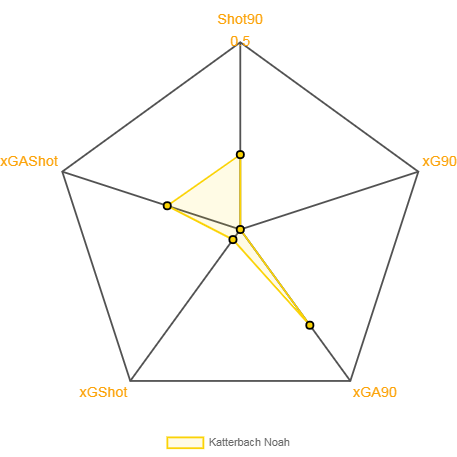 Photo: expectedscore.com
As seen above, Katterbach ranks well in terms of the XGAShot metric and Shot90 metrics and averages 45.18 passes per 90 minutes with a pass accuracy of 73.1%. Given the fact that his role is to penetrate the middle third, Katterbach's passing numbers become even more impressive as most of these passes tend to be progressive, relatively risky passes.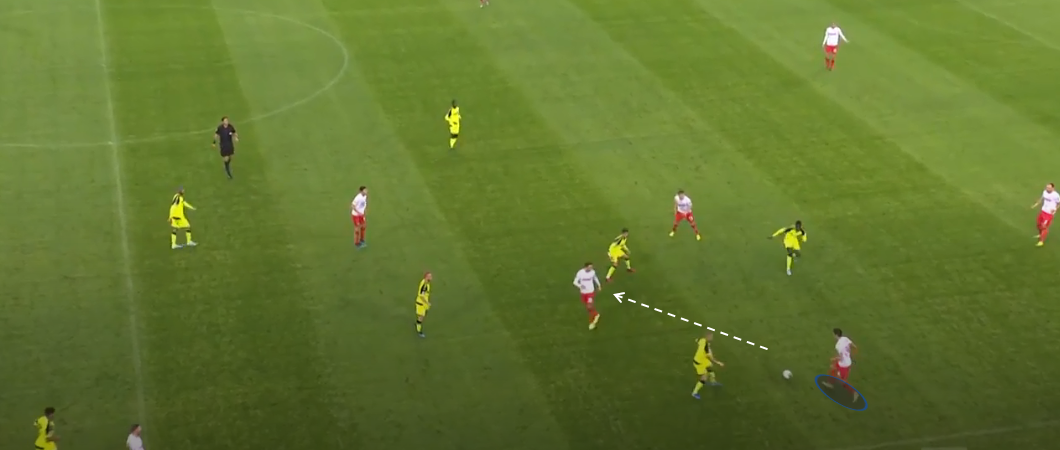 In this example against Paderborn, Louis Schaub is positioned in the central area whilst Florian Kainz tucks in from the left flank to provide a short passing option. Katterbach plays a quick one-two with Schaub to advance past the pressure and receive in space, successfully progressing the ball in a succint, direct manner and breaking Paderborn's midfield line.
Köln would go on to seal their first home victory of the 2019/20 season, winning 3-0 thanks to goals from Schaub, Sebastiaan Bornauw and Simon Terodde, as well as a fine performance from Katterbach at left back.

Katterbach is the complete package going forward, capable of dribbling through pressure, bursting into the final third, and finding his teammates in advanced areas to create goalscoring areas. He ranks well in these possession-focused metrics, with 1.59 dribbles completed, 3.81 progressive carries, and 3.72 progressive passes per 90 minutes.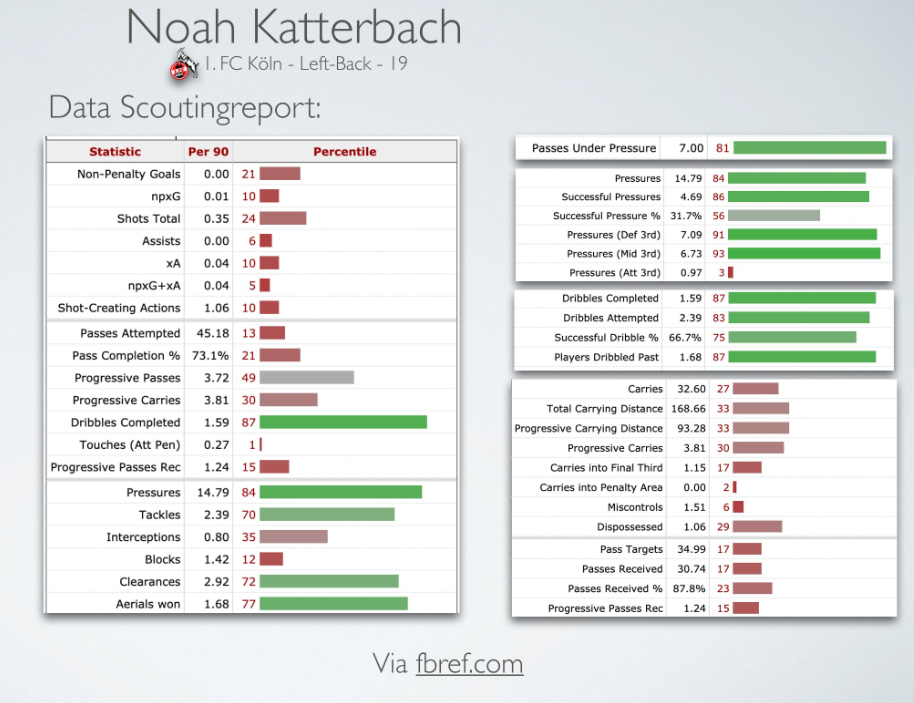 Photo: FBref.com
As seen in the below example against Bayern Munich, Katterbach is a fantastic dribbler who is capable of making inverted runs whilst maintaining control of possession, balancing his body to evade opponents with a slick move. His ability to scan the pitch and in-game awareness makes him an even more effective dribbler, allowing him to evaluate the situation beforehand.
Once Katterbach receives the pass, he quickly exploits the space in behind, breaking the second line of press and progressing into the middle third, before playing a through ball to Sebastian Andersson who makes an incisive run between Niklas Süle and Jérôme Boateng.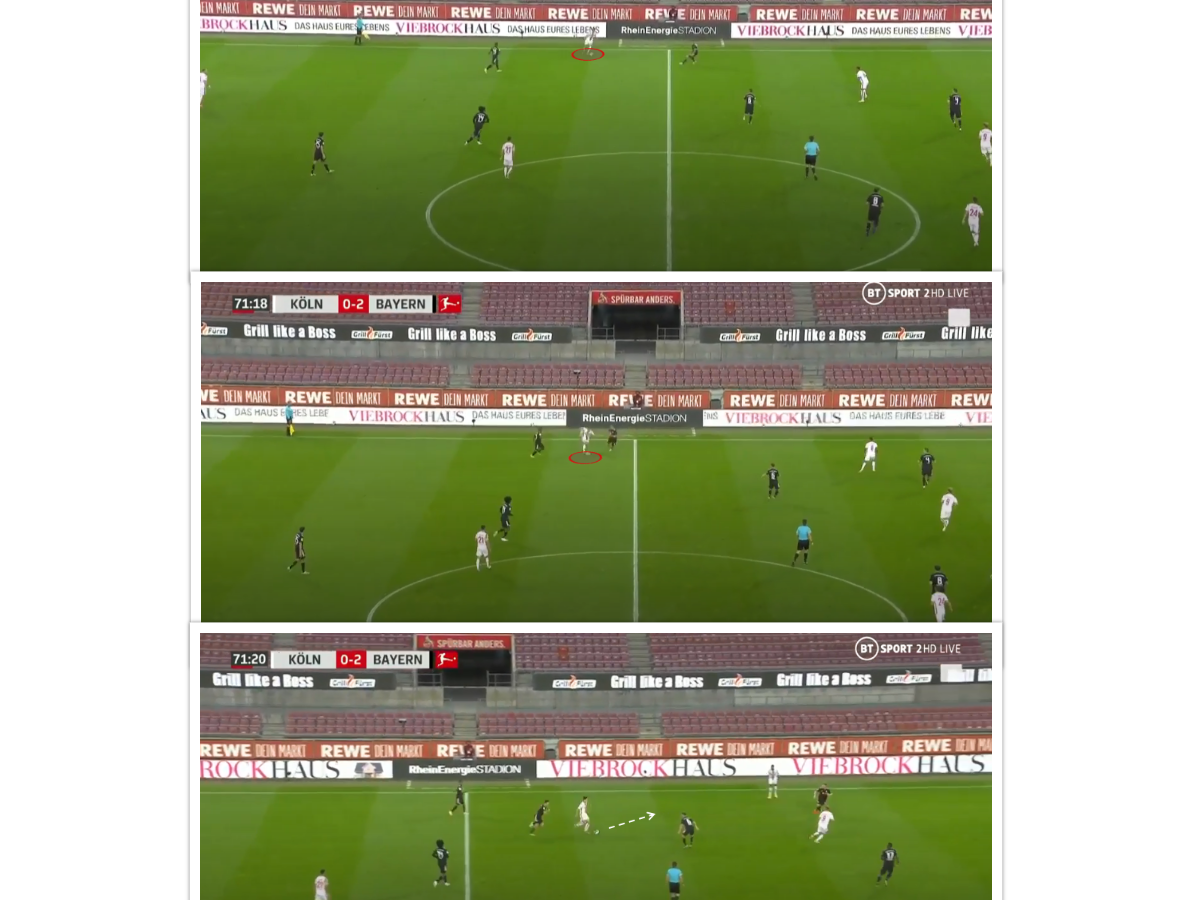 While his moneymaker is certainly his ability in possession, Katterbach is no slouch when it comes to the defensive side of the games. He can be overpowered at times by other physically imposing players, but he is intelligent enough to time his challenges well and position himself to win the duel. However, at 19 years old, it is clear that he can add more muscle to his physical frame of 5'11" and 161 lbs.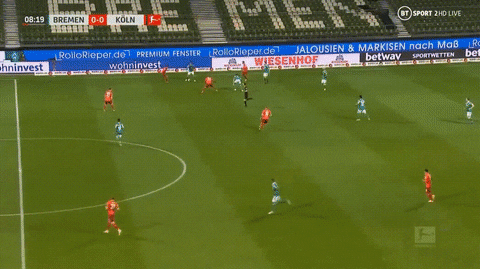 One notable weakness of Katterbach's game, however, is his ability to defend against counterattacks, especially when backtracking and facing his own goal. He seems unaware of his surroundings at times, allowing runners to exploit his blindside, get in behind him, and latch onto cross-field passes or through balls into the penalty area.
Off-the-ball Movement
One reason why Katterbach is such an effective progressor of the ball at the left back position is due to his movement without the ball. He constantly knows where to move into to receive a pass, how to provide his teammate with the best passing option, and how to maneuver himself into an ideal attacking position.
In the below example against Paderborn, Katterbach collects the ball in his own half and dribbles forward into the opposing half. Despite being pressured and outnumbered by Paderborn players, he already has a good idea of his surroundings, both in terms of teammates and opponents, and realizes that Kingsley Schnidler is dropping into the half-space.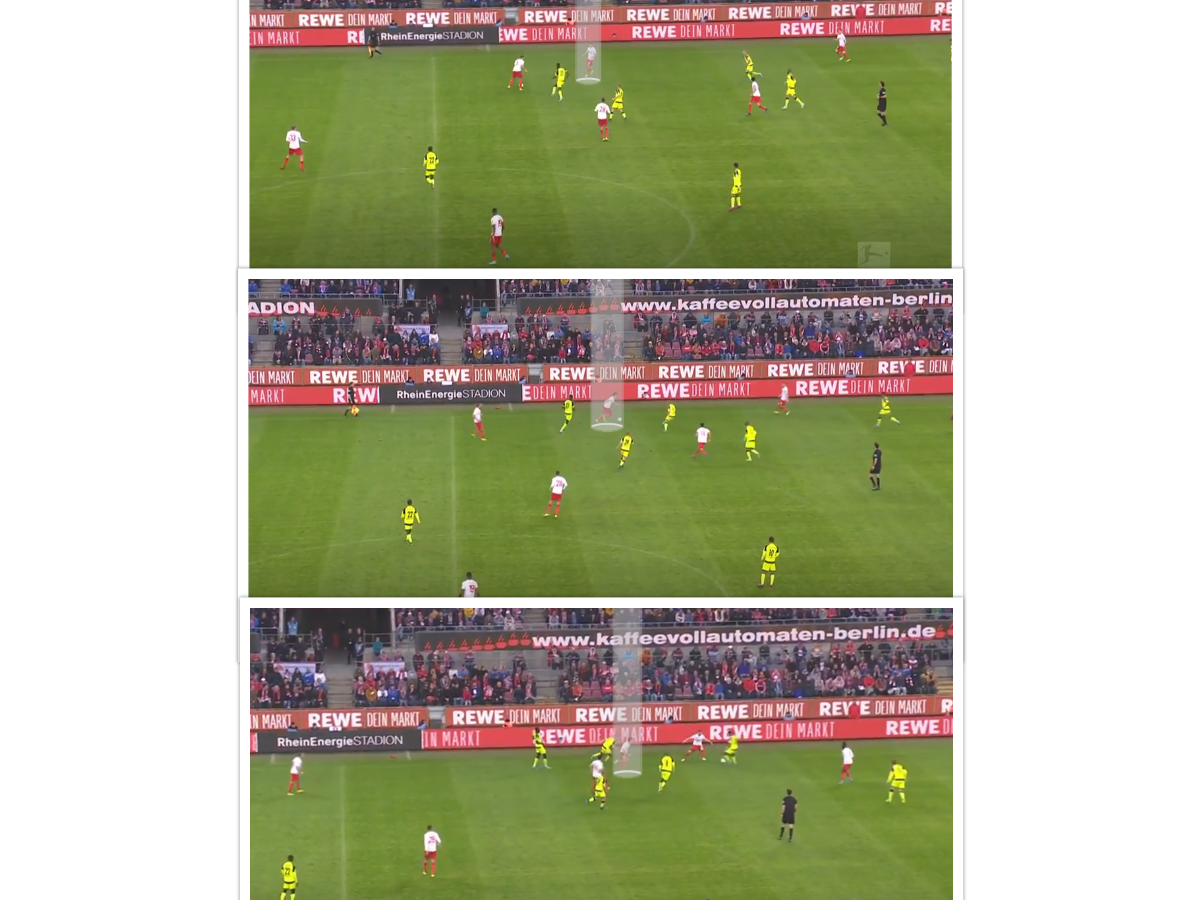 Katterbach makes the right decision to pass the ball to Kainz, and once Kainz gives it back to Schindler, he can then progress it further forward into the final third, with Schaub waiting for a cross on the right flank.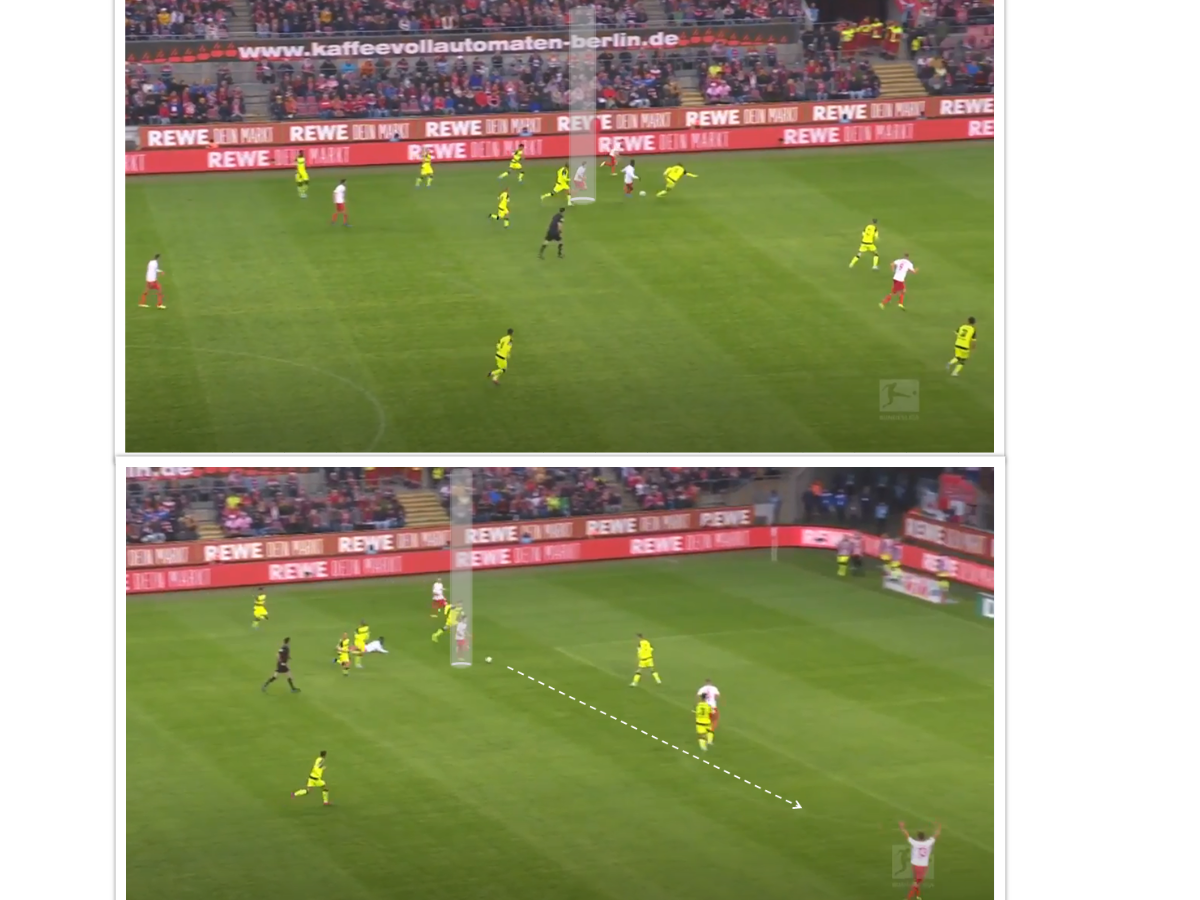 Conclusion
After finishing 14th in their return to the Bundesliga last season, Köln currently find themselves in the midst of a relegation battle alongside Arminia Bielefeld, Mainz, and Hertha Berlin. They have sought to reinforce their attack with the arrivals of Max Meyer on a free transfer and Emmanuel Dennis, and they nearly headed into the international break with an impressive victory over Borussia Dortmund, only to succumb to a late equalizer from Erling Haaland.
Noah Katterbach's speed of thought combined with his impressive dribbling have seen him become one of the most impressive young fullbacks in Europe at Köln, and at 19 years of age, he still has plenty of room for improvement, especially in the defensive area.
He has represented Germany at the youth level for the U-16, U-17, U-18, U-19 and U-20 teams, and although he missed out on a call-up to the U-21 Euros to the likes of David Raum, Nico Schlotterbeck and Josha Vagnoman, Katterbach is certainly one to keep an eye on as a long-term candidate for Die Mannschaft's left back position.
By: Omar Mokhtar
Featured Image: @GabFoligno / DeFodi Images