Player Analysis: Noni Madueke
As if the new generation of English footballers isn't already special enough, another budding winger is starting to make serious waves with PSV Eindhoven in the Dutch Eredivisie. Most young players who come up in Premier League academies either break into the first team at their respective clubs or end up being sold to a championship side and other top leagues but rarely opt to completely try to make a name for themselves in a foreign league from the get-go.
With Noni Madueke, that has been the case. The London-born teenager left Tottenham Hotspur's academy to join PSV at the age of 16, rejecting an offer from Manchester United in the process. When asked about the decision to go play in another country at such a young but critical age in a recent interview with Rising Ballers, Madueke said: "I went abroad because it just made more sense in terms of me wanting to break into the first team. The success rate in European clubs was just a lot higher than what it was in the Premier League."
At the time the decision may have seemed a bit rash, but at 19 the venture to take a different path is starting to pay dividends for the young starlet as he looks to have cemented a starting spot in PSV's vastly talented team ahead of their 2021/22 campaign.  In the summer of 2018, he signed a three-year contract and hasn't looked back. Upon his arrival, Noni played a single season with the youth team before taking the next step into the Eerste Divisie (Dutch First Division).
He didn't waste time impressing with the Jong PSV, scoring 4 goals in 6 games, promptly earning promotion to the senior side less than a year later. Since his debut in January 2020, he has gone on to make 28 league appearances – contributing an impressive 7 goals and 6 assists in that time, averaging just over 1 G/A per 90 during his 10.7 90's last season.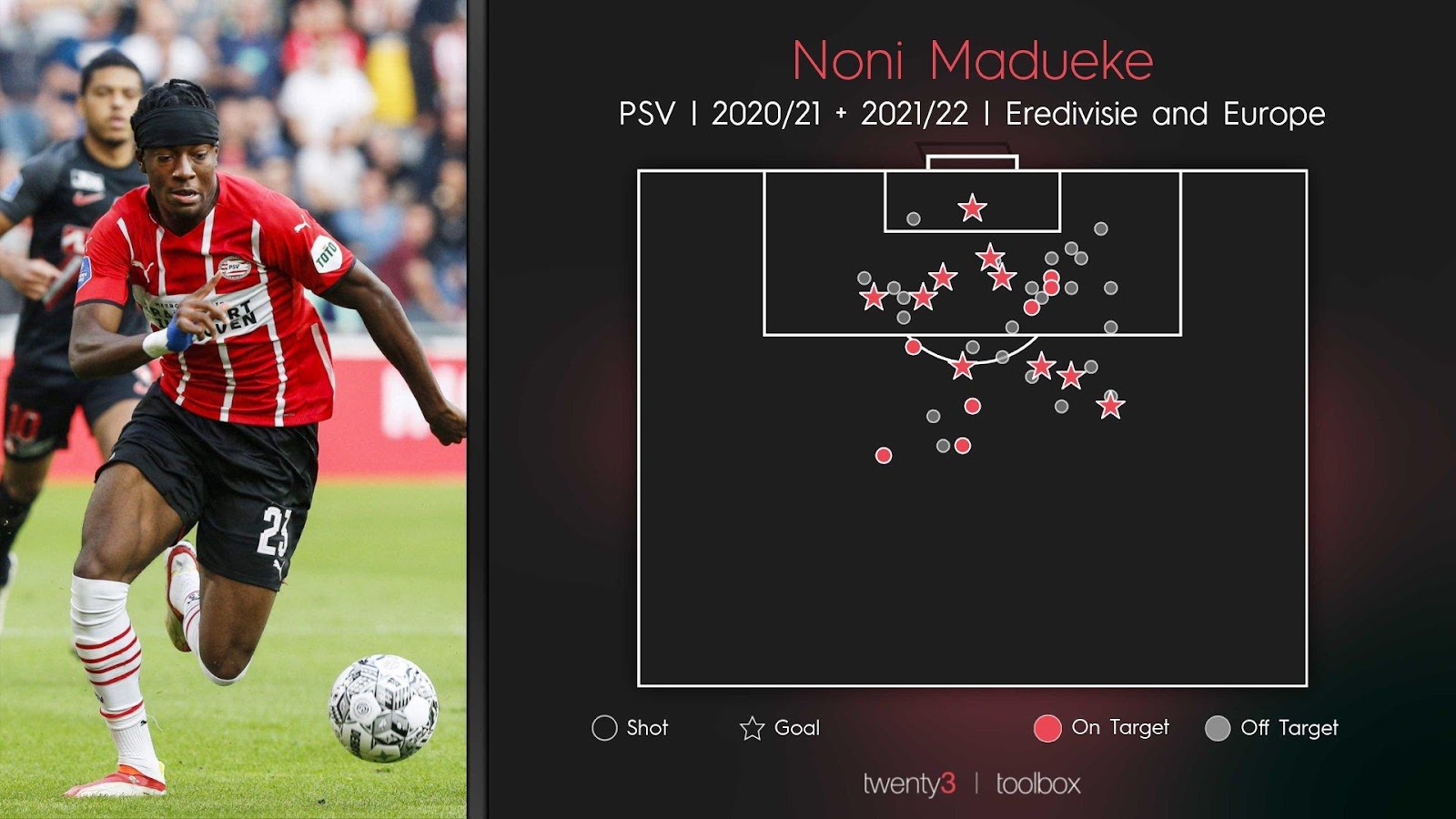 Areas in which Noni attacks & prefers to shoot from [Twenty3]
Initially making his name in the youth ranks as a Central Attacking Midfielder or No. 10, Noni before long decided to primarily operate on the right side going forward, after in-depth conversations with his coaches; Ruud Van Nistelrooy being one of them to initiate the change.
Endowed with a wonderful left foot, the choice seems sensible looking back, as he thrives in 1v1 situations thanks to his trickery, pace, ball control and physical strength all working in tandem with his flair – attributes that typically make world-class wingers, as there's usually not enough space in the central areas of the pitch to take players on regularly at the highest level to impact games.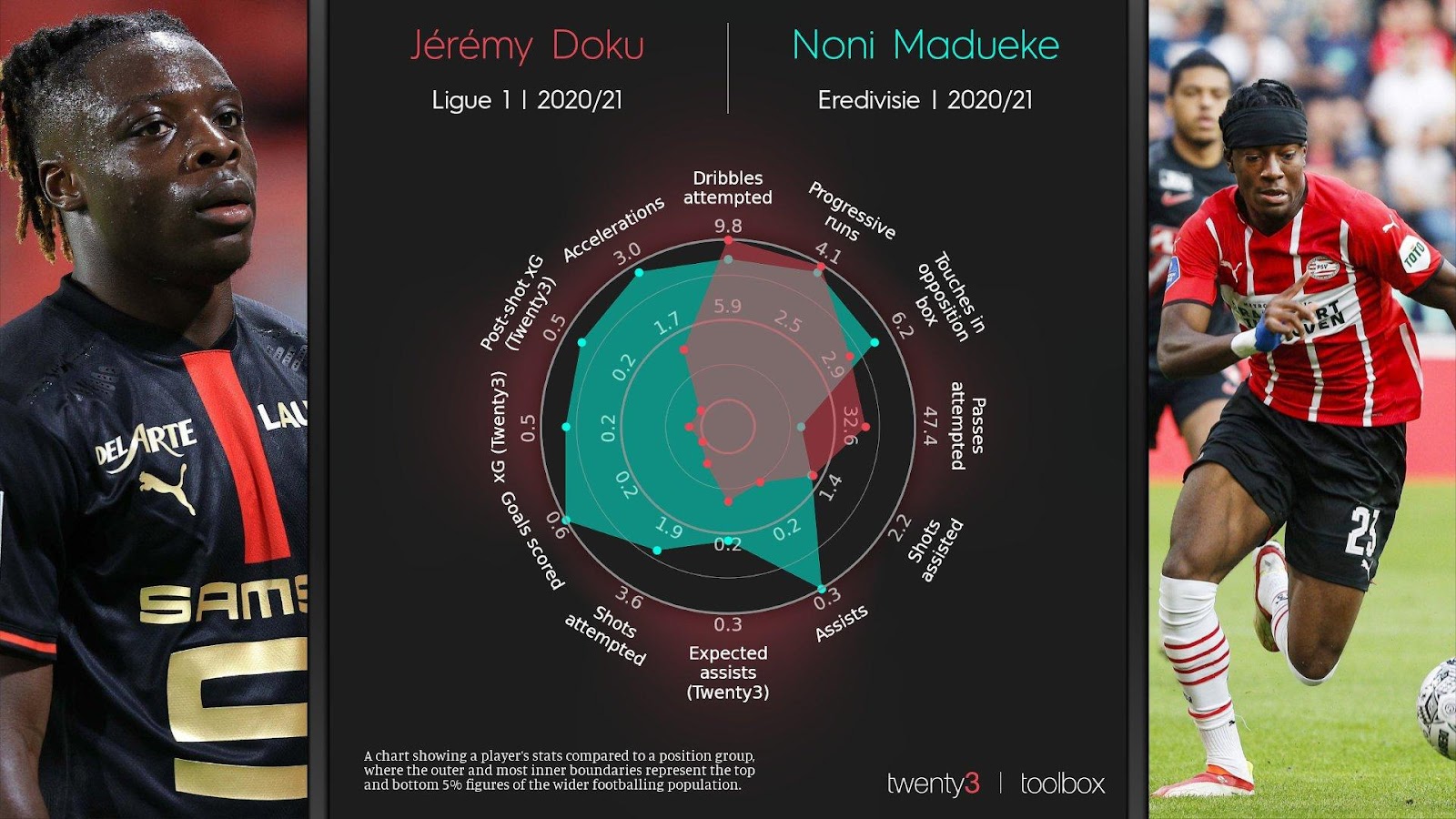 Madueke in comparison to one of Europe's best 1v1 dribblers last season, Jeremy Doku [Twenty3]
Although comfortable centrally and on the left flank as well, Noni is at his best when given a free role as he poses a constant threat to defences with his movement and uncanny ability to dribble towards goal from anywhere in the final third.
When in possession, he often tends to cut in from the right flank with frightening directness and ardent endeavor, making his way towards the opposition box through the half-spaces where he can either shoot or play a teammate in with an incisive through ball.
In positions where he gets the ball facing his back to goal, Madueke is also very confident in his ability to beat the defender, pressuring him by turning immediately and driving forward, instead of playing a simple pass back or making a negative action which makes him even more dangerous and unpredictable.
The adroit midfielder has shown glimpses of his world-class quality already this season, scoring a brace inside the first half an hour last weekend vs Ajax, a game in which they trounced the Amsterdam side 4-0 to win the Johan Cruyff Shield – adding to his tally of a couple in Champions League qualifying a few weeks back.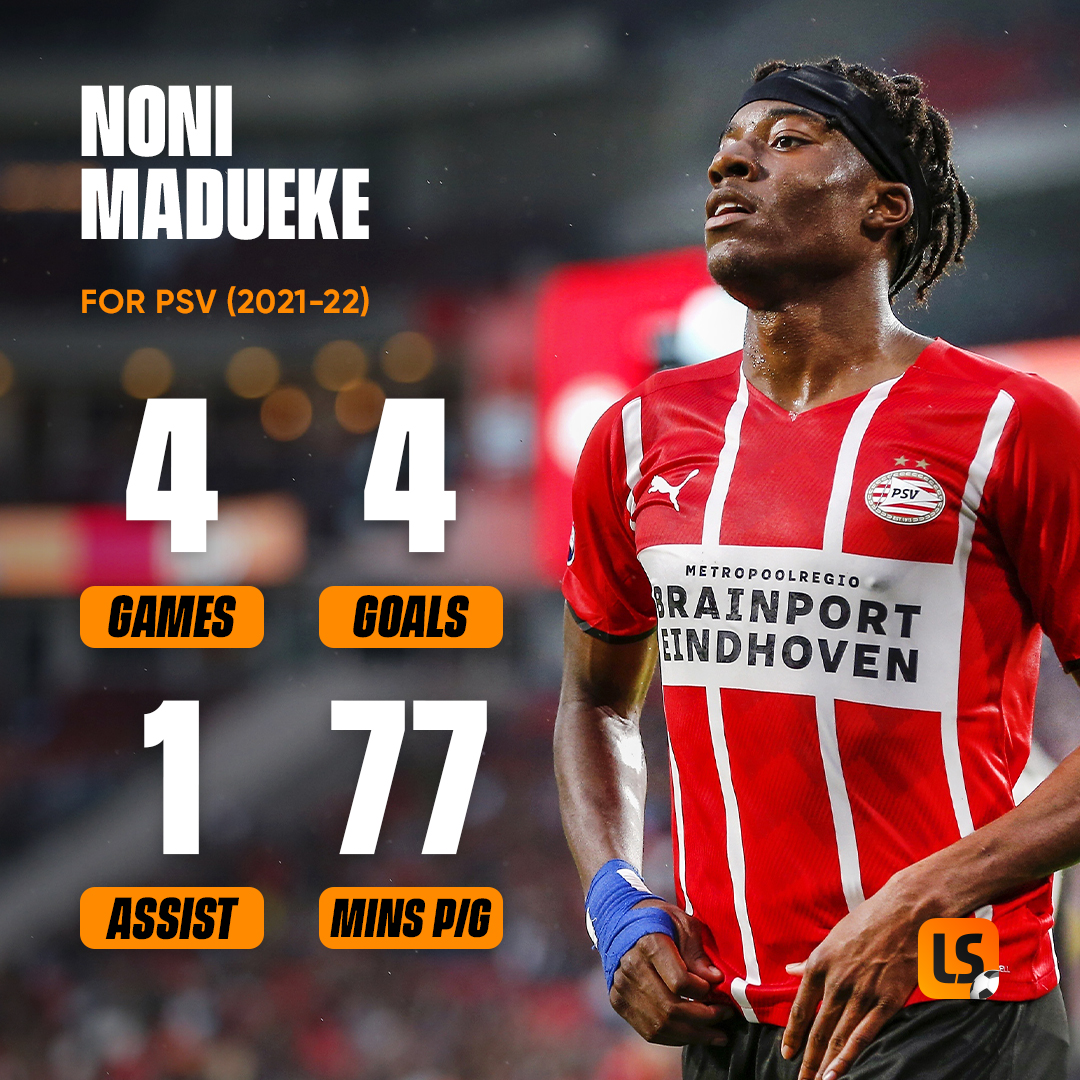 Photo: LiveScore
With Roger Schmidt as PSVs manager, it's clear to see why he has flourished. When asked about Noni, Schmidt said: "He is a creative, physically strong left-footed midfielder who is able to read situations, get to the right positions and be in the right place."
The German tactician favors the principle of qualitative superiority amongst others. This is the attempt to get one of your better players/dribblers, Madueke in this instance, in a position to attack a defender who is not as good, perhaps slower, weaker or less technically able in isolated situations to deal with the attacking threat.
This is achieved by building play slowly on the opposite side of the pitch, in turn drawing the opposition defense towards the side the play is developing – at that point the team in possession switches play swiftly to a winger preferably touch tight to the line on the opposite wing. This creates a 1v1 situation, which fits a player of Madueke's caliber perfectly.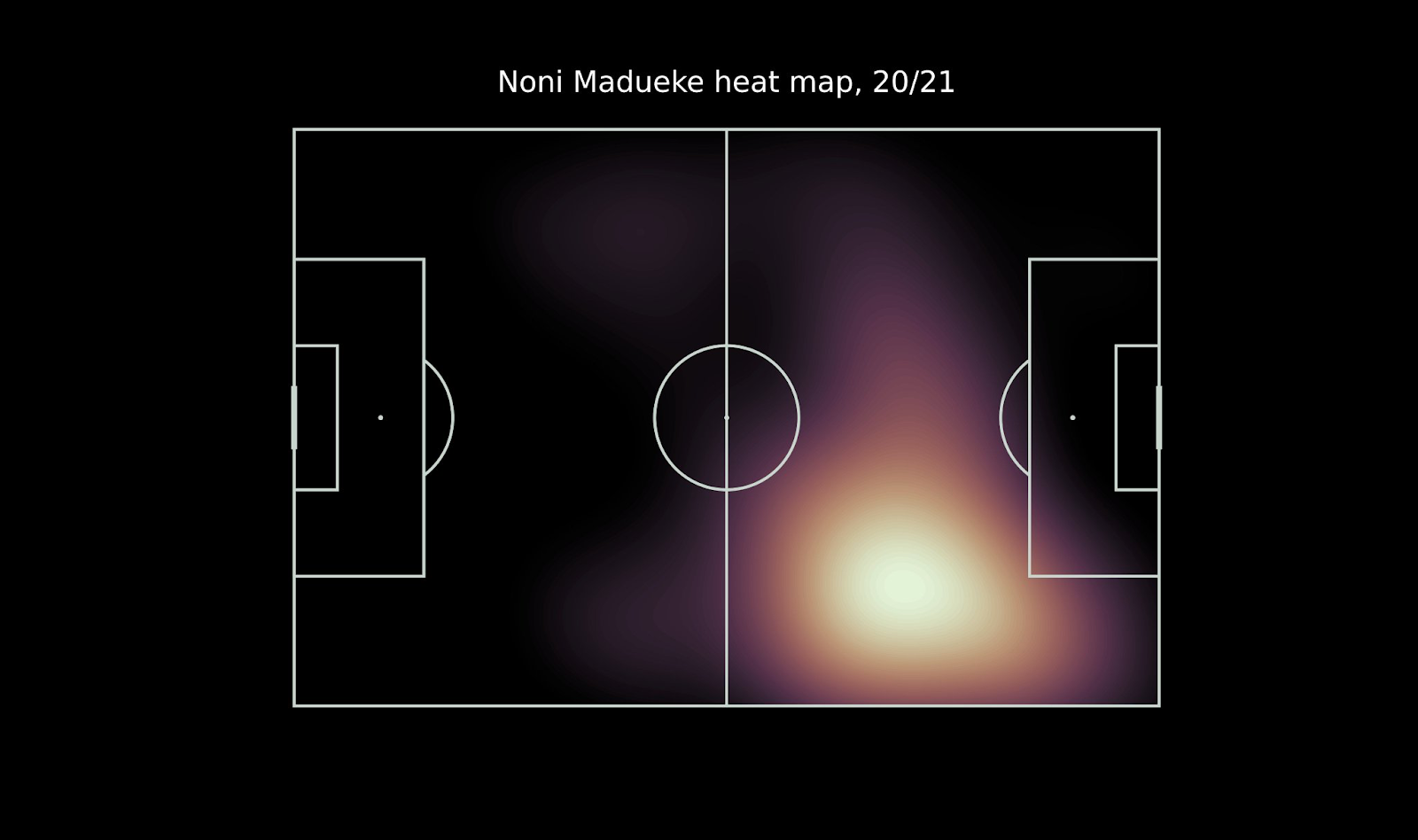 Moreover, the demand for the youngster has increased due to these recent showings. He is now being tracked by a host of clubs around Europe. Among the list of suitors monitoring his situation are his former club Tottenham, weighing up a move to possibly bring him back to North London. A sagacious proposal, as it wouldn't take much for him to settle into an already well-known environment, but with the addition of Bryan Gil from Sevilla it seems less likely now unless the club offload more players.
According to The Standard, PSV are willing to part ways with him for between €20-€25million, whilst Transfermarkt has valued him in the region of €14 million as of May 2021. The club's valuation is only growing with every performance while the departure of Donyell Malen to Borussia Dortmund, who are also rumored to be interested in the player, has also driven up his price.
If Erling Haaland is to make his destined move away from the Yellow & Black soon, linking back up with Malen could be an intriguing prospect for the English man and his entourage as they played well together. His acquisition could prove to be a masterstroke if he ends up fulfilling his potential in Dortmund for example – a club that has proven time and time again they're not afraid to invest in unpolished gems, yet they've reaped the rewards of their faith in youth with the likes of Jadon Sancho, Ousmane Dembélé & Christian Pulisic all eventually leaving the German side for handsome amounts of money.
One other giant rumored to be on the list are Arjen Robben's former club, Bayern Munich, a player Noni openly tries to emulate, with his trademark cut-in runs that tormented defenders for over a decade. He has certainly shown that he has the quality to play at a higher level and a move to the top flight of English Football or even any of the other Top 5 leagues seems inevitable in the near future at this point. Perhaps one more season in the Eredivisie could be what's best for his development.
The pursuit for his allegiance doesn't stop at club level, as National football federations are also campaigning for his commitment to their respective camps. As aforementioned, born in England, Noni is also eligible to play for his parents' country of descent, Nigeria. At youth level, he has represented England 21 times from u16 through to the u21s but has yet to make a competitive senior appearance for the nation.
An offer from Nigeria could yet entice him but he has spoken about his determination to fight for his place amongst The Three Lions pool of top-class talent coming up. If he can keep up his performances at club level, it's hard to see why Gareth Southgate won't reward him with an opportunity to represent his country of birth. It's certainly going to be an exciting year for the young star and one worth keeping an eye on. 
By: Vuyo Regálo II / @RegaloJnr
Featured Image: @GabFoligno / BSR Agency – Getty Images