Player Analysis: Nuno Mendes
It has been nothing short of a whirlwind year for Nuno Mendes. Since making his professional debut in a 1-0 victory against Paços de Ferreira, Mendes has solidified a starting spot in Rúben Amorim's Sporting, played for the Portugal national team, and drawn attention from a host of top European clubs.
Born in Sintra, Portugal to Angolan parents, Mendes began playing organized football at the age of nine, when his school teacher Bruno Botelho invited him to play for amateur club Despertar. Soon enough, he began to attract interest from some of Portugal's major clubs. Akil Momade, who worked as a scout for Sporting, paid a visit to Mendes' house and knocked on his door as the 10-year-old was alone. Mendes, believing he was about to be robbed, went to the kitchen and grabbed a knife to protect himself.
"When I opened the door I saw that it was him and I was calm. He even showed me a Sporting card so I wouldn't be suspicious. He told me they wanted me there and I went with all my heart," said Mendes in an interview with Record. For the next four years, Mendes would drive one hour each way from his house in Sintra before deciding to move into Sporting's Alcochete-based residency program.
Sporting's coaches chose to convert him from his original attacking position to a left-back, and bit by bit, their foresight has bore fruits as Mendes rose up the ranks for club and country before making his debut on June 12, 2020. The following week, he became the youngest player since Cristiano Ronaldo to start for Sporting, playing the full 90 minutes as the Leões took a 1-0 victory against Tondela.
The departure of Marcos Acuña to Sevilla has given Mendes the opportunity to solidify a starting spot as a left wing-back in Amorim's 3-4-3, and the 18-year-old has taken the chance by the scruff of his neck. He has been a vital cog in Sporting's title challenge, and his performances have been rewarded with a contract extension to 2025, with Mendes' release clause rising to €70 million in the process.
Six months after earning his first cap for Portugal's U-21 side, Mendes made his debut for the senior team, playing the entire 1-0 victory against Azerbaijan in the 2022 UEFA Champions League qualifiers, coming off the bench in the following match against Serbia, and starting against Luxembourg in the third qualifying match. While he likely won't start over Raphaël Guerreiro, he has proven worthy of a roster spot for this summer's Euros ahead of veteran left-back Mário Rui.
Whilst he hasn't quite exploded to life in terms of goalscoring numbers (1 goal and 2 assists in 28 matches), Mendes' importance goes beyond statistics; playing as the left wing-back in Amorim's 3-4-3, he provides a constant source of width and explosiveness whilst Pedro Gonçalves inverts from the left flank. There are several plays each game where he will dribble past several opposing players and nearly score a goal himself, such is his capacity to create without needing a player to link up with.
Since taking charge on March 4, 2020, Amorim has given seven Alcochete products their Primeira debut: Joelson Fernandes, Eduardo Quaresma, Tiago Tomás, Daniel Bragança, Dário Essugo, and Gonçalo Inácio. Mendes, however, has been undoubtedly a class above the rest this season, and his performances could land Sporting a monster transfer haul sooner rather than later.
Mendes' first competitive goal came on October 4 in an away match against Portimonense. Matheus Nunes attempts to find him with a switch of play, but his pass is intercepted by Koki Anzai. Mendes, however, is quick to react and robs the ball off the Japanese defender, before beating Maurício Antônio for pace, sauntering past Willyan da Silva Rocha, and coolly slotting it into the back of the net.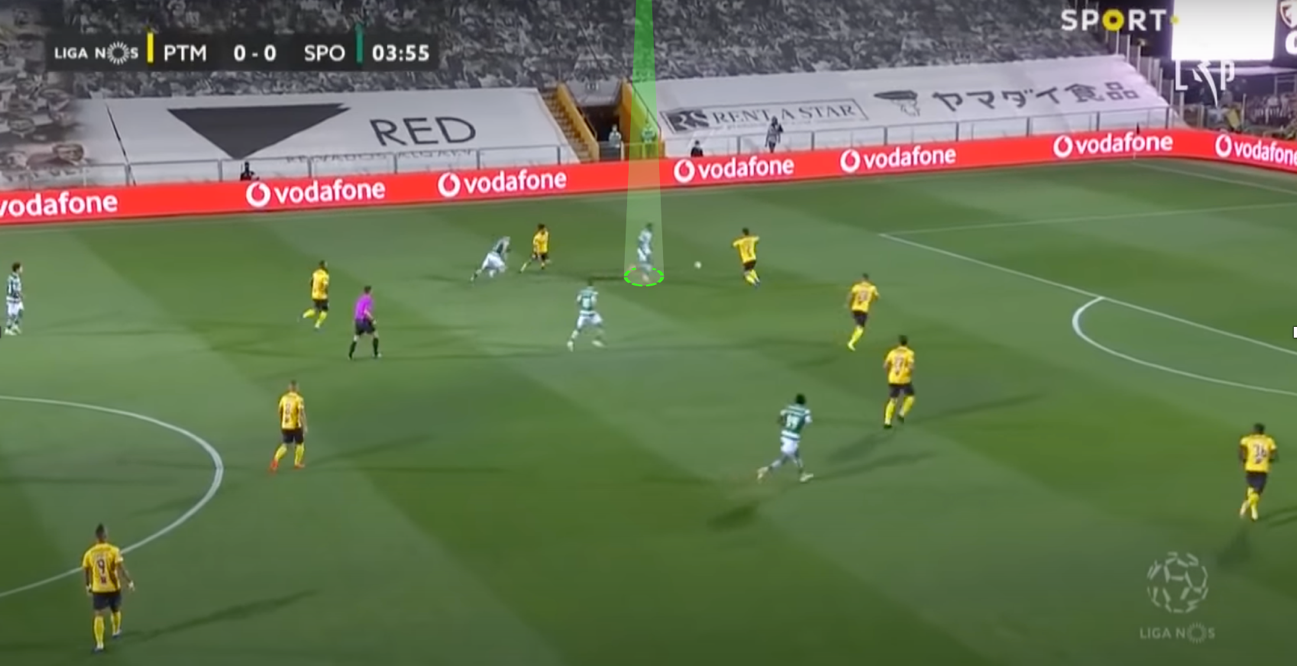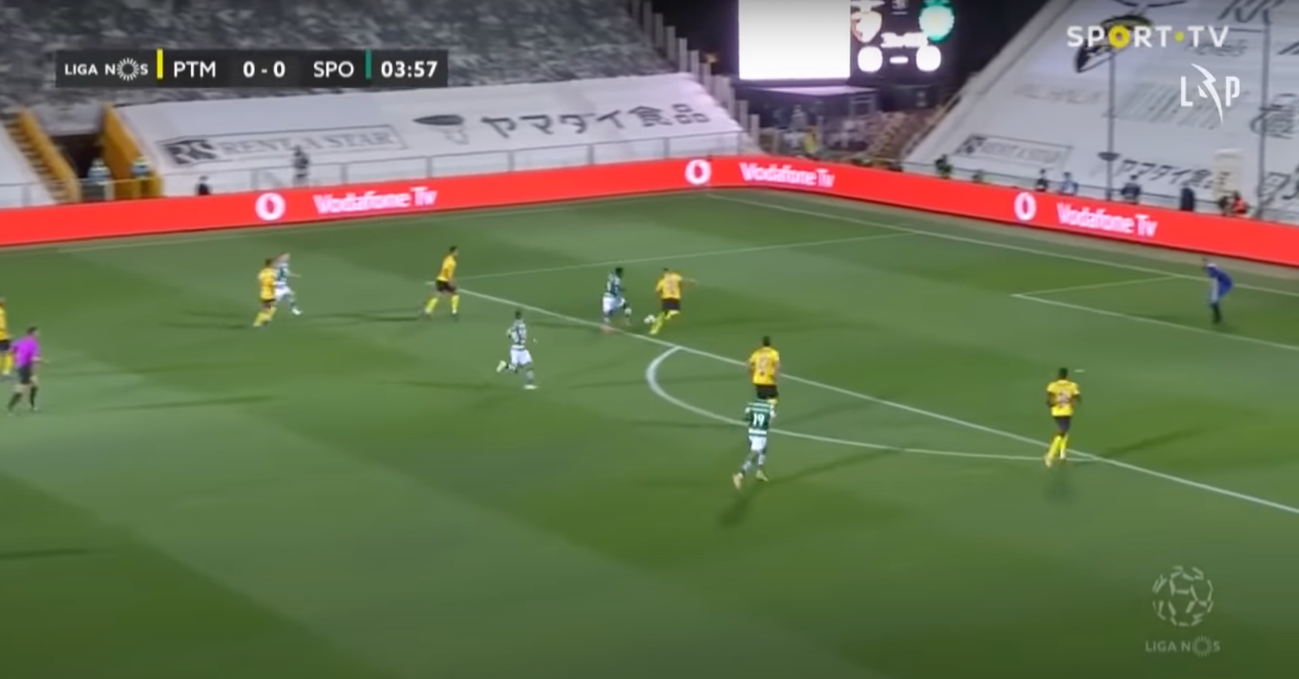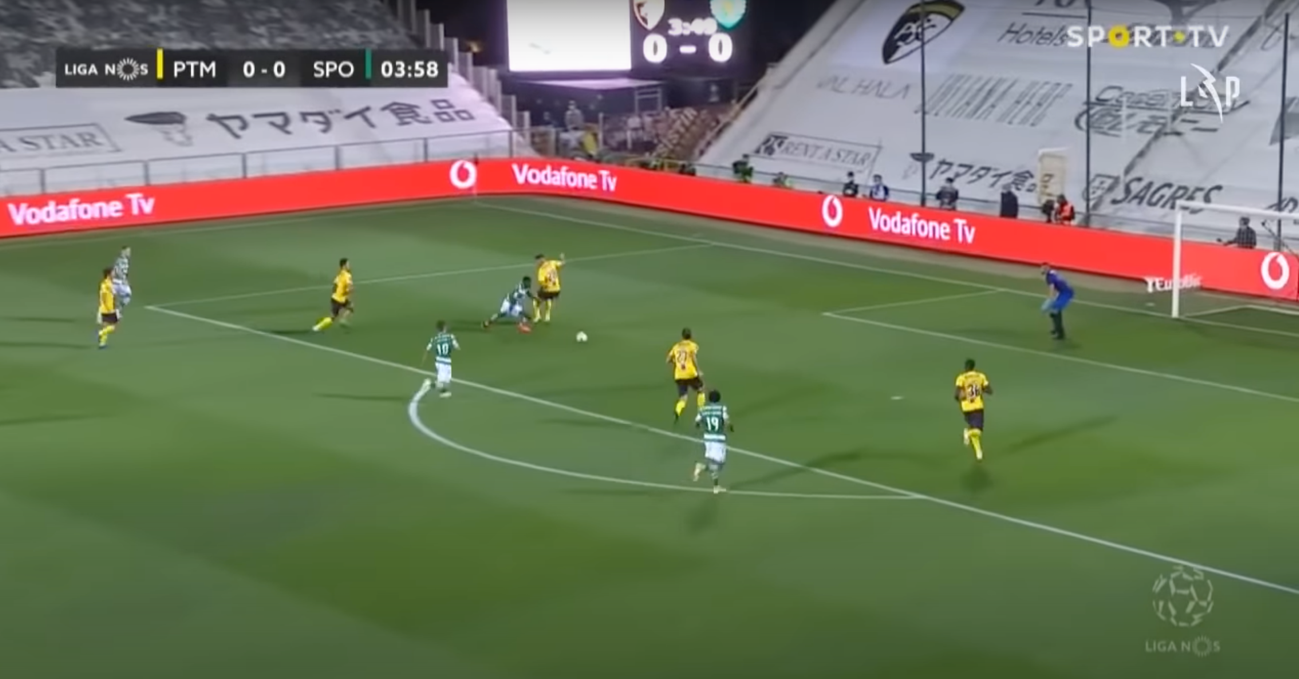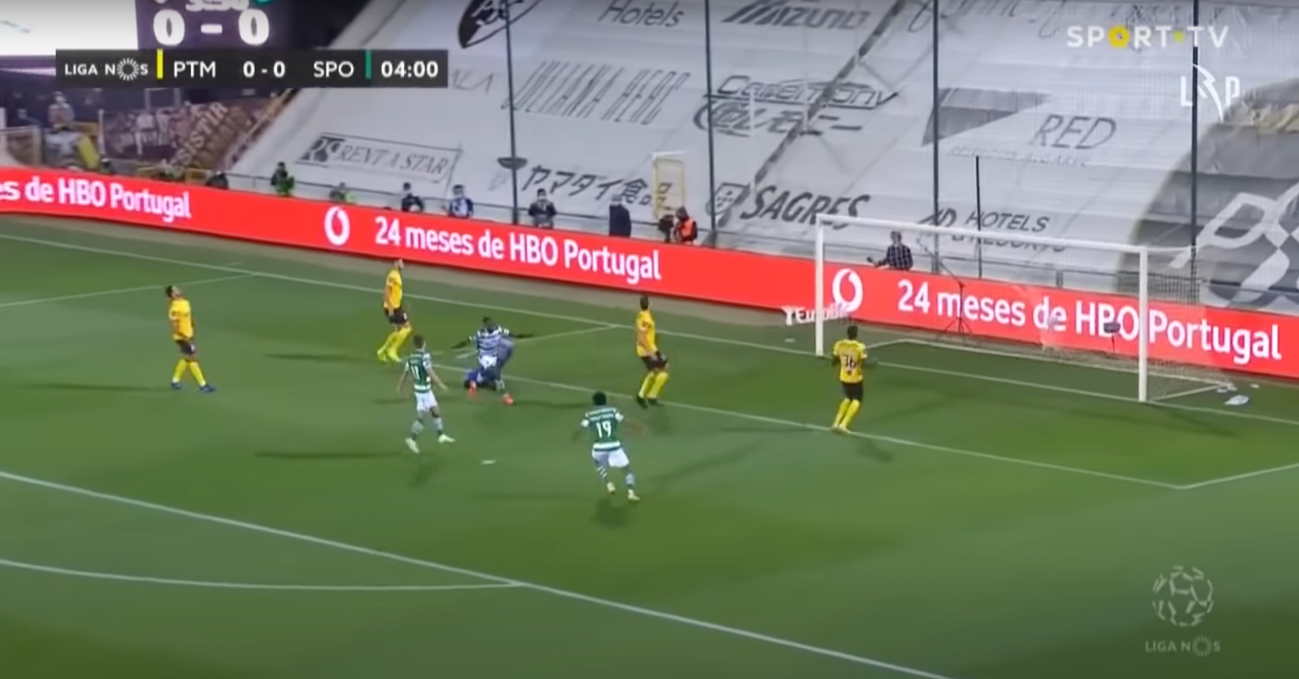 One thing that has made Mendes such a valued prospect is his ability to create goalscoring situations by himself, without needing anyone to overlap and combine with on the left flank. We see an example of this in their 2-0 victory against Boavista on January 26, as Adil Rami's errant clearance falls to the feet of Mendes, who eyes up the penalty box and plays an inch-perfect cross that sears Boavista's defense and falls perfectly for Nuno Santos to tap in.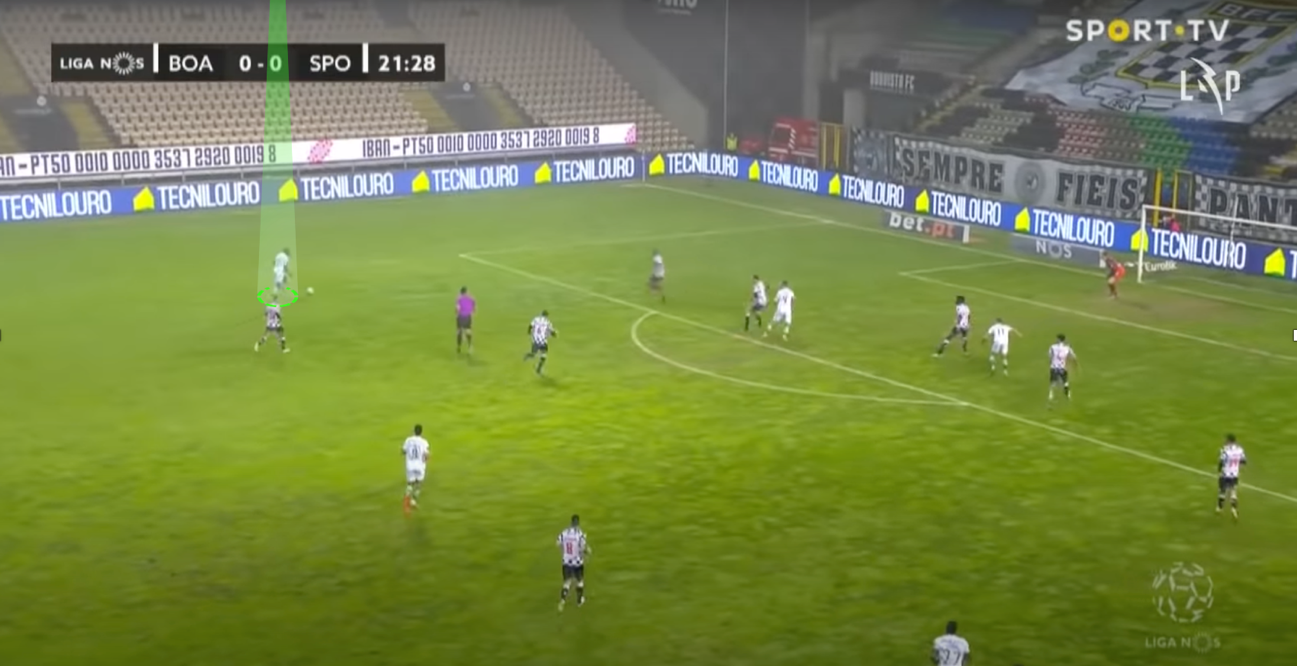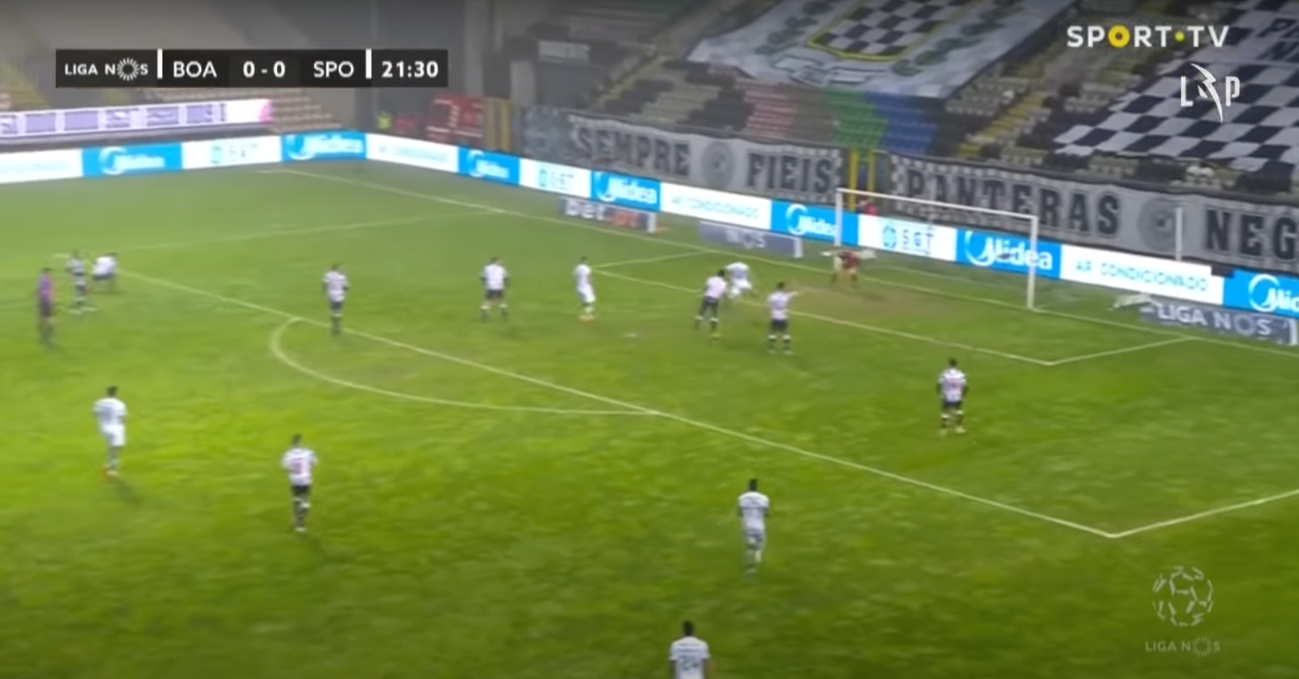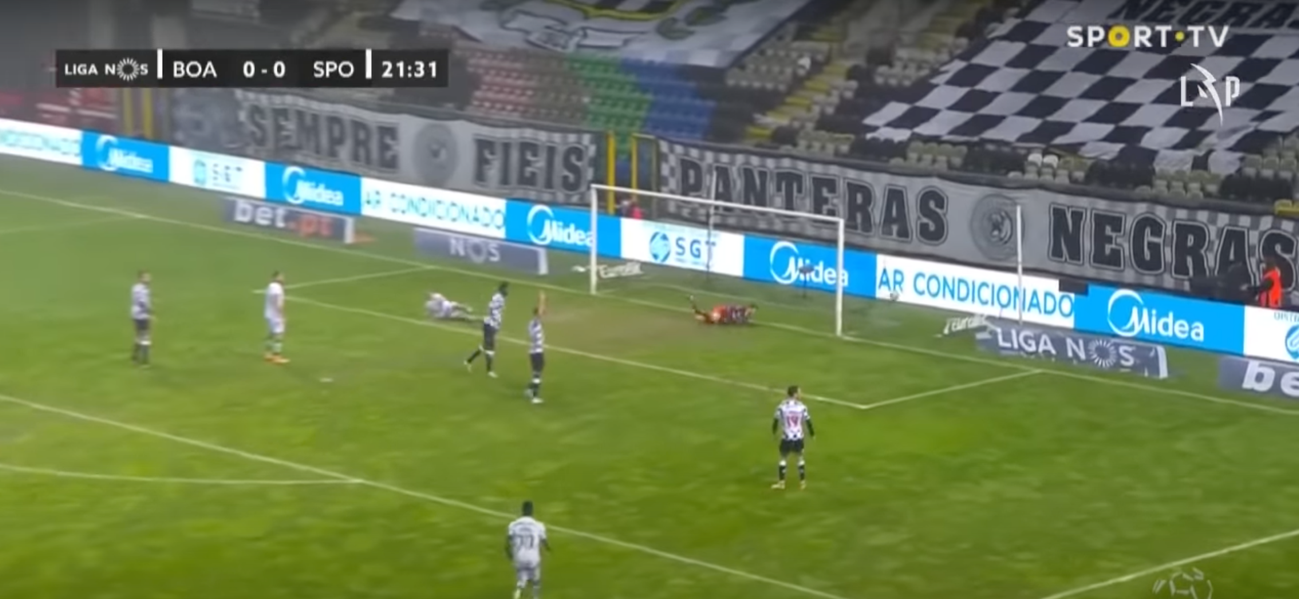 After impressing in his full debut against Tondela, Mendes' next 'baptism of fire' came on July 15, when he traveled to the Estádio do Dragão to face off against Sérgio Conceição's Porto. The hosts would take a 2-0 victory via second-half goals from Moussa Marega and Danilo Pereira to achieve their 29th league title with two games to spare, but the teenager still impressed throughout the defeat.
Mendes nearly gave Sporting an early lead within the first twenty seconds of the match, only for the goal to be ruled out due to Andraž Šporar being in an offsides position. He would come close once again to breaking the deadlock shortly before the break, receiving the ball deep on the left flank before cutting inside, leaving Wilson Manafá in his dust and forcing Mamadou Loum to foul him on the edge of the box.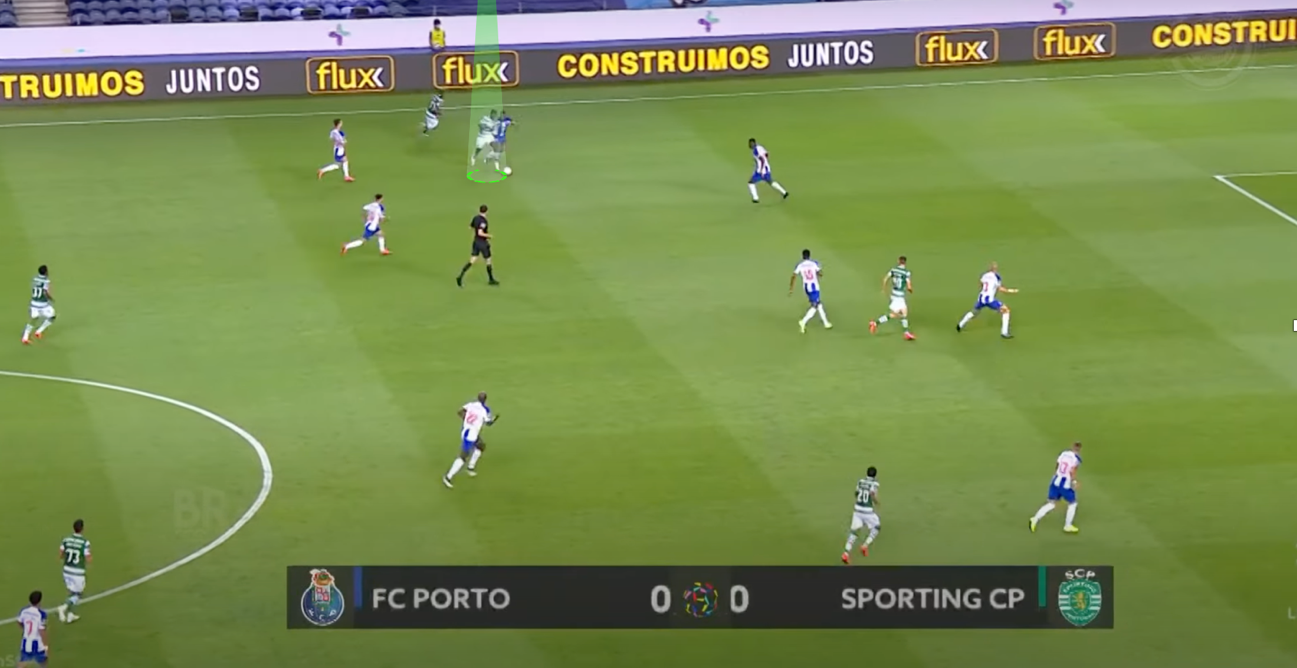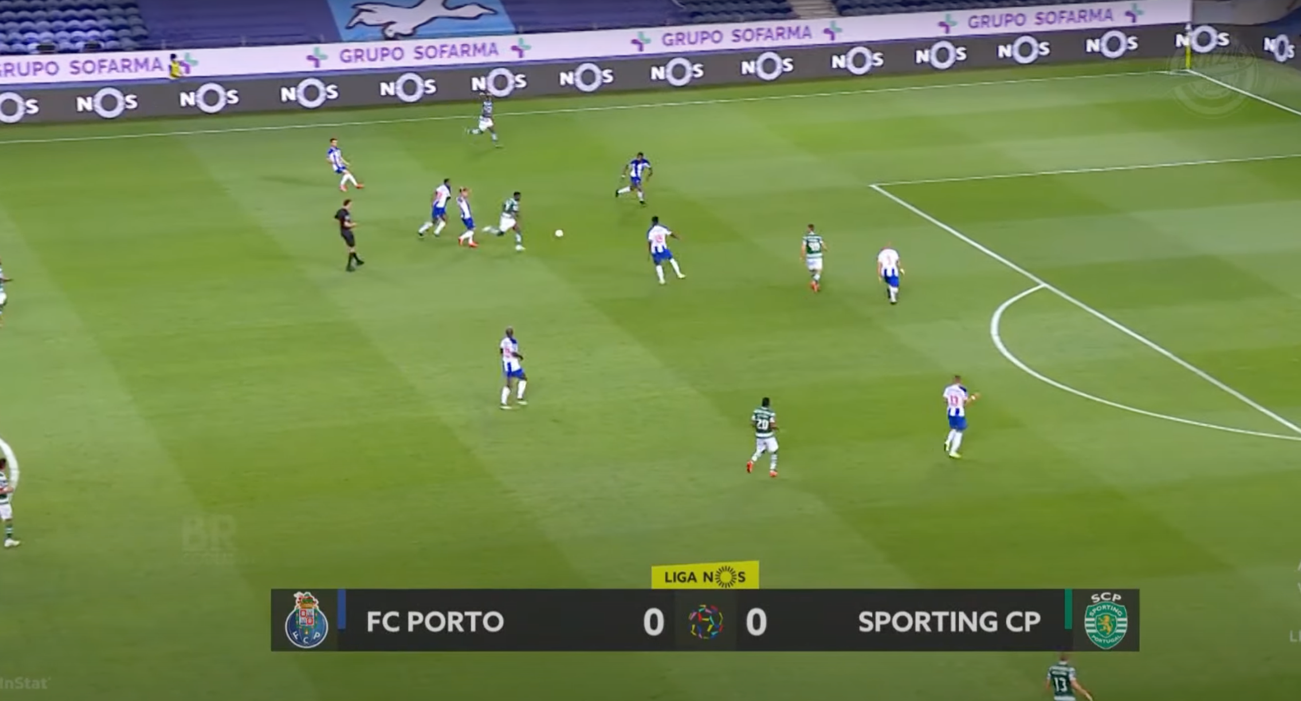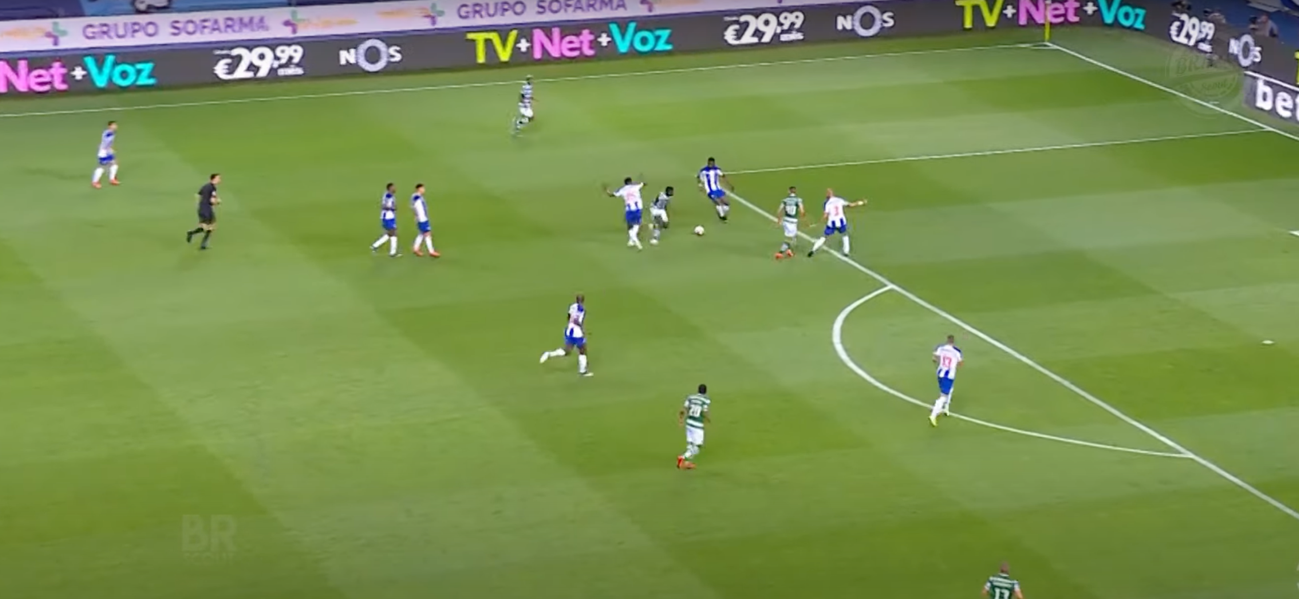 Following the departure of Alex Telles to Manchester United, Mendes has cemented his status as the finest left-back in Portugal thanks to a deadly combination of speed, explosive movement, and close control which allows him to create danger either from a standing start or whilst on the counter-attack. He is currently averaging an impressive 1.4 dribbles per match in Liga NOS as well as 0.7 key passes and 1.9 fouls won per match.
Apart from his dribbling, Mendes boasts an excellent crossing ability whether tightly marked or open in space, and his physical prowess allows him to beat out opponents to the ball either with his speed or strength, having won an astonishing 6.5 duels per match in the league. He's no slouch on the defensive end either, as he is more than capable of anticipating attacks and cutting in front of a pass and winning the ball back for Sporting.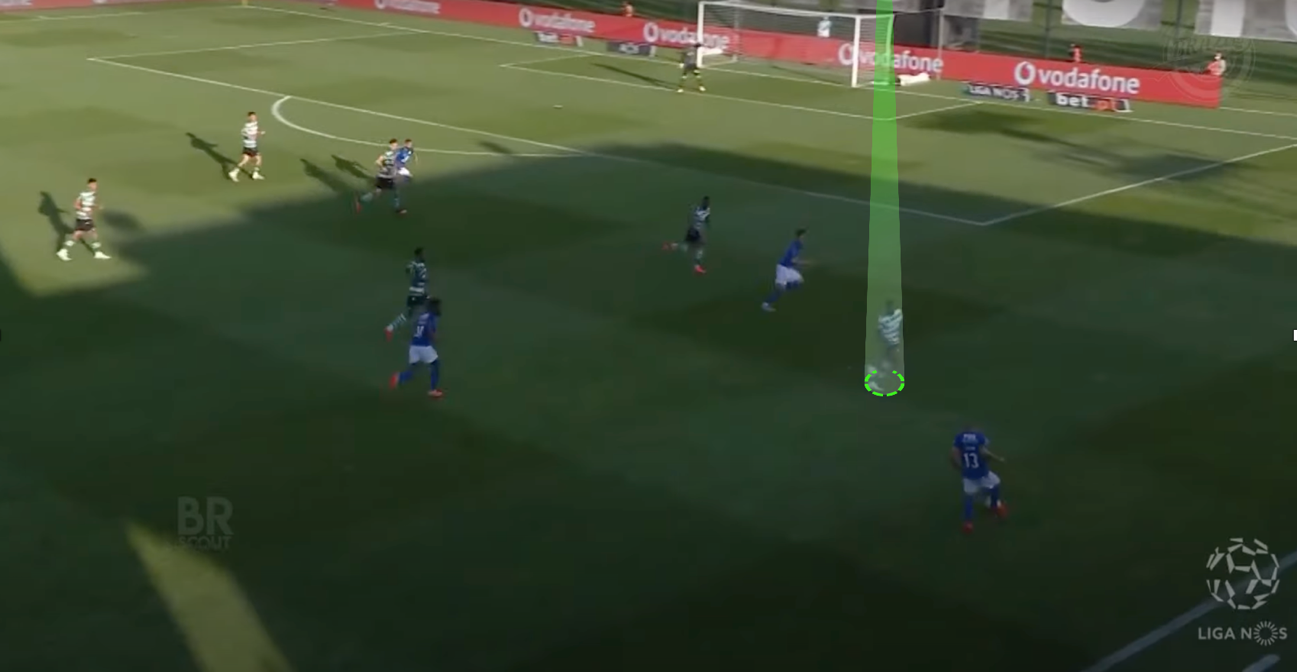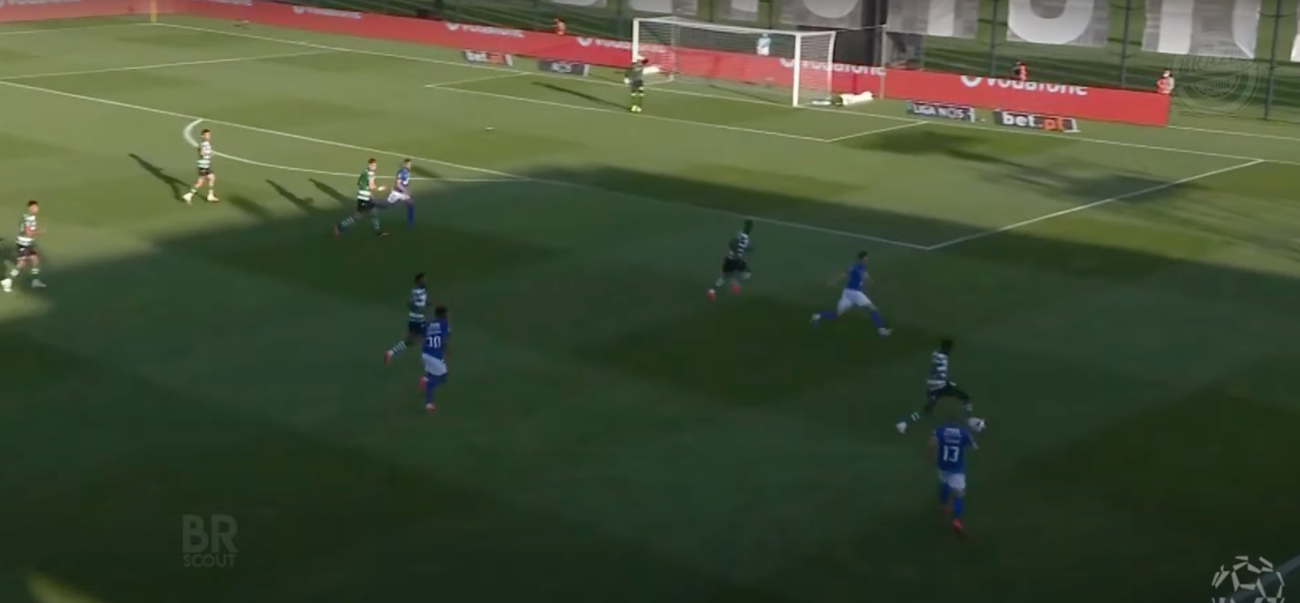 We see an example of this in the above match against Belenenses SAD. Tiago Esgaio attempts to find Licá in an advanced position, but Mendes quickly realizes where Esgaio is going to play the pass and cuts out the pass, safely regaining possession for Sporting. He ranks 9th in the Primeira for interceptions (48) this season, and it is clear that, despite playing as a left wing-back for Sporting, he has the defensive knowhow to play in a back four.
Despite his incredible potential and talent, Mendes still has certain things that he will need to improve on in order to eventually reach his ceiling and become the best left-back in Europe. His decision-making in front of goal is still far too inconsistent, whilst off the ball, his lack of positional intelligence continues to be a sore spot, mainly owing to his age. He is far too often drawn into advanced positions whilst defending, choosing to press the ball carrier and leaving plenty of space to be exploited in behind.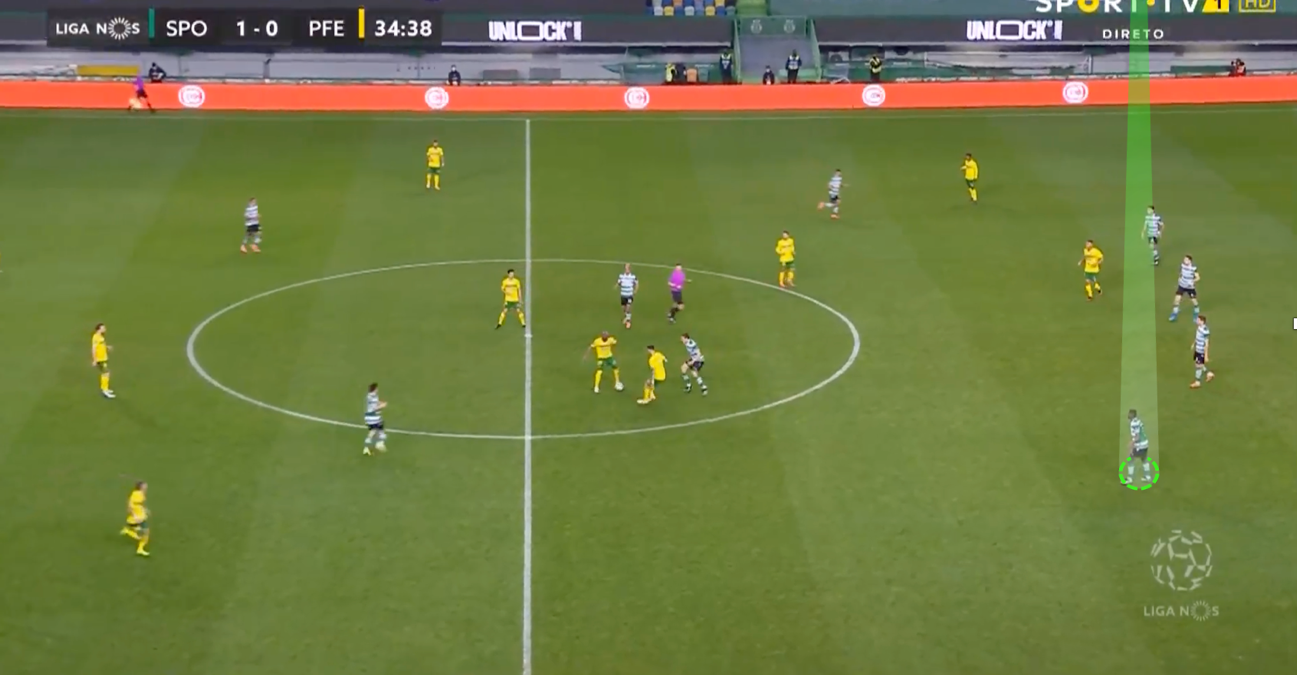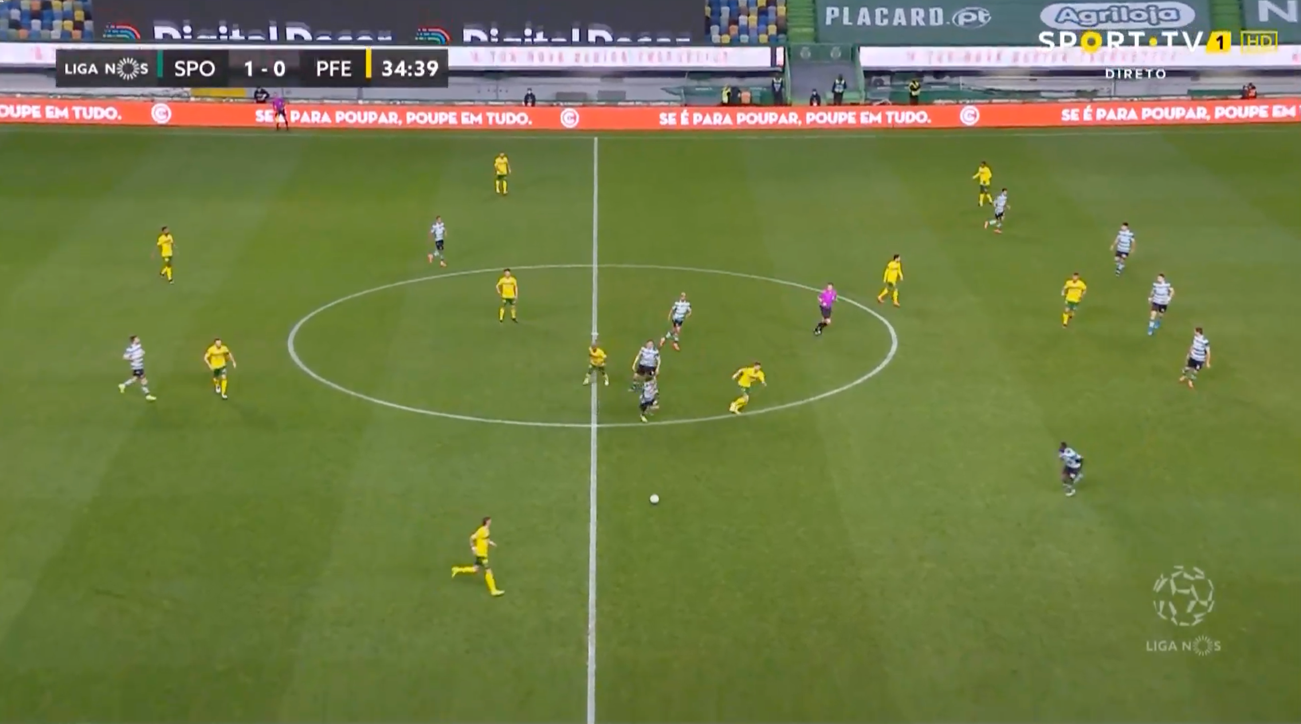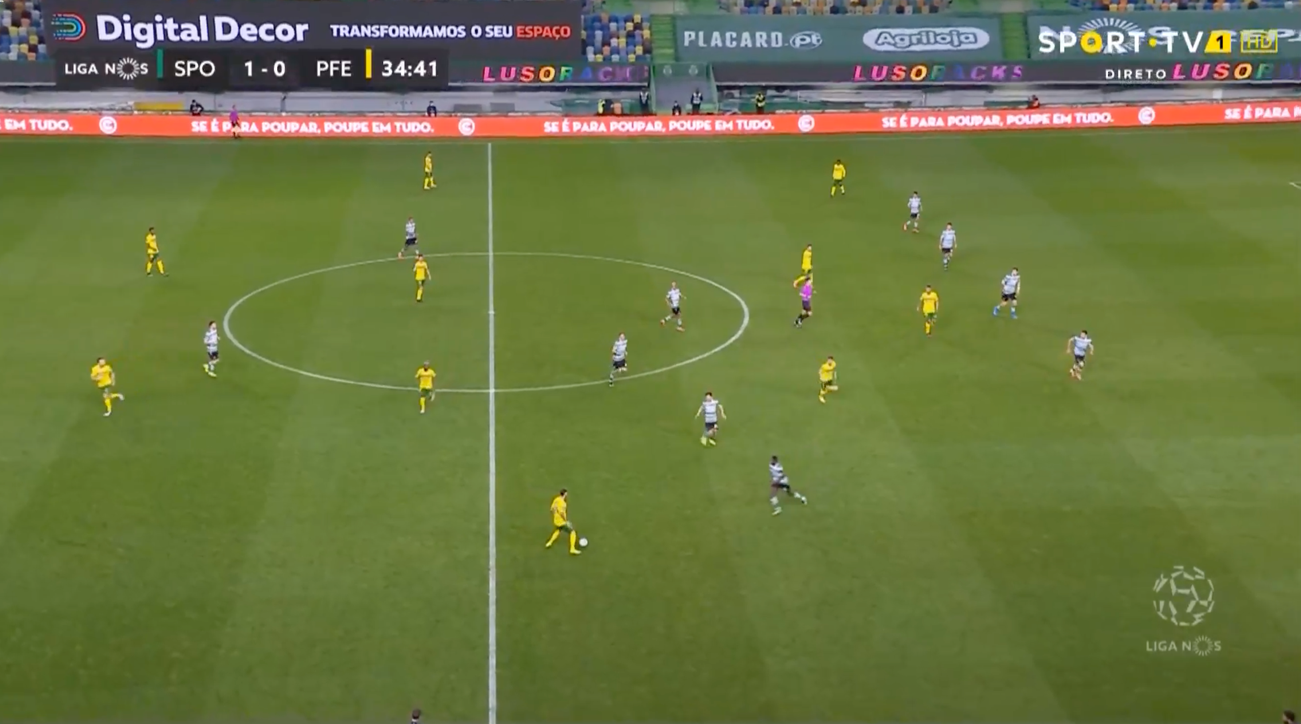 In this example against Paços de Ferreira, Luíz Carlos plays a pass to Hélder Ferreira and Mendes moves up to press him and leaves plenty of space behind that could be exploited by a pass between the lines, but wasn't in this case. However, another team could have launched a more dangerous attacking opportunity with a riskier, more incisive pass to take advantage of Mendes' advanced positioning.
Sporting's famed Alcochete academy has produced a treasured trove of attacking players from Cristiano Ronaldo to Nani, from Ricardo Quaresma to Luís Figo, but Mendes — a former wide forward who has been converted to a fullback/wingback — is emerging as the club's brightest homegrown talent this season, earning interest from a host of European giants ranging from Juventus, Manchester City, Real Madrid, Manchester United and Inter Milan.
After defeating Farense 1-0 at the Estádio de São Luís, Sporting currently hold a 9-point lead atop the Liga NOS table with seven matches to go, although Porto could trim that to 6 points with an away victory at last-placed Nacional. They are edging ever closer towards ending their title drought and breaking Porto and Benfica's hegemony thanks in large part to Mendes — who was still a fetus in his mother's stomach at the time Sporting won their last league title.
By: Jaime Silva
Featured Image: @GabFoligno / Gualter Fatia / Getty Images