Player Analysis: Oliver Skipp
Oliver Skipp is another Premier League loanee to set the Championship alight. After featuring in the Tottenham Hotspur squad for 24 out of 38 Premier League games in the 2019-20 campaign, Skipp was sent out on loan to Norwich City by then manager José Mourinho with the idea of Skipp to get regular game time.
The challenge set ahead for Skipp at Norwich was to get them promoted, it was a huge weight to carry. It was one that he excelled at. Skipp was an obvious choice for Daniel Farke's system in which he slotted in perfectly for the position and the needs that came with the role of the deep playmaker. 
Daniel Farke's 4-2-3-1
Joining Norwich and helping them get promoted is one thing, but Skipp had to be drilled into playing Daniel Farke's way, in which the formation he sets out becomes very fluid through rotation throughout the players' positions. However, the roles in which the team plays remain the same.

FIGURE 1: Farke's rigid 4-2-3-1 in show against Marcelo Bielsa's Leeds United at Elland Road in 2019. Players rotating but playing in the roles that Farke had embedded into them.

FIGURE 2: Farke's 4-2-3-1 that has fluctuated into a 4-1-4-1 to help with the attack one of the roaming eights joins from the double pivot of the two holding midfielders, due to the ball being turned over, Buendia tries to cover the other holding midfielder who has gone to counter-press the ball.
The other transition within Farke's playing style is a 3-4-3, in which he allows the full-backs to act like flying wingbacks. The holding midfielder, who has been acting in the six role drops in between the two centre-backs and the attacking midfielder acting within the ten drops into a box-to-box midfielder.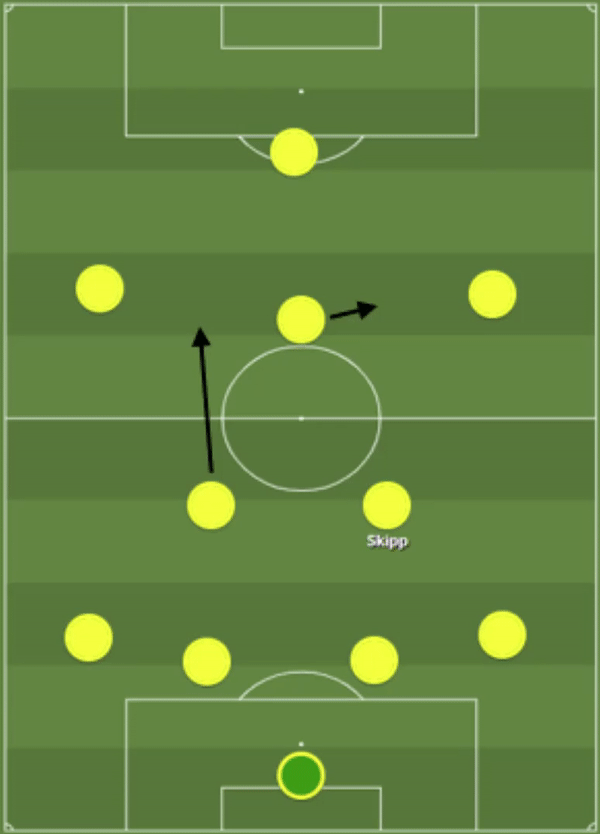 FIGURE 3: Skipp's movements within the rotation of temporary roles and formations in Daniel Farke's style of play at Norwich. 
However, during this time at Norwich, Farke used a 3-1-4-2 in attacking situations from a three centre-back formation with wing-backs. A 5-2-2-1 defensively allows wingbacks to push forward into a four infront of Skipp as a six.
It also allowed the other defensive midfielder to turn into a roaming eight, leaving Skipp as the single defensive midfielder. This was due to the trust that Farke had in Skipp to be able to cover the wings as he does in the 4-1-4-1 when Norwich tries to counter-press the ball.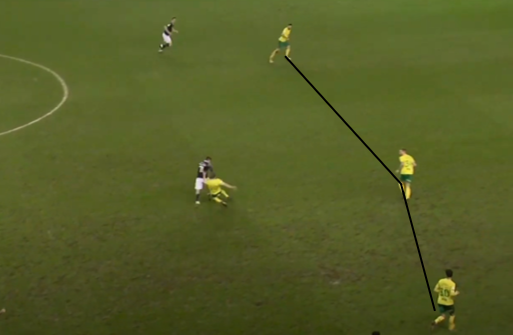 FIGURE 4: Skipp, in front of the back three after a loss of possession in the final third for Norwich, gaining back possession after covering the ball to the wings to then force the Millwall player to carry the ball centrally causing Skipp to regain possession through a solid tackle. Truly brilliant positional awareness. 
Skipp's Influence in Norwich's Midfield
Within Skipp's game of the six, one of his greatest qualities is being able to control the game at his own pace, by slotting in between the centre-backs to collect the ball to then start attacks. The composure Skipp exerts, he steps back to receive the ball to then not only calmly distribute the ball to restart a Norwich attack, but so often he has made an impact from his distribution from the back was a pass to the assister of the goal, which means Skipp goes very under the radar when it comes to assist stats.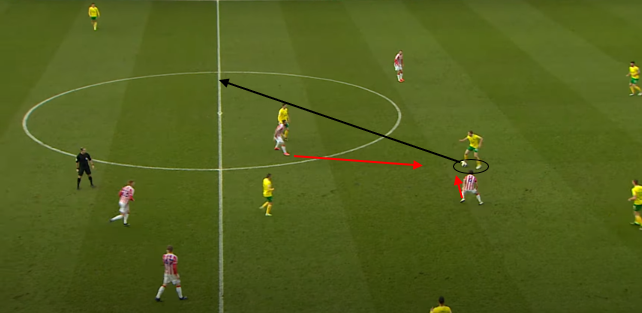 FIGURE 5: Skipp dropping just in front of the centre-backs to collect the ball and then turn to open himself up for a pass, drawing two Stoke players to Skipp who are trying to press the ball. Skipp generates space in behind Stoke's midfield line for his teammate, causing a 4-on-4 attack for Norwich.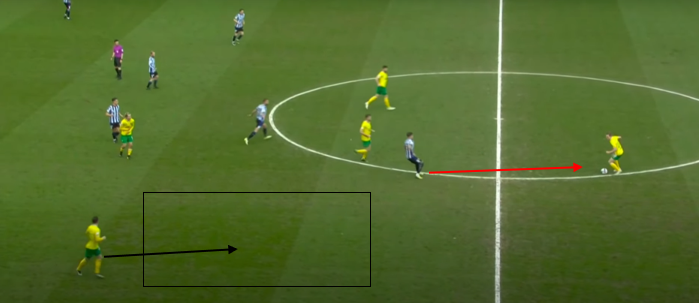 FIGURE 6: Skipp, drops back to receive the ball from the goalkeeper after a clearance from Sheffield Wednesday from a corner, acting like a sweeper in behind the centre-backs, before composing himself, which drags the press from the right winger of Sheffield Wednesday towards him allowing Skipp to pass into the space for his teammate due to him drawing a player out of position.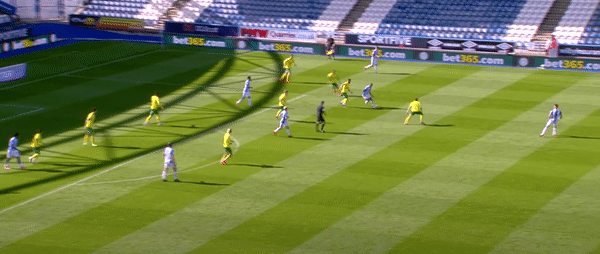 FIGURE 7: Skipp, intercepting the ball and using quick feet to be able to start a counter-attack for Norwich causing a 3-on-2 situation. This was all from Skipp stepping up from the six after a heavy touch from Juninho Bacuna of Huddersfield, and his timing was impeccable. [Credit & Source: Norwich City YouTube]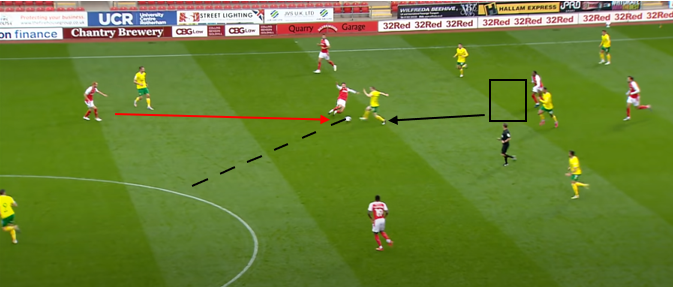 FIGURE 8: Skipp, yet again sensing the poor pass from Rotherham's centre back in which he steps up into a box-to-box midfielder to dispossess Rotherham, before driving into open space due to the run made by Jordan Hugill. Timing and footballing IQ are perfectly shown by Skipp to start a Norwich counter-attack after Rotherham full-backs had committed to their attack.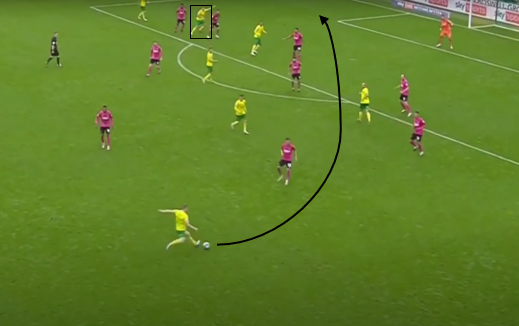 FIGURE 9: Skipp against Derby, in which he distributes the ball inch perfectly to Hugill running at the back post. He places the ball in such an awkward position for the Derby goalkeeper, drawing David Marshall to the ball, to then at the last-minute retreat causing a higher chance to score for Hugill due to Skipp's ball offsetting Marshall.
FIGURE 10: Skipp in his natural role, dropping deep to receive the ball from Norwich goalkeeper Tim Krul to then turn out with the ball and hit a 50-yard diagonal ball to Hugill inch perfectly. [Credit & Source: Norwich City YouTube]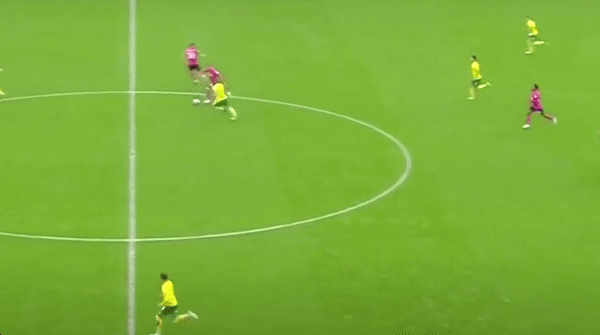 FIGURE 11: Skipp as the lone six in the attacking 3-1-4-2 played by Farke. Derby try to counter exposing the space in behind the wingbacks. However, Skipp manages to stop the attack due to a fantastic dispossessing tackle hooking the ball from underneath the Derby player and then allows himself to open himself up for a ball to be played back into his feet to be able to distribute the ball forward. [Credit & Source: Norwich City YouTube]
Skipp has 2,244 passes completed out of 2,545, 31% of these passes made were forward, meaning 695 passes completed by him was played to help contribute to an attack, an average of 15.81 forward passes made per game. He has also completed 100 out of 133 tackle attempts, showing a 75% tackle succession rate of 2.2 successful tackles per game from 2.95 attempted tackles per game.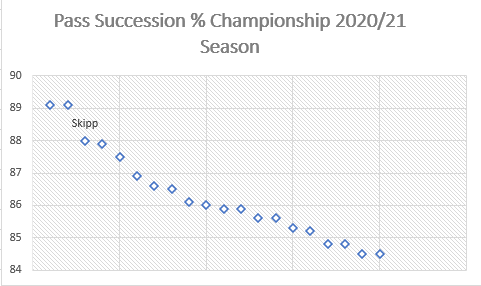 Conclusion
Overall, Oliver Skipp has shown the attributes and ability throughout his season loan at Norwich to be able to go and play at the very top level further on his career. His footballing IQ, distribution, work ethic in regaining possession are all attributes that Skipp holds and that could be very valuable to a team in the Premier League next season. I would hope that Tottenham allow Skipp out on loan again to develop further by getting more game time, as he could easily play Premier League football with Norwich or with another team of a similar caliber.
However, it is equally likely that Tottenham's new manager, whoever that may be, decides to keep the 20-year-old in the squad as a valuable rotational option. Alongside James Ward-Prowse and Tomáš Souček, Pierre-Emile Højbjerg is one of three outfield players who has played every single Premier League minute, and the impact of this has shown in his season. While the Danish midfielder enjoyed a bright start under Mourinho after his move from St. Mary's Stadium, his performances have fallen off and it is clear that a more defensive-minded player than Tanguy Ndombélé or Harry Winks or Moussa Sissoko would allow the ex Southampton man a much-needed rest.
His vision and ability to control the game at his own pace is a quality that would be seen at players in their primes rather than Skipp being able to do this at the age of 20. Wherever he ends up next season, he has proven he can do the job in the most dependable breeding ground for Premier League talents, and now, he's primed for a long career in England's top flight.
By: Oliver Hargreaves
Featured Image: @GabFoligno / Stephen Pond – Getty Images