Player Analysis: Ousmane Diomande
Player: Ousmane Diomande
Age: 19
Nation: Ivory Coast
Position/s: CB
Height: 6ft 3 in
Current club: Sporting CP
Number: 26
Ousmane Diomande is an upcoming centre-back prospect that has burst onto the scene in his short career thus far. The 19 year old, towering centre-back has been contracted to three different clubs in the 2022/23 season since starting his senior career. His original club being Midtjylland (since 2020 in his youth career) sent Diomande out on loan to C.D. Mafra who are playing in the Liga Bwin in Portugal. Diomande made 13 appearances for Mafra and due to his standout performances, Sporting CP came knocking for Midtjylland to recall Diomande from his loan and accept their £6.5 Million offer for the young Ivorian.
Since joining Sporting CP in January, Diomande has played 9 times for the Portuguese outfit. After his arrival, he has already been turning heads with his powerful stature and excellent passing ability, which has put top European clubs on notice. As seen below in the graphic from FBRef, Diomande stands out amongst other centre-backs in various metrics including progressive passes and progressive carries, the epitome of a modern, ball-playing defender.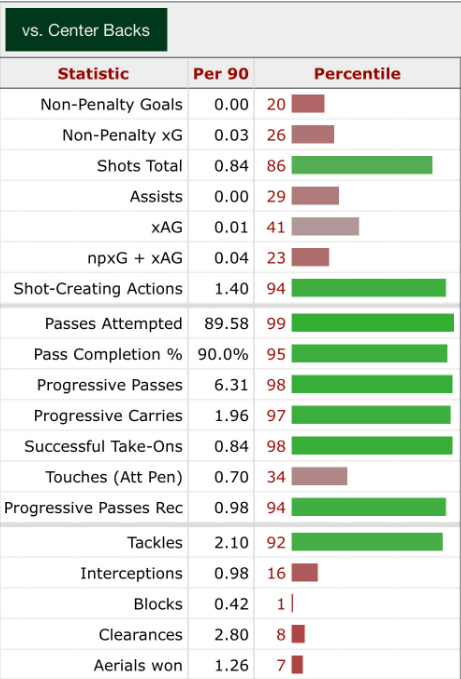 Ranking in the top 98% amongst other centre-backs in world football for progressive passes per 90 (6.31), and in the top 97% for progressive carries per 90 (1.96), this highlights the ability Diomande has to play out from the back and drive the team forward, allowing Sporting CP to play out of trouble and turn defense to attack quickly. This suits the way Sporting like to play, as they play in a 3-4-2-1 formation, which primarily has good ball playing defenders in order to play out from the back.
Another standout statistic is the whopping 2.10 tackles per 90 that Ousmane Diomande makes, which is in the top 92% amongst other centre-backs. This is due to the physicality that Diomande possesses allowing him to step out of the defensive line and compete in duels, such as winning tackles and using his power/pace in recovery when in defensive transition.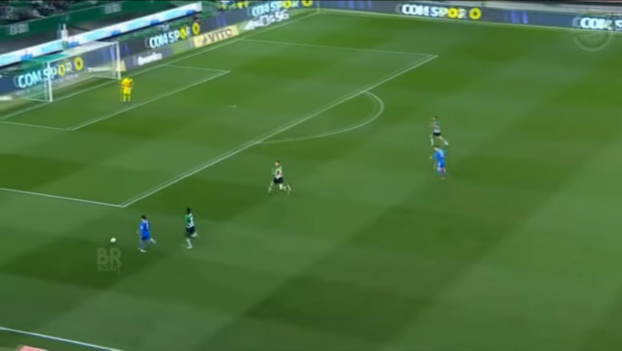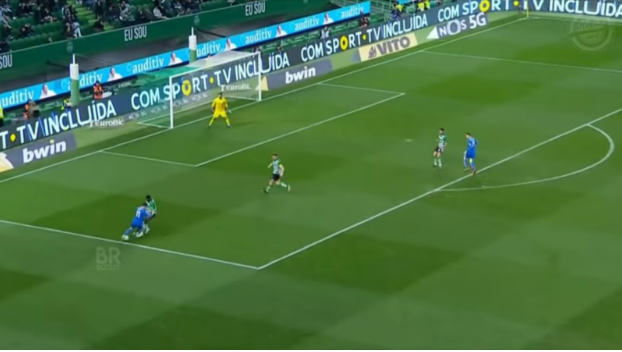 In the above figure, you can see Diomande using his pace to recover on a ball played in behind the Sporting defensive line. In the below figure, you see the outcome of this as Diomande successfully recovers using his pace and powerful stride, and then takes up a jockey position until making the challenge to poke the ball away. By successfully getting back into a jockey position, it allows Diomande to force the attacking player to make a decision and this is when Ousmane can steal the ball.
Diomande demonstrates excellent balance along with his speed and power, as he can quickly change speed and decelerate in order to initiate the jockey position, where he is then in control. This skill set makes Diomande attractive to top European sides, as many of the top sides like to play on the front foot, and by having a quick, powerful centre-back who is good in transitional defending allows teams to play with a higher defensive line and not be exposed.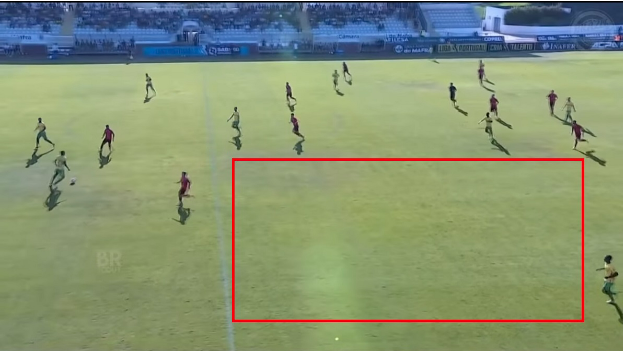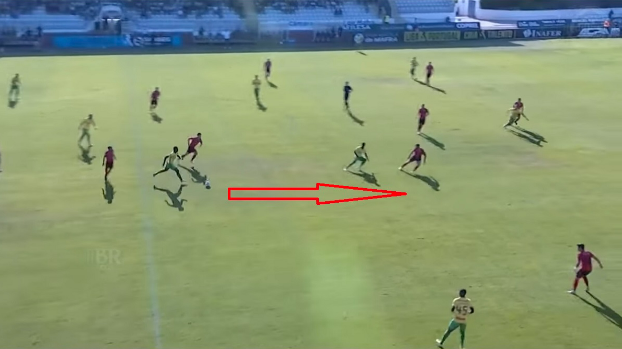 This example shows Ousmane Diomande's ability to progress the ball from defense to attack using his powerful running technique. In the above figure, Diomande spots the space in between the opposition's press and the opposition defensive line. In the below figure, Diomande runs into that space using a powerful stride to drive the team forwards from defense to attack with purpose. This is shown by Diomande's progressive carries per 90 which is 1.96 (ranking in the top 97% amongst other centre-backs).
His ball-carrying ability is another attractive asset for top European outfits, as Diomande's skill to beat the opposition press by driving into the midfield areas can take 3-4 players out of the game in one action, allowing teams to bait the opposition press and then quickly break out of this into a more advantageous position.
After speaking to Sporting fan Sam Fonseca, it was clear he had become a fan favorite in his short stint with Sporting so far. Sam said "I love Diomande. At age 19 he's come into the team and plays like a veteran. His ball playing ability and his ball control with both feet is unusually good for someone of his size and build, he always looks comfortable on the ball and has the ability to switch play really well. However the one thing I would say he lacks is heading ability, especially for someone of his build and position.
Sam stated "Diomande is a very unique player, and the sky's the limit for him, especially playing under Ruben Amorim who has developed defenders such as Coates and Goncalo Inacio."
In conclusion, what Sam has told us here very much correlates to the player profiling and analysis on Ousmane Diomande. The young Ivorian has a bright future, the raw abilities and build to succeed at the highest level as a centre-back. With the right coaching, and progression for his career, we could see Diomande emerge as one of the best defenders in Europe in years to come.
By: Connor Holden / @ConnorHolden00
Featured Image: @GabFoligno / Zed Jameson/MB Media / Getty Images