Player Analysis: Patrick de Paula
Football has bore witness to countless rags-to-riches stories, but perhaps no country has had more than Brazil. Dani Alves would wake up every day at 5 a.m. to help his father pick melons, Rivaldo grew up in a poor area of Recife and lost several teeth due to chronic malnutrition, and Gabriel Jesus painted the streets of Jardim Peri during the 2014 FIFA World Cup. The nation's most famous footballer, Pelé, worked as a waiter in a tea shop and kicked around a sock stuffed with newspaper whilst barefoot in order to pursue his dreams of becoming a footballer.
Whatever the case, the story remains the same: the player gave his life for the sport, because football was his only way out of poverty. That has certainly been the case with Patrick de Paula, who at 21 years of age, is staking a claim as one of the most talented youngsters in Brazil.
Born in Rio de Janeiro, Patrick grew up in a housing project in the neighborhood of Santa Margarida and bounced around from trial to trial in several major clubs in Rio in the hope of gaining a contract, and while he was rejected from most of them, he was accepted by Botafogo's academy and joined the U-13 side. However, his time at the Alvinegro would not last long.
Unable to afford the transportation costs to get from the impoverished area of Santa Margarida to the upper-class beachfront neighborhood of Botafogo, Patrick's family sought financial assistance from the club, but they were unsuccessful. Instead, he was forced to return home and joined the amateur club Cara Virada, a social organization that was set up by four friends to help sway youngsters away from a life of crime and violence.
Photo: Cara Virada
Patrick plied his trade at Cara Virada until 2017 when he finished the season as top scorer of the 'Taça de Favelas" tournament with 18 goals, leading his side to the championship. His performances piqued the attention of Palmeiras, who brought him to their academy.
He began his time at the Verdão whilst playing in the reserves, but on November 28, 2019, Patrick was promoted to the first-team squad for the following season, and two months later, he made his professional debut under manager Vanderlei Luxemburgo, coming on as a late substitute for Gabriel Menino in a stalemate against São Paulo in the Campeonato Paulista.
Bit by bit, Patrick began to establish himself in the first team during the Copa Libertadores and Campeonato Paulista, and after coming off the bench in the league opener against Fluminense, he quickly nailed down a starting spot in midfield throughout the Brasileirão, impressing in a box-to-box midfield role and registering 4 goals and 1 assist in 22 appearances. And whilst Luxemburgo was sacked after a 1-3 defeat to Coritiba, Patrick returned to the starting line-up on December 27 after missing the past few weeks due to a muscular injury.
Similar to his compatriots Gerson (Flamengo) and Anderson Talisca (Guangzhou Evergrande), Patrick is a pure #8 with a slightly better defensive IQ. As a left-footed midfielder, Patrick constantly drops deep to receive and control the flow of possession (583 passes received this season), offering an impressive vision and passing accuracy (85% passing accuracy), he utilizes his 1v1 skills to evade pressure and advance forward (64% dribble success), and he also boasts a dangerous mid-range shot (5 goals in 34 appearances).
Whilst Patrick stands out on the offensive side of things, he is no slouch in the defensive facets. Despite his relatively lean frame (5'11" and 172 lbs), he is an aggressive, physically imposing player (3.4 duels won per match) who can help execute the team's pressing strategy. However, there are still a few weak points he must iron out in order to take the next step in his development, including his ability in the air (0.7 aerial duels won per match).
Patrick's tendency to push forward can leave his team exposed defensively, and he needs to improve his positional awareness in order to help his team remain compact. His gung-ho style can also see him lose possession in dangerous areas (9.5 turnovers per match), giving the ball away to the opposition who can then expose the space between defense and midfield and launch into a transition.
Furthermore, it seems he needs to improve his work ethic in training in order to reach his ceiling. Abel Ferreira, who replaced Luxemburgo on October 30, stated, "He has to demonstrate that he wants to play in the training sessions. We want to develop perfect children, but sometimes obstacles appear."
Whilst Patrick was an undisputed starter under Luxemburgo, he has struggled for playing time under Ferreira, with the Portuguese manager often preferring Gabriel Menino and Danilo in the double pivot. Nevertheless, Patrick started alongside Danilo in midfield in the first leg of the Copa Libertadores semi-final against Marcelo Gallardo's River Plate and delivered a strong performance as Palmeiras took a 3-0 victory in Buenos Aires.
Let's take a look at what makes Patrick such a special talent and what he needs to work on in order to take the next step to the top level.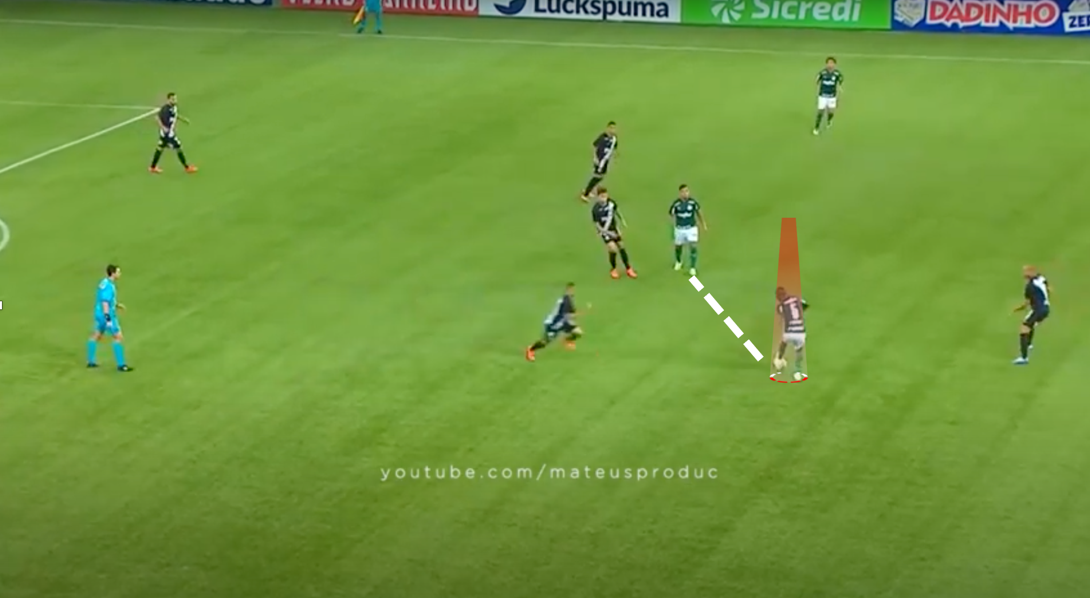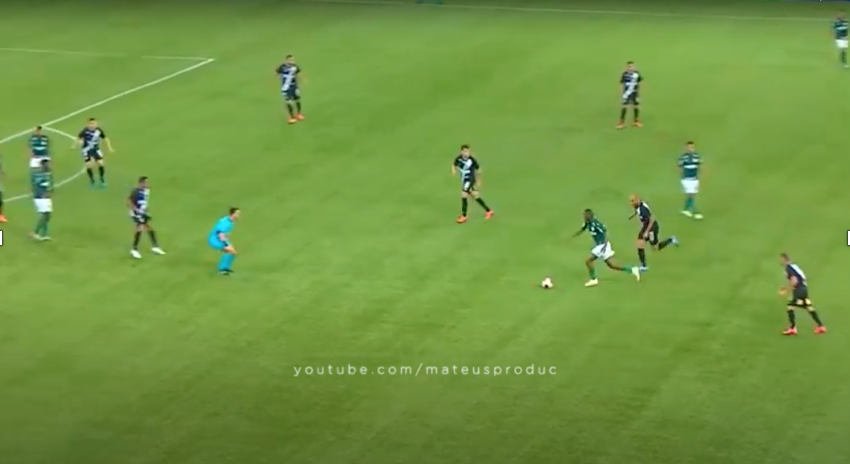 Photo: Mateus Productions
In this example against Ponte Preta, Patrick plays a short pass to Gabriel Menino, who quickly dishes it off to Patrick after being pressured. As João Paulo rushes to close him down, Patrick shields the ball with his body and evades the pressure, before finding Luiz Adriano on the left flank. Palmeiras would go on to advance to the Campeonato Paulista Final courtesy of a sole goal from Patrick, where they would defeat Corinthians on penalties.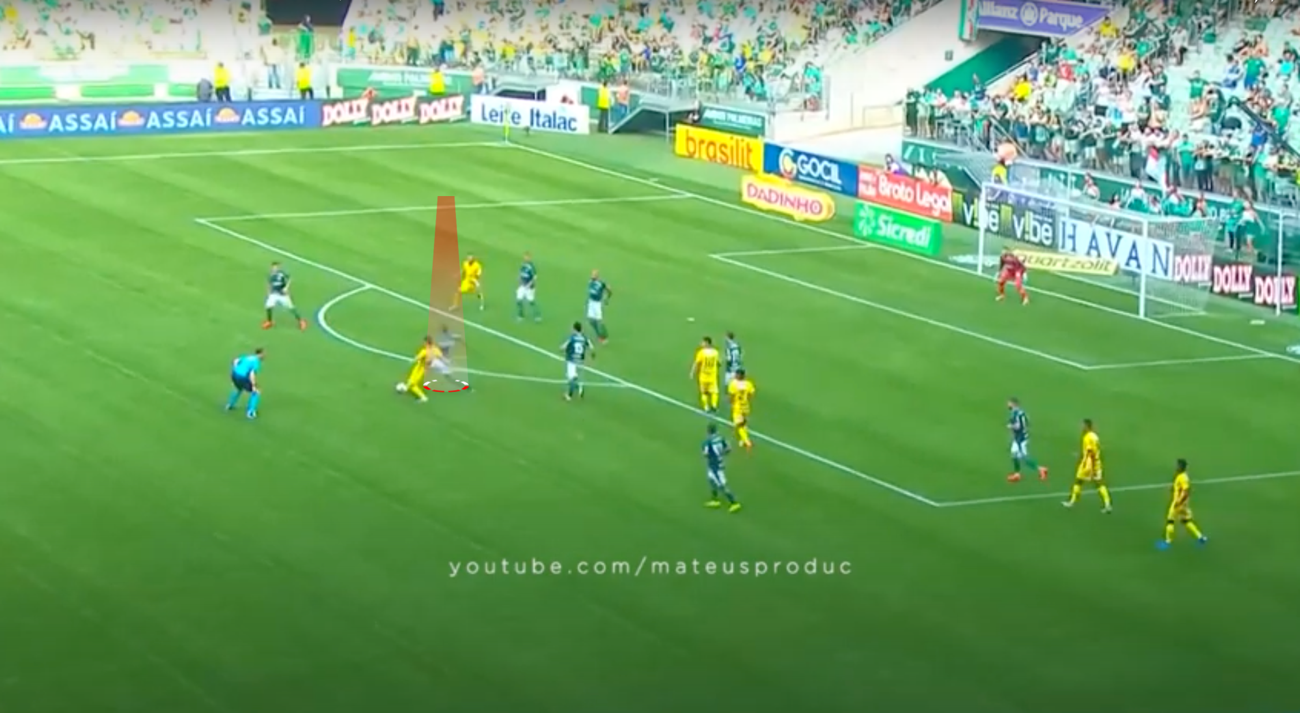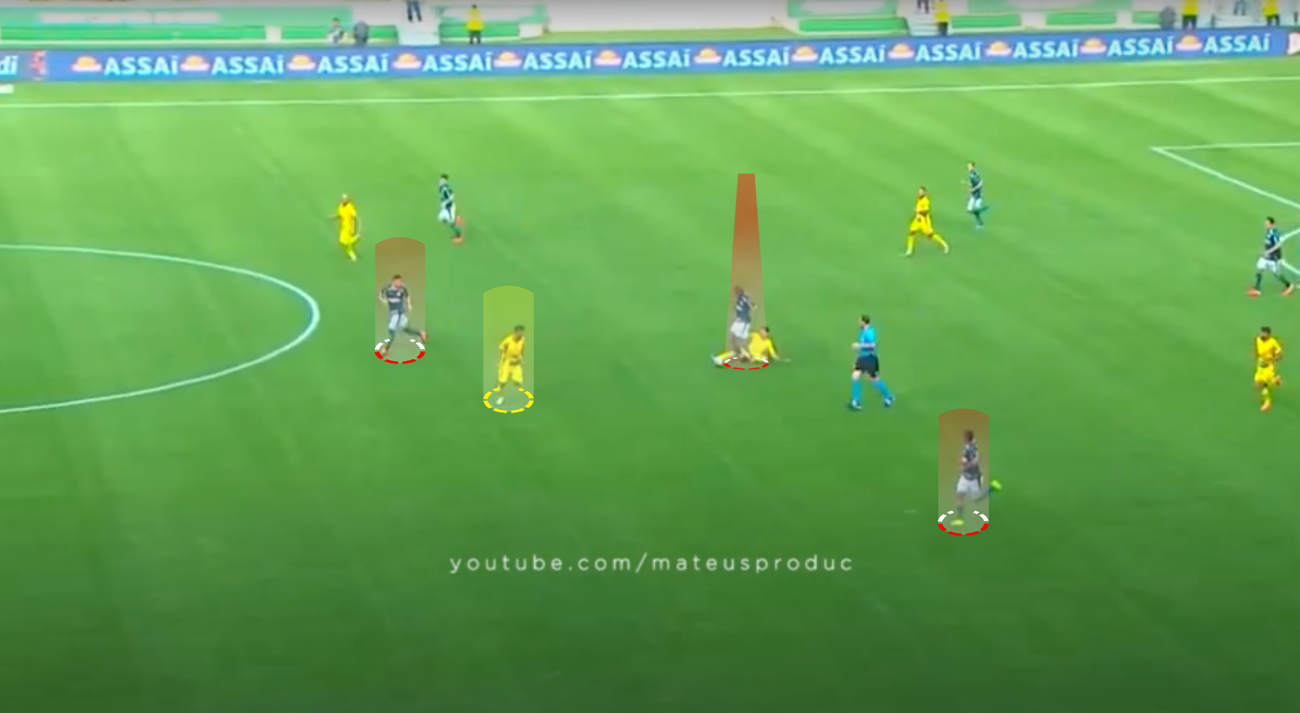 In the above example, the Mirassol player takes a heavy touch just as he is lining up for a short at the edge of the box, and Patrick sprints forward to win the ball away without giving away a foul. However, despite having two nearby passing options, Patrick waits too long to make a decision and ends up coughing possession, with Mirassol recovering the ball in their own half.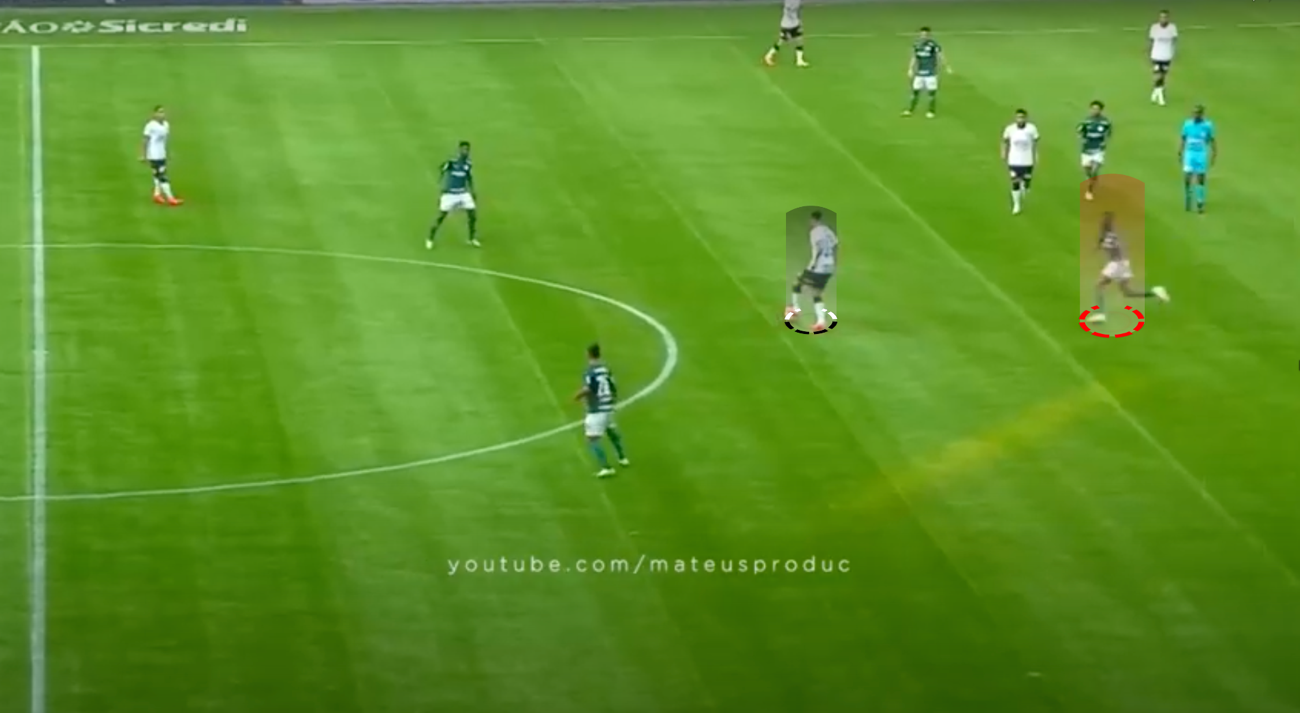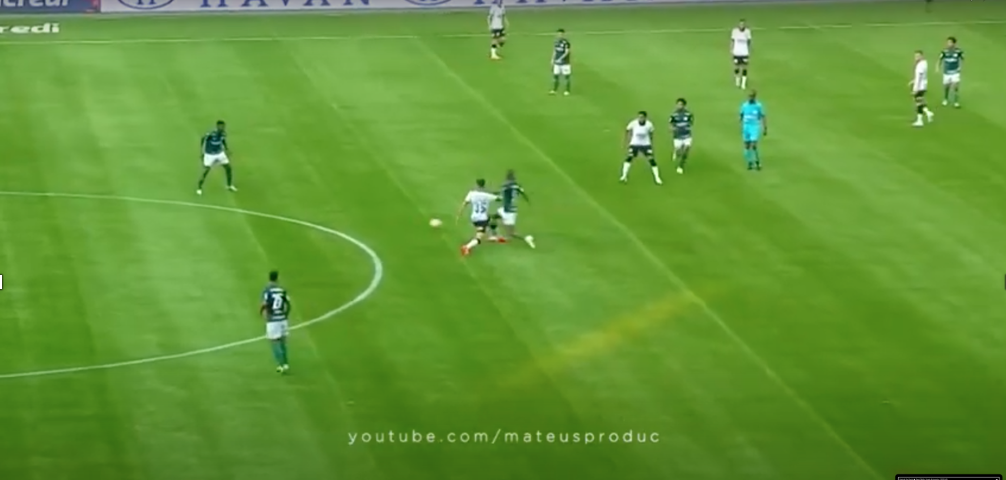 Patrick is constantly alert to the other team's actions, and he combines his physical strength and anticipation to catch opposing players off guard as soon as they receive the ball, force costly turnovers in dangerous areas, and launch attacking transitions.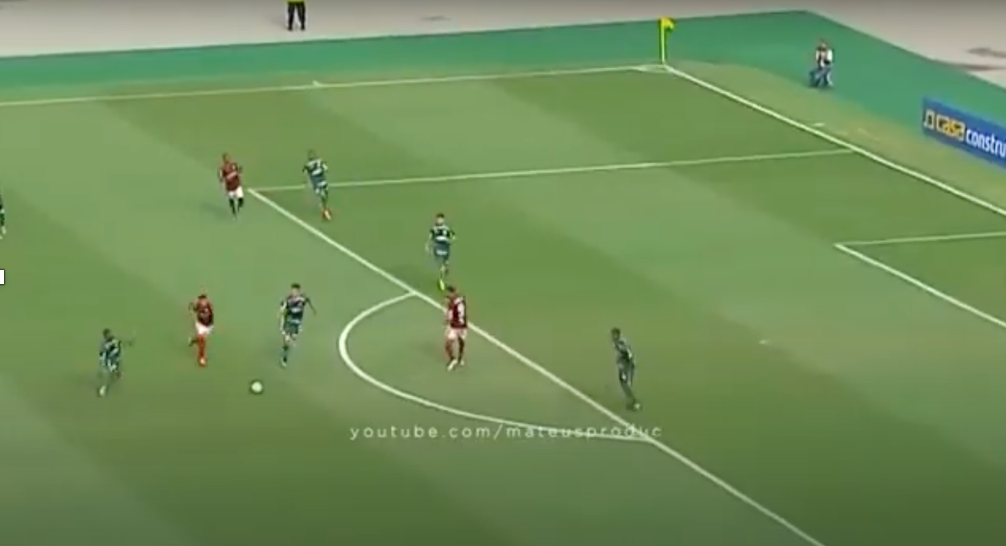 It's easy to forget that Patrick only made his professional debut less than a year ago on January 26, and it is clear that he still needs to adjust to the demands of the professional level, and realize that he isn't playing against kids anymore, but grown men. There have been moments where he has proven too greedy, too nonchalant, and perhaps too unaccustomed to the pace and pressure of the Brasileirão. He needs to play with greater urgency and more awareness if he is to cement a starting spot in Abel Ferreira's side, but at 21 years of age, there is plenty of him to do so.
From cutting his teeth in the favelas of Santa Margarida to starting in a Copa Libertadores semi-final, it has been quite a rapid rise for Patrick de Paula, with the youngster already attracting attention from Inter, Marseille, Borussia Dortmund, and Benfica, who reportedly had a bid of €14 million rejected in August. He has plenty of competition ahead of him at Palmeiras, but if he continues his progression, he could become the next player after Yerry Mina and Gabriel Jesus to depart the Allianz Parque and test his skills in Europe.
By: Jaime Silva
Featured Image: @GabFoligno / Cesar Greco – Palmeiras