Player Analysis: Pau Torres
In this article, I will talk about perhaps one of the most underrated football players at the moment. With him not playing in a top club yet, some football fans still do not know the amount of quality that Pau Torres is capable of. The 24-year-old plays at Villareal and is doing a phenomenal job. 
It will not be long until he joins a big club, but in the meantime, he is being called to be the present and future of the Spanish national team. He has been the starting option for the national team the past games and so if nothing strange happens, he will be in the Spanish team for this summer's tournament. 
Luis Enrique did a brief analysis on him a few months back: "I like Pau Torres, he's tall and handsome, he has everything". As much as that may be true, I will mainly focus on his playing style. We will see the reasons that he is performing so well, such as him being technically good, being composed on the ball, being aware in defence, and other characteristics. 
Covering
It is common knowledge that Sergio Ramos is an adventurous centre-back who likes to push up to defend sometimes to cut the attack. If he is successful, it is very helpful for Spain as they can immediately start a transition. However, if he fails in his defence, Ramos leaves a massive gap behind.
Therefore, to play in the national team, Pau Torres has to analyse the situation and understand when he will be needed to cover the space left by Ramos. If he is not alert to this, the opponents can take advantage of the space left behind. However, Pau Torres is a clever player who stays behind when Ramos goes up and is quick enough to get to the vacated space if needed. 
In the example below, the through ball got past Ramos and if Pau Torres had not been alert and fast to cross the pitch and stop the striker, Germany would have had a clear 1vs1 against the goalkeeper.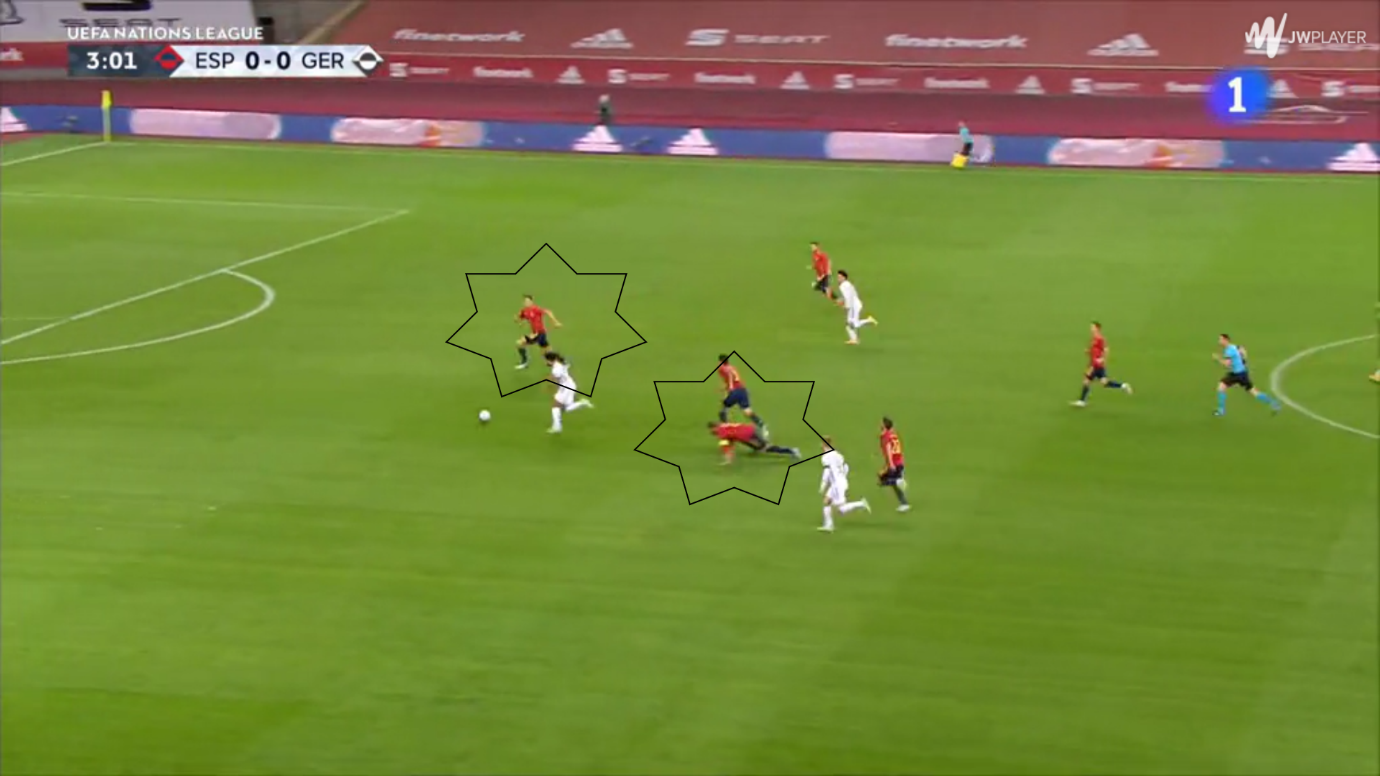 As well as covering for Ramos on his right side, he is also aware of what goes on to his left, where the left-back is. Spain is known to have attacking full-backs in their 4-2-3-1 system and if one of the pivots cannot cover when the left-back goes up, it has to be Pau Torres who intervenes. 
In the example below, Germany winger Serge Gnabry has gotten past Spanish left-back José Gayà. Pau Torres sees this coming and goes to defend him, blocking the cross.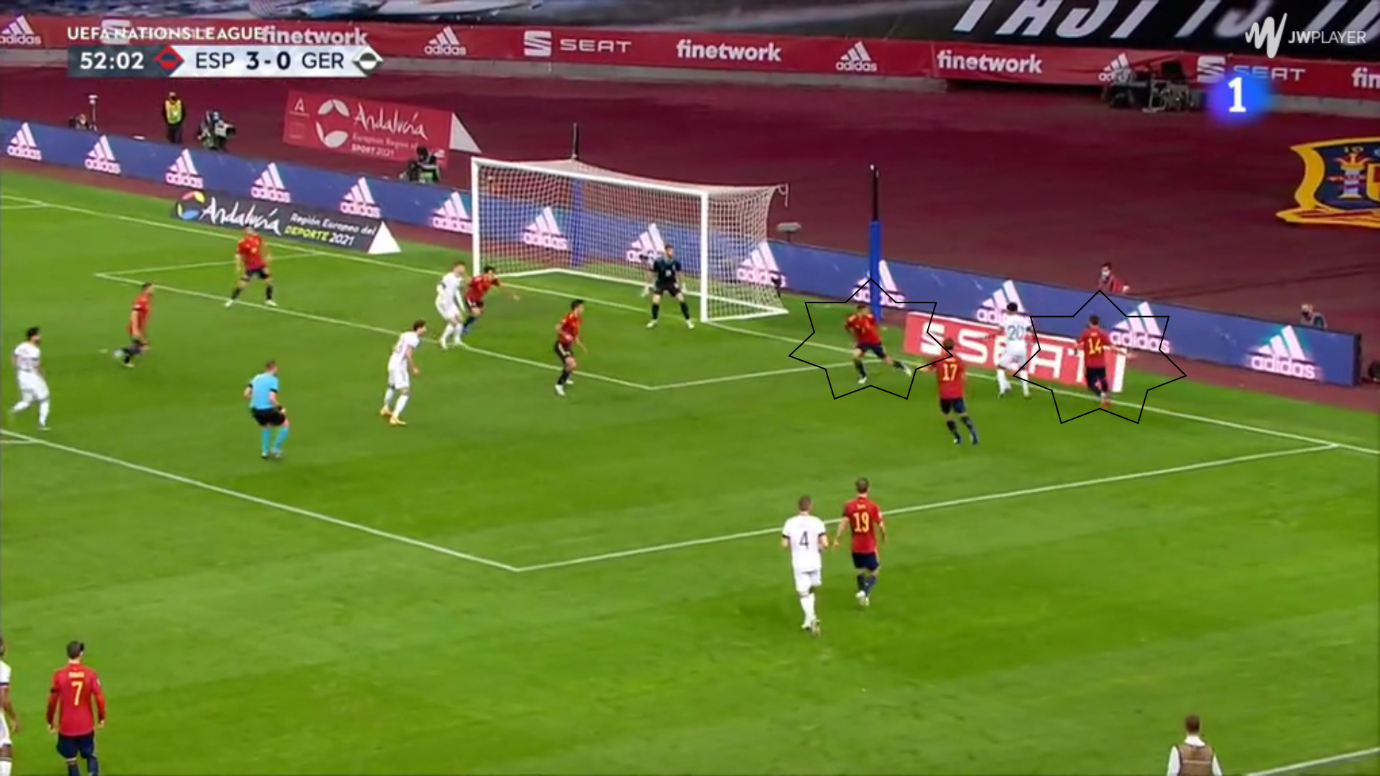 It is clear that Pau Torres is an aware player who reads the game's situations correctly and knows when to go quickly and cover for a teammate, making him a great asset in the defence.
Speed
Standing at 1.91 meters, Pau Torres has an athlete's body. Tall players have the reputation to be slow, but this is not the case for him. Especially since Spain employ a high defensive line, having fast centre-backs is key to protect the spaces left behind, as seen below.
In a cross into the box, Leroy Sané has an advantage on Pau Torres to get to the ball. Thanks to Pau Torres' explosiveness, he actually manages to get to the ball first and clear the ball as we see in the second image. Taking into consideration that Sané is one of the fastest players in European football, this is impressive. Moreover, this clearance avoided Sané having a clear shot on goal.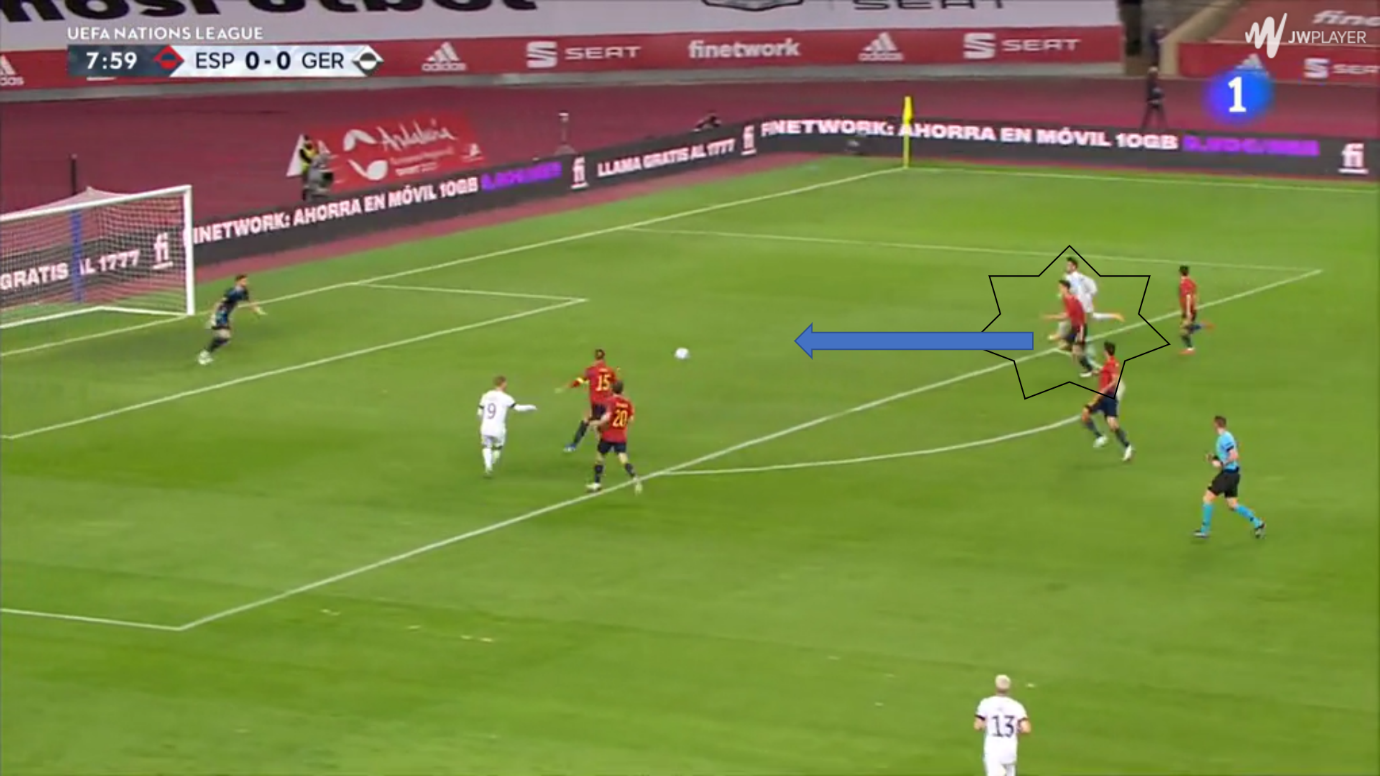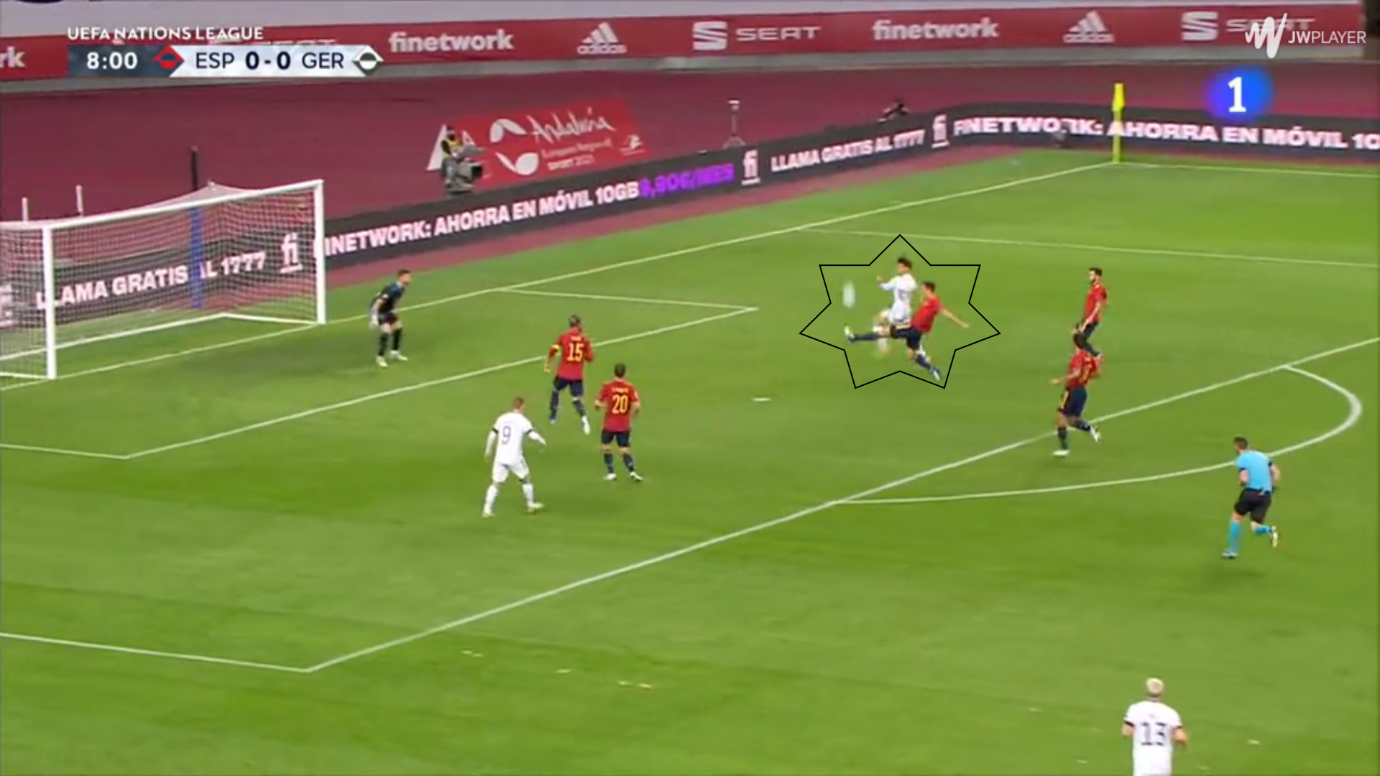 In Possession
Now we will talk about one of Pau Torres' best traits, his ability on the ball. Modern centre-backs are now being asked to be more and more comfortable on the ball and Pau Torres follows this tendency. This is especially true for him because if you want to play with Spain, having good technical ability is a must. 
With Spain being a possession-based side, it is the centre-backs who have to start the build-up. This is no problem for Pau Torres who is a great passer. He has a pass completion rate of 89% which is pretty good, but we have to understand the context of these passes. This percentage is a tricky one because a centre-back that just does lateral or back passes will have a high completion rate as these are simple passes. However, Pau Torres' passes are intended to help his team in the build-up. 
To prove this, we look at the underlying passing statistics. He makes 3.85 progressive passes per game and 3.97 passes into the final third per game (fbref.com). These show that his passes are not usually simple ones, and these numbers add importance to his high completion rate. In the image below, we see Pau Torres' favourite type of pass. This pass is normally made to cut through the opponent's pressure as it goes through the middle.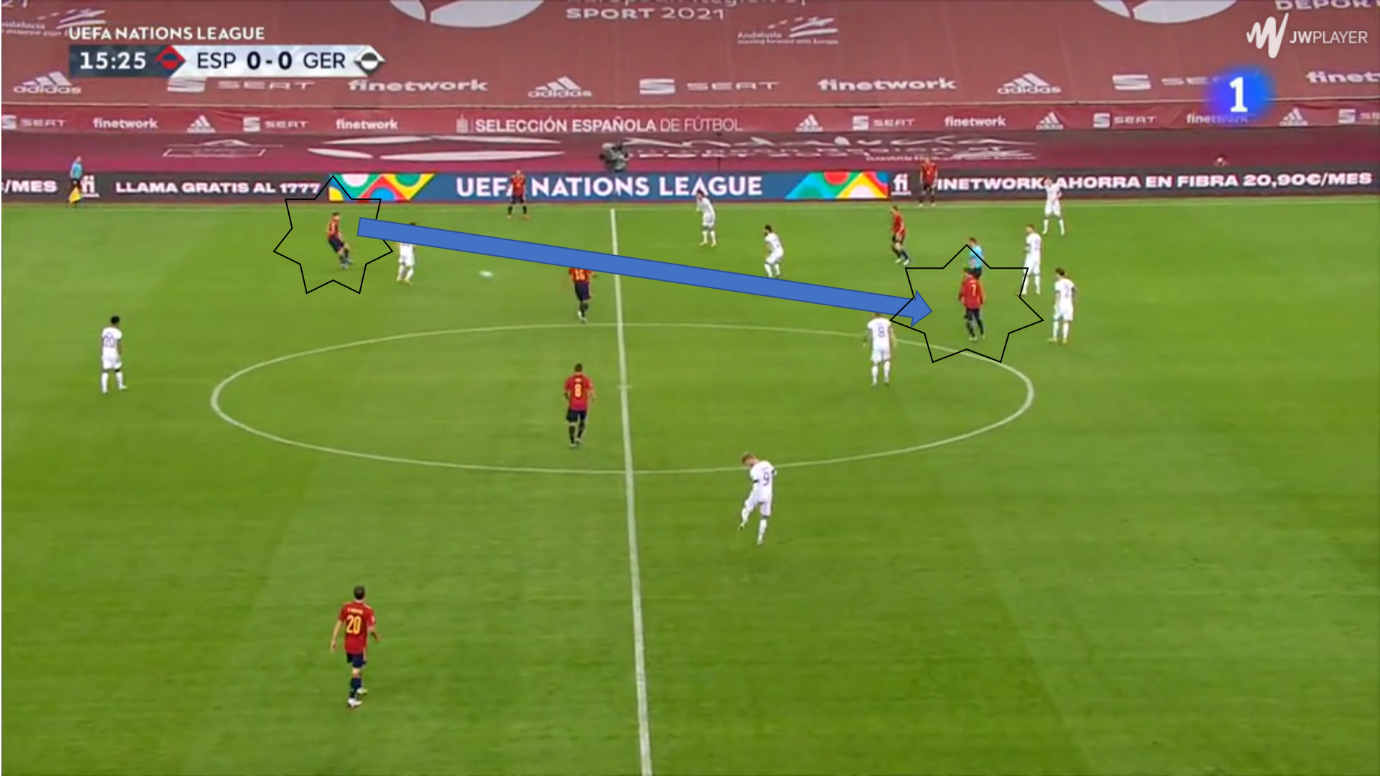 Additionally, Pau Torres does not crumble under pressure. This is great because Spain plays out from the back even with high pressure. Doing this is risky but if done well, they can break the opponent's pressure and have a lot of space to attack. 
In the example below, he is being closed down by a German player but as soon as the opponent is about to arrive, Pau Torres makes a great pass to the left-back. This pass completely breaks the pressure Germany employed as the left-back now had space to run onto.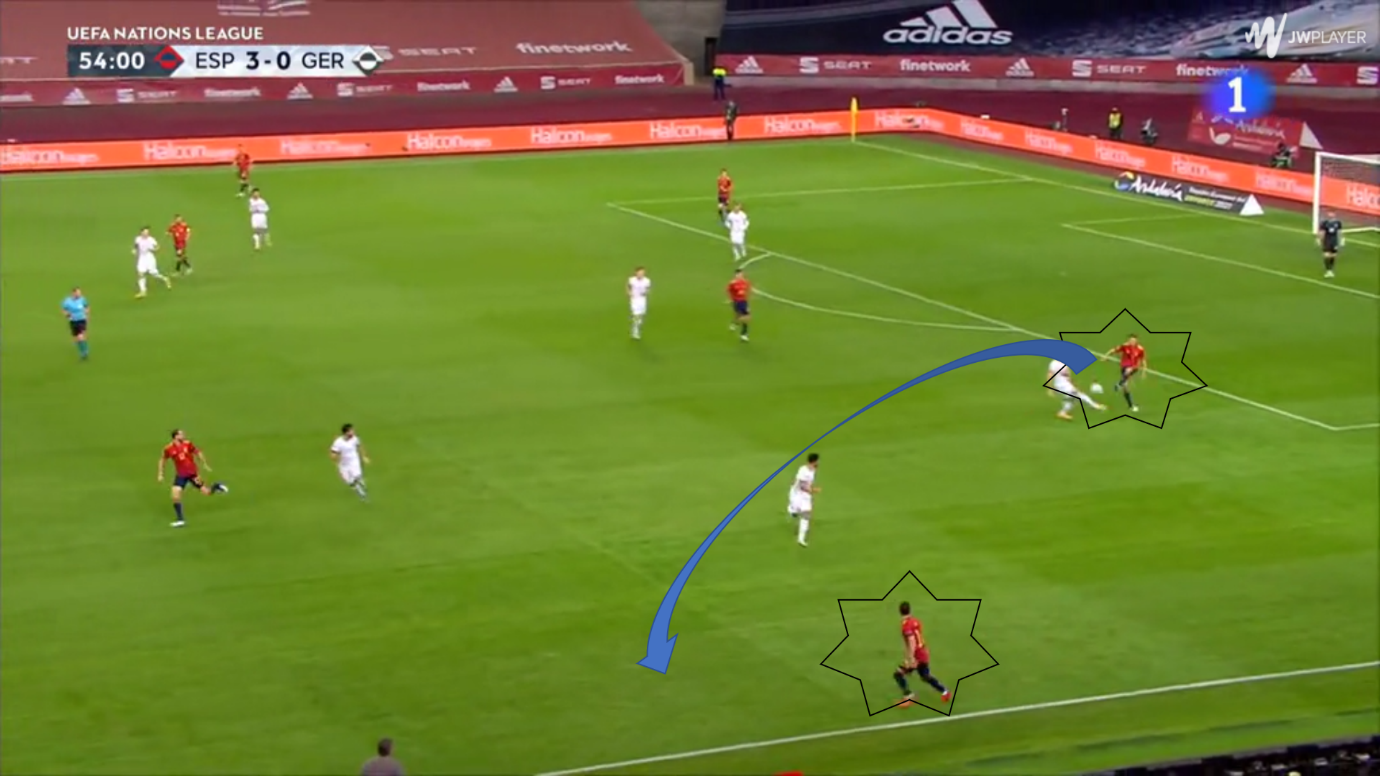 He also does not mind carrying the ball if he has space in front of him. Since his technical ability is above-average of a centre-back, he likes progressing the ball to attract opponents to him. When he attracts opponents to him, it means that they are leaving other teammates free of a marker.
Since it is not common for centre-backs to advance with the ball, he can sometimes create superiorities in the areas he goes into. To prove his ball progressing skills and his personality under pressure, we will see him in a game against Barcelona. In this game, he sees that there is space in front of him and advances forward. You will see that he attracts as many as three players to him in the second image, but there is no teammate close in order to take advantage of the space these three Barcelona players left behind.
In the second image, we see how far he has advanced and also observe his bravery as he does a fake shot to get out of the pressure. This bravery is a great asset of his because not many centre-backs have the audacity to progress the ball in the first place, but he decides to do this at the Camp Nou, one of the most intimidating stadiums of Spain.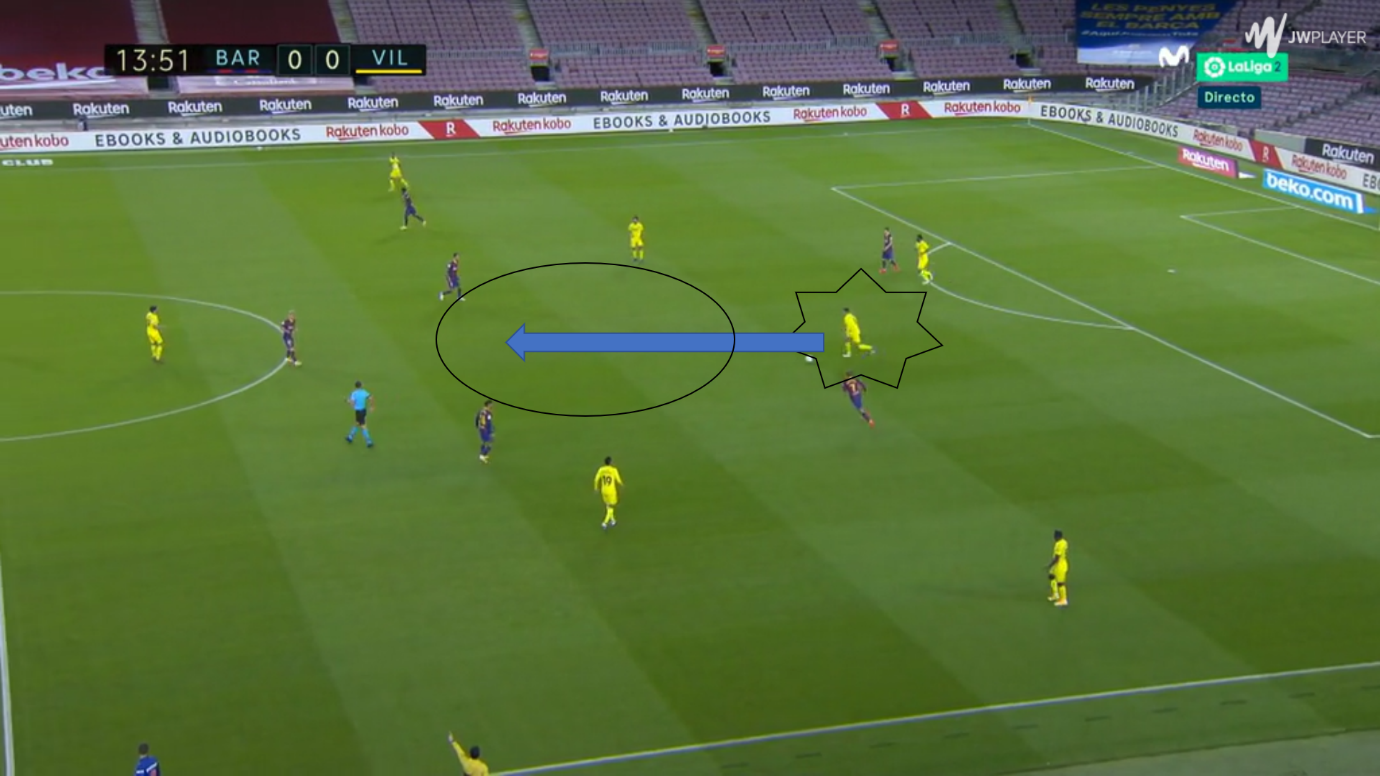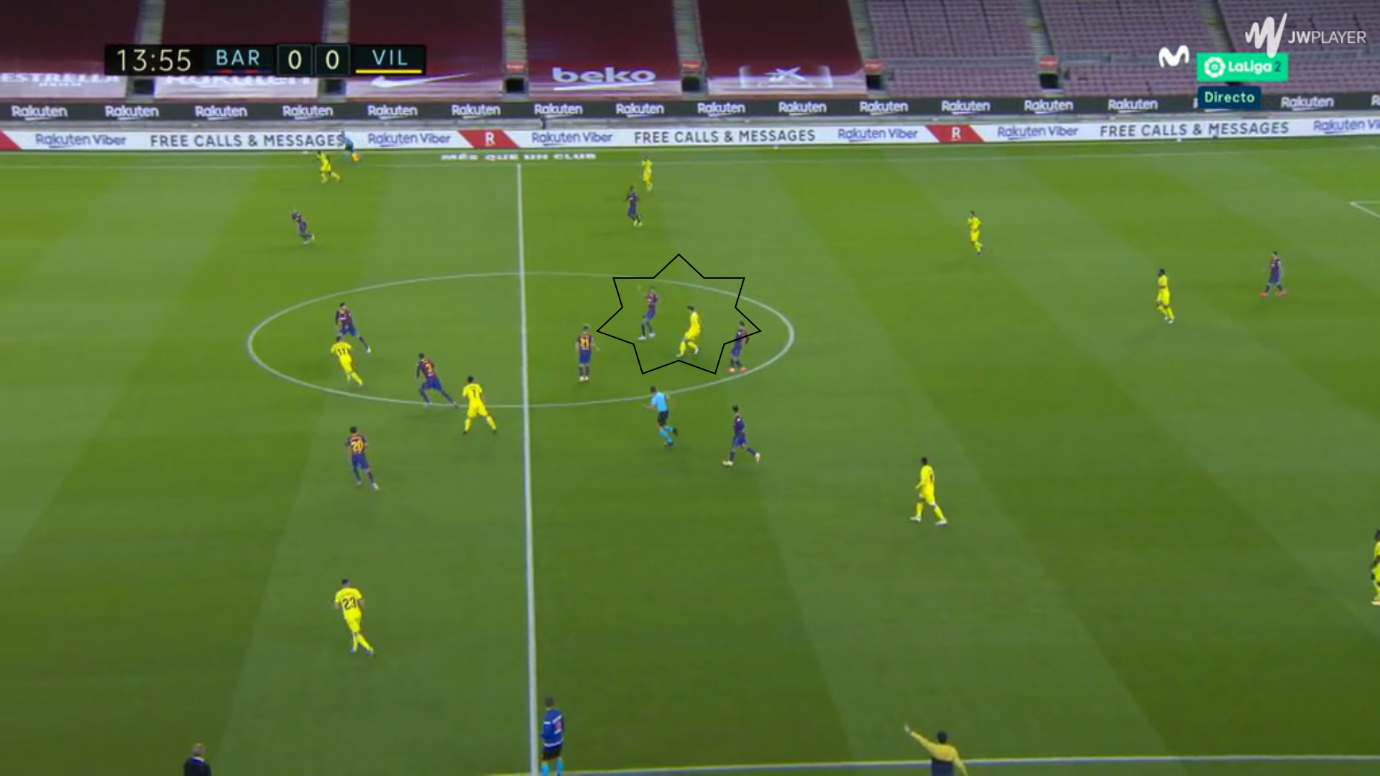 Furthermore, Torres makes 4.87 progressive carries per game and has a progressive carrying distance of 202.7 meters per game.This second stat means that when he drives with the ball during games, he travels 202.7 meters in total per game. Both of these stats are some of the highest among centre-backs. On top of that, he completes 0.64 dribbles per game, where there are very few centre-backs doing more, showing his bravery on the ball.  
Defensive Awareness
Now we move on to necessary requirements of being a centre-back. These include having good defensive awareness and positioning. By having awareness, the centre-back can scan the situation and so decide effectively what best action to take and defensive positioning allows for the centre-back to be ready to defend an attacking situation. 
The first example of intelligent reading of the game and efficient positioning is below. Here, the opponent is getting ready to cross and Torres is marking a striker while García is marking the other striker. In the first image, we see how Torres obviously makes marking his striker the primary option. However, when he sees that his striker is not in a good position for the cross and is not making a run into the box, he goes back a couple of meters to be able to help out García in the box. This is observed in the second image as he drops back and is able to clear the ball away.
In this situation, he quickly analysed the threat of the two opponent strikers. He saw that the striker he was marking was not a big threat and so decided to come back and help García because the striker that he was marking, was in a good attacking position. In the end, the cross obviously went to the striker in the box but Torres was already there to clear the ball. Had Torres not helped, García would be in a 1vs1 duel with his striker in the cross which is a dangerous situation.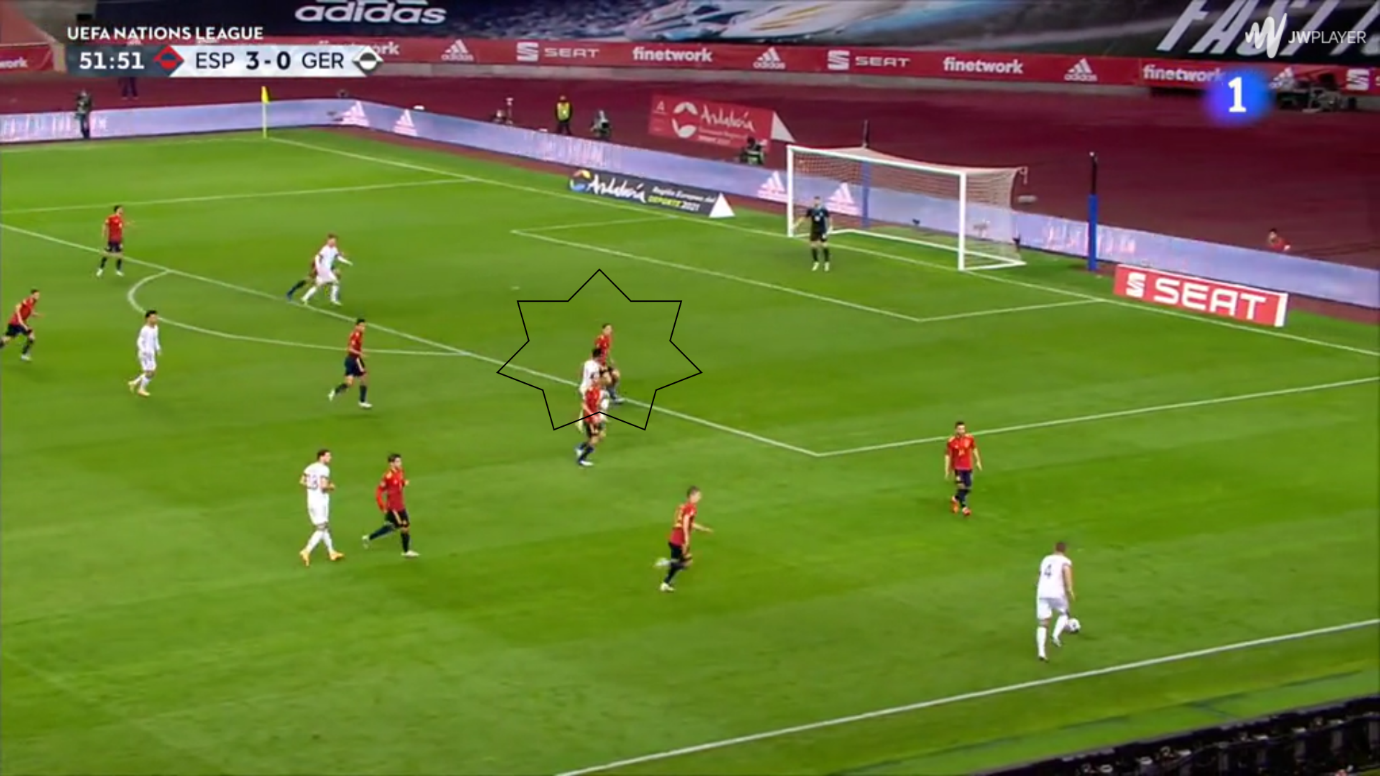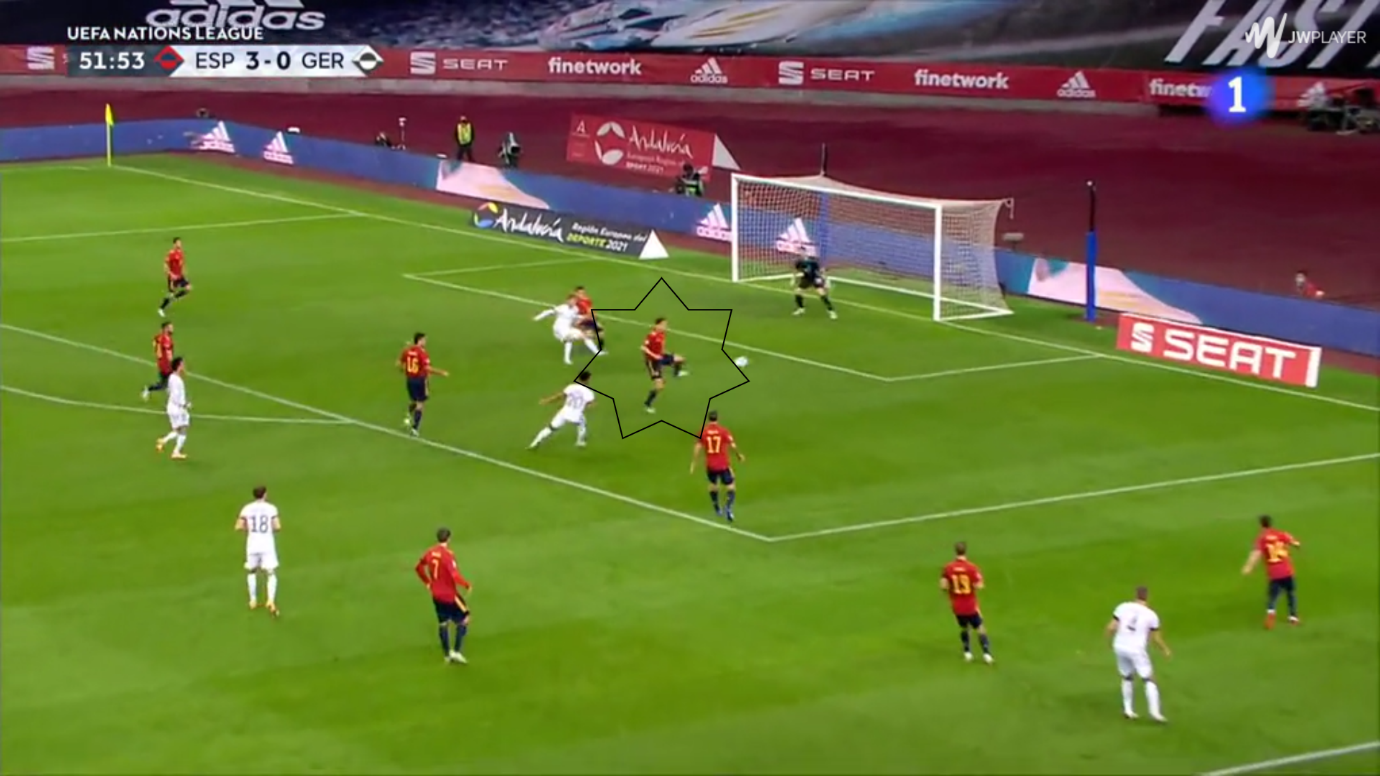 Having seen his good awareness, we will focus more on his smart positioning. For this, we take an example from the game against Barcelona. In the image, Lionel Messi is carrying the ball in a counter-attack and Pau Torres is controlling Antoine Griezmann.
It is clear that Pau Torres is retreating with his back to Griezmann but always looking at Messi carrying the ball and Griezmann. We also see that he has positioned himself in front of Griezmann because had he been on the outside, Griezmann would just make a run in between the defence which for Barcelona is the ideal situation.
However, Pau Torres is inviting Messi to pass to Griezmann but on the outside of him which is smart because this leads the attack further away from the goal and with his speed, he can recover the distance. In the end, this leads Messi to try to switch the attack because he does not see a clear pass to Griezmann thanks to Pau Torres. This is seen in the second image.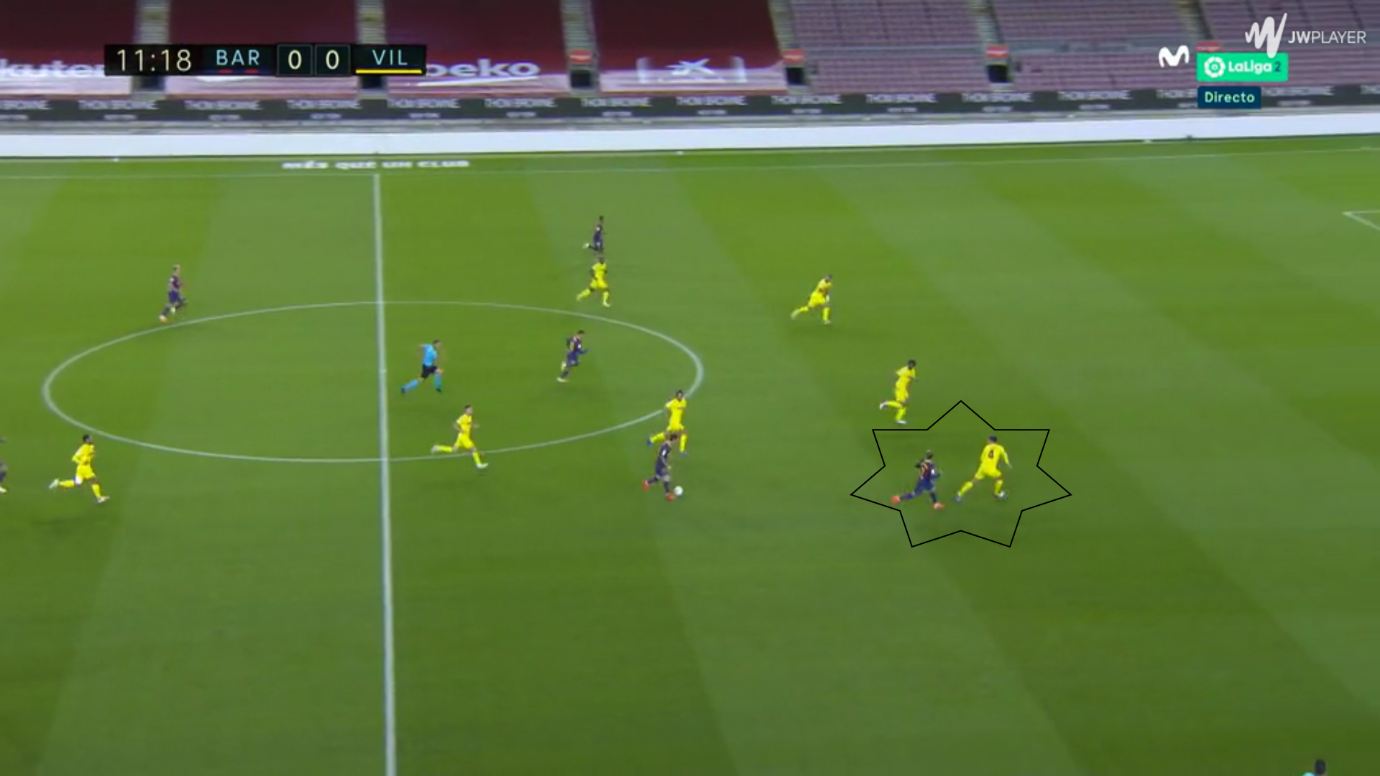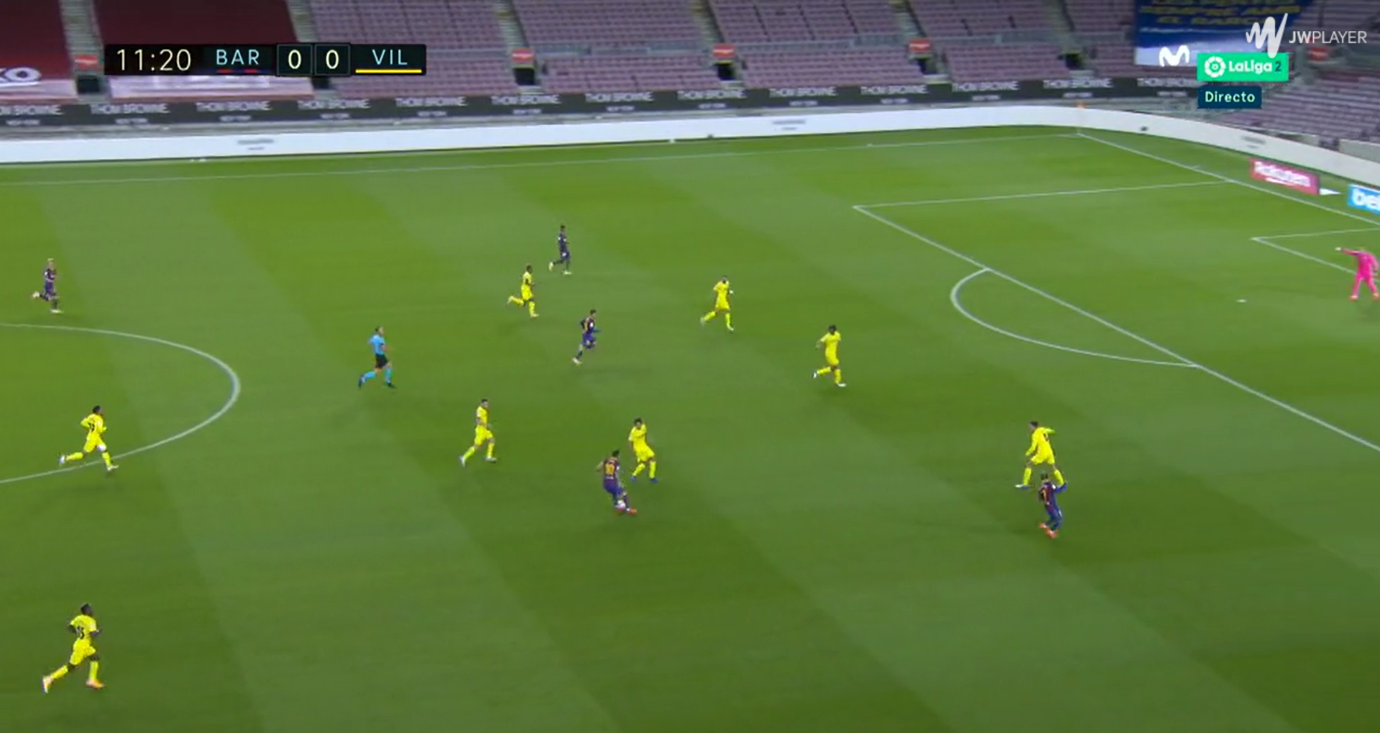 Overall, Pau Torres is young centre-back who is playing at a high level. Thanks to his speed, passing ability, and established defensive concepts, he looks like a great centre-back for big clubs to get interested. It is important to mention his bravery on the ball which shows his personality, this being crucial to be able to shine in a greater club. Let's hope that the defensive pairing of Pau Torres and Sergio Ramos brings Spain joy in this summer's European Championship.
By: Jaime Fernandez Valencia
Featured Image: Quality Sport Images / Getty Images