Since Neymar's departure to Paris Saint-Germain in 2017, Barcelona have struggled to fill the enormous void left by the Brazilian forward. Ousmane Dembélé arrived for a club record fee of €105 million with €40 million in potential add-ons, a record soon eclipsed by the signing of Philippe Coutinho, but neither have managed to nail down a starting spot.
Malcom joined from Girondins de Bordeaux for €41 million + €1 million in bonuses, but he was sold a year later to Zenit after being used sparingly by manager Ernesto Valverde. The following summer, Antoine Griezmann arrived from Atlético Madrid for a whopping €120 million, but after failing to convince under Valverde, Quique Setién, and Ronald Koeman, it seems the Frenchman is destined to be the next big-money flop in Catalunya.
As the specter of Lionel Messi's expiring contract hangs over Barcelona, the threat of not having a creative talisman in attack is becoming an increasingly real threat. Nevertheless, there is a player who may just be the answer to their prayers. At 18 years of age, Pedro González López, or Pedri, is proving to be a €5 million bargain for Barcelona.
Born in Tenerife, Canary Islands, Pedri joined Las Palmas's youth set-up in 2018, and a year later, he made his professional debut in the Segunda División for Pepe Mel's side, starting in a 0-1 home loss against SD Huesca. After just three appearances for La Union Deportiva, Pedri signed a five-year contract with Barcelona, before being loaned back to Las Palmas for the rest of the season.
A stylish playmaker, Pedri is able to play on either wing, through the center, in the midfield or even as a striker. This versatility is a massive asset to Koeman, who has given him 674 minutes of game-time this season, despite the fact that he only turned 18 this week. The Canarian has started six of Barcelona's past seven matches, and with Ansu Fati sidelined until March with a knee injury, he'll continue to get ample opportunities in the starting line-up.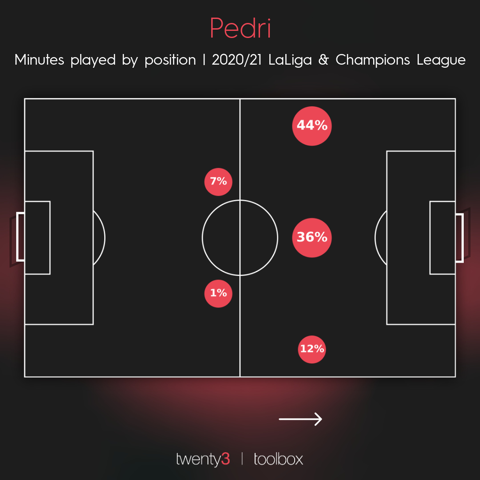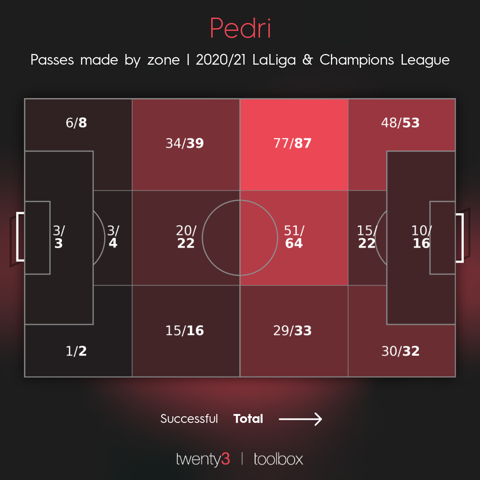 Photo: Twenty3 / Wyscout
Perhaps even more impressive than his versatility is Pedri's broad skill set and breadth of characteristics. He has a Brazilian flair to his game, a German intensity, a Spanish passing ability, and a Dutch in-game awareness. Rarely does he make unnecessary take-ons or attempt something risky that could endanger the team; rather, he aims to get rid of the ball in one touch if possible, moving it out from his own feet quickly. 
In the below example against Getafe, Pedri checks his shoulder as he moves towards the ball. Knowing Messi was directly behind him, he took a simple touch to leave the ball in the Argentine's path. Not only was the touch itself impressive, but the awareness to carry out the action with confidence proves he is not your average teenager.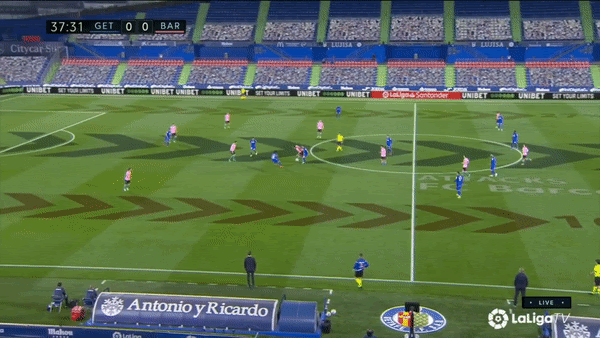 Regardless of distance or which leg he's using, Pedri is able to pick out a player from anywhere on the field. One of the most impressive aspects to this is this ability with his weak foot. Despite being a right-footed player, Pedri has cultivated his left foot to be comfortable in all situations.
To pair with all of these things, Pedri has an impressive passing range. His ability to switch the field does not go amiss while playing on the wings for Barcelona or while at Las Palmas. In this example against Lugo, Pedri drops deep to receive a pass before switching the play to Slavoljub Srnić on the right flank.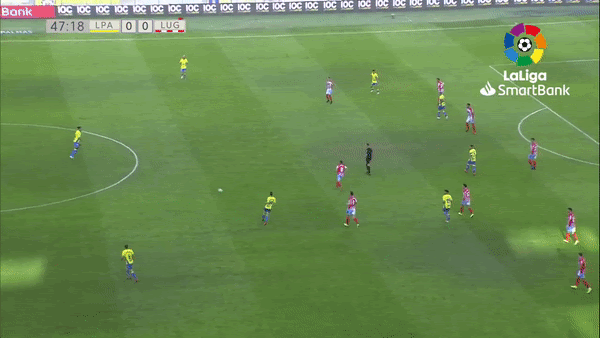 Although his numbers in front of goal are not outstanding, (2 goals and 0 assists in 674 minutes), they don't tell the full story. Pedri's creativity and ability to break the lines is a crucial asset for Barcelona's attacking play, but too often, his teammates have failed to convert the chances that he created.
In this example against Getafe, Pedri plays a defense-splitting pass between Erick Cabaco and Mathías Olivera, but goalkeeper David Soria gets his paws to Griezmann's shot and deflects it for a corner kick. Getafe would go on to win 1-0, with Frenkie de Jong bringing down Allan Nyom in the area and Jaime Mata converting the resulting penalty kick.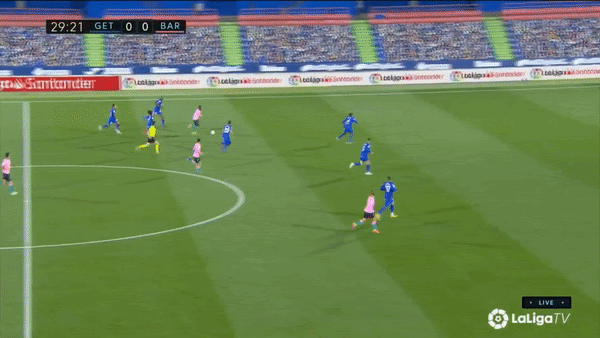 One of Pedri's most important assets is his ability to retain the ball. While his own teammates such as Dembélé and Messi lose the ball frequently through over-dribbling, Pedri ensures that Barcelona recycle possession rather than taking a risky approach. Even at 5'9" and 132 pounds, he's able to maneuver his body to shield off pressure while using his technical ability to evade pressure from onrushing defenders.  
While he is conservative in his decision-making, that does not prevent him from also using his dribbling prowess in the proper moments. Although somewhat slow in his first two steps, Pedri is able to launch into a full sprint with impeccable ball control. He uses this to attack a defense with speed, and press ahead, as seen in the below example against Lugo.
With Las Palmas searching for a go-ahead-goal at the Gran Canaria, Pedri sprints down the end line to latch onto Srnić's pass in the knowledge that his team is in a safe position to win the ball back if he does lose possession. He receives the ball at the edge of the box before performing an audacious bit of individual magic to get past Jaume Grau, before teeing up a wide open Rubén Castro who converts from close range.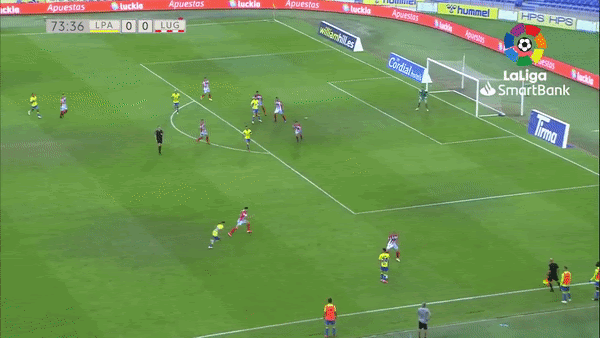 Not only does he use his body well in possession, but Pedri is also very intelligent with the angles used in pressing. As Cabaco dribbles out of defense and eyes a pass, Pedri immediately closes down his short passing angle to the right, forcing him to play a risky pass that is blocked by Gerard Piqué, who deflects it into the path of Sergio Busquets.
Knowing that his team had a man advantage in the center of the pitch, Pedri quickly pressed the Uruguayan defender to take away his simple passing option, and as a result, Barcelona were able to recover the ball and break on the counterattack. This is a testament not only to Pedri's aggressive pressing, but his intelligence in knowing where to position his body.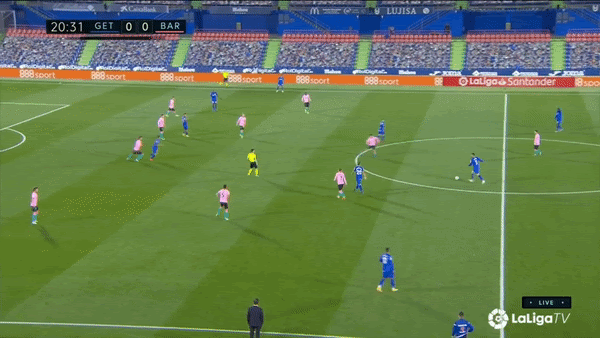 Apart from his impressive pressing skills, Pedri is no slouch when it comes to defending. Despite spending his entire career higher up on the field, he uses his hyper awareness to corner off angles for the opponent, and guide them in the direction he wants them to go.
After Piqué's red card in the 68th minute, Barcelona found themselves at risk of relinquishing their 3-0 lead to Ferencváros, which was cut to a two-goal margin following Ihor Kharatin penalty goal. Whilst Coutinho was subbed off for Ronald Araújo to compensate for Piqué's expulsion, Koeman kept Pedri on, and he rewarded his trust.
Pedri was vital in cutting off passing lanes, winning the ball back and swiftly moving the ball further forward to allow his side to break on the counter. Barcelona prevailed with a 5-1 victory at the Camp Nou, with the teenager scoring the fourth goal.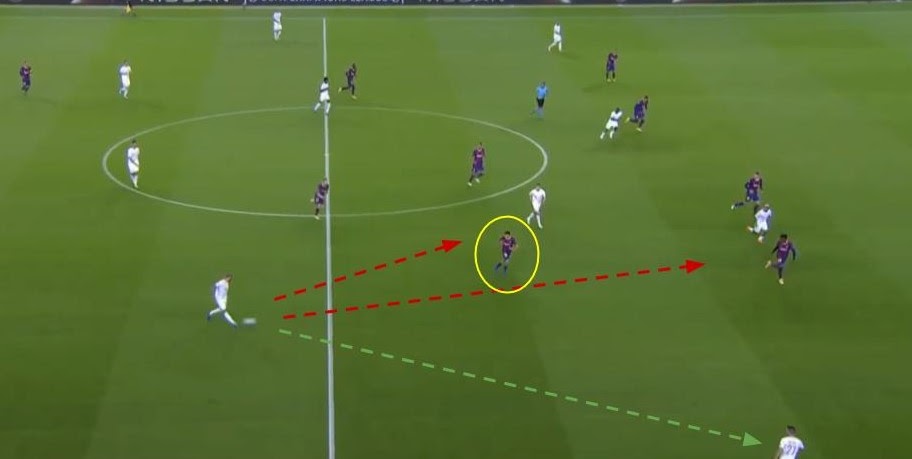 Whilst Barcelona have had a terrible track record over the past few years in terms of attacking signings, Pedri is proving to be an exception to the rule. At 18 years of age, he is well on his way to becoming the creative talisman of the team in the post-Messi era.
By: John Zuidema
Featured Image: @GabFoligno / Quality Sport Images – Getty Images