Player Analysis: Raphaël Varane
Raphaël Xavier Varane. Elite. World-Class. The 27-year-old centre back has always been regarded as one of the world's best in his position amongst football fans for the best part of a decade. Early on in his career, he was a highly coveted young prospect, who was bought by Real Madrid in June of 2011, just under a year after being promoted to RC Lens senior team.
From a young age, his playing style drew comparisons to fellow Frenchman Laurent Blanc and he idolised Manchester United legend Rio Ferdinand. Even having a chance to play alongside his idol a decade ago with Manchester United joining Real Madrid in their pursuit for the Frenchmen only for David Gill and Sir Alex Ferguson to be rejected by the teenager who was "blown away" by Real Madrid intent to sign the player with the Spanish club using Zinedine Zidane reputation to close the deal for the then Lens sensation.
Nine years and a bucketload of trophies including four Champions League and a World Cup later, his contract is dwindling down and with a year left and the aspirations of wanting a new challenge being the major factor in wanting to leave the capital club.
Real Madrid have lost two influential leaders in Sergio Ramos and Varane in the same window, something that nobody would have seen happening ever. Ramos, 35, has joined Paris Saint-Germain on a free transfer after failing to agree a new contract with Madrid, whilst Varane joins United on a four-year contract after the English club agreed to pay a fee of £34 million plus add-ons. In this piece, I will examine the strengths in Varane's game, as well as his tendencies on the pitch. 
Background 
Varane was born in the city of Lille in the Nord-Pas-de-Calais region in 1993. In Varane's early footballing years, July 2002 to be specific he joined RC Lens, despite some interest from rivals and Varane's hometown club Lille OSC. Similar to the development of the Lille's previous prized assets such as Gaël Kakuta and Timothée Kolodziejczak, Varane spent time at the Centre de Préformation de Football in nearby Liévin, a training center exclusively for players brought up in the Nord-Pas-de-Calais region.
He spent two years at the center training there during the weekdays and playing with Lens on the weekends. This allowed players to work and train in a professional environment. After returning full-time to Lens, Varane rapidly moved up the club's youth ranks. In the 2008–09 season, alongside well-known teammates Thorgan Hazard and Geoffrey Kondogbia, he played for the club's successful U16 team that won the Championnat National U16.
Varane was called up to the senior team by manager Jean-Guy Wallemme to train ahead of the club's match against Montpellier on 6 November. He trained with the team for the entire week and, due to an injury to centre-back Alaeddine Yahia, Varane was, surprisingly, named to the starting lineup.
After a promising and successful continued run in the team, clubs were alerted by the teenager's evident top performances in Ligue 1 and on June 22, 2011, Lens president Gervais Martel confirmed to a core group of supporters that Varane would be joining José Mourinho's Real Madrid for €10 million and the rest was history. 
Passing & Build-Up 
I decided to combine these 2 specific areas of Varane's game in one section, due to them being linked one way or another, and at the same time constitute Varne's biggest strengths that have had major improvements in the past season. Where he has lacked on the ball, he has made it up throughout his career with his overall defensive game. His heatmap this season shows his involvement in build-up specifically on the right-hand side of the pitch.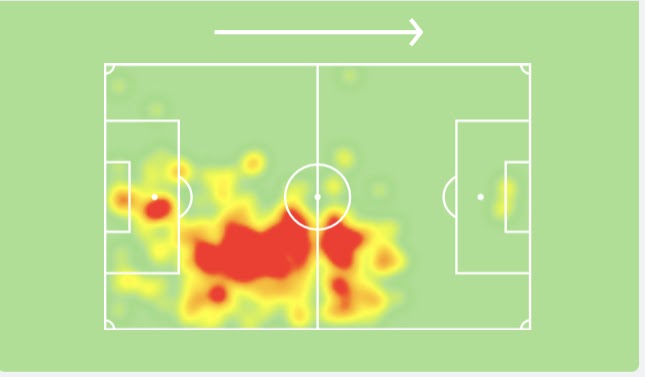 Photo: SofaScore
Starting off, as mentioned above, Varane was key to Real Madrid's system last season as he was asked to perform a role different to the one he had performed for the last decade for the Los Blancos and was asked to be Madrid's main source of ball progression and build-up due to Ramos' long periods of absence of recurring injuries, Varane would be less of a cover center back and take up more of an aggressive role in possession, Varane is seeing taking up the ball further up the pitch allow more direct ball progression.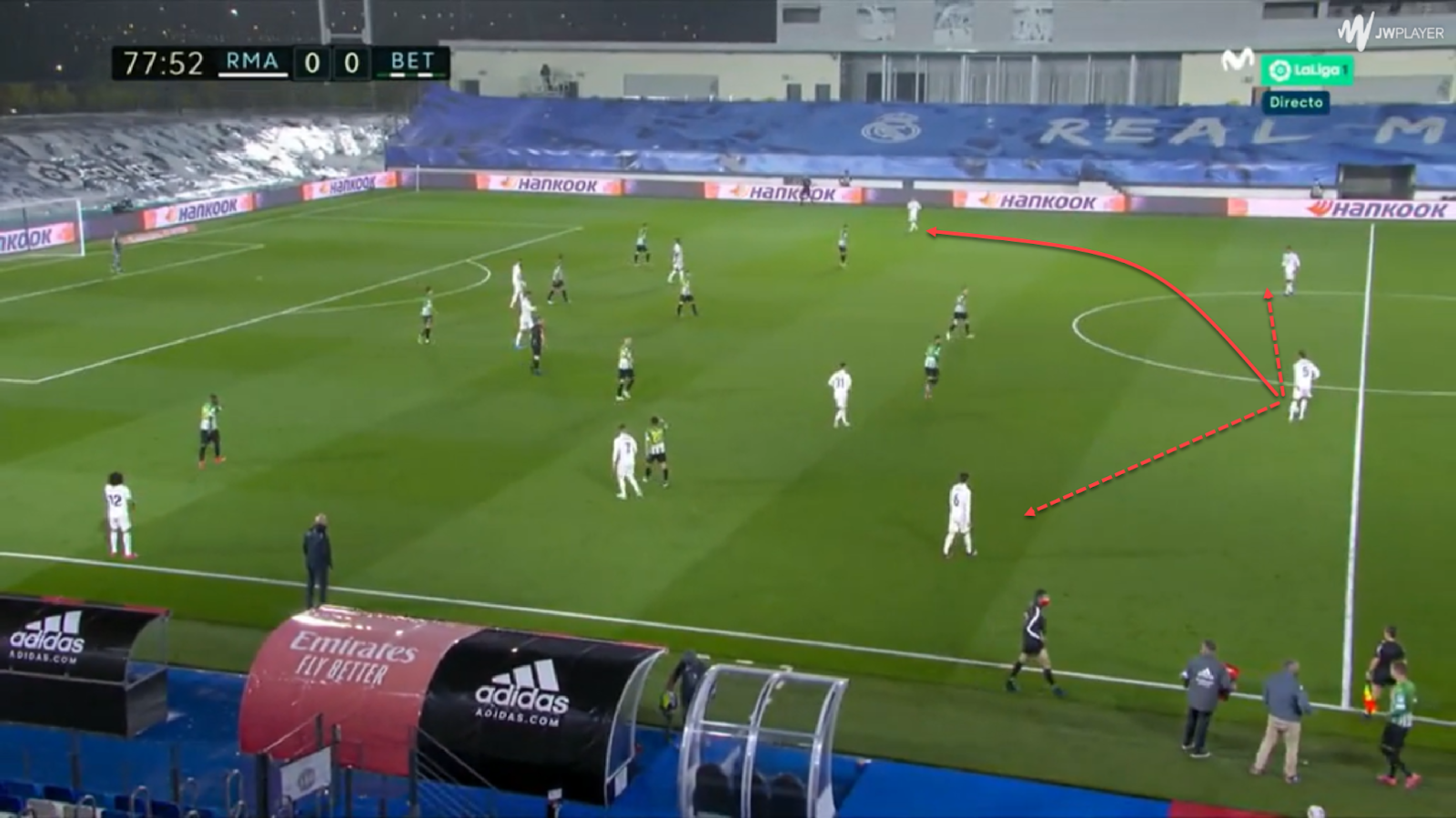 In the instance above, Varane drives with the ball up the field and with Real Betis sitting back in a mid block is allowed space to pick out a pass, he has the easy pass in Nacho Fernández to his left and Éder Militão to his right instead his picks out Dani Carvajal who is picked up an unmarked position  on the right flank. 
Varane is adequate as a "ball-playing" defender, as he possesses excellent technique in his passes completing 77% of the passes he attempts, however, he can be more adventurous with his passing only playing 2.5 progressive passes per 90 compared to his young French compatriot Jules Koundé who plays double these numbers at a current world class rate of 4.2. 
When the opposition's defensive block retreats to a settled structure, that's where Varane's passing play really shines. He has a knack for long raking passes to the flanks, and always puts correct weight in his short passes, so they reach their target, even with many defenders around the ball.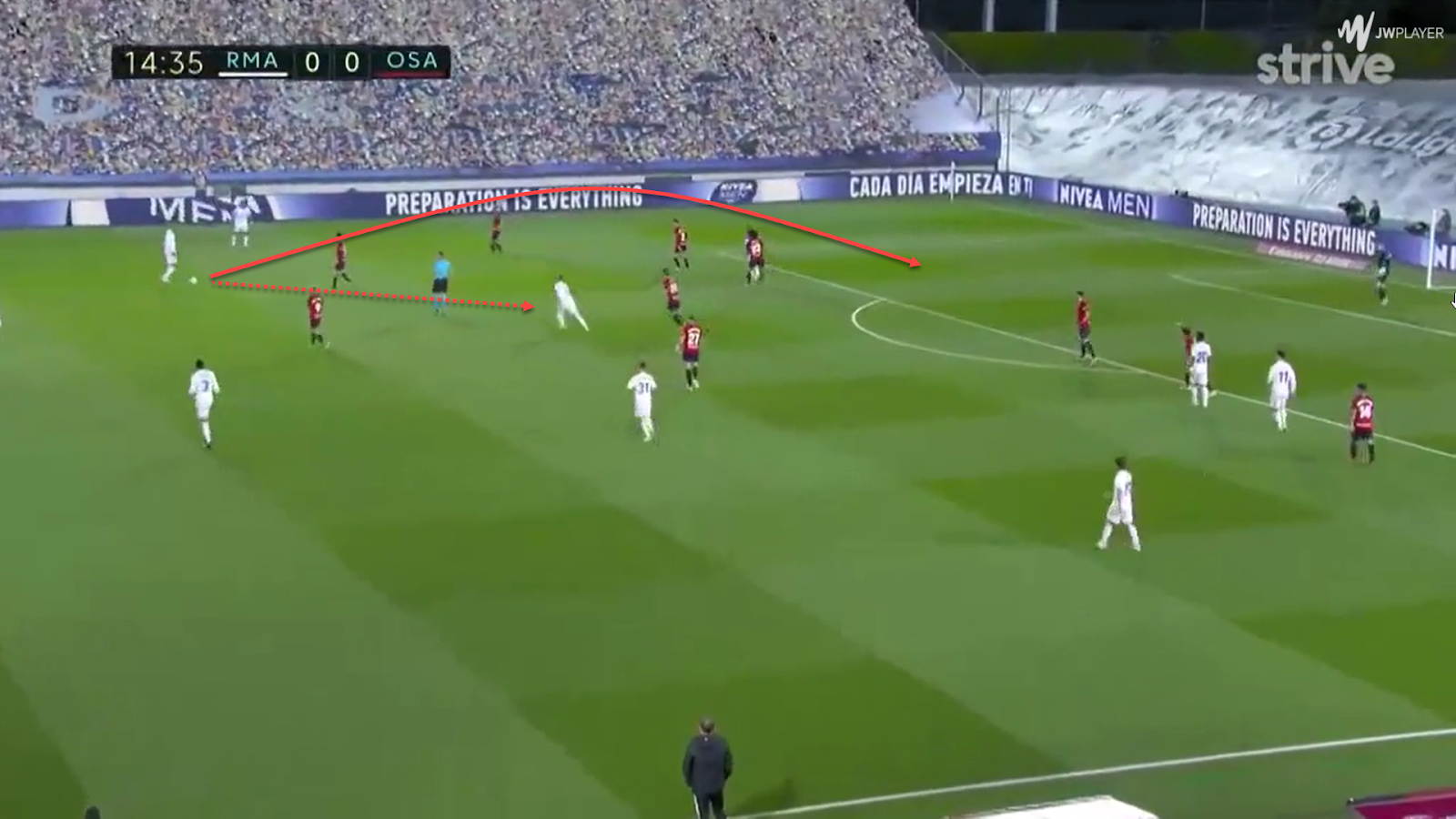 In the example above, he has an option in Eden Hazard dropping deep to collect the ball who is being closely maked by the Osasuna midfielder instead of playing that pass he looks up and sees space for Vinícius Júnior to run into and puts perfectly weighted ball into the area for Vinícius, playing him between three defenders, in a position that led to a shot that was saved. 
Varane has excellent weight on his passes, which is an ideal skill when playing against a low defensive block, which usually means that he is allowed more space especially in the wide halfspaces to play incisive passses into the forwards. 
Positional Play and Awareness
This is the area that I struggled the most with when analysing Varane's game. It has been described as his biggest strength, and rightly so in previous seasons, however in the current LaLiga campaign, as i've stated Varane has had to take up a more aggressive role in his defensive approach meaning his position is a lot higher than usual.
A trait Varane has been well regarded in around world football is his exceptional positional and awareness play. Once again I've combined these 2 specific areas of Varane's game in one section, due to the fact that having good positional play enhances your awareness.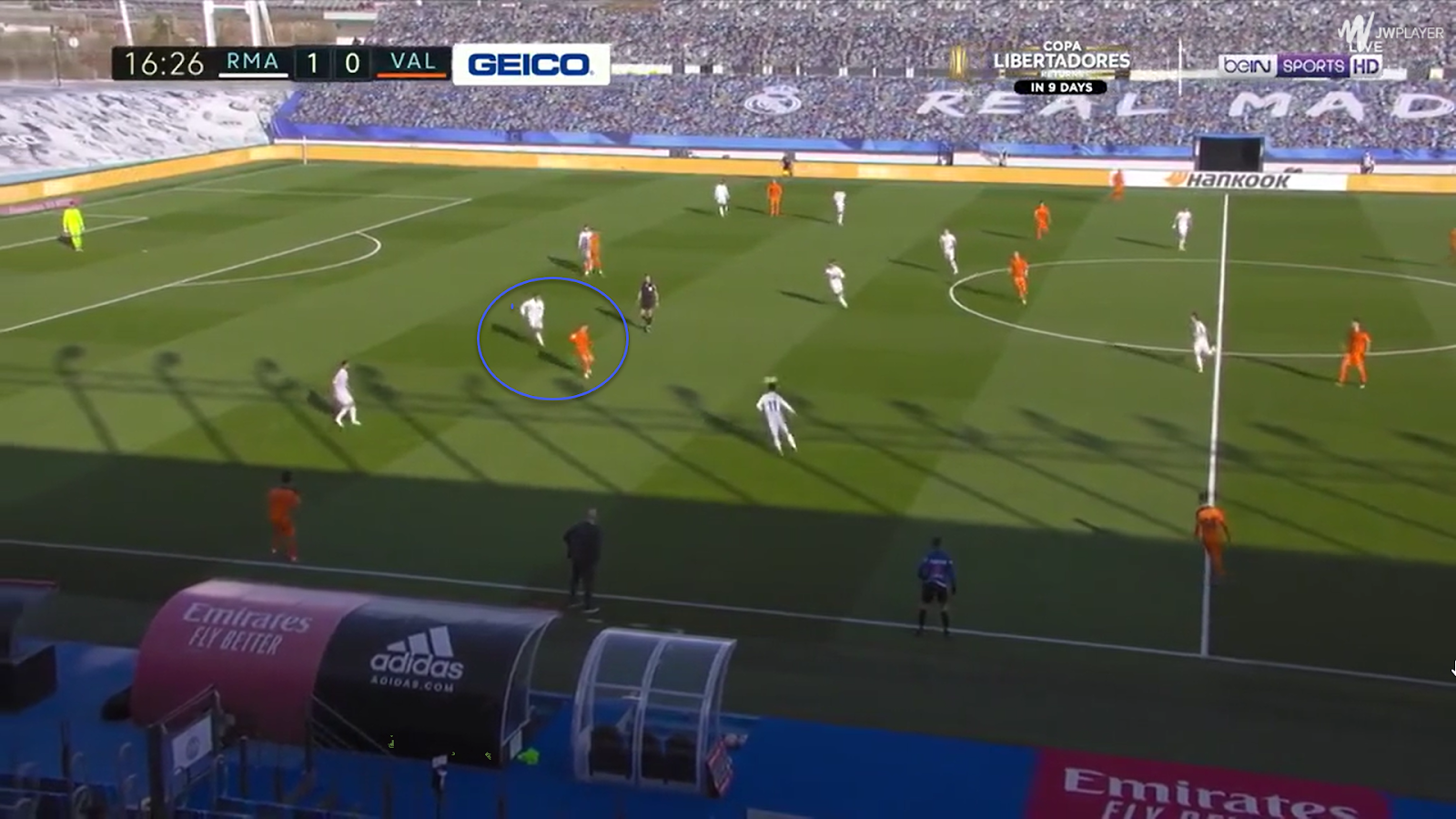 In this image it's a clear visual representation of Varane's aggressive nature he had developed this season. Maximiliano Gómez drops deep and has his back to goal, Varane sees this and without giving him a time to turn or he quickly initiates his tackle winning back the ball.
The image shows that the ball is on the side and Gómez is looking for a one-two from his teammate. Varane's body positioning means he cant get spun and dribbled past. Hence, when an attacker who is occupying Varane's defensive zone decides to drop deeper, Varane puts immediate pressure to force an error and block the passing lanes.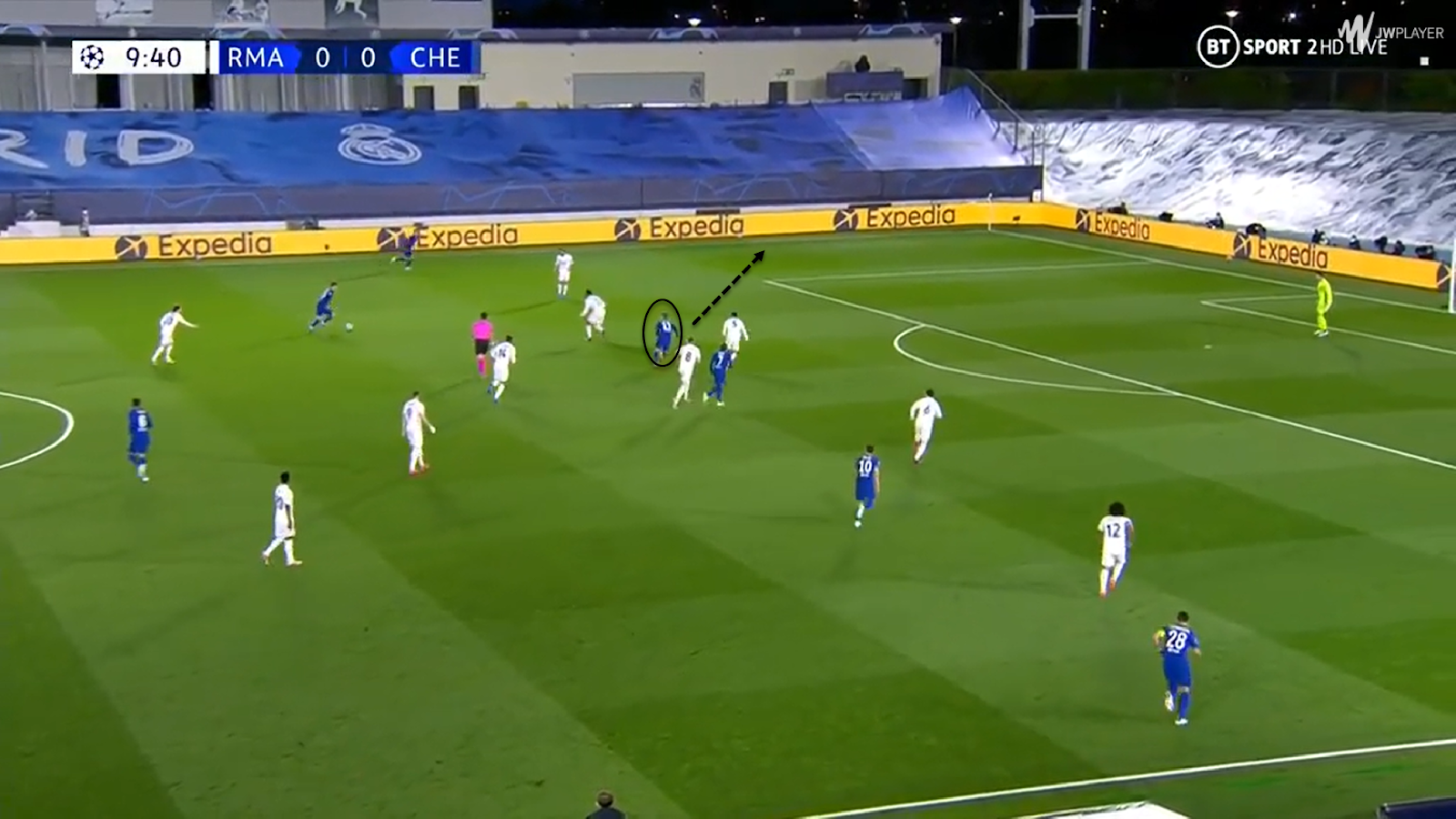 In the next image, Mason Mount attempts to play a through ball into the path of  Timo Werner as the German makes a run to peel off Varane's shoulder. However, the Frenchman shows great awareness that Varane's position matches him stride for stride in the foot race. Mount pass ended up being intercepted by Militão, but Varane was always a step ahead of Werner. 
Even if Varane steps off his line, Real Madrid are still left with a capable back four due to the defensive midfielder (Casemiro) dropping between the center halves, something commonly used by many clubs. Varane uses this additional security to a great effect when he decides to step out of his defensive line especially during this season. 
 Playing for a ball-dominant team like Real Madrid numbers-wise Varane isn't going to stand out too much, he had a tackle success rate on dribblers of 50 % and a carried out 2 defensive actions per game (tackles + interception) last season in LaLiga, 0.52 pressures in the attacking 3rd per 90, as well as 6 pressures per 90 which ranks in the top 70th percentile among defenders in the LaLiga. Solid pressure numbers which highlight even more his aggressive nature this season in carrying out his defensive actions. 
Aerial Prowess
After all, Varane is 6'3 (191 cm) and so you would expect him to be really good aerially. In reality, it is a rather mixed bag. He has a lean but strong frame, and that makes it inconsistent when he engages with physical forwards in aerial duels. He is a defender who wins his ground and aerial duels where your team will be comfortable in him winning his individual battles.
Varane is however quite good uncontested, as he knows how to guide his headers in both boxes whether that's scoring from a corner or passing into a teammate. A prime example is his goal against Uruguay for France in the 2018 FIFA World Cup.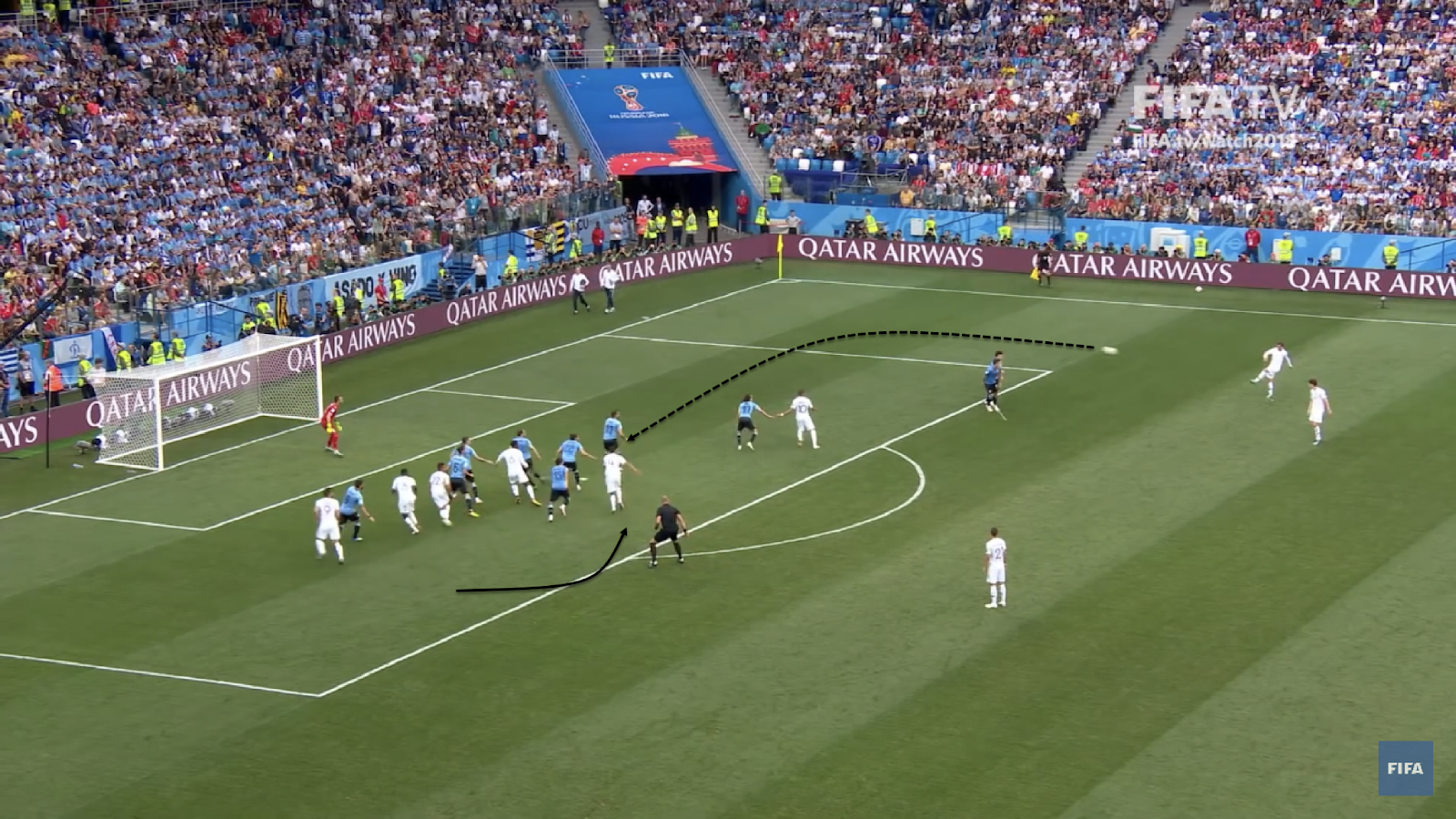 Varane over the years has perfected a textbook off-ball move that all players with an aerial dominance seem to possess: Steaming one way with his run to generate and glide the header as the ball drops, dragging the defender with him and connecting with the cross.
That's exactly what he does here, as he initially starts from the edge of the box and then moves into the penalty area to guide the header in to meet with a cross from Antoine Griezmann. Once he connects, the heading technique is perfect, as the ball guides into the corner to the far post and leaves no chance for him to save it flies up towards the top corner.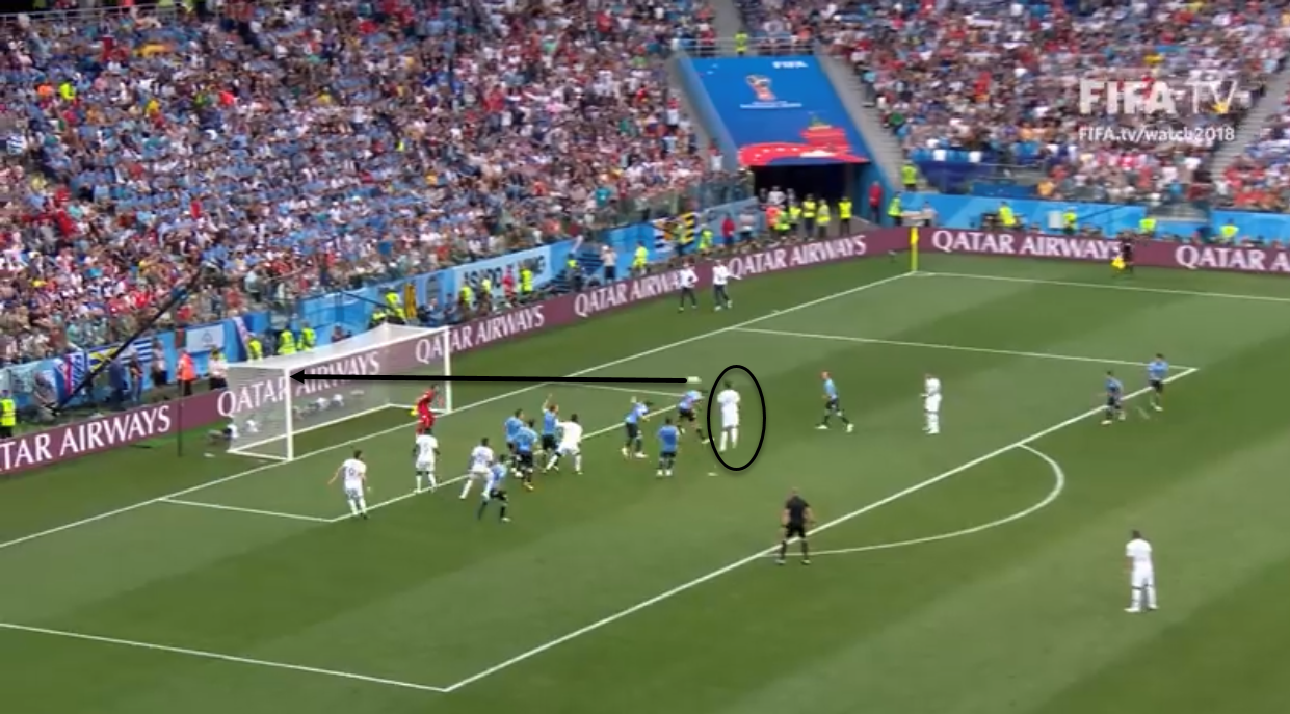 Obviously as a defender an area where he uses his aerial prowess to his team's advantage is in defensive set-piece situations. He is usually always placed in the middle of the box in order to use his height to clear the ball. His 4.61 clearances per 90 come from set-pieces and defensive situations.
However, he's a mixed bag when it comes to his aerial numbers he wins 74.4 % of his aerial duels which is comparable to an aerial monster like Harry Maguire who avagreges 75.7% but then you dig deeper and see he loses 0.85 aerial duels per 90. I believe his aerial lost stats are due to adopting a more aggressive nature in his defensive approach leading to challenging more often than usual and in more uncomfortable areas of the pitch. 
Conclusion 
All in all, Raphaël Varane has been one of the best central defenders of his generation. His improvement in his build up play and passing alongside his evident world class level of positioning awareness and aerial ability will certainly cement his status in the history of centre backs. 
With a reported deal to Manchester United imminent. It's clear to see why Ole Gunnar Solskjær wants the Frenchmen, his overall game compliments club captain Harry Maguire very well. Varane's dominance in defending transitions will probably become even more prominent given the faster pace of the Premier League.
The acquisition of the Frenchman will allow United to play higher up and instigates their presses higher up as well. Raphaël Varane will improve Manchester United, both through his physical and technical qualities and his calming defensive presence that will finally fill the void Rio Ferdinand left all those years ago.
By: Raphael Adelugba / @RaphaelAdelugb0
Featured Image: @GabFoligno / Soccrates Images – Getty Images
*Data used in the piece is courtesy of fbref.com and Sofascore and game footage was taken from Full Match Sports*