Player Analysis: Raul de Tomás
Raul de Tomás (RdT from now on) is perhaps one of the most underrated players in LaLiga. This might be because he plays at Espanyol, one of the recently promoted sides.
However, it is clear that he is possibly the best player in his team, and could be playing at a team of a higher level easily. In fact, he has even caught the attention of Luis Enrique, as RdT was called up to the national team to play the last World Cup qualifiers. When playing with Spain, he did well and proved that he is one of the best in the country. 
RdT is an elegant player who offers various attacking possibilities through his technical ability and good movements. He is also a good goal scorer and has 13 goals at the time of writing, from an xG of 11.4, showing the quality of his finishes. All the data in this report will be offered thanks to FBREF.com.
Different Movements
For an attacker to be considered high quality, he needs to be unpredictable. If a striker is only good at one specific thing, defenders will know what he is most likely to do and so make it easier for them. This is not the case for RdT, who varies with his attacking movements and positions. 
The first type of movement he makes is runs in behind. He usually times his runs well into dangerous positions, such as below. He has placed himself between the centre-back and the right-back, in order to keep them both guessing.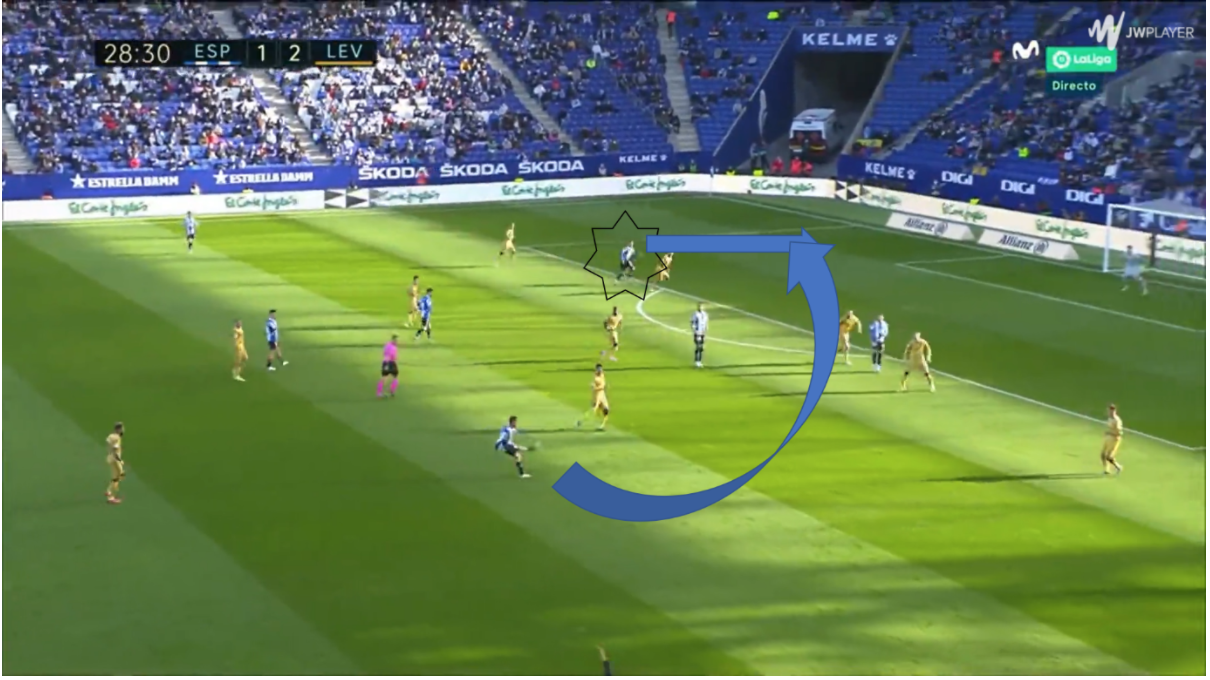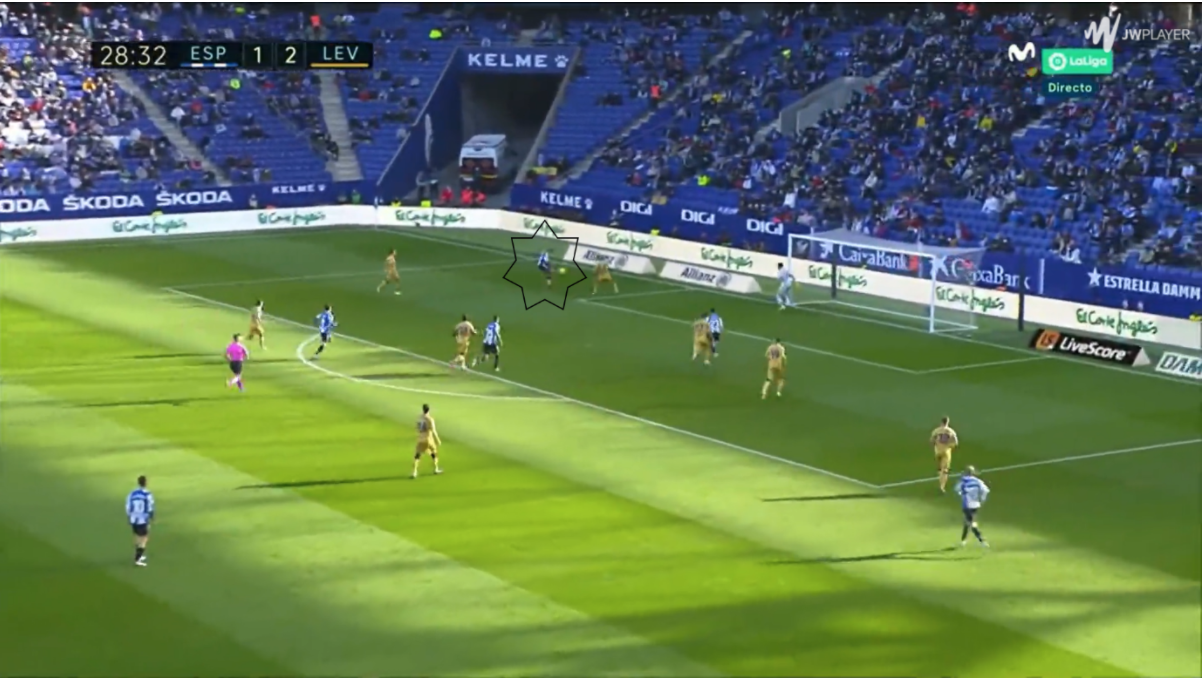 Also, when you place yourself behind a centre-back in these types of situations, it is the striker that is in control as he can decide whether to ask for the ball in front of him or behind, to which the defender has to be very aware of and quickly adapt.  Both the pass and the run in behind are great, and allow RdT to try to cross the ball on the volley.
The other movement he likes to do is to drop and receive the ball. This makes the defender doubt whether to follow him and leave a big gap in the defence, or to stay in his position and allow the striker to receive the ball. 
Below we see an example when he played with Spain of a movement he does often. He drops in between lines to receive the ball. In turn, he attracts the centre-back to him but he manages to control and turn on the move. Immediately after, he is able to switch the ball to other side where there is space. 
What he has done here is attracted players to the middle to then open out wide where there was now space. He also does this movement at Espanyol and really helps in providing his teammates an option through the middle and then opening the play out wide to create danger.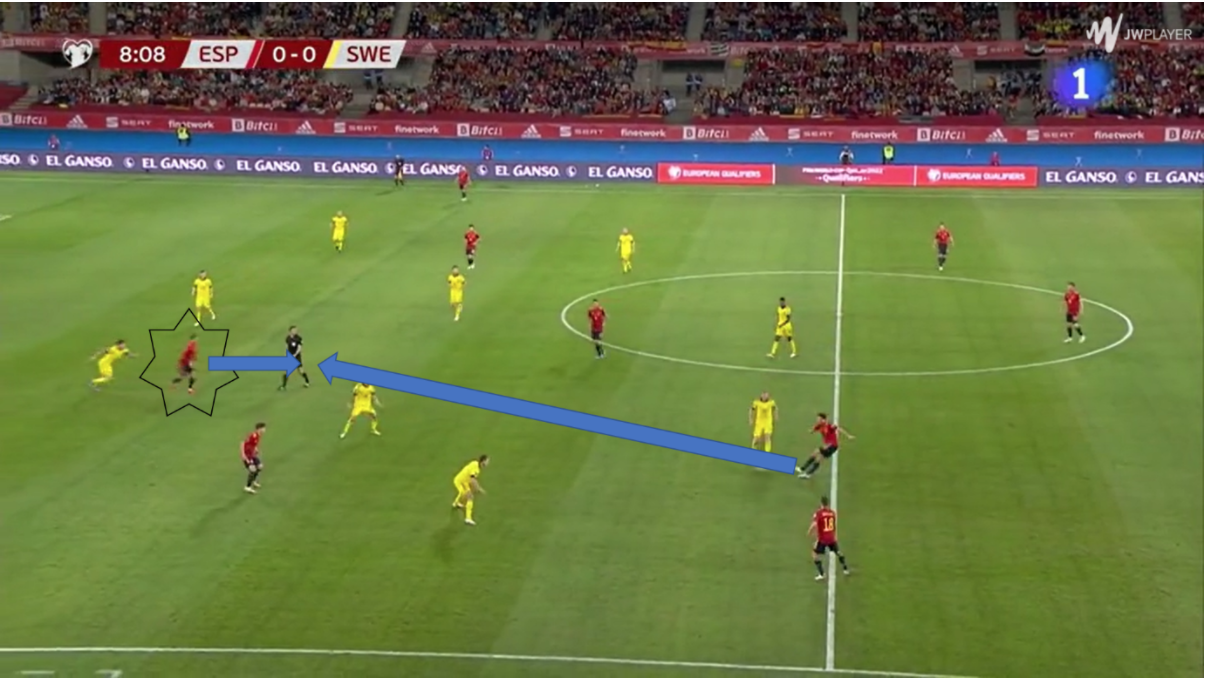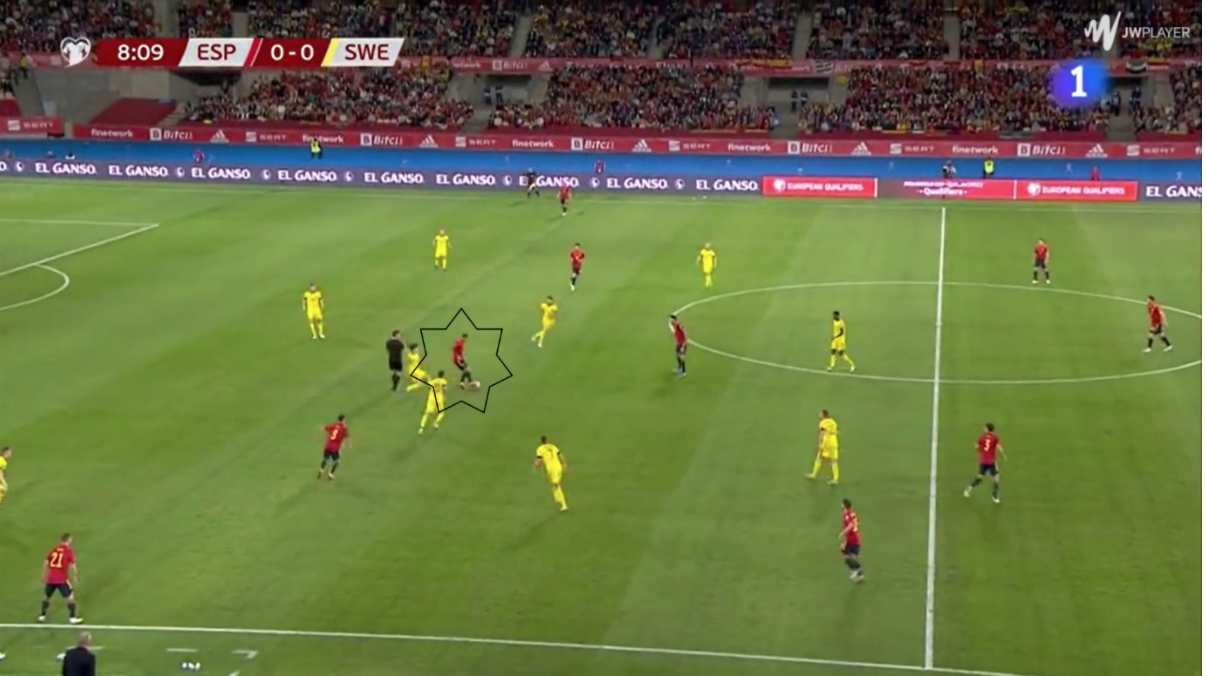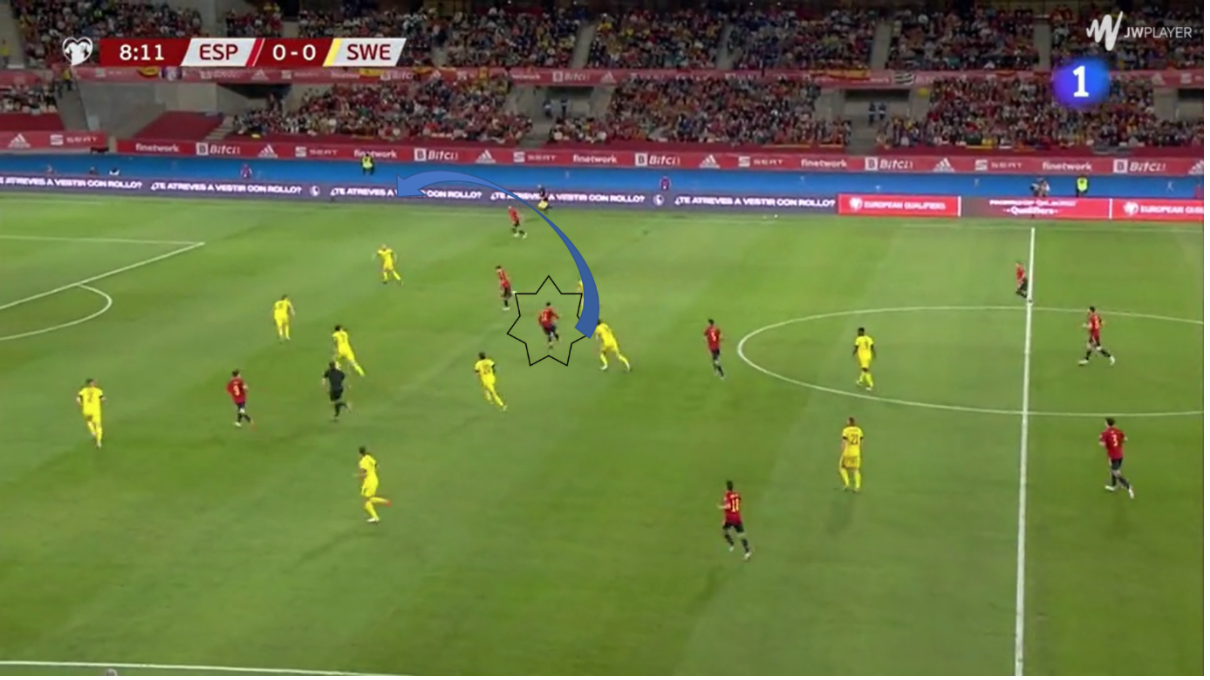 With RdT being able to vary his attacking movements, he keeps the defenders worried because they don't know what he will do next. Moreover, if RdT keeps them guessing his next movement, the defenders are more likely to stay in their positions to be safe, meaning that when he drops down, he will have more time and space.
Mobile Striker
RdT does not like to stay in his striker position and can play various positions. His awareness and technical skills allow him to help the team in different ways. He is not the typical number nine who just stays with the centre-backs as he likes to move around and create superiorities in other parts of the field. 
The first example is shown below, where his teammate has the ball on the right side in a 1vs1. Seeing how his teammate has no close passing options, RdT comes to offer himself and he is alone since no centre-back came to mark him.
Thanks to his movement to help, he created a 2vs1 situation where they could easily play the ball out. If he had not done so, the winger's only option would have been to try to dribble his opponent.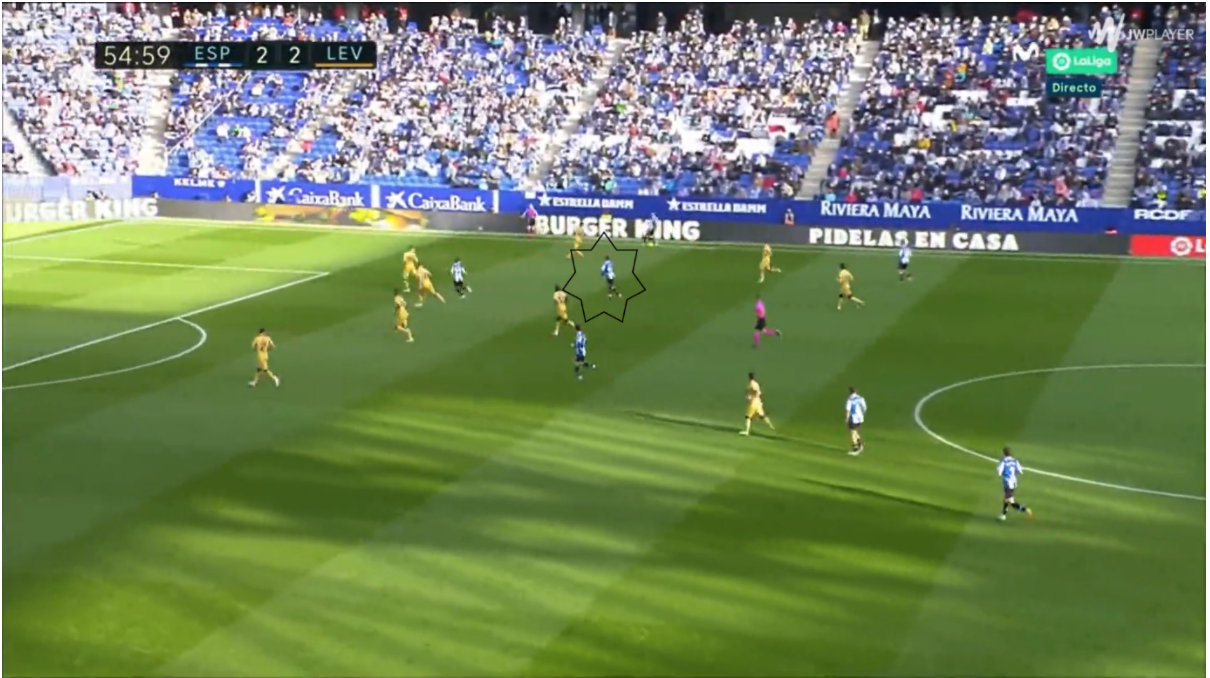 Then, with Spain, he has even more liberty to come into the midfield to generate superiorities. In the picture below, we see him being practically in the defensive line to help the team play out from the back.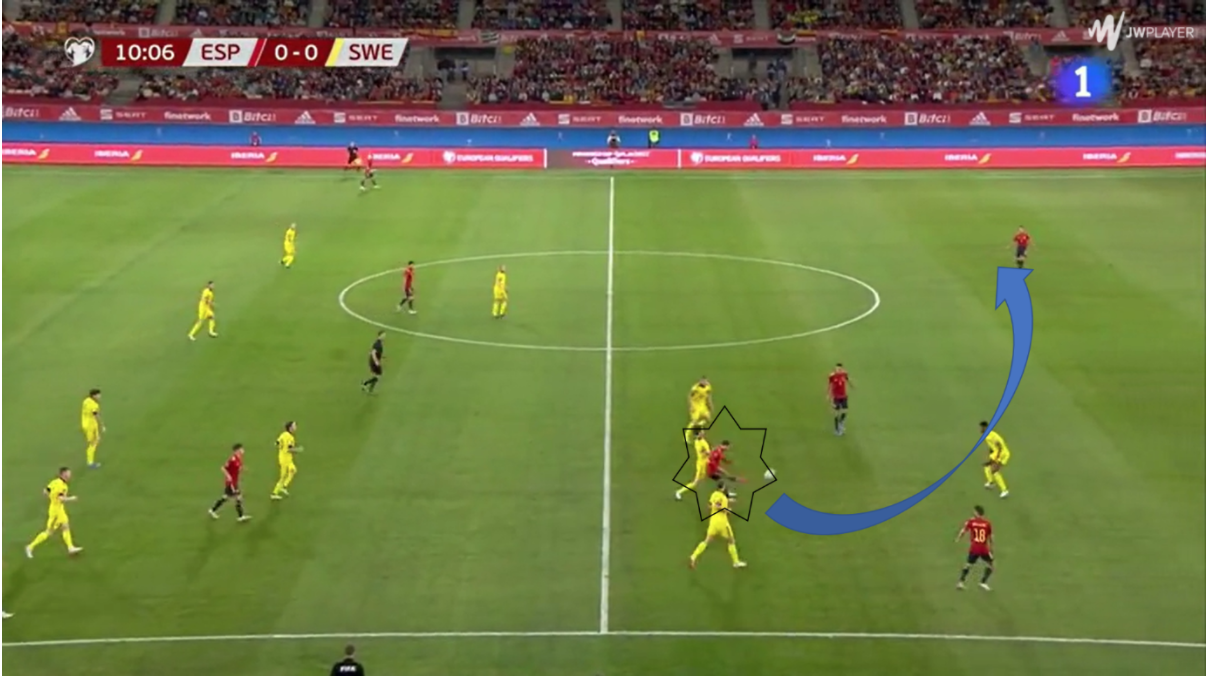 Another example of him being a smart player is shown below. The midfielder with the ball wants to pass it to the other midfielder, who is alone, but the opponent is blocking the pass. Therefore, the way they solve this problem is with a third man run, which are very effective. 
RdT sees this problem and drops down to offer a passing option. Once the ball is passed to him, he gives it to the other midfielder with his first touch. Now, this midfielder can drive with the ball looking to the opponent's goal.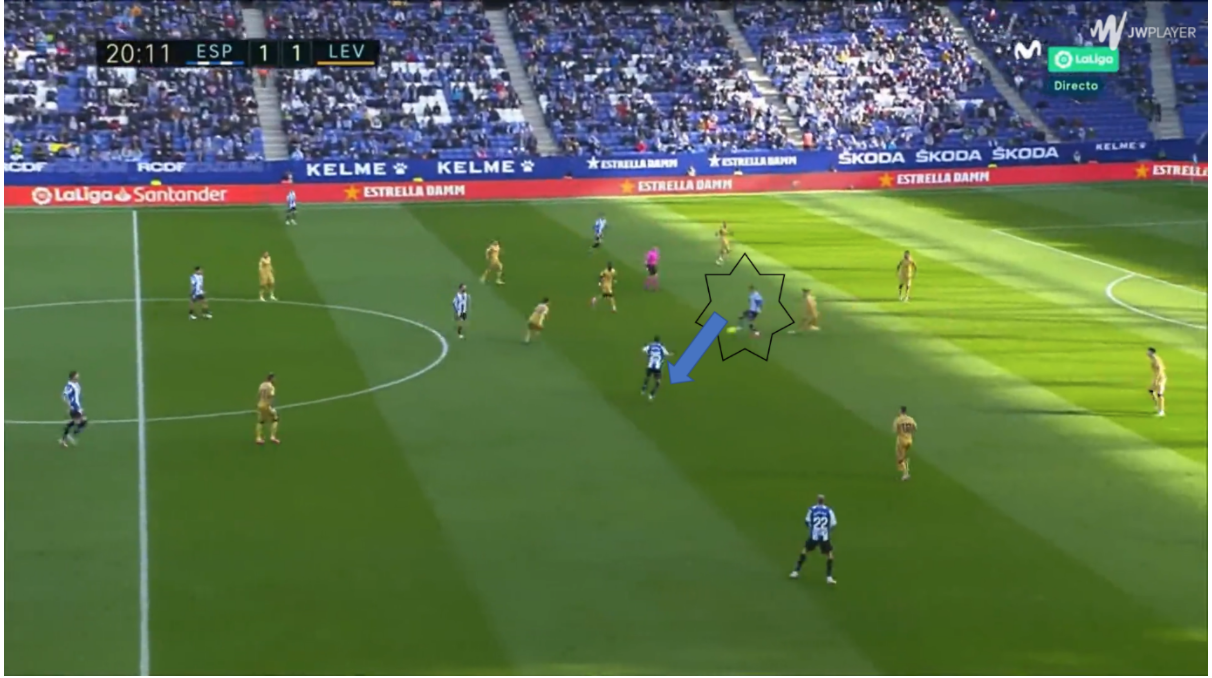 Technical Ability
RdT is a technically gifted player, and shows this during games. He has a special elegance with the way he plays football. One great example to show his mastery with a football is in the sequence below. He was given a pass at mid-height so he had to control it, when a Levante player comes to take the ball away.
At this point, he flicks the ball over the opponent and when another Levante player comes to help, he flicks it over him as well to then control the ball and pass it. With this move, he got the whole stadium standing.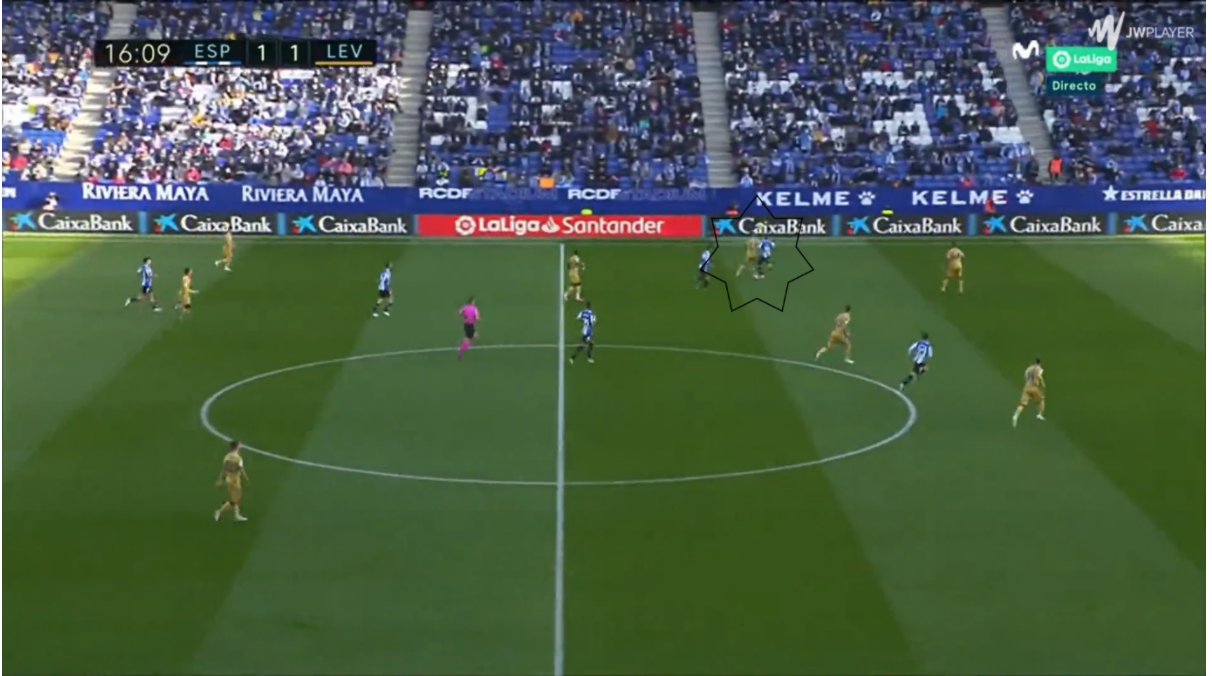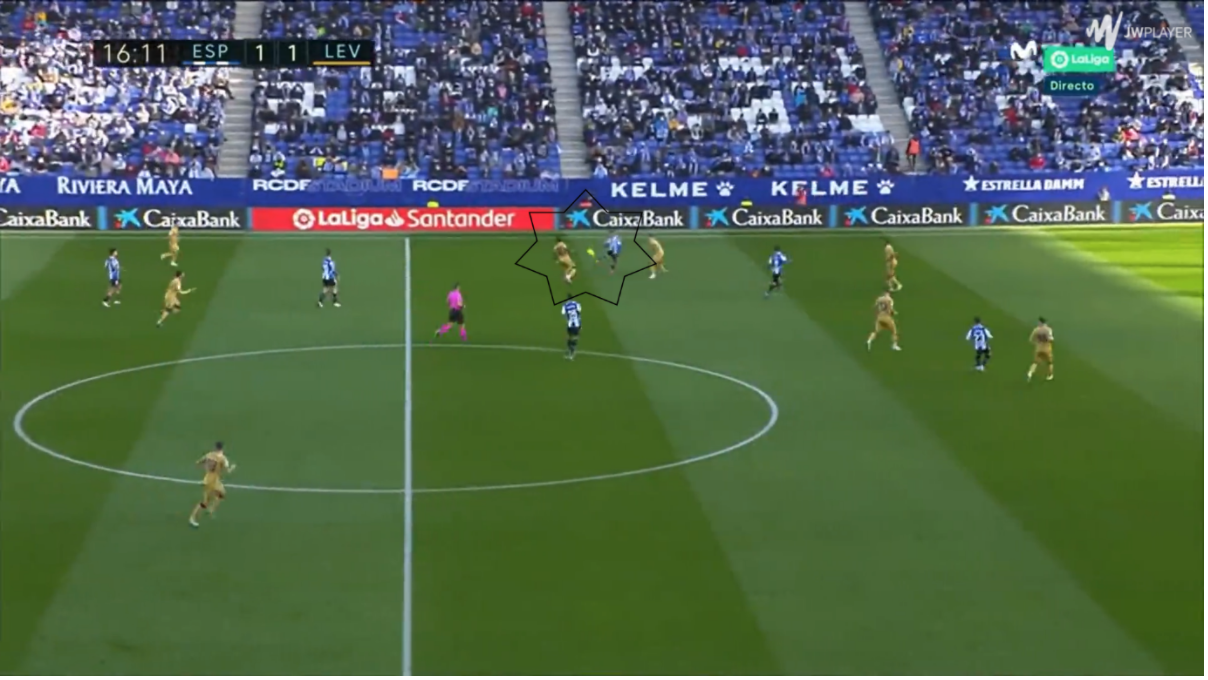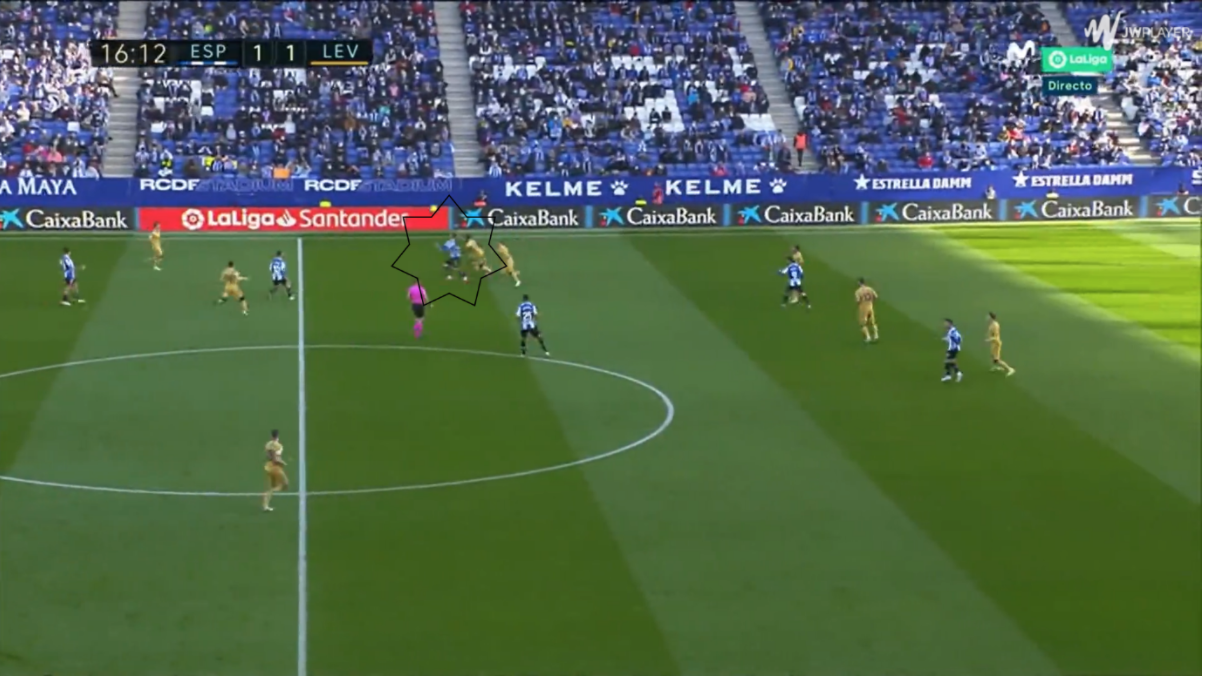 Moreover, he is quite good at turning with the ball which requires high technical skills. To prove this, we have an in-game example.
The ball comes to him from the wing, and RdT sees an opponent coming to him from the middle. Therefore, he positions himself to have his back towards that opponent. In doing so, he can shield the ball from this opponent and means that any tackle to take the ball will surely end in a foul.
He manages to quickly turn successfully with one touch and proceeds to open up the play to the other wing where there is space. With one efficient action, he has switched the play from where there were many opponents, to the other side where there was a 2vs1 situation for his team.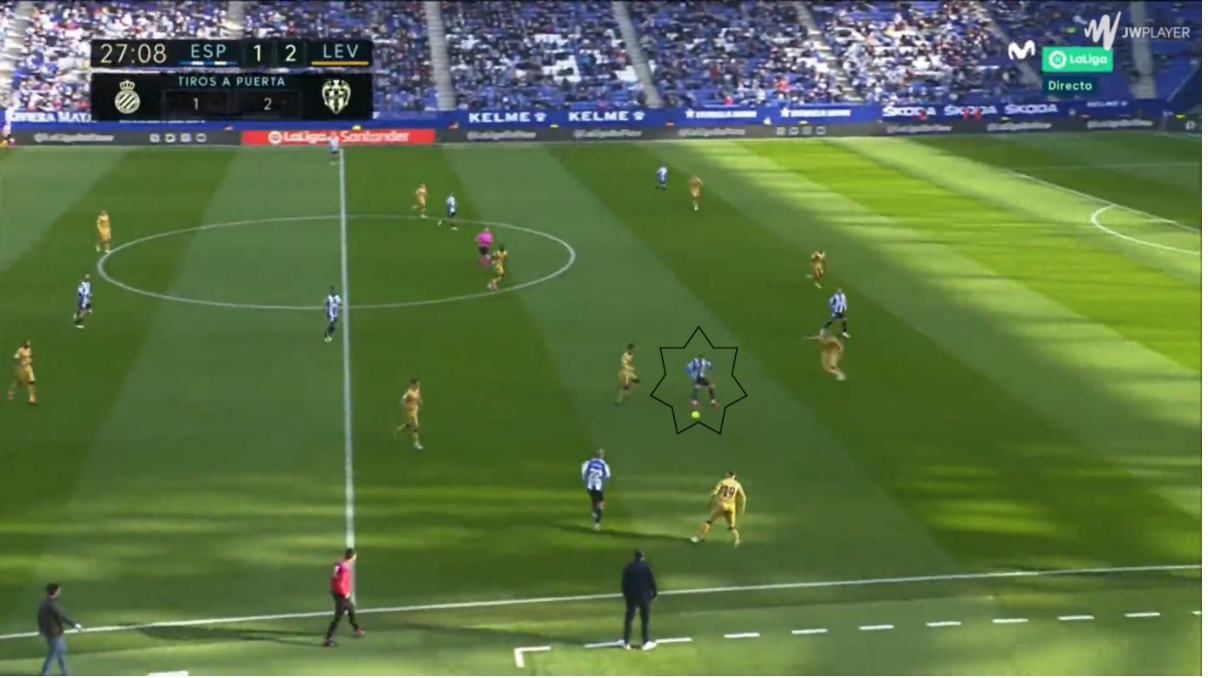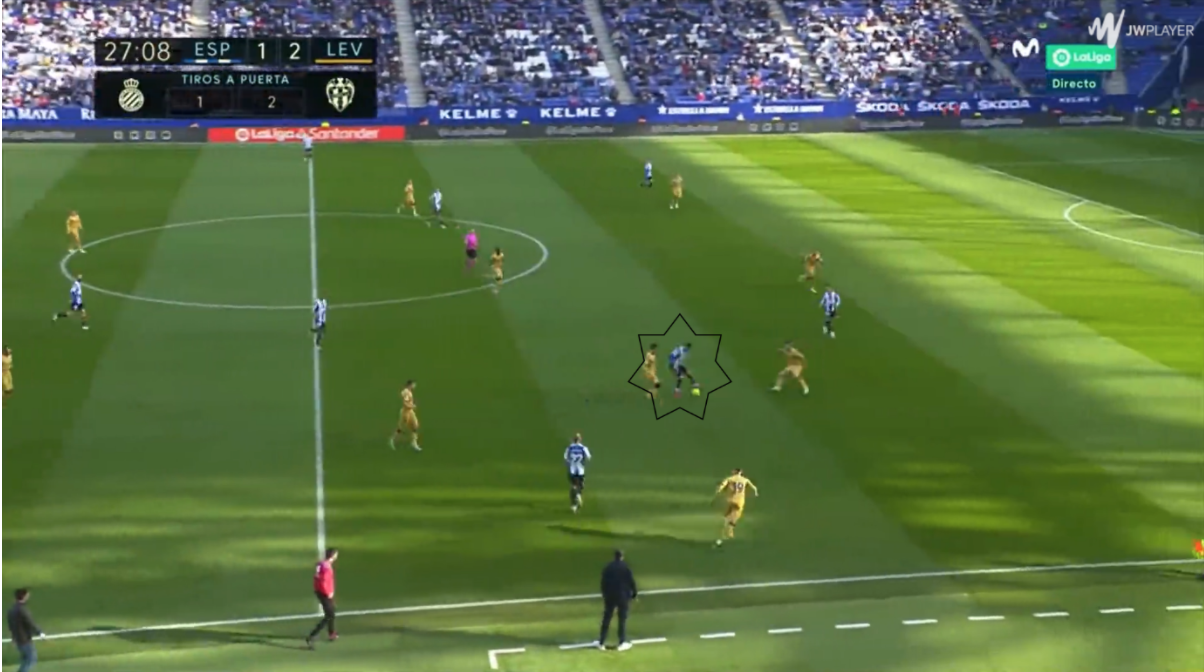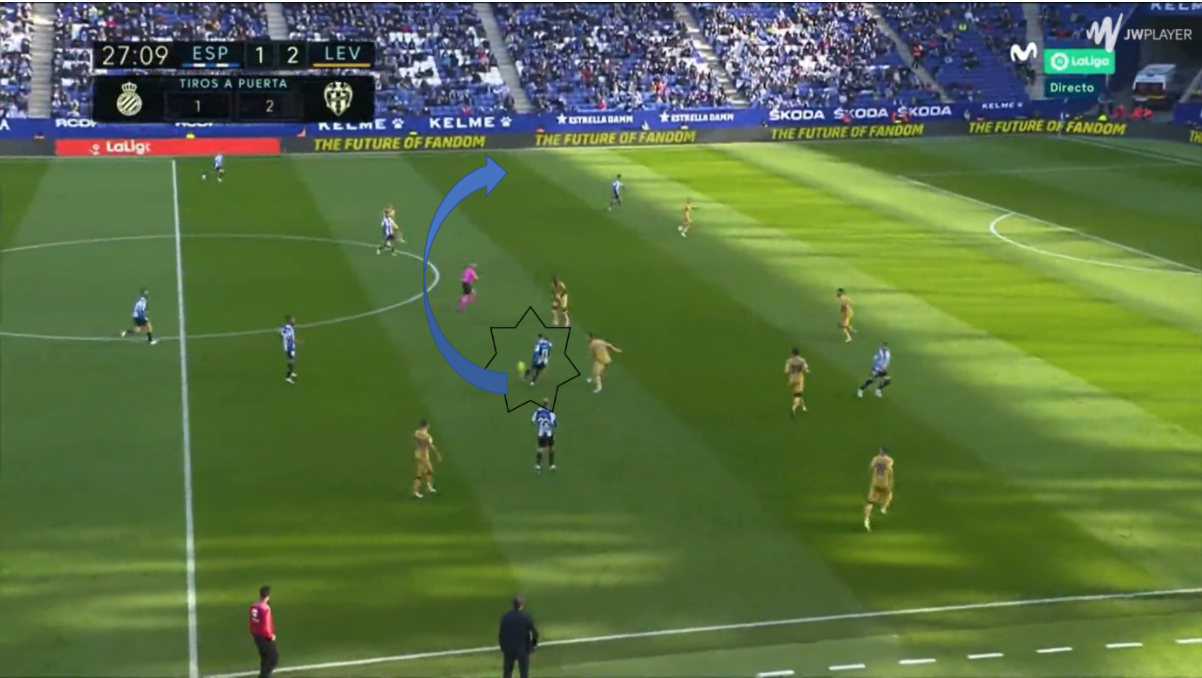 Conclusion
Overall, Raul de Tomás has been impressing this season and this has earned him a call-up to the Spanish national team. It is clear that he is Espanyol's best player and Espanyol should do everything to keep him in the team if they want to establish themselves in LaLiga again.
After struggling for opportunities at Real Madrid and Benfica, the 27-year-old striker is displaying the best form of his career with 13 goals and 3 assists. Thanks to him being a smart player, his attacking movements, and his technical qualities, he is bound to keep helping his team with offensive output this season.
By: Jaime Fernandez Valencia / @jaimefervaSet featured image
Featured Image: @GabFoligno / Quality Sport Images / Getty Images