Player Analysis: Rayan Aït-Nouri
After purchasing the Ligue 2 club for €1.3 million in 2011, Angers club president Saïd Chabane knew that to climb up the ranks of French football and become a sustainable, profitable club, a strong academy was needed. One that could generate quality assets for the first team that could also become another revenue stream. The academy would be based on young players from the catchment area around Angers, and only on special occasions would they look to recruit from further afield.


In 2013, the club opened its academy with brand new facilities and with Abdel Bouhazama appointed as its director. Bouhazama was an U-19 coach at Saint-Étienne who, in his playing days, captained the fourth tier Châtellerault team – a team managed for by Angers' current coach, Stéphane Moulin, for 8 years before the return to his former club, Angers in 2005.


In August 2018, Rayan Aït-Nouri became only the 2nd player brought through this new training centre to make his debut in a Ligue 1 game for Angers, an 8-minute cameo in away loss to PSG. A little over two years later, he started in what was his last fixture for Angers, an away loss against PSG.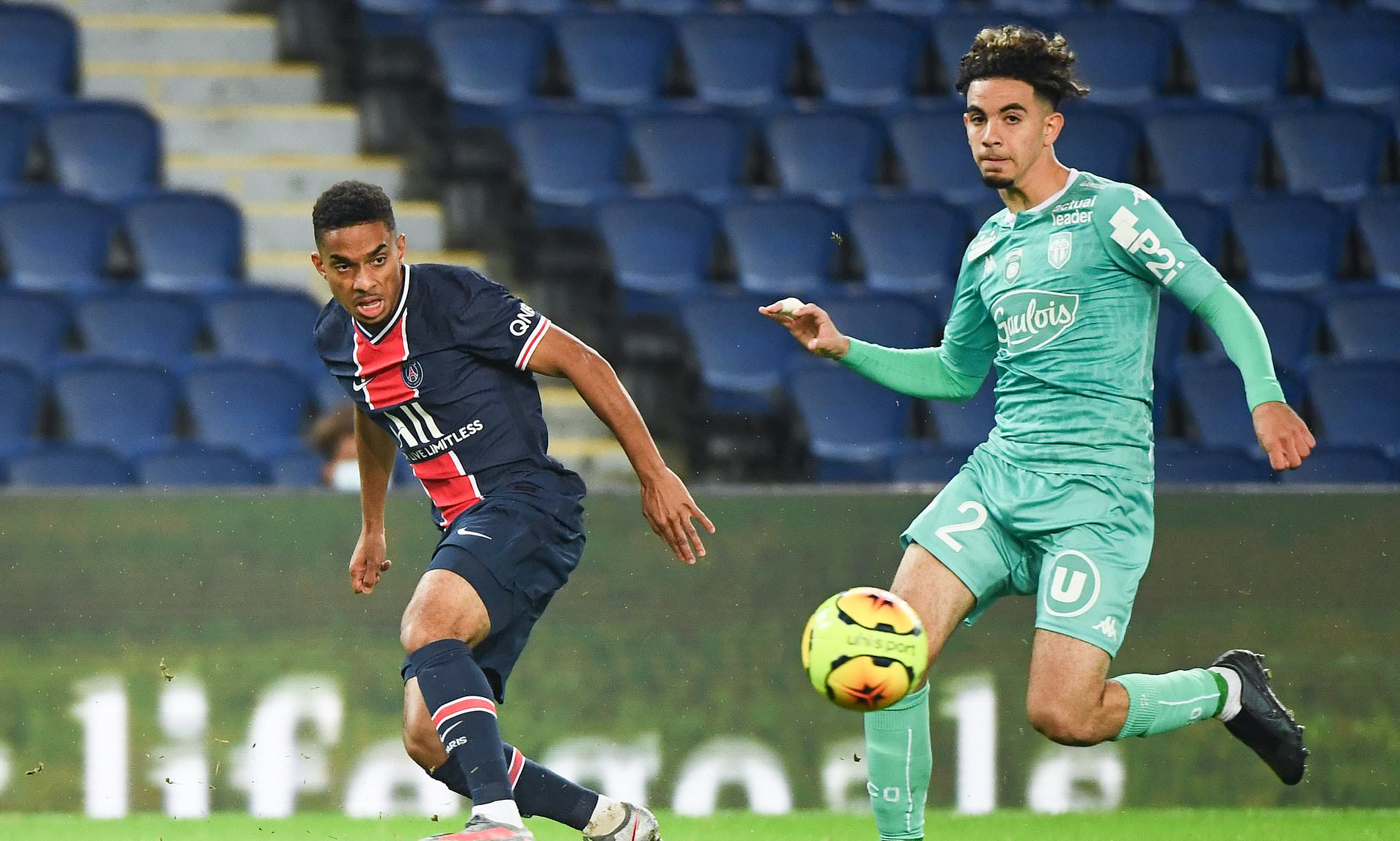 Photo: ICON Sport via Getty Images
While just a coincidence, Aït Nouri has shown he has the potential to play for an elite club like PSG, it's surely only a matter of time. Even before he had signed his first professional contract he was being courted by clubs such as Manchester City, Liverpool, Juventus and Atlético Madrid.
Aït-Nouri first trialled at Nantes, Toulouse, Valenciennes and Auxerre. Yet it was only when he was spotted playing in a youth centre in the suburbs of Paris by Axel Lablatinière, who was there by chance, that Nouri's football career properly took off. Lablatinière, the then head of recruitment for Angers, invited Rayan to a tournament in Châteaubriant that was watched by the Angevin staff; they were immediately impressed and organised quickly to sign him, with €5,000 going to his then club Paris FC.
Shortly after his 15th birthday, he left his family and home in Paris and entered a training centre that even in its infancy, had already been home to a certain Nicolas Pépé, who was about to start his one and only professional season with Angers.


When asked about a memory from his training in an into for OnzeMondial, Aït Nouri recalled a time he got into trouble with the strict and commanding Bouhazama, 
'With a former colleague, Abdellah Lemaangr, who is no longer there now, we celebrated his birthday. We had ordered pizza, it was funny. If he reads this interview, he will recognize himself. Afterwards, coach Abdel caught us and yelled at us, but it's still a good memory.'
Aït-Nouri was one of the first examples that showed Angers were very careful and patient with their young players, not exposing them too quickly and instead allowing them to settle into the first team to ensure that when they're given their chance they did so with little risk.
There is a clear tactical philosophy throughout the club that filters down from Head Coach Stéphane Moulin, who has been at his current post since 2011 and until recently, there was little movement from a staff perspective at the academy. This is a theme at Angers that reflects the aim of limiting any risk of disturbing player development by shifting personnel, or coaching philosophy.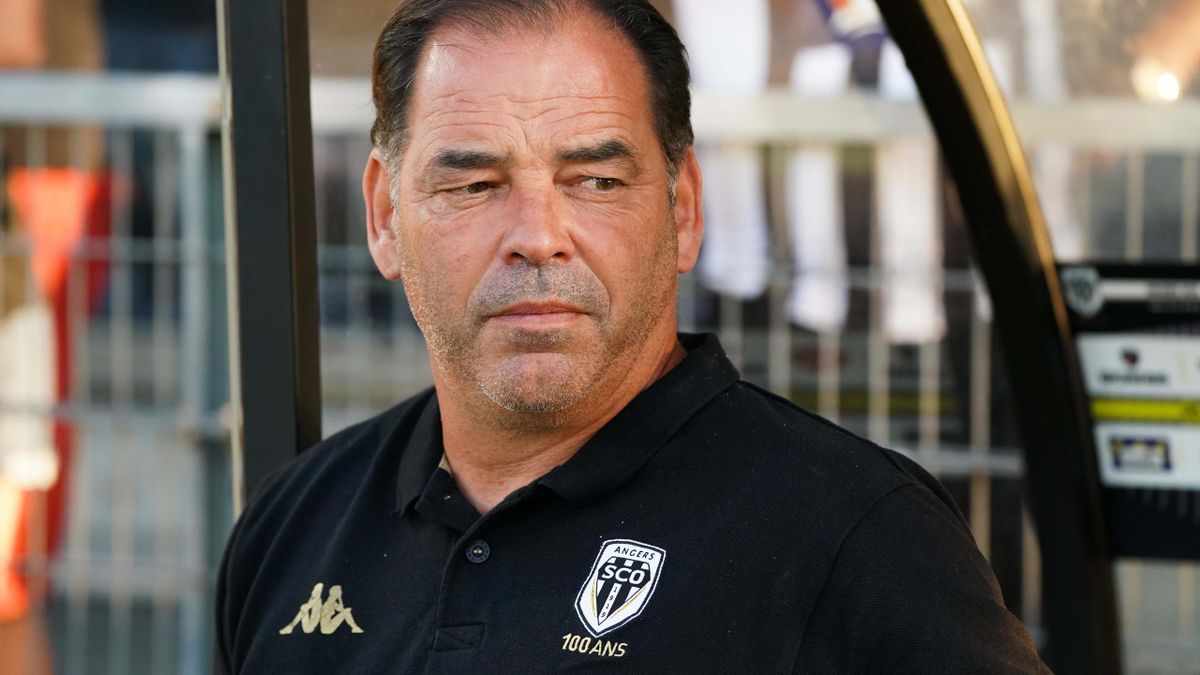 Photo: Getty Images
Leading up to his debut 8 minutes at the Parc de Princes, Aït-Nouri had been training with the first team for the majority of the previous season. His 2nd appearance occurred in the penultimate game of the season. In that time, he had settled into a squad with a consistent core of individuals – especially his fellow defenders Romain Thomas, Ismaël Traoré and Vincent Manceau, who had all spent several seasons at Angers.
Being able to develop and train with the same teammates for almost two seasons meant he was able to integrate into that backline with a comprehensive understanding of his colleagues. Angers have a reputation for being a defensively solid team which contrasted with Aït-Nouri's preferred style, but has allowed him to work on the defensive weaknesses in his game. As a result, Moulin entrusted him with the starting LB spot at the start of the 2019/20 season where he instantly became the 1st option.
In his move to Wolves, Rayan will join former Angers player Romain Saïss. Saïss is the only real previous link between both clubs; yet, when you realise that Aït-Nouri's agent is the renowned Jorge Mendes, the transfer to Wolves seems one that you could have predicted. Signing Aït-Nouri was one of the first forays into the lesser known French clubs for the Portuguese super agent.
Contact was first established through Chérif Ghoulam – an intermediary agent and brother of the Napoli fullback Faouzi Ghoulam, who was friends with Bouhazama. So, it is little coincidence that the player has ended up at Wolves, and one would suspect that a decent percentage of the sale will go into the pocket of Mendes and Ghoulam.


Even after half a season of professional football it became clear that Jorge Mendes had plans for his client. A meeting with the club in the winter established that Aït-Nouri would be leaving in the summer, whilst a bid of €30 million from Crystal Palace was rejected with Le SCO setting an asking price of beyond that figure.
Unfortunately, in the next match against Nice, Aït-Nouri suffered a triple jaw fracture; this resulted in a premature end to his season where due to the COVID-19 pandemic, the Ligue 1 for 2019/20 was cut short. As a result of these disruptions, Aït-Nouri enters the Premier League with only 23 Ligue 1 appearances behind him.
Supporters of Wolves should allow the French player plenty of time to settle. Adjusting to life in a new country with a new language, and in a faster paced footballing league won't be easy.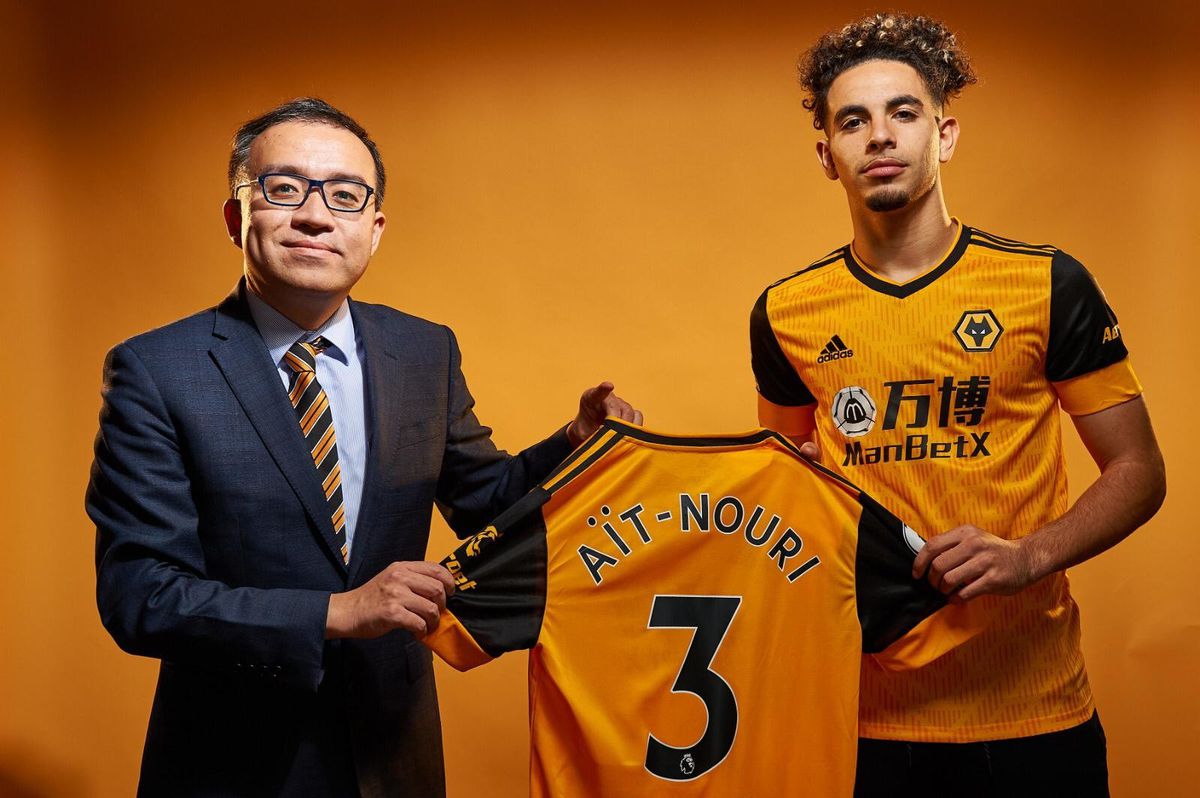 Photo: Wolves
At times, Aït-Nouri has the tendency to let his concentration slip, leaving himself in a position with too much exposed space behind him; as well as improving his physical prowess, this is something he'll need to continue to develop, upon entering a stronger league. Still, at only 19, he has plenty of years ahead of him to build muscle and ultimately become a more imposing presence on the pitch.
For anyone unsure of the player's talent, his final game against PSG was a testament to his qualities. Aït-Nouri played left wing-back and was heavily involved in build up whenever possession was recovered. He consistently attempted to progress the ball forward and was one of the better players to cope with the strong Parisian counter-press.
His combination play with the inside midfielder, Angelo Fulgini, led to the majority of the chances that the side created. His development at Angers has focused more so on his defensive abilities, but this performance of his offensive danger was a hint to how he could fare with Wolves.
He's an aggressive attacker who will try to accelerate away from his marker and overlap his teammates to get into a crossing position. His crossing has often left a lot to be desired, but in his first matches of the new season he has often favoured a low driven ball into a well-positioned teammate. This was the method that led to his first assist this season against Brest in a 3-2 victory.


Since breaking through, his short professional career has already taken huge strides. With a call-up to the France U-21s team at 18, he was the youngest player in the squad until Eduardo Camavinga (17) was called up.
Aït-Nouri is also eligible to play for Algeria and has previously stated that he's very proud of his Algerian heritage – but so far, he hasn't received any inquiries from the first teams of either nation. It's something he doesn't think too much about, but no doubt will make the decision when the time comes; for now, he is happy focusing on the U-21s.
Angers have become renowned for being able to scout talented French youngsters and develop them into strong assets. However, the sale of Aït-Nouri is further proof that talent is flourishing from its academy. For Wolves, their connection with Jorge Mendes has once more proven golden as they now acquire one of Europe's most talented fullbacks – a player who will only grow from strength to strength.
By: Thomas Wiseman
Featured Image: @GabFoligno / Fabrice Coffrini / AFP