Player Analysis: Renato Tapia
As Celta de Vigo slumped to an uninspiring 4-1 defeat to Real Sociedad last November, there was an all too familiar feeling around the club. Their fourth defeat in five, the Galicians were in the relegation zone. Again. And, as the rain began to pour onto the bright blue, empty seats of Balaídos, it was looking as if they would have to rely on their saviour, Iago Aspas, to single-handedly dig his beloved, boyhood club out of relegation trouble once again. 
The performance that miserable afternoon was very much typical of the past few seasons in Vigo. A bright start, followed by a defensive mistake, leading to a defensive collapse. Last season, Os Celestes only avoided the drop by a singular point, and they needed 20 goals and six assists from Aspas to prop up that leaky defence the campaign before. Things were looking bleak, and something had to change. 
Yet, in many ways, change was part of the problem. Celta had been through five managers throughout those torrid years of relegation dogfights, and it looked as if too many new faces, with too many new ideas and new philosophies, had blurred Celta Vigo's identity; draining a clearly talented squad, both mentally and physically, as managers came and inevitably went. And so, when after that Real Sociedad defeat, Óscar García was sacked, not even the exciting South American successor that the club had lined up could spark much enthusiasm in Vigo. 
Despite the lack of fanfare, though, one month later, and Eduardo Coudet's Celta Vigo were suddenly the most in-form team in Spain. In a remarkable transformation, "El Chacho" Coudet won six of his first eight games in charge, in a record-breaking December that saw a revitalised Celta score 16 and concede just twice. Firing the club into as safe a position as they had been in years, AS described Coudet's arrival in Galicia as the "homecoming of a long-lost king." 
An intense, enthusiastic character, the Argentinian has brought a whole new positive mentality to Celta Vigo, employing a bold 4-1-3-2 formation to unleash the attacking talent throughout the squad. Former players have told how he encourages his attackers up the field, urging them to take on their man, to just go for it, and that he will take the blame if it goes wrong. It's an approach that looks to have injected confidence into a previously bereft group of players, who play with the same enthusiasm, energy and effervescence as their new manager, invariably bouncing around on the touchline, kicking every ball with his team.
Holding the key to the new system, though, is a player who sits a bit further back. The audacious 4-1-3-2 needs a destroyer, an all-action tackler to anchor the midfield, allowing the five players ahead of him to commit to those full-blooded forward runs. And, in Renato Tapia, Coudet looks to have uncovered the perfect player to do the dirty work, and so much more, in that crucial part of the field. 
A player who embodies El Chachismo itself, Coudet's ideas are only made possible by the extraordinary athleticism and defensive tenacity of Tapia, the likes of which you'll struggle to find across Europe's top five leagues. Left with so much space to cover in front of defence, the Peruvian has been racking up incredible numbers in terms of defensive actions, as shown by the statistics below, collected on 30th March.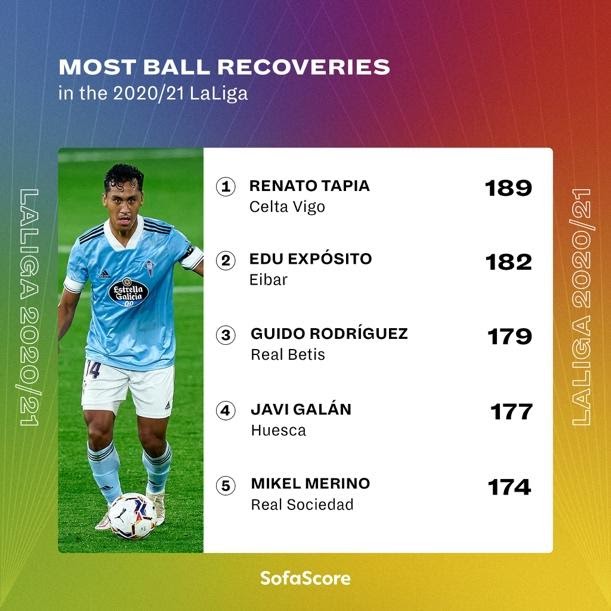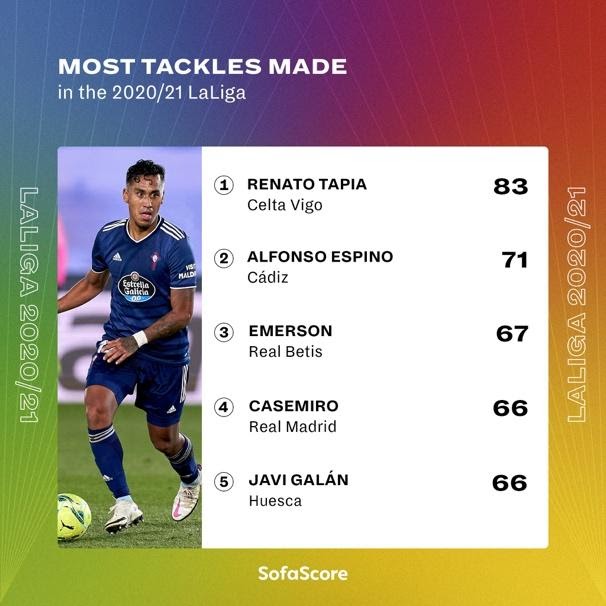 Photo: SofaScore
As the sole holding midfielder, Tapia dominates the defensive and middle thirds of the pitch, having completed, according to FBRef.com, an astonishing 513 pressures so far this season across those two zones, around 18 per game.
He's also made 74 blocks, 40 interceptions and 94 clearances throughout the season, showing, alongside his league-high tackling and ball-recovery statistics, how unbelievably busy the Peruvian is through each and every match. His season heat map only goes to emphasise just how much ground he covers: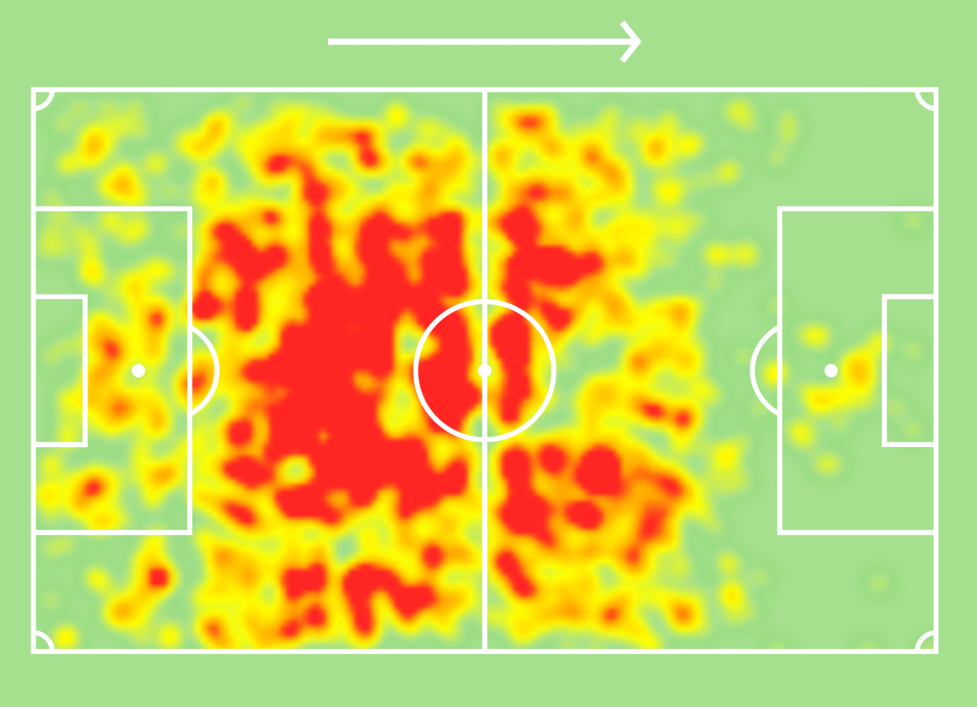 Photo: SofaScore
Ahead of Tapia, and, for all their apparent freedom, Celta's attacking five are clearly working much harder defensively to fight for the ball in the zones ahead of the defensive midfielder, as a result of the high-press that Coudet's system demands. Denis Suárez, Brais Méndez and Santi Mina, for example, are three of LaLiga's highest pressing players in the middle and attacking thirds, three players who were outside the top 100 in that regard last season.
And yet, despite the extra hard-yards, all three players are posting significantly better attacking returns this season, with Brais on six goals from out wide this season – despite being on 0 before the arrival of Coudet – and Denis Suárez, a creative midfielder who would normally sit deeper alongside Tapia, with an impressive nine assists; the second most in LaLiga.
Sweeping up absolutely everything that falls in front of the defence, Tapia's incredible appetite to win the ball back has given those ahead of him the opportunity to flourish, safe in the knowledge that the Peruvian will always plug the gaps left behind. Furthermore, it is Tapia's positional discipline that helps to increase the attacking potency of the 4-1-3-2, always ensuring to take up the optimal position to block the opposition counter-attack, allowing his teammates to get forward without fear of being caught on a quick transition. 
During sustained spells of possession, the Peruvian often drops between the two centre-backs, to form a 3-5-2 on the ball. This encourages the full-backs to push forward, often overlapping the inverted wingers, who pull the opposition full-backs inside with their movement, opening up the wide space for Hugo Mallo and Aarón Martín to attack. With the ball at his feet, Tapia will often look for the switch of play to either full-back, who are keen to gallop forward at any opportunity.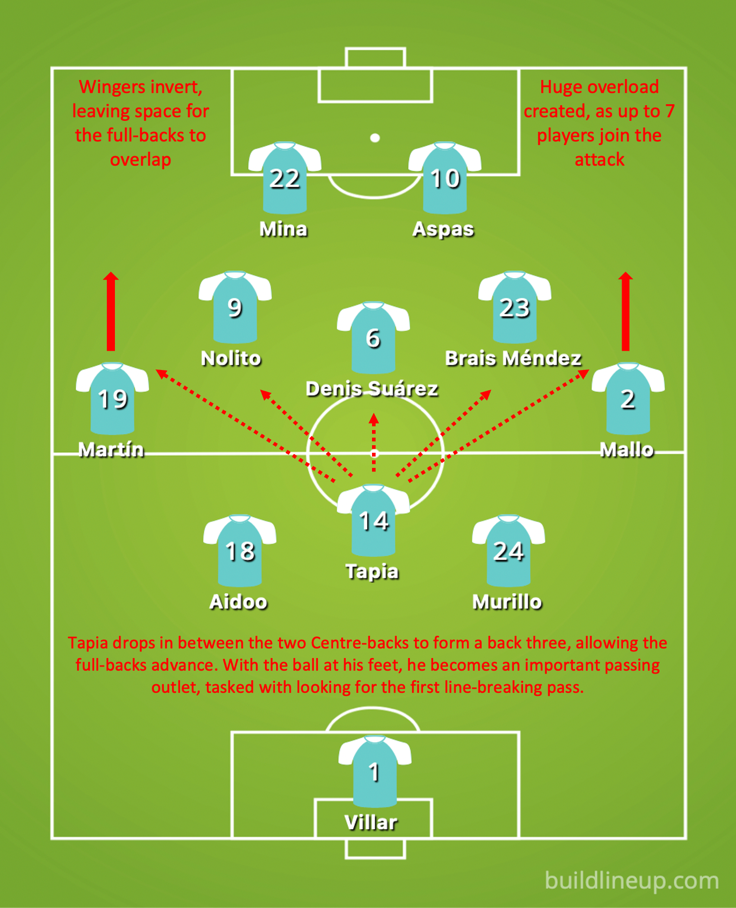 The 3-5-2 in possession also creates a central overload for Celta Vigo, who look to use this numerical superiority to overrun the opposition central defenders. This is particularly effective on the transition, and it is often Tapia, with a quick interception or tackle, who can start such moves. See below how, after retrieving the ball, Tapia can launch an attack with a simple, line-breaking pass into Aspas: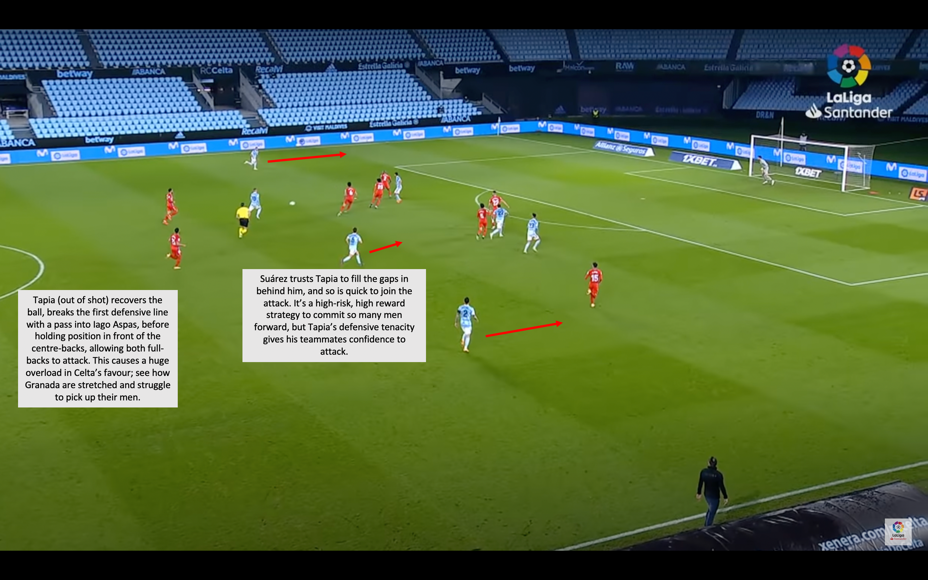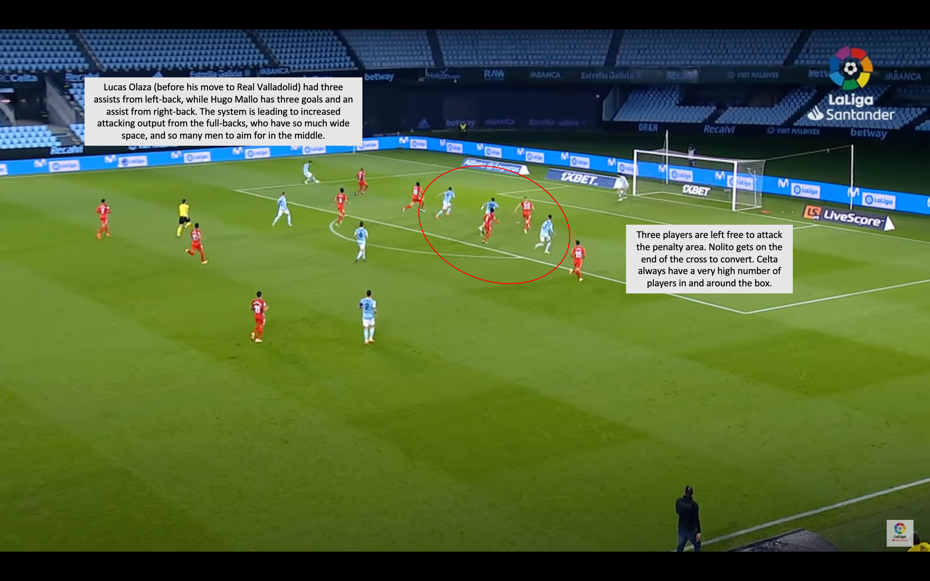 While he can't boast the passing range of somebody like Toni Kroos, Tapia's confidence and assurance on the ball is another feature of his game that allows him to play such a high-pressure role, where mistakes, especially if made under the first opposition press, can often be fatal. Having attempted over 1200 passes this season, he has a passing accuracy of 82.8%, meaning he sits comfortably in the upper quartile amongst LaLiga midfielders this season.
He also, significantly, has a 90.2% accuracy with his medium-range passing, with a progressive distance of over 5700m, showing how his switches of play to the full-backs are crucial in moving Celta up the pitch. He is, though, capable of picking out a killer pass, as shown by this defence-splitting through-ball he played through to Santi Mina on Sunday, again after he won the ball on the transition, with the striker hitting the post.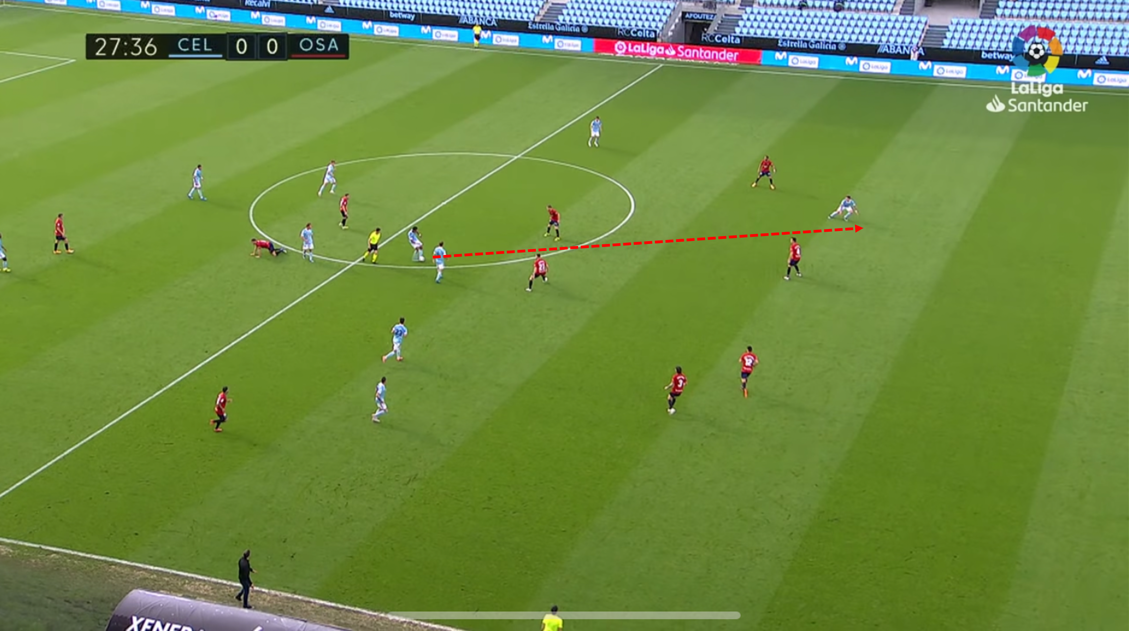 And so, sitting deep, Tapia is not only an essential defensive cog for Coudet's side, but also an important attacking component, despite rarely getting forward himself. Well above LaLiga averages in terms of tackles, interceptions, clearances, and just about everything else defensively, as well as successful passes and distance traveled, he is performing exceptionally well this season, and is showing a consistency of performance, at the age of 25, that suggests such levels will be sustainable for years to come. 
In recent weeks, the Peruvian has earned comparisons to Real Madrid's Casemiro, and has even been tipped by several pundits to be the Brazilian Galactico's successor in the heart of the Real Madrid midfield. Like Casemiro, and indeed like Manchester City's Fernandinho, he is a player who provides balance to the side due to the selfless hard-work that he gets through, covering every blade of grass and popping up all over the place to ensure that the midfield is never overrun. He's also well-drilled in the dark arts; and while he may pick up a plenty of yellow cards, he knows exactly where the line is and is careful to never overstep it. 
A player who breaks up attacks, dictates the tempo with his high-quality passing, recycles the ball carefully, wins fouls, and generally keeps the entre side ticking over, it's been Renato Tapia, and not Iago Aspas, who has been the beating heart of this Celta Vigo side this season. He's been Eduardo Coudet's secret weapon, and it will be fascinating to see just how far this Peruvian powerhouse can go. 
By: Thom Harris
Featured Image: @GabFoligno / Quality Sport Images – Getty Images