Player Analysis: Ricardo Nascimento
At 33 years old, Ricardo Nascimento has proved to be one of the best ball-playing central defenders in PSL, playing most of his matches on the left side of the Mamelodi Sundowns' central defence. The Brazilian joined Sundowns in July 2016 from Académica in the Primeira Liga (Portugal) and seems to be getting better with time.
On the 27th of July 2020, Mamelodi Sundowns announced that the Brazilian centre back extended his stay with the Tshwane based side for another three years. This further proves his importance in coach Pitso Mosimane's project at Mamelodi Sundowns.
But what made Pitso Mosimane offer a 33-year-old a three year deal, and what makes him so pivotal to the way Mamelodi Sundowns play?
His Quality With the Ball
As a centre back, he ticks most boxes that are consistent with ball-playing centre back. His ability to break lines with progressive passes and forward drives with the ball at his feet, makes him one of the most dynamic centre backs in the league.
In the Nedbank Cup Final against Bloemfontein Celtics, he attempted 43 passes with a pass success rate of 83.72%, 18 of his 36 completed passes being progressive passes. Nascimento always looks to relieve pressure away from the defensive line by playing line breaking passes into the midfield, behind the opposition's 1st line of pressure.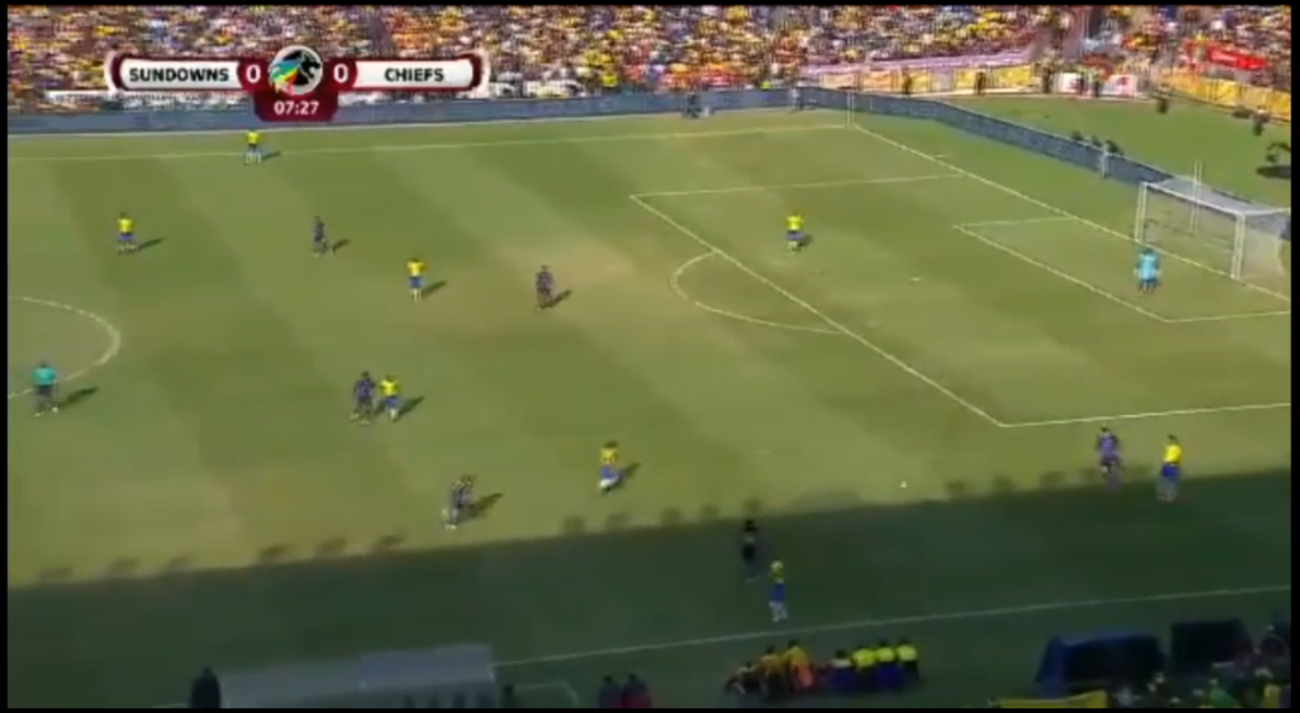 In the above illustration, Nascimento plays a progressive pass into midfield to relieve pressure coming from a press by Leonardo Castro. He could have easily passed the ball back to the goalkeeper, Denis Onyango. However, whenever he is on the ball he always prioritises verticality in his play, be it through passing or ball carrying.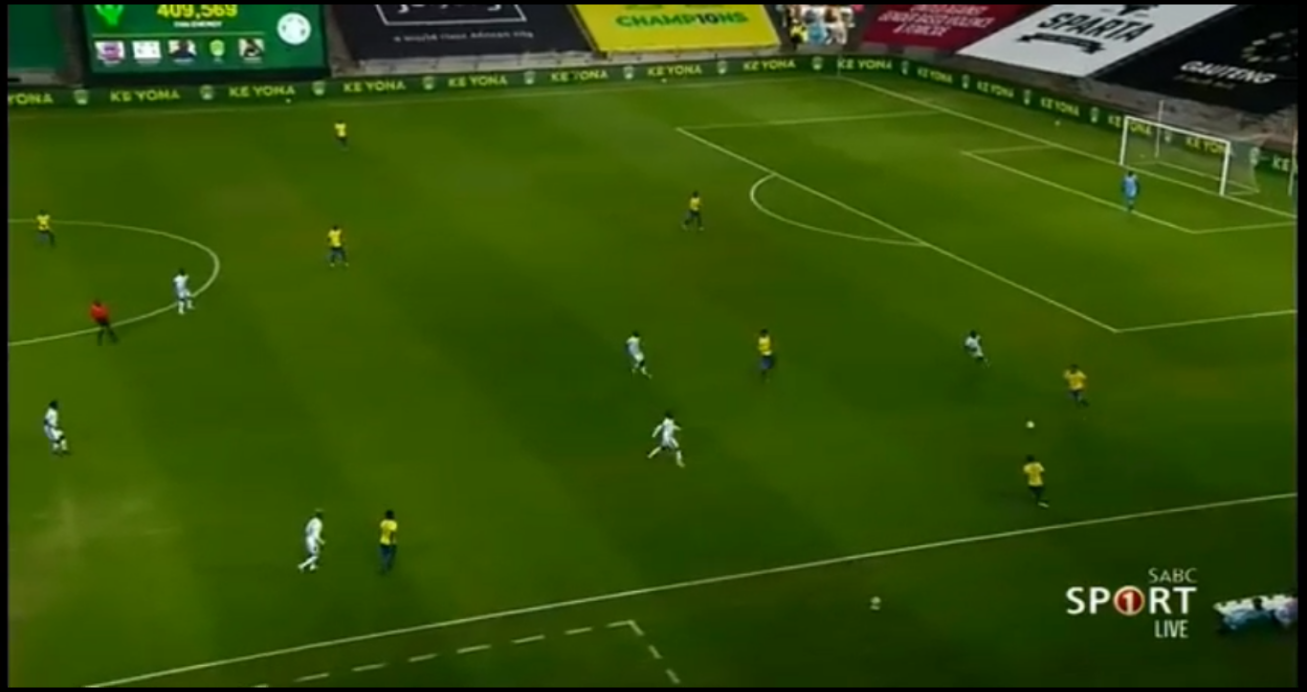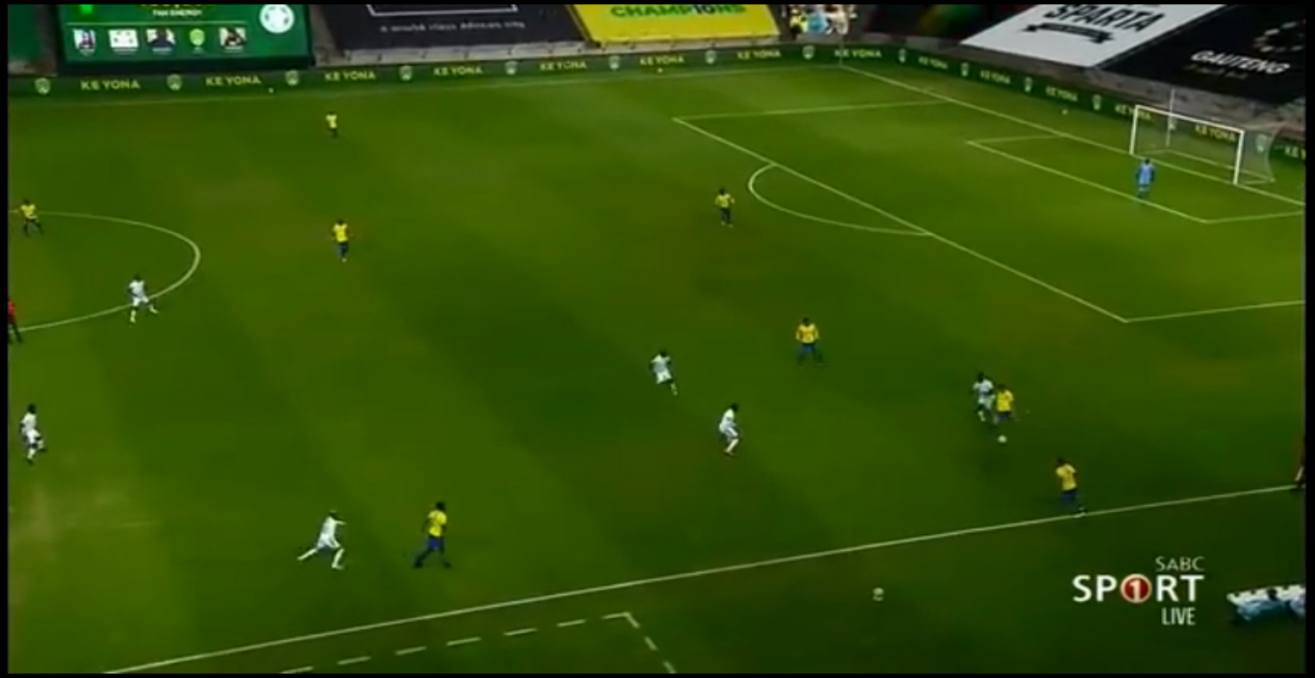 In the two illustrations above, we can see him using his ball skills to take a 1st touch away from his body and into space, to get away from the pressure of the 1st line, before playing a long pass into the left half-space (as the below figure shows), where Maboe received the pass, behind the opposition's 2nd line.
Nascimento likes taking risks with his passing, usually passing central. In this case the CDM was positioned too deep, and a pass to him was not going to advance ball possession. Thus, he opted to play long behind the opposition's second line.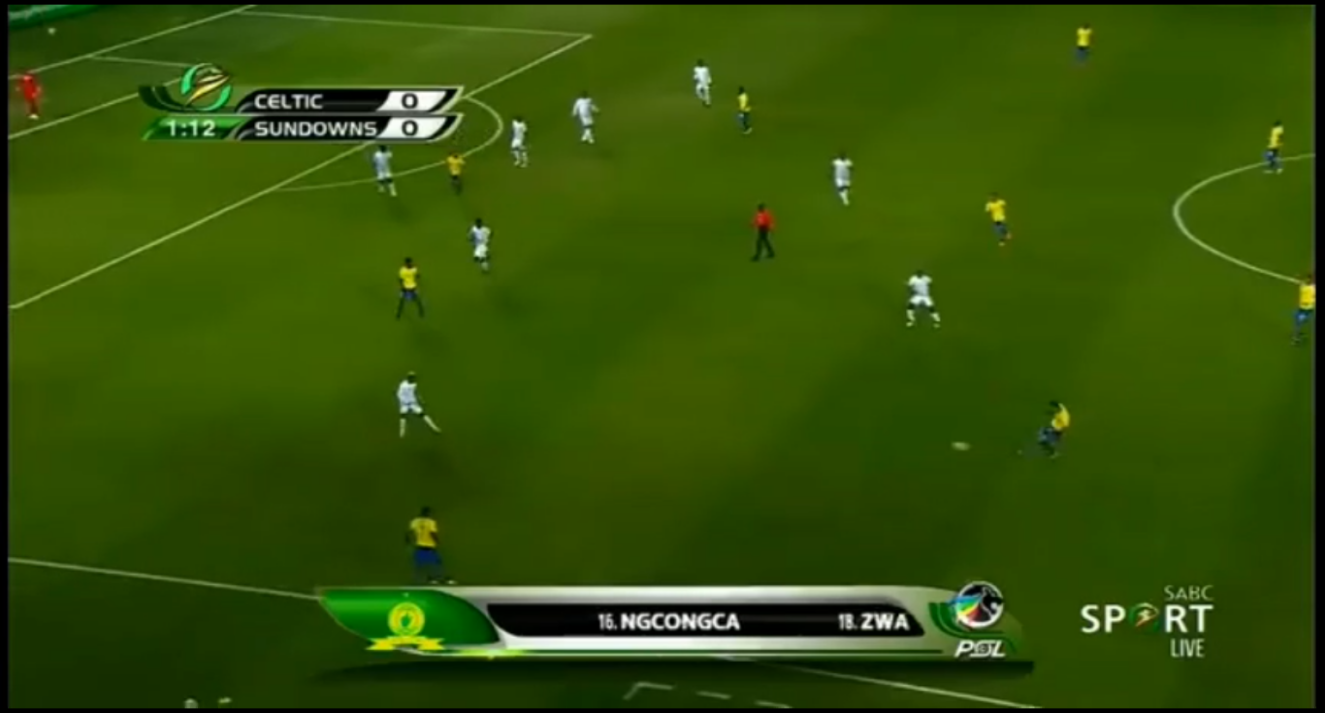 As the figures above have shown, Nascimento is more inclined to moving the ball forward, either through passing or ball carrying. 
Left-Footed Centre Back
As much as he is comfortable and equally capable of controlling and passing with either foot, his preferred foot has always been the left foot. This is why he is mostly deployed in the left centre back position.
Using a left-footed centre back on the left-hand side of central defence is key for progression and quick release – same applies to a right footed centre back playing on the right.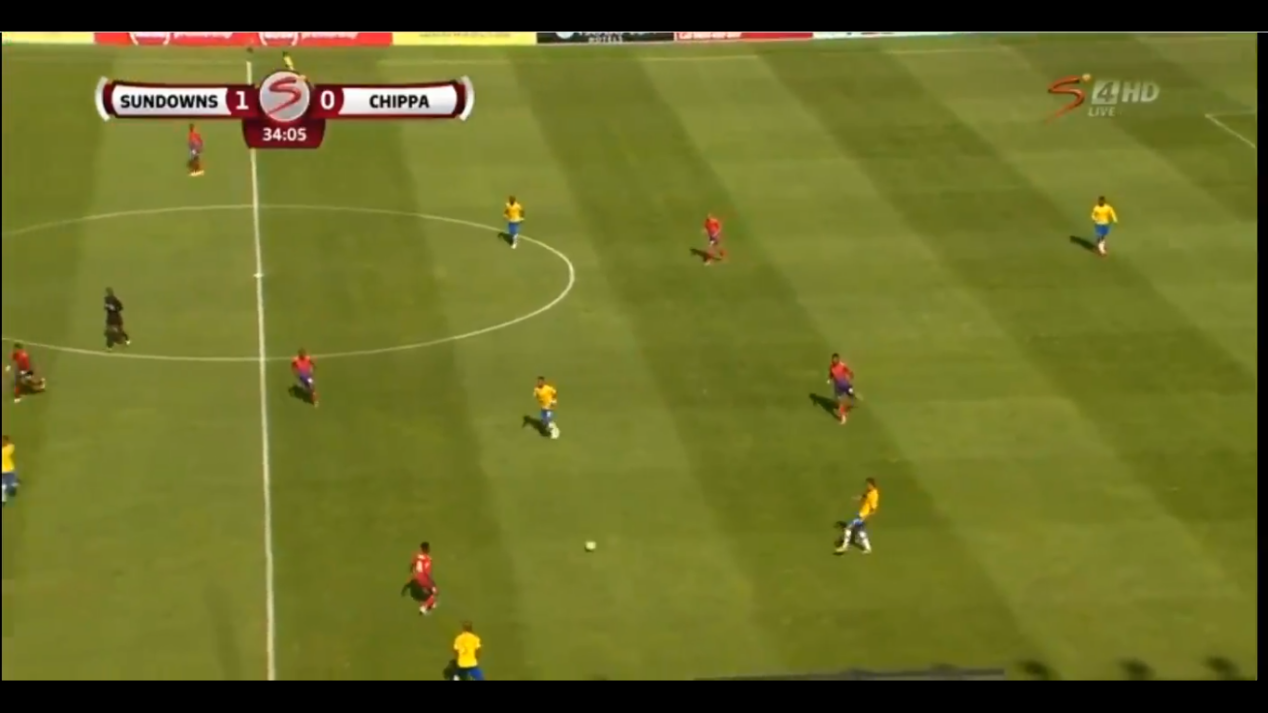 In the illustration above, we can see that he played a progressive pass to Gaston Sirino the left half space. However, we can also see the other central options behind the opposition 1st line, that he could have passed to with ease. 
Another advantage is that when he is under pressure from a centre forward, he easily passes the ball out wide or dribbles past the centre forward. This is made easier since the player applying pressure (CF) will be coming from a central area, this makes him be on the wrong side of the ball – since the ball carrier's body will be in between the ball and the opponent. The illustration below shows the ball carrier( #3) being in between the ball and the opponent (#10).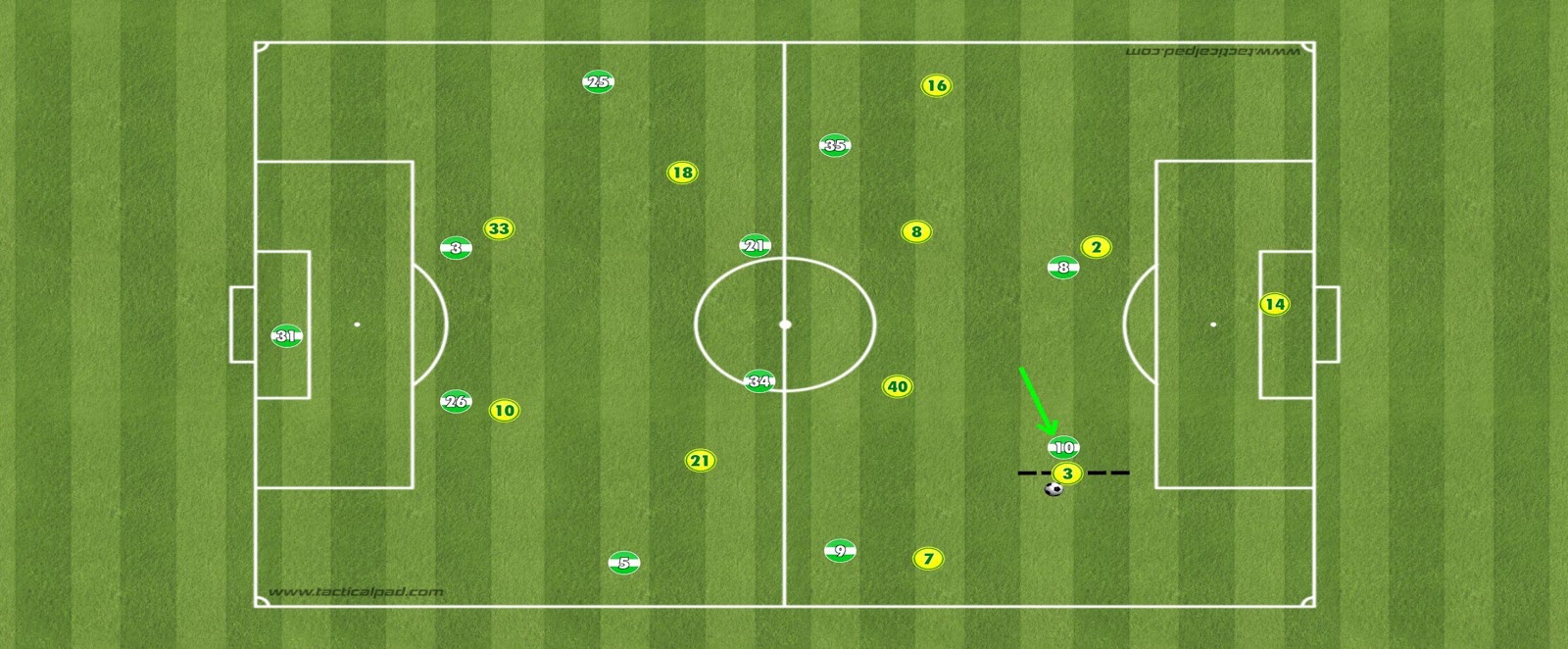 Defensive Quality
In the Nedbank Cup final against Bloemfontein Celtics, Nascimento made a total of 10 ball recoveries(5 interceptions, 3 tackles and 2 loose balls) and 3 clearances. His 6'3ft/1.91m frame makes him have a strong aerial presence, as well as good physical strength. Which makes him useful when defending set-pieces. 
However, he is not big on tackling, instead he prefers to anticipate the opposition's passes and actions, then look to intercept or block a possible progress. His biggest weakness being his lack of pace, he makes that up with quick thinking, good positioning and great body orientation.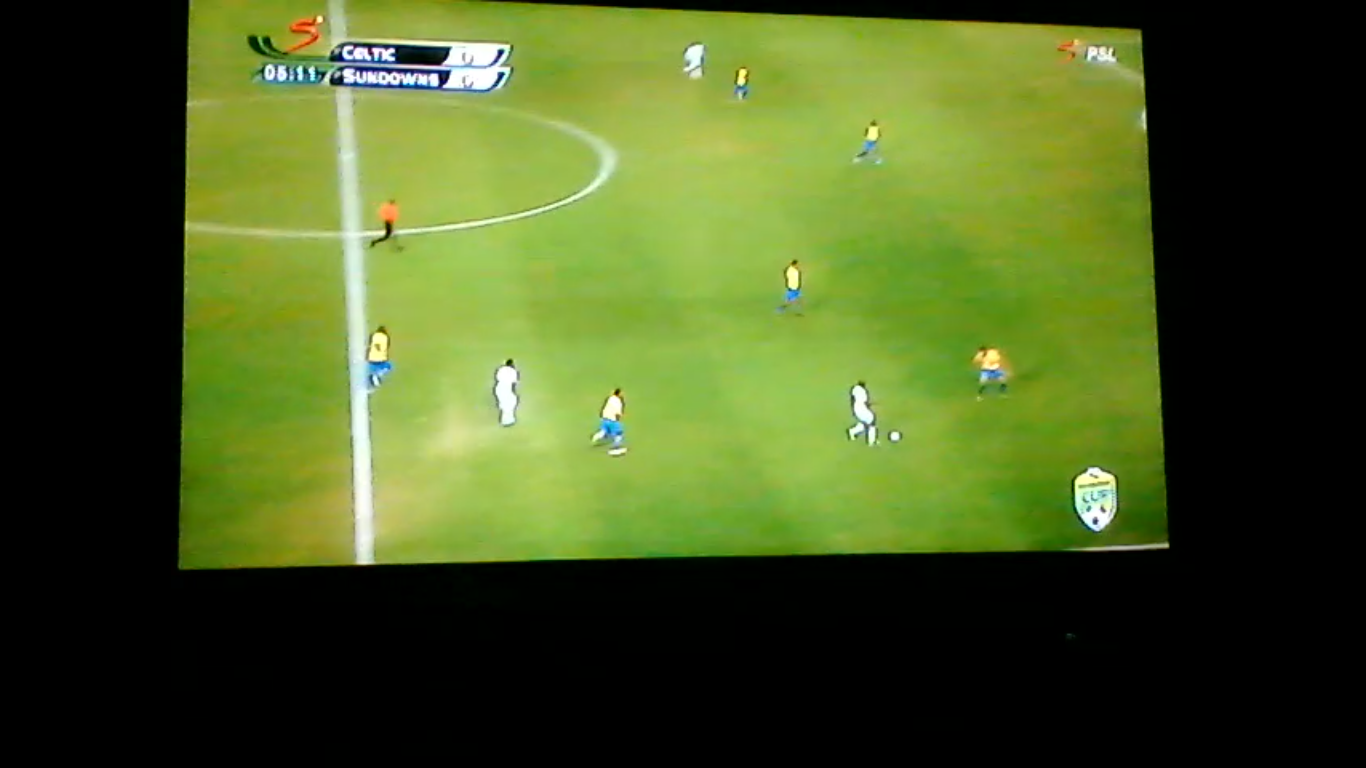 The illustration above is a perfect example of his great body orientation and excellent position. We can see that his eyes are clearly fixed on the ball, while his hips are open, and ready to make a run, if the attacker decides to knock the ball forward and look to run beyond him. Because he lacks pace, he is positioned at a good distance, not too close to the attacker, that might look to lure him in and then beat him for pace.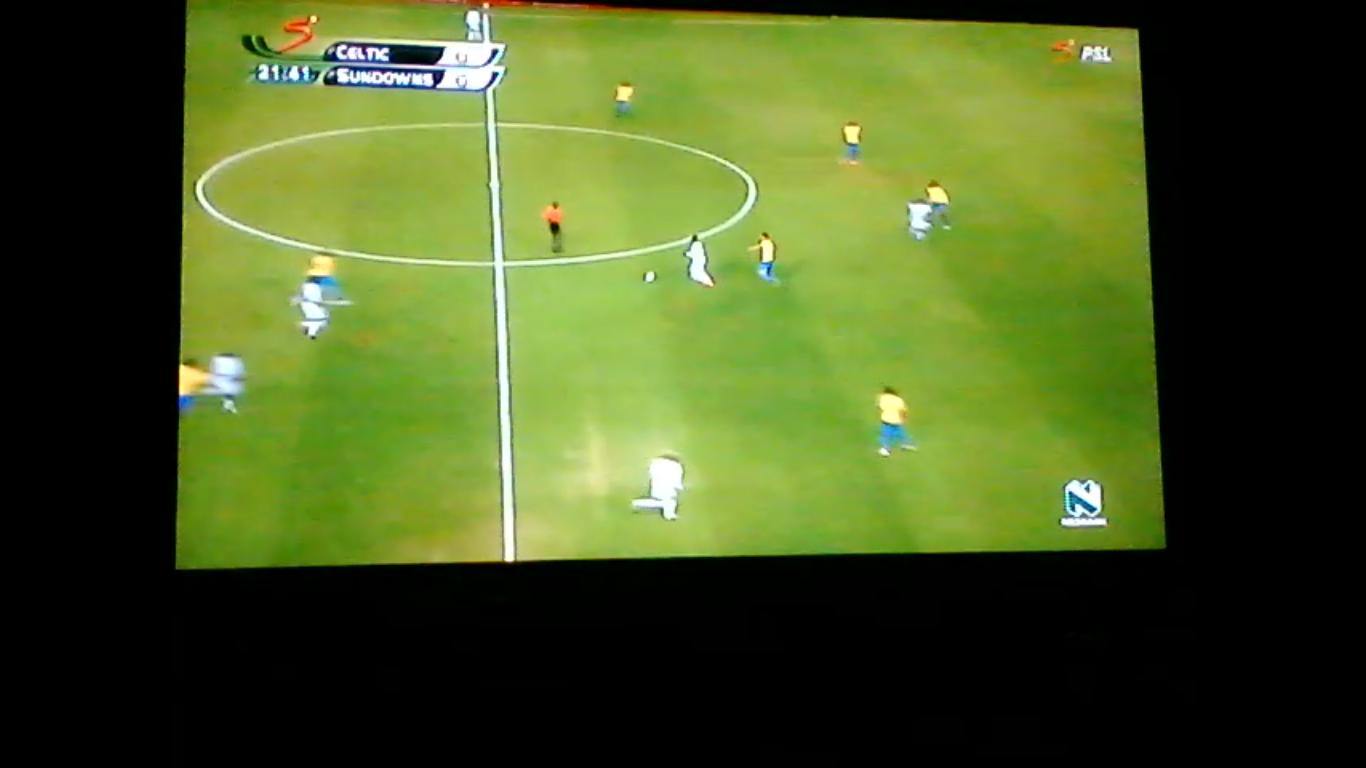 Nascimento is not afraid to step out of his defensive line/shape whenever he senses danger. In the illustration above, we can see that an opposition attacker received the ball behind a midfield line that has collapsed due to a failed pressing attempt.
The Brazilian sensed the danger, and when assessing the situation, he saw that the opposition attacker was facing his own, that's when he knew it was a trigger to press. He could not risk allowing the attacker to turn and face the Mamelodi Sundowns defence.
Goal Contributions
Since arriving at Mamelodi Sundowns in 2016, Ricardo Nascimento has scored 15 goals for the club across all competitions, with 14 of those goals coming from the penalty spot. He is the 1st choice penalty taker for Sundowns, scoring 14/15 penalties he has taken for the club.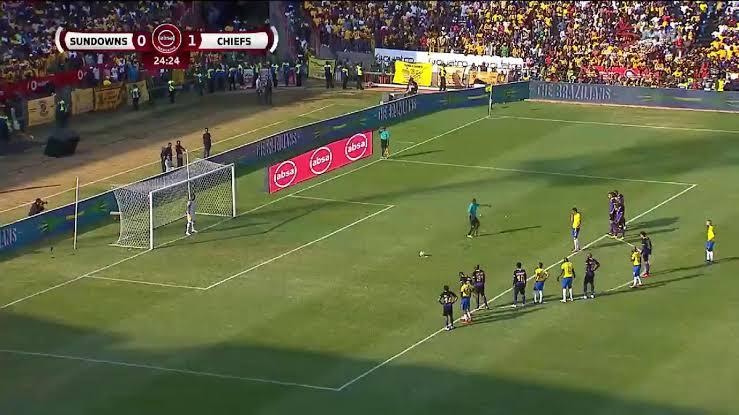 Conclusion
The 3-year deal that he signed with the club in July of this year, shows how important he is to Pitso Mosimane and Mamelodi Sundowns. What he contributes to a match in build up phases is hard to overlook, that is why the fans' demand for Nascimento to make way for Mosa Lebusa is falling on deaf ears.
By: Hamza-Sello Ledwaba
Featured Image: @GabFoligno / Mamelodi Sundowns