Player Analysis: Rico Lewis
Following the rise to superstardom of academy graduate Phil Foden, it appears as though Manchester City have unearthed yet another gem. Rico Lewis has quickly become an important part of Pep Guardiola's setup for Manchester City and it appears the club have found a long-term replacement for the aging Kyle Walker within their own ranks.
At a club with the financial muscle of the current Premier League holders, a young player must truly flourish at youth level and show his readiness amongst senior players to receive a genuine opportunity in the side, and this is precisely what Rico Lewis has done. Not only is the teenager a key prospect for Manchester City's future, he's also ready to play a major role immediately.
Standing at just 1.69m tall without a particularly muscular build, Rico Lewis has not been taken aback by the physical requirements of first-team football. During Manchester City's pre-season campaign, a then-17-year-old Lewis performed at a level that suggested that he would not be intimidated by the step-up to senior football.
This has been the case in nearly every performance he's had for the club thus far — a preparedness for big games against difficult opponents. As the former captain of Manchester City's U-18 side, his mental attributes have shone through as he does appear to be a leader on the pitch, despite his age.
At just 18 years old now, Lewis has displayed a great degree of poise and maturity to operate in a role that requires a high footballing IQ for a Pep Guardiola side. The youngster is most commonly deployed as an inverted full-back from the right-back position and essentially operates as a midfielder in possession.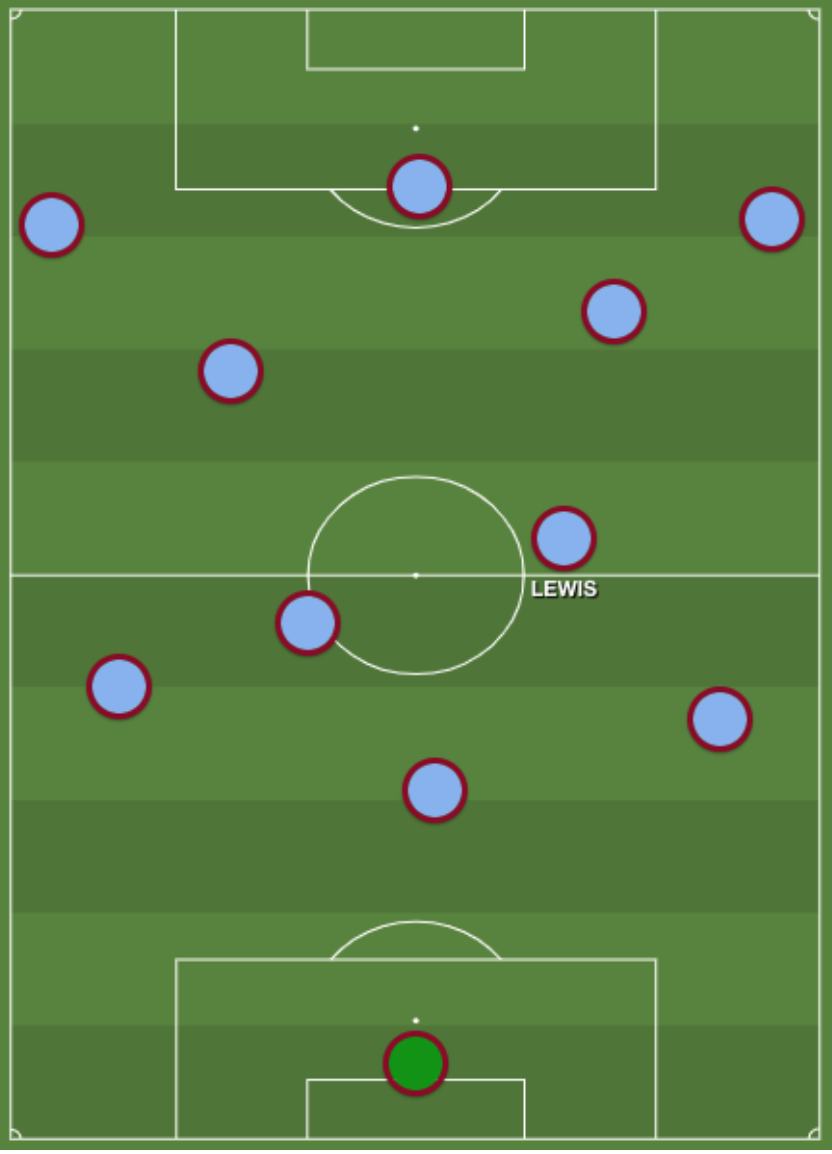 Lewis' inverted fullback role
This is an extremely complex role, especially at the highest level, hence most teams simply deploy their full-backs as traditional overlapping full-backs. Rico Lewis is a unique technician from the right-back position and shows no hesitancy in moving into the midfield when Manchester City are in possession. Lewis also possesses the technical ability and intelligence to shift his role mid-game depending on the team's requirements and continue to operate at a high level.
It comes as no surprise that Pep Guardiola adores the diminutive defender considering the difficulty that comes with playing the inverted full-back role in a Guardiola system. His height may even act as an advantage as his low centre of gravity makes him more agile and better equipped at operating in a role that requires a large amount of turning and operating in tight spaces.
During Manchester City's recent 1-0 victory over Chelsea at Stamford Bridge, Rico Lewis was brought on at half-time to play in the inverted right-back position, forming a double pivot in midfield with Rodri.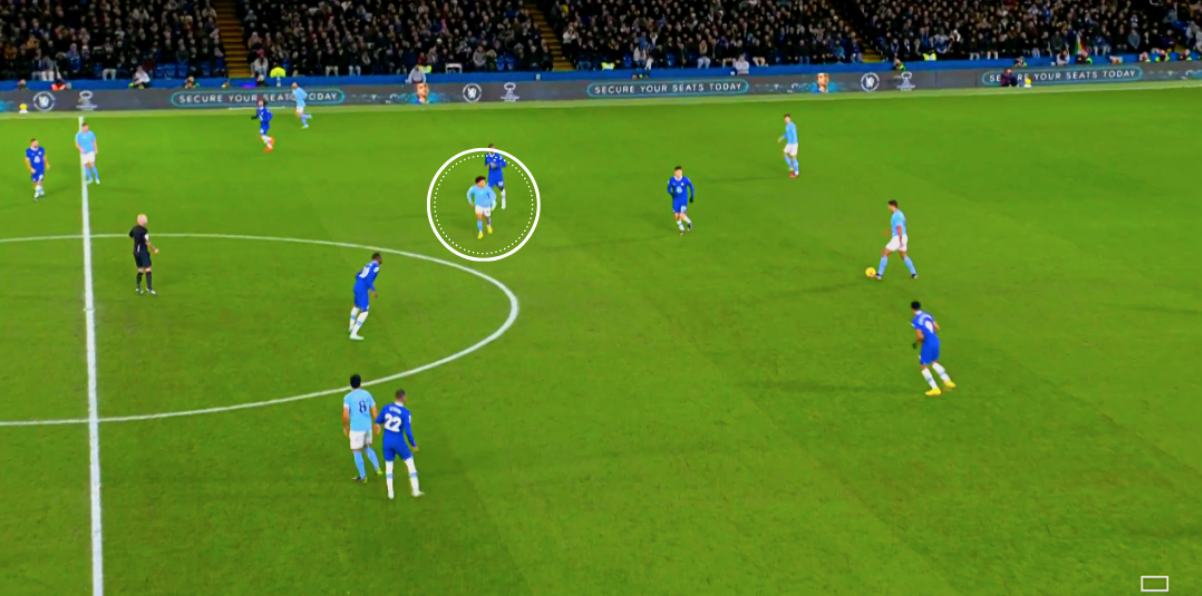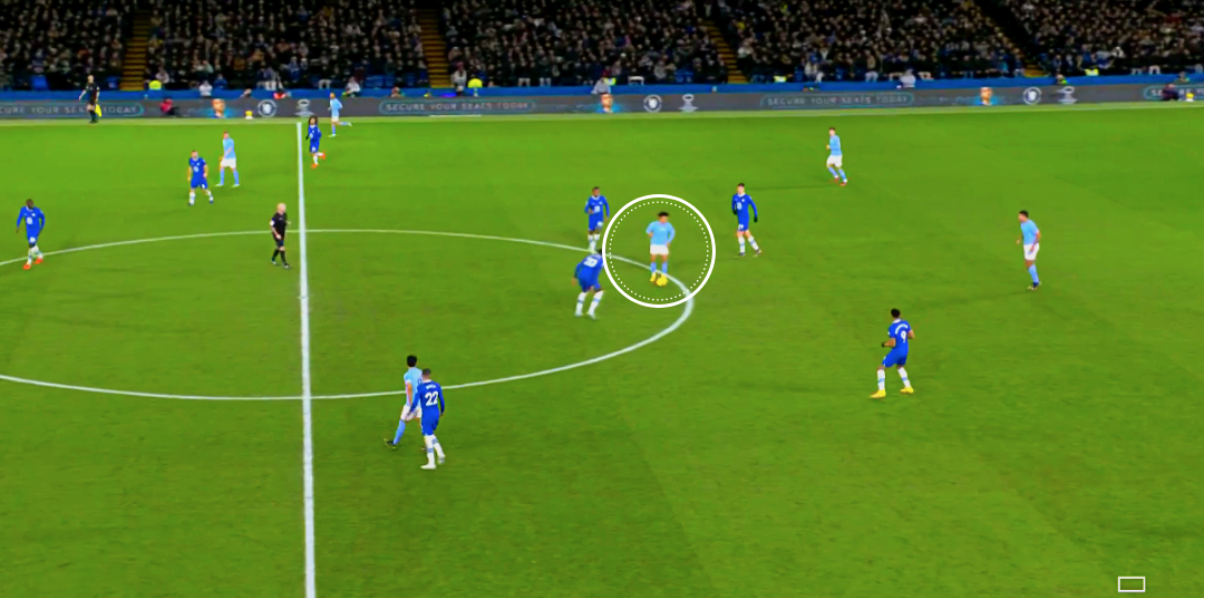 Lewis in the double pivot
This change was clearly impactful as the Cityzens took control of the game in the second half after struggling to find a rhythm during the first 45. Pep Guardiola exclaimed that Rico Lewis "changed the game" in the second half against Chelsea, as made evident by Manchester City's increased control of central zones in possession, as well as the nullifying of Chelsea's wide threat on the left flank — both aspects being a direct result of Lewis' introduction.
Rico Lewis also possesses a significant threat as a progressive passer and ball carrier when given space to advance the ball. He's brave in possession and is quick to analyse the situations he's in, subsequently making the best decision to increase his team's threat.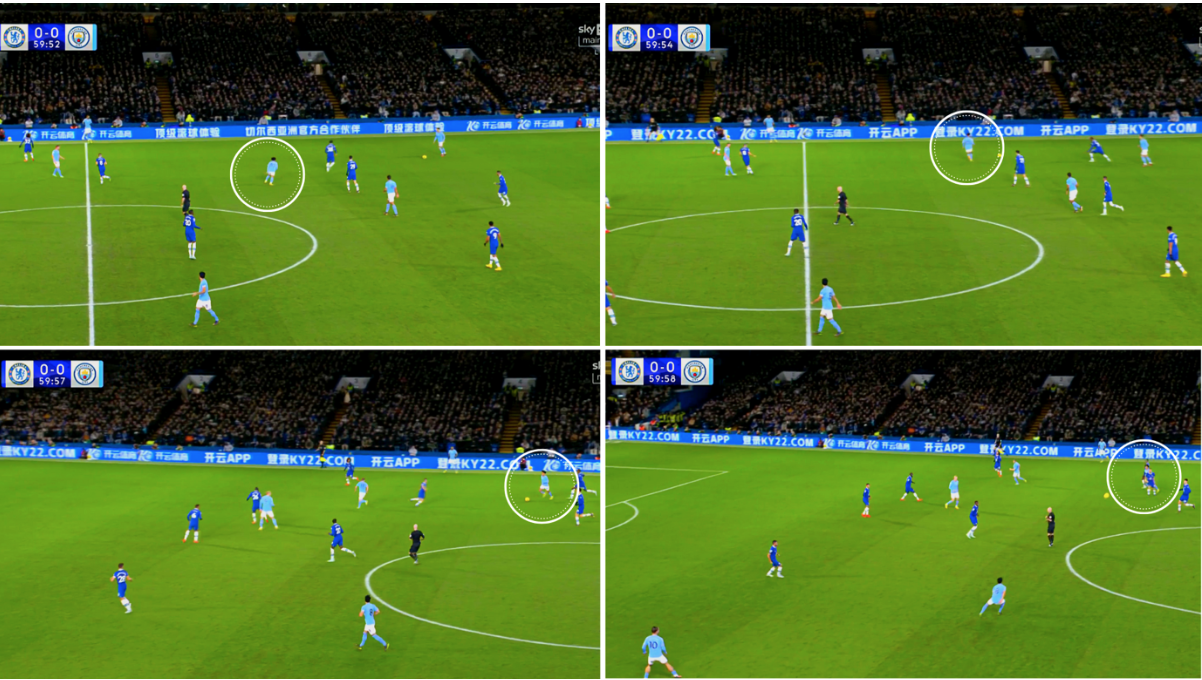 Lewis' ball-carrying
By shifting slightly wider from his original narrow inverted full-back position, Lewis finds extra space between the lines and carries the ball through Chelsea's disconnected shape. He progresses the ball a significant distance up the pitch and puts Man City in a strong position offensively after giving the ball to a natural playmaker in İlkay Gündoğan.
These are the split-second decisions that intelligent players must make to exploit opposition weaknesses and Rico Lewis has shown his ability and willingness to make these decisions. Lewis simply offers a skillset from right-back that no other Manchester City player offers, and that trait is highly valued by Pep Guardiola.
Not long after his great performance against Chelsea, the Bury-born defender was entrusted with the starting right-back position against another London giant in Tottenham Hotspur. With Spurs entering the half-time break with a surprising 2-0 lead, many managers would've substituted their 18-year-old defender in favour of more experience, but most managers are not Pep Guardiola.
The Catalan coach understood that, in order to get back into the game, his side would likely need Lewis' incredible press resistance and reliable ball retention to grab control of the game. This was indeed the case as the young Englishman used his tremendous press resistance to play around Tottenham's sporadic press, as well as playing a major role in helping his side circulate the ball as they probed for openings.
His second-half performance against Antonio Conte's side also put Lewis' positional flexibility on full display. This flexibility allows him to switch positions with wide players and get into positions to deliver accurate crosses or simply to stretch the opposition's defence.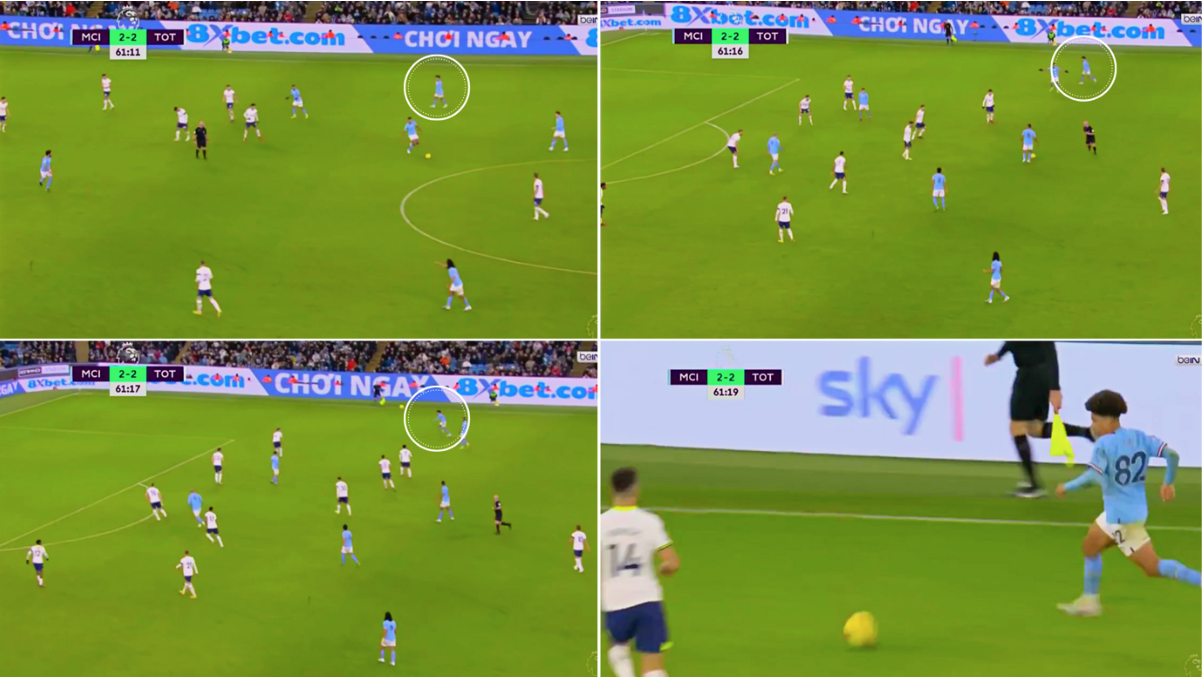 Lewis' positioning
In the second half against Spurs, Rico Lewis would also occasionally push forward into more advanced areas to form somewhat of a 3-1-6 shape in order to overload Tottenham's defensive line. This numerical superiority in the most advanced zones has long since been a tactical trait of Pep Guardiola's teams. It creates more passing lanes and forces indecision in the opposition defenders as they have more players to mark closer to their own goal. Lewis' versatility allows him to modify his role regularly and remain effective regardless of his positional requirements, as was the case against Spurs.
In and amongst the English starlet's high value in possession, his defensive acumen often ends up being underrated. As a right-back, his speed and mobility allow him to keep up with quick, tricky wingers. In addition to this, he's very strong in the tackle. He has a fearlessness that can't be coached, and that's reflected by his desire defensively as well as his aforementioned readiness for top-level football. His block against Spurs when the scoreline was 2-2 epitomised the England youth international's determination and anticipation in defensive situations; no doubt a major component in Guardiola continuing to trust him.
When explaining why Rico Lewis started a crucial Premier League game against Tottenham Hotspur ahead of more experienced players, Pep Guardiola said it was "because the games he played, he played really well. We wanted an extra man in the middle and he reads really well his positions". Being technically secure is a big part of playing for Guardiola's Manchester City side, but the mental understanding of positioning and the timing of specific actions is arguably even more important to the legendary manager.
With Gareth Southgate already taking a keen interest in Rico Lewis, the current 2022/23 season may come to be remembered as the breakout season for one of England's great full-backs. The trajectory of a football career can be unpredictable at times, but Manchester City's latest breakout star is showing the signs of being a top professional who could play at the highest level for a very long time.
By: Lebohang Mwamuka / @lebzygold
Featured Image: @GabFoligno / Martin Rickett – PA Images