Player Analysis: Rivaldo Coetzee
After 5 seasons at Ajax Cape Town, where he made his professional debut at the age of 17. Rivaldo Coetzee, a product of the Ajax Cape Town academy, signed for Mamelodi Sundowns in August 2017, after a failed move to Celtic – it was found that he has an underlying problem with his right-foot during his medical.
The Kakamas-born Bafana Bafana international has since been converted into a central midfielder by coach Pitso Mosimane.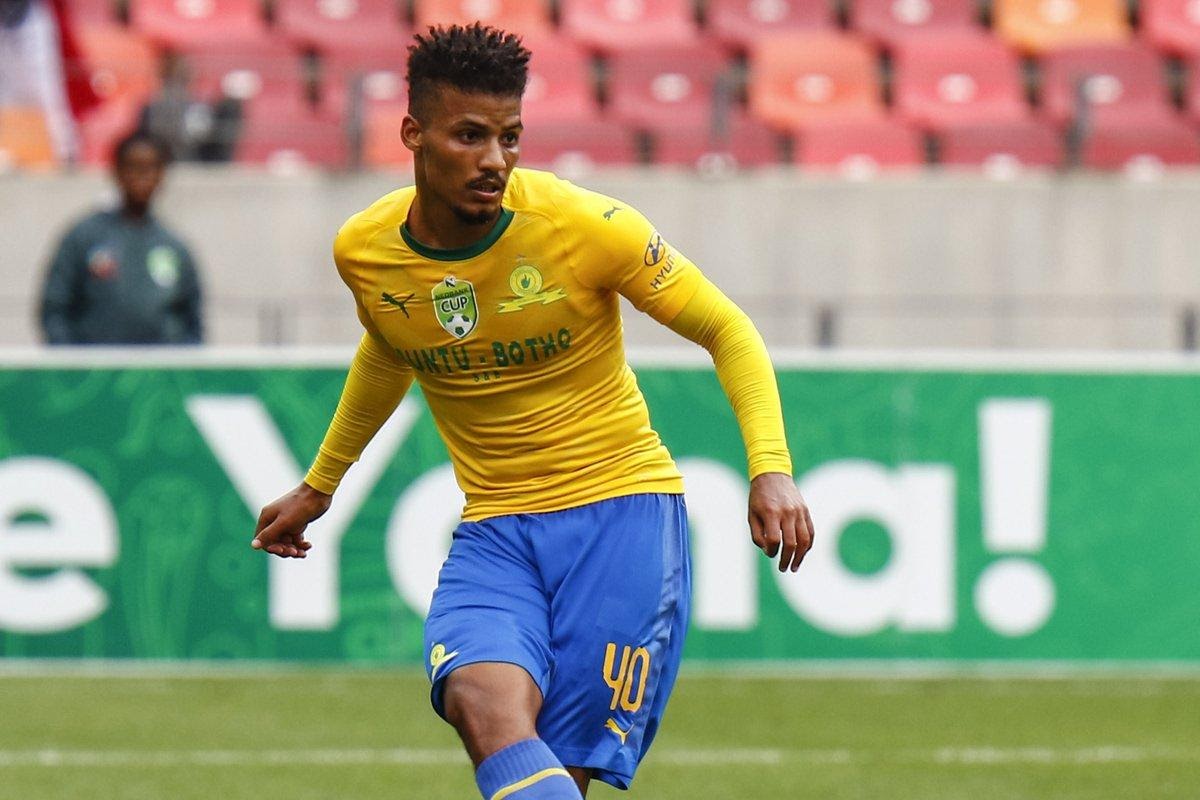 Photo: Michael Sheehan/ Gallo Images
Known for his great quality on the ball from central defence, how has he faired in the centre of midfield?
Positioning  
Ajax Cape Town usually line-up in an 4-2-2-2 that looks like a staggered 2-4-2-2 in the build-up phases. Coetzee has been seen deployed on the left of a double pivot alongside Hlompho Kekana on his right. However, he can sometimes be seen playing as a single pivot, as Kekana looks to affect the game in the final third, with his late runs into the box.
Known for his great quality on the ball from central defence, how has he fared in the centre of midfield?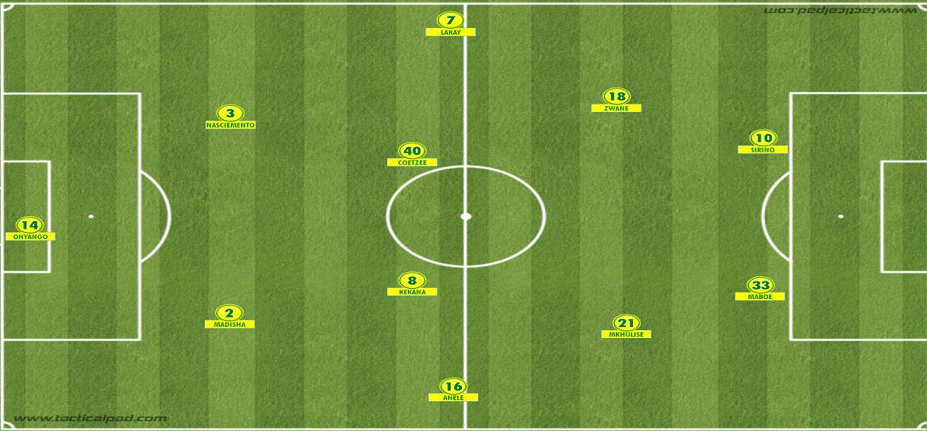 The illustration above shows where Coetzee (#40) lines up in a 4-2-2-2 (2-4-2-2 staggered).
Pressure Release and Circulation of Possession
Coetzee is not a player that is known to leave the crowd in awe with sublime manipulation of ball possession or long-range passing that starts counter-attacks. However, he is a player that can be trusted with absorbing high volumes of ball possession and also making correct decisions with the ball at his feet.
The perfect example of his best attributes were showcased in the Nedbank Cup Final against Bloemfontein Celtic, where he managed to be in possession of the ball on 68 different occasions, completing 64 passes, at a pass success rate of 96.97%, 18 of those 64 passes being progressive passes that look to break opposition lines.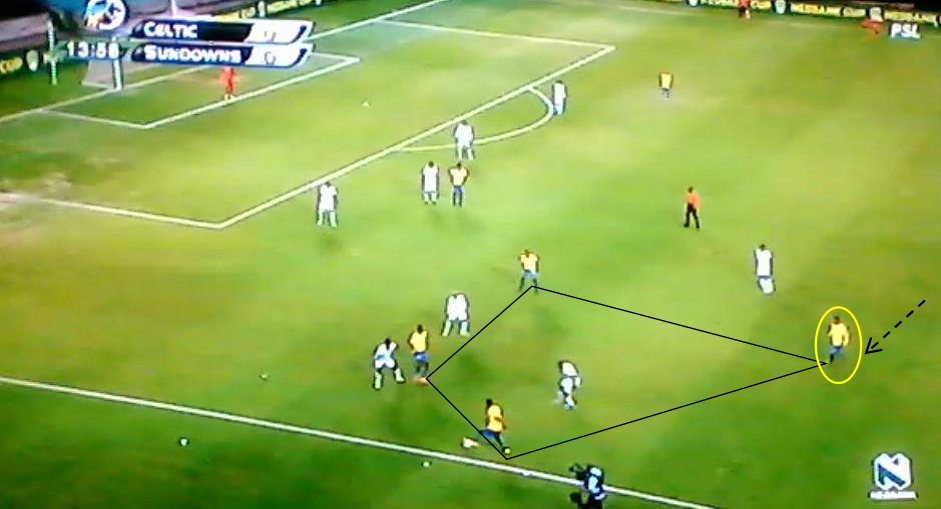 In the above illustration we can see him shuffling across into the left half space to be a passing option to the left-back (Lyle Lakay), this action also created a 4v3 situation (attacking overload).
Coetzee's primary role seems to be one of relieving pressure from team mates who are in possession, especially the back four. He always looks to relieve pressure through quick circulation of ball possession.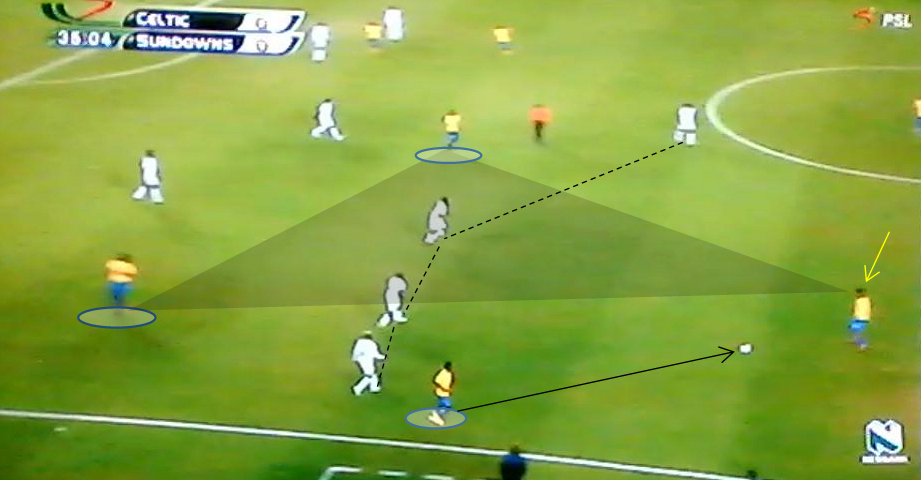 In the illustration above, we can see Lakay was in a pressured situation with three opponents near him, and the touchline behind him, he had nowhere else to go. Coetzee identified that situation and shuffled across to make himself an option in the left half-space where he receives a pass from Lakay, this relieved pressure and recycled ball possession.
What should also be noted is his excellent body orientation – we can see him opening his body to receive the ball in a manner that allows him to have a clear and widespread view of the players ahead of him( the triangle highlights his perspective), behind the opposition midfield line.
Having these two players in his line of sight allows him to have progressive passing options. His body orientation contributed a lot towards his 18 progressive passes that he made against Celtic in the Nedbank Cup Final.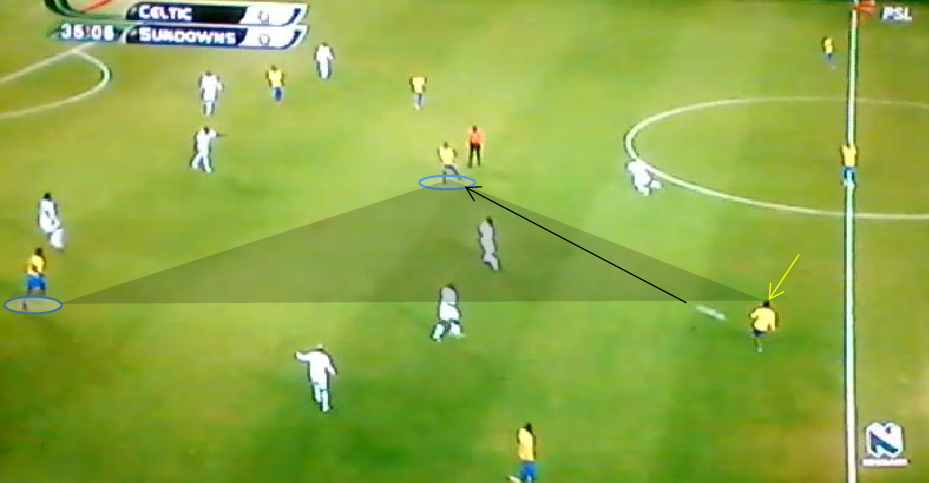 In the illustration above we can see him using one of his two progressive passing options – that we highlighted earlier – and plays a line-breaking pass to Mkhulise who is free in between the lines. 
Coetzee is very detailed in his approach – a simple thing like body orientation allowed him to be able to play a threatening pass. He could have easily played a safe pass to Hlompho Kekana on his right, but good technique and awareness presented more proactive options to him.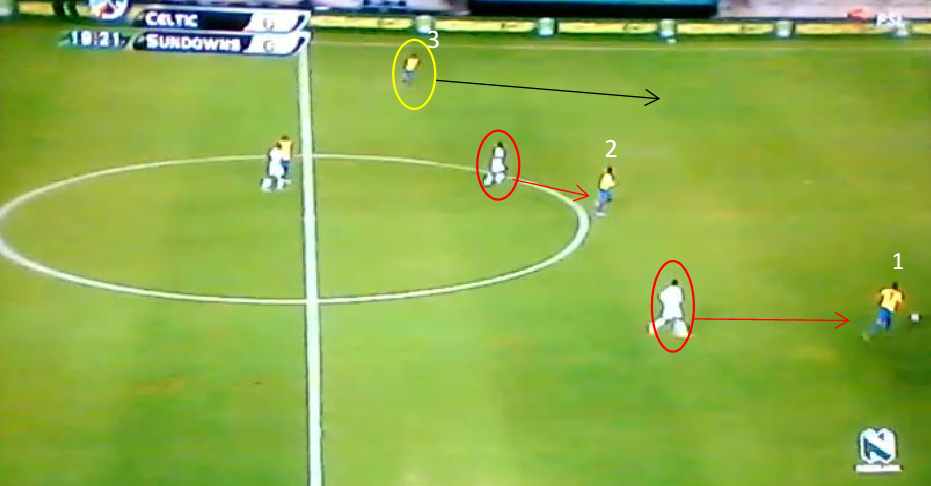 In the illustration above, we can see the opposition's first line of two centre forwards applying pressure on the two centre backs. Coetzee (3) on the top of the picture is running back back, this a result of him identifying a 2v2 situation against the centre backs.
He drops back to create a 3v2 (numerical superiority) situation in favour of Mamelodi Sundowns, with him being the free-man that would relieve pressure applied to the defensive line by the two strikers.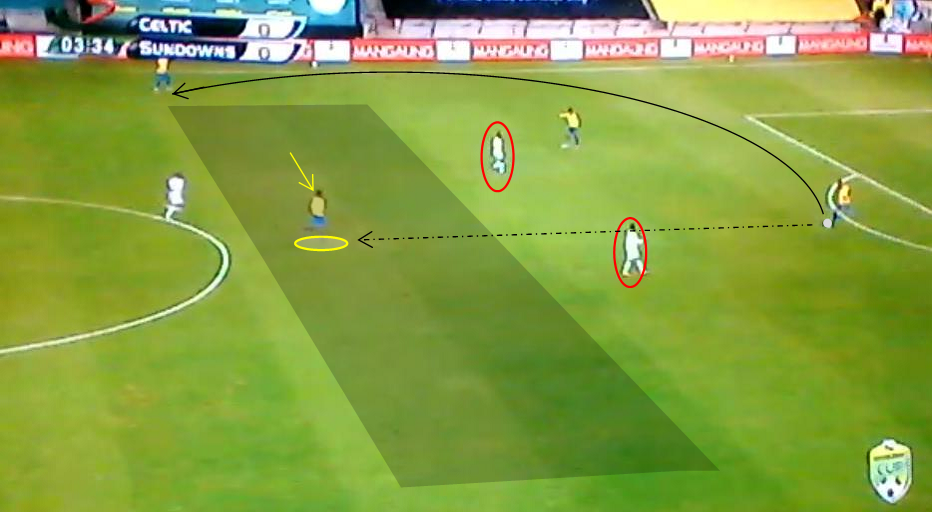 In the illustration above, we can see another facet of relieving pressure from the defensive line. He is positioned in a pocket behind the opposition first line.
Although the ball was subsequently switched out to Anele at right-back, Coetzee gave the ball carrier (Nascimento) an option to take out two opponents with a single pass, that way helping the team advance up the field, as well as releasing pressure from the first line.  
Defensive Behaviour
Apart from his excellent ball retention, Coetzee is also tasked with preventing opposition attacks. In defensive transitions we see him pressing to win time instead of pressing to win the ball – this might be because of his injury history, he might be told to shy away from aggressive tackles and 50/50 challenges.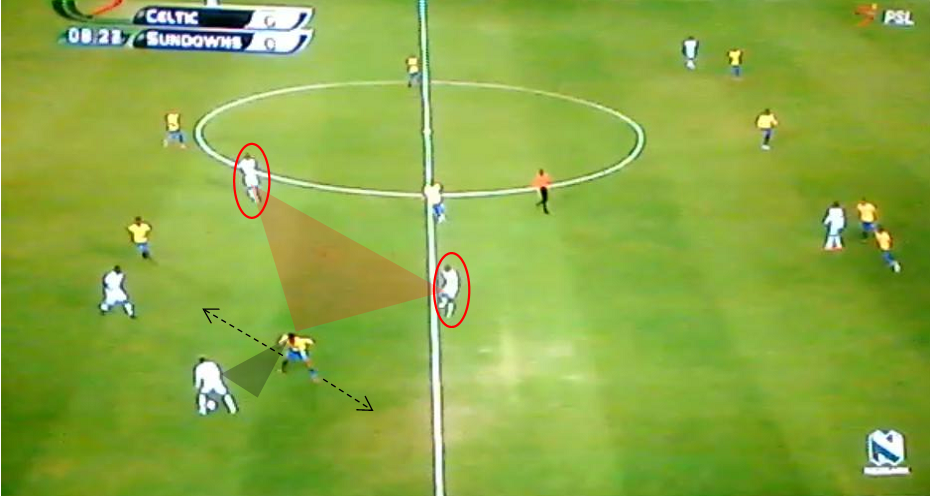 In the illustration above, we can see that he is applying pressure on the ball carrier. However, he is not making a tackle, he is buying time in order to prevent the opponent from moving forward with ball (open hips allow him to shuffle cross and easily track the ball carrier's run forward) and also prevent the opponent from playing a pass into midfield, creating cover-shadows (red shade) that are blocking passing lines to the players circled in red.
Body orientation – his eyes fixed to the ball and the feet of the opponent, his body open to make it easy for him to shuffle and make a block or interception to a pass inside.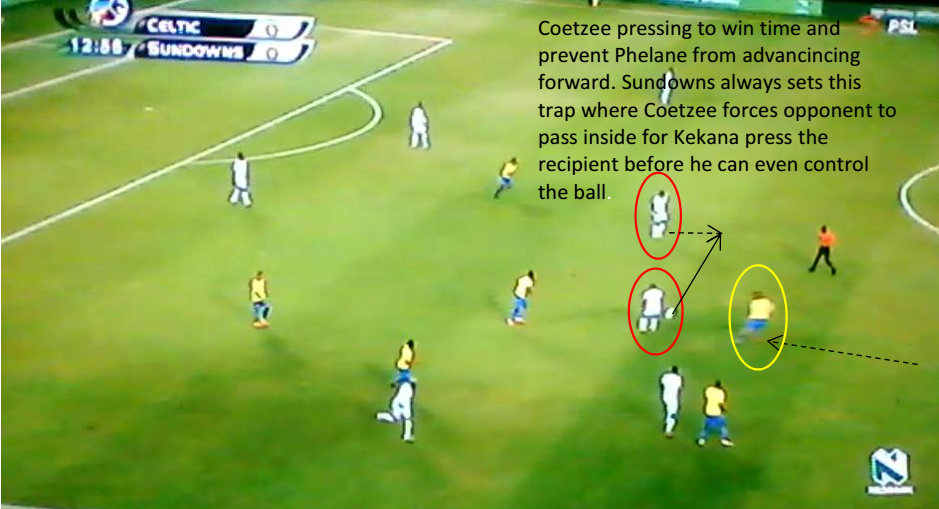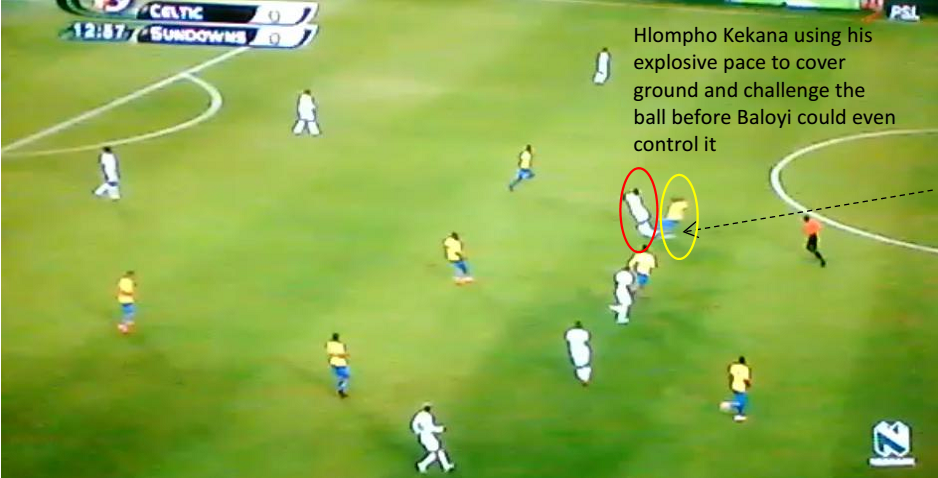 He does not possess great pace, so at times he tends to arrive late to close down his midfield counter parts. He can improve this by positioning himself at a distance that will accommodate his pace, so that he can arrive on time. However, not too close that he can be easily turned and beaten for pace.
Conclusion
Rivaldo Coetzee has proved to be a very adaptive player, he transitioned smoothly to become a neat ball-playing central defensive midfielder. He is a player that can contribute to starting up attacks by using his near excellent vertical passing ability.
If he adds long-passing to his game and improves on his mobility and aggression in the middle of the park, we can see him become one of the finest ball-playing central defensive midfielders the country has ever seen.
By: Hamza-Sello Ledwaba
Featured Image: @GabFoligno / Mamelodi Sundowns