Player Analysis: Rob Holding
"Nobody is speaking about the performance of Rob Holding today. You should be happy; he is English, he is 20 years old, but I'm sorry he didn't cost £55 million, so it cannot be good."
Arsène Wenger had several iconic moments in his time in England with Arsenal football club, both, on and off the field, and this was yet another instance where the Frenchman hit back at his critics in his own typical way. He sighted the example of Rob Holding, who was bought barely a month ago from the Championship side Bolton Wanderers for a fee quoted around £3 million, to steer through his claim that big transfer fees don't necessarily guarantee you a good player.
Since that day, Wenger's iconic quote is sighted each time Holding performs well, which has been quite a recurring event this particular season, much to the delight of the Arsenal fans.
In Possession
In possession, Holding has shown great progress this season when compared to his previous seasons at Arsenal. While his passing accuracy has always been impressive as he's completing almost 88 passes per 100 passes attempted in both in 2019/20 and 2020/21, though he has vastly improved the quality of his passes this season.
The Englishman was making only 1.89 passes per 90 minutes into the opposition final third last season, however, this season he's averaging 4 passes into the opposition third per 90 minutes. While last season, he couldn't register a single key pass, this season, he has already registered 5 key passes with an average of 0.25 key passes per 90 minutes.
Holding has been one of the better defenders in the Premier League when it comes to long passing with the 25-year-old finding himself in the company of the English duo of Harry Maguire and John Stones as shown in the below visualization.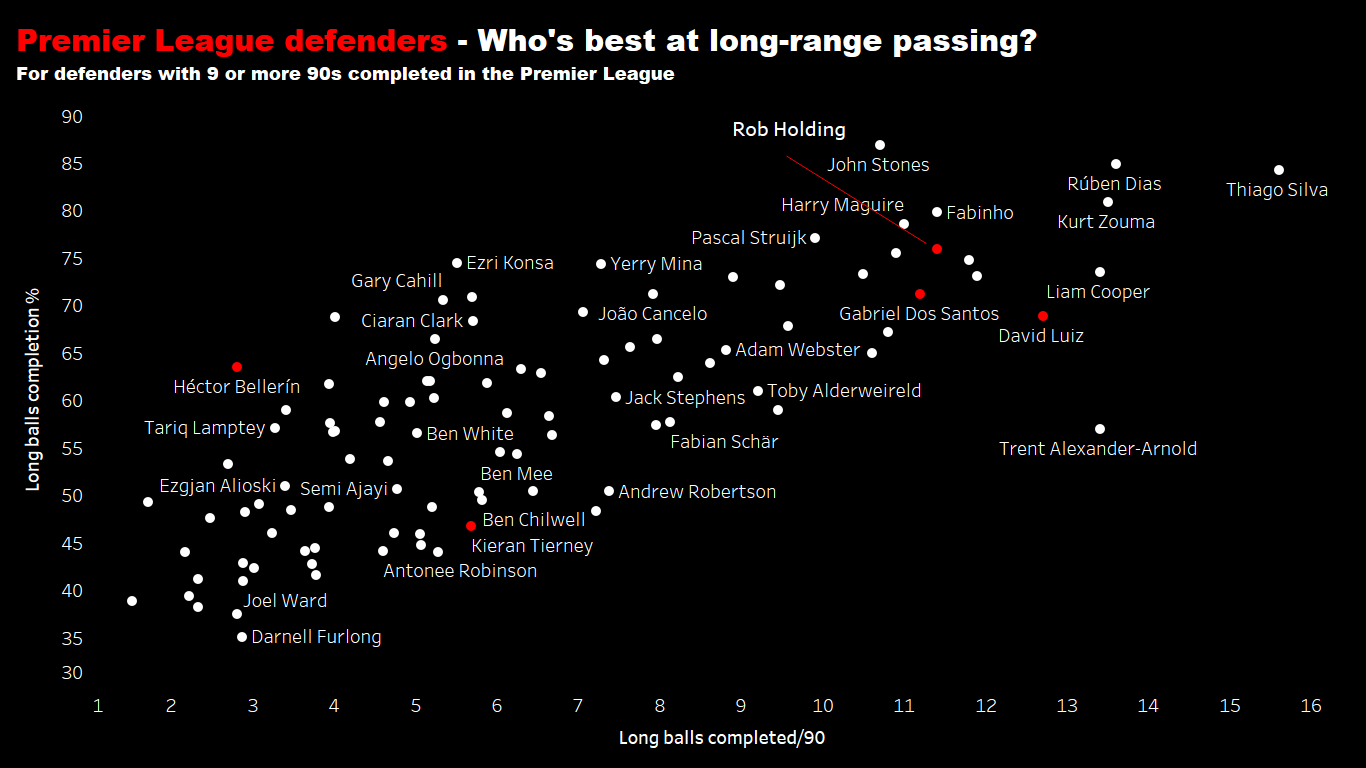 Arsenal have invested heavily in the defensive sector over the past few years, bringing in the likes of Pablo Marí, David Luiz and Gabriel Magalhães in the transfer market. However, Holding currently finds himself as a regular starter in Mikel Arteta's team thanks to the massive improvements he has made in his ability on the ball this season.

His primary weakness in possession is his lack of composure in tight areas. Teams want their centre-backs to be able to drive through from areas of pressure in order to facilitate either a potential counter-attack or release the pressure off the side. 
However, Holding isn't the greatest at progressing with the ball under pressure and might have to drastically improve this aspect of his game as his potential competitor for the right-sided centre-back spot next season, a certain William Saliba is quite decent at it. And Holding'sspecific inability doesn't seem necessarily a shortcoming of his footballing qualities rather a lack of confidence in his own ability as shown here.
Holding (RCB) gets on a loose ball, and he is being tamely pressed by Anthony Martial, a player who isn't necessarily known for his pressing intensity, however, Holding makes yet another poor decision and tries to win a goal kick from Martial when he has a perfectly safe option available in Bernd Leno (GK), not in the picture.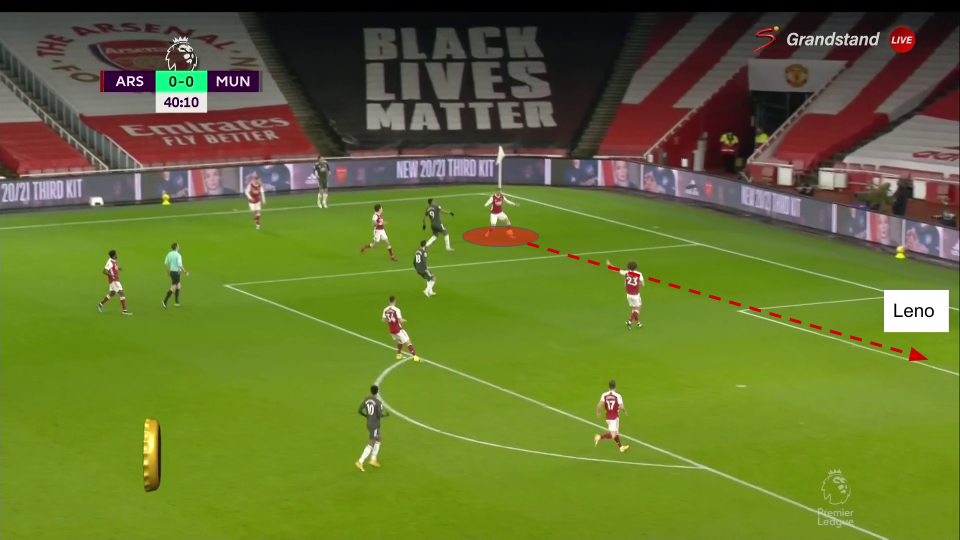 Holding turns the other way and tries to get some contact from Martial on the ball while he puts it out but instead gets scarped into giving way a corner. Like many other such occasions, Holding has a passing option available, though he makes the wrong choice or rather the safer choice.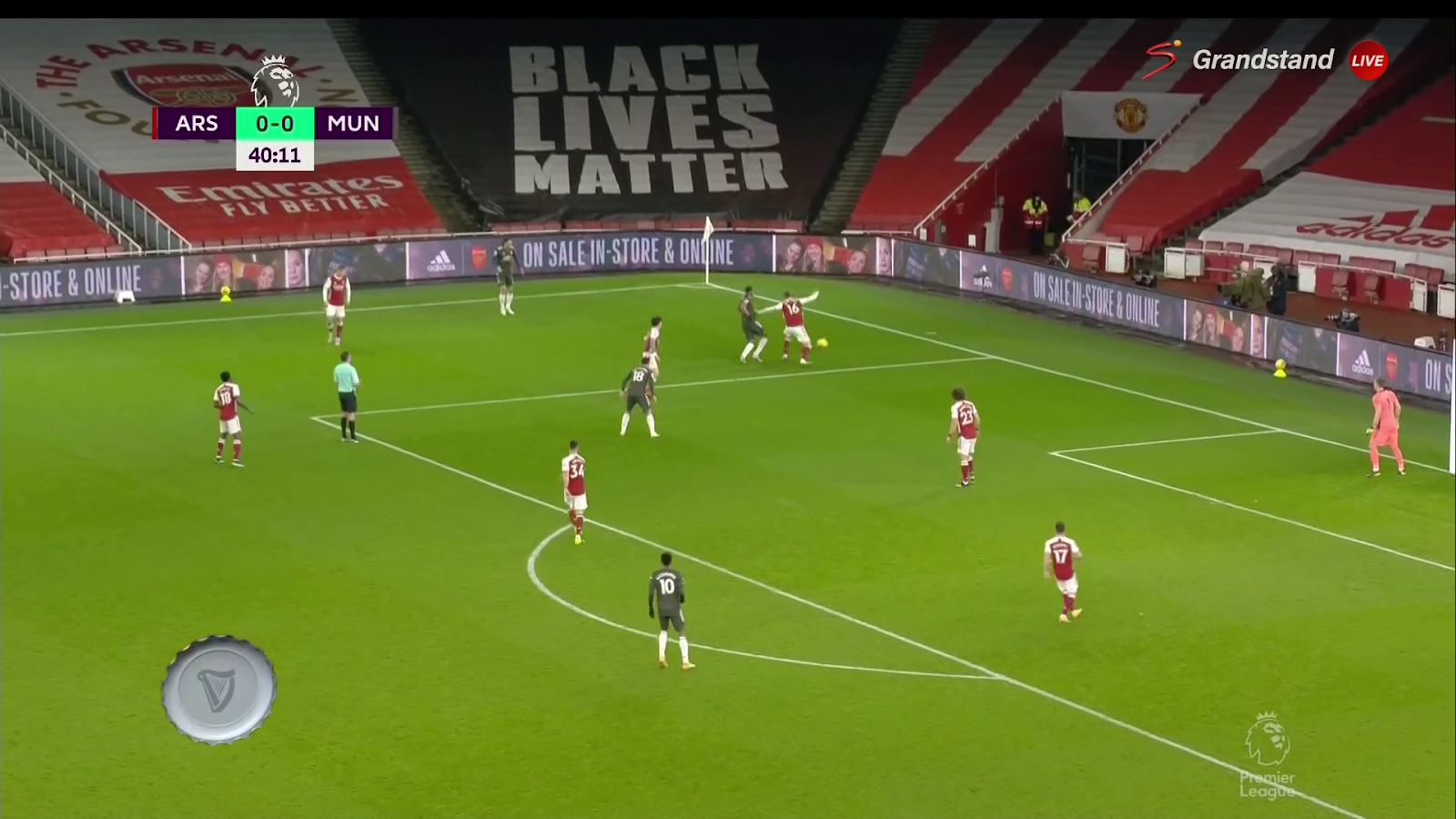 Out of Possession
Holding's performances this season have been top-notch when it comes to simply defending, he's always aware of the threat around him and has shown a good judgment of the game on various occasions, even when Arsenal have played a high line and there was a threat of him being exposed due to not being the most express centre-back he has been able to cope with it quite well.
Holding (RCB) was tasked to keep hold of Edinson Cavani's (CF) clever movements and with Arsenal playing a high backline, they have left a lot of space behind the last line of defence which Manchester United tries to exploit in this move. Bruno Fernandes plays the ball into Cavani who's quick to realise Holding's high positioning and feeds the ball into Marcus Rashford, who's making a third-man run between the two Arsenal centre-backs.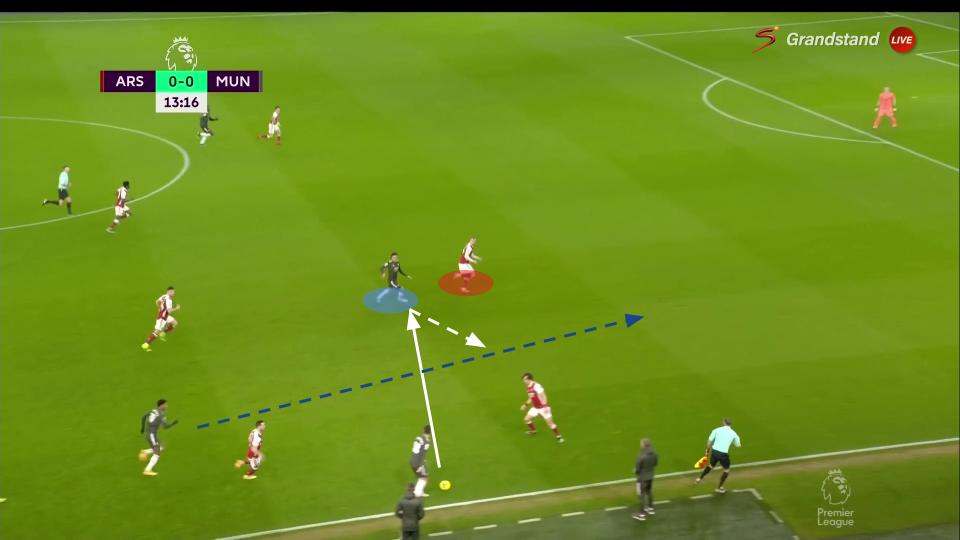 Holding is quick to realise the danger and changes his body shape even before Rashford has received the pass and gets on a run, which gives him a split second more to react to Rashford's run that is invaluable for a defender when up against someone of the Englishman's pace.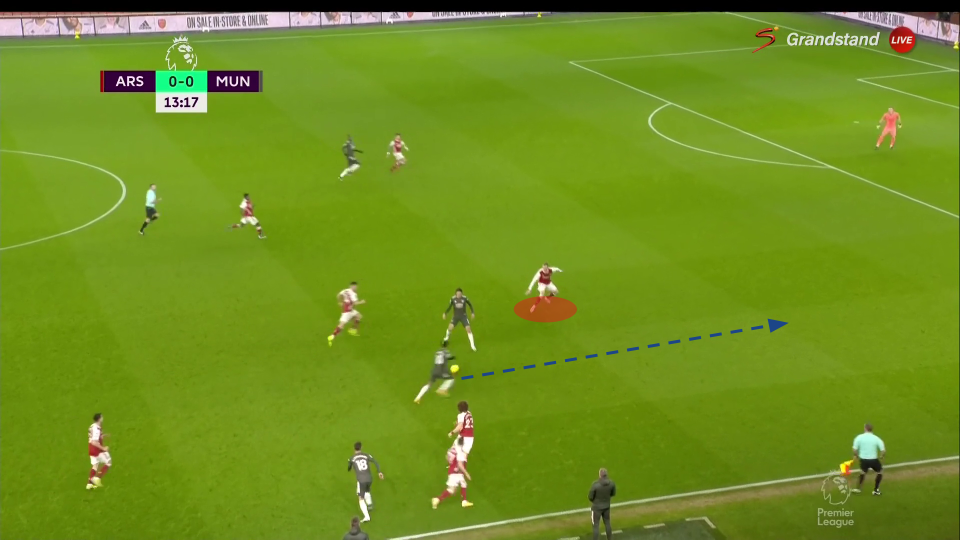 That split-second advantage helps out Holding as he reaches the ball quicker than Rashford, whose first touch wasn't so impressive either, and clears the ball out.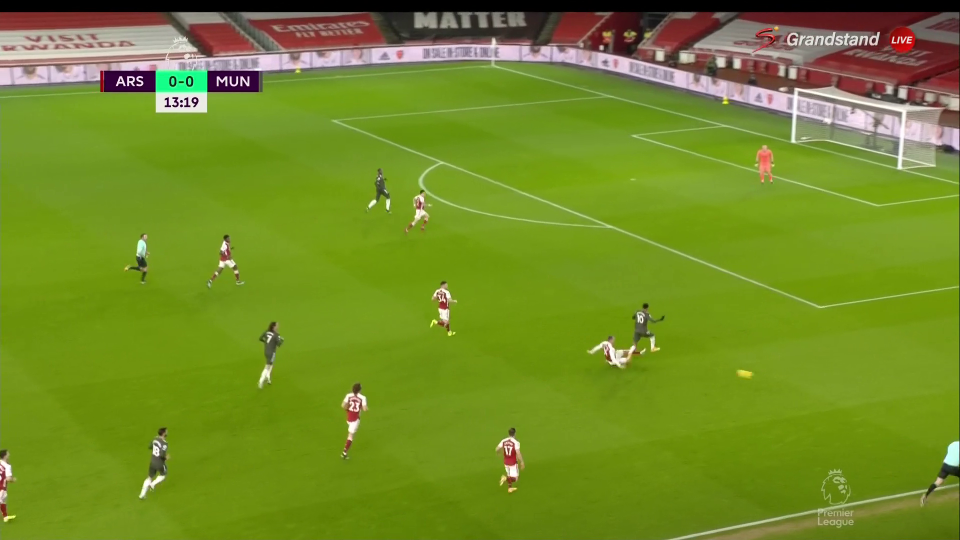 This sequence, while not of much importance in the context of the match, showcases Holding's defensive awareness to a great effect. Manchester United are looking to penetrate Arsenal's goal with Fernandes pinning Holding back while Cavani is on Héctor Bellerín's shoulder.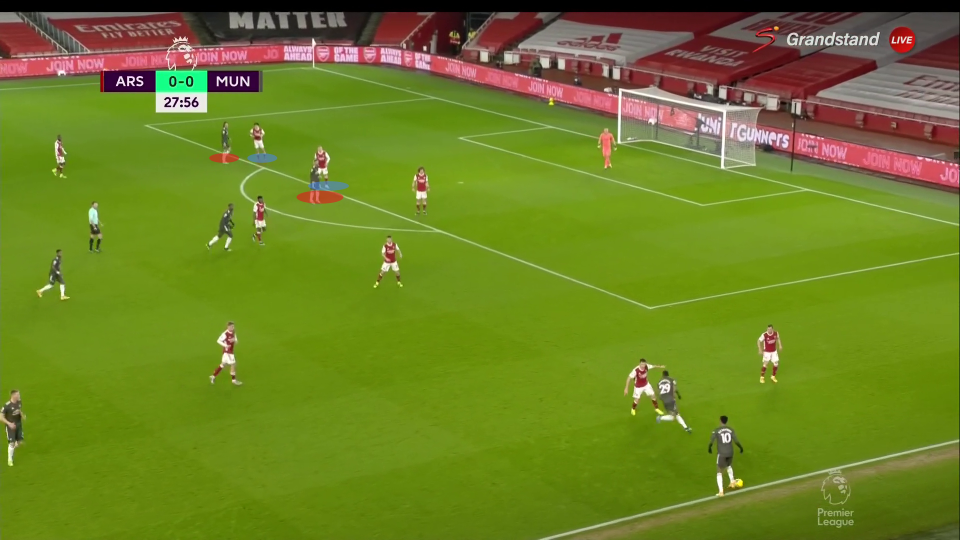 Fred gets time and space on the ball and is looking for a long pass over Arsenal's backline for Cavani. Fernandes moves towards the ball in order to attract Holding away from the path of the pass, however, the Englishman is quick to read Cavani's movement between himself and Bellerín.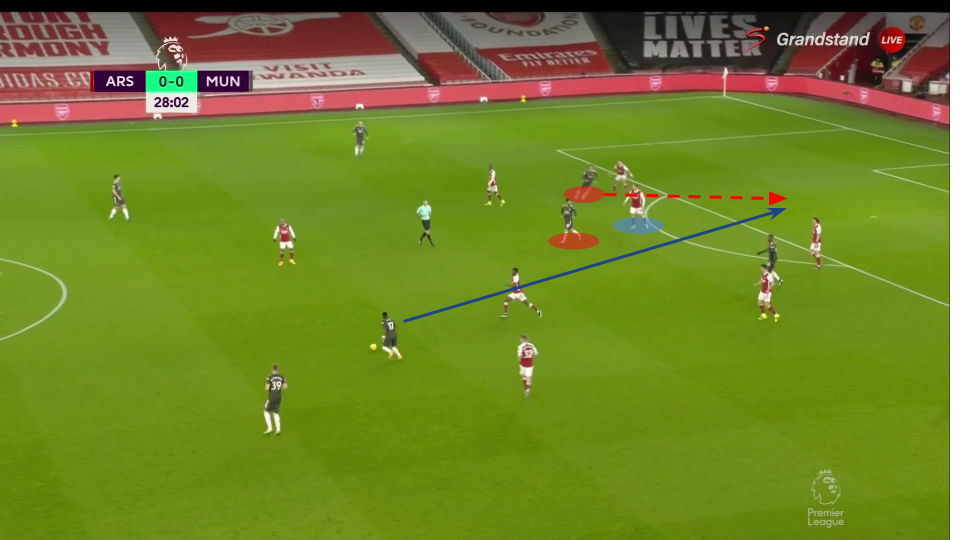 The move didn't really materialise for the Reds as Paul Pogba intercepts the pass, however, Holding made sure that the path of the pass to Cavani was covered in case the pass reaches him.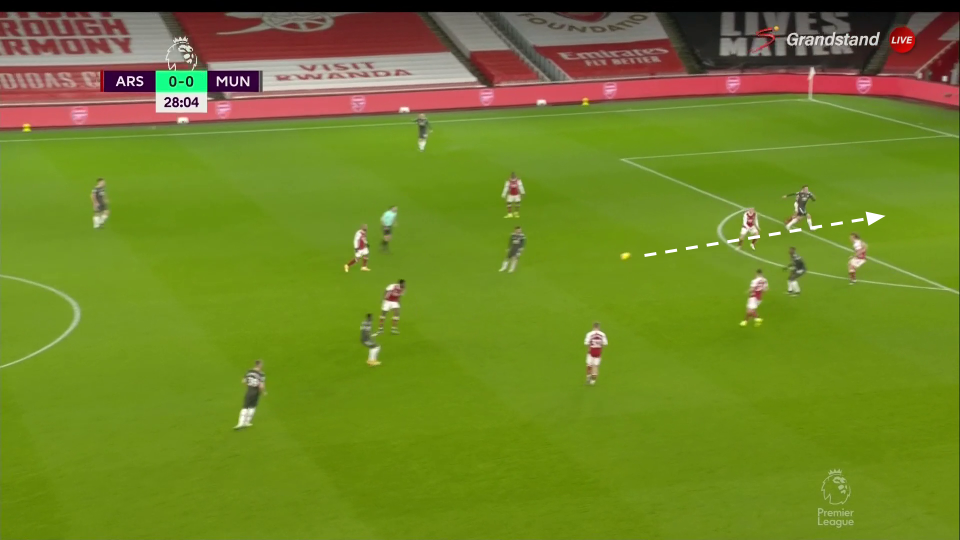 Like any other footballer, Holding has made errors at times this season with a particular one coming in Arsenal's recent 0-1 defeat to Aston Villa, where he was caught ball watching for the first goal. However, his errors have been a rare sight this season as he has primarily been Arsenal's Mr. Reliable in the defense.
William Saliba's return from his loan at Nice will surely put pressure on Rob Holding with the Frenchman arguably being more technically competent than Holding, in fact, many see the Englishman as a seat-warmer for Saliba.
However, he isn't new to challenges; he had his one foot out of the door in the summer with a move away seemingly looking imminent, though, he was able to find a way back to becoming a regular starter and even earning a new contract at the club. As he showed in Arsenal's 1-0 win over Manchester United last season, you can never count Rob Holding out.
By: @TheArsenalog
Featured Image: @GabFoligno / David Price – Arsenal FC