Analyzing Rodri's Struggles in England
Three games into the new Premier League season, and it looks as if Manchester City are still trying to shake off the same problems that haunted them all through the last. Persisting injuries to key players. Baffling wastefulness in front of goal. Infuriating defensive mistakes. Ever since Pep Guardiola's men won their 14th Premier League game on the bounce at Brighton in May 2019 to clinch one of the most dramatic title races of all time, something just hasn't been quite right. 
Some saw it coming. Vincent Kompany's glorious farewell, just after he'd fired in that title winning goal from distance, was euphoric, but quietly troubling at the same time. City hadn't just lost their best ever defender, but also their best ever leader. And, come the start of their title defence 3 months later, the first without their inspirational captain, they hadn't brought anyone in to replace him. 
In fact, the closest thing they got to defensive cover, was to sign 23-year-old defensive midfielder, Rodri, for £63.8 million, from Atlético Madrid. A lot was expected of the young Spaniard, tipped to be the long-term successor of Fernandinho in the City midfield. Even before he had kicked a ball in City blue, Guardiola told the media that he was "convinced that Rodri will be one of the best deals this club has ever done". 
14 months on, and it's fair to say that he's been, for lack of a better word, good. Just, as City's inevitable decline from near perfection has started to turn slightly sour, it started to feel as if good was no longer enough. 
City's descent was not a typical one, though. They didn't suddenly start playing badly, as such. They continued to dominate possession, create chances and play fantastically slick football. There was just something a little bit off. That elusive something very much came to light in what was just Rodri's second game for the club, as City somehow only managed a 2-2 draw with Spurs, despite having 30 shots on goal, while their opponents had just 3.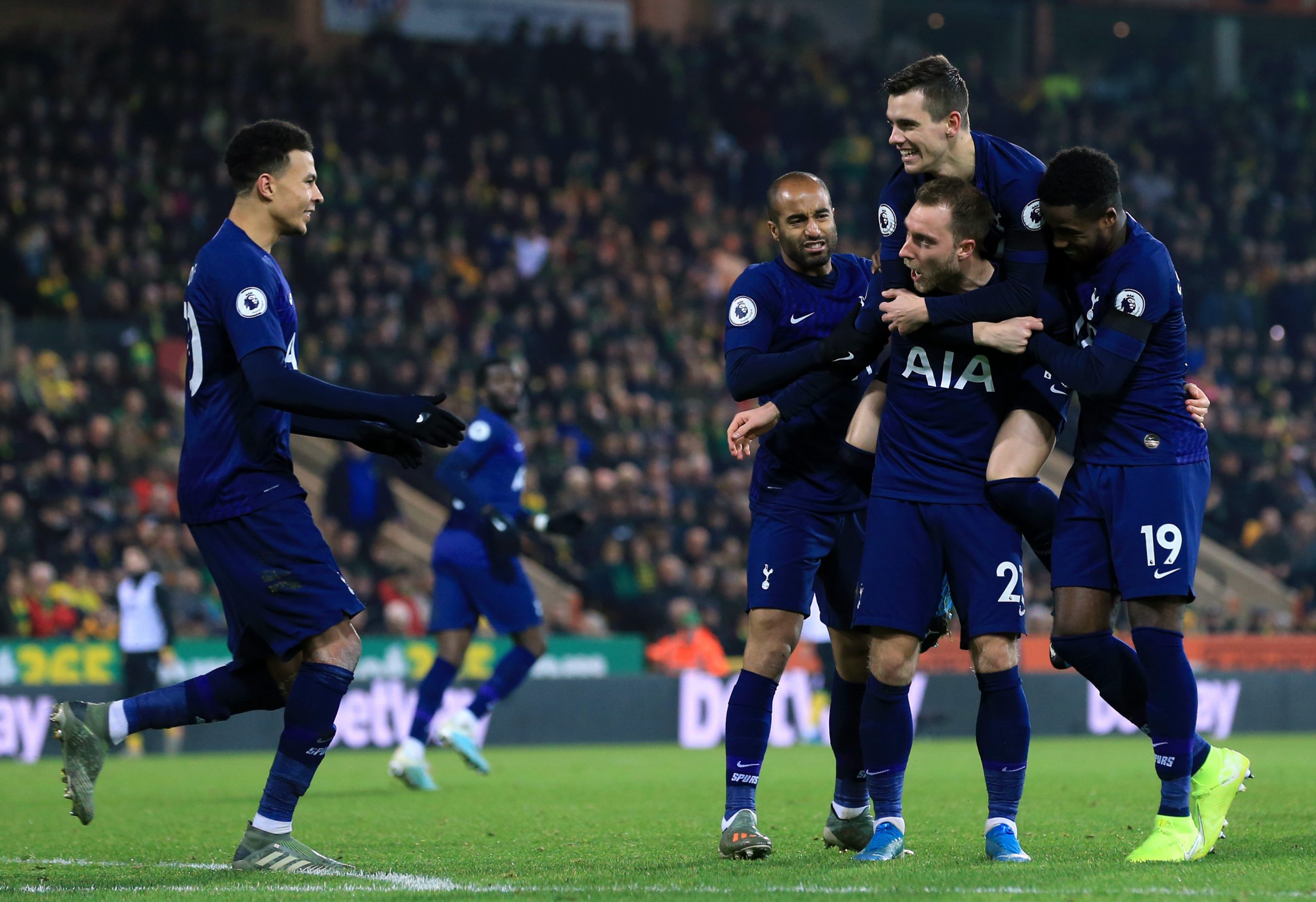 Photo: Getty Images
For the first time in two seasons, "typical City" started to rear its ugly head, as a shaky defensive partnership of John Stones and Nicolás Otamendi rapidly started to lose confidence in the absence of the integral Aymeric Laporte.
A first defeat of the season soon followed, as Norwich shocked the defending champions, in a game marred by defensive errors – and another game where City conceded 100% of the shots on target that they faced. Three weeks later, and they would lose to Wolves – creating 18 chances, putting only 2 on target – and, you guessed it, conceding 2 goals from 2 shots on goal by Adama Traoré.
City would go on to take 745 shots at goal throughout the season – the highest number of attempts on goal in Premier League history, and by quite some distance. They would also concede the fewest number of shots – 64 fewer than Liverpool, the team who they finished 18 points behind. As I said, not really the figures of a team in turmoil. But somehow, it still seemed as if they were. 
The only real indicator to their downturn was that their 279 shots conceded, while still the league's lowest, was noticeably more than the 236 and 238 they gave away in the two seasons prior. Clearly, while the attack became frustratingly wasteful in front of goal, and the defence became less and less reliable, there was a slightly easier route through this City midfield than there had been during their previous title charges. 
Rodri, though, by and large, was spared criticism. He played in all but three of Manchester City's Premier League games, anchoring a chaotic midfield from deep, as Fernandinho was drafted into the back four to provide emergency cover for an injury-plagued defensive line.
He never really made any glaring mistakes, popped up with the odd goal, and generally held his own in the middle of the park, despite everything going on around him. It tended to be Otamendi for his mistakes, Jesus and Sterling for their misses, and Ederson for his blunders that grabbed the headlines instead. 
As the frustration has spilled over into this season though, fresh enquiries about the fragility of this Manchester City side have been directed at the man quietly going about his business in midfield. After the 5-2 defeat to Leicester, Sky Sports pundit Micah Richards complained that while Rodri's pass completion is very good, "a lot of the balls that he plays are just five yards to the front or the side," and that, "he doesn't read danger like Fernandinho, and the back line gets exposed."
Photo: Getty Images
It's a feeling both echoed and rejected by a split Manchester City fanbase. Although, I think there is a general consensus that Rodri could start grabbing a few more games by the scruffs of their neck. 
It's important, first, to stress that Rodri is excellent at what he does. He is one of the best ball-retaining, press-resistant midfielders in the world, and the statistics back him up. He made the most passes of any midfielder last season, as well as the most passes in the opposition half, all while maintaining the highest accuracy, of 90.6%.
He also ranks highest as the player with the most passes made under pressure, and was only dispossessed 21 times, showing his ability to recycle possession, and to keep the ball moving up the field despite pressure from opposition midfielders trying to take it off him.
On paper, he is the perfect player to sit at the base of Guardiola's possession-based midfield, to keep the play ticking over and to continually stretch the opposition from side-to-side as the attacks build, and to move the ball upfield quickly during a defensive transition. 
And, indeed, when Manchester City aren't malfunctioning in front of goal, Rodri's connecting contributions are widely appreciated. When City are wasteful, though, his short, linking passes and nice touches and dribbles to escape the opposition press no longer seem enough. When times are tough, you feel that Rodri needs to do more than just 'what he always does'.
His ill-advised comments after the Leicester game, where he slammed Leicester's cagey first-half tactics, summed up his awkward position in this City midfield. When the opponent "waits, waits, waits", he is "confused and doesn't know what to do."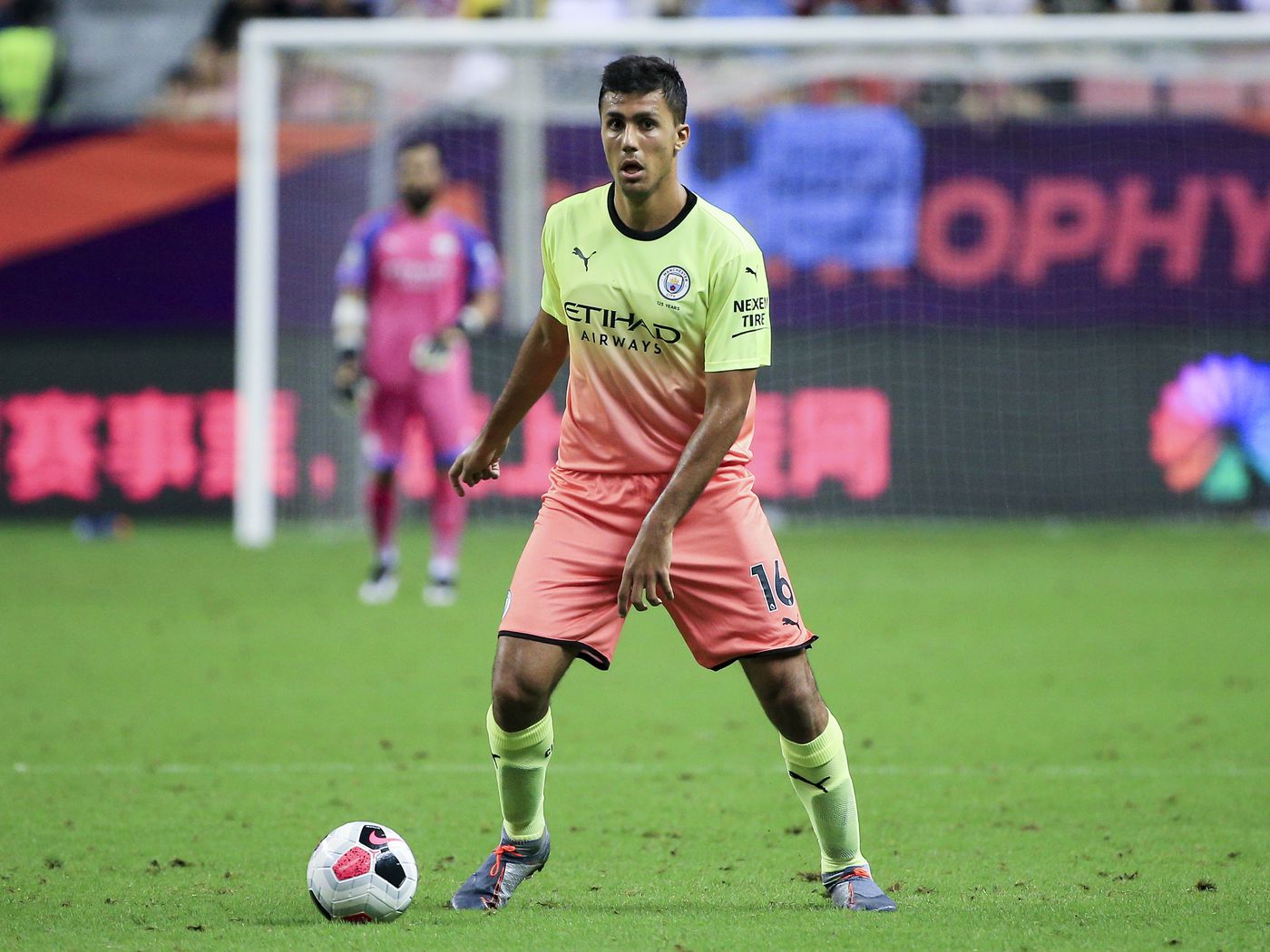 Photo: Getty Images
Or, in other words, when he can't do what he does best – twisting and turning around an onrushing press, exploiting spaces in behind an aggressive opposition midfield, breaking the pressing lines with short, incisive passes – he struggles to offer very much to a Manchester City attack who are looking for inspiration from elsewhere.
Give him too much time, and he doesn't often seem capable of unlocking a low block from his deep midfield position on his own. So, he'll continue to play those short, safe passes – the ones that frustrated Richards so much two weeks ago. Even so, given the defensive instability behind him, you can perhaps understand why Rodri is reluctant to take too many risks on the ball.
A key example from last season came in that 2-0 defeat to Wolves, where Rodri, spurred on by restless City fans, decided to take an uncharacteristic risk by refusing the short, connecting pass to Bernardo Silva, in order to carry the ball forward himself. He made good progress down the right-hand side, but was ultimately dispossessed by João Moutinho – and, two passes later, Traoré was bearing down on goal.
Similarly, whenever Rodri was played around in midfield, a calamitous defensive decision often meant that he was sold short and City were punished. A great example comes from City's 3-2 defeat at Norwich.
In the images below, see how just seconds after Rodri is bypassed, a poorly judged line means that Marco Stiepermann, after a simple move away from an out-of-position Otamendi, is free to play an easy pass through to Teemu Pukki, who finds himself already, inexplicably, in behind the two centre-backs. Through on goal, he'd then go on to tee up Todd Cantwell, to tap home Norwich's second.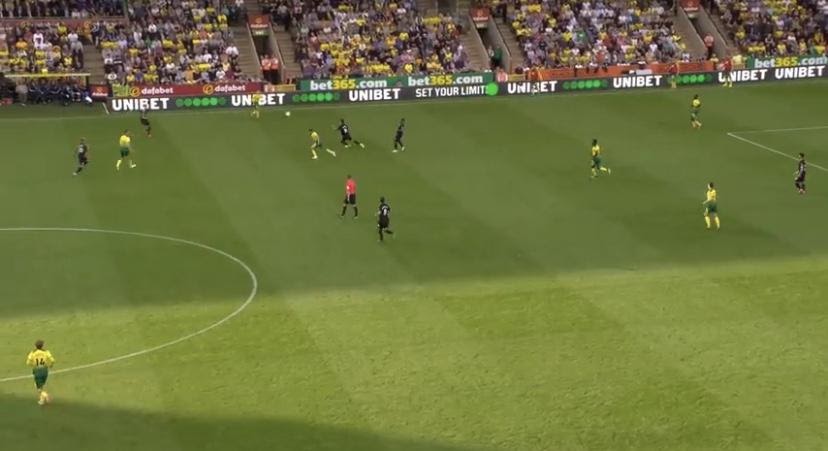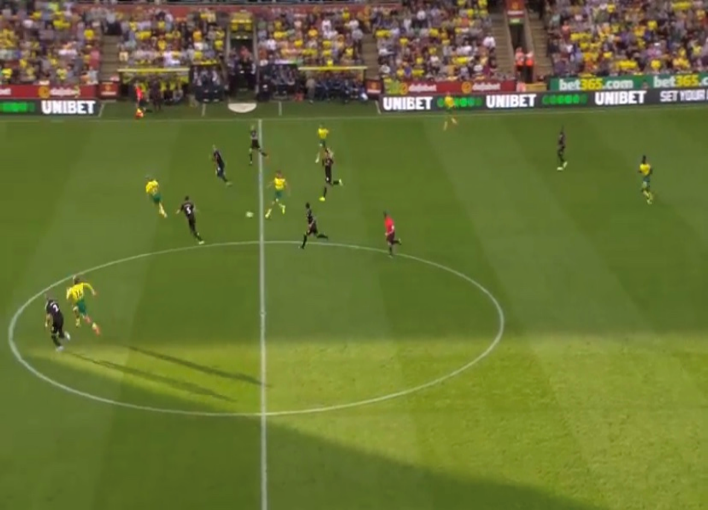 He can't be expected to win every single midfield duel – no defensive midfielder does. Yet, sitting in front of a confidence-drained back-four, who's record of keeping out counterattacks is shaky at best, you could argue that Rodri's position last season was more precarious and pressurised than most. If he tries to be adventurous on the front foot, or is overly aggressive in his pressing, he leaves a very shaky defence exposed.
In this way, the instability of his position has certainly restricted his ability to take risks, which perhaps explains his slightly cagier approach to games that are still in the balance. As frustrating as that may be from a City fan perspective, desperate for him to conjure up something more, it's probably the more sensible option, given what tends to happen when he tries something different. 
Despite this, there is no doubt that Rodri still has plenty he can improve upon. Arguably, in that deep-lying position, City have been spoilt with two of the greatest to ever do it in the Premier League, as the unstoppable Yaya Touré blasted in 20 goals from the base of the midfield in 2014, before Fernandinho ran the whole show by himself between 2017 and 2019.
Although we can't expect Rodri to instantly emulate the two legends that came before him, especially not during such a chaotic debut season, there are certainly one or two things he can learn from the great men to help him make that Manchester City midfield his own for the years to come. 
Journalists David Mooney and Dom Farrell, discussing Rodri's role on the Blue Moon Podcast, commented on a particular instance in the Leeds draw. Left with a four-on-four, Mooney remarked how a back-tracking Rodri tried to bring down the ball-carrier three times with a tactical foul, but missed all three times, resulting in a Leeds chance that was put over the bar.
"When Fernandinho was in that role on his own", he said, "there were only two outcomes there; either Leeds had a free-kick on the half-way line, or City had the ball back". In agreement, Farrell suggested that Rodri seemed "remarkably unfamiliar with the dark arts". 
Without wanting to suggest that Rodri should be committing more fouls, there is certainly a case to suggest that he could be shrewder in the midfield, especially when caught on the back foot. Yes, City may be a possession-based side who don't need to make as many tackles or interceptions as others, but the fact that Rodri was 68th for tackles in the league last season, and 111th for interceptions, certainly implies that there could be more tenacity to his defensive game.
Where Fernandinho so often dragged his teammates through opposition onslaughts, there does seem to be a worrying likelihood that Rodri gets lost in the storm.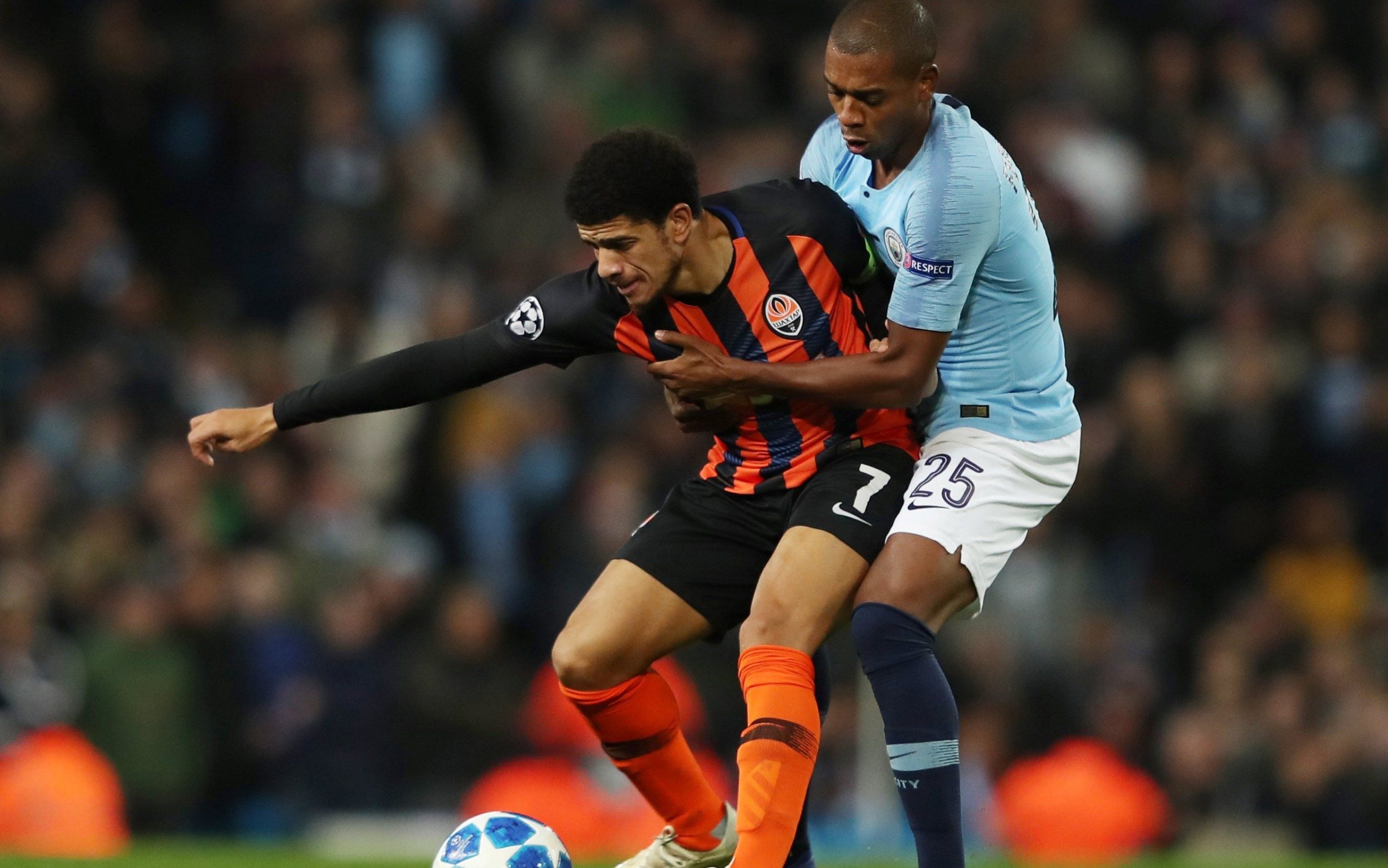 Photo: Reuters
There also looks to be a slight mobility issue, in that Rodri looks much less capable of covering the ground as quickly as his faultless predecessor did, encouraging teams to flood the midfield on the counterattack to exploit his reduced capacity to recover the ball quickly.
This has forced Guardiola to play two holding midfielders instead of just the one, sacrificing an attacking player and leaving City looking less potent up front. And, while this may be a source of frustration for the manager, and indeed the fans, I think it was probably too much to expect a 23-year-old, inexperienced midfielder to walk straight in and do what Fernandinho did – because I don't think many players could.  
However, with a year's Premier League experience now under his belt, and with some promising defensive additions to this Manchester City team, there is renewed optimism that Rodri can begin to establish himself in the midfield.
With no need to play Fernandinho as a make-shift centre-back anymore, there is certainly potential in a Fernandinho-Rodri double pivot, which both gives Rodri a helping hand, and relieves Fernandinho, approaching 36, from some of the heavy lifting. A double pivot of İlkay Gündogan and Rodri also remains an option – something that Guardiola seems to like, as long as the pair don't get caught flat, something you can see again in those Norwich pictures. 
The signing of Rúben Dias also provides hope, given his assured debut performance in that whirlwind game at Leeds. Provided Laporte stays fit, a player who has kept 10 clean sheets in his last 13 starts for City, there is fresh hope that a new, youthful defensive foundation can be built, one that can allow Rodri to thrive too. The imminent return of Sergio Agüero is also good news for Rodri, who's performances look so much better to the naked eye when City can take their chances.  
So far though, despite the weaknesses mentioned, I think it's been a decent start to Rodri's Premier League life, certainly given the difficulty of the tasks he was given during his debut season. While I wouldn't quite say he passed with flying colours, he did well to transfer his passing game over from La Liga to the Premier League.
The real test of his mettle, however, will be adapting to new demands in that Manchester City midfield, to give Guardiola's side that little bit of bite in the middle that they so desperately need.
By: Thom Harris
Featured Image: @GabFoligno / Simon Stacpoole / Offside