Player Analysis: Roger Martí
Standing in front of the cameras on the Ciutat de València pitch, José Luis Morales looked up to the sky and puffed out his cheeks. His eyes glistened and his voice trembled as he spoke. "We might be a small team, but we have a big heart." he said, stopping half-way through to wipe away the tears. "I just hope that our fans our proud of what we've achieved". 
For Levante, a team who have always been the small club in a big city, their cup semi-final exit to Athletic Club was as cruel as football gets. They'd never reached the last-four of a major cup competition in their 112-year history, and it was only a speculative, 30-yard strike from Álex Berenguer, taking a huge deflection to completely wrongfoot Aitor Fernández in goal and bounce in on off the post, in the 113th minute of the second leg, that stopped them from reaching an unthinkable Copa Del Rey final. It was a brutal end to the dream, but a crestfallen Morales, Levante's captain of over four years now, was right to focus on the positives. 
The club with the third smallest budget in Spain, Levante have been playing some of the most exciting football in the country this season. Ever since Paco López took charge in 2018 – a man who had never previously managed in top-flight football – Las Granotas have shown steady improvement, approaching each and every game with a fearlessness and attacking verve that befits their Blaugrana colours. 
With a system that encourages expansive attacking football, targeting the wings to stretch the play with the excellent pace and incisive dribblers they possess out wide, Levante have already beaten both Real Madrid and Atlético Madrid away from home this season. On the left, El Comandante Morales, an elegant dribbler and lethal finisher, became the first Spaniard to score against both of the Madrid giants in a single season for nearly 10 years. And, capping off the 2-0 win at the Wanda Metropolitano with a half-way line goal, his partner in crime on the opposite side, 24-year-old Jorge De Frutos, is enjoying a breakout season like no other, leading the way for assists per 90 minutes in the league. 
Yet, it's the man in the middle, Roger Martí, who knits everything together up top for Levante. The perfect foil to allow his talented teammates to thrive, the club's all-time record goal-scorer is well on track to beating his personal best in LaLiga, quietly distinguishing himself as one of the sharpest shooters in Spain over a hugely successful late bloom in his striking career. A modern-day poacher, constantly breathing down the necks of central defenders, he seems to have found even more of an edge in front of goal this season. 
His ruthless goalscoring season is partly due to the fantastic positions he gets himself into, only pulling the trigger when a situation of maximum opportunity arrives. As you can see from his season shot map below, recorded in back in January, a high concentration of Martí's shooting chances arise in and around the penalty area, owing not only to his expert movement and predatory instincts in the box but also due to the wide quality that Levante possess.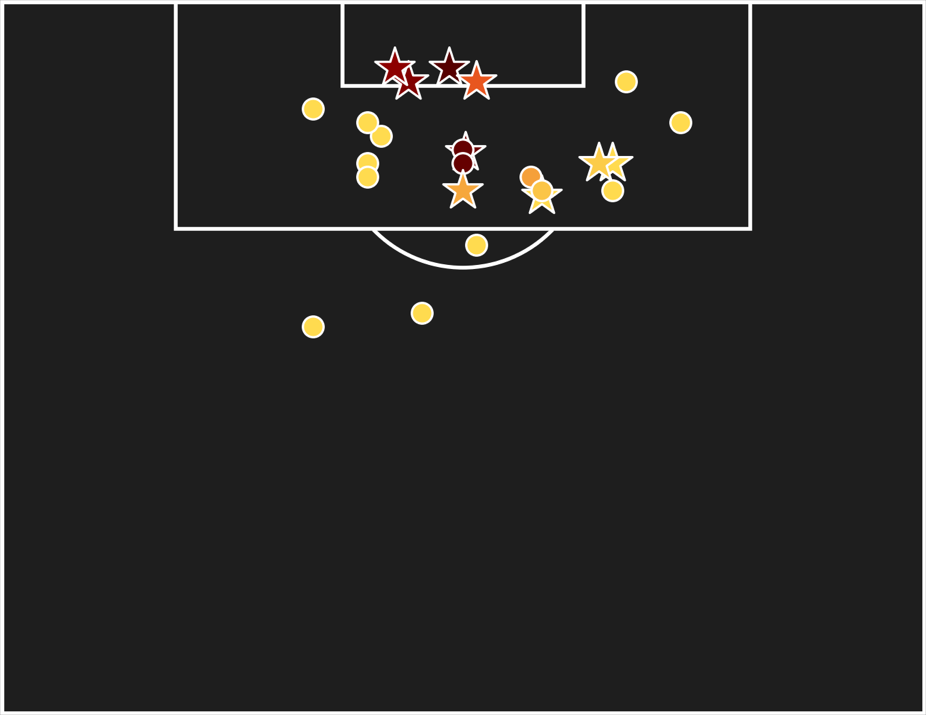 Photo: Twenty3/Wyscout
With the ball at the feet of Morales or De Frutos on the wings, Martí is particularly clever in his positioning, always looking to place himself in between both centre-backs, lurking in the blindside of the one nearest to the possession. When the ball is delivered into the area, Martí sparks to life, possessing the technical ability to control the ball and manoeuvre effectively in tight spaces, something that consistently allows him to set himself up for the shot as quickly and as efficiently as possible.
See below, in an action that resulted in a crucial goal against Real Valladolid, how intelligent positioning, good anticipation and a fantastic first touch allows him to receive the ball ahead of the defender and create space for the quick shot. After Rubén Alcaraz and Óscar Plano put Pucela ahead with two late goals, Martí allowed Levante to take a draw at home with an 83rd-minute equaliser.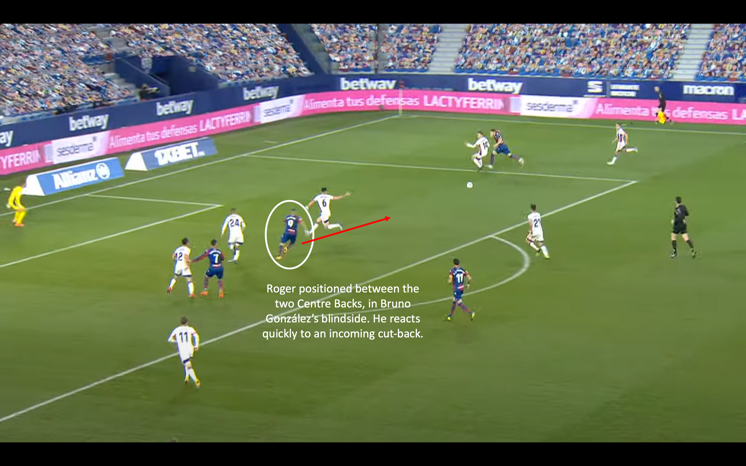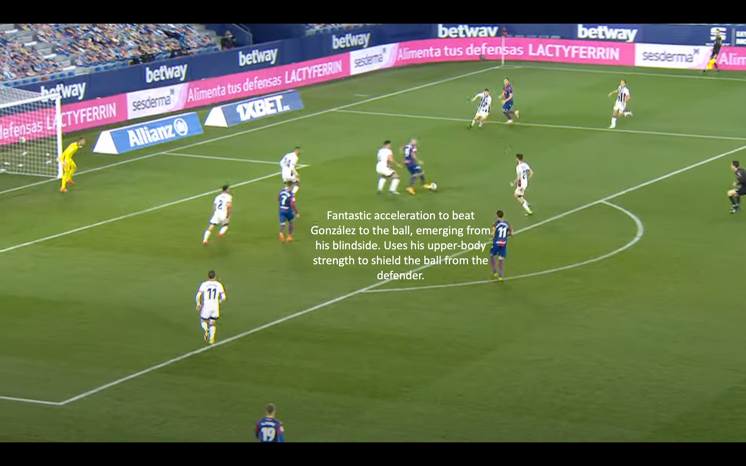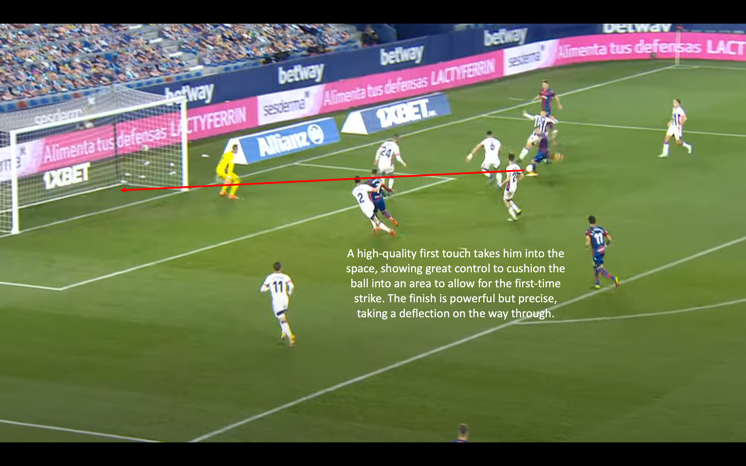 It's absolutely no coincidence that so many of Roger's goals come from cut-backs and crosses. While he may not be the fastest, most physically intimidating striker, his movement in the penalty area makes him a complete nuisance for defenders, ensuring that he stays exactly where they can't see him.
It's an ability that is helping the man from Torrent become one of the most clinical forwards in the league, keeping 50% of his shots on target, more than any other player with over 30 shots. He also averages 0.3 goals per shot, which is better than the likes of Luis Suarez, Youssef En-Nesyri and Alexander Isak, and is currently outperforming his xG by 3.6, which is the 5th highest overperformance in the league.
In short, Roger is a high-quality shot taker – one who is extremely accurate, but also one who has the intelligence to consistently get himself into dangerous positions, and the quality to set himself up for the optimal shooting opportunity when he gets there.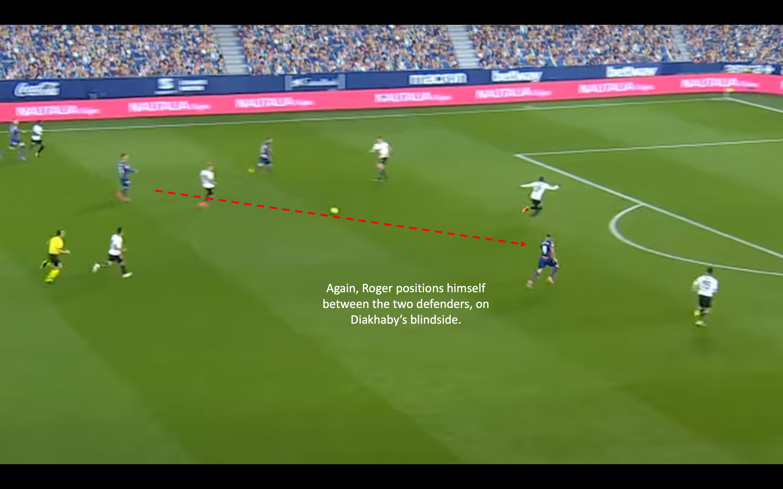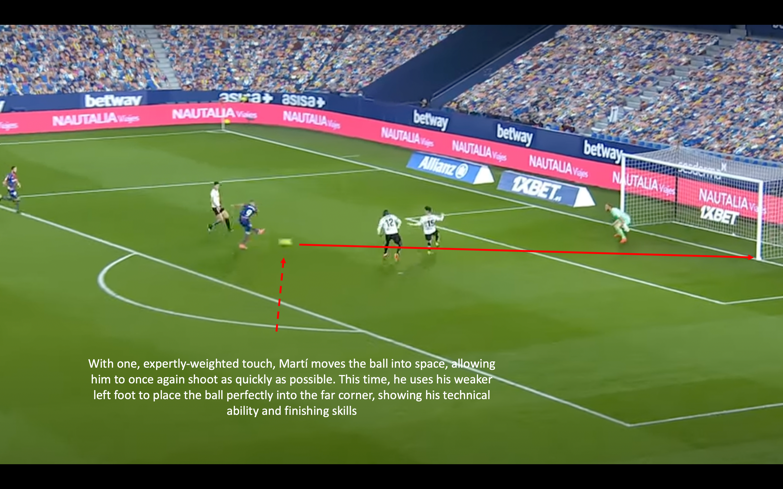 Aside from creating chances for himself, Martí has quickly become a vital playmaking option in Levante's attacking build-up play, where his fantastic control and considered link-up play with his teammates helps him to create attacks effectively from deeper positions.
See below how his excellent control from a huge goal-kick – chesting the ball down and playing a quick through ball to Morales – turns a clearance into a goalscoring chance. Roger himself would actually get on the end of Morales' cut-back from the left, finishing well with his left foot to score a dramatic 120th-minute winner against Villarreal, sending Levante through to their first-ever Copa del Rey semi-final.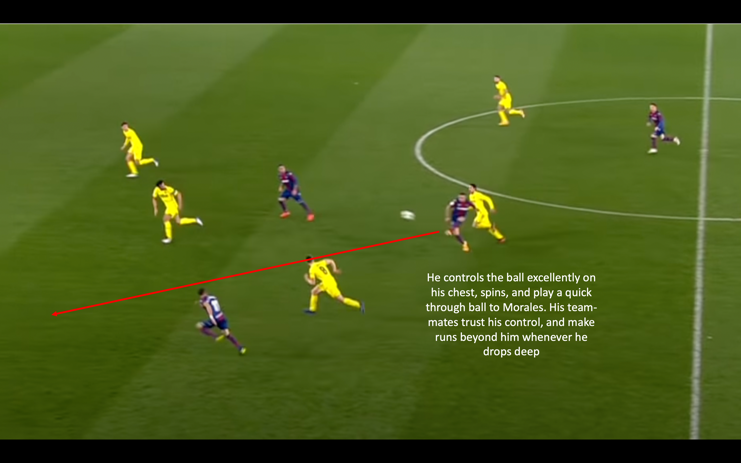 No matter the difficulty of the pass, Roger has become incredibly skilled at making the ball stick, distinguishing him as an excellent target man. Similar to Michail Antonio at West Ham, he's a reliable attacking link, with great upper-body strength to hold off opponents if ever needed. In another example of his awareness and close control, this flick against Valencia shows the forward at his intelligent best.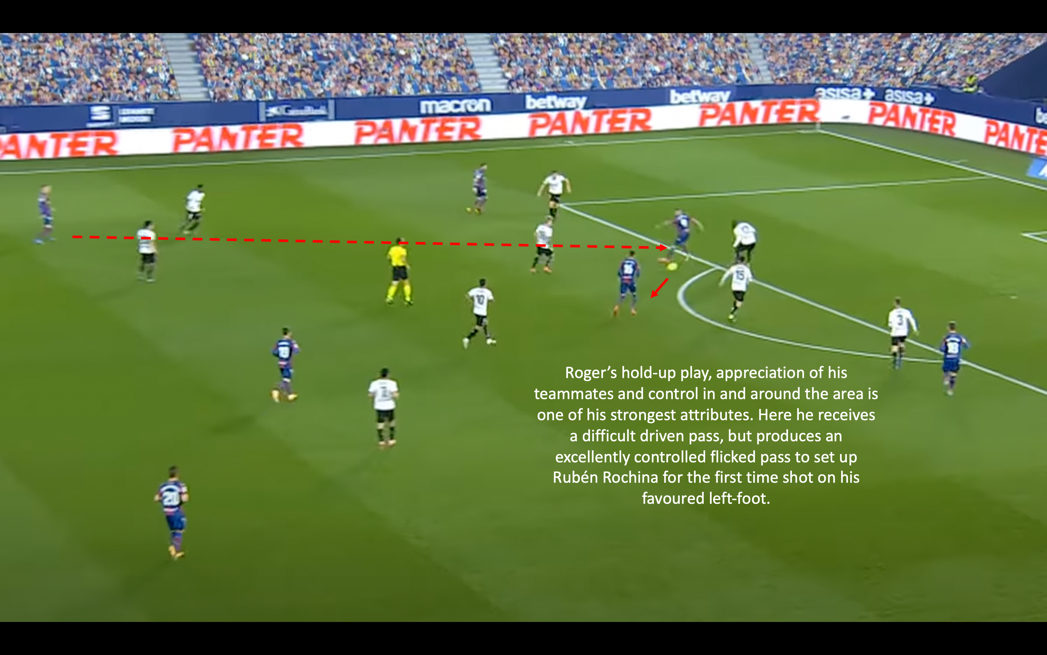 At the age of 30, we could be seeing Martí in his peak years, as he finetunes his striker's instincts through his constantly evolving experience of top-flight football. While Levante have never really had any kind of financial power to bring in new talent, their recruitment of late has been particularly shrewd, with the acquisition of De Frutos in particular proving vital, not only in terms of assists, but also of hard defensive work in the attacking third.
Ranking in the 96th percentile for tackles amongst wingers in Europe's top 5 leagues, his busyness on the wing adds balance to the side. There's also the lively, energetic Dani Gómez, another young striker who, when deployed up top with Roger, can really free the club's top scorer in terms of defensive duties. His defensive contributions, along with his aerial ability, are probably the striker's biggest weaknesses.
While his game has evolved more towards the target-man, goal-poacher hybrid in recent years, he will never quite be the physical presence up top who Levante can look for for flick-ons and big headers from goal-kicks and crosses. However, his immaculate control and footballing intelligence has allowed him to become more and more involved in the offensive build-up phase, in addition to lurking around the penalty area for any loose balls.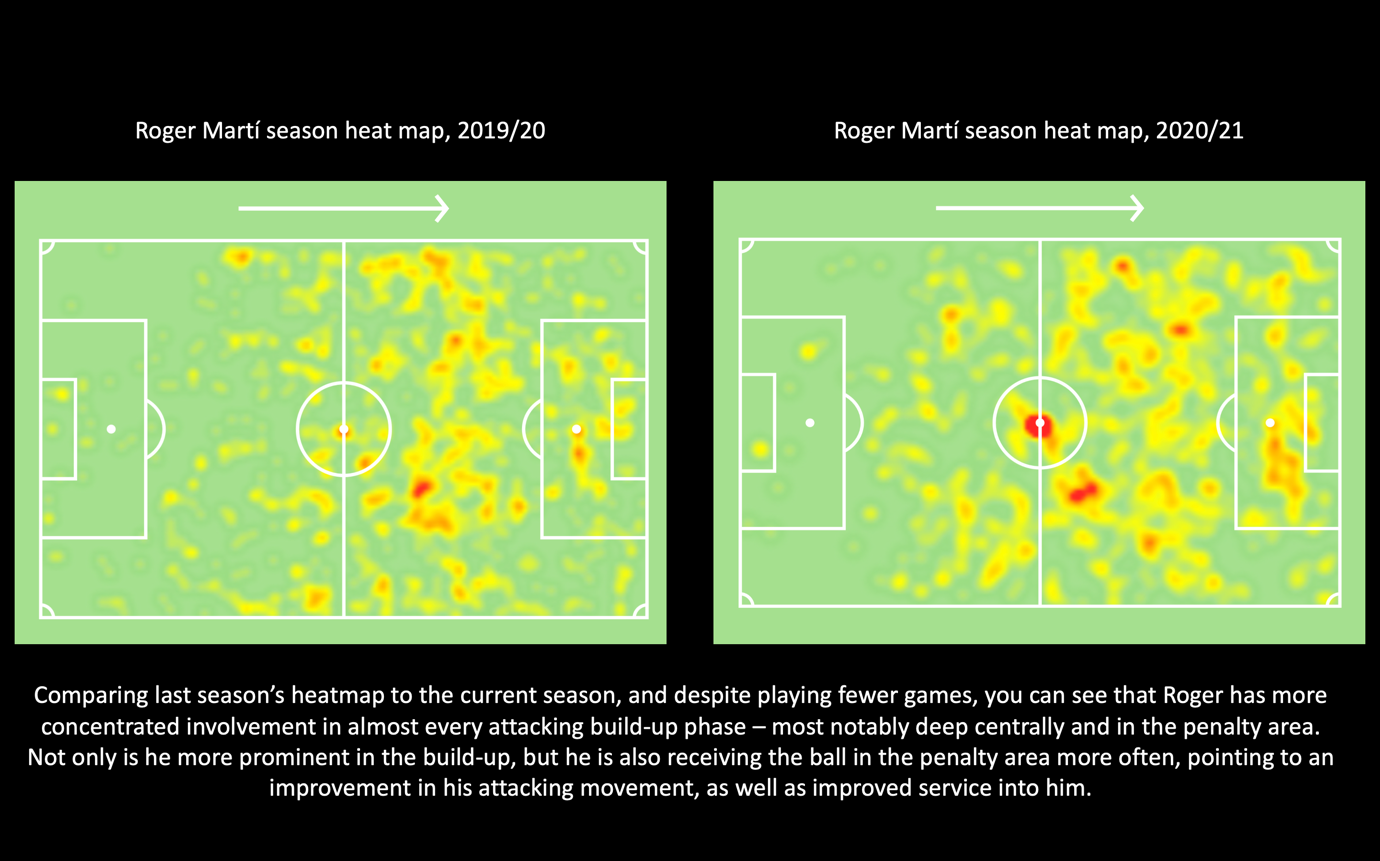 Along with Morales, then, Roger seems to be enjoying his best season in a Levante shirt.  The pair, now 30 and 33 respectively, are not only the club's top two scorers this season, but in their entire history, and it's been a joy to watch the deadly duo evolve together under Paco López's audacious attacking plans.
Currently sitting in 10th place, and with some historic wins under their belt, this season can certainly be filed away as one of the better campaigns in Levante's LaLiga history. And, on course to finish above their troubled neighbours, Valencia, for the first time ever, with a first cup semi-final under their belt too, Las Granotas can't be too dissatisfied at the season's progress. 
"What we've shown today is that we can achieve anything" Morales went on to say, after that semi-final defeat. "We've come close to doing something amazing."
With their two greatest players in the form of their lives, only looking like they're getting better with age, it's hard to disagree with their legendary captain. With Morales, and more importantly Martí, firing on all cylinders, who knows, really, what this talented Levante squad can go on to achieve.  
By: Thom Harris
Featured Image: @GabFoligno / Quality Sport Images / Getty Images