Player Analysis: Romelu Lukaku
Since joining Inter Milan for a club-record €80 million on August 8, 2019, Romelu Lukaku has cemented his place as one of the best center forwards in Europe, shattering expectations with 34 goals in all competitions in the 2019/20 season and equalling Ronaldo's record for most goals in his debut season at Inter.
The Belgian bounced back from a hot-and-cold spell at Manchester United, leading Inter to second place in Serie A and a place in the Europa League Final, where they would lose to Julen Lopetegui's Sevilla in a tight clash in Cologne. He's started the new season in top form, netting the equalizer in a nail-biting 4-3 victory against Fiorentina, scoring a brace vs. Benevento, and finding the back of the net against Milan.
Lukaku's turnaround in form cannot be explained without analyzing the tactical switch, making the move from Ole Gunnar Solskjaer's 4-2-3-1 at Old Trafford and playing as the target man in Antonio Conte's 3-5-2. The Belgian possesses immense strength, pace and dribbling ability, along with a strong finishing ability and immense mental fortitude. It should come as no surprise that Conte attempted to sign Lukaku during his time at Juventus and Chelsea.
After an impressive debut season in Manchester that saw him register 27 goals and 9 assists, Lukaku's form took a nosedive in 2018/19; by the time José Mourinho was sacked on December 18, Lukaku had only scored 6 goals and 2 assists in all competitions. He fared even worse under Ole Gunnar Solskjær, despite scoring a brace against Paris Saint-Germain that sealed United's passage to the quarterfinals and earned the Norwegian manager the permanent job at Old Trafford.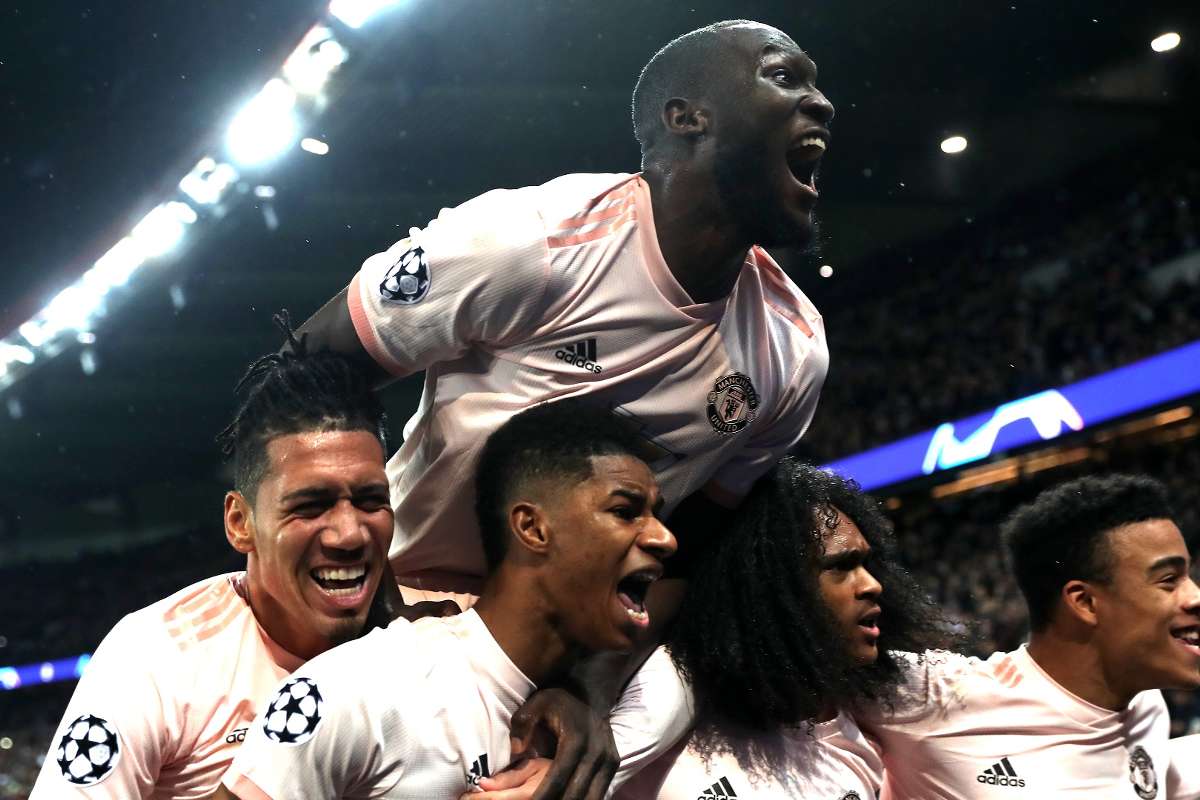 Photo: Getty Images
Lukaku later revealed that he was considering joining both Juventus and Inter, but Conte's arrival as manager swayed the momentum in Inter's direction. Immediately after joining the Nerazzurri, Inter's doctors detected an undiagnosed digestive issue that had led to Lukaku being overweight at United, an influential factor in his poor performances. Rather than a purported lazy attitude or poor lifestyle choices, it was a clandestine medical problem that had weighed him down in Manchester.
Inter's doctors put him on a strict diet of fish, sweet potatoes, pasta and vegetables, leading him to losing more than half a stone in 12 days. For the first time since his spell at Everton, Lukaku finally looked like a lean, mean, counter-attacking machine, and it didn't take long for him to deliver the best performances of his career.
At Old Trafford, Lukaku was often used as a target man, with the centre backs often pinging long balls to him. He won 3.9 aerial battles per 90 minutes in 2018-2019 with a 52% success rate, but even when he won them, he'd often struggle to find his teammate in an advanced area. On the other hand, he is attempting fewer aerial battles at Inter, winning 2.8 per 90 minutes with a marginally higher success rate of 56%.
Conte realized that Lukaku's strengths are not best utilized as a target man, but as a center forward playing off the shoulder of a second striker — often Lautaro Martínez. He is most dangerous when running at defenders with the ball at his feet, and whenever Inter play the ball out of defense, they play the ball to Lukaku's feet, not his head. Despite this role change, Lukaku scored 6 headers last season, his joint-highest in a single campaign.
By playing the ball to his feet more, Inter are allowing him to use his strength alongside his technical ability in order to beat a defender. An example of this was against Sassuolo earlier on last season.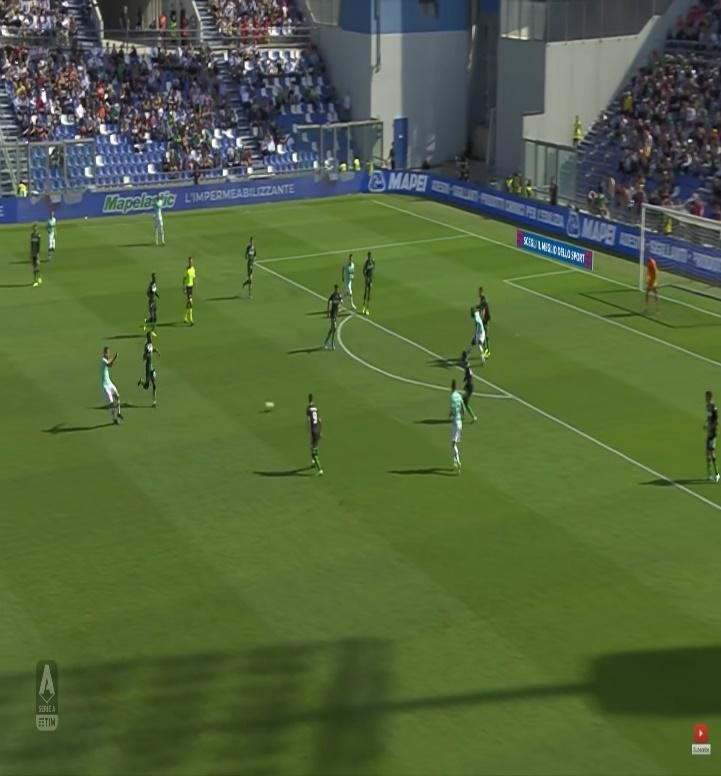 Stefan de Vrij plays a pass into Lukaku's feet whilst he had pinned down Federico Peluso. With a few touches of the ball, he then turned past the defender and slotted the ball past Andrea Consigli and into the back of the net. He would score another penalty as Inter defeated Sassuolo in a thrilling 4-3 victory.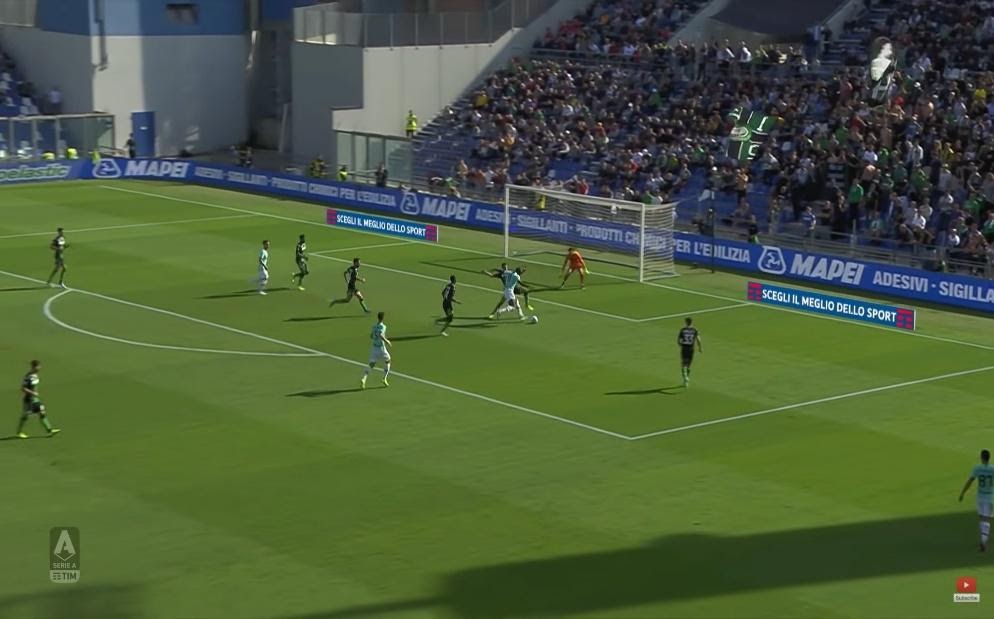 As opposed to at United where he was primarily used as a target man, Conte has instructed his midfielders to play the ball into Lukaku's feet, so he can utilize his dangerous turn and physical strength to create havoc on the counter. With the ability to finish with both feet and dribble at pace against defenders, Lukaku has been a headache for every defense in Serie A since his arrival last summer.
Whilst the Belgian averaged 0.9 dribbles per 90 minutes with a success rate of 47% at United, he is currently averaging 0.6 dribbles per 90 minutes with a higher success rate of 54.5%. At Old Trafford, Lukaku often found himself positioned on the right wing due to Anthony Martial and Marcus Rashford's inverted movement, which forced him to receive closer to the halfway line and dribble past fullbacks. At the San Siro, he is receiving the ball closer to goal, meaning he has fewer defenders to beat and has a much clearer path towards goal.
An example of this was against Torino last season. Lukaku received a pass from Marcelo Brozović on the edge of the box, performing a step-over and hesitating to confuse and hold off Gleison Bremer. He slyly shifted the ball over to his righthand side and slots it past Salvatore Sirigu. Inter would go on to win 3-0, as Belgium's record goalscorer continued to find the back of the net against another Serie A side.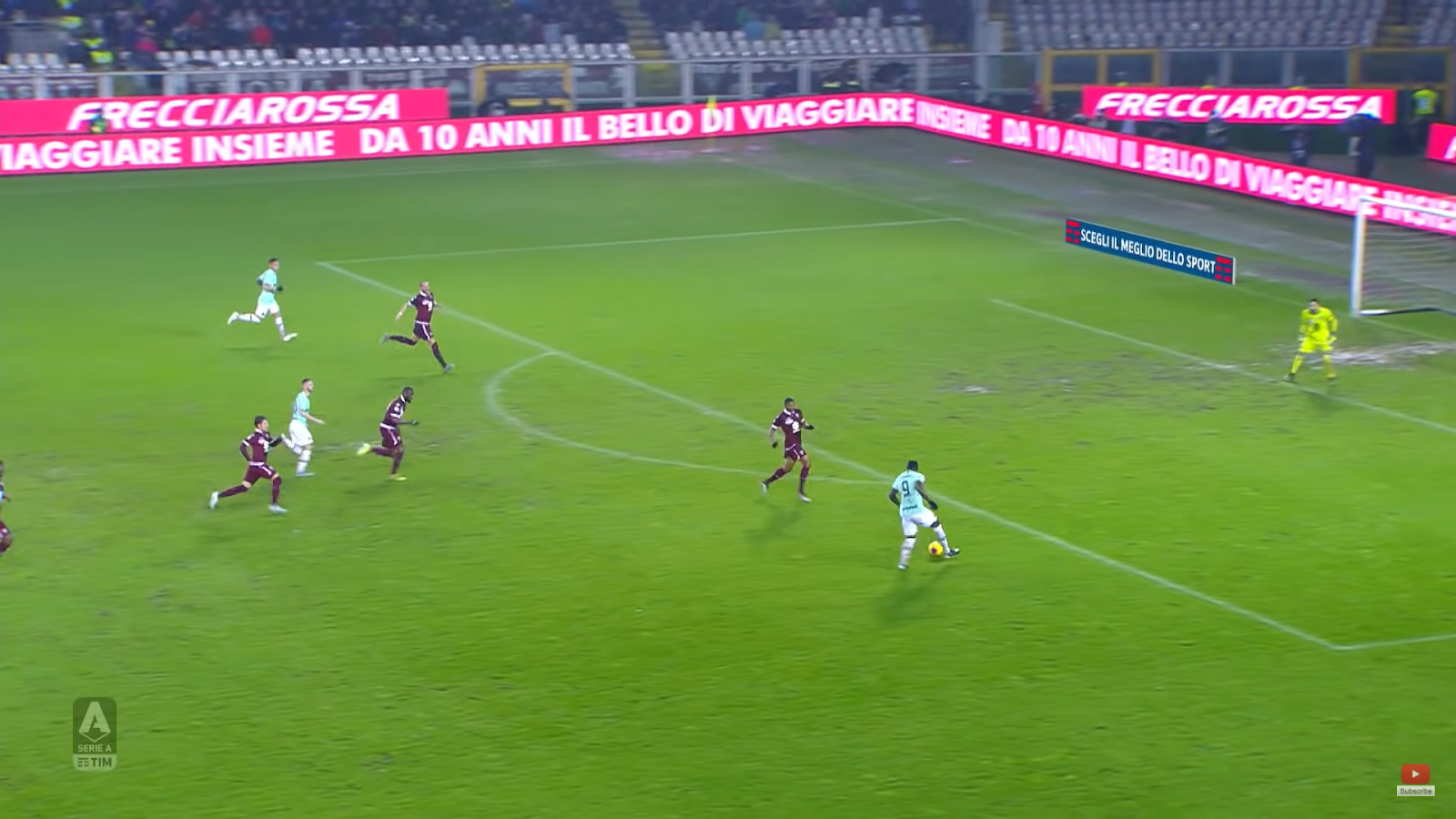 Inter tend to play out from the back by switching the play to the wingbacks, who then combine with the midfielders or strikers to advance into the final third. Out of Inter's two strikers, Lukaku is the one who tends to drop deep in order to enable the build-up play, allowing him to combine with his teammates in compact areas in the middle of the pitch. Whilst he completed just 66.3% of his passes in 2018/19, he averaged 70.7% passing accuracy last season in Serie A.
Lukaku's creative ability, vision and playmaking in tight areas has been the most underrated part of his game since the beginning of his career, having registered 9 assists in the 2017/18 season with United. Although he only registered 2 assists in Serie A and 6 assists in all competitions, he still averaged 1.6 chances created per 90 minutes last season, a stark improvement over his 0.9 chances created per 90 in 2018/19.
A prime example of his vision came in the Champions League group stage against Slavia Prague. Receiving the ball on the right wing, Lukaku used his torso strength to shield the ball from Jan Bořil and outmuscle the Czech defender, before gliding past Michal Frydrych and firing a low cross to Martínez, who slammed in the opening goal with a tremendous half-volley.
Slavia Prague would equalize shortly after, but Lukaku slotted home the go-ahead goal in the 81st minute, capitalizing on an error from Frydrych, dribbling past goalkeeper Ondřej Kolář, and slotting it into an empty net. Seven minutes later, Lukaku found a pocket of space on the right flank, before finding Martínez for the third and final goal with a divine trivela pass on his left foot.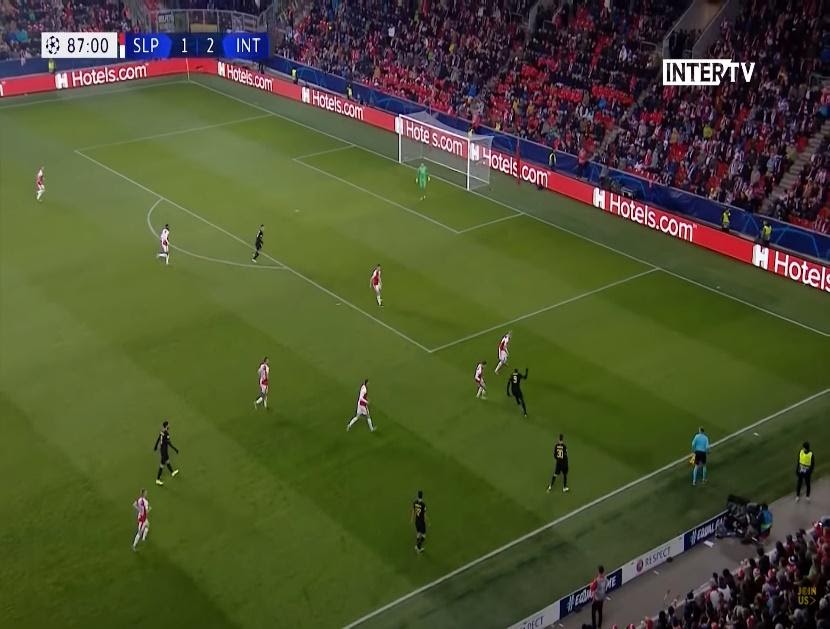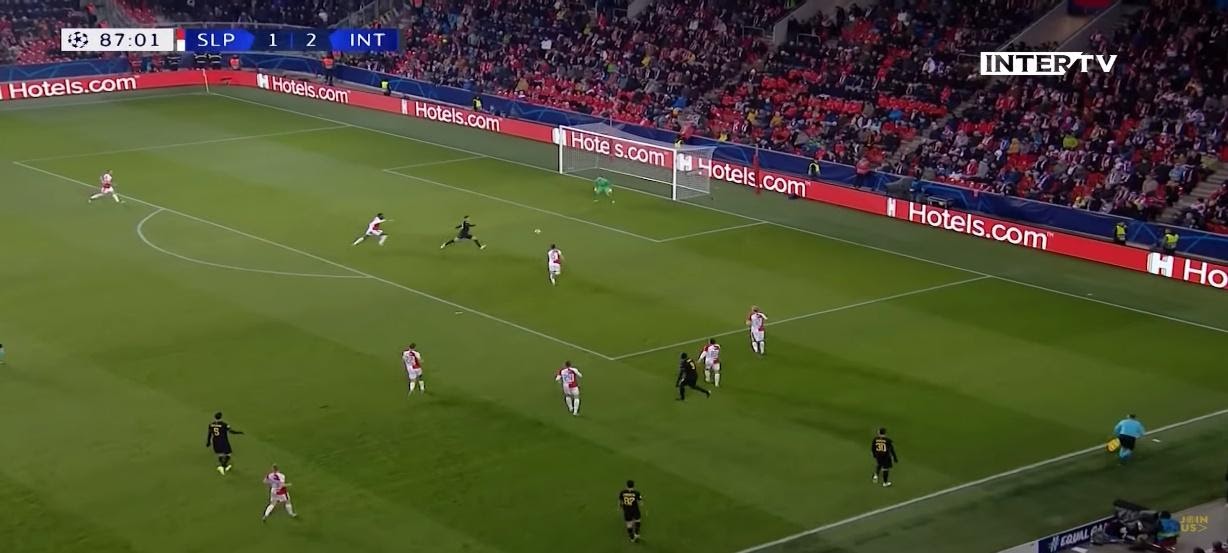 Together, Lukaku and 'El Toro' have built one of the deadliest attacking partnerships in Europe, with the two combining for 55 goals in 2019/20. Whenever one player goes wide, the other occupies the middle, whenever one player is weighing up a pass, the other makes a dummy run to create space. It's safe to say that this is the strongest duo that Lukaku has been a part of since his time with Ross Barkley at Everton.
Whilst the vast majority of Europe's top sides continue to play with one central forward, Inter's striking partnership is proving to be not just a blast from the past, but a deadly attack that few defenses are capable of nullifying. With Achraf Hakimi joining from Real Madrid and Ivan Perišić returning from his loan at Bayern Munich over the summer, both Lukaku and Martínez will have even more service from the wingback positions this season.
It has been nearly a decade since Inter's last trophy — the 2011 Coppa Italia Final under Rafa Benítez — but 11 years after their historic treble under Mourinho, it seems the gap between Inter and Juventus is finally narrowing. However, after dropping points to Lazio and Milan, the Nerazzurri will need to improve against Italy's top sides in order to break their trophy drought, and they'll be counting on their Belgian powerhouse to lead them to the promised land.
By: Abu Yasin
Featured Image: @GabFoligno / Danilo Di Giovanni – Getty Images