Player Analysis: Rúben Dias
Under the management of Pep Guardiola, Manchester City have been a record-breaking, effective force in the Premier League, mainly recognized for their free-flowing, attacking football and possession-based style of play. But despite splurging over £300 million on defenders throughout Guardiola's reign, the Spaniard has struggled to find a consistent back four. However, that issue has seemed to be resolved with John Stones and Rúben Dias forming a formidable partnership in the center of defense.
Dias has particularly impressed after joining on September 29, having signed from Benfica for a mouth-watering fee of £65 million. Eyebrows were raised at the money spent on yet another centre-back, but the 23-year-old has proven to be one of the signings of the season, delivering stand-out performances that have helped Manchester City concede the fewest goals in the league and rise to the top of the table.
Defensive Fundamentals
Naturally, the first place to look at what Dias brings to Manchester City is his defensive qualities given that it's the most important attribute required for a centre-back. Possibly Dias' biggest strength defensively is his awareness. When watching him closely, you can easily recognise that he scans his surroundings constantly whether it's in transition or in a mid/low block. This allows him to react well to situations around him and means he is rarely out of position.
In the video above, Chelsea are on the attack but Dias, far right of the video, isn't very close to the action yet he still makes sure that he's constantly aware of the opposition players around him. He's also quick to point out possible threats to his teammates too. These little things are one of the marks of Dias' great leadership and are some of the reasons for City's defensive renaissance.
In the example below against Brighton, Percy Tau comes back from an offside position so Dias makes sure where the attacker is as well as looking for any other Brighton player looking to make a run. 
With Tau looking to make a run in behind, Dias is in great position to cover and follow him as he knows that he is the only prominent threat going forward in that situation. Bernardo looks to find Tau with a looping pass but the pass ends up being too short.
Having shaped his body well to cover the run in behind as well as the lack of power on the pass, Dias has ample time to head the ball to a teammate. While this action is very simple, it's important for defenders to master the fundamentals so that they will be able to deal with more difficult situations much better. 
The Portuguese international's strength defensively comes from the fact he does the simple things well. He is a very reactive defender meaning that his actions are dependant heavily on the actions completed by the opposition. The example below against Arsenal shows this well.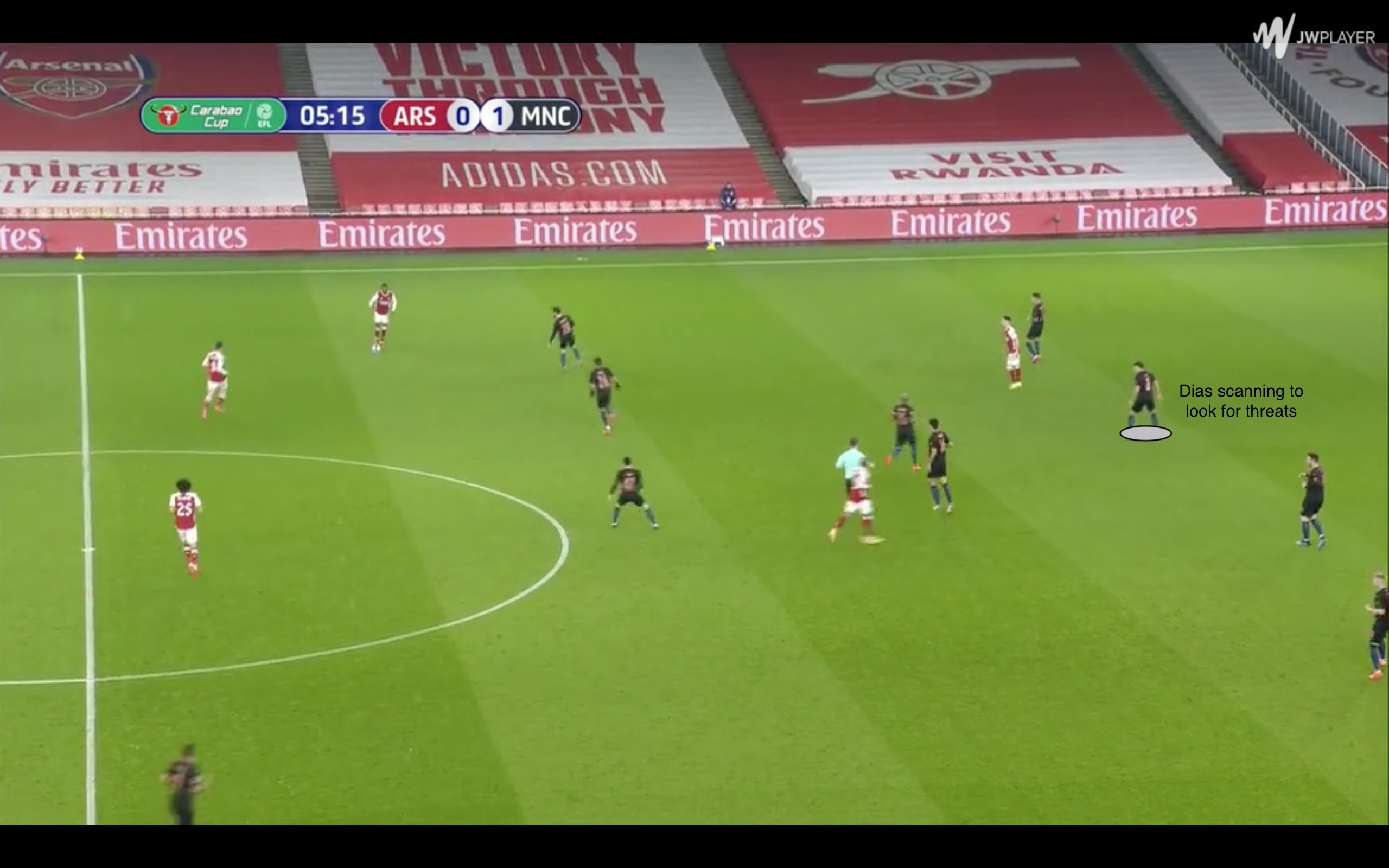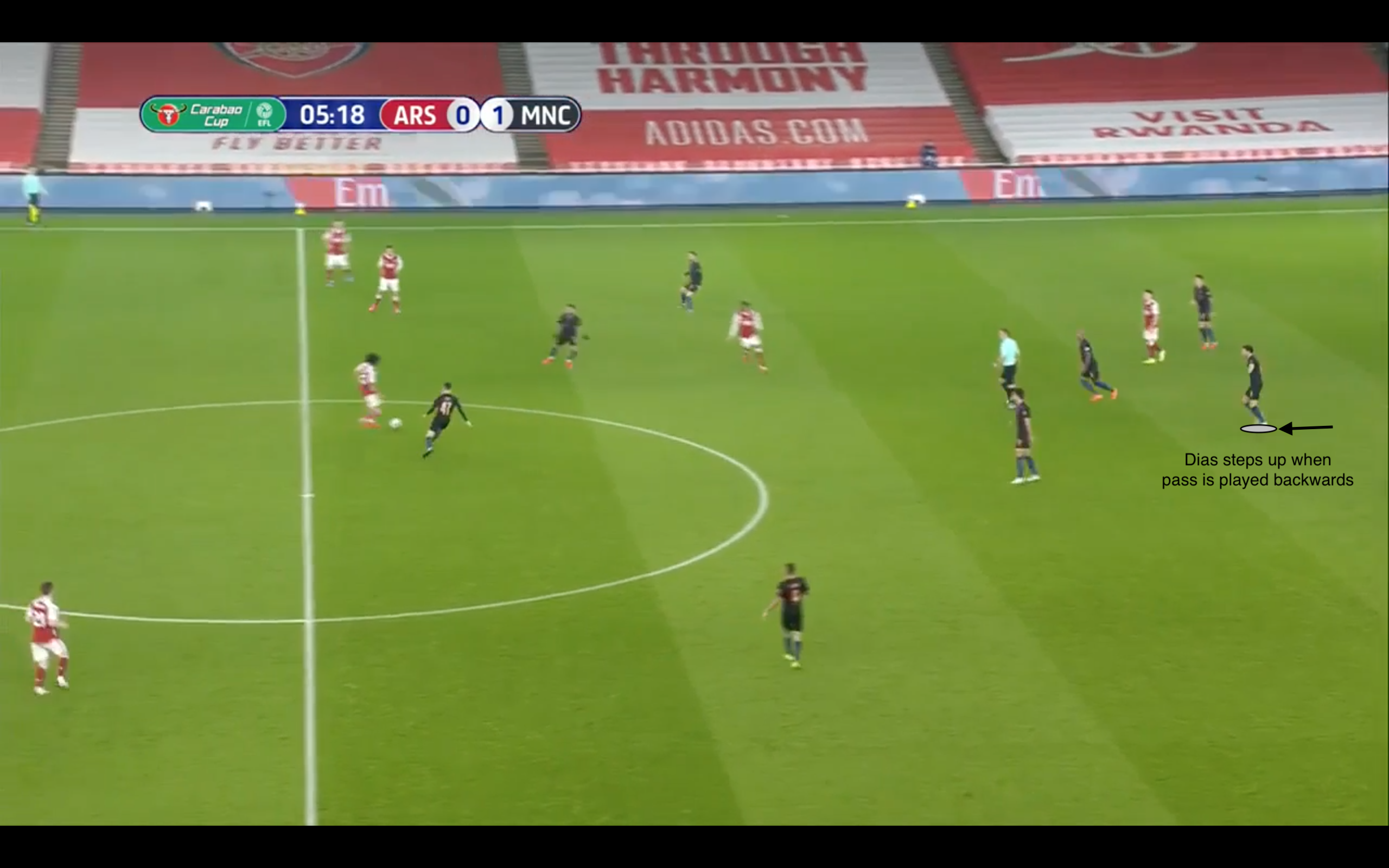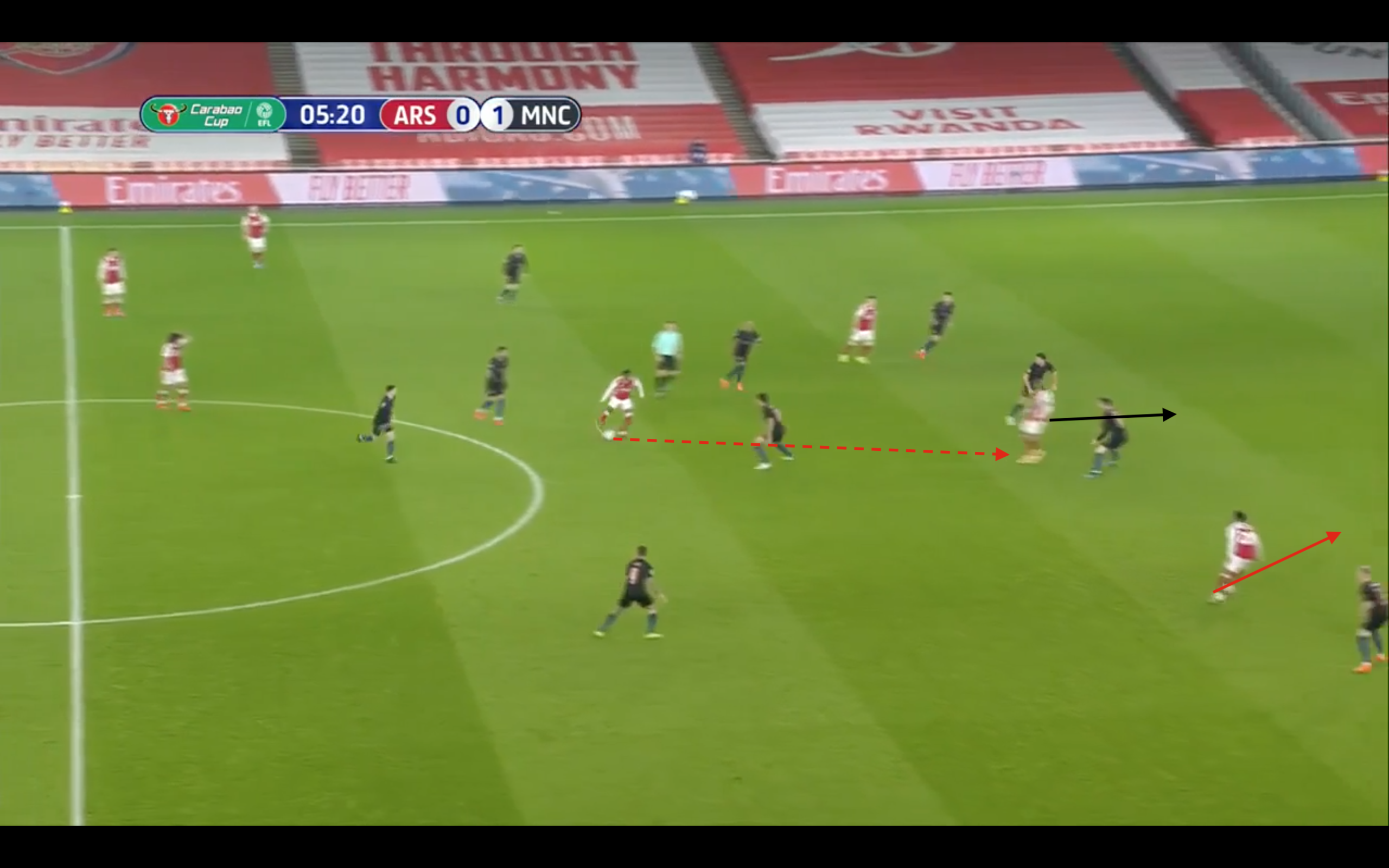 The first picture highlights how Dias is scanning to make sure where any opposition players that are threats. The second demonstrates how the defender stepped up after Ainsley Maitland-Niles pass the ball backwards to Mohamed Elneny. The ball going backwards is the trigger for Dias to step up and this pushes City's defensive line up so that they can squeeze Arsenal higher up the pitch and force a turnover.
The last image showcases Maitland-Niles receiving the ball back and breaking through City's midfield. With two Arsenal attackers on the same horizontal line as City's defensive line, Dias retreats and shapes his body sideways such that he can cover the threat of a pass in behind. 
This aggressiveness in leading the line means the 23-year-old is dictating where his teammates should be, something great leaders at the back do very well. His reaction to every negative (e.g. a pass going backwards) or positive (e.g. a pass going backwards) action from the opposition is a massive key to this. Combine this with excellent body orientation, Dias is able to deal with opposition attacking situations well before they even become a major threat.
Naturally, this style can come with minor drawbacks. The main negative is that he is always a step ahead of his teammates in defence, which can be exploited but it is very tough to do so. This example against Arsenal in the second half of the same game displays this well.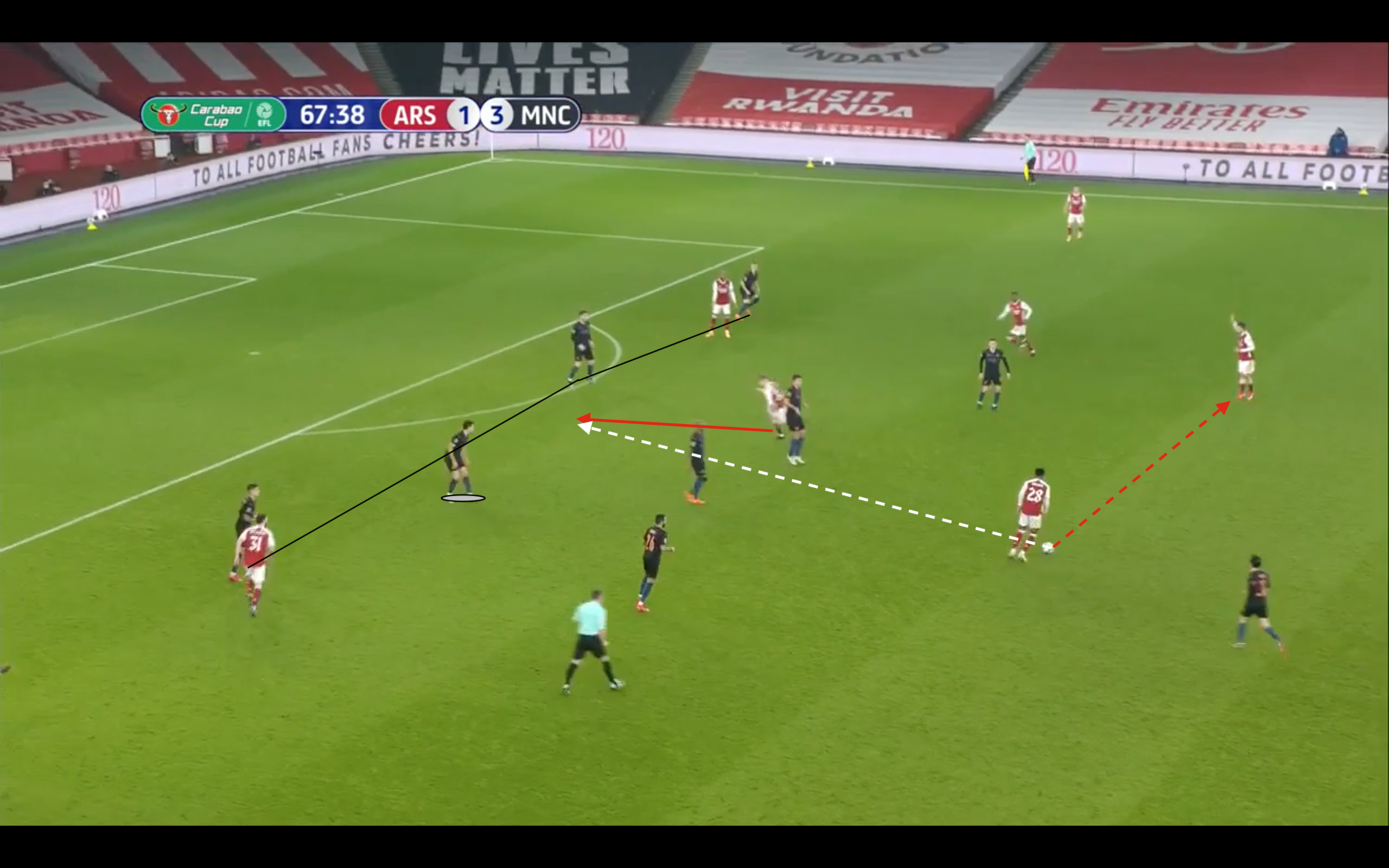 Emile Smith-Rowe plays a pass back to Joe Willock, which Dias reacts to by stepping up from the defensive line. This creates more space in between Dias and his centre-back partner Aymeric Laporte. Smith-Rowe smartly makes a run beyond the midfield line into this space before the rest of the line step up to Dias' position.
Smith-Rowe could have been played through on goal by Willock, even if the window was tight, but he didn't see the run made by his compatriot and opted to play it sideways. It should be noted that Dias recognises the threat of Smith-Rowe's run as Willock plays the pass out wide and drops back to the defensive line, a testament to his great awareness.
Passing
When playing for a Pep Guardiola team, it's imperative that you're a good passer of the ball regardless of the position on the pitch. The former Benfica man certainly has his great moments on the ball and has some qualities some of his counterparts don't have in this department.
Dias is mainly right footed but has started the majority of the fixtures at City on the left hand side with John Stones as the right centre-back. This is due to the fact that the 23-year-old is very comfortable at passing the ball with both feet, which can open up passing angles on the left hand side that would not open up for a player like Stones who's not as talented at passing on his left foot.
There are several keys to being a good passer. The first is the ability to pass in different directions, whether it's passing to a teammate on the same side as him, switching it to the opposing side or making vertical line-breaking passes. Combining his two-footedness with a very good passing range, Dias can dictate play in any direction from the back. 
This leads onto another important aspect to passing, which is anticipation. It's important for passers to know how their teammate will be able to receive the pass. The great passers in football are able to play the ball such that their teammates don't need to take an extra touch or can take the ball in their stride and this is a very undervalued trait. Dias checks this box pretty well too and below are some good examples of this.
In this example against Brighton, the centre-back plays a looping pass to left-back Oleksandr Zinchenko. The pass-by Dias is played in front of the Ukrainian in order to move the play forward but also in a way so that he can receive it onto his stronger foot. The quality and accuracy of the ball allows Zinchenko, who draws a defender close to him, to play a first time lofted pass into İlkay Gündoğan. The move results in a very good opportunity for Kevin de Bruyne where he is in a 1vs1 situation against the goalkeeper.
Similarly, against Arsenal, Dias sees Bernardo Silva drop deeper to create a passing option and the 23-year-old plays a quick vertical pass to him. The pass is played to his stronger left foot, which forces Silva to adjust his run a little bit. However, Dias forcing him to do that is a good thing for two important reasons.
The first is that it makes it easier for Silva to pass it to the right-back João Cancelo as he doesn't have to use an extra touch to control the ball. The second is that Dani Ceballos was pressing Silva very closely. Had the ball been played to his right foot, the Arsenal midfielder would have had a better chance of winning the ball back as the pass to Cancelo would have been more difficult and the passing lane to Rodri would have been virtually shut off by Ceballos' presence.
Dias is very calm on the ball too and rarely finds himself in a heap of pressure. When teams do apply high press, the centre-back can play his way out of trouble with good accuracy too. This helps City keep possession but also provides assurance to the rest of the defence that he can be trusted on the ball in tricky situations as depicted below.
That is not to say Dias is elite at passing, yet. The numbers highlight that he is extremely proficient at passing, especially in longer passes where he ranks as the 3rd best defender in long passes completed in the Premier League this season as per fbref.com. With that being said, pass completion doesn't represent value in possession but it is a decent indicator of his passing quality and ability to help the team to retain possession.
These high numbers are largely down to how Manchester City play and what they ask from their defenders but also because Dias is quite conservative on the ball compared to his counterpart Stones. Dias can step up with the ball and play riskier passes when needed but Stones is usually the player on the front foot with the ball and is the more adept passer. In the example below, we can see how the two differ when it comes to risk-taking when passing.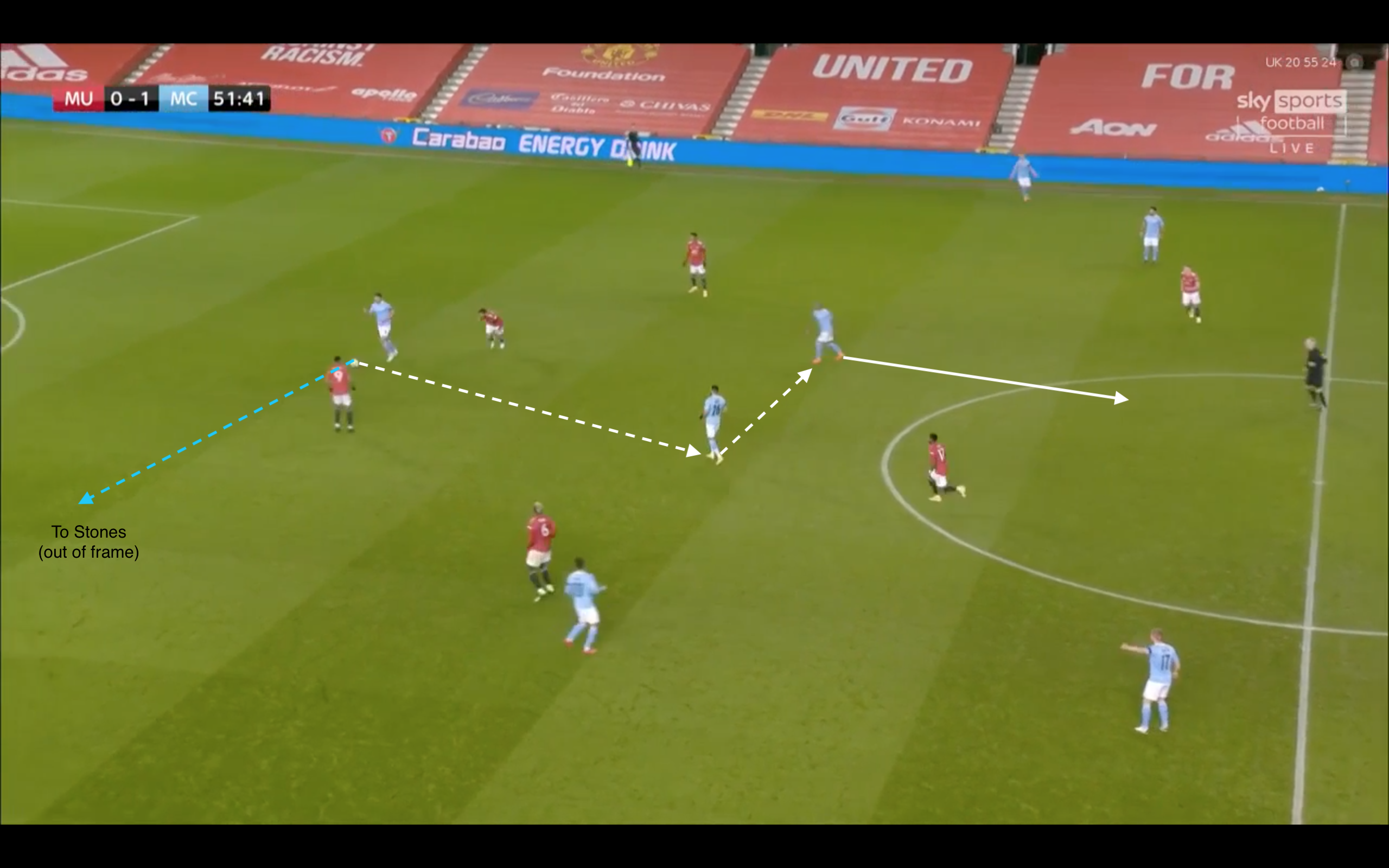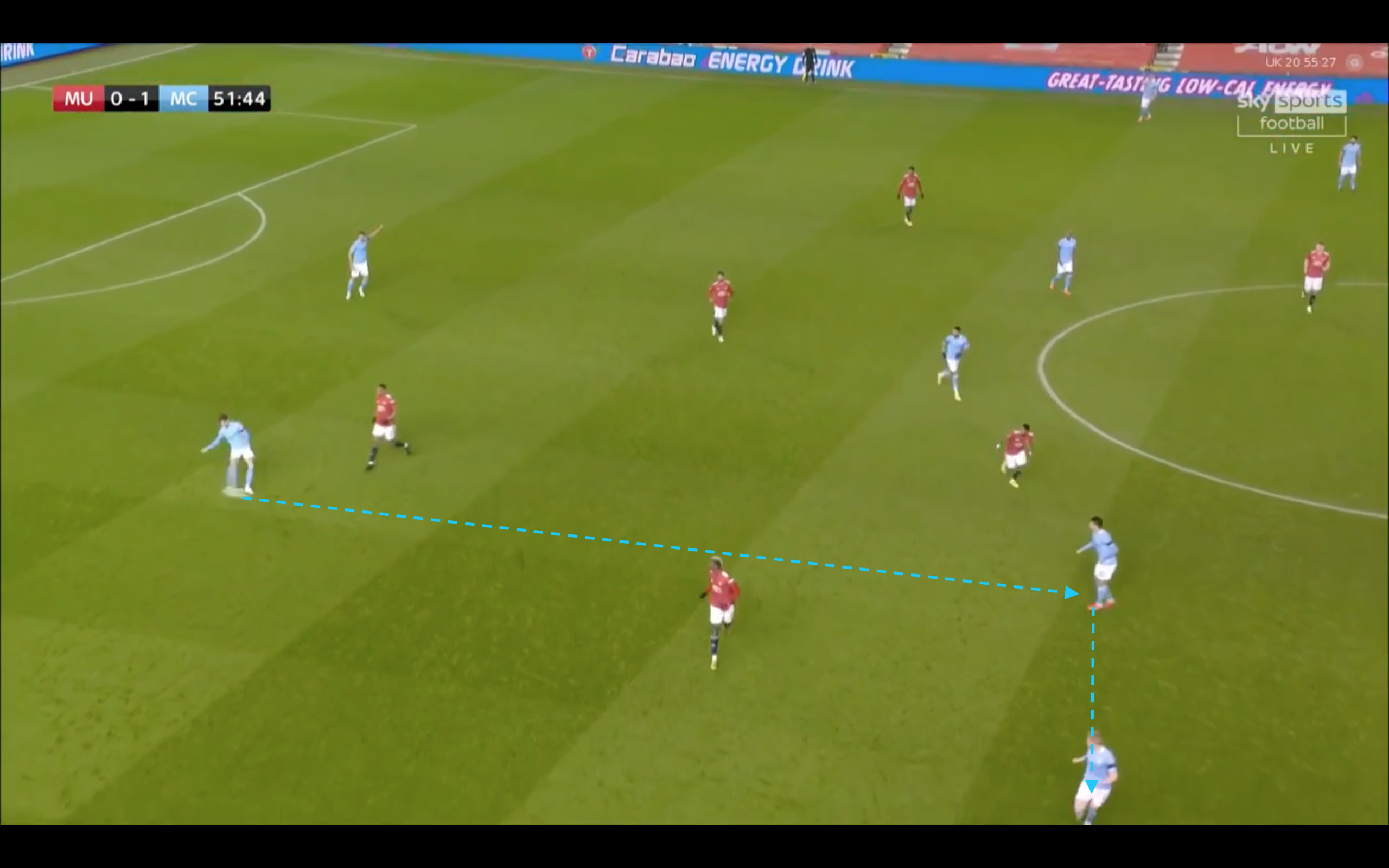 Dias has an opportunity to play a line-breaking short pass to Riyad Mahrez who comes short as a passing option. While this looks like a simple pass, Dias is not able to play passes where his body orientation isn't in line with his target albeit it being an advanced pass to master. As soon as Dias plays the ball to Stones, the Englishman is quick to play a much tougher line-breaking vertical pass that he completes.
Aerial Ability and Tackling
The 23-year-old has a relatively average frame for a centre-back, standing at 1.87m (around 6'2"), but he is still able to be dominant in the air. His 69% aerial duel win percentage is almost at an elite level but he only averages 1.84 successful aerial duels per game, which is very low compared to players who have the same or higher success rate than Dias. An important aspect of Dias' heading is that he always looks to target his teammates and can find them on a regular basis.
This makes him an important piece for City especially when Dias wins his aerial duels in the opposition half as it does two things. First, it reduces the likelihood of an attack from the opposition as teams will find it more unsuccessful to play over the top of City's press. Secondly, City are able to recycle possession and continue to suffocate the opposition.
Dias' size also helped him contest well in tackles, as he is usually bigger and stronger than opposition strikers. He's great at bodying up on players to win the ball back, albeit he doesn't do this enough, and his length makes him very adept at tackling, especially in slide tackles.
Whilst the first action is more reliant on his physical attributes, the slide tackles require fantastic timing. This is a huge asset for Dias to have because he does lack the top speed to keep up with quick players so he isn't able to make a mistake and recover as well as other top centre-backs. Many of these tackles in the video below highlight the defender's great timing as he can either anticipate a player's action or react well for a last-ditch challenge.
Pace and Power
Dias' physicality and his reluctance in using it when players have their back towards him link to his biggest weakness, which is a susceptibility to fast players and thus defending open space. City and Guardiola deserve a lot of credit for Dias' success in Manchester because they have minimalised opposition players of taking advantage of this with their midfielders doing a great job of protecting the defence and the forwards pressing well from the front.
The defender is quick to use his size against players who are backing up on him when in a mid or low block but does this less frequently in the opposition half in the fear of getting burnt and letting the opponent run into open space. Dias isn't necessarily slow or unagile as he can keep up with a lot of players and can use his size to put opponents off. However, players who are quick and have a lot of space to run into can certainly hurt him as shown below. 
In the above example against Liverpool, Jordan Henderson makes a great long pass that lands perfectly into the stride of Sadio Mané as the Reds look to counter on City. Dias is forced to mark the tricky winger on the right-hand side as part of the back three and gets exposed as Mané is able to breeze past him.
The City defender is unable to outmuscle the winger and the pair aren't close enough to the touchline where Dias could use that as a second defender, which he does very frequently when put in positions like this. Mané had an opportunity on goal but decided not to take it as the angle for a finish much tougher and both Laporte and Dias made a good recovery too. In the end, the attack still ended with a very good chance for Trent Alexander-Arnold. 
Conclusion
Rúben Dias has been a revelation for Manchester City so far and while Guardiola's system has masked over the centre-backs weaknesses, he has the required characteristics to become a cornerstone of a great defence for years to come. The Portuguese international can build on his superb base of defensive quality by improving his already great distribution and with age on his side, he can combine his leadership skills with experience to become even better. 
By: Thanoshaan Thayalan
Featured Image: @GabFoligno / Victoria Haydn – Man City