Player Analysis: Ryan Gauld
The "New Messi" moniker is increasingly a curse, not a blessing; it seems that it is no longer appreciated when diminutive pint-sized playmakers are compared to football's greatest magician. Seemingly every country has had their "Messi," Bojan Krkić, Muhamad Demirci, Ryo Miyaichi, Gai Assulin, and Marko Marin have all failed to materialise into the next Messi, without the moniker no doubt doing more harm than good for their respective careers.
In Scotland, when a young Ryan Gauld emerged with skill beyond his years and a slight frame, those in the media could not help themselves but compare the Dundee Utd midfielder with the Barcelona legend. According to his once-teammate and long-time friend, Jordan Moore, Gauld had always stood out:  "Ryan was always a stand out at every age group. Technically miles ahead of everyone else, he physically was small and slight but worked very hard and held his own."
December 2013 saw the first of many top-level managers flock to Dundee, David Moyes headed up north, he "personally" scouting the then teen whilst Man Utd Manager. During his time in Dundee, Gauld was courted by various European super clubs, with Spurs, Roma, Real Madrid, and Liverpool repeatedly subject to headline stories in Scotland and beyond. In an unheralded Dundee Utd team that featured modern-day superstar Andrew Robertson and cult figures: Gary Mackay-Steven and Nadir Ciftci, Gauld featured extensively, performing at a level that merited attention regardless of his tender age.
Trent Alexander-Arnold and Andrew Robertson: The Deadliest Full Back Duo in Football
Gauld left Scotland with his stock akin to a protruding sky-scraper found in metropolitan hubs across the globe. With a nomination for the PFA Scotland Young Player of the Year, cup final experience, and exposure to the highs and lows of media-manufactured hype, Gauld was prepared to leave to pastures new. To the surprise of many, Gauld avoided the well-trodden path to England, preferring to head to the Iberian peninsula, with the bright lights of Estádio José Alvalade attracting the young Scotsman.
There were no doubts regarding the reputation and clout of the "Academia Sporting" with the likes of João Moutinho, Nani, Cristiano Ronaldo, Luís Figo, and Ricardo Quaresma coming through its gates; however, some concern was born out of the potential cultural and language barrier that faced Gauld, who had previously only lived in Scotland. Prior to even kicking a ball in Portugal, the expectations were set, a €60 million release clause inserted into his contract, perhaps merely Sporting airing on caution, or maybe the Gauld-hype train penetrating at the board-room level.
During his initial two years in Lisbon, Gauld featured extensively for Sporting B. Whilst based at Sporting, Gauld went on a series of loans with varying success; domestically, he was loaned to Vitoria de Setubal, CD Aves, and Farense, whilst a homecoming was on order in 2019 when he was sent to Hibernian. Gauld said goodbye to the green and white of Sporting, joining his once temporary suitors SC Farense, permanently, on a two-year contract lasting until the summer of 2021, with a €4 million release clause.
Whilst in the Algarve, Gauld has had the perfect stay reminiscent of the region's pristine light blue waters. His time at Farense started in the LigaPro, and luckily this stay in the labyrinth of Portuguese football lasted only one year, with Farense being promoted to the Primera in a covid-curtailed season with Gauld himself picking up the leagues player of the season award. Many tipped lowly Farense to enjoy a short spell in the Primera, unable to compete with the likes of Boavista and Tondela, let alone his former employers and the other giants of Porto and Lisbon.
It doesn't seem that Gauld got that memo, with the Scotsman being effectively the only thing that separates Farense and the doldrums of the relegation places. Moore saw Farense as the perfect situation for Gauld, a move where "he could play week in and week out". At current, Farense is perked precariously above the relegation spots. Whilst Gauld's club is fighting for their survival, he has thrived, throwing his hat in the conversation as the best player outside Portugal's traditional big four, with WyScout going as far as to rank him the best Attacking Midfielder in Liga NOS.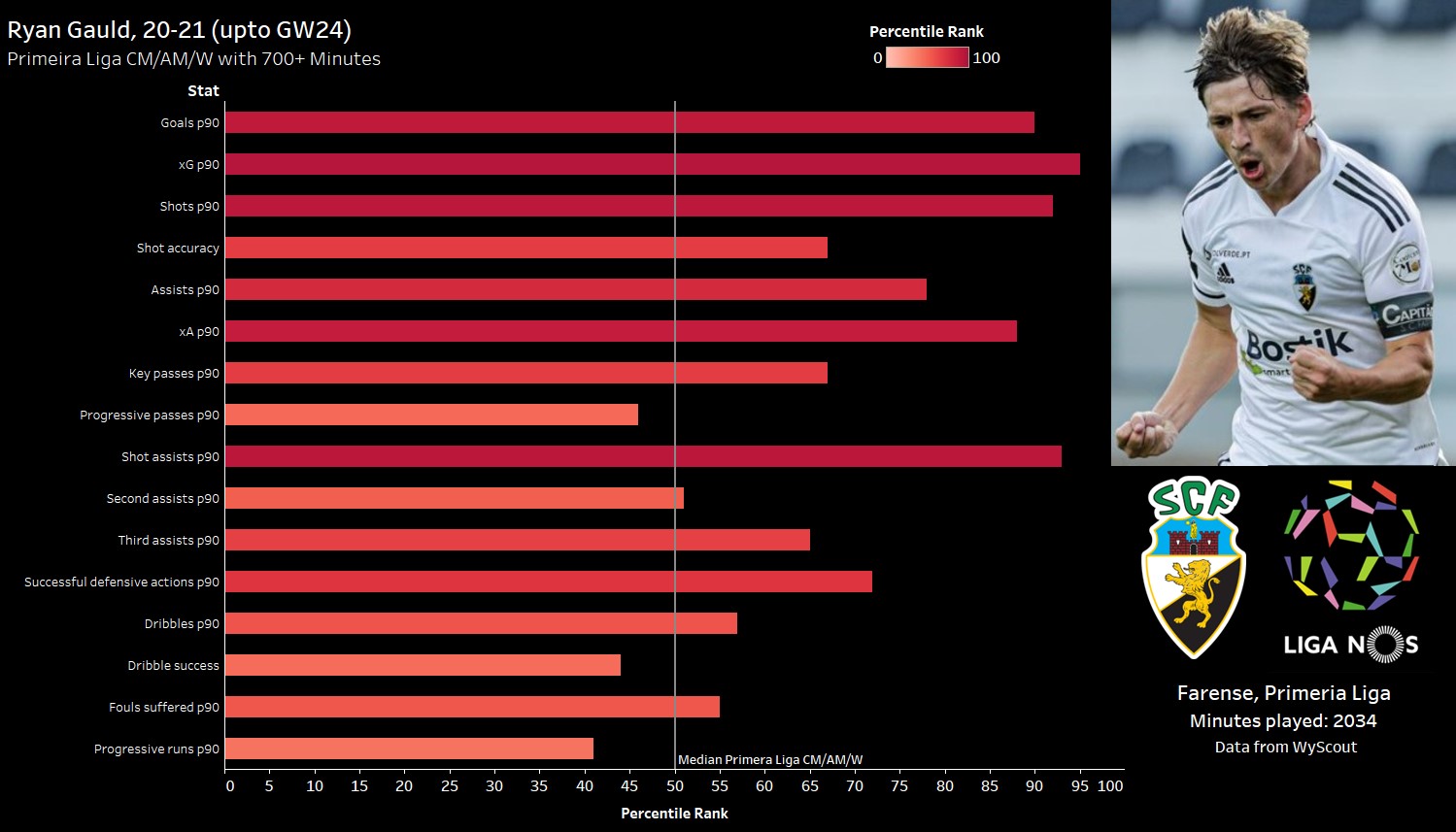 Positioning 
Akin to many of the game's greats, Gauld cannot necessarily be pigeonholed into a specific area of the pitch, let alone a position. Whilst playing for Farense, Gauld has played two main roles: Left-mid in a 4-4-2 or centrally behind the striker in a 4-4-1-1 / 4-2-3-1.
However, even then, it would be rare for Gauld to stick strictly to a single area of the pitch, as evidenced by his SofaScore heat map for this season. Gauld is given complete creative freedom and allowed to drift in and out of any area on the pitch. Most often, his best work is done on the left side of the pitch, whether it be from the onset of the match as Farense's wide ten or merely just as a result of the tendency to drift whilst behind the striker.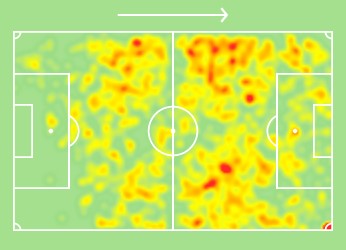 Photo: SofaScore
Despite primarily influencing affairs in the opposition's half, Gauld often drops back to pick up the ball; his gravity stretches opposition, allowing his forwards to put in low-key attacking runs. Gauld also has a proclivity to inhabit space in the opposition corners, this allowing for the perfect platform for his triple threat of skills: dribbling, passing, or shooting.
When out of possession, Gauld's position is relatively rigid and structured, expected to drop into either a bank of four or five depending on the system, and required to apply pressure to opposing defences with his pressing. Gauld is not plagued like many other creative maestros with a certain arrogance that borders on laziness; he is more than willing to track back and duel with the opposition in his half.
Defensive Contribution
Despite his size and flair, Gauld is a willing defender, and though his physical stature may make him appear the underdog in any duel, his determination and stamina assist him in this facet. The nature of playing for Farense is that more often than not, the other team will enjoy long swathes of possession.
Many advanced players would see it as little more than an exercise in patience and dealing with frustration and activity that others in the 11 have to deal with. This does not apply to Gauld, who is active defensively. He strategically manages his output to ensure that he has the energy when in possession. Though only 1.68m, Gauld does not pull out of duels; instead, he fully engages, perhaps not always successful, however consistently a nuisance.
His strength often takes the opposition by surprise; this is seen in the photo below to the left, where Gauld from the blind-side outmuscles the shielding Boavista midfielder despite the size difference, eventually regaining possession. Gauld is no N'Golo Kanté, however, his willingness to engage in the dirty/defensive side of the game is an indication of work-rate and attitude.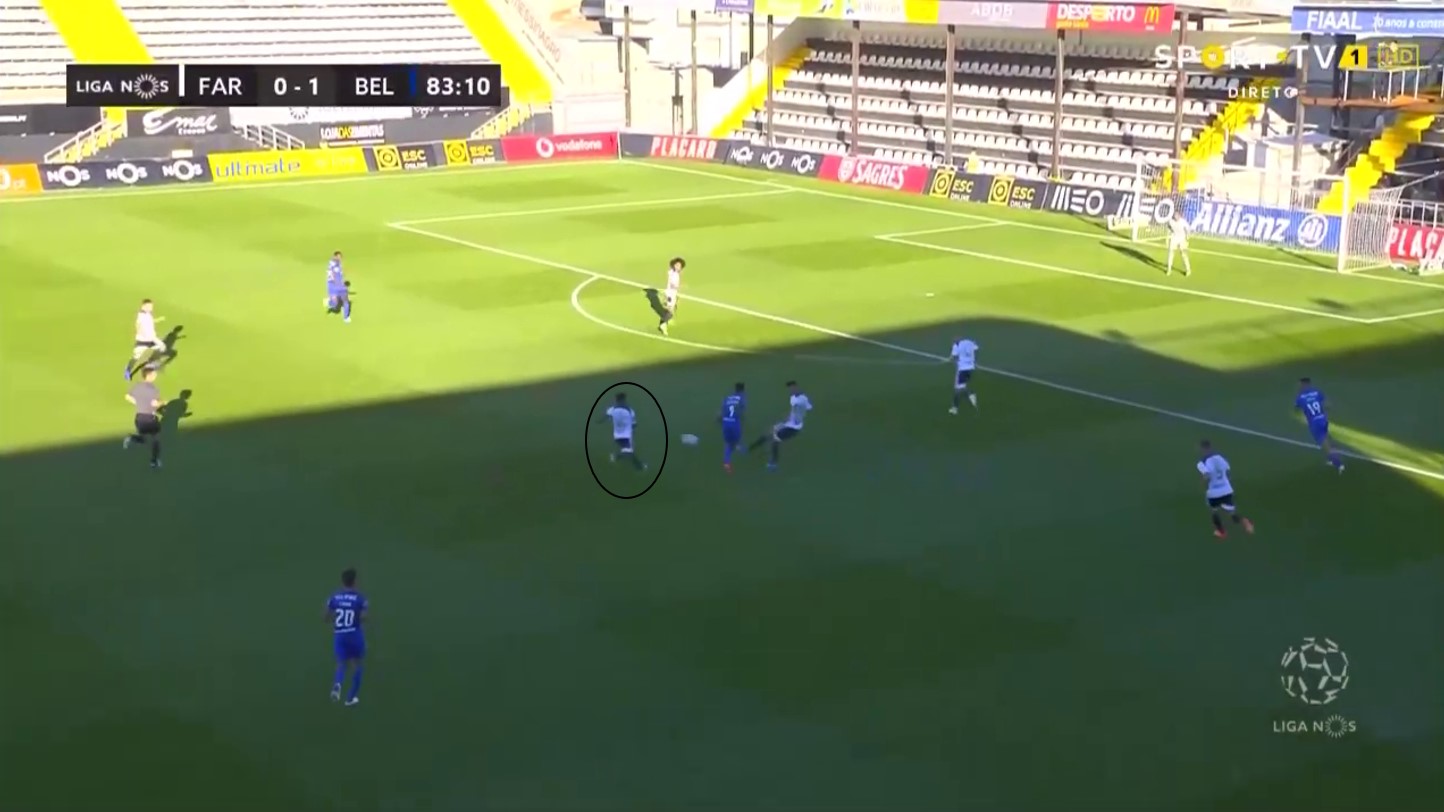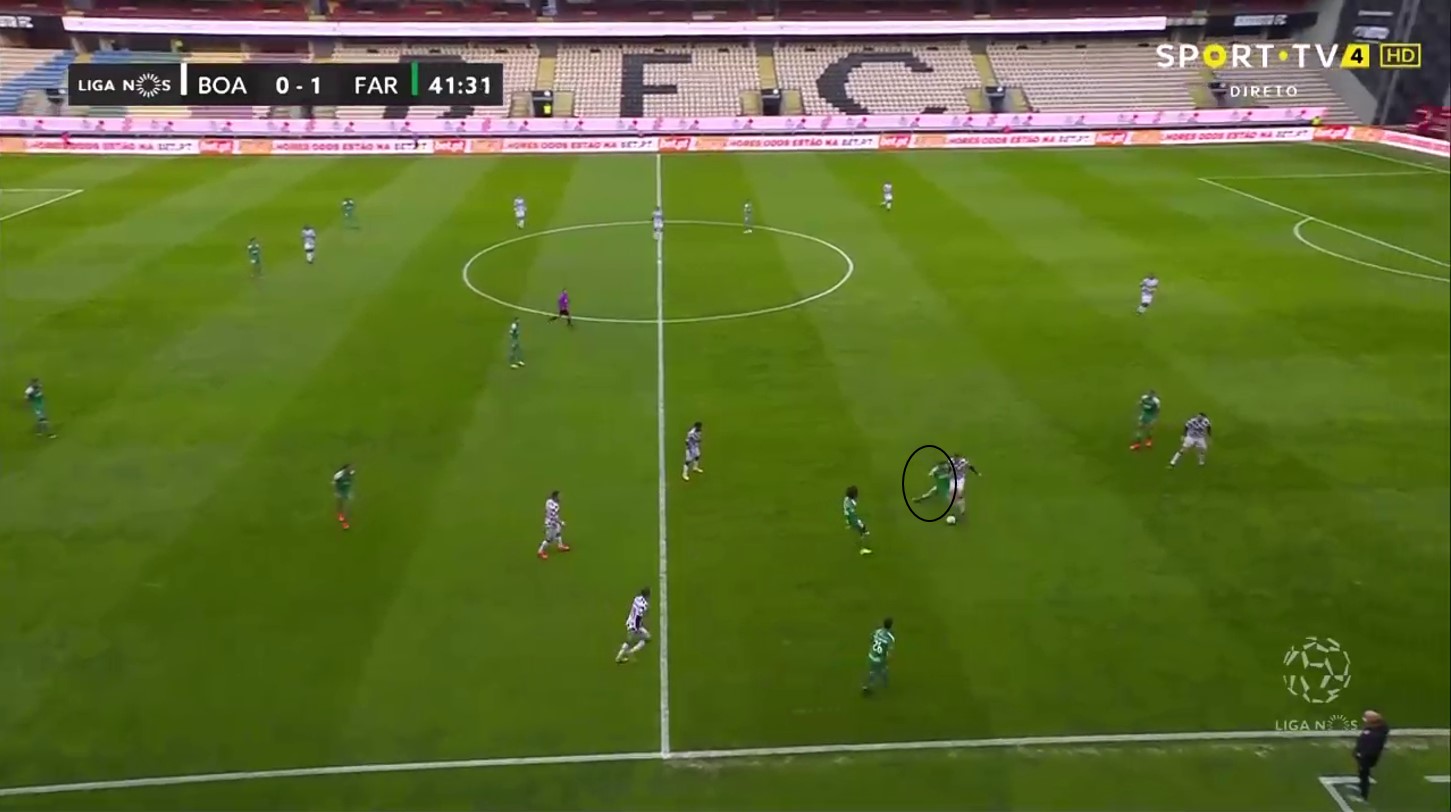 In terms of the tracking of runners and filling space defensively, Gauld is active. Despite being found up in the park for most of the 90, Gauld makes a conscious effort to run back, even if it appears to be a thankless task. He doesn't necessarily have to be involved in a duel to make his presence known; his pace means that he can cover ground quickly.
This was put to good use in the first photo, where his presence, despite not encroaching on the player, was enough to shepherd the Belenenses forward towards his centre-back, assisting in culling an opposition attack. Gauld's out-of-possession contributions are ultimately not a cornerstone of his game but rather a practical and crucial supporting skill that his teammates are undeniably appreciative of.
Open Play Chance Creation
Gauld's modus operandi is chance creation and putting teammates in advantageous and promising positions. Despite playing for Farense, who sit 15th in the table and score less than a goal per game, Gauld still shows his remarkable talent of manufacturing chances. On a statistical level, there are no other words to describe Gauld other than an anomaly. He ranks above average for all major passing categories besides progressive passes p90, when compared to his positional peers in the Primeira Liga.
His xA p90 of 0.19 ranks him in the 88th percentile; however, Gauld's creativity goes further than setting up goalscoring chances, as much of his best work is squandered by the Farense forwards. The true mark of Gauld's ingenuity is his Key passes p90 and Shot assists p90, which both rank in the top third, at 0.41 and 1.64 p90. Putting up these numbers in a team devoid of really any creativity besides Gauld is impressive and begs the question of how he would fair with proven finishers around him.
The Scottish attacking midfielder creates these chances from all over the pitch, whether in the middle or final third, on either wing, in transition, or up against a set pack of defenders. One of Gauld's more fruitful areas is whilst in transition on either wing or centrally. He often utilises multiple runners for a single pass, playing the pass and allowing the runners to decide who is better placed to pick up the ball.
This is especially effective whilst on the left-wing, where an overlapping full-back and a forward are often found in front of Gauld with space to run. Gauld's left foot means that he can use the pitch's full width and can easily angle passes towards the goal with the inside of his foot. In the below image against Leixões S.C., we get a clear example of this.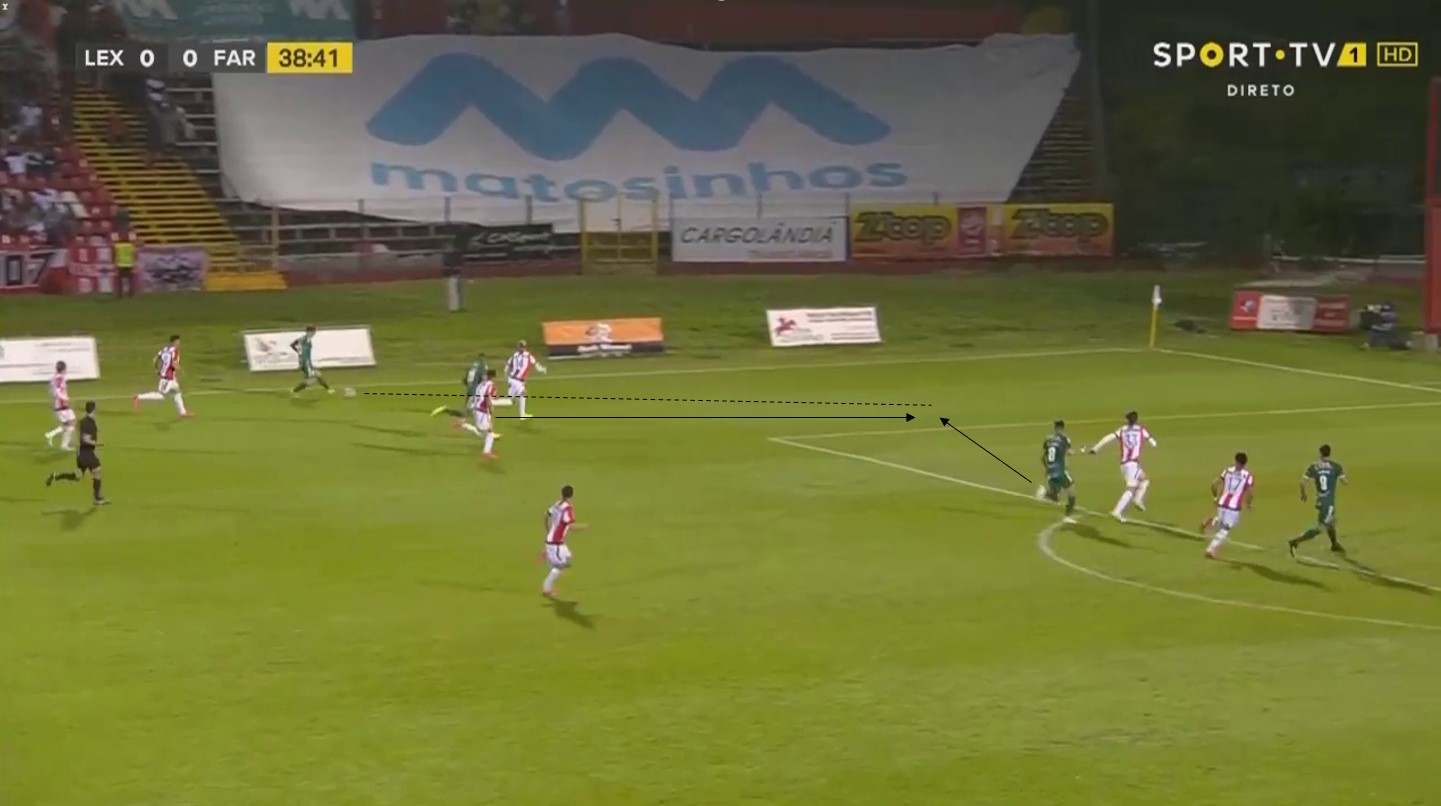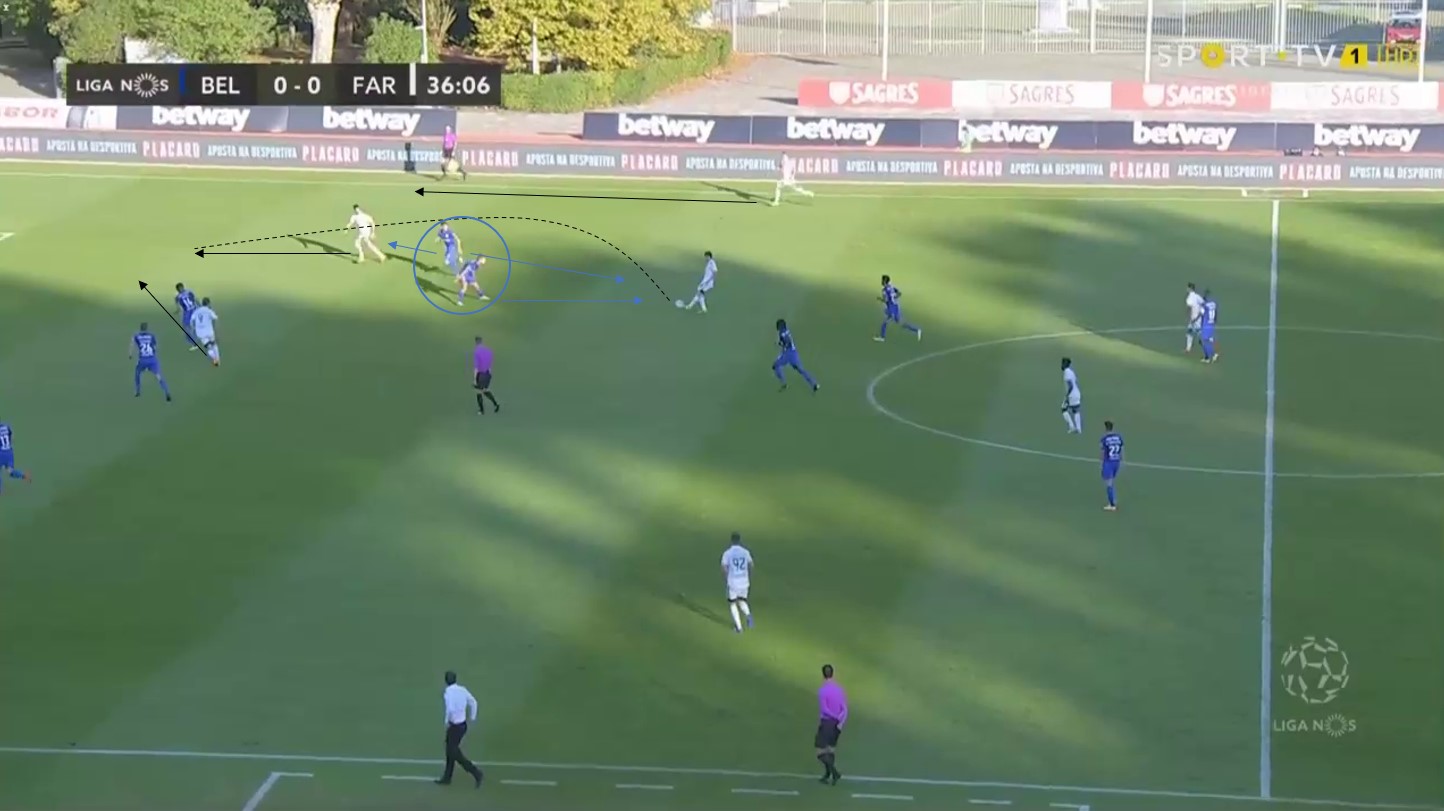 Whilst playing against Leixões S.C last season, Gauld feeds a ball into a corridor of uncertainty just outside the opposition box; the pace and placement of the ball mean that both runners are engaged, dragging their markers out of the box and leaving space for the striker to operate in.
This is not exclusive to his strong left side; Gauld is equally effective on the right during the transition. In a similar setup against Belenenses, Gauld has his right back and two forwards in relative space, darting forward. The opposition plays into Gauld with both defenders sucked into his gravitational field. He plays a chipped ball akin to a sand shot in golf over the two defenders, resulting in the defenders fighting a losing battle against the overloaded three on the right for Farense.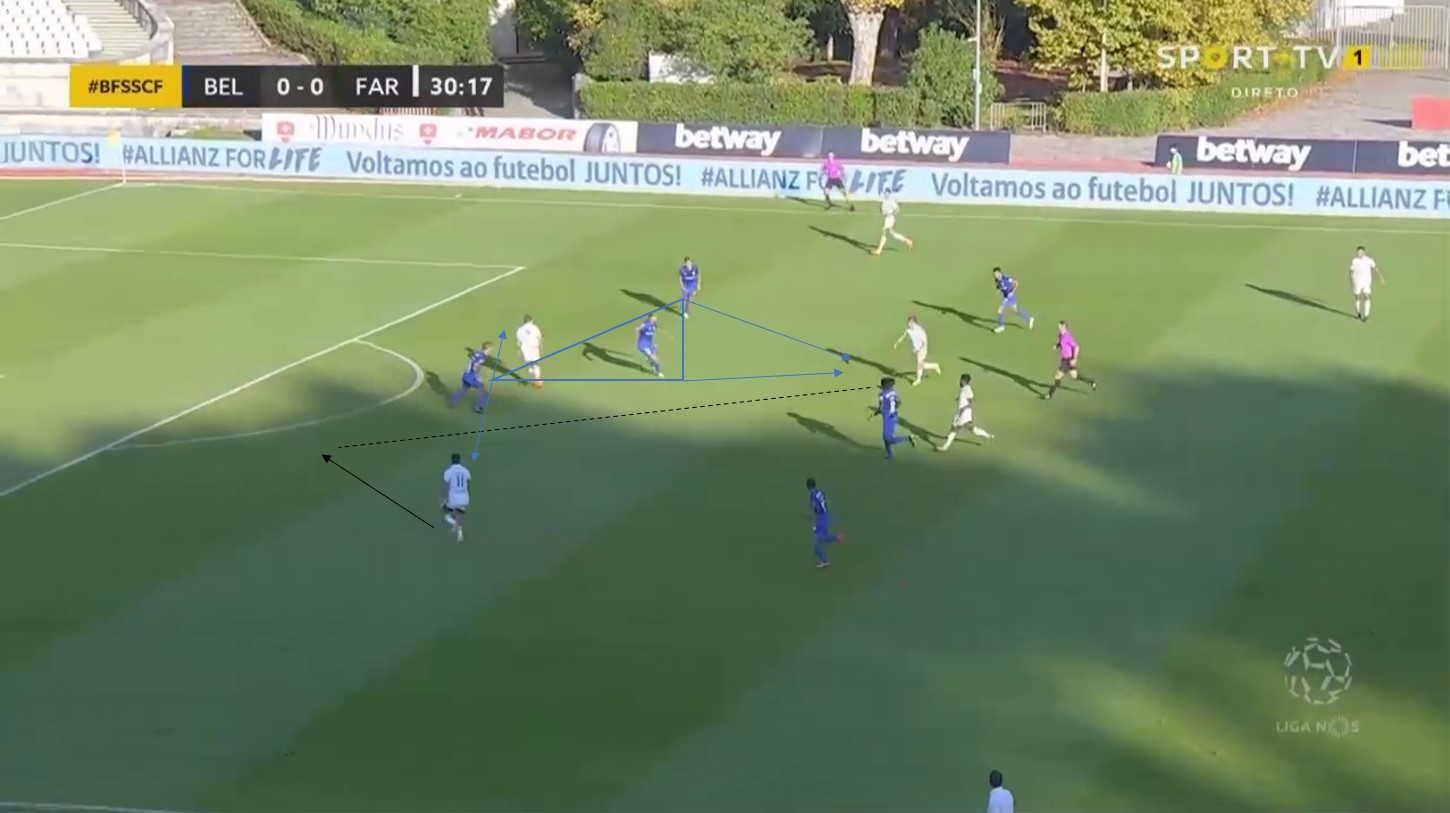 The centre of the pitch is perhaps where Gauld does his best work or at least is where he is most versatile. With both wings to aim at and the whole backline engaged, he is able to pick any pass he wants with success, more than likely following. Gauld often drifts in centrally from a starting position on the right, where he can use the inside of his left foot. In the same tie against Belenenses, Gauld in the photo below first pulls out the left centre-back and left-back.
The right-back attempts to cover by coming central to cover the striker, which gives Farense's left-winger acres of space to manoeuvre in and for Gauld to find him. A simple straight-line dribble is that Gauld needs to disrupt a back four; his gravity undoubtedly the critical attribute. Though his best work is done with his left, Gauld's right foot is useable. Despite this, perhaps for entertainment reasons or pragmatism Gauld often defers to the outside of his left boot instead of his right, as he is often seen doing a trivela pass.
Gauld's propensity to do his best work on the counter may be a by-product of Farense's style and lack of possession; however, there is little doubt of Gauld's ability in a side that dominates possession. It is rare for Farense to have extended periods of control; when they do, he is central to recycling possession and breaking the lines. Gauld has fantastic vision, something that cannot be taught to the level that he exudes.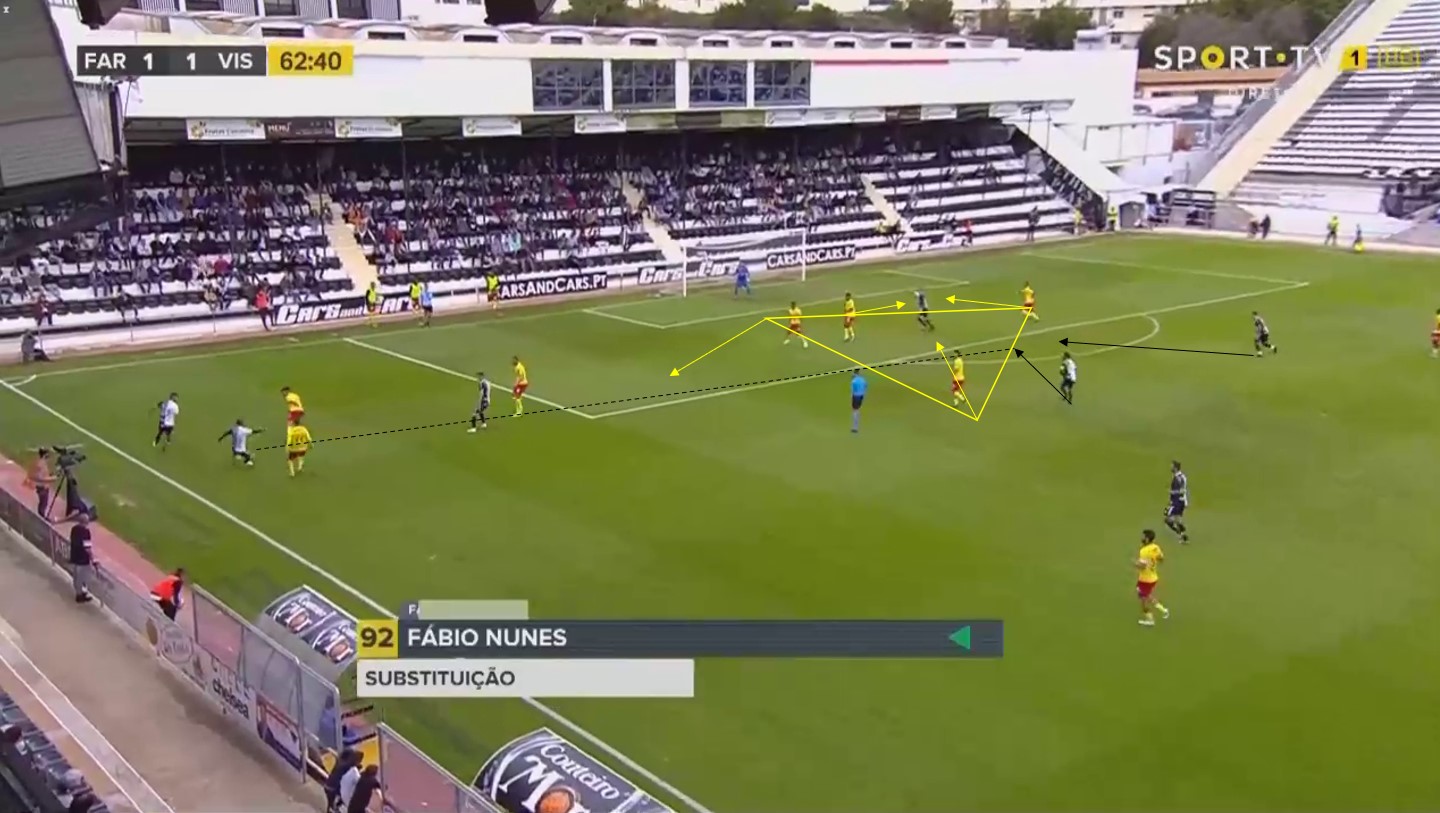 This is exemplified in the photo above. What faces Gauld is a packed box and a host of teammates and opposition players on the left-wing. The three defenders in the box focus on the striker in the box, with the left-most also paying attention to the Farense attacker on the box's left edge.
The defender on the edge of the box fails to acknowledge the two Farense players behind him; Gauld notes this and fires a drilled ball right into the defense for the two to run onto, which materialises into an open shooting chance on the edge of the box. Gauld's presence of mind and ability to process his surroundings is elite; safe to say, few would identify the ball, let alone play it to a tee.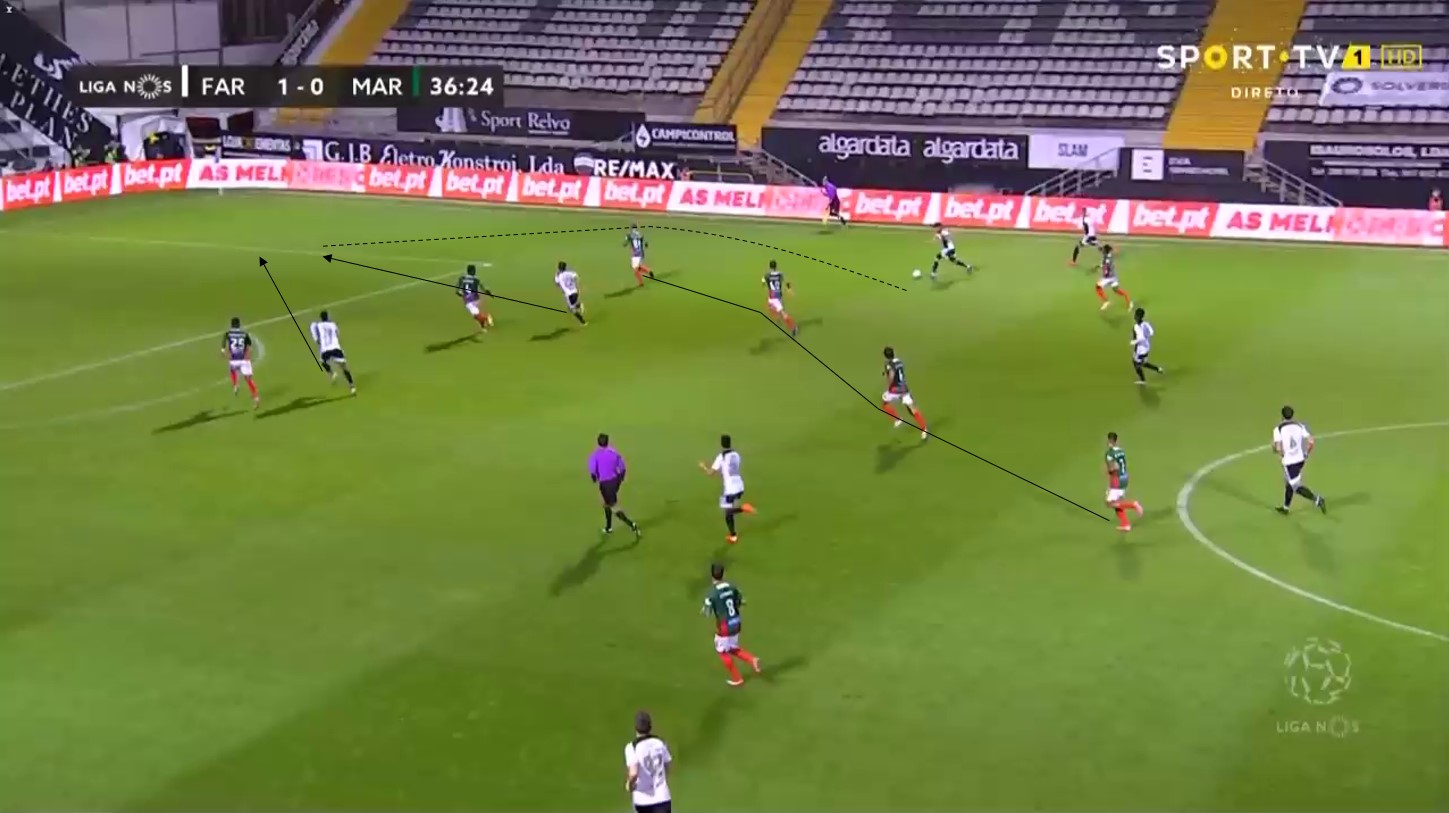 Gauld's aforementioned tendency to utilise the trivela is shown in the photo above taken from a league game against Marítimo. This time the trick is utilised a well-stocked back for and supporting midfield. Gauld realises the wall of four to his left, which starts from the left-back, so the switch is improbable. He has two willing runners, both onside and angled towards the right-wing.
Opposed to using his weak foot, which he is more than capable of, perhaps to catch the defenders off guard or maybe the most appropriate weapon in his arsenal, Gauld trivela-chips the ball into the path of the two runners. The impressive pass now opens up a series of opportunities for Farense, with the late run of the Farense midfielder next to the ref seemingly unnoticed as attention is all on Gauld, leading to a real scoring opportunity and a potential third assist for the Scot, this a prime example of Gauld's intelligence.
All it took was a single well-placed ball to break down a settled backline and, in turn, creating a chance out of seemingly nothing for Farense. Whether it be for Farense, Scotland, or potentially a bigger club come this summer, Gauld will create if given the time and the ball.
Dead Ball Threat
Behind a dead ball is a comfortable position for Gauld, but the opposition cannot say the same. Most of his time is spent adjacent to the right corner flag, whipping in enticing balls into the box for those so inclined to flirt with. He does possess various delivery options; however, Gauld's whipped balls to the centre of the box seem the most fruitful for Farense.
A slight curl often renders the opposition unsure whether to stick or twist, leaving a real air of uncertainty that Farense can pounce upon. This is seen in the photo below, where Gauld whips in a perfectly weighted corner which is met and eventually scored. Gauld's time spent whipping in corners from the right side is even visible on his heat map.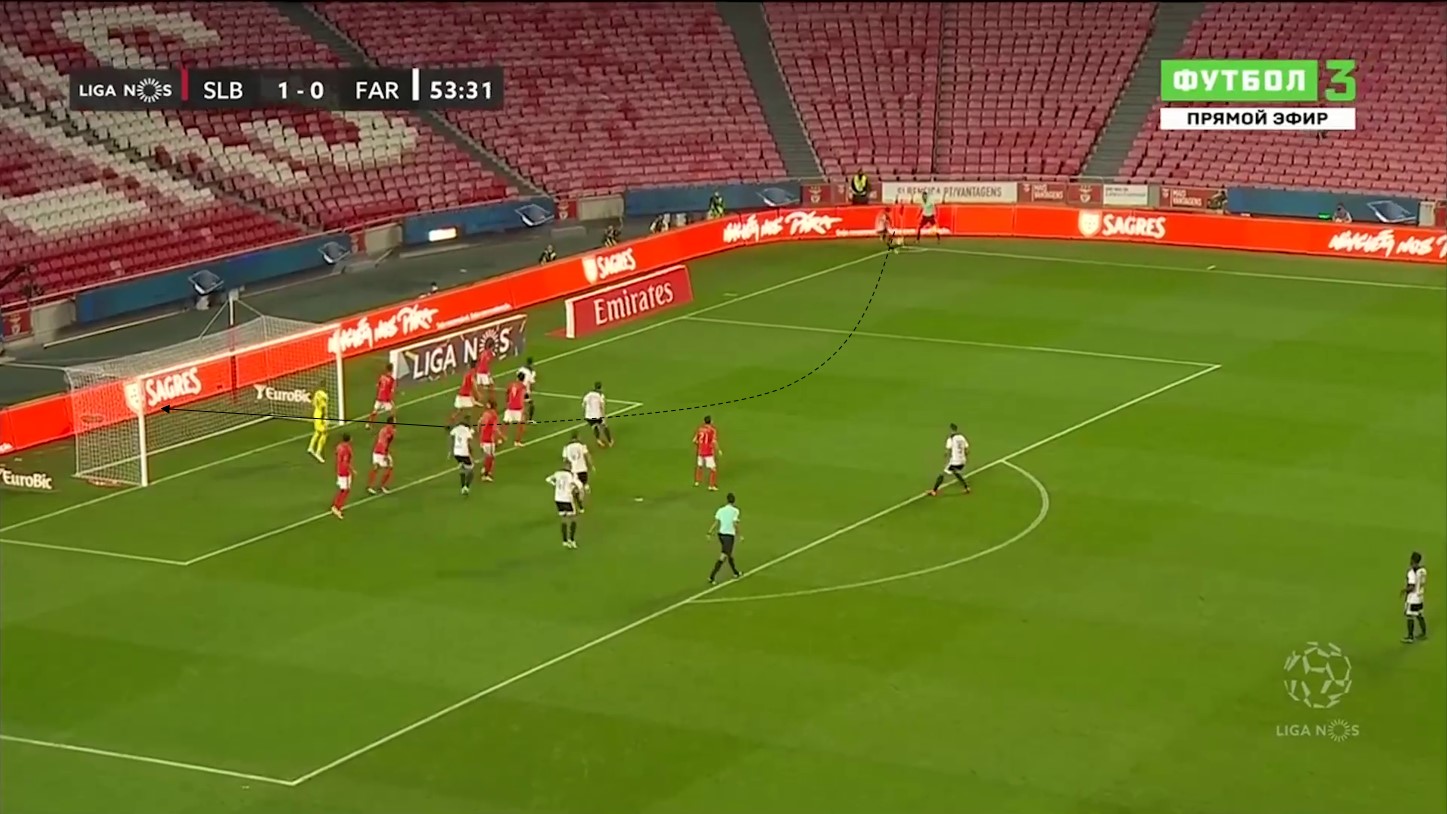 Within shooting range, Gauld is an option. He has yet to make a stake to be considered a dead ball specialist; however, he does possess the intangibles to score directly from free kicks. He may not be Farense's go-to free kick taker, but he is their penalty-man. Gauld tucks away penalties at a reasonable rate with a pick of precision or power with an accuracy characteristic of his passing.
It is unlikely that in a team technically superior to Farense, Gauld would likely not be afforded many opportunities to strike dead-balls. However, he would be a valuable option at any level, especially at corners, partly due to his prowess but mainly due to his stature.
Dribbling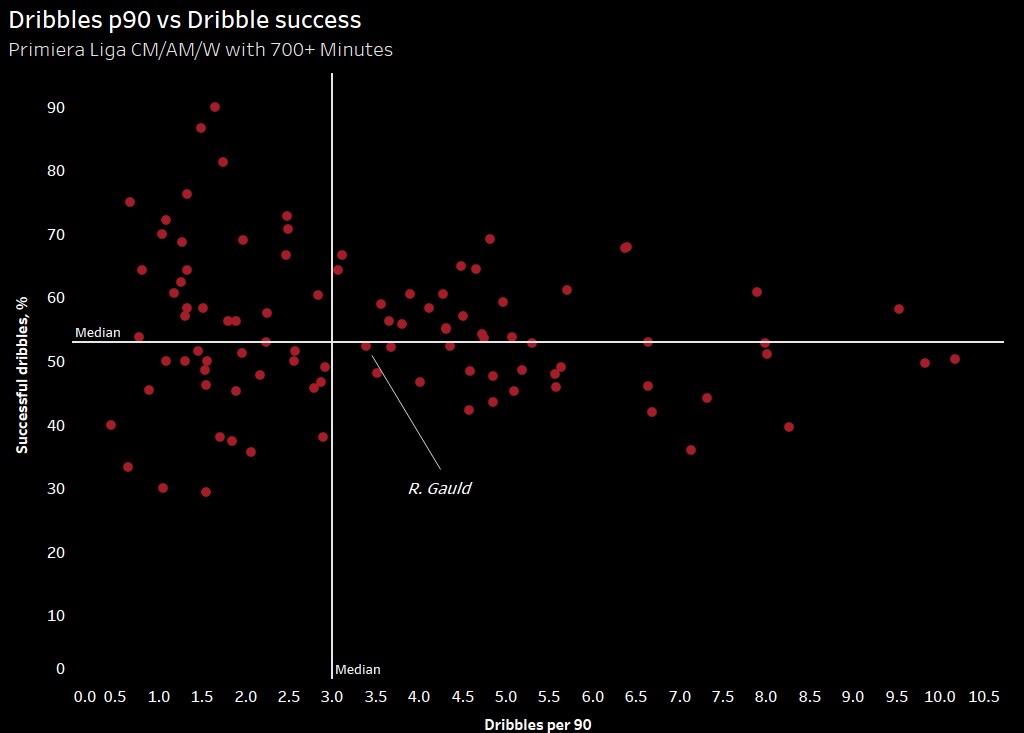 Gauld's maturity technique extends to his dribbling. His control over the ball is reminiscent of a controlling mother, as he mixes his polished touch and body to make sure the ball remains within his sight. Often left to take on multiple defenders by himself, Gauld does not lack ambition, often taking on the challenge with a full head of steam.
He is a skillful player; however, he isn't the type that needs to remind everyone every few minutes with an unnecessary ball-roll or stepover. When it comes to progressing with the ball at his feet, the order is substance over style; however, it would be wrong to say that he is not aesthetically pleasing or prone to a trick or two.
His low centre of gravity allows him to keep the ball despite when overmatched physically. He has good pace but is not blistering; however, he is not much slower with the ball at his feet than when out of possession. Gauld can manoeuvre in claustrophobic spaces as his tight touch keeps him in good stead. A mix of his excellent dribbling and decent pace makes it seem that if a step-up were to occur, Gauld could be best utilised centrally as demands regarding his speed would be fewer and ultimately be less detrimental.
Finishing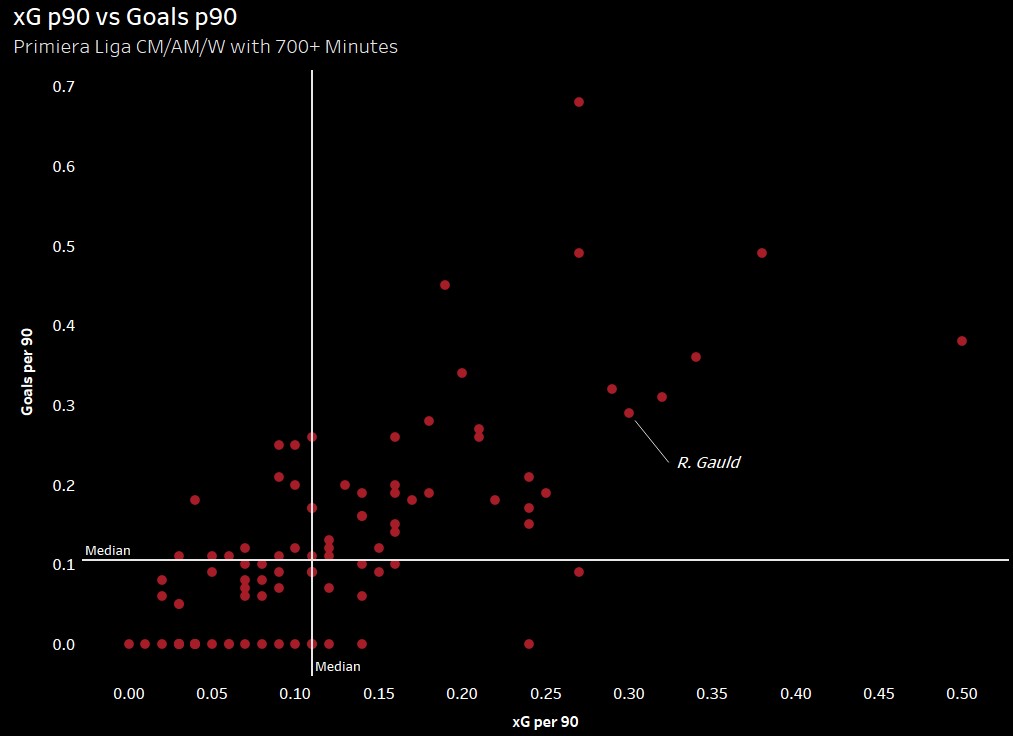 Gauld's arsenal of cute and clever finishing is one of a few factors that distinguish him and his positional peers. He will not score 20 goals a season or finish every chance that falls in front of him; however, he does provide a steady stream of goals from the midfield. Like many midfield orchestrators, Gauld's finishes are reminiscent of his passing range: utilising the inside foot and placed.
There is a thematic trend in the set-up of many of his goals, that being a late run that places him just inside the box relatively open. This describes Gauld's location before his goal in the photo below. A wide-open Gauld calls for a cutback, takes it first time, and the ball ending up in the net.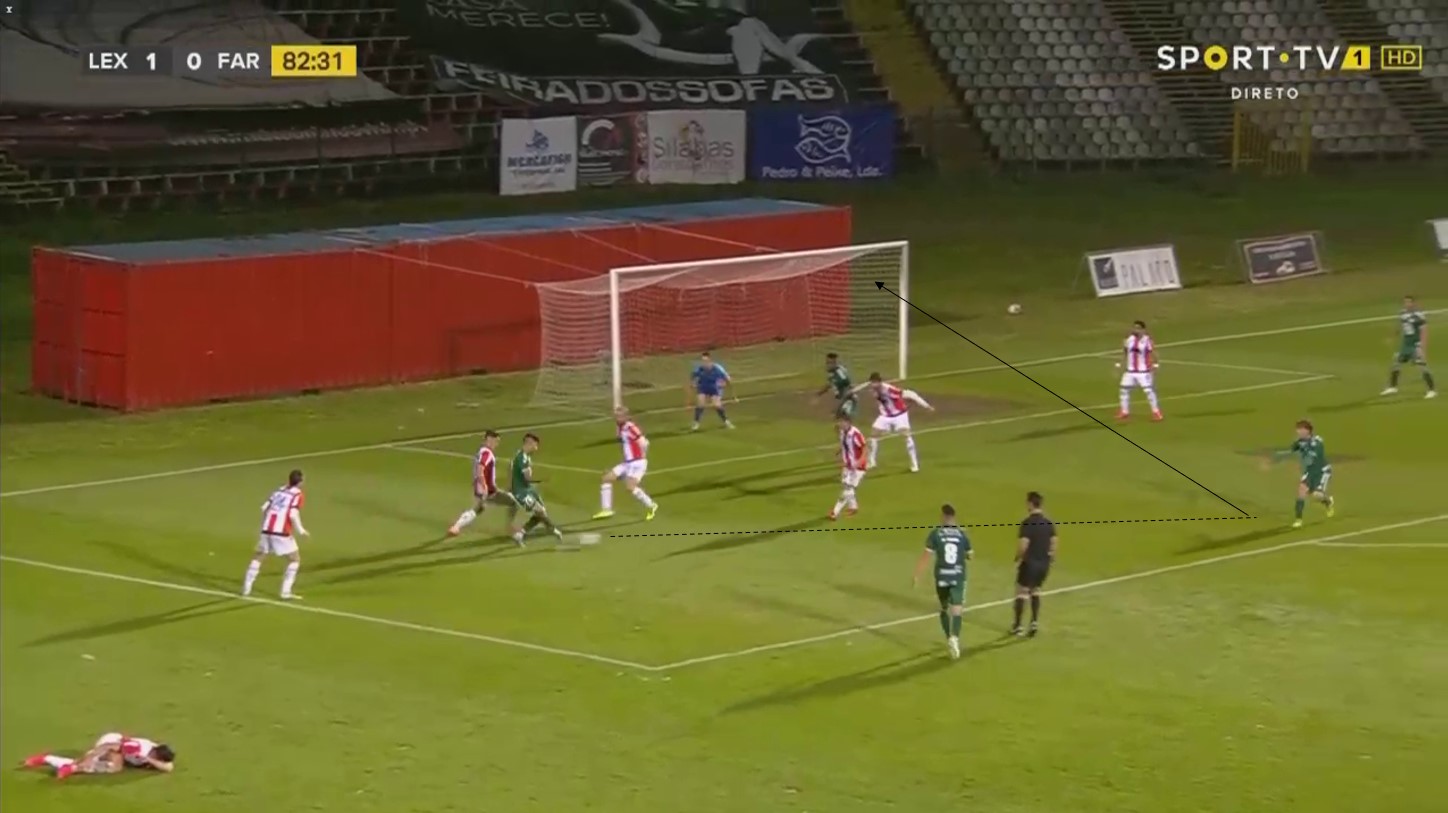 When Gauld is not found with the cutback, he remains engaged in the play, ready to pounce on a loose ball. His acceleration serves him well in these situations, as he is often the first to reach the ball, ultimately the one lucky enough to have the first bite of the apple.
His control and his deadeye nature make it so that Gauld requires merely a touch to calibrate and then tucks it away. The picture below shows this, Gauld rushes into a hectic box and slots it home with a first-time finish.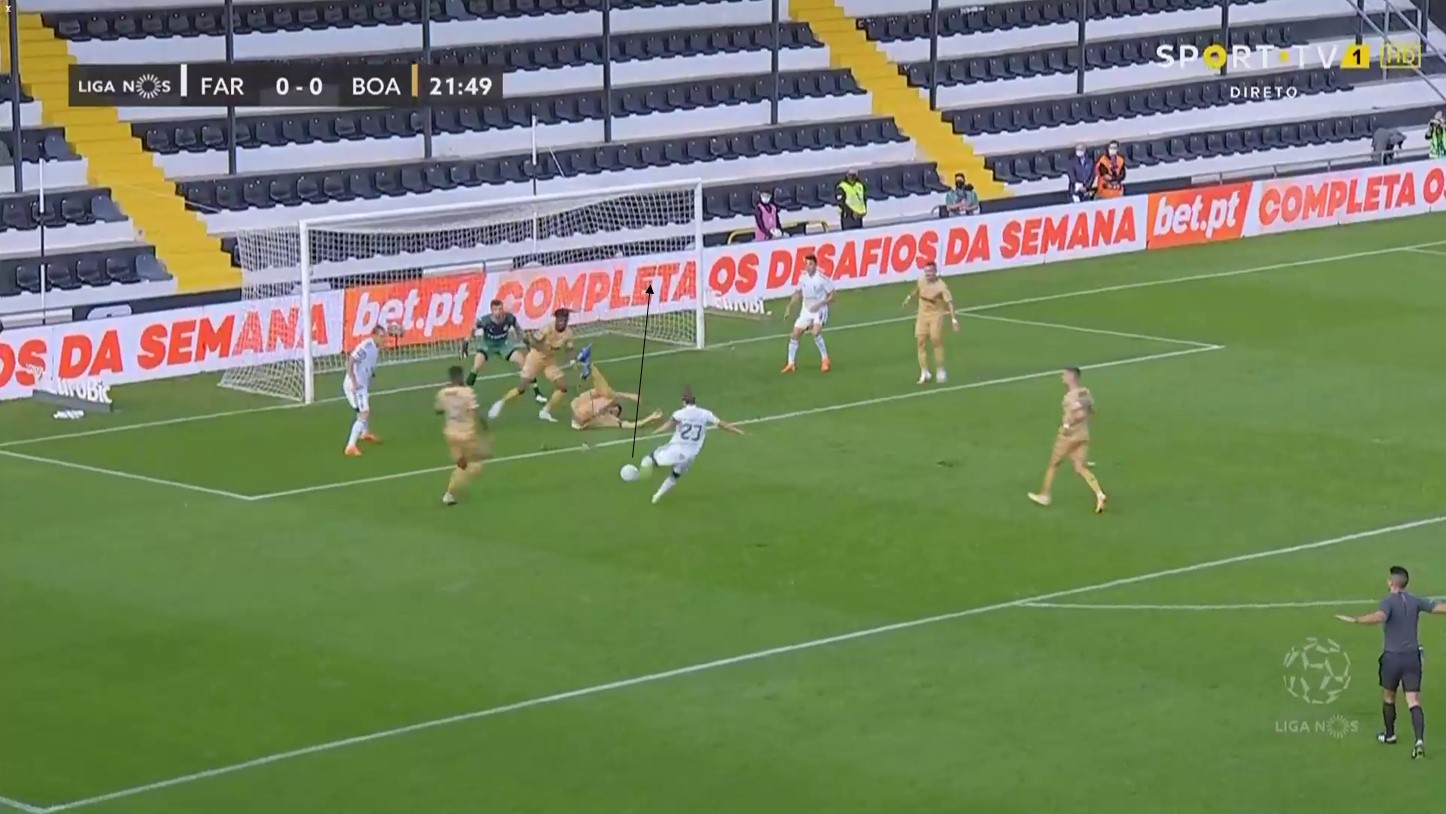 Gauld also has a little bit of magic when it comes to some of his goals. He recently won the Primeira's Goal of the Month for February, winning it with a finish worthy of a far-more prestigious award. Gauld won the ball in the middle of the park and sent it wide; the Farense wide man does well and makes it just outside the left side of the box and fires the ball into the box. Gauld, whilst in stride, meets the ball with a back heel, the ball ultimately nestled in the right corner of the net.
A goal that requires a few replays to genuinely appreciate the skill. If that was not already impressive enough, Gauld showed off his fluent Portuguese in an interview with a local television station whilst picking up the award. According to Moore, Gauld has put lots of effort into assimilating to Portuguese culture and learning the language; this no doubt helping him as orchestrating a team without a common language would be challenging at best.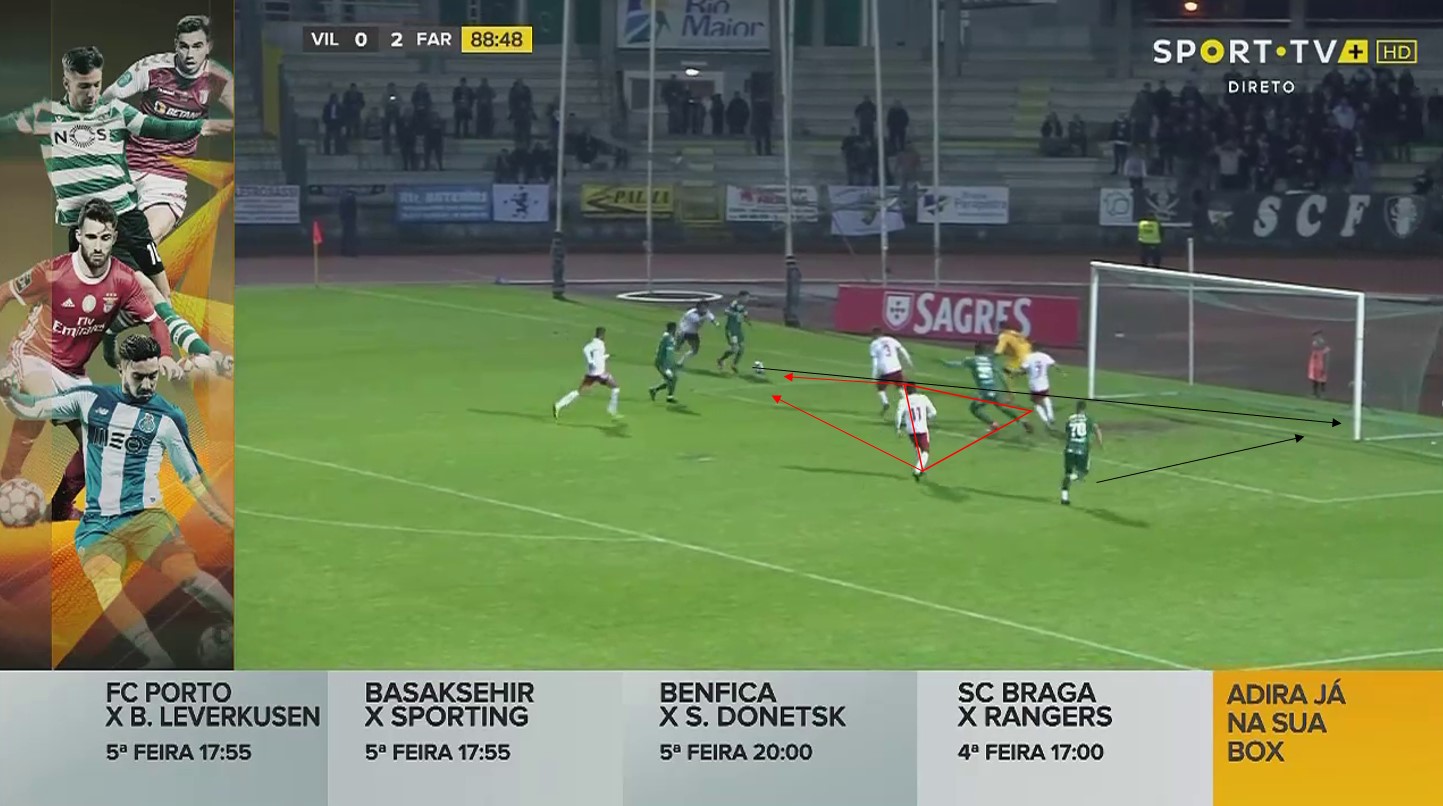 What almost all the goals that the Scotsman scores are that they are imperiously accurate. Most often, a corner is a preferred destination for the ball, by-way-of Gauld's boot, of course. A tight angle is often not described as ideal conditions for a goal-scorer; however, Gauld thrives in these areas. Defenders know that he is primarily a playmaker and thus have to consider whether he will pass or shot when coming in from the wings.
This is a lesser of two evils exercise for the opposition, as whatever Gauld decides on, it will be fizzed in and accurate. This proposition is evidenced in the photo above. Against Vilafranquense, Gauld is found on the left wing at quite an acute angle. A total of four defenders are engaged, one trailing and three in front, though this doesn't discourage Gauld from finding the opposite corner, with a runner to poke it in in case the ball hits the post or rebounds of a pair of legs.
Ryan Gauld's Future
The next few months will see many of the questions surrounding Gauld answered. The greatest query facing the former Dundee United man is where he will play his football next season. Braga were circling in January; however, these rumours failed to materialise. Gauld's contract expires this summer, though, Farense does have an option to extend for a further year, but there are some stipulations around the circumstances in which this can occur, though if possible, it will most likely be taken up.
However, this will most likely be an exercise in Farense obtaining some sort of compensation for Gauld instead of him staying in the Algarve for a further year. I talked to Julio Costa, a Portuguese video scout and performance analyst, who thinks that Braga could be Gauld's next permanent home. Costa highlights that Gauld has finally fulfilled the initial lofty expectations that met Gauld upon arriving in Portugal and is receiving his due praise from fans and the media.
It appears that Gauld may be in for the long haul in Portugal. He has acquired the language at a fluent level and is enjoying his football there, and a potential offer from one of the big four difficult to turn down. We may see Gauld return to Scotland and some point, perhaps to play out his twilight years where it all started; however, do not be surprised to see headlines around Gauld and the old-firm, reliable or not. The second question following Gauld is what role will he play for Scotland's national team?
He is yet to be capped and was omitted from March's squad for the 2022 FIFA World Cup qualifiers, despite a fervent outpour of support. It seems increasingly unlikely that Gauld will be in the Scotland squad for their first international tournament in decades this summer; however, many, like myself, are left questioning what else he has to do to merit a place.
Ryan Gauld's churning out performances in a top league, which is something that cannot be said for a few in Scotland's midfield barracks. He would provide a spark of creativity in a midfield that looks devoid of it for much of the 90. Whatever path Gauld follows, entertainment will follow. Do him a favour and use his name; he has earned the right to be known by his own name instead of the "Scottish Messi", though I am sure he still finds the comparison flattering.
By: Patrick Caskie
Featured Image: @GabFoligno / NurPhoto