Player Analysis: Ryan Gravenberch
Ajax were denied the chance to have back-to-back Eredivisie titles for the first time since 2014 after the league was suspended and announced as null and void last season. Yet, it looks like they will be winning the title this time around, as they comfortably sit six points ahead of their nearest threat, and have a game in hand too. 
Their academy, De Toekomst – or, the future – has played its part in this as they have provided the first-team with more hungry young talent. One player in particular, is one that could be a very special player. Ryan Gravenberch is just 18 years old but has had a major part to play for de Godenzonen, starting 21 out of 23 possible matches in the Eredivisie. The Dutch midfielder was introduced to the first-team last season, but it has been this campaign where he has placed his marker and showed his quality. 
This player analysis will not only be looking into the strengths and weaknesses of Gravenberch but will also be assessing why these strengths could help make him into a top midfield player. It will use in-game examples and statistics provided by fbref.com from Gravenberch's 2020/21 Champions League and Europa League campaigns (5.9 + 2 90s) – it is important to note that these statistics are merely indicators and aren't very reliable due to the smaller sample size.
Profile
Gravenberch stands at 6'2" and this allows him to hold his own physically but he also is very agile and quick with his feet. The midfielder operates in a double pivot on the left side and is an all-rounder in regards to his movement; he looks to help out in the build-up phase – often dropping into the backline to create a numerical advantage, or receiving on the half-turn and looking to drive the ball forward – but he also looks to advance forward, particularly towards the left-wing where he can link-up play in the final third. 
His heat map below, in Ajax's 4-2 victory against Sparta Rotterdam, suggests that he is a very active player in the middle and operates in the areas previously mentioned.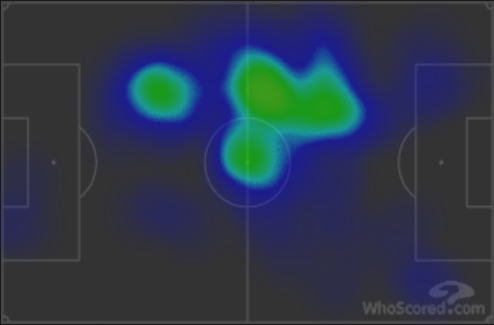 Photo: WhoScored
Passing Range and Ability
Gravenberch is a very good progressive passer of the ball and often looks to break lines with his passing, whether that be from deeper areas or looking to move into the final third. The 18-year-old can disguise his passes so that there is less chance that the opposition will predict the pass and intercept, while he also has a good weight of pass and rarely under hits his passes into players between the lines. 
In European competition this season, Gravenberch averaged 5.82 progressive passes per 90 and 3.16 passes into the final third per 90. The midfielder has a good eye for when to play the pass and also knows to trust his teammates in tough situations – this can help lead to quick interplay after the progressive pass.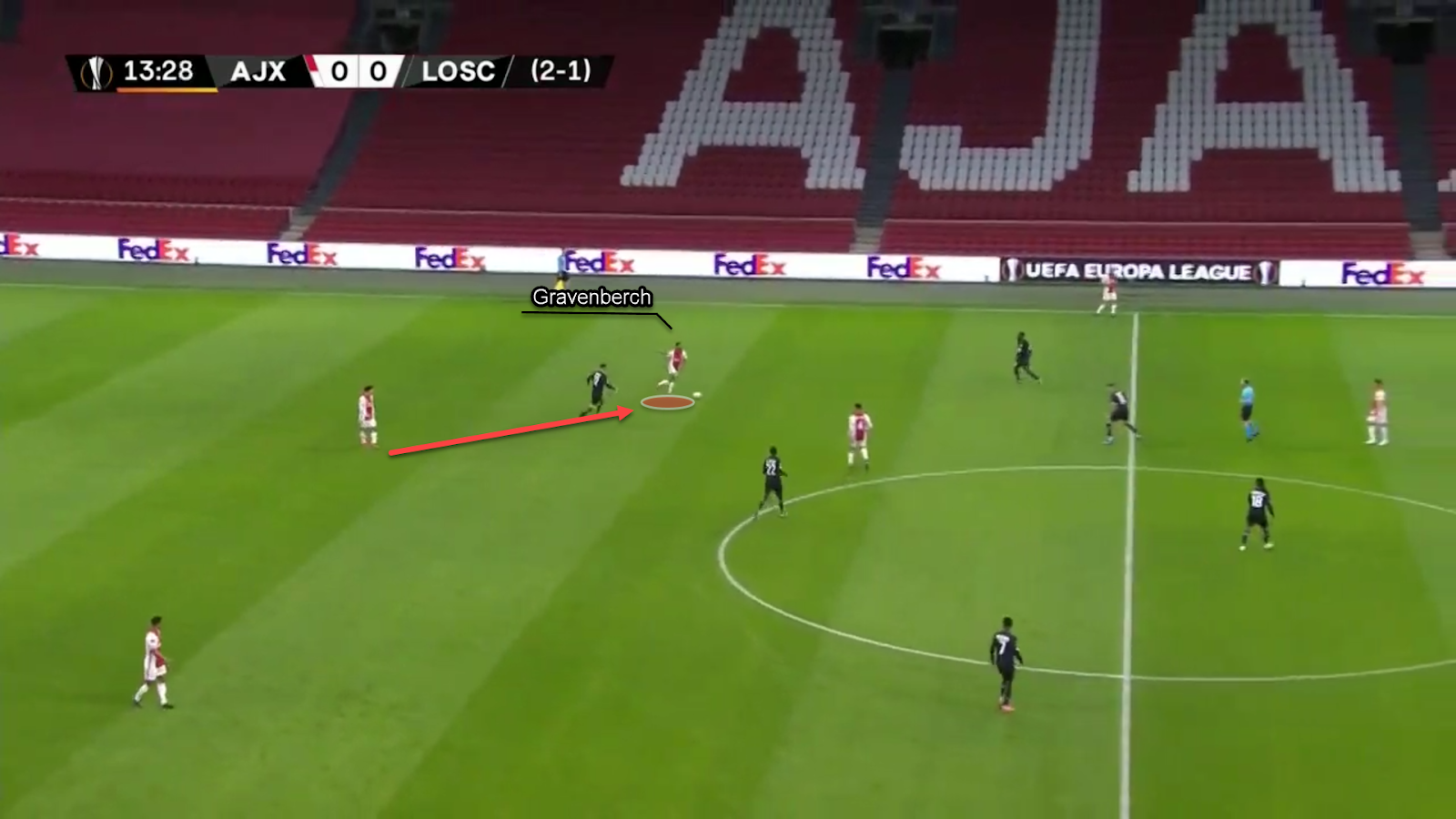 The above example against Lille shows how Gravenberch can help progress in the first phase for Ajax, as he looks to receive the ball in a deeper area – creating a back three with the centre-backs, as the full-backs push on higher. He then takes a touch forward and fires a good pace into the front line, bypassing the opposition's second line.
Again, here is another example of Gravenberch moving the ball progressively with his passing from deeper areas. This time, he uses his body shape well to disguise the fact he is looking to progress the ball centrally and this helps him to find Mohammed Kudus between Heerenveen's midfield lines.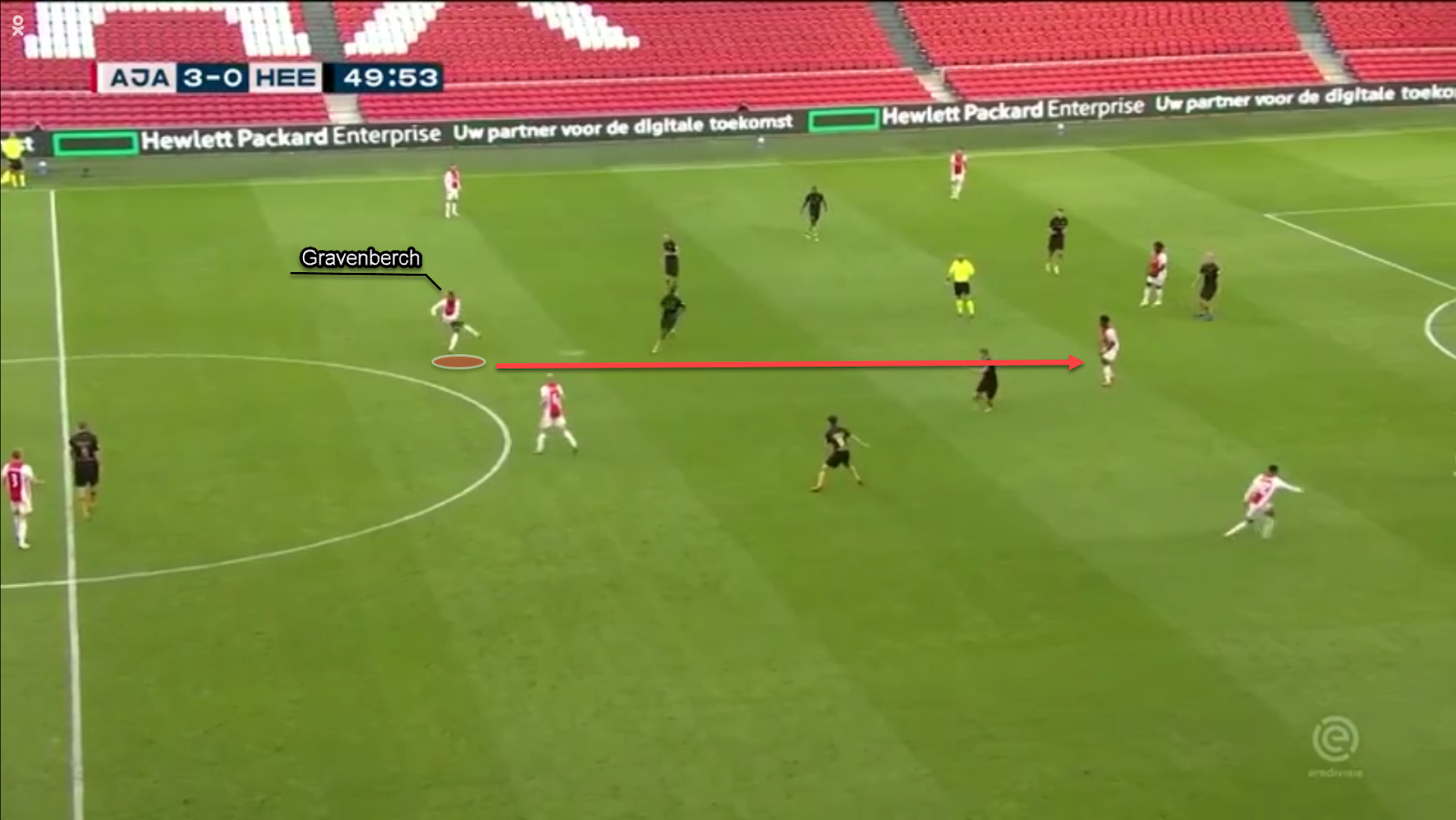 But as previously mentioned, Gravenberch can also progress the ball when higher up the pitch and against a block. This is mostly because of his weight of pass but also his bravery in possession; he is not afraid to fire a ball into central areas when the opposition is in a settled shape. This is because he trusts his own and his teammates' ability. 
Gravenberch also has a good long pass, completing 4.81 long passes per 90 this season in European competition, at a completion rate of 64.4%. He has a solid technique and also scans before receiving so he will often see if there is a long pass on before receiving – this will be analysed later. 
Carrying Ability
Another real strength in Gravenberch's game is how he progresses through his ability to carry the ball from deeper areas. He does this so well due to multiple factors: his close control, his strength/power and his awareness; this section will focus on the former two, while his awareness will be considered later in the analysis. 
Thanks to his uniqueness, of being agile and quick with his feet while having a large frame and stature, Gravenberch can roll his opponent and then drive with the ball at his feet, and when he does drive, thanks to the mixture of power and technique that he has, he does so very effectively. The midfielder averaged 6.32 progressive carries per 90 in European competition this season.
Below against Liverpool, we can see an example of him driving towards the opposition penalty area. He receives from a wide area and receives on the half-turn, meaning he can quickly face up the opposition man. He then shows his close control, bypassing Curtis Jones, and then also can play a one-two with his forward in the area and pass into space – showing the composure that he often has in forward areas.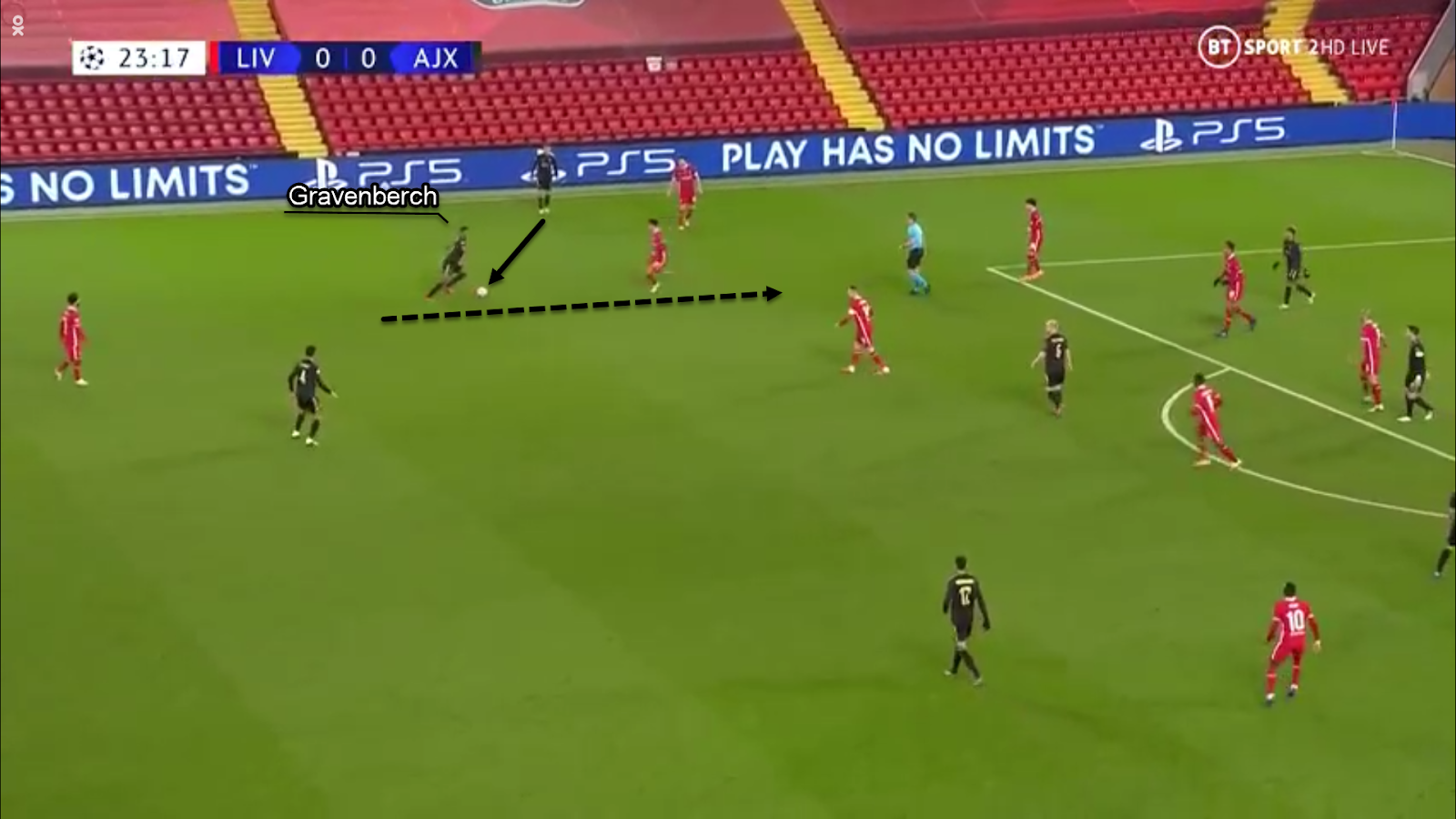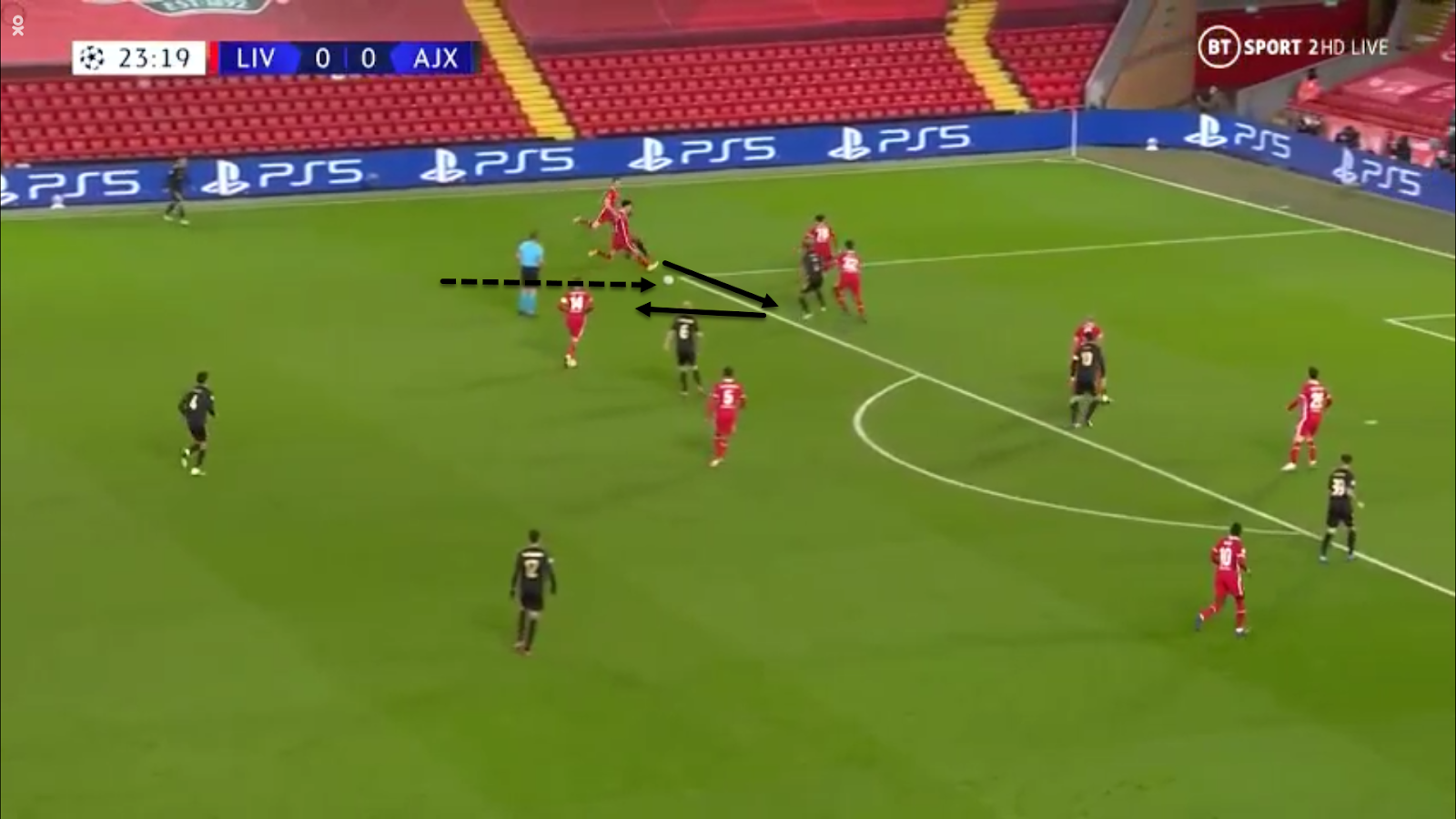 Here is an example of Gravenberch utilising his strength on the ball, in order to, firstly protect the ball against PSV players, secondly, turn the man, and thirdly, drive into the space. It is a good example of how Gravenberch knows how to utilise his body when pressured. After the ball ends up with Dušan Tadić, Gravenberch moves into space to receive the ball back and continue the attack, with a touch to play the ball into space.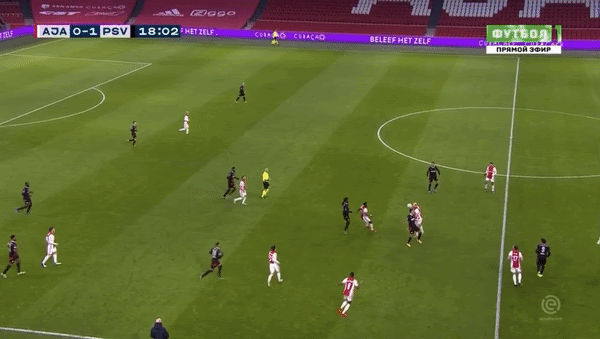 Movement and Awareness
At just 18 years of age, Gravenberch has very, very impressive awareness of the pitch and how to move to receive and also to know when to turn on the ball – which is an amazing skill to have in the middle of the pitch. He recognises space in the build-up and often moves to help his team progress the ball, whether that means he moves into a zone to receive, or that he drags an opposition player so that his teammate can receive. 
Firstly, here is an example, where he moves towards the left of a back three, something he usually does. However, the opposition striker has moved across and has Gravenberch in his cover shadow. Yet, the has created space centrally, Gravenberch recognises this and moves into that space to receive. It looks simple, but it is an important skill to have when you play in the midfield.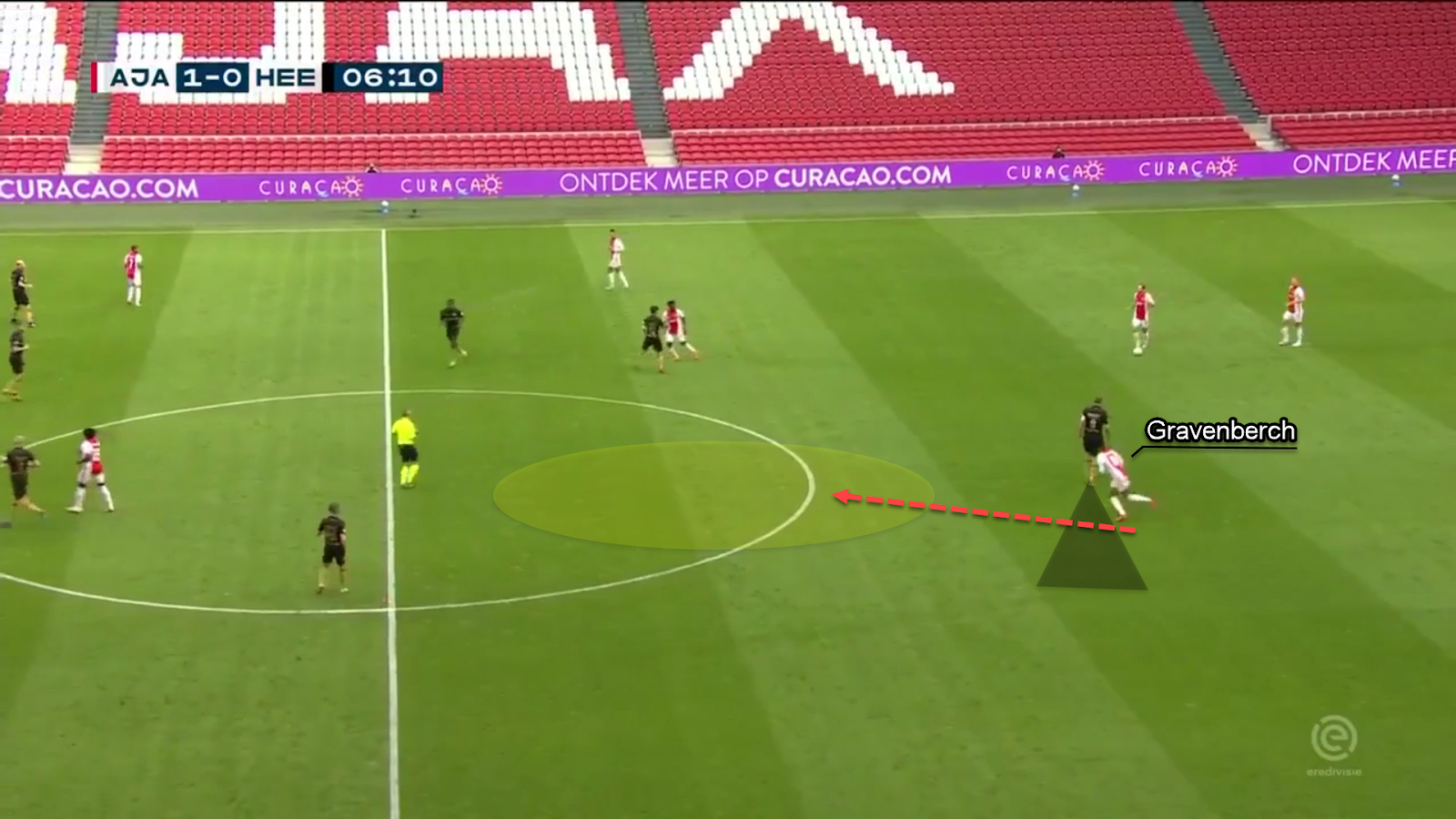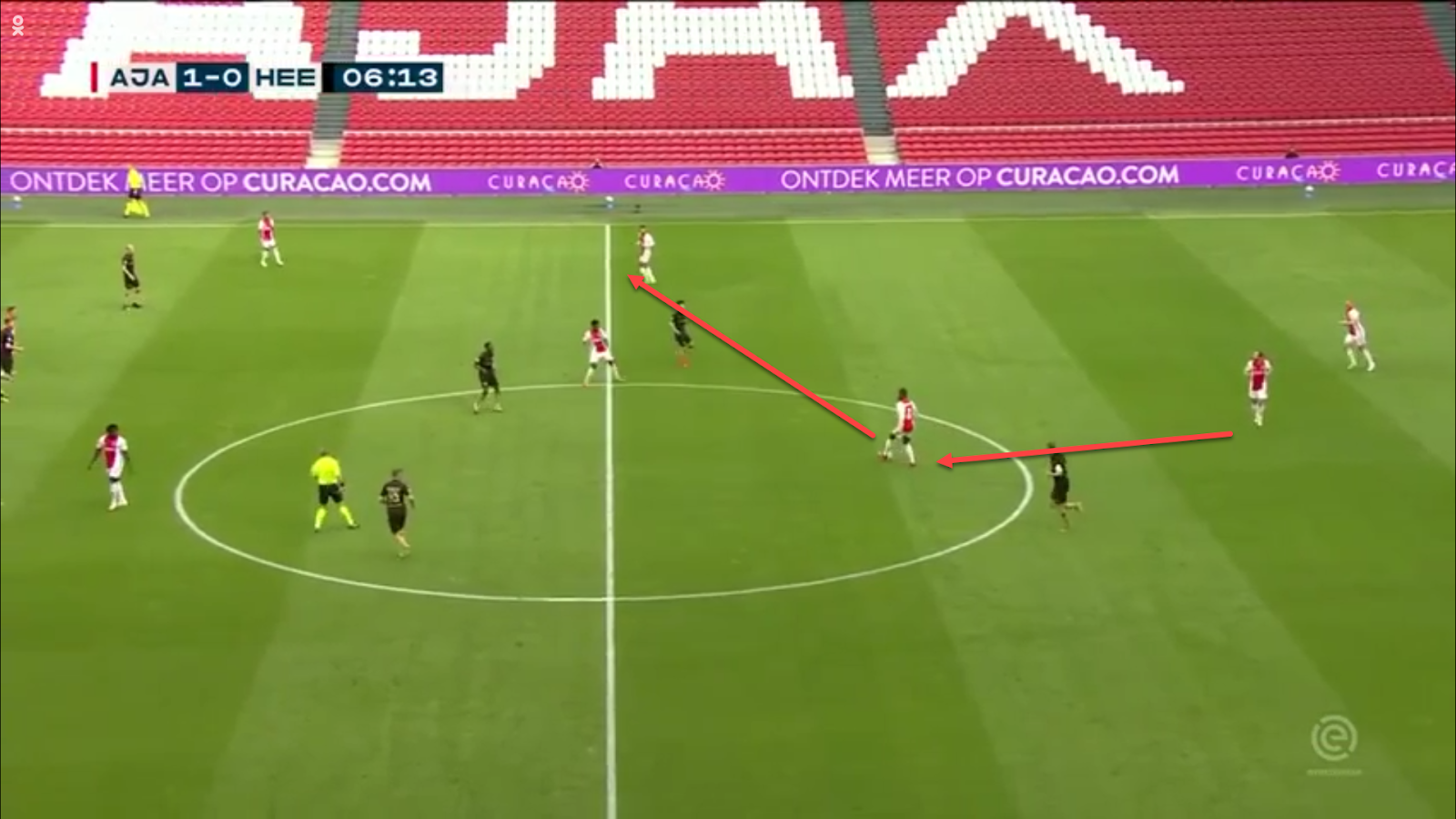 As mentioned, the midfielder also has the awareness to help the build-up through his movement to allow his teammates to receive in space. He, particularly, moves into wider areas so that more forward players can receive in the space between the lines. While this is likely good management, it is also impressive, at the same time, that an 18-year-old can apply this to his game as well as Gravenberch does.
Here are two examples of this within a minute of the same match, firstly, Gravenberch quickly shifts to the right and brings his man with him – this creates a large gap between the opposition midfield pairing. There is now space to play into the player highlighted between the lines, but the pass is not made.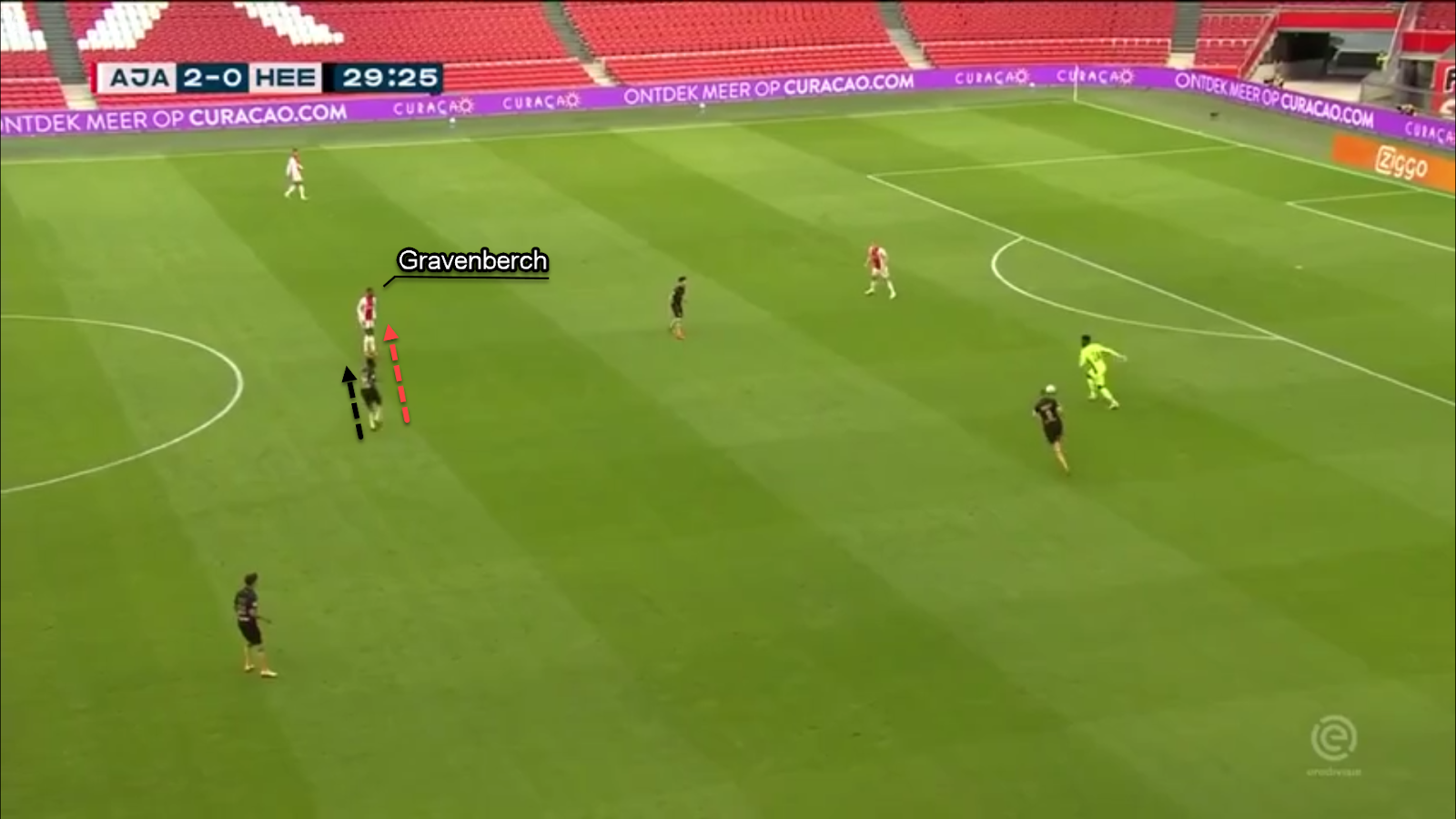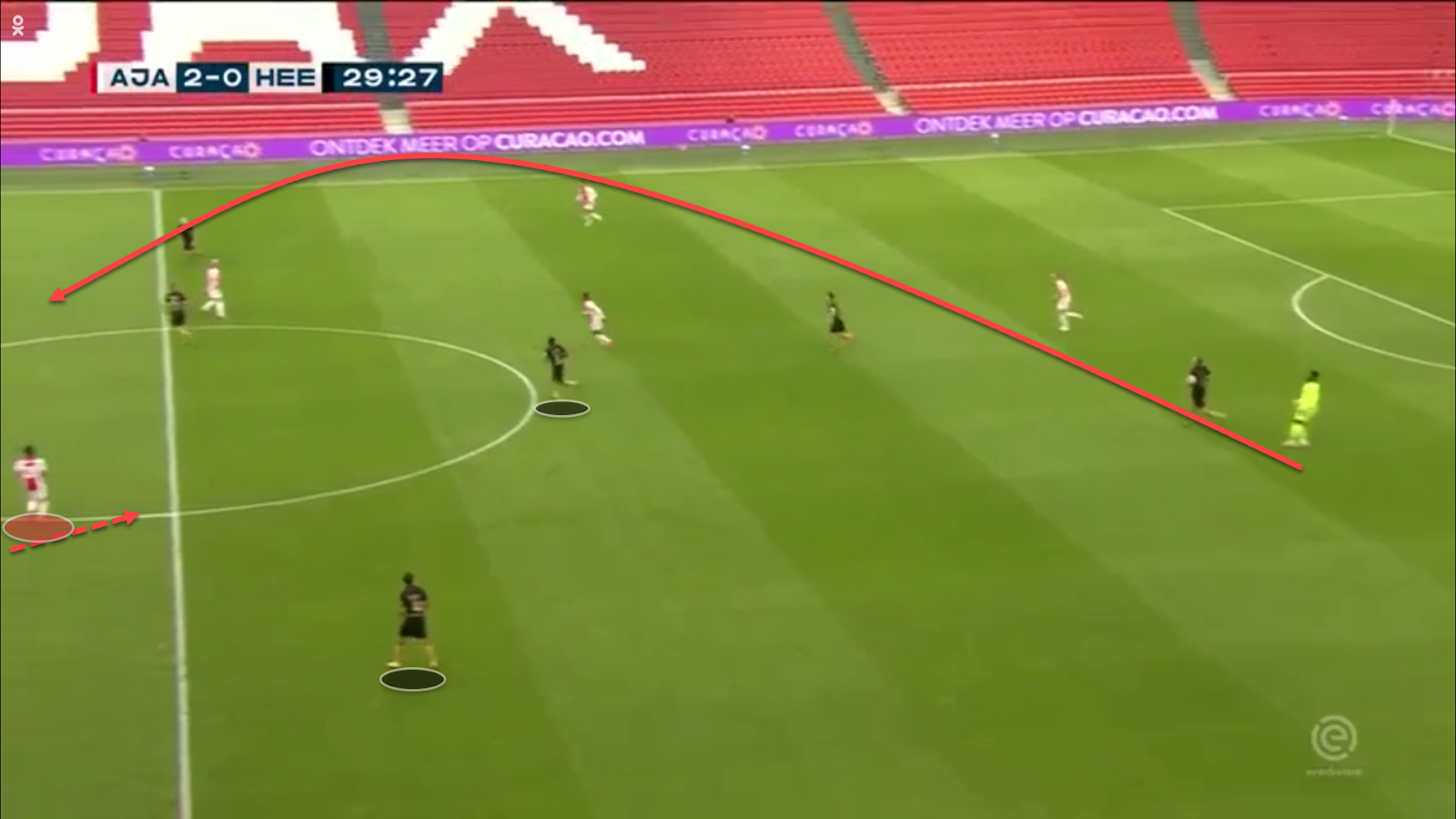 Then less than 30 seconds later, the ball is at André Onana's feet again, this time, Gravenberch drags his marker to the left and while the opposition player is focused on Gravenberch, Onana plays the ball into Kudus between the lines.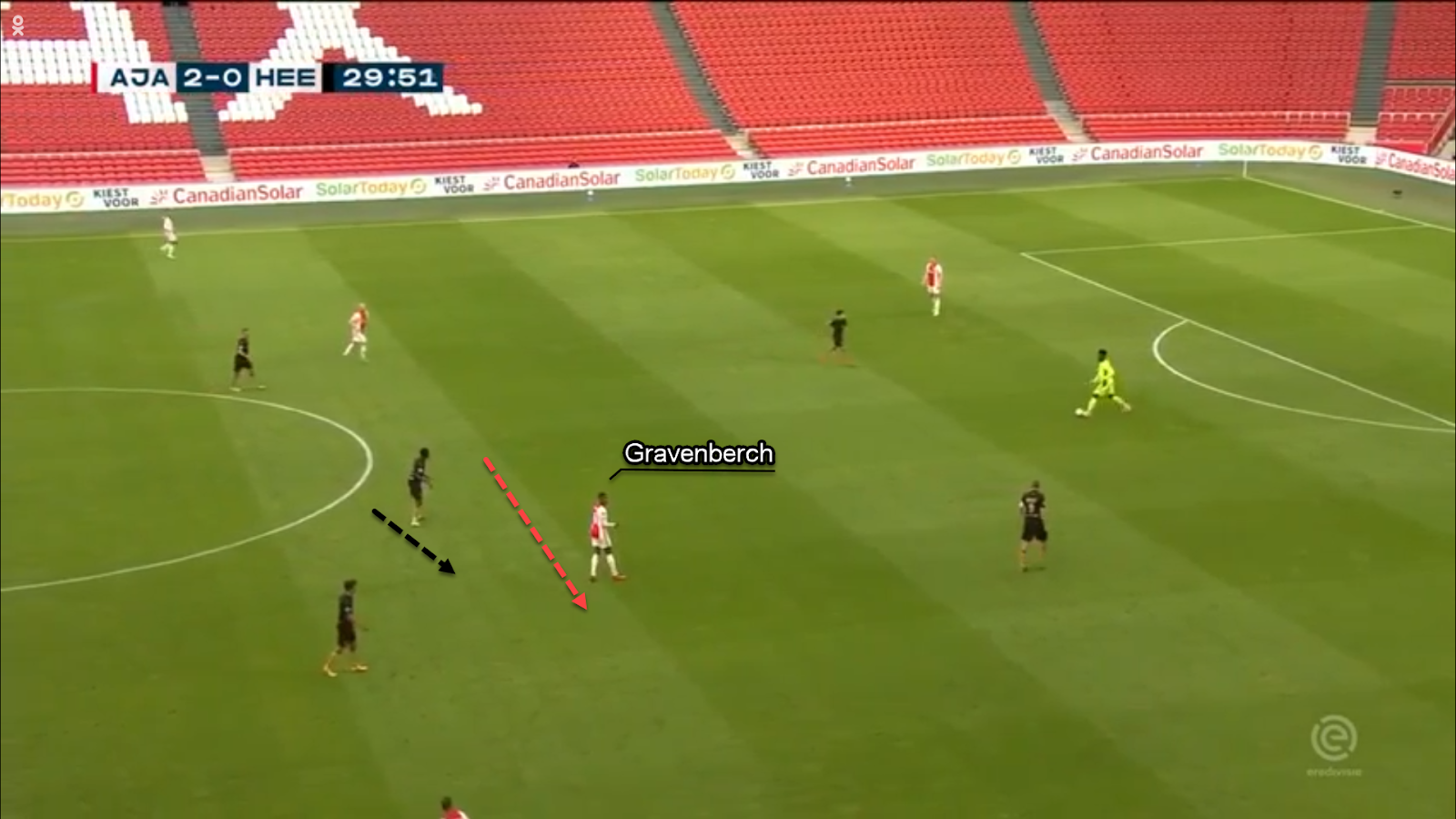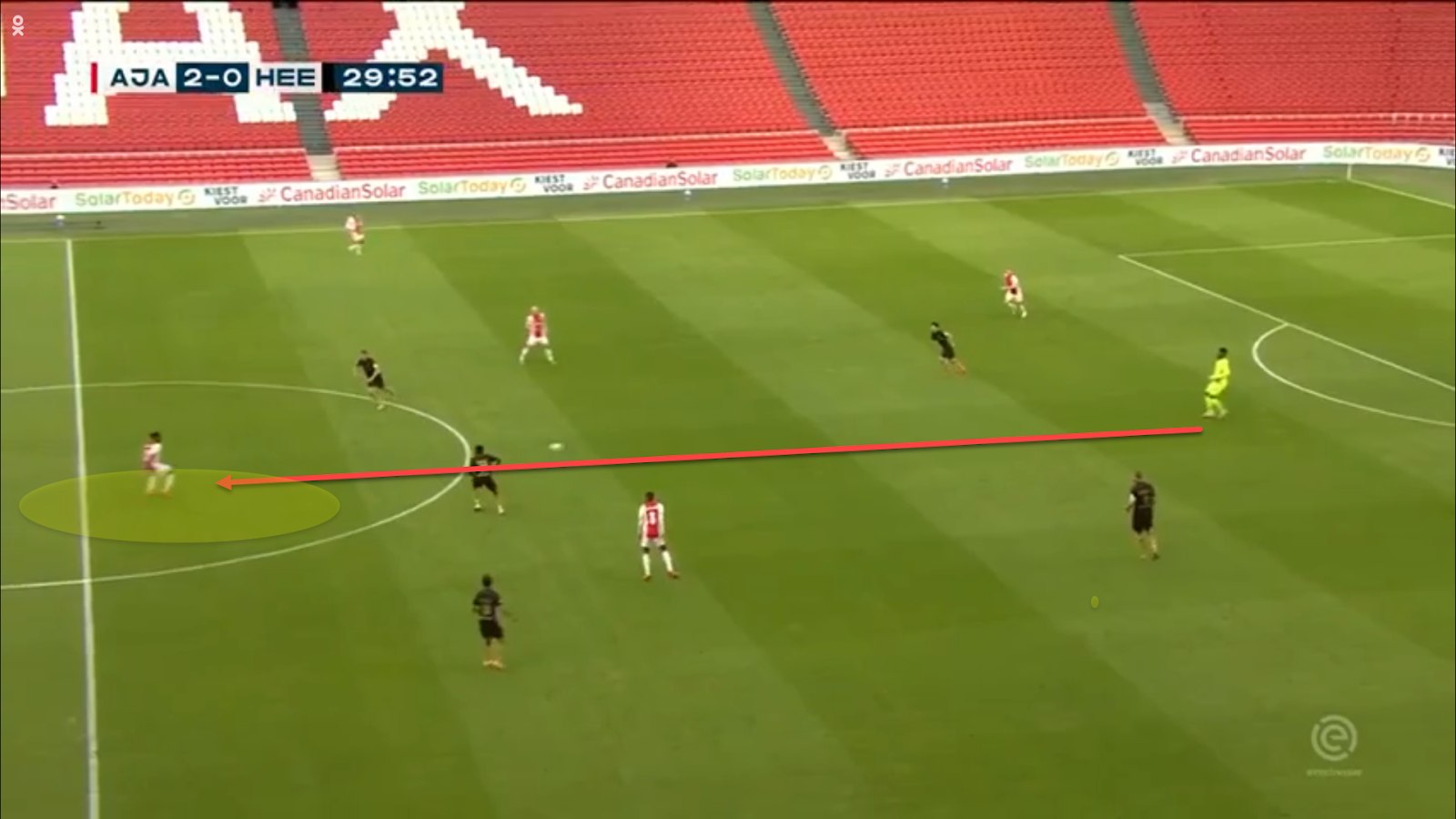 Gravenberch also often scans before he receives and this means that he knows when he can receive on the half-turn and progress so that he is not limiting progression when receiving in the build-up. This also allows him to be a good midfielder ahead of the ball, as he is good at receiving in more advanced areas, he receives an average of 3.29 progressive passes per 90 in European competition this season.
In the example, the Dutchman firstly scans centrally, where he recognises the space and then secondly towards his marker, who is coming to him from the wider area. These quick scans help him to know his surroundings and that he can let the ball run past him into space and then he turns and plays an impressive pass into the flank.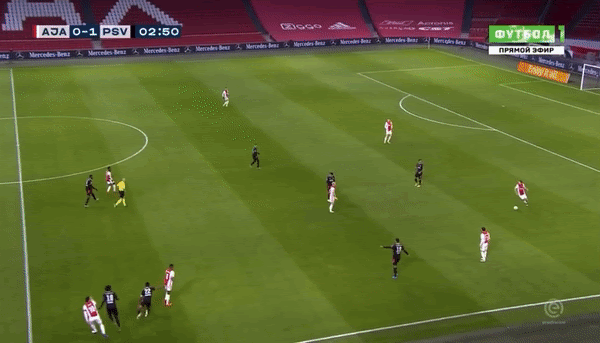 Here is another good example of his ability to scan before receiving, thus making his decisions on the ball quicker and more efficient. As the pass is being played to Gravenberch from the right, he takes a quick glance to the far side of the pitch. This allows him to see his teammate in space on the left, and he can then make a quick decision on the ball, rather than dwelling on the ball.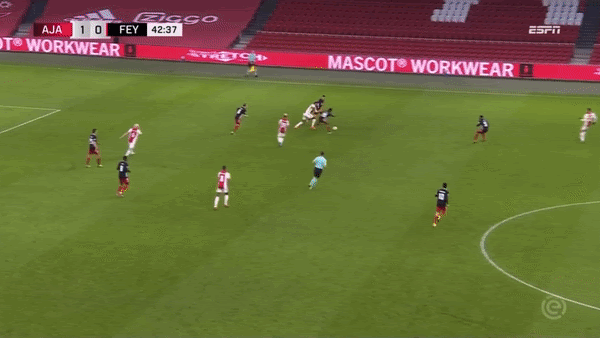 It is a great skill to have at such a young age and one that will benefit Gravenberch if (or when) he moves to a better and more competitive league. 
Link-up and Final Third Action
Finally, the Ajax midfielders link-up and actions in the final third will be analysed, even though he often drops into the backline and helps aid Ajax's build-up, 25% of his touches in European competition this season have come in the attacking third.
Gravenberch often joins the attack after progressing the ball and his nimbleness and quick feet in possession allow him to help link the play in the final third. He looks to receive, pass and move and that's what makes him a solid player in forward areas.
In this first example, Gravenberch receives in an advanced area with a man close to him, he uses both his strength and his ability to hold off the man and then take a touch on the half-turn into space. He then plays into his teammate and immediately moves into a different space to receive the pass back, finally, he plays a good pass into the penalty area.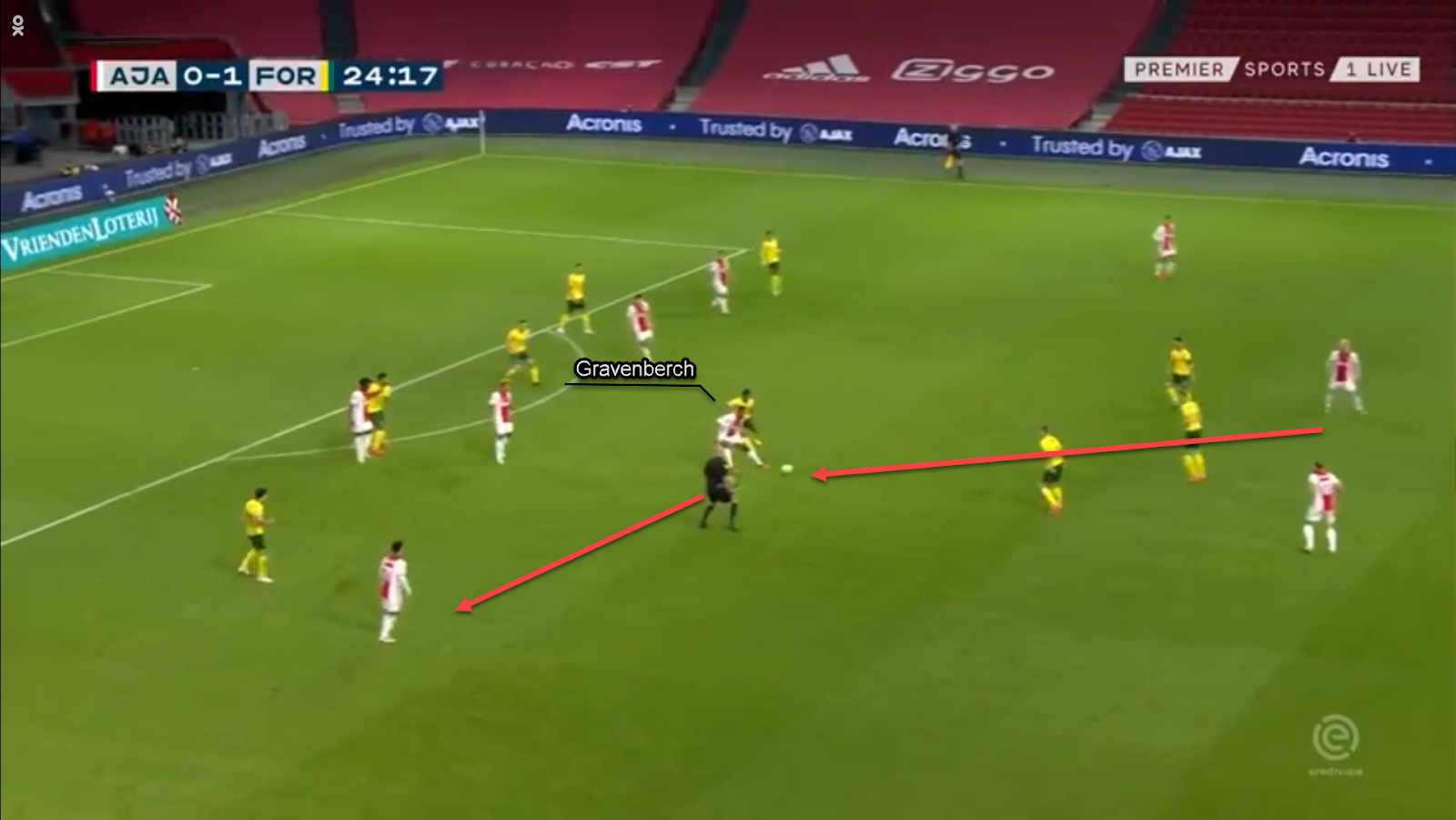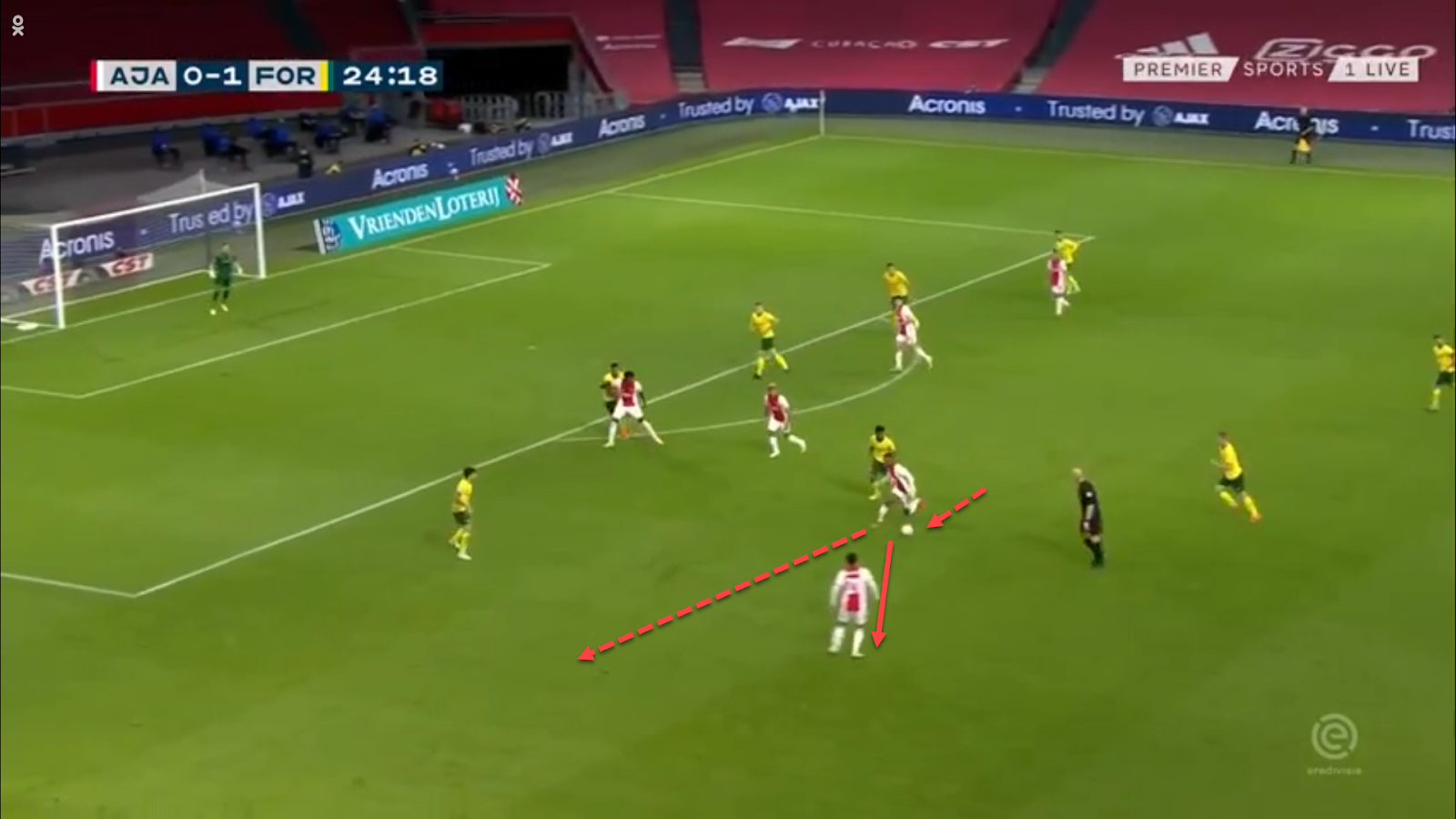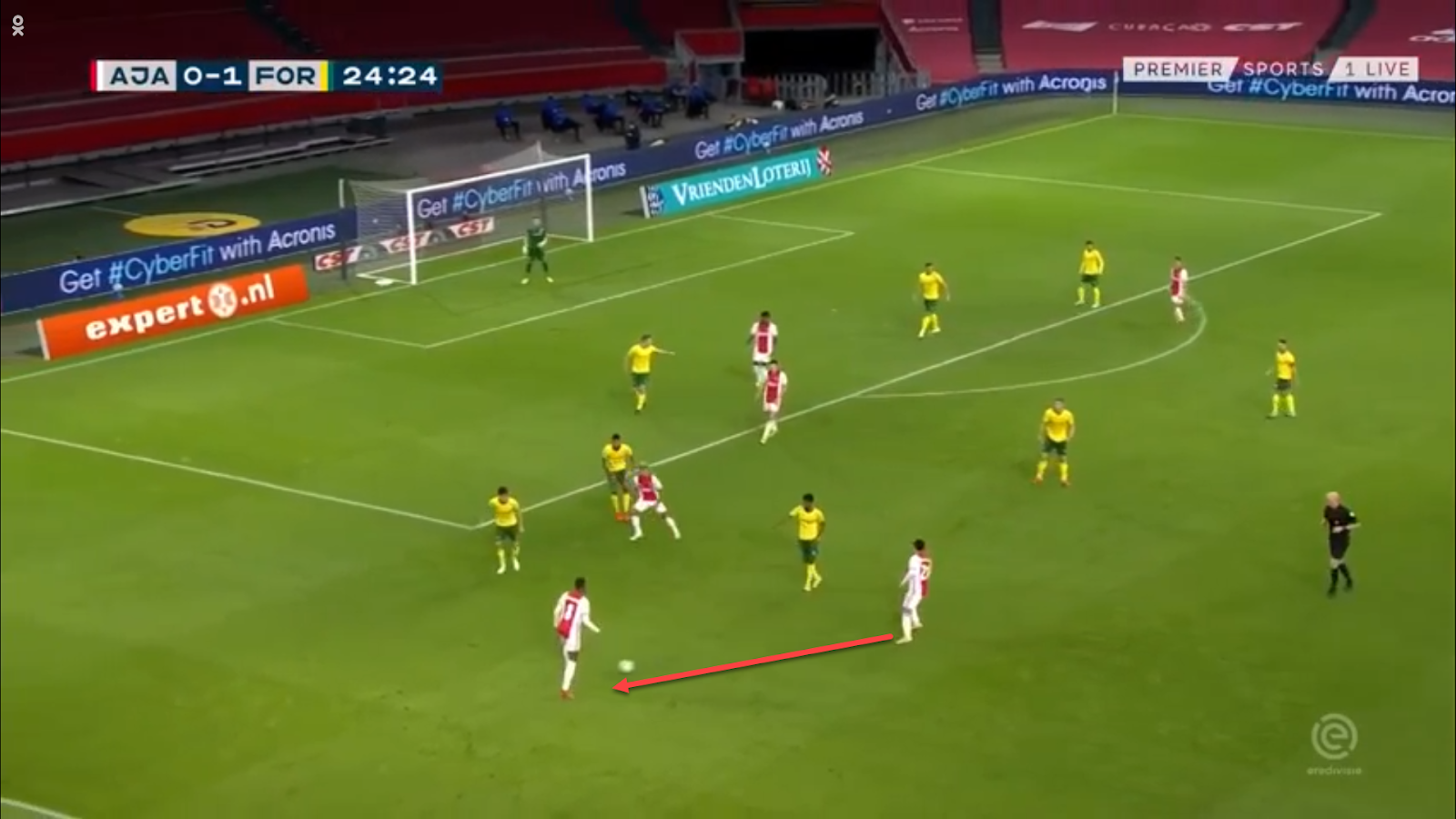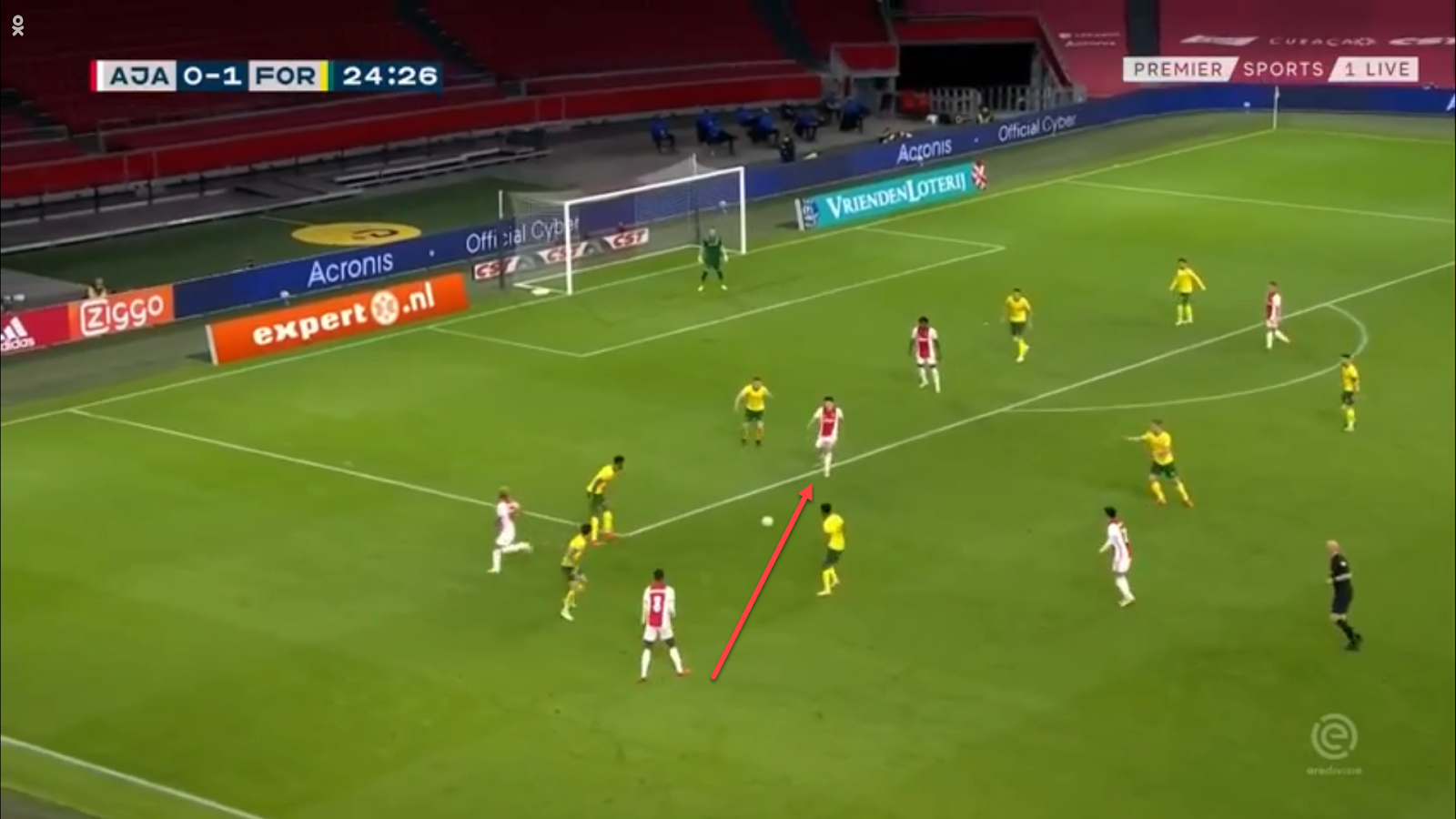 In this second example, the midfielder receives in an advanced position again and immediately moves into the space thanks to his solid first touch on the turn. He then plays a good final pass into Brian Brobbey inside the area, who scores past the opposition goalkeeper. Gravenberch, yet again, helped link-up play in the final third. 
The midfielder has scored four goals so far this campaign, one being in the Champions League. He has good composure in and around the box when he has possession of the ball and can sometimes create half a yard of space to increase his chance of finding a pass or potentially scoring. 
Here, against Liverpool, instead of shooting from the initial position, Gravenberch uses his quick feet to bypass Joël Matip, and then readjusts himself for a shot in a much better position than the first that he looked to be lining up. Although his shot is too high, the quick thinking and composure in and around the area from Gravenberch is a clear quality and could help him increase his offensive output as he ages.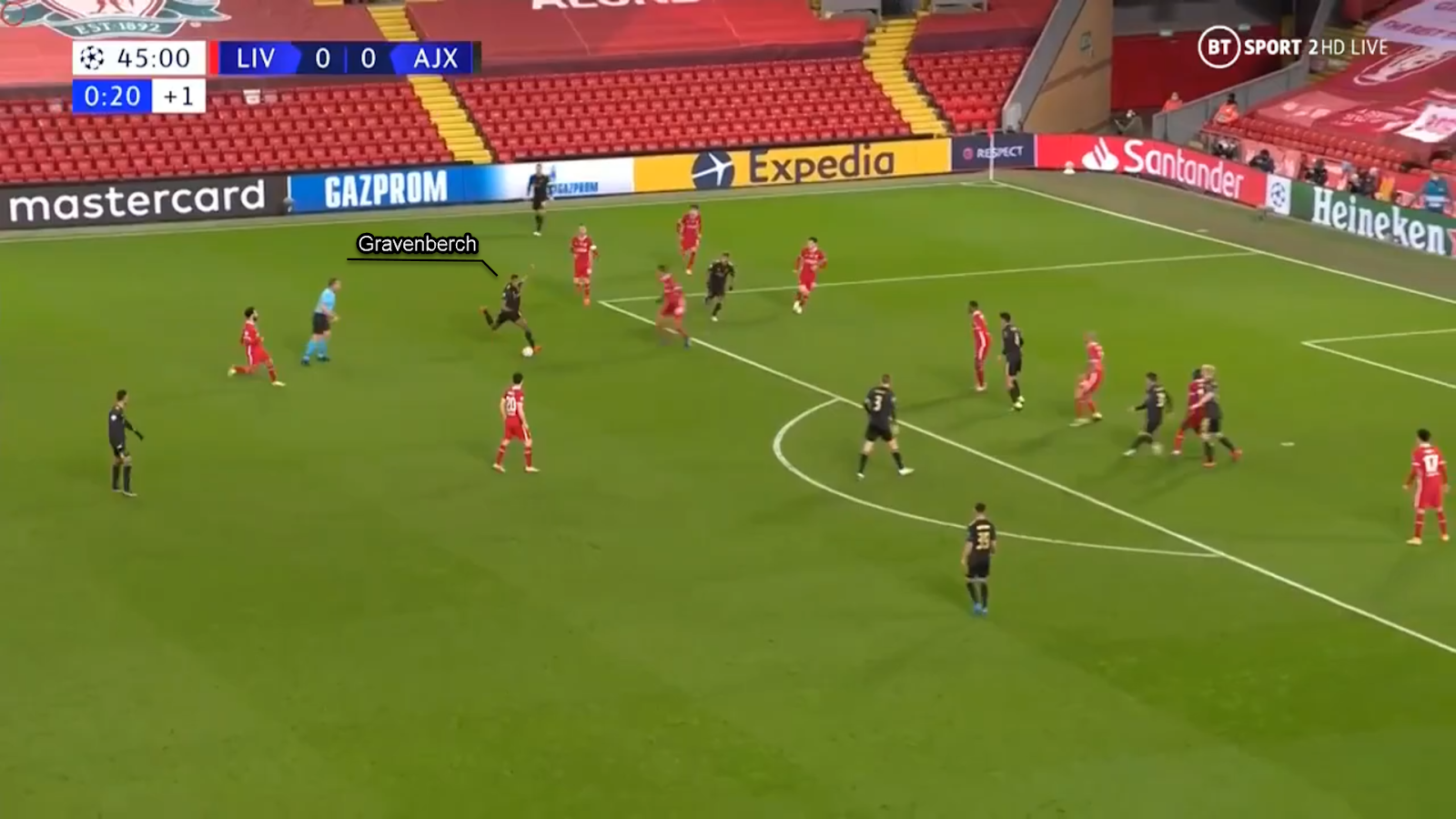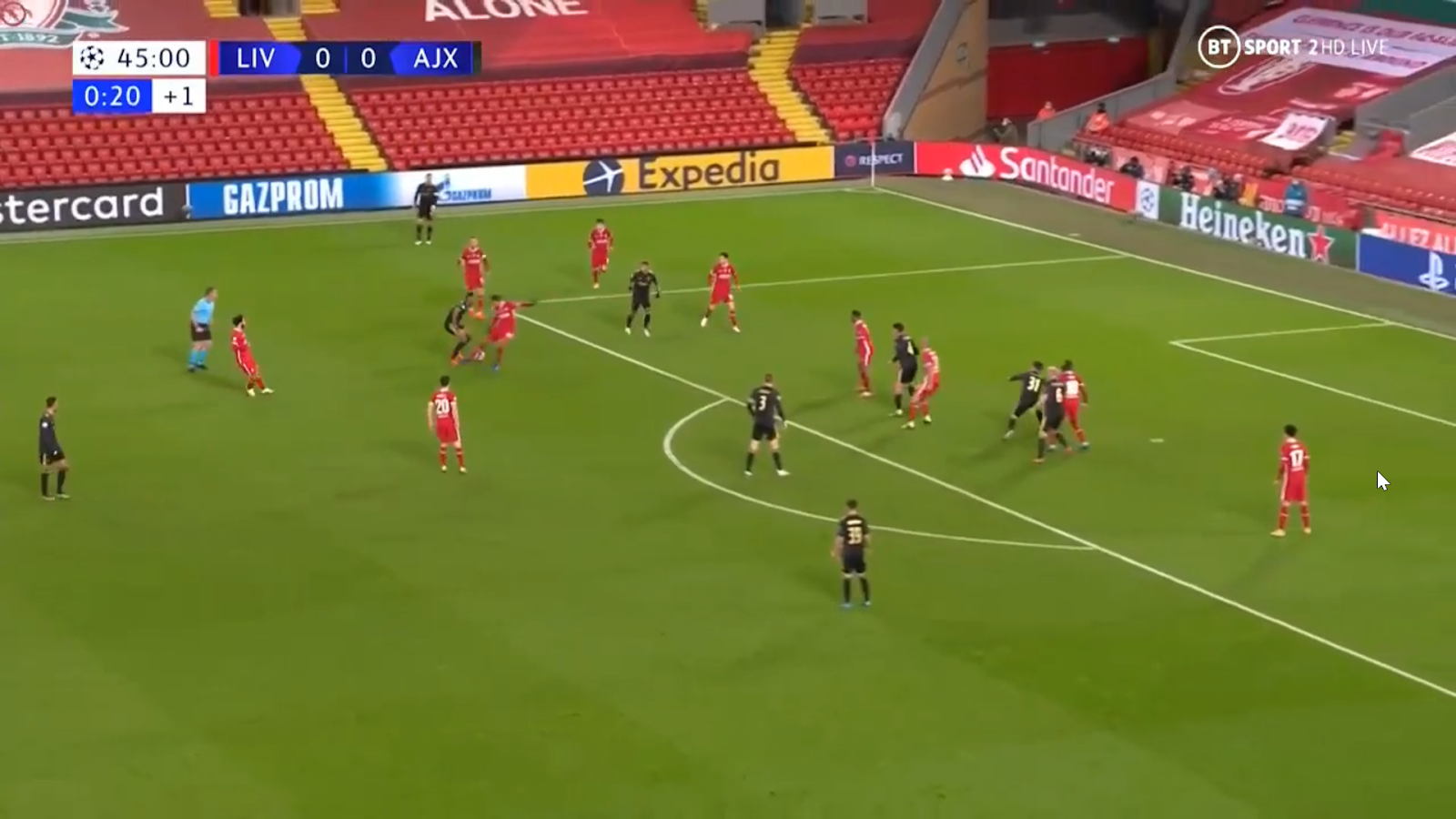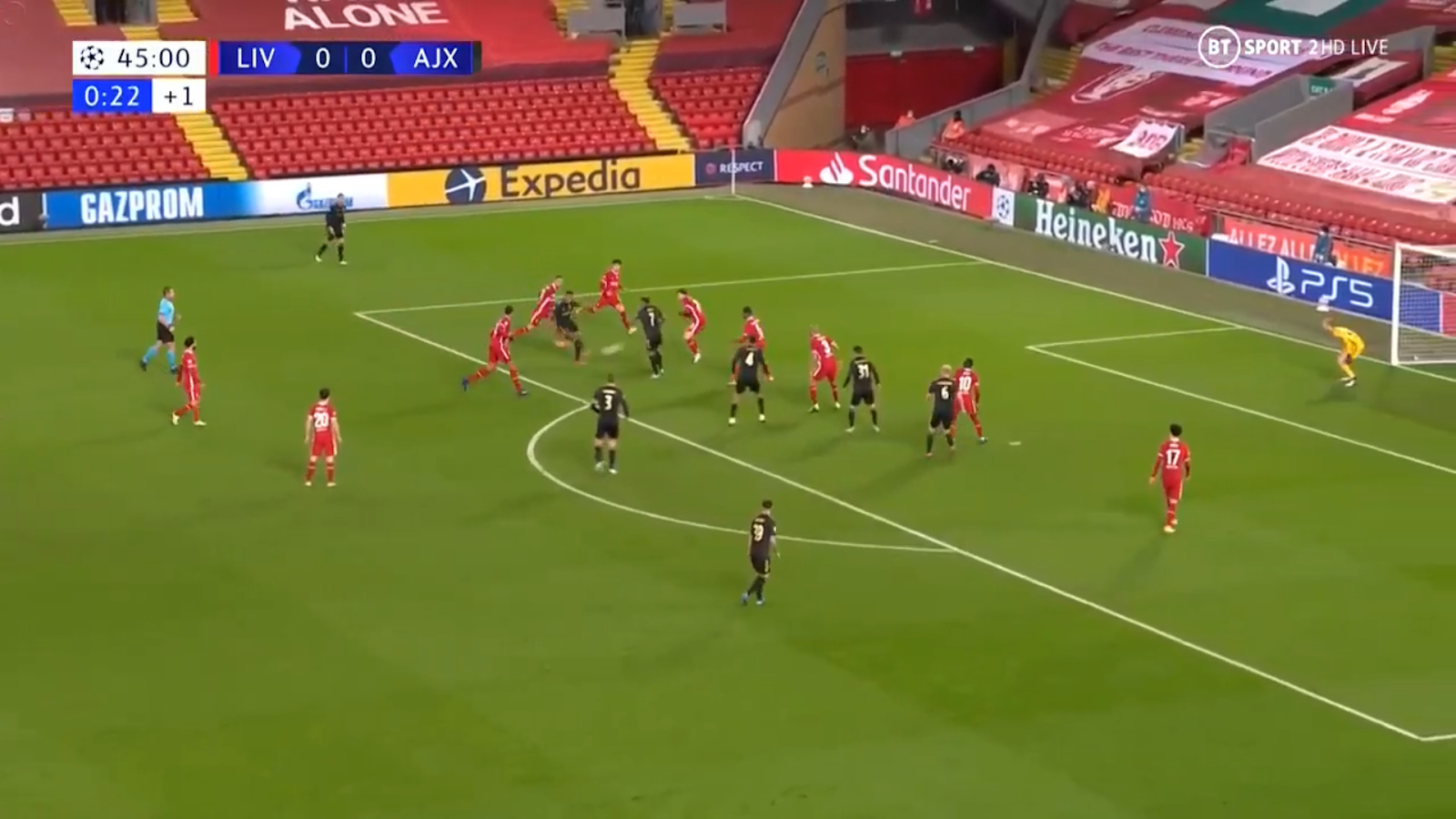 Conclusion
This analysis has shown the main strengths of a really exciting 18-year-old midfielder and although he still has to keep improving, it is likely that Ryan Gravenberch will become a top player in the coming years. His defensive game might need improvement, but he has all the physical qualities, as well as the awareness, to build on this area of his game. Meanwhile, he has a wide range of progressive and creative assets in his arsenal. 
It would not be surprising to see Gravenberch move into one of the top European leagues, with a top club, in the next few years if he continues to develop his game at the Johan Cruijff Arena. His contract expires in 2023 and with Mino Raiola as his agent, Ajax will be looking to cash in on their teenage prospect for a mouth-watering fee sooner rather than later.
By: Cain Smith
Featured Image: @GabFoligno / Soccrates Images / Getty Images