Player Analysis: Samuel Chukwueze
Since winning the 2015 U-17 World Cup with Nigeria, Samuel Chukwueze has emerged into one of the brightest attacking talents in Spanish football, earning comparisons to legendary Dutch winger Arjen Robben. But just how good is the Nigerian prodigy and what does he need to improve upon in order to cement a starting spot in Villarreal's line-up?
Overview
Manager Javier Calleja used Chukwueze in a variety of 4-3-3, 4-2-3-1, and 4-4-2 formations this season, with the majority of his performances coming on the right flank, although he has been deputized on the left as well as in the #10 position.
He failed to consolidate a starting spot under Calleja, finding himself behind the pecking order of Moi Gómez and Gerardo Moreno. However, with Unai Emery replacing Calleja at the end of the season, it's likely that he'll have even more opportunities to impress in 2020/21.
Off-The-Ball Movement
Chukwueze is adept at exploiting open space as well as dragging defenders out of position and to open up space for a teammate. His position on the pitch is usually dictated by the position of the ball. When the ball is deep, Chukwueze will drop deep and drag the fullback with him, opening up the whole flank for his fullback to run into.
In this example against Celta Vigo, Chukwueze drops deep and drags a defender with him in doing so. Pau Torres plays a pass into the left channel for the left back to exploit, leaving Xavi Quintilla with plenty of space to charge into.
Even when he's not directly involved in the play, Chukwueze takes up positions where he can impact play. When Villarreal has possession on the opposite flank, Chukwueze comes infield to drag the defender out of position and creating space for his fullback to exploit.
Here, Chukwueze cuts in from the left to get involved in the play, and after immediately receiving the ball, he switches the play to stretch apart the Celta defence.
However, Chukwueze's biggest strength is his pace and his runs in behind the defense. Chukwueze doesn't just have blistering pace; he knows how to use it by drifting infield and peeling away from his marker. Once he has managed to escape his marker, he uses his pace to make runs beyond the defence and create 1 v 1 opportunities. 
In the next phase of play, Chukwueze makes a great unmarked run but Quintilla doesn't find the Nigerian with his pass.
In another such instance, Chukwueze dropped deep and made a run behind the defensive line. However, this time Cameroon international André-Frank Zambo Anguissa failed to find him with a pass.
Although Chukwueze doesn't score a lot, his movement in the penalty area is excellent. He usually hovers around the 18-yard box waiting for a cutback, although he often doesn't find himself on the receiving end of a teammate's pass, or if he does, he'll find himself surrounded by opposing players.
In this example, Chukwueze stays in the blind side of Celta right back Hugo Mallo. Mallo has to take his sight off the ball to see Chukwueze's position, but as soon as he concentrates on the ball, Chukwueze makes a diagonal run into the box, leaving him in his trail.
Villarreal right back Rubén Peña decided to cross the ball, but he should've played a cutback to Santi Cazorla or Chukwueze, both of whom found themselves unmarked in the box.
On this occasion, Chukwueze makes a brilliant run into the box and finds himself on the blind side of Pione Sisto. As Sisto converges into the middle of the box to block a potential cross from Quintilla, Chukwueze checks his run and makes a swift movement towards the penalty spot.
Quintilla plays an accurate cutback and Chukwueze buries the chance, leveling the scoreline shortly after Sisto's opening goal. 
Contribution on the Ball
Chukwueze's strongest weapon is his skill and flair. While he has the breakneck speed to exploit open spaces, he also has the ability to squeeze his way past defenders in tight spaces on account of his quick feet, his agility, and his deadly shoulder drop.
Although the Nigerian has accumulated just four goals and six assists this season, a slight drop from his 2018/19 total of 10 goals and 4 assists, his performances have been far better than his numbers suggest. His ability to cut inside from either wing and create havoc in the final third has been a godsend for Calleja's unit, who have often found themselves devoid of creativity against deep blocks.
In this run of play against Real Betis, Chukwueze cuts in from the right and runs at the opposition's defense. He runs towards the box before cutting into the left in an attempt to find the ideal shooting angle, but he is fouled by Betis center back Zouhair Feddal, setting up a go-ahead goal. Cazorla converted the penalty, and Villarreal would go on to win 5-1.
Chukwueze's ability to dribble past defenders is what makes him such an interesting prospect. He is not afraid to take players on and uses his agility and awareness of space to get past defenders.
In this sequence of play against Celta, Chukwueze utilizes his close control and finesse as he zooms past three defenders, leaving them in his trail before reaching the edge of the box.
Even when he reaches the edge of the box, he takes a calm approach and pulls it back for Gerard Moreno, whose shot flies above the crossbar.
Chukwueze creates the sixth-highest shot-creating actions per 90 in La Liga. He tends to hug the touchline and beat his man with his rapid speed. This forces another defender to come out of position and Chukwueze uses this opportunity to exploit the vacant space.
In this instance, Chukwueze utilizes his pace to give oxygen to the counterattack, running along the touchline and attracting two defenders with him.
He then plays a pass to Moreno who attracts the Betis defender, before playing a simple layoff to Karl-Toko Ekambi who puts in the back of the net.
Defensive Awareness
Although Chukwueze is not an N'Golo Kanté-esque workhorse, he's not a slouch either — as suggested by his 6.7 recoveries per 90. He assumes his defensive duties and gets back into defensive positions to aid the fullback. Even when he's not able to force a turnover, he makes sure to block the passing lanes to avoid any progressive movement.
In this run of play, Ferland Mendy finds himself in a 1 v 1 against Chukwueze and tries to beat him down the flank, but the Nigerian matches Mendy for pace and dispossesses him, while sending the ball out for a throw-in. 
The 21-year-old wins 3.5 ground duels per game, but even when he is not winning duels, he cuts down angles and shuts down progressive passing lanes to help Villarreal's defensive effort.
In the next example, Betis forward Loren expects to wait for Chukwueze to overcommit in the 1v1 duel before advancing past him. However, instead of overcommitting in an attempt to win the ball, Chukwueze stands his ground and forces a back pass from Loren.
His willingness to help out his teammates on defense is highlighted in this run of play against Celta. Óscar García's side are in possession and look set to break on the counter, and if the attack progresses into the final third, the Galician side would have a comfortable 2 v 1 scenario.
However, just when Celta look to add a cushion goal to their tally, Chukwueze makes a vital block and stops Iago Aspas's pass from reaching the other forwards, preventing a potential goal-scoring opportunity. That selfless work rate is invaluable in scenarios such as the below example, when Villarreal stack numbers high up the pitch in search of an equalizer, leaving themselves vulnerable at the back.
Weaknesses
Poor Link-Up Play
Although Chukwueze's arsenal is filled with flair and trickery, there isn't much to write home about his passing ability, as suggested by his passing accuracy of 71.7%. Oftentimes, he'll be found trying to do too much with the ball and losing possession.
Chukwueze is a constant attacking threat, but he tends to overplay very often and as a result, finds himself on another wavelength from the rest of his teammates. Although there has been an observable decline in his tendency of showboating this season, he's still a raw product, and it's easy to see why he struggled to cement a place in Calleja's line-up this season.
In this scenario, Chukwueze has three Betis defenders in his path, but instead of looking for a teammate or slowing down the attack before weighing up his options, Chukwueze puts his head down and runs at the defence, and as a result, loses the possession of the ball.
In the example below, Chukwueze faces immediate pressure from two Betis players as he receives the ball. He is quickly closed down but instead of trying to retain possession by passing back to Peña, he tries to dribble past the opposition and as a result, sends the ball out for a throw-in, giving Betis a chance to regroup. 
When Chukwueze doesn't have the ball, he is always moving and getting into potentially threatening positions. However, many times his movement is not synced with that of his teammates, and he ends up being a distraction rather than a genuine passing option.
In this sequence of play, Cazorla plays a through ball for Peña to chase down, but Chukwueze misinterprets it and ends up intersecting the pass. When Chukwueze realized his mistake, he played a poor ball into Peña which went out for a goal kick.
In this example against Betis, Cazorla picks up the ball in the right half-space and attempts to play a through ball past the defense. But instead of making a movement infield to drag a defender away or making an unmarked run, Chukwueze stood his ground and became a distraction in Cazorla's path, thus clogging up his passing options. Cazorla decided to shoot instead, but it was easily saved by Joel Robles.
Predictable Actions in Attack
Arjen Robben made a career out of his iconic action: Cutting in from the right flank and sending the ball into the top corner of the goal. Chukwueze tries to replicate his iconic move, but his actions have become extremely predictable for opposing defenses.
Chukwueze is overly reliant on his left foot, as 96% passes come from the left foot, and this dependence can be seen in his shots too. Out of the Nigerian's 48 shots this season, 42 have come from his left.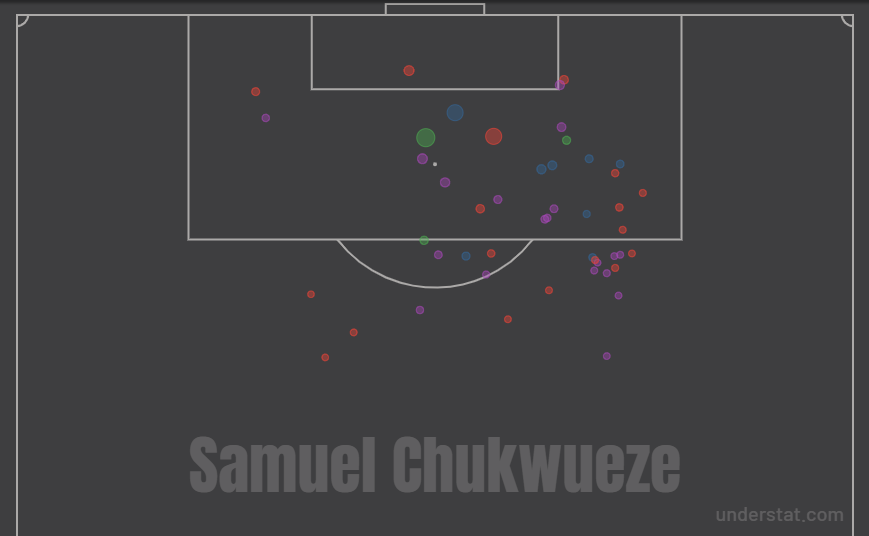 Although it's vital to have a unique trait in your skill set, over-dependence on it can make a player predictable and easy to shut down. This is what has happened with Chukwueze this season.
In this sequence of play, Chukwueze looks to cut in from the right half-space, but Betis defenders block the progressive lanes. Chukwueze ends up playing a pass which is easily intercepted.
In the next run of play, Chukwueze tries to cut inside again, but once he moves infield, he finds no progressive option, so he is forced away from the goal by countering his most threatening move.
As already established, Chukwueze is extremely reliant on his left foot for every action he makes, and this can take a toll on his crossing ability, as seen by his measly 0.2 crosses per game with an underwhelming 21% crossing accuracy. 
In this sequence, Chukwueze gets into a good crossing position, but since he has a weak right foot, he uses the outside of his left foot to make a cross. As a result, his cross fails to meet the intended target and is easily cleared.
As a result of his one-footedness and predictable dribbling, when he comes up against a strong 1 v 1 defender, he struggles to progress possession.
In this sequence of play, Chukwueze tries to take on Real Madrid left back Ferland Mendy. Mendy didn't allow him to cut inside and pushed him even wider. As a result, Chukwueze failed to progress the ball and Mendy forced the ball out for a goal kick.
Conclusion
Although Samuel Chukwueze is a promising young talent with exceptional acceleration and brilliant dribbling skills, he is easy to defend against because he is not versatile enough in his attacks. If the 21-year-old can add new facets to his game and become more consistent, he can join a top club one day, but for now, he needs to work on refining his skill set and winning a permanent starting spot at Villarreal.
With Unai Emery being roped in to steer the submarine, Chukwueze may just have the manager he needs to take the next step to the top level. Despite being criticized as an overly conservative manager, Emery has helped refine the likes of Vitolo, Christophe Nkunku and Aleix Vidal into far more complete players, before they went on to seal big transfers. He might just have the same impact with Chukwueze.
By: Shaharyar Atique
Photo: @GabFoligno