Player Analysis: Sepp van den Berg
Sepp van den Berg was only 17 when Liverpool signed him for £1.3 million, rising to £4.6 million with clauses in his contract from his hometown club, PEC Zwolle. He joined the reigning Champions League holders at the time of the signing in 2019 with plenty of expectations. The pressure was already there with comparisons being made to Virgil van Dijk from the Liverpool fans which was quite a step-up from playing his first season at PEC Zwolle.
On 1 February 2021, Van den Berg signed for Preston North End on a loan deal for the remainder of the 2020-21 season, with the deal coming to fruition due to Ben Davies' departure from Deepdale. A swap deal of some sorts, with rumours of another loan being available for Preston come the summer transfer window. Van den Berg played 22 games in Liverpool's U-23 side, all at centre-back, and there was a step-up to be made in the Championship.
Van den Berg was a used substitute in his first game at Preston, and then an unused substitute for the recurring three games after. Since these fixtures, Van den Berg has started every game for Preston, usually in the right-back position due to Preston selling first-choice right-back Darnell Fisher to Middlesbrough late in the January window, causing club captain Alan Browne to cover the position before Van den Berg. Out of his 994 minutes as a Preston North End player, he has amassed 886 minutes at right-back.
Van Den Berg's Effect as an Attacking Right-Back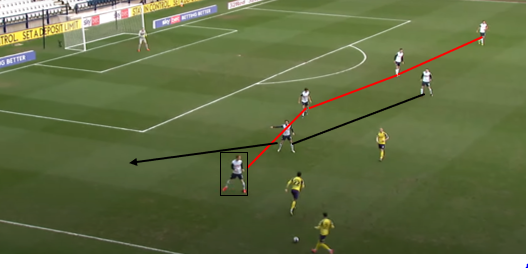 FIGURE 1: Van den Berg (highlighted in the square) is on the right of a back four looking to press the ball, he has allowed a good understanding with Alan Browne who is acting as a makeshift number 6 and will drop into the right-back spot when Van den Berg moves out of position to press the ball.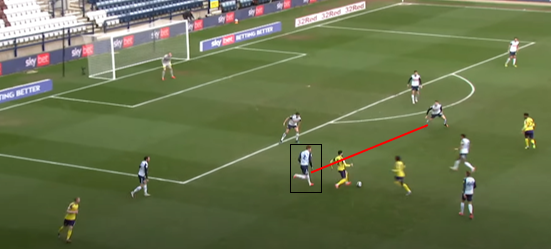 FIGURE 2: Van den Berg has been brought inside by Pipa, the Huddersfield Town left-back, causing Browne to fill in at right-back to cover Van den Berg but it also allows the Dutch youngster to continue to track the ball and become a temporary 6, as a double pivot with Ben Whiteman. 

FIGURE 3: Van den Berg in the same passage of play, drops into the right centre-half role in which he was accustomed to at Liverpool. He drops alongside the backline causing a 5-2-1-2 formation to occur, allowing for more protection on the Preston goal. 
The recent pattern of Van den Berg being used as a right-back for Preston has totally changed the way that he plays the game, as he was a centre-half for Liverpool's U-23 side. Van den Berg never really got the chance to travel up-and-down the pitch as frequently, until he got his chance to.
With a pass success percentage of 65.8 as a player who is asked to play out of his natural position and try defence-splitting passes, this stat is quite remarkable, with no wonder that other Championship clubs are scrambling to try and add Van den Berg to their squad for next season.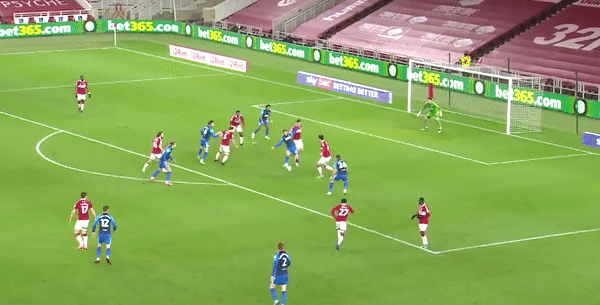 FIGURE 4: Van den Berg here, waits on the edge of the Middlesbrough box for a chance to drop to him. And when it does, he unleashes a strike that crashes against the Middlesbrough crossbar, an almost inch-perfect strike. 

FIGURE 5: Van den Berg makes an overlapping run beyond Tom Barkhuizen, gaining the attention of two Derby County players. This frees up Browne to make a run into space and then find Whiteman to make it 1-0, an underappreciated move by Van den Berg but one that allows Preston to score.

FIGURE 6: Van den Berg joins the attack leading to Preston's second goal against Derby. With Van den Berg and Greg Cunningham overlapping the 6, Ryan Ledson, creating a 3-3-3-1, with Ledson sitting in front of the backline maintaining his position. 
Van den Berg's Defensive Acumen 
Van den Berg is a brilliant transitional player, who can play anywhere on the backline. However, due to the player being majorly using his right foot he is more accustomed to the right side of the pitch, especially in the right centre-back place.
The Dutchman has played for Liverpool's first team in the EFL Cup three times last season, against high-caliber teams such as Aston Villa and Arsenal and Van den Berg was always played on the right of the backline. It is his comfortable position; one he thrives at.

FIGURE 7: Van den Berg in a back three against Stoke which has transitioned into a 5-3-2 with Barkhuizen and Cunningham dropping back to form the 'horseshoe' which refers to a pattern of ball circulation as the shape resembles a U-Shape/Horseshoe causing the opposition to move the ball sideways and backward rather than them trying to break the lines. 

FIGURE 8: Van den Berg, showing the trust that his manager and teammates have in him to be able to cover them all from a corner if a counter-attack was to develop from Swansea.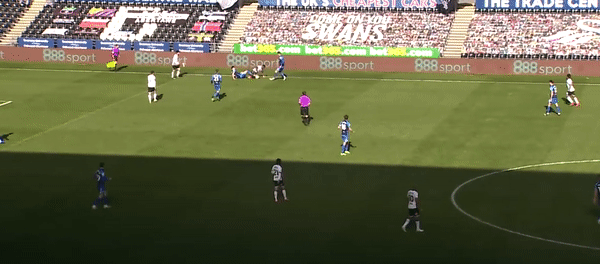 FIGURE 9: Van den Berg wins the ball back from the Swansea left-back, before shifting his body to allow space for Jayson Molumby to give him the ball again. A tackle from Van den Berg that turned into a real chance for Preston.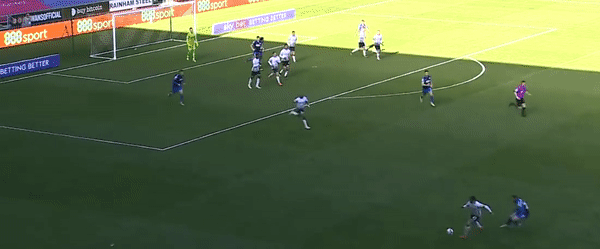 FIGURE 10: Probably one of the most impressive plays by Van den Berg in this game, stopping the counter-attack by Swansea by using his pace to track the ball from covering the right side of the pitch, not to mention it being in the last minutes of the game, a real show of the fight until the end spirit. 
It is clear to see that Van den Berg has become accustomed to the high pace, physical play of the Championship. Especially playing in a role where he has not played before in the professional game before Preston. With another year potentially on the arisen at Preston, Van den Berg will only progress further and become more comfortable at right-back.
Whether or not they decide to make Ozan Kabak's loan permanent, Liverpool have enough options in the centre of defense to make Van den Berg's loan extension to Preston North End a sure thing. Van Dijk will return from his injury, and alongside the likes of Joël Matip, Ben Davies, Rhys Williams, and Nathaniel Phillips, Liverpool could add another defender to their ranks this summer with RB Leipzig's Ibrahima Konaté being linked.
Nevertheless, at 19 years of age, Sepp van den Berg has plenty of room to improve and potentially become a key player for Liverpool, providing them with a similar profile to Joe Gomez, a player who can play as a right-sided centre-back and right-back. The Championship is one of the most reliable feeding grounds for Premier League-ready talent, and if Van den Berg can continue to progress at Preston, he may just have what it takes to make a name for himself at Anfield.
By: Oliver Hargreaves
Featured Image: @GabFoligno / NurPhoto