Player Analysis: Sven Mijnans
23-year-old midfielder Sven Mijnans recently advanced from mid-table side Sparta Rotterdam to Dutch big-four member AZ Alkmaar. Despite a brief spell at ADO Den Haag's youth side, he eventually moved from Spijkenisse to Jong Sparta at 18 years of age. Sven quickly became a mainstay in the first team following his debut at 20. 
AZ had hoped to push for a European spot this season, but a recent spell of bad form currently has them in the playoff spots. Since making the €2.5 million move to AZ, Mijnans plays as an attacking midfielder in a 4-2-3-1, sometimes dropping into an 8 role in a 4-3-3. His 6'2 frame compliments his rare skill set, which gives hints of Kaka or Socrates at times.
In the final third, Mijnans really excels. While often weak in younger players, his final ball selection is excellent. Around the opponent's box, he can disassemble deep lines using third-man runs to disguise his intentions. His larger frame yet tight control allows him to hide the ball and supply the incisive pass.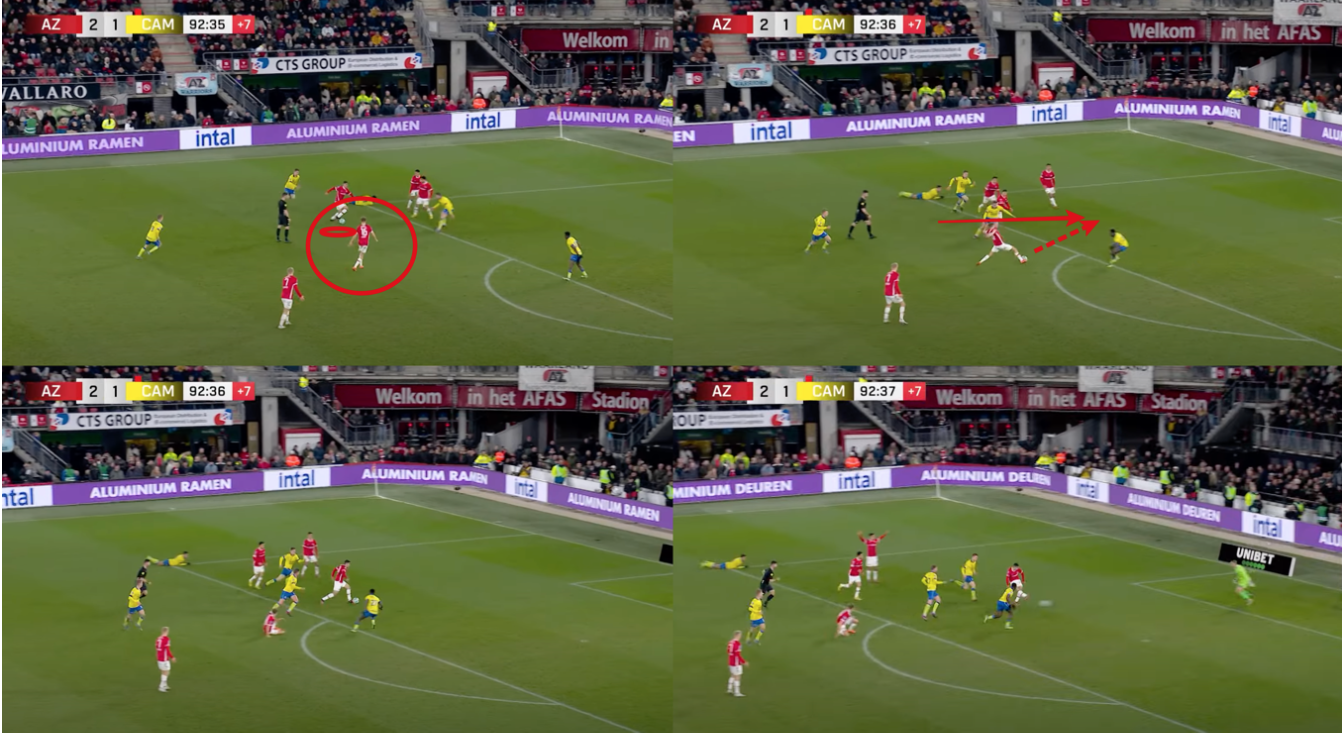 This excellent assist for Sparta shows his ball control and physical strength combined to fool his marker. He can then execute the incisive pass.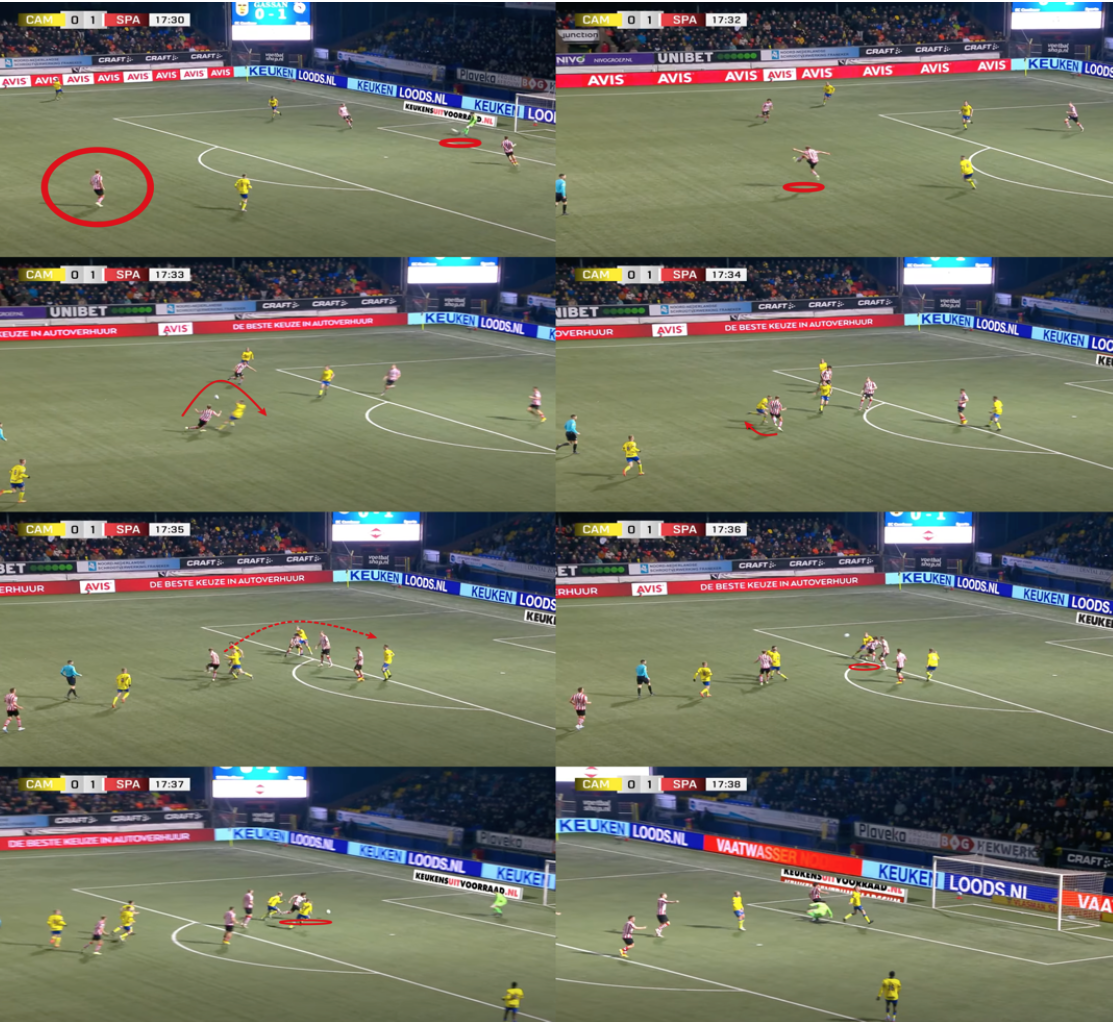 Mijnans ranks in the 92nd percentile for through balls/90 amongst attacking midfielders within the league. This exemplifies his preference for the final pass. He ranks well for progressive and final-third passes, further showing how he can convert possession into dangerous moments.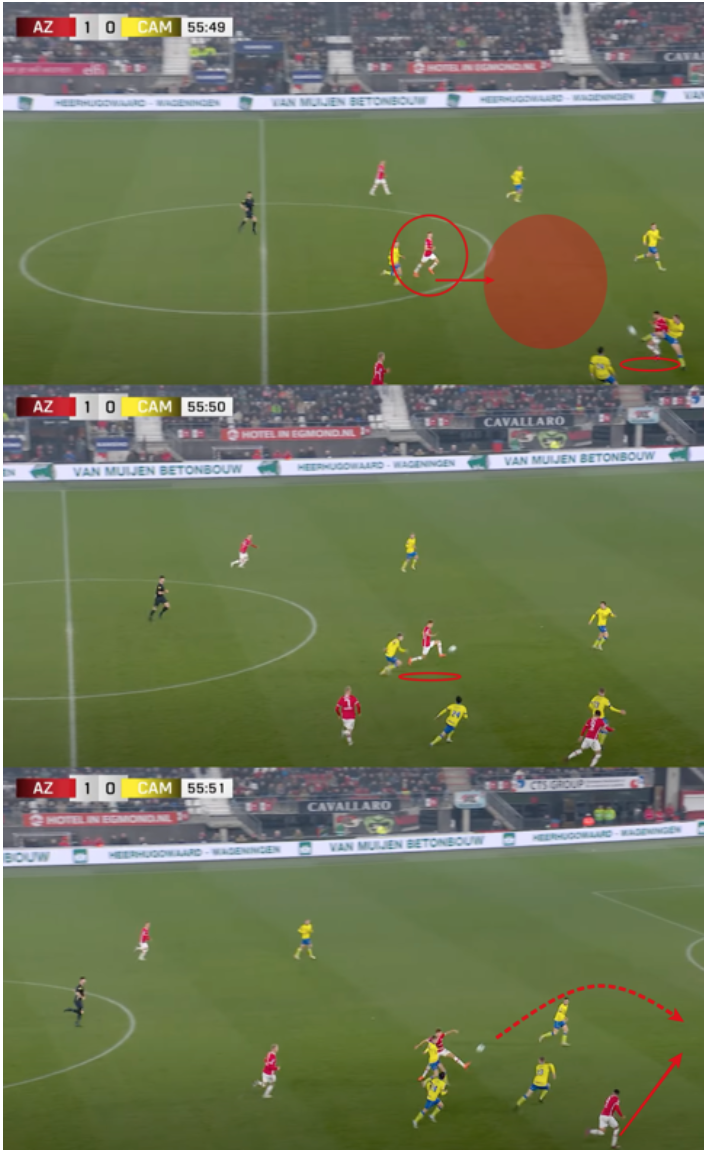 Mijnans ranks in the 92nd percentile for through balls / 90, amongst attacking midfielders within the league. This exemplifies his preference for the final pass. He ranks well for progressive and final-third passes, further showing how he can convert possession into dangerous moments. Moreover, his ranged shooting is strong, adding unpredictability to his end product. The leverage from his long legs makes him a real threat both inside and outside the opponent's box.
Mijnans has excellent off-ball movement, multiplying his physical advantages by making intelligent runs. Wingers Jesper Karlsson and Jens Odgaard both move inside frequently, vacating wide areas for Mijnans to exploit. This is often done in possession rotation to give the AZ fullback passing options. He gives defenders an excellent out ball due to his strong hold-up play and ball carrying.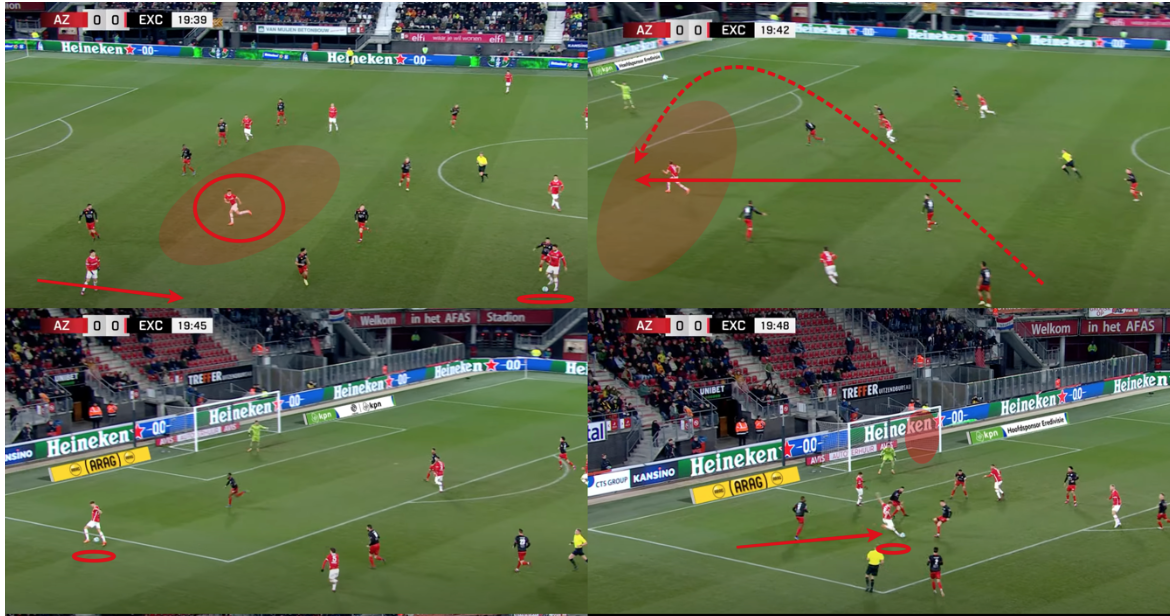 Striker Vangelis Pavlidis may drop into midfield to help link the defense to the attack, thus allowing Mijnans to infiltrate the vacated space like a traditional no.10. While his creativity is his best asset, Mijnans has the skill set to play as a striker for periods of the game.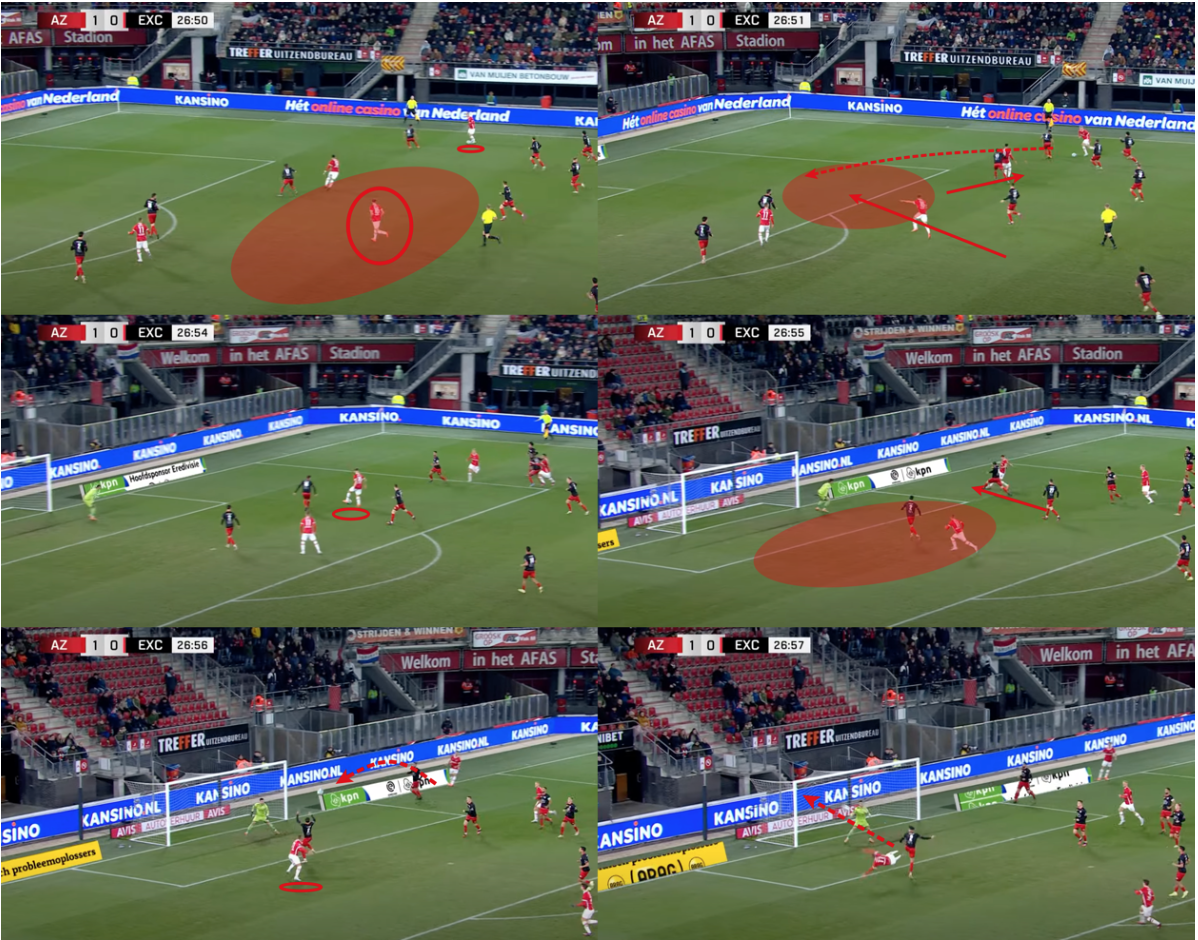 Clearly, Mijnans has excellent spatial awareness and scanning, allowing him to exploit space. He uses these skills to create space for teammates, a valuable but often overlooked asset.
Here, in the game between AZ and Cambuur, Mijnans allows AZ to transition by being an outlet for a long pass. After setting the ball down for his teammate, he peels into the right wing. This leaves space for Reijnders in midfield.
More importantly, by moving outside his marker, he pulls him away from the centre, ensuring he cannot close down Tijjani Reijnders. Mijnans keeps his run wide so that the box doesn't get overcrowded for teammate Pavlidis. Eventually, Mijnans gets the shot, as his marker fills the central gap and cannot challenge the cross.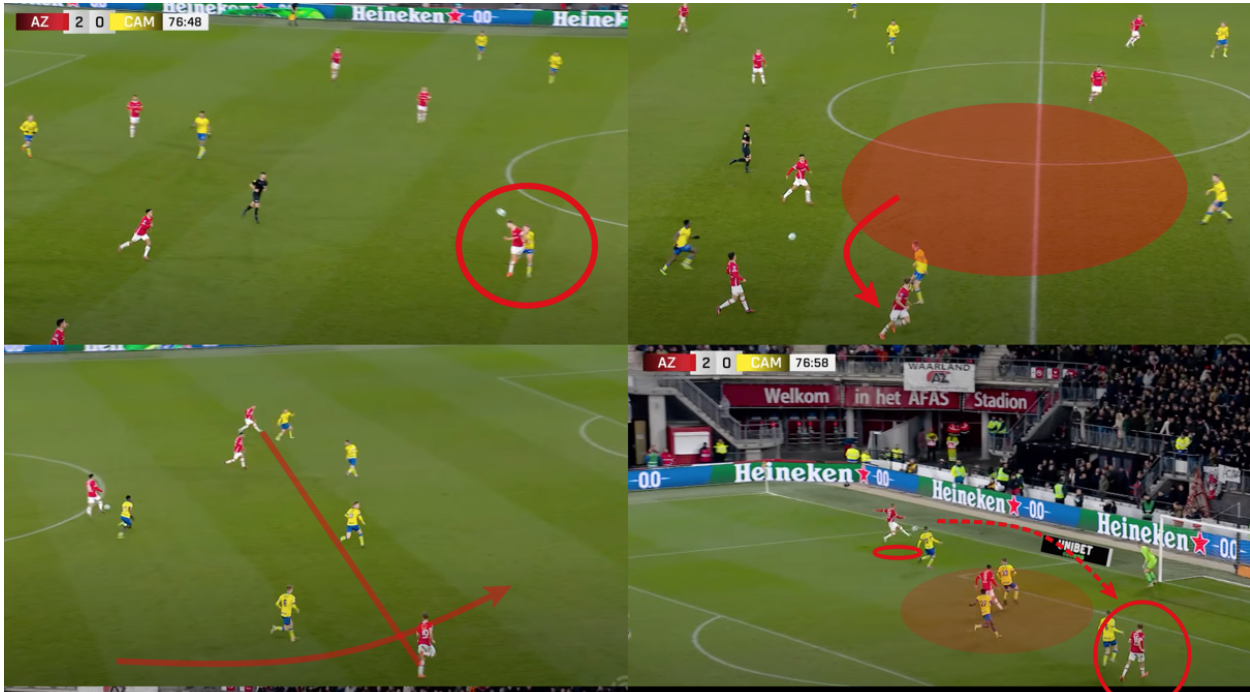 We often see Mijnans vacate an area, giving his teammate a passing option. More importantly, this creates space for a more dangerous movement.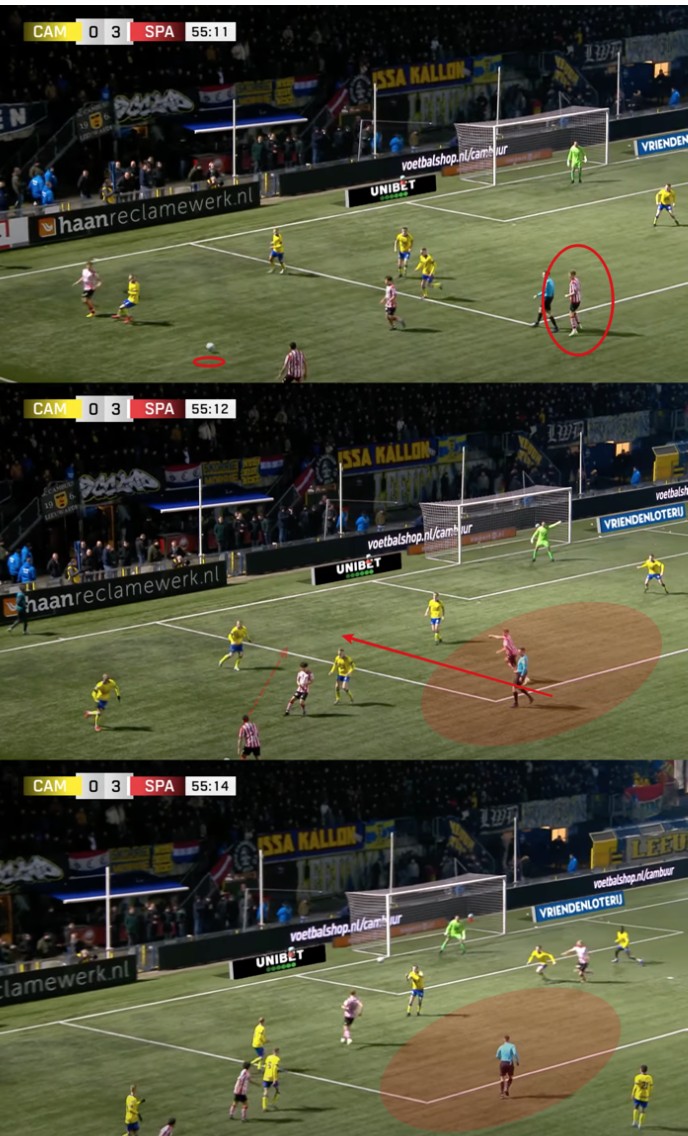 Despite having high progressive pass receptions for a midfielder, Mijnans makes a lot of progressive and long passes for an AM. Evidently, he's suited to the hybrid role he plays between an attacking 8 and a no.10. This is impressive as Mijnans generally stays high in the possession phase, close to Pavlidis in the front two. Midfielders accumulate passing stats by dropping deeper in possession, yet Mijnans produces high numbers without this.
Sven Mijnans, as mentioned, plays as an attacking midfielder, near his striker as a no.10 at times. Managers want him around the box due to his creativity, ability to manipulate space, and his ball retention in tight areas. For Sparta Rotterdam, he was sometimes used as a right winger, playing tighter in a 4-2-3-1/4-4-2 shape. Using him as a creative, inverted right winger may suit Mijnans as he can pin his marker using strength, and slide incisive passes into the box.
As a deeper no.8 style midfielder, Mijnans can offer a lot of value in transitions. He can break down the opponents and kickstart his own counterattacks. Longer legs aid his interceptions and recoveries, while tight control ensures possession is held following a turnover.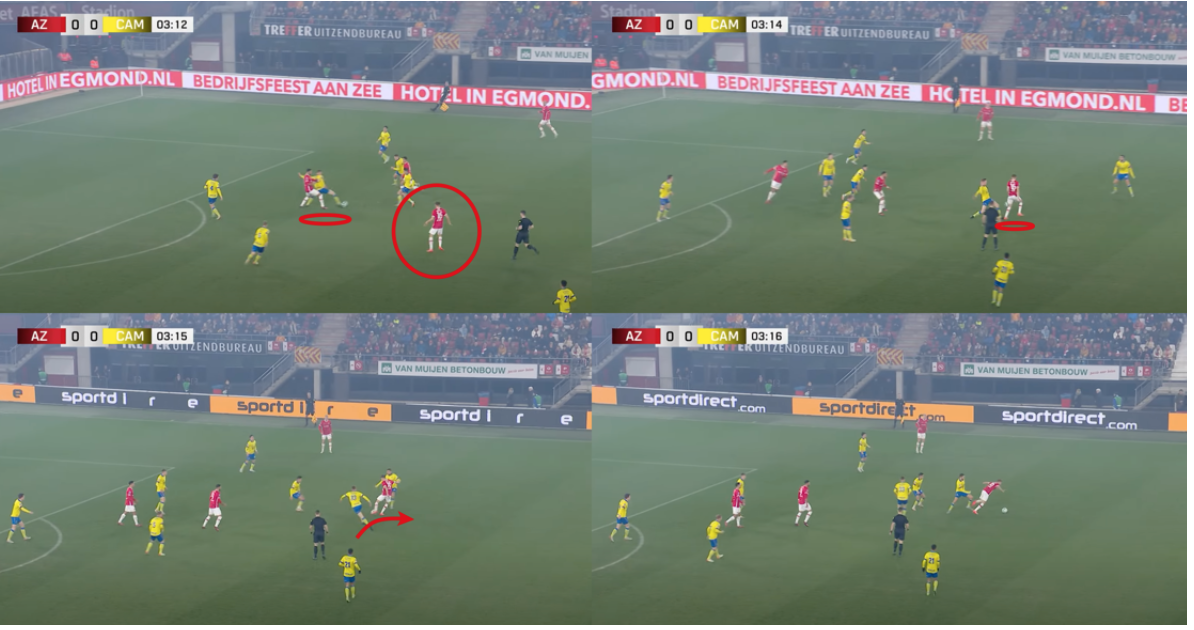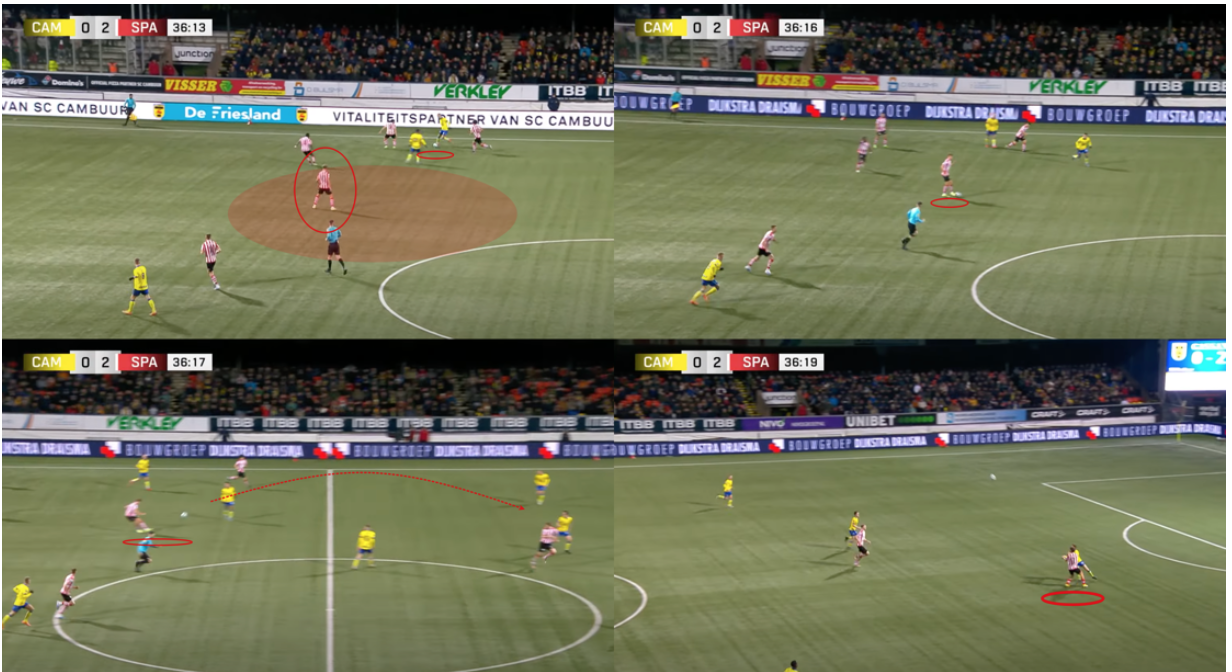 He ranks highly for shot creation from defensive actions, indicating that he is winning the ball in high areas, enabling a quick transition to attack. His large gait allows him to cover ground swiftly. While the ability to control the ball and deliver through passes with few touches links a fluid attack, as seen below.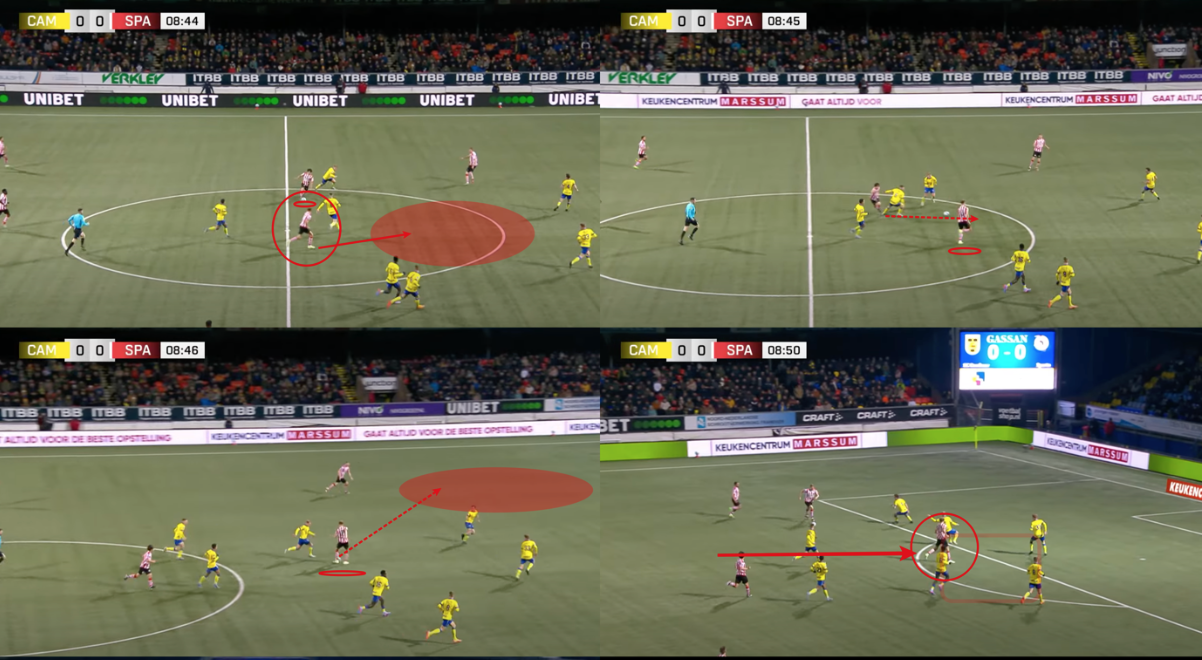 We start to see Mijnans value as a no.9 in the above image. As the Sparta striker drifts wide, Mijnans fills the central space, distracting multiple defenders. He makes a lot of intuitive striker movements, primarily when his side's actual forward vacates the central areas.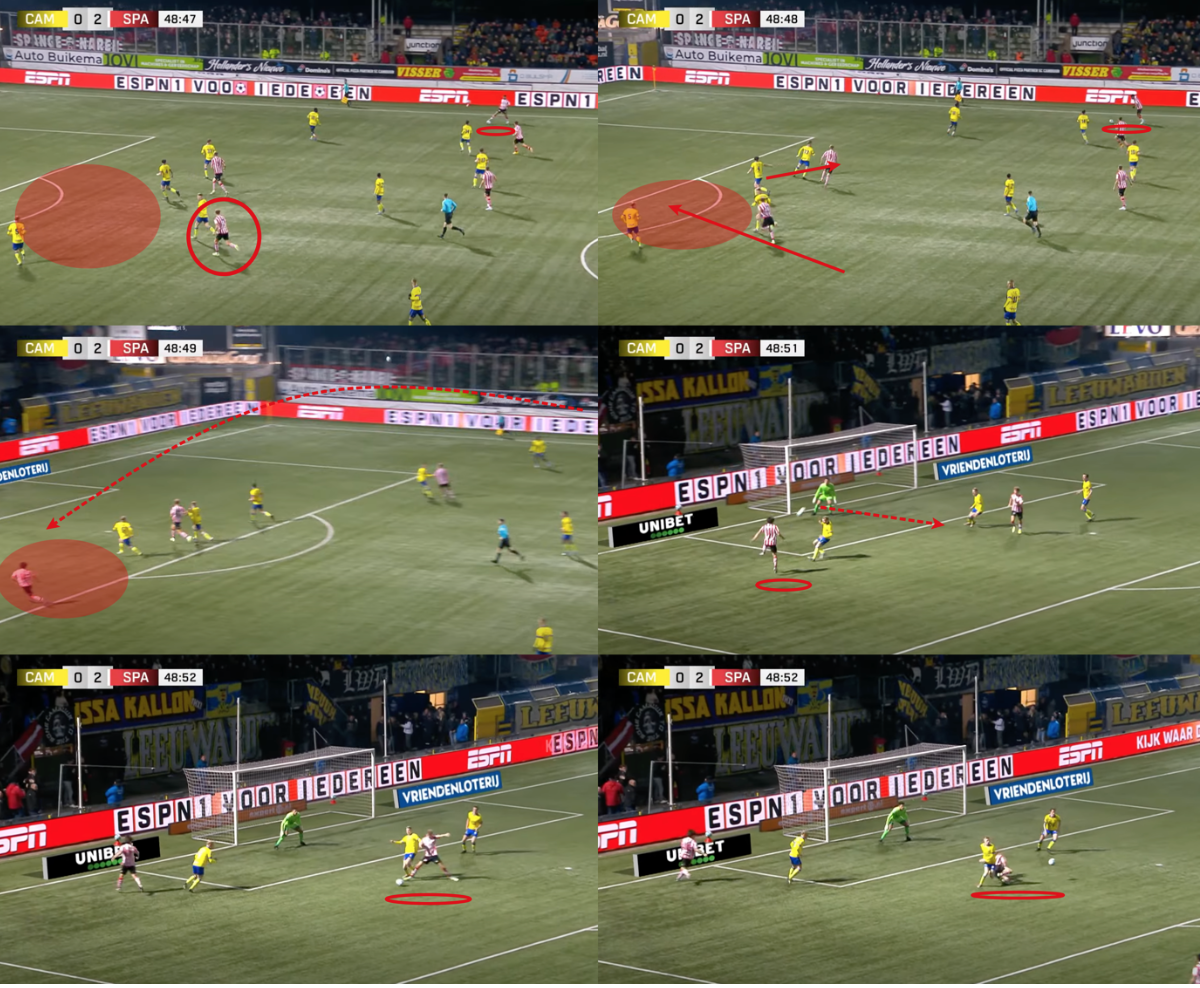 By getting between the posts, he gives teammates a pivot to play off of, using hold-up play while runners stream either side, knowing he can find the pass.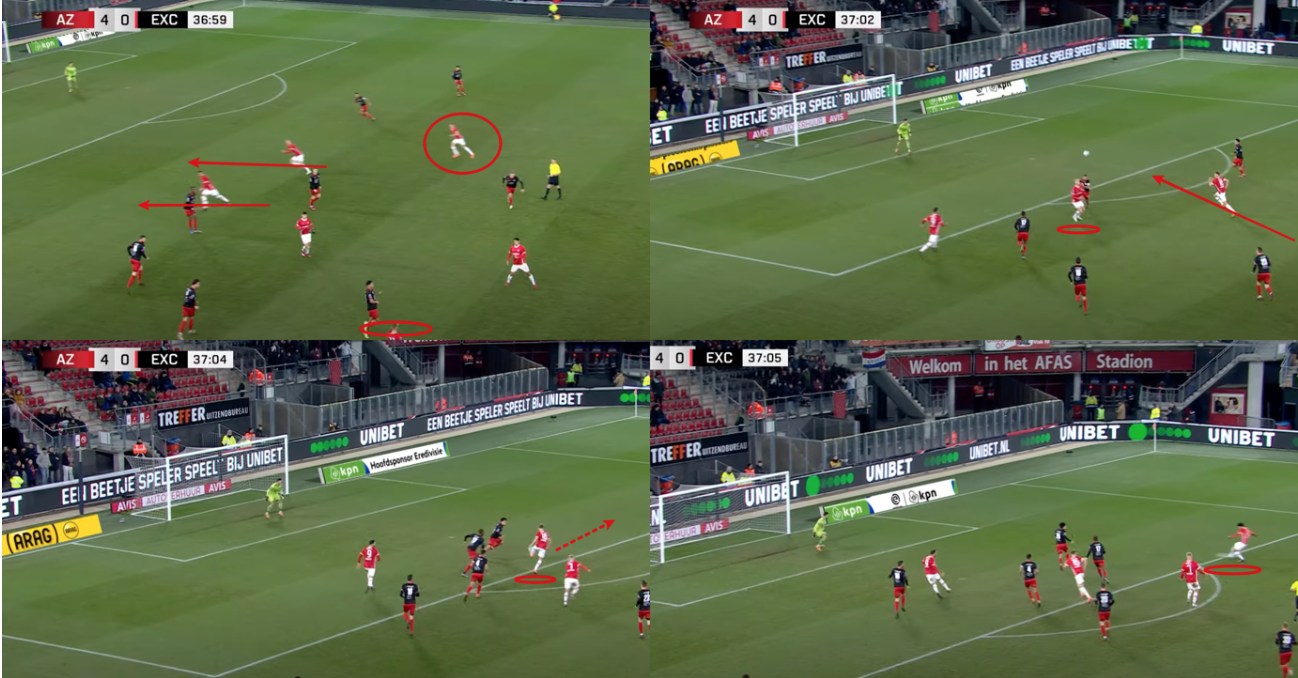 Mijnans can fill a variety of positions across the pitch, while his skill set suits the role of an attacking midfielder. His defensive contribution may tempt managers to use him deeper, but his elite chance and space creation around the box signifies his offensive prowess.
Moreover, his ability to play off a striker and complement their movements implies that he could suit a shadow striker role in a front two. His interplay and movement would undoubtedly facilitate his partner. His own intelligence and finishing suit being around the box. Additionally, this second striker role is often taken by smaller forwards, compelling the manager to pair them with a physical forward. However, Mijnans' unusual build lessens the need for this, as he can provide the hold-up play that a target forward might.
Many fans feel Mijnans' development is in safe hands at AZ. The club has an excellent record of selling young stars to the big leagues. They boast a reputation for pre-replacing their sales with equally talented youngsters. The likes of Teun Koopmeinners, Myron Boadu, Owen Wijndal, Marco Bizot, and Oussama Idrissi have all left for bigger clubs in recent seasons. AZ's regular push for European football, bolstered by the Eredivisie's rank rise, will give Mijnans a platform to show his talent.
Teammates Jesper Karlsson, Tijjani Reijnders, and Milos Kerkez look primed for big moves. Perhaps a potential exodus gives Mijnans, as well as the talented Yukinari Sugawara and Jens Odgaard, another season or two at AZ. There is no doubt that the unique skill set of Sven Mijnans will attract bigger clubs soon. A successful European campaign, or a push into the highly competitive Netherlands squad, may bring Sven to the mainstream.
By: @FootballEcon_
Featured Image: @GabFoligno / DeFodi Images