Player Analysis: Takefusa Kubo
It has been quite the whirlwind start to Takefusa Kubo's young career. In August 2009, he was awarded MVP at FC Barcelona Soccer Camp at the age of eight and continued to impress for them in youth tournaments before leaving Kawasaki Frontale's youth side and heading to Spain after being invited to join La Masia in August 2011, just two months after turning 10.
He started playing for Barcelona's Aleví C (U-11) and finished as the top scorer in the league in his first full season (2012/13) with 74 goals in 30 games. Everything seemed set for Kubo to become the first Japanese player to play for Barcelona until they were found to have violated FIFA's international transfer policy for signing U-18 players, making him and various other players like Andre Onana and Antonio Sanabria unable to play for Barcelona until turning 18, prompting Kubo to return to Japan in March 2015.
After impressing with FC Tokyo's first team, Kubo caught the eyes of Real Madrid who signed him on a five-year deal in 2019 just weeks after turning 18, featuring regularly with the first team during their preseason tour of the United States and Germany before being loaned out to Mallorca just days before the transfer window closed, scoring 4 goals and 5 assists in 35 appearances but failing to keep them alive in the top-flight.
His next stop was Villarreal, where he would struggle to lock down a starting spot before moving to Getafe in January where his fortunes didn't improve that much — in total, he would score 1 goal and 1 assist in 31 league appearances for both sides and 1 goal and 3 assists in 5 Europa League appearances for the Yellow Submarine.
Kubo returned to Mallorca but failed to restore the same levels of his debut campaign, registering 1 goal and 1 assist in 28 league appearances. Desperate for some sort of consistency, he elected to end the cycle of loan spells and cut ties with Real Madrid, joining Real Sociedad on a contract through 2027. He would kick off his spell in Anoeta with a goal just 28 minutes into his debut to lead them to a 1-0 victory in Cádiz, and he has gone on to register 2 goals and 4 assists in 17 appearances in the league and Europa League this season.
Profile
Name: Takefusa Kubo
Age: 21
Nationality: Japanese 
Height: 173CM
Position: Forward
Pref Foot: Left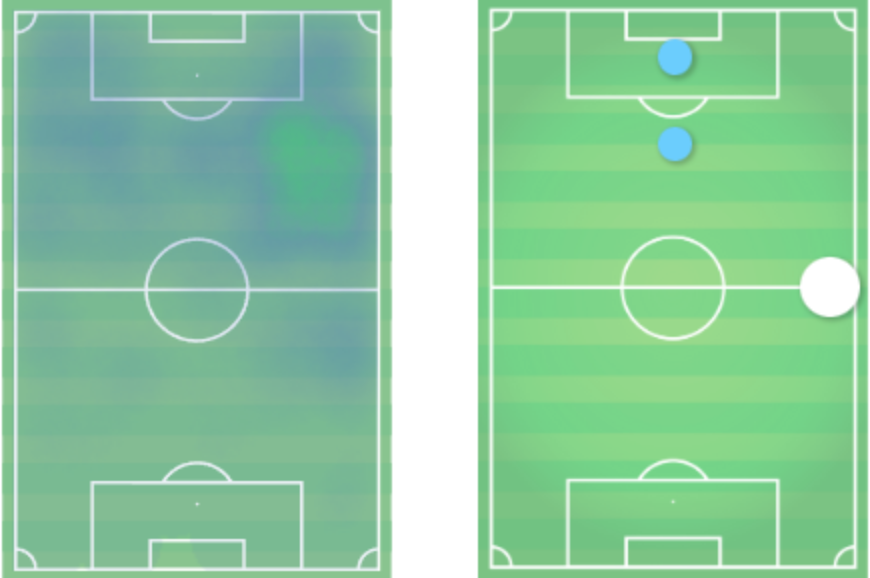 Kubo is a left-footed player who more recently has taken up a more central role or likes to come off from the right onto his stronger foot. The above heatmap and position map indicates this and as we can see, he mainly uses up space on that right side. 
Data Analysis
Although there was not much to highlight data-wise, I thought it would be good just to get an idea of how Kubo fares compared to the other forwards in the league. Firstly, we look at the shots per 90 VS the shots on target percentage. Here, we can see that Kubo gets off approx. over 2 shots per game but he is slightly under 50% for hitting them on target.
Hitting the target of over 50% could be an area that Kubo can develop over time. Although Benzema has taken a lot more shots, Kubo managed to hit the target slightly more, which can be viewed as a positive but same time, could state that this would not be the same reading if Kubo had more shots.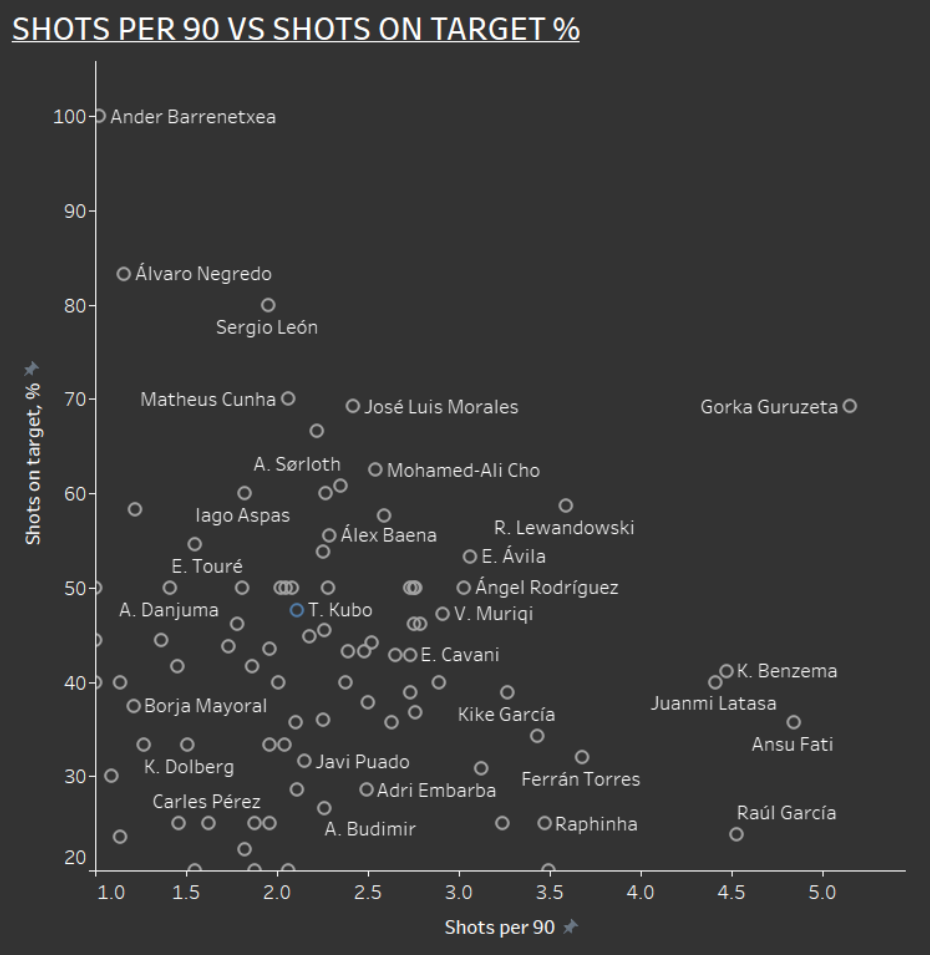 Next up, we look at the XG vs. Goals metrics. Kubo has scored 2 goals this season in 12 games, therefore the xG would be lower than most. Although Kubo is a forward, he does like to do the creative and hard work off the ball rather than be a poacher, this we will come onto more in the video analysis.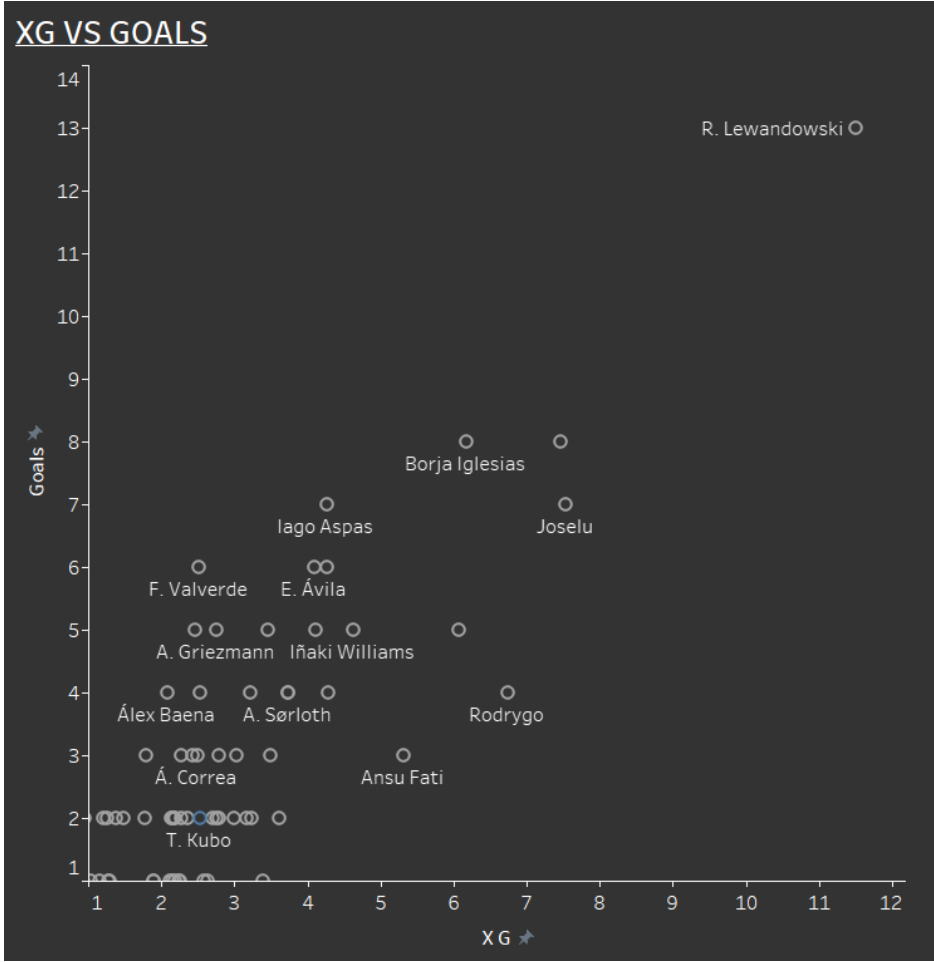 Now, we look at the touches in the box vs. successful attacking actions per 90. We can see that Kubo gets just under 5 touches in the box per 90 and has approx. 4 successful attacking actions per 90. All these metrics that we have reviewed tell us that Kubo is not a full striker and that he looks to be more of a player who plays off the striker.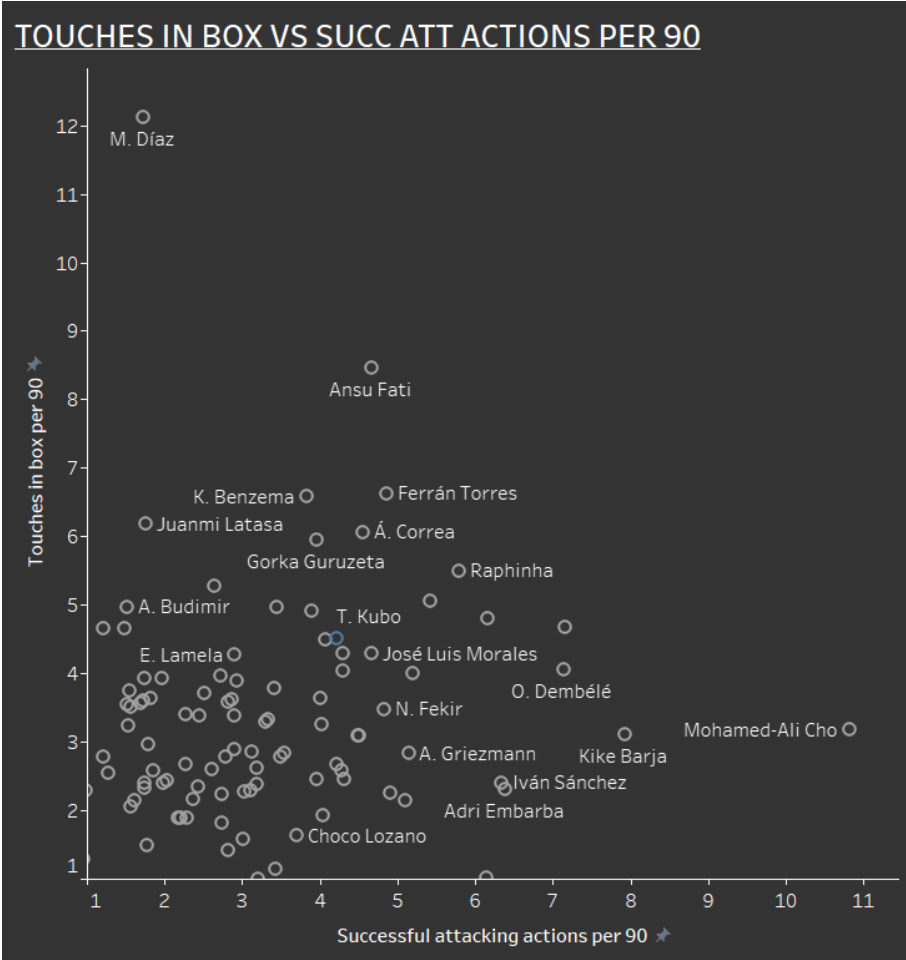 Video Analysis
In this section, we will cover some in-game video analysis to look at Kubo's main attributes. In this first video, we can see that Kubo is a player who works hard for the team and presses the full back and ends up winning the ball for his team. A typical striker is less likely to do this work however, being a forward who plays off the main striker, this is something Kubo is able to do effectively.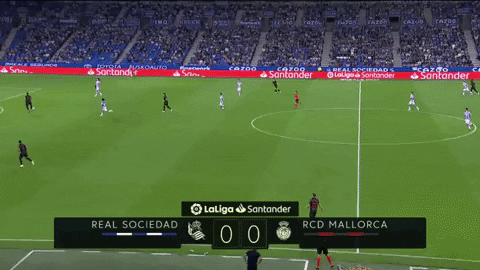 Again, we look at another example of Kubo working hard and putting on the pressure of the opposition's backline. Due to Kubo's hard work off the ball, this phase of play actually ended up being a goal. It was noted that Kubo does this in a lot of the videos that were analysed.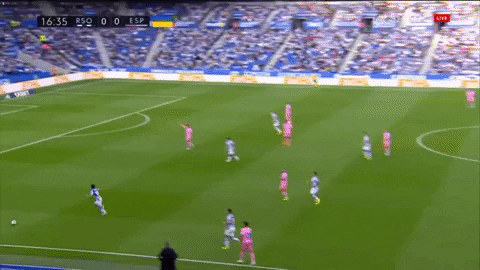 This time, we look at the creative side of Kubo and how he was able to pick out a lovely pass in a packed box. As mentioned before, Kubo likes to drift out to the right and cut inside on his left foot and this is exactly what happened here. 
Conclusion
Takefusa Kubo may have not had the smoothest start to senior football life in La Liga, but Real Sociedad clearly are giving him regular game time and chances to express himself in Imanol Alguacil's starting lineup. It seems that Kubo is enjoying his football there and has managed to get 2 goals and 2 assists in 12 league games so far. 
According to Transfermarkt, the Japanese forward's value did take a dip however, since joining Sociedad, the market value is starting to rise up again, currently at €12 million. We will see Kubo at the World Cup and hopefully he can showcase some of his talent there and then come back to club football and continue to get game time and develop further. 
By: Dhillon Gill / @_iamdhillon
Featured Image: @GabFoligno / Adam Pretty – FIFA