Player Analysis: Tanguy Ndombélé
By the summer of 2016, Tanguy Ndombélé's chances of becoming a top-level footballer were slowly fading away. Born and raised in the Parisian suburbs to Congolese parents, Ndombélé had moved to Guingamp, at 14 years of age, but he was forced to depart Brittany after being denied a professional contract. He joined Amiens after the club's relegation to France's third tier, but manager Christophe Pélissier neglected to promote him from the reserves to the first team.
In search of greener pastures, Ndombélé trialled at a variety of clubs such as Auxerre, Caen and Angers, but he was rejected despite his obvious talent due to his struggles to stay fit and keep his weight down. At 19 years of age, it seemed his window of opportunity was running out.
Rather than bemoan his unfair situation, Ndombélé took a long look in the mirror and made a career-changing transformation. He returned to Paris, set a goal of losing 3lb each week and found a nutritionist. "Together we came up with a plan to get him fit," recalled his friend Nordine Baaroun to The Athletic. "After that, he went off and took responsibility. He got to grips with nutrition. He lost weight, and was able to play in Ligue 2."
Ndombélé quickly became a full-fledged starter under Pélissier, and with him in the line-up, Amiens finished second and won promotion to France's top flight. He would play just three matches in Ligue 1 for Les Licornes before joining Lyon on deadline day on a season-long loan. It was here in Lyon where Ndombélé would go from an unknown quantity to one of the hottest prospects in Europe.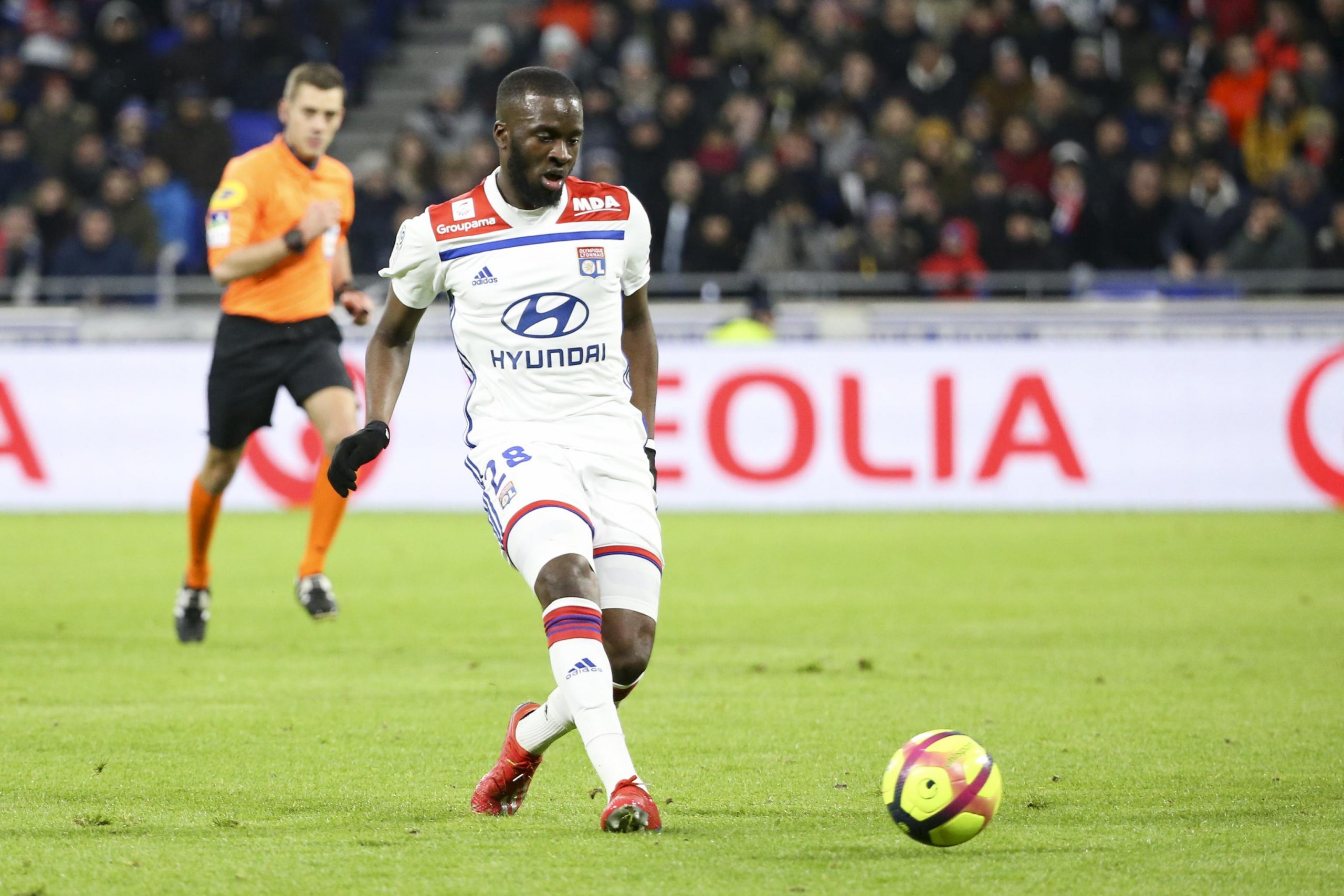 Photo: Jean Catuffe / Getty Images
Three years after being stuck in no man's land, Ndombélé was earning interest from Barcelona, Real Madrid and Bayern Munich. However, it was Tottenham Hotspur who won the race for him, paying a club record fee of £54 million for the Frenchman who joined on a six-year contract.
It has been a similarly challenging start to life in London for Ndombélé, who struggled with hamstring and groin injuries during the 2019/20 season. In November, Mauricio Pochettino — the man who pursued his signing — was sacked from his managerial position and replaced by José Mourinho. Ndombélé struggled for consistency and fitness in the months preceding the COVID-19 break, and on March 7, after a 1-1 draw with Burnley, Mourinho lashed out at his French midfielder:
"He's a player with great talent. He has to know he has to do much better and know I cannot keep giving him opportunities to play because the team is much more important."
Rather than balk and push for a transfer, the 23-year-old worked harder than ever to change the narrative. 17 months after his arrival, Ndombélé is finally demonstrating why Tottenham forked out a club record fee for his signing, having delivered excellent performances against the likes of Manchester City and Manchester United and cemented a starting spot at Tottenham, who currently sit atop the Premier League table after 10 matches.
Skills and Strengths
At his apex, Ndombélé is a complete midfield player who can provide great value in defence and attack, enabling him to play in all three positions in midfield (DM, CM, AM) at a very high level. His value going forward supersedes his defensive output, and a large portion of that is due to his incredible technical ability, combining elite close control with strength and a variety of skill moves.
His style of dribbling draws parallels to Yaya Touré and Moussa Dembélé – players renowned for their ability to hold onto the ball under pressure. Looking at his data from the last two complete league campaigns, he averaged 2.43 successful dribbles per game, which puts him in the 96th percentile out of central midfielders in Europe's top five leagues, per FBRef.com.
Even more impressive is that his dribble success rate is at 73%, with the threshold for elite dribblers normally slightly above 60%. Even if he doesn't beat a player, he can draw fouls thanks to his quick feet and strong physique, which allows him to manipulate his body in order to shield the ball. In his last season for Lyon, he ranked 11th in the league for fouls won, winning 2.1 fouls per game, although this has dipped since joining Tottenham to only 1.4 last season.
There is a common pattern in how Ndombélé operates when receiving the ball with the purpose of beating the opposition defender. He can use chops or step-overs to get past a player, but his most efficient move is the body feint. His ability to shift his weight laterally allows him to deceive opposing midfielders with ease, and the fact that he can execute the feint either on the turn with a defender on his backside or when facing the opposition has made him into one of the most press-resistant midfielders in Europe.
Ndombélé combines his feints and other tricks with his ability to stiff-arm players to create separation against an individual press, making him an invaluable member of the build-up and transition phases. When he beats the first line of pressure, it gives him extra time and space to either pick out a pass or drive into the heart of the opposition after beating the defender.
As this opens up the pitch, it also creates more passing options as opposition players are more likely to press Ndombélé, which creates an angle for his teammate to receive a pass. Elite ball-carrying midfielders tend to have an issue in releasing the ball as can over-dribble and fail to recognise open teammates, but the Spurs midfielder has no problem with this.
This can be seen in underlying passing and dribbling numbers where he ranks in the 88th percentile in passes into the final third and 93rd percentile in yards progressed (includes passes and carries) in the last two full league campaigns. While he is capable of finding long passes from deep, his incisive vertical passes are the staple of his game, and similarly to his dribbles, he looks to play direct and quickly advance the play.
With his pass accuracy being at 87.8% for the last two league campaigns, it emphasises his proficiency in passing especially since he tries more difficult and progressive passes, which are riskier and tend to come off less frequently. Ndombélé has the quality and consistent accuracy to unlock deeper blocks and create opportunities for his teammates from deep or in the final third.
A crucial reason as to how Ndombélé is able to play incisive vertical passes that progress play is because of his great body positioning. This allows him to easily disguise his passes, which makes it more difficult for defenders to predict where the ball is going and opens up different passing options.
Defenders can look at player's hips to predict where a pass will be made so they can jump into the passing lane to intercept the ball. This is because to play a pass through with enough pace on it, most players' hips usually need to be facing the same direction as the pass. However, Ndombélé is far from your average midfielder.
In this example against Norwich City, Ndombélé has the ball and his hips and body are facing the touchline where his teammate Serge Aurier is. This fools Onel Hernández into making a move to close down Aurier, and when this happens, the passing lane to Giovanni Lo Celso opens up, enabling Ndombélé to thread the needle and find him in between the lines. By being able to disguise passes, the Frenchman is able to open up defences and orchestrate attacking opportunities for Tottenham.
Defensively, there is enough evidence to suggest that Ndombélé stands out, with his intelligence and physical attributes playing a big factor when he's able to win the ball back. His 3.2 tackles and 1.32 interceptions rank in the 80th percentile out of midfielders in Europe's top five leagues. These numbers are adjusted for possession, thus giving a more accurate representation of a player's defensive ability.
His successful pressures, a statistic that measures how many times he wins the ball back within five seconds after a player's pressing action, have skyrocketed this season and is enough to put him 96th percentile with 7.84 per game so far.
Although it's a fairly small sample size, it indicates how the team's system and a player's role plays a part in this metric as Ndombélé has often been deployed as an attacking midfielder this season and Spurs have been pressing effectively from the front.
Ndombélé's great defensive IQ is on show in the above video as his interceptions mostly come from jumping into passing lanes. It helps that he can shift his body laterally very quickly to get into the passing lane. When it comes to tackles, it's more of the same but his physical attributes have a bigger emphasis on the outcome as like when he dribbles, he's able to stiff-arm players off the ball.
Another area of expertise for the Frenchman is that he has been able to tackle 37.6% of players that have attempted to dribble past him, putting him in the 79th percentile for midfielders in Europe's top five leagues. When an opposition player looks to go past him, he's not extremely aggressive as doing so would lead to space behind him.
Instead, he relies on his quick feet and strength to dislodge players off the ball. There are times that he gets dribbled past of course but a lot of these players tend to be extremely quick and agile and/or have lots of space to run into behind.  
Need for Improvement
While Ndombélé has all the tools to become the most complete midfielder in Europe, there are a few issues in his game that need to be ironed out for him to perform at the top level on a consistent basis. He misses some defensive rotations and has some lapses in positional awareness, which can be improved by an increase in scanning of the pitch.
There are two other major issues when it comes to Ndombélé: 1) his defensive motor and 2) his reluctance to show for the ball. Although his man defence is superb and defensive IQ holds up, it's the off-ball defence that needs improving if he is to take the step up to the next level. Fitness issues have plagued him at times and it certainly plays a part in his ability to do defensive work, but while there are examples of where he tracks runners well and gets back quickly, he needs to do this on a consistent basis.
His stamina is noticeably a weak point as he tends to fade during the latter stages of a game and tries to cherry-pick moments to help defensively to conserve his energy. However, as a box-to-box midfielder, this is something that shouldn't be done too often, especially in transition.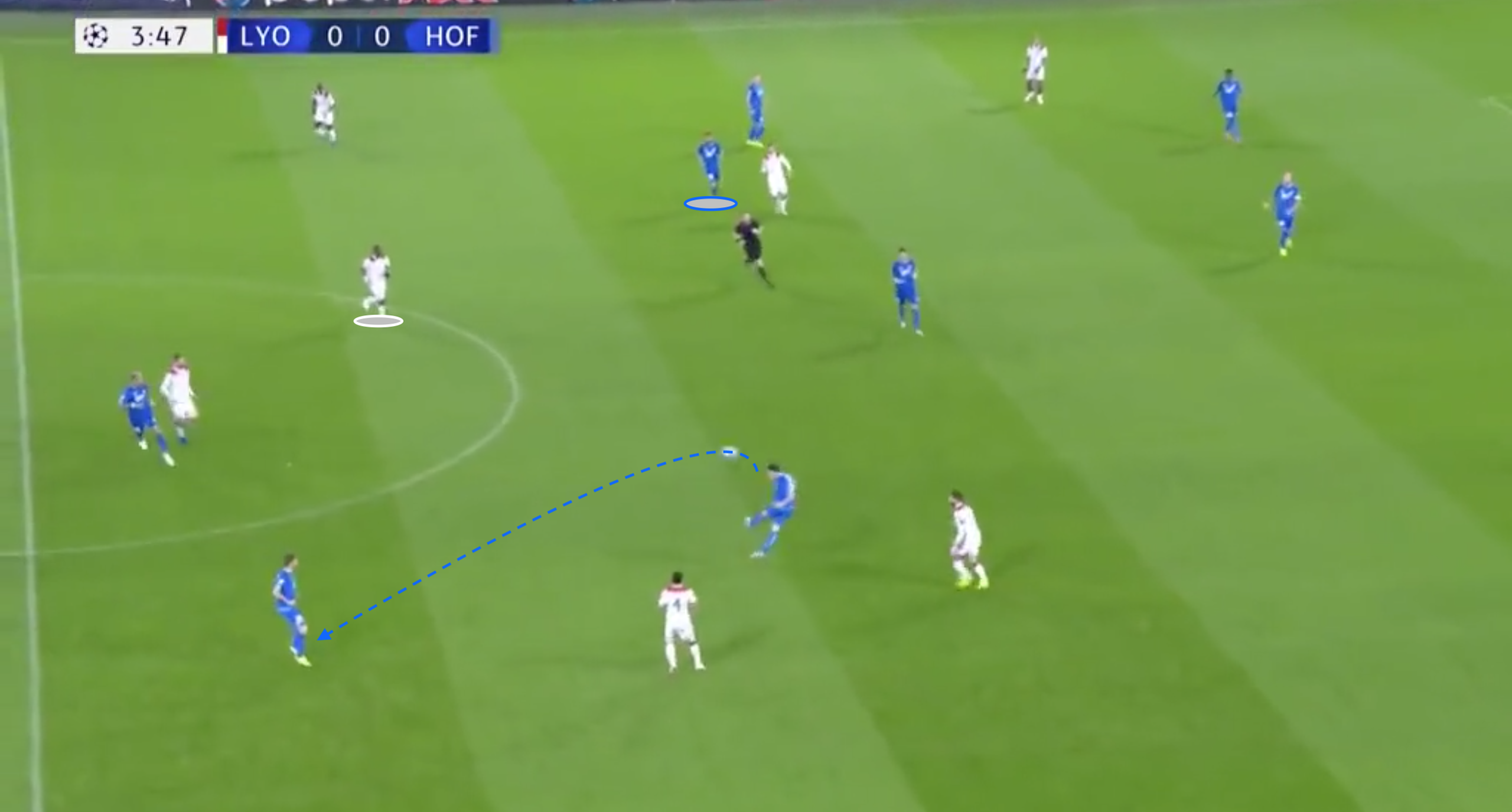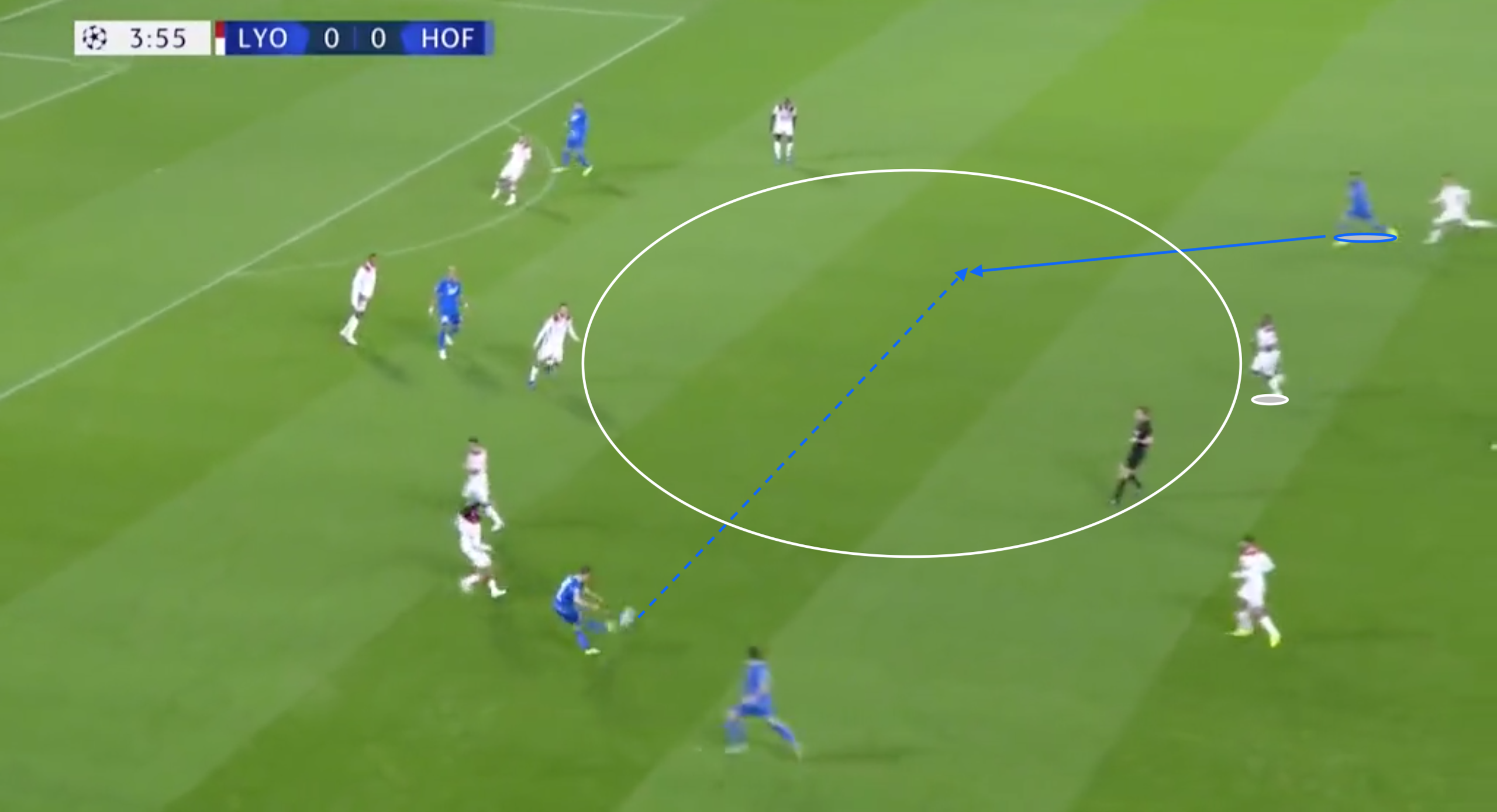 In the above examples, Lyon lose possession and Hoffenheim break on the counter. Whilst Kerem Demirbay is quickly making up ground to receive the ball in front of the defense, Ndombélé is jogging back when he should be sprinting to protect the defense and prevent Demirbay from receiving in acres of space.
While there are plenty of his teammates back to help out, Ndombélé should not be getting beaten with his back to his own goal especially when having a couple of metres on the opposition and playing the deeper role in the double pivot. This has been a recurring theme for the midfielder, and if this issue is down to conditioning, he will have to cherry-pick when to play defence much more effectively and as doing it in transition can hurt his team.
Ndombélé's reluctance to show for the ball when the defenders have possession is baffling given his talent when he is on the ball. His passing range, fantastic control and overall press-resistant qualities make him a phenomenal player to receive the ball in such areas, but he does look uncomfortable at points when put in that position.
It's an attribute both Mourinho and pundit Jamie Carragher heavily criticised in a 1-1 draw against Burnley — Tottenham's last match before the COVID-19 break — when he only received two passes from Spurs's three centre-backs in one half. He tends to hide in deep possession as he doesn't create a passing angle for his teammates to find him, as seen in the below example against Marseille.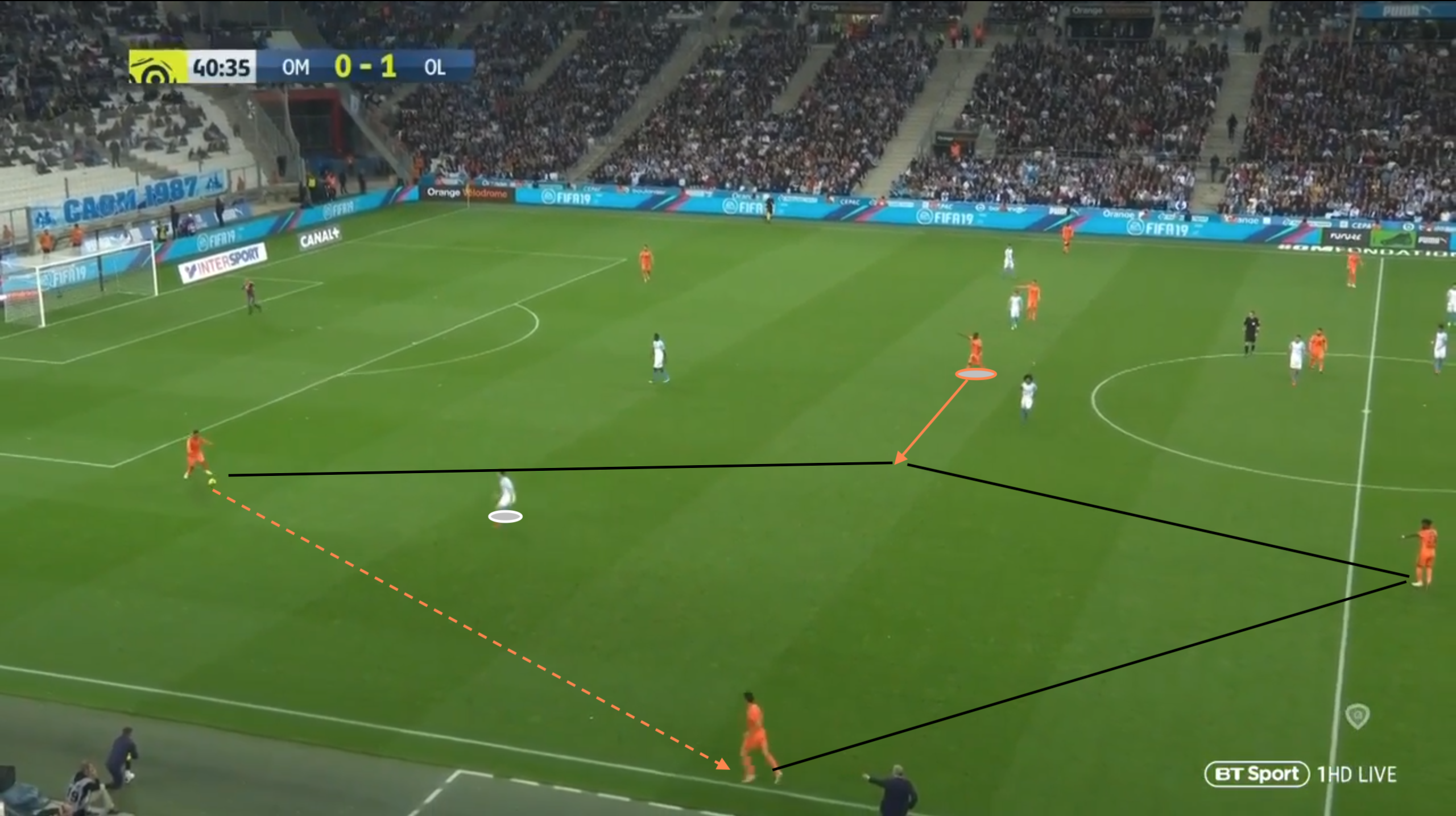 As Lyon look to build from the back, Marcelo can find right back Léo Dubois easily because of the poor angle that Marseille's left winger Lucas Ocampos took to press Marcelo. While the pass to Ndombélé is available, that is an extremely risky pass to make, meaning that the Brazilian only had Dubois available as a passing option. Had Ocampos taken up a proper pressing angle, Marcelo would have been forced to play the ball long.
However, this would not have happened if Ndombélé had come closer to create an easier passing angle. He is far too close to midfield partner Houssem Aouar, but if he dropped closer to Dubois, Lyon could have attained a rhombus shape in the build-up. As such, Marcelo would have had two options to find the player on the other end of the rhombus and progress the ball forward to Maxwel Cornet.
Ndombélé shying away from receiving the ball and failing to create a good passing angle for his teammate made it slightly tougher for Lyon's build-up play, as the ball nearly went out of play due to a stray pass from Marcelo. While this issue doesn't happen too frequently, it is a noticeable issue and has hindered his team's ability to progress from the back — be that for France, Lyon, or Tottenham.
What Has Changed This Season?
Like any new signing, players need time and patience to settle in and adjust to a new country, culture, league, and style of play. The emergences of Fabinho and Fred for Liverpool and Manchester United after relatively tepid starts in the Premier League are reason enough to not write off any new player, especially Ndombélé, who showcased his world-class potential on various occasions during his first season in England.
However, there have also been a few tactical and individual tweaks by Mourinho and his staff to get the best out of Ndombélé. The arrival of Pierre-Emile Højbjerg has provided plenty of protection for Tottenham's back four, with the Dane partnering Moussa Sissoko in the double pivot and allowing Ndombélé to play further forward in the central attacking midfield position in the 4-2-3-1.
While this normally would waste Ndombélé's great defensive output in terms of tackles and interceptions, the Portuguese manager places a huge emphasis on all his players putting in a shift defensively. As such, the 23-year-old's skillset still comes into play often and given that he's a more than adequate presser of the ball, he's able to produce on the defensive end. In the below image, we can see where Ndombélé's defensive actions have taken place this season.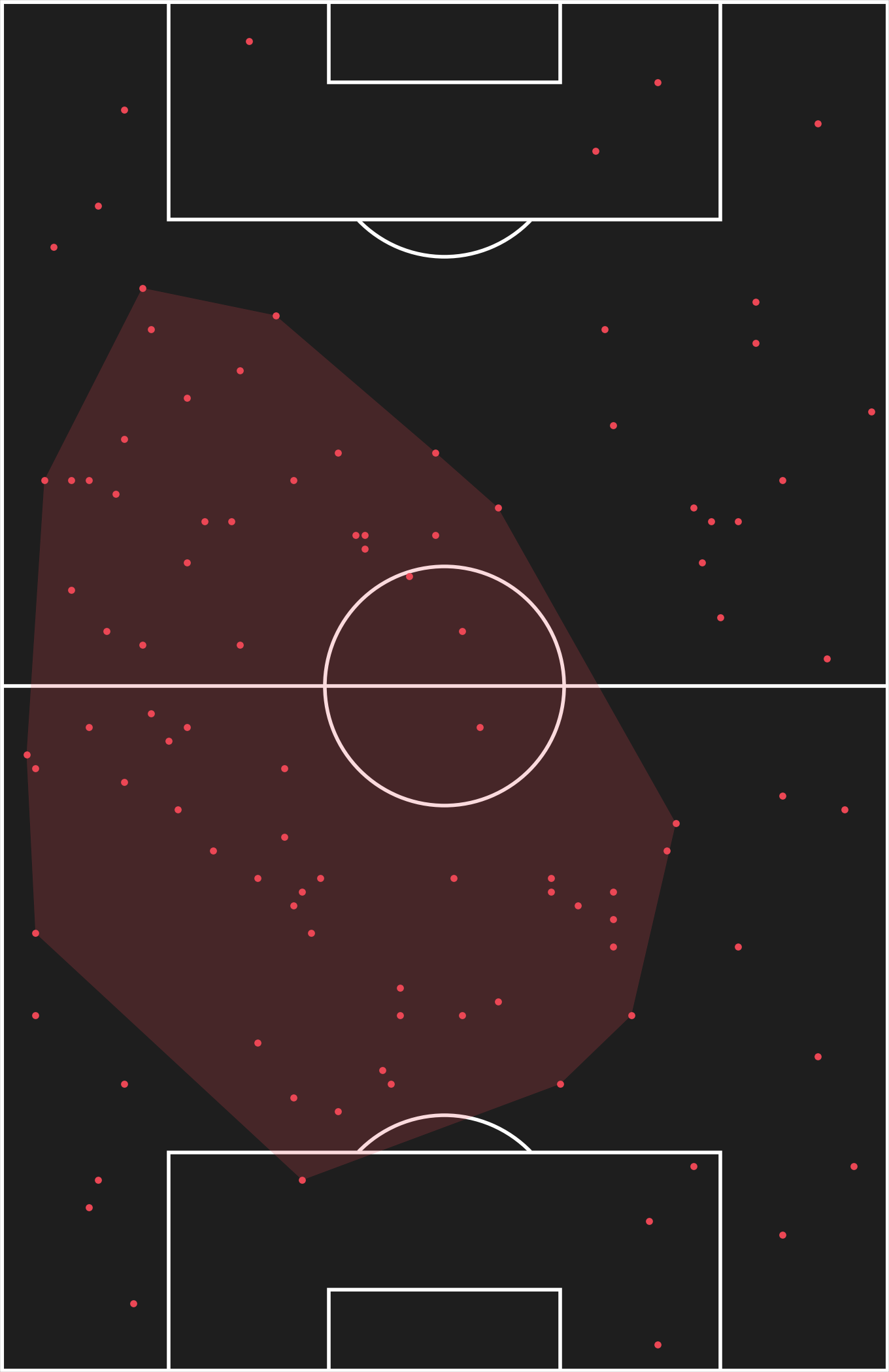 Photo: Twenty3 / Wyscout
The silky midfielder's lack of stamina is masked by his advanced position as there is less of an emphasis for him to make lung-bursting runs to recover on defense. Moreover, his tendency to not show for the ball in the first phase of the build-up play is less of a problem due to Sissoko and Højbjerg's functionality in the deeper areas.
Ndombélé's role enables him to receive further forward and use his flair and imaginative dribbling to launch attacks beside Harry Kane, who often drops deep alongside him. With Ndombélé boasting an impressive final ball, this advanced playmaker role maximises his offensive talent and defensive capabilities whilst limiting the weaker parts of his game.
Conclusion
It hasn't been an easy path to the top for Tanguy Ndombélé, but at 23 years old, he's well on his way to becoming one of the best midfielders in Europe. His unorthodox gait, lack of stamina, and weight problems do pose a risk for him and his ability to stay fit on a consistent basis, but it is a risk worth taking. He has responded to José Mourinho's criticism by showcasing his talent on a consistent basis, and if he can continue to avoid injuries, he will be a key performer for not just Tottenham, but France as well.
By: Thanoshaan Thayalan
Featured Image: @GabFoligno / Clive Rose – Getty Images