Player Analysis: Themba Zwane
A drop of a shoulder and well-timed flicked passes around the corner; a trademark Mshishi move. It is simply hard to visualise a Mamelodi Sundowns performance without Themba Zwane's silk movement and supreme relationship with the football.
The 2019/20 PSL Footballer of the Season, Player's Player of the Season, and Midfielder of the PSL Season, it is safe to say that he smelt his roses last season. With seven goals in as many matches in the inaugural DSTV Premiership season, Masandawana's blue-sky #18's numbers are piling up impressively alongside the league's most productive players.
Throughout the years, the 31-year-old Zwane has been deployed in various positions such as left-wing and central midfield, but he has found his tune playing in attacking midfielder on either side of the half-spaces, in a 4-2-2-2 set-up.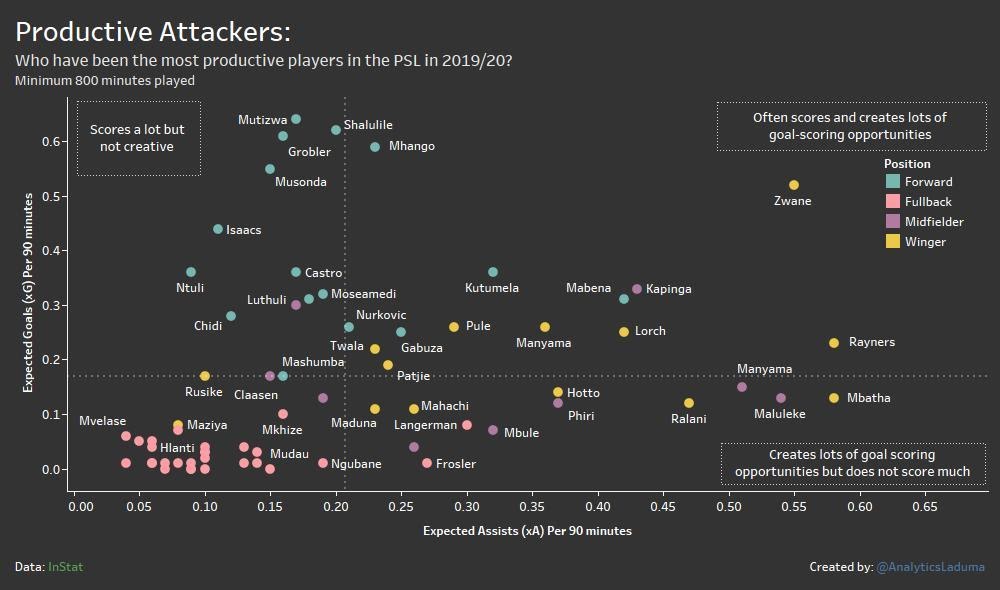 Photo: @AnalyticsLaduma
The scatter-plot above compares xG per 90 minutes vs xA per 90 minutes in the 2019/20 Premiership season we can see that out of all the players that have played a minimum of 800 minutes, Themba Zwane is an outlier.
The data shows that he often scores and creates a lot of goal-scoring opportunities. He averages just under 0.55 xA and just above 0.5 xG. These numbers translated to an accumulative xG of 10.47 while scoring 11 goals. He further recorded and accumulative xA of 10.01, while assisting eight goals (data courtesy of @mba_lm).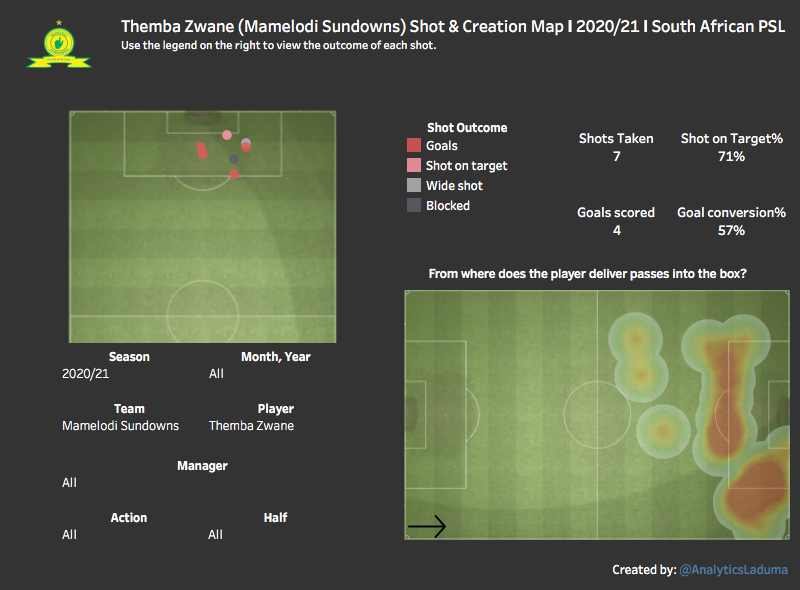 Photo: @AnalyticsLaduma
The visual above shows Themba Zwane's shot (top left) and creation (bottom right) map in the DSTV Premiership, so far this season. The goals he scores and chances he creates are by no coincident; he is a player that has a great sense of offensive positioning.
Although he does not mind dropping deep to collect the ball from the defensive line, his great strength is receiving behind the midfield line on the half-turn, before facing the defensive line and sliding a teammate through towards goal.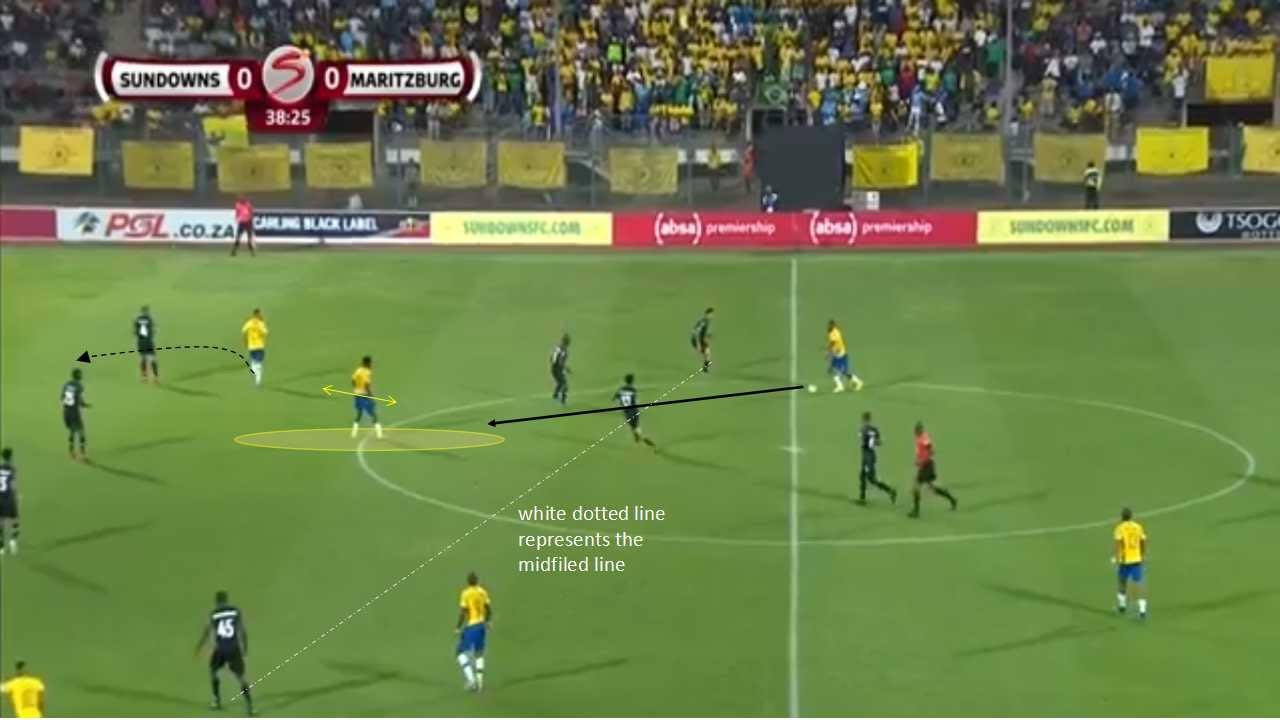 In the illustration above, we can see Themba Zwane roaming behind the midfield line, waiting to receive a line-breaking pass from a teammate. However, what stands out is the orientation of his body.
He has opened up his body in such a way that he can see where the ball is and also see Ali Meza making a run off the shoulder of the defender allowing him to either; receive the ball on the half-turn and run at the defensive line or quickly slip in a defence-splitting pass for Meza who is looking to spin around the defenders. 
Maritzburg's midfield line are in a Catch-22 situation if they drop deep to deny him such space – given how progressively-minded Mamelodi Sundowns is – they would risk giving up territory to Masandawana's ball carriers making entrances deep into their half from deep positions. Another scenario would be that, if their defensive line steps up to close down the void, they would then be vulnerable to runs in behind.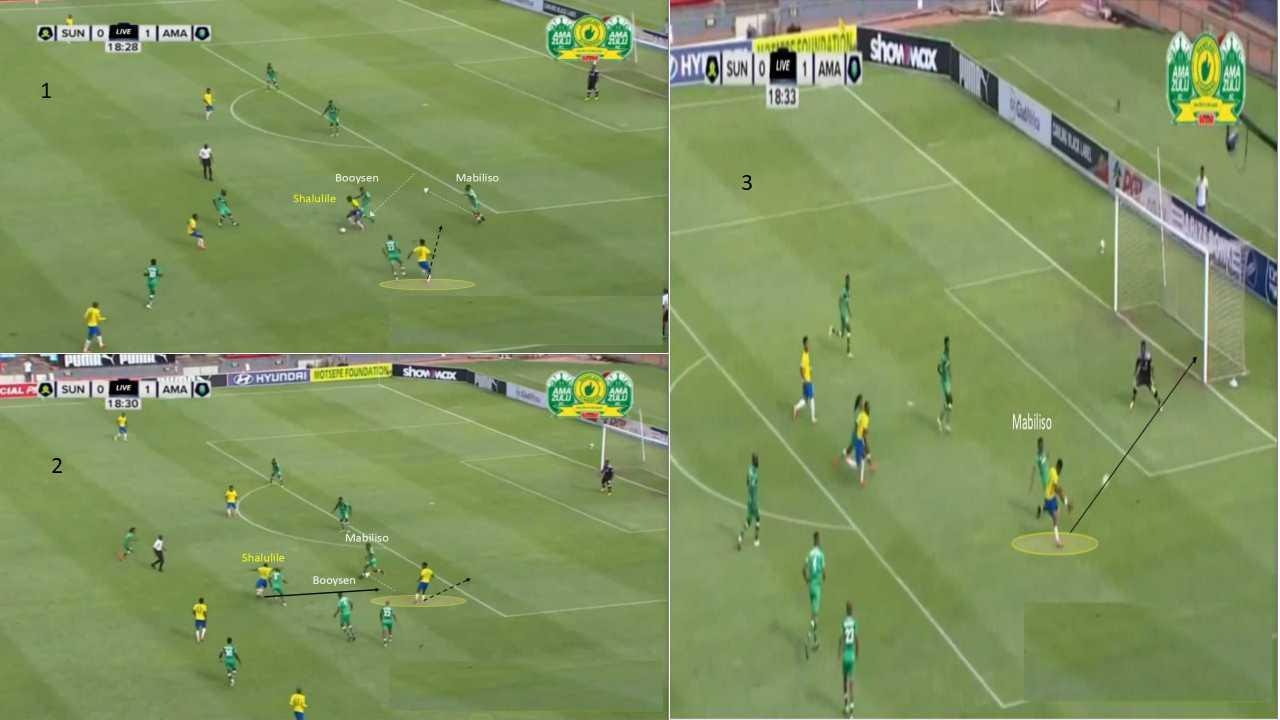 We can see above how Mshishi's intelligent off-the-ball movements result in a goal-scoring situation that he ends up converting. It began with Peter Shalulile fighting off the pressure from Mario Booysen who has stepped out of his defensive line, naturally, Sibusiso Mabiliso tucked in centrally from left-back to cover for Booysen. This gave room for Zwane to move into the blind side of the tucked in left-back, before receiving a through ball from Shalulile that set him on goal. 
Zwane took advantage of the attention given to a very dangerous Peter Shalulile, who attracted four players to himself. In most cases, we would see a target player being used for lay-offs to onrushing midfield players. However, Mamelodi Sundowns in most cases prefers to make runs off the target man, expecting him to flick on or play a slide-rule pass – after successfully holding up the ball – to set the runners through on goal.
This action can be likened to the title-deciding goal that Gaston Sirino scored against Kaizer Chiefs in the second half of the 2019-20 ABSA Premiership season. At that moment it was Zwane playing a flicked pass to Sirino who was making a run beyond the last defensive line.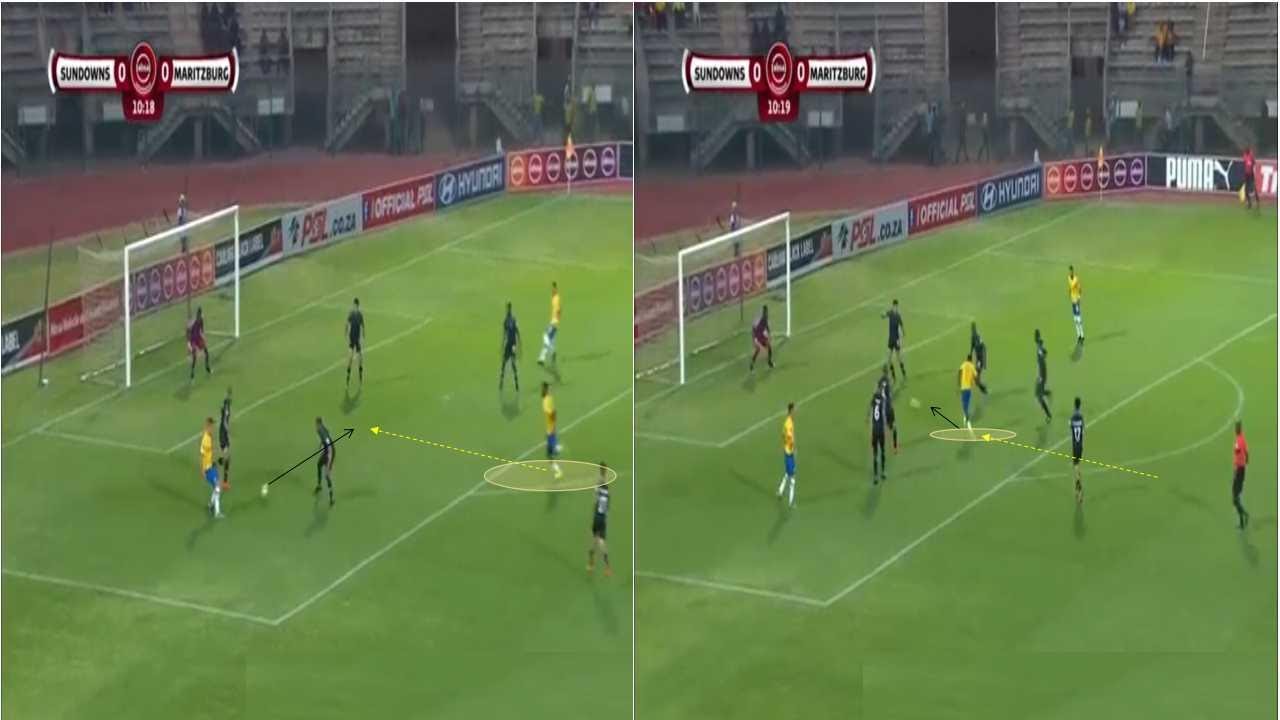 In the 2019-20 ABSA Premiership season, Themba Zwane was directly involved in at least one goal in every 102.84 minutes. Usually deployed as an attacking midfield player or an inverted wide midfielder, Mshishi tends to influence games from making attacking runs from midfield to the attacking line. He always arrives late in the box unmarked, usually because he would have been involved in the build-up phase that would have led to the ball entering the area. 
Likening him to a Raumdeuter would be stretching too far. However, he undoubtedly has the knack of identifying and exploiting space in and around the final third, either from making runs beyond the defensive line, making late runs into the box or finding pockets behind the midfield line – all these attributes are consistent with a player who has excellent game intelligence and off the ball vision.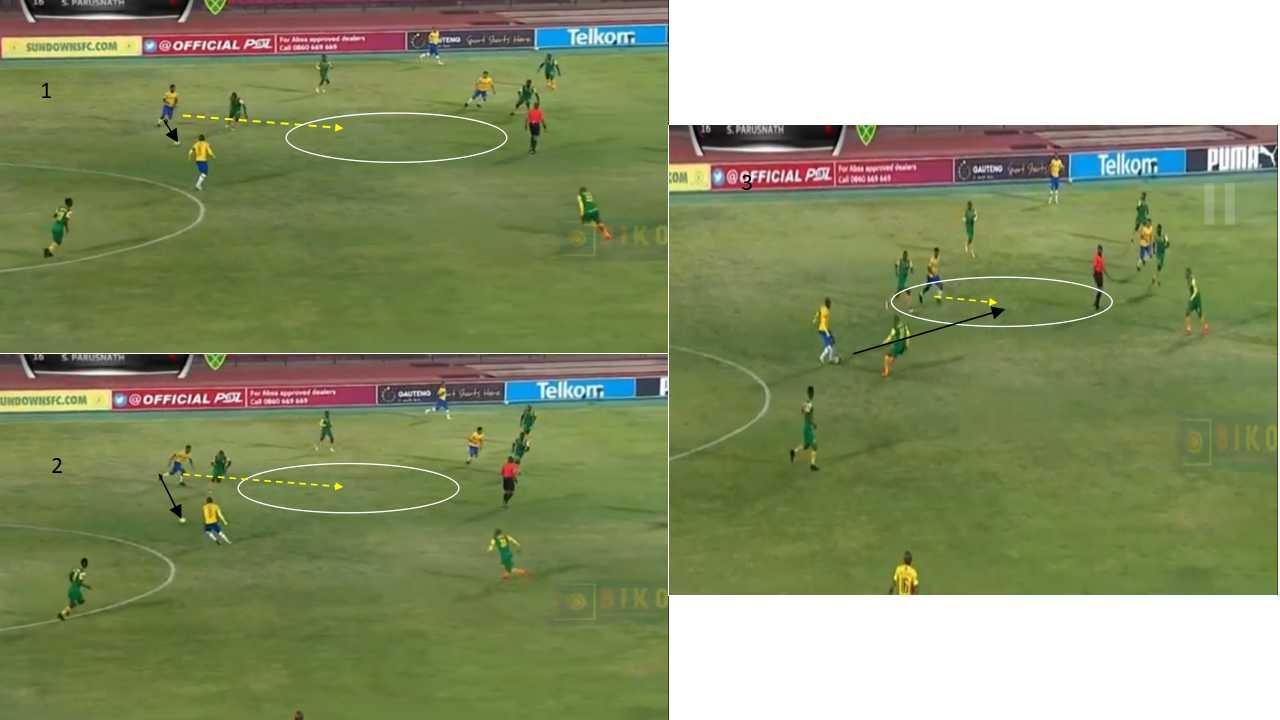 In the illustration above we can see Zwane with the ball from a deep position, before passing the ball to Hlompho Kekana. He then looks over his shoulder to identify space that he can run into – between the lines – before receiving a return pass into an advance position.
He can receive the ball from deep positions, attract opposition markers, before playing the ball to a teammate in an open position. Similar to the final third, he tends to scan for pockets where he can run into to receive the ball – mostly breaking a line in the process.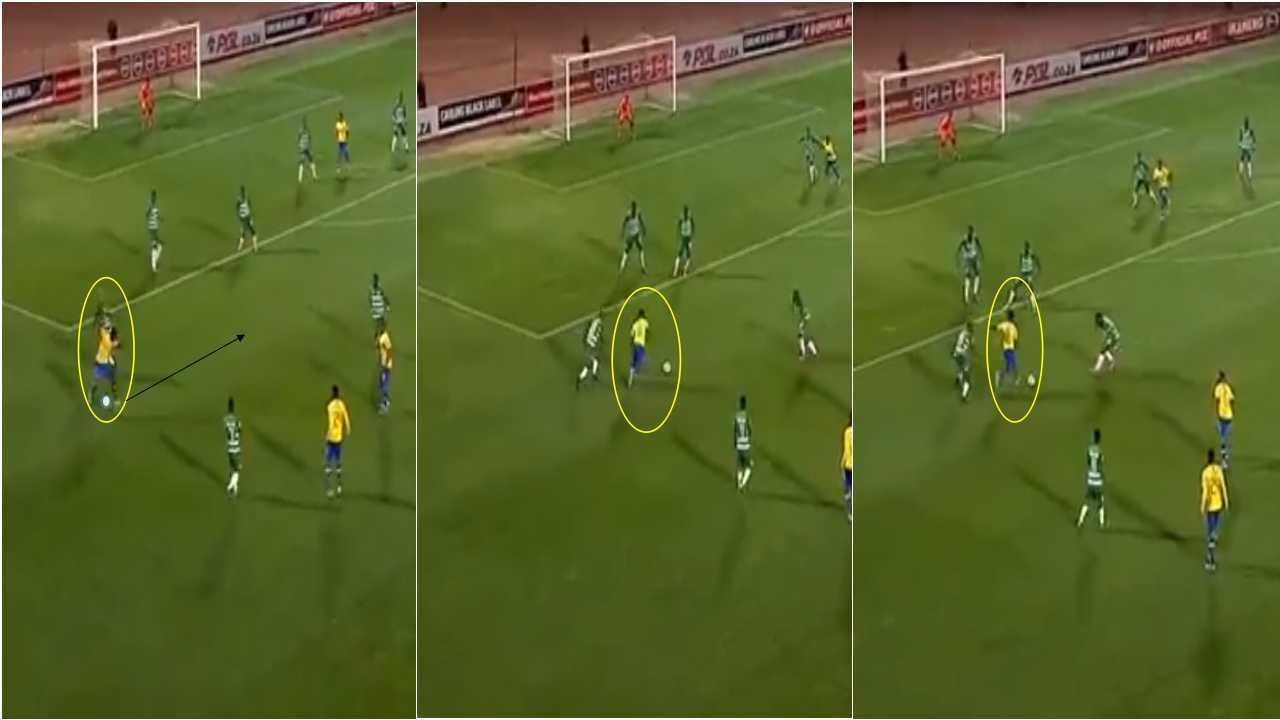 In the illustration above, we can see him quickly take the first touch out of his feet to lose a marker and create space for a shooting opportunity. Zwane's first trait has always been his ability to manipulate the ball in tight spaces, using shimmies, dummies, and subtle dropping of the shoulder to lose his markers and create space.
This kind of skill set is useful both against teams who look to sit in deep or/and teams who look to press up high. When teams sit deep, he can use his dribbling and close control to create opportunities (like the above illustration shows) and when teams look to press high, he can break the press, by using deceptive manipulation of the ball. 
Conclusion
Dynamic, tricky and does not seem to be slowing down any time soon, Themba Zwane has already shown his intent to be one of the best footballers to ever grace South African football.
By: Hamza-Sello Ladwaba
Featured Image: @GabFoligno / NurPhoto