Player Analysis: Youssoufa Moukoko
Turning 16 is a big deal in the USA. It's largely seen as a coming-of-age, with lavish parties thrown that can cost tens of thousands of dollars.
Like those across the Atlantic, Youssoufa Moukoko was eagerly counting down the days to reaching that milestone in Germany. Rather than a big party on 20 November 2020 though, he was waiting in a hotel for his Bundesliga debut.
In many ways, the morning after the night before was the bigger occasion. That was the date Moukoko made his debut for Borussia Dortmund, coming off the bench at Hertha Berlin for Erling Haaland. In doing so he became the Bundesliga's youngest ever player.
If Haaland is a wonderkid, Moukoko is a wonderbaby. He was born in 2004 in Yaoundé, the capital city of Cameroon, and was raised by his grandparents in the district of Briqueterie. When he was ten, he was brought over to Germany by his father Joseph. Settling in Hamburg, Moukoko joined the academy of local club FC St. Pauli in 2014. On turning up to his first training session he supposedly only had trainers, having to borrow boots from another player.
"After only five minutes it was clear we would take him on", youth coach Jona Louca told WA last month. Moukoko spent his first season in the under-13 team, winning numerous prizes at indoor tournaments. The next year he progressed to the U-15s, netting 23 times in 13 games.
Such phenomenal stats brought a move to current club Dortmund in 2016, and it just kept getting better. Moukoko began playing for BVB aged 12, scoring 40 goals in his first season. The next campaign was even better; 46 in 25 in the U-17 Bundesliga West. Stepping up to the U-19s last season, in his first match Moukoko scored six goals against Wuppertaler SV.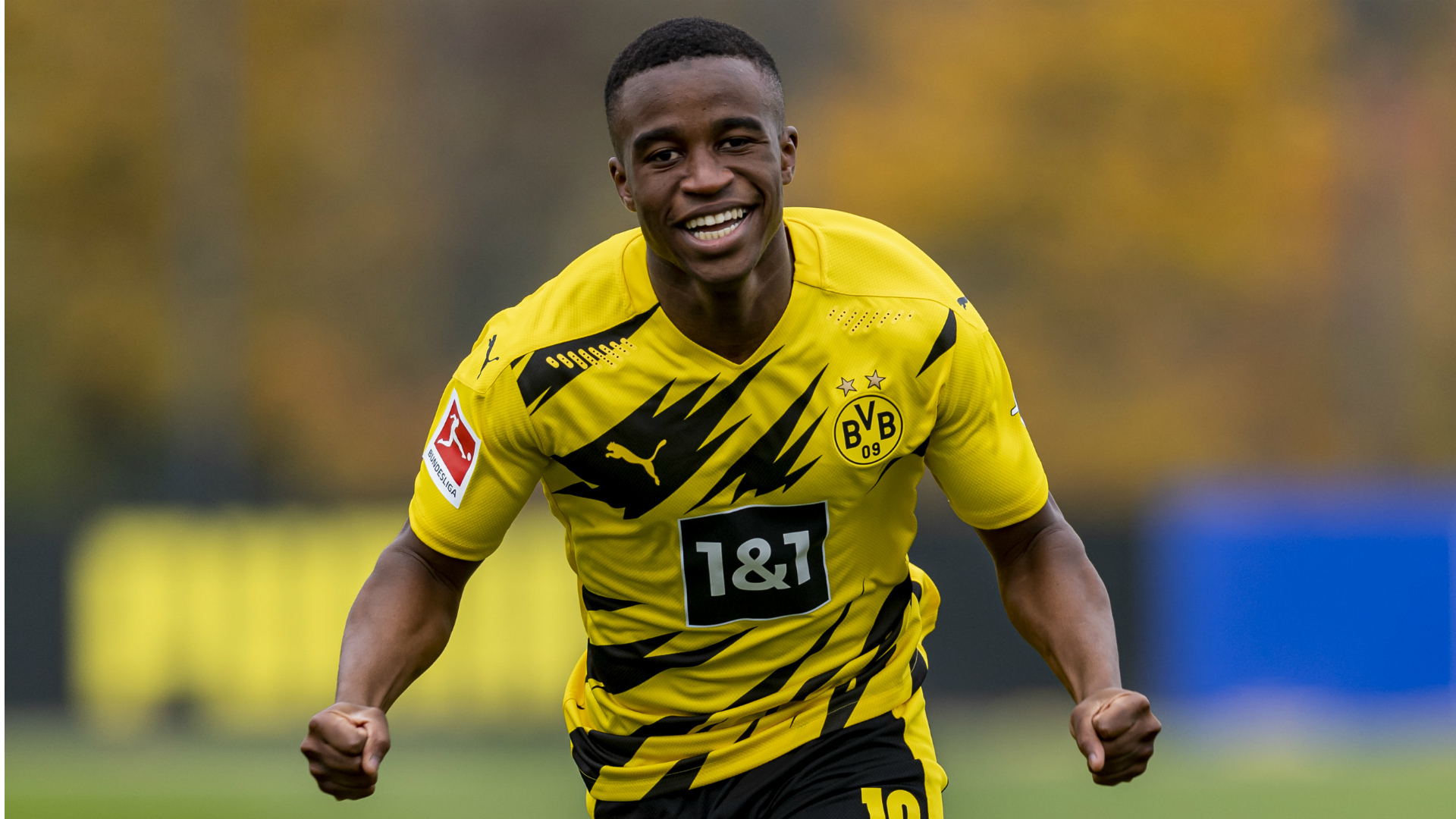 Photo: Bundesliga
In total the striker has found the net 141 times in 88 youth appearances for Dortmund. It's simply ridiculous. In January, he was fast tracked into first team training, despite not being eligible for most of the year. Dortmund were part of a group of clubs that successfully applied to the DFL to reduce eligibility rules in the Bundesliga to a minimum age of 16.
In the four U-19 games Moukoko did play this season, he did rather well. A hat-trick versus Preußen Münster. Another against Wehen Wiesbaden. Then four past Rot-Weiss Essen. Three more in the Revierderby with Schalke. Against players up to three years his senior, it is simply unheard of.
To put Moukoko into perspective, he was given Dortmund's number 18 shirt — synonymous with club legend Lars Ricken- and registered in their squad for 2020/21 despite not being allowed to play for four months. Last year, he signed a long-term contract with Nike, worth around €1 million per season.
Coming on for the final five minutes of the aforementioned Hertha contest, after that game Haaland was full of praise: "I think he's the biggest talent in the world right now. He's 16 years and one day old, that's amazing. He has a big career ahead of him. We're lucky to have him.
"Moukoko is much better than I was at his age", he added at a pre-season camp in Switzerland this summer. "I have never seen such a good 15-year-old in my life. The advantage for him is that he's already playing for Dortmund at the age of 15. At his age, I was still playing for my hometown of Bryne."
On the subject of age, it is something Moukoko has been questioned about for much of his time at BVB. Things weren't helped when Dortmund's own U-23 manager Timo Preus, once claimed: "I can imagine that his age has only been guessed".
His father has since presented legitimate documents to satisfy authorities, with Moukoko granted a German birth certificate in 2016. Given the skill Moukoko possesses, it's only natural people would question if such prowess could be real.
Dortmund's former U19 coach Michael Skibbe said last year: "He's so young and already so good. He's got very good technique, speed, and finishes well. These are three strong qualities that come together. The boy will one day become a professional, that's as sure as a prayer in the church. Only injuries can stop him."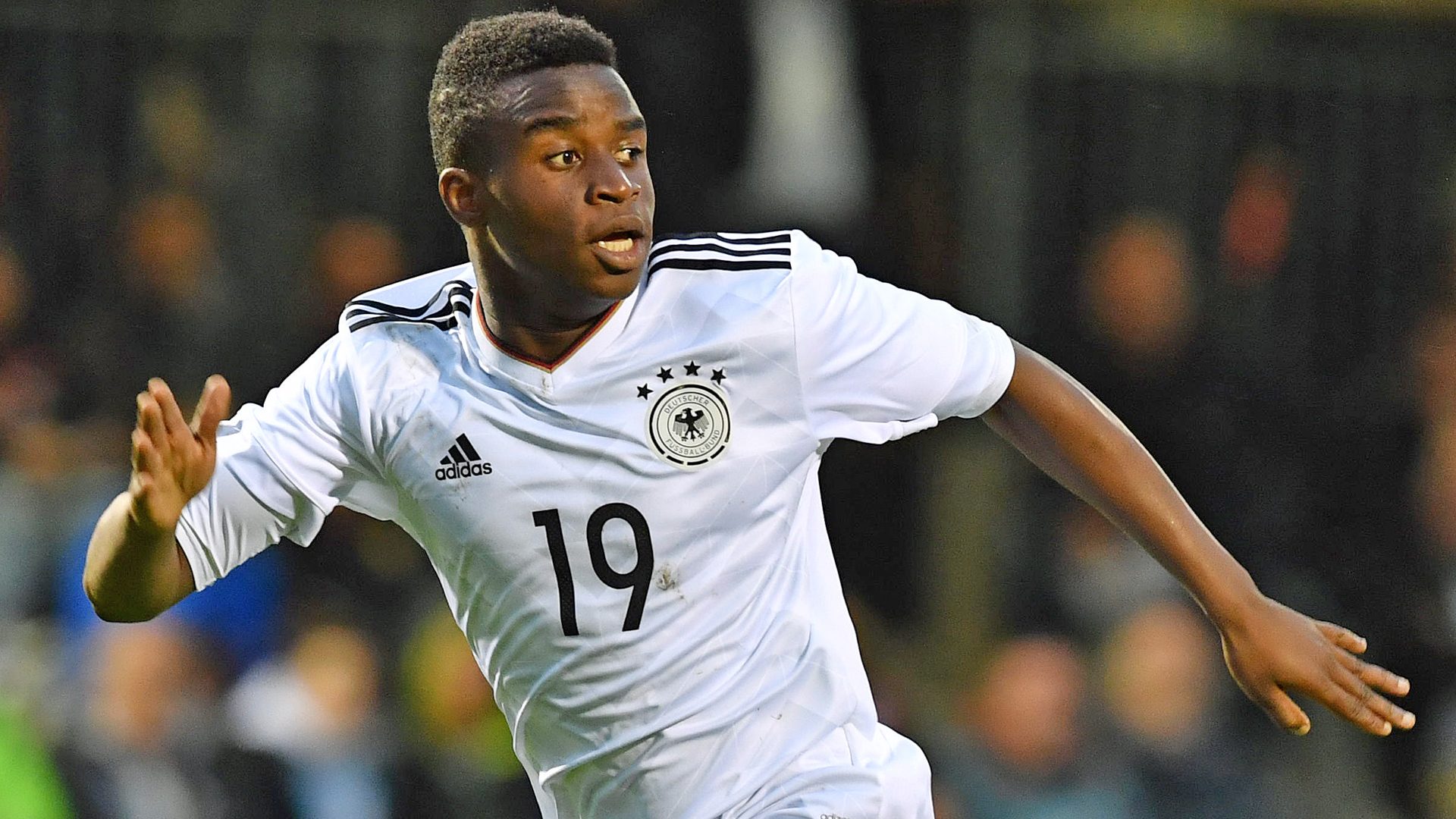 Photo: AFP
Of course, Moukoko is not the first hyped up child prodigy. The most glaring example is undeniably Freddy Adu. Chosen as first overall pick in the 2004 MLS SuperDraft, he was dubbed 'the new Pelé' at just 14. Adu was framed as the face of a fledgling MLS and taken around the world for high-profile trials despite being seven years off legally buying alcohol.
In the age of social media there has been a lot of talk, but so far Moukoko has taken it in his stride. Unlike Adu, he is settled at perhaps the best club in the world for turning promising talent into fulfilled potential. Alongside Giovanni Reyna, Haaland, Jadon Sancho and Jude Bellingham, Moukoko is in good company.
Speaking on his attitude, Sebastian Geppert, BVB's U17s manager, said: "He's completely focused, brimming with ambition. He's one of the first to arrive at training and one of the last to leave. He's the first one to watch the video sequences we send to the players on their phones. Youssoufa invests an incredible amount."
So far, the results have been encouraging. Since his Dortmund bow Moukoko has played twenty minutes in a 2-1 loss to Köln, second half away at Eintracht Frankfurt, and briefly in the 5-1 mauling by Stuttgart. He has also been named on the bench in three of Dortmund's Champions League games, making his debut in the competition last week. This substitute appearance at Zenit made him that tournament's youngest ever player too.
In terms of where this prodigy will develop, it is likely down the middle. It's a slight issue BVB already have Haaland, but it's a nice problem for whoever replaces Lucien Favre as head coach. It is assumed Moukoko will initially play as understudy, in the meantime starting out wide such is his adeptness with both feet.
Moukoko also benefits from sensible treatment by the DFB. Representing Germany rather than Cameroon internationally, he was only recalled to the international setup in September 2020 after a three-year break.
Speaking to the BBC, head coach of Germany's youth teams Meikel Schönweitz explained: "After Youssoufa's first international games at the under-16 level, the hype was so huge, that, together with Dortmund, we decided to let him make his next steps solely with his club."
Wherever he ends up being positioned, Moukoko is determined to succeed: "I want to become a professional with Dortmund, win the UEFA Champions League with the club, and win the Ballon d'Or."
Nothing much then.
By: James Kelly
Featured Image: @GabFoligno / Alex Grimm – Getty Images