Player Analysis: Zian Flemming
Zian Flemming was the main man at Fortuna Sittard last season in the Eredivisie as he played a huge role in the club's survival as they remain in the top flight for another season. As Flemming makes his move to the EFL Championship side of Millwall, today we will be presenting an in-depth scout report and find out why the fans of Millwall should be excited for their new man. The scout report will be based on data and footage from Wyscout.
The 23-year-old started his football with Ajax as a kid and only ended up featuring for the B team before being moved on to PEC Zwolle. The Dutchman did not have the best of spells at the club and it was decided that he moved out on loan to 2nd tier side N.E.C where his career finally started to kick on.
This is when the surge of goals started to show up, as he bagged double figures in the 2nd tier with N.E.C before earning himself a move to Fortuna, where again for 2 seasons running he scored in double figures yet again. 
Despite the slow start to his professional career, it seems that Zian started to develop and earn his place as an established 1st-tier Dutch midfielder. Now, let's look into the man himself in more detail as we move on from a brief summary of his history. 
Profile
Name: Zian Flemming
Age: 23
Nationality: Dutch
Height: 1.85M
Position: Attacking Midfielder
Pref Foot: Right
Zian was named in the Eredivisie team of the season by (WhoScored) as he scored 12 goals, which played a big role in his former club's survival in the league.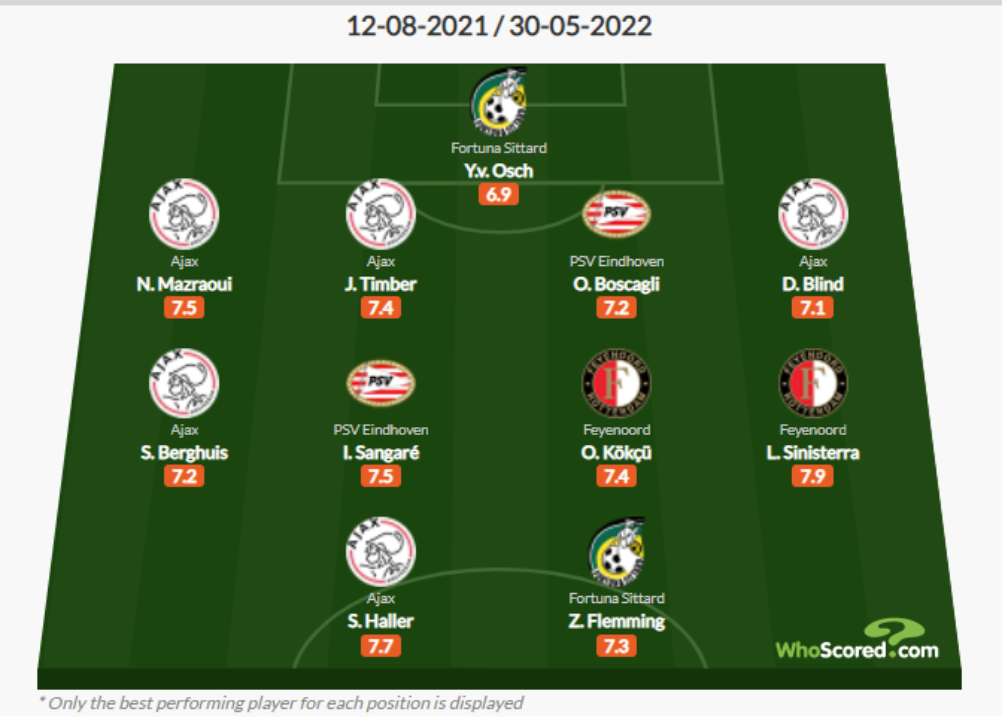 Flemming mostly played as an attacking midfielder during the 2 seasons at Fortuna, mostly slotting in just behind the front man. Zian often tends to roam and find space out wide and pick out a pass-through on goal.
As well as venturing out of position out wide, he would also tend to take runs behind the lone striker which would often catch teams out, this is where some of his goals came from this season gone. The heatmap below demonstrates the wording above and as we can see, does like to roam around as mentioned.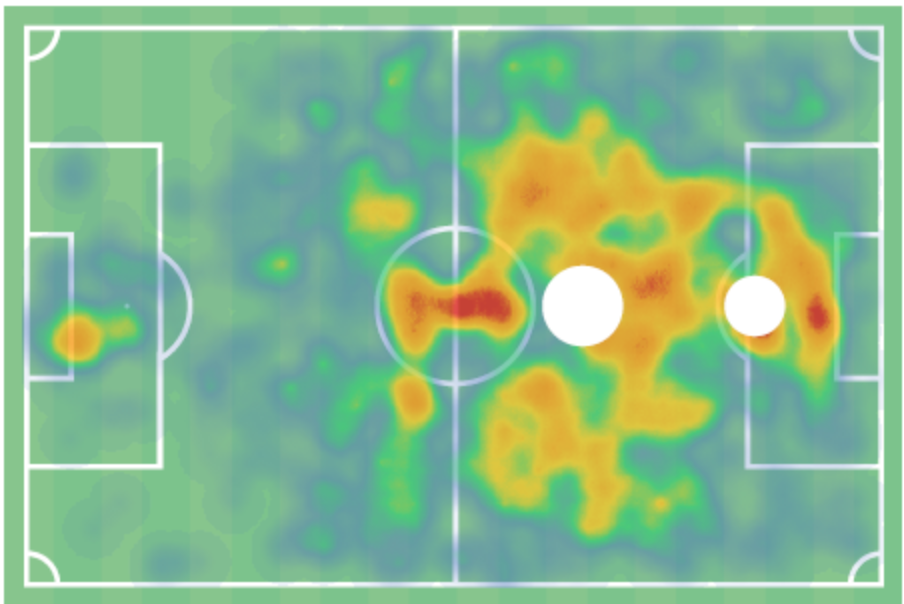 In terms of the player's attitude, from the footage that was reviewed, it appears that Flemming is an influential type of player who works hard for the team and shows a great amount of passion on the pitch. He is also aggressive but smart in his approach when it comes to duels and is an asset as a set-piece taker. 
Data Analysis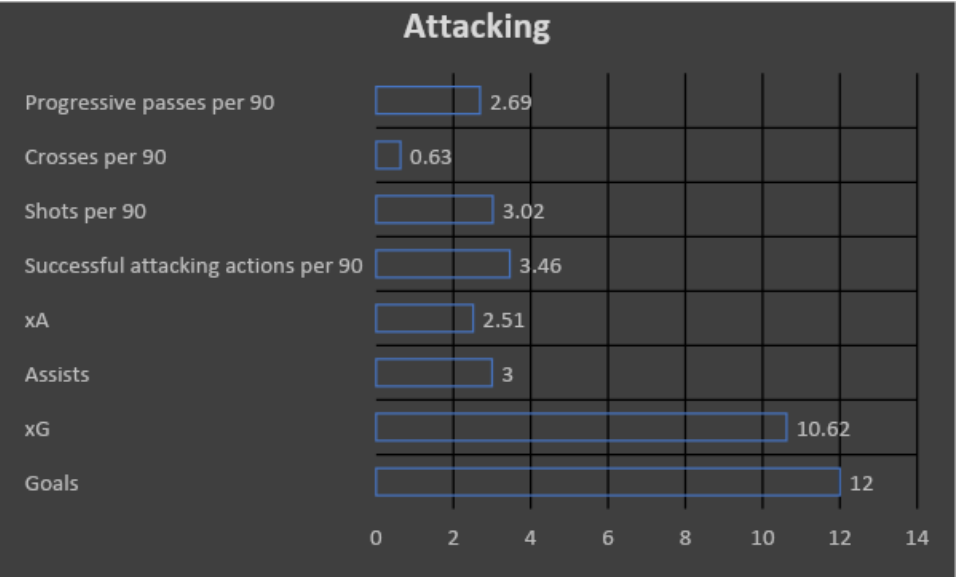 In terms of Zian's attacking metrics, firstly we can see he contributed well to the team with his goals scored output however, was less of a contributor with his assists. From the data above, we can see that Flemming is not much of a crosser but more of an attacking midfielder who opts to shoot on sight in an attempt to score.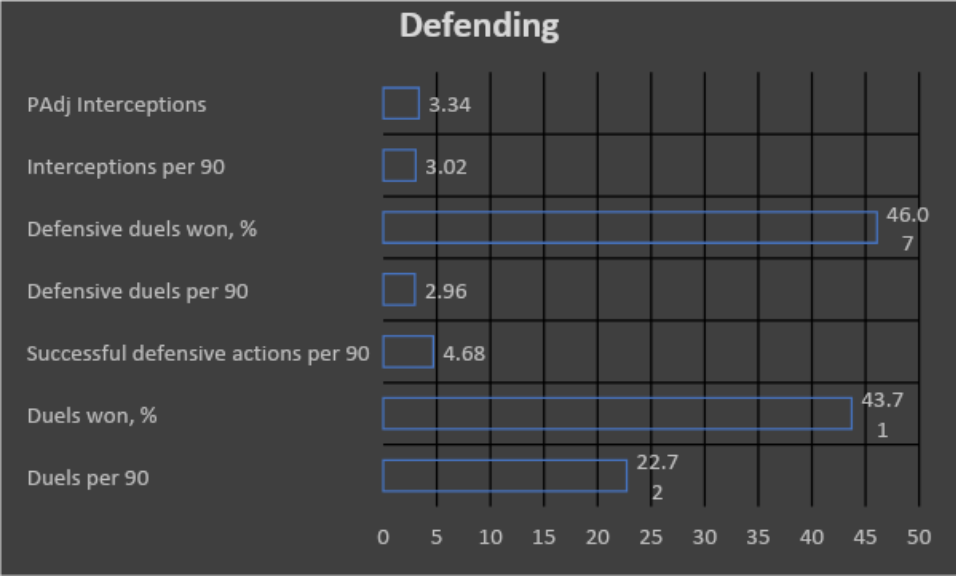 Based on the above defensive metrics, we can see that Zian is someone who works hard for his team as he has a high rate of duels per 90. In addition, he has a fair amount of interceptions that he makes per 90, which will be beneficial for when he plays in the EFL next season.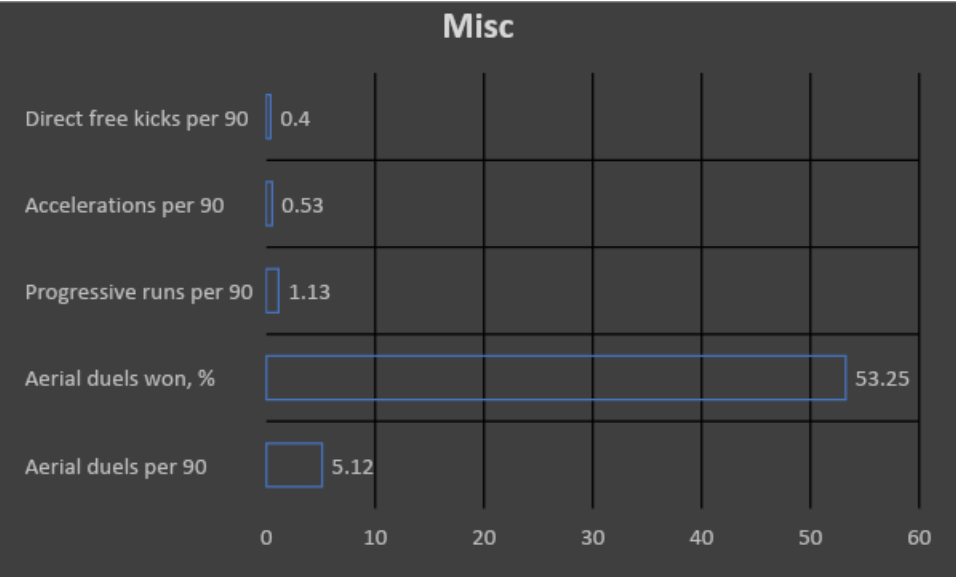 As mentioned already, Flemming is a set-piece taker which again will be a huge benefit for Millwall, as Zian has also scored a fair few free kicks this season.
In terms of his progressive runs and accelerations, this suggests that Zian is not the quickest of players however, is good at finding himself in good spaces to drive his team in an attacking situation, which actually makes sense why he plays mainly as a CAM. Finally, the Dutchman has a good percentage of aerial duels won, which in the EFL will serve him very well and an extra threat against the opposition for the season ahead.  
Flemming vs. Eredivisie Attacking Midfielders
In this section, we will be comparing Zian against other attacking midfielders in the league to see where he ranks overall. Now, before diving in we should note that the results are based on data presented and we have to bear in mind things such as the quality of the side he plays for vs the other teams in the league and that some players are stronger in other areas, where certain may lack.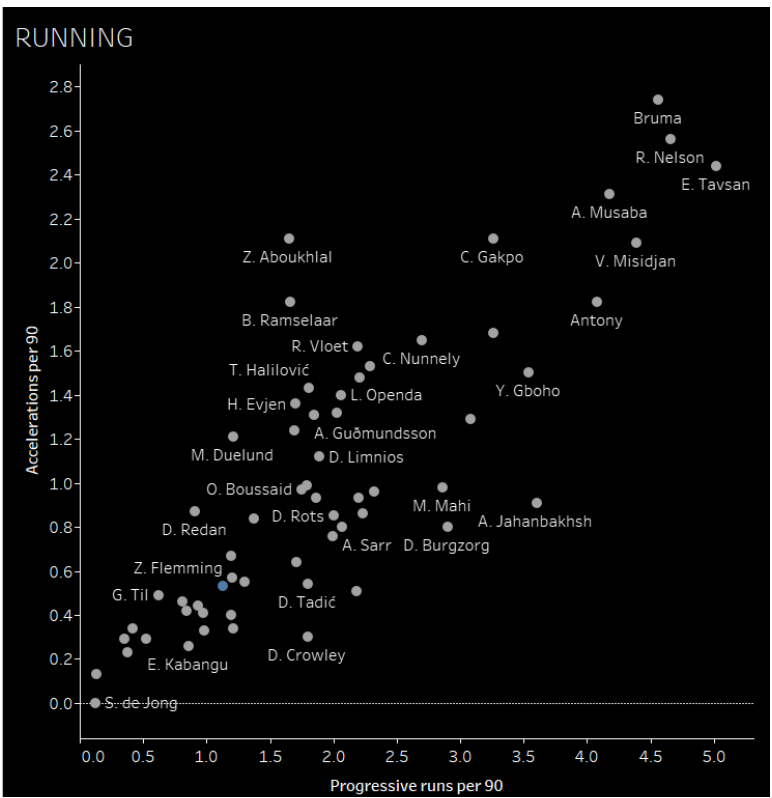 Firstly, as already mentioned Zian is not someone that appears to be a player that looks to beat his man and run at the opposition's defense which makes sense with the above graphic where Zian is ranked on the lower end of the spectrum. We can turn this into a positive, for instance, if Millwall are to utilise the player as a CAM or a 2nd striker rather than a winger.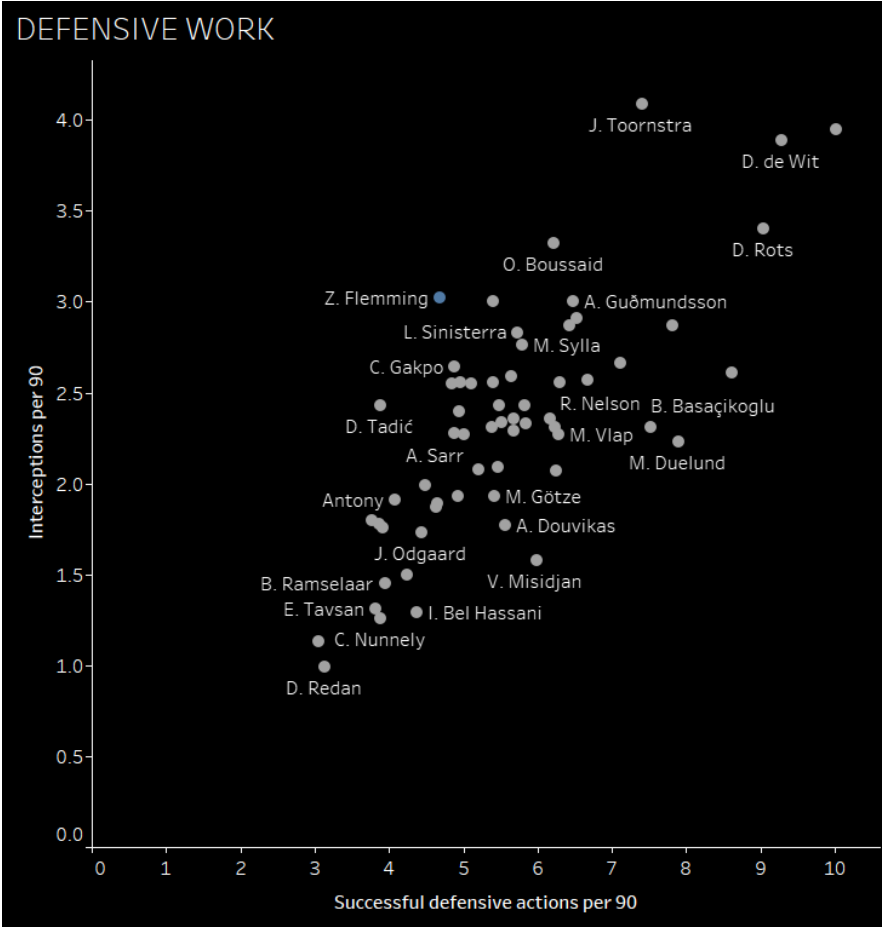 In terms of Flemming's defensive work, as we can see he contributes well and is ranked higher compared to players in similar positions in the league.
This metric gives us a good idea of how Zian will adapt in England with the huge demands on players to work harder for each other and this certainly paints a good picture as it also indicates that the player has good work rate due to being an attacking-minded player but still making a high amount of interceptions/successful defensive actions per game.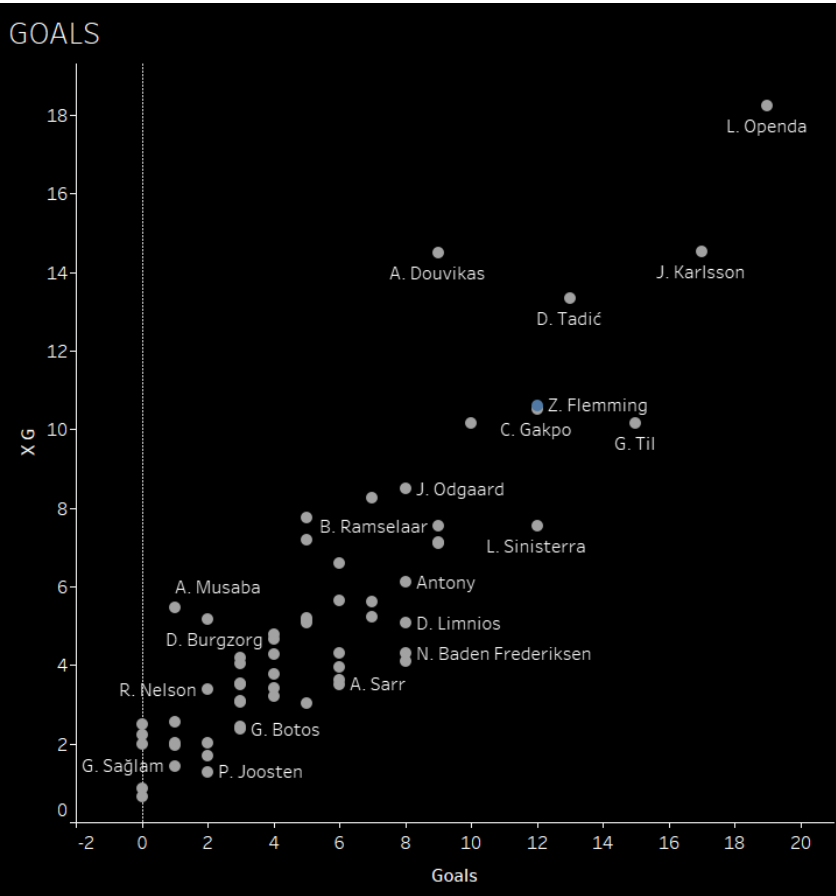 As touched on already, Flemming has been scoring a high amount of goals from playing as an attacking midfielder which will certainly benefit his new side Millwall next season.
Zian has been scoring double figures for a few seasons in a row which for Millwall fans should mean there is a greater chance of seeing him get on the score sheet more often than his teammates next season (no pressure) as he has to adapt to the English game first! As the saying goes, "goals win games", so a great edge that he can bring to Millwall.
Next up is shots, so we can see here that Flemming is not scared to have an attempt on the goal rather than seeking for a pass. He is ranked fairly higher than most of the other players in similar positions and was not far off from some of the big stars in the league such as Anthony & Gakpo who had more shots per 90 but Flemming actually had more on target than them which is a great read.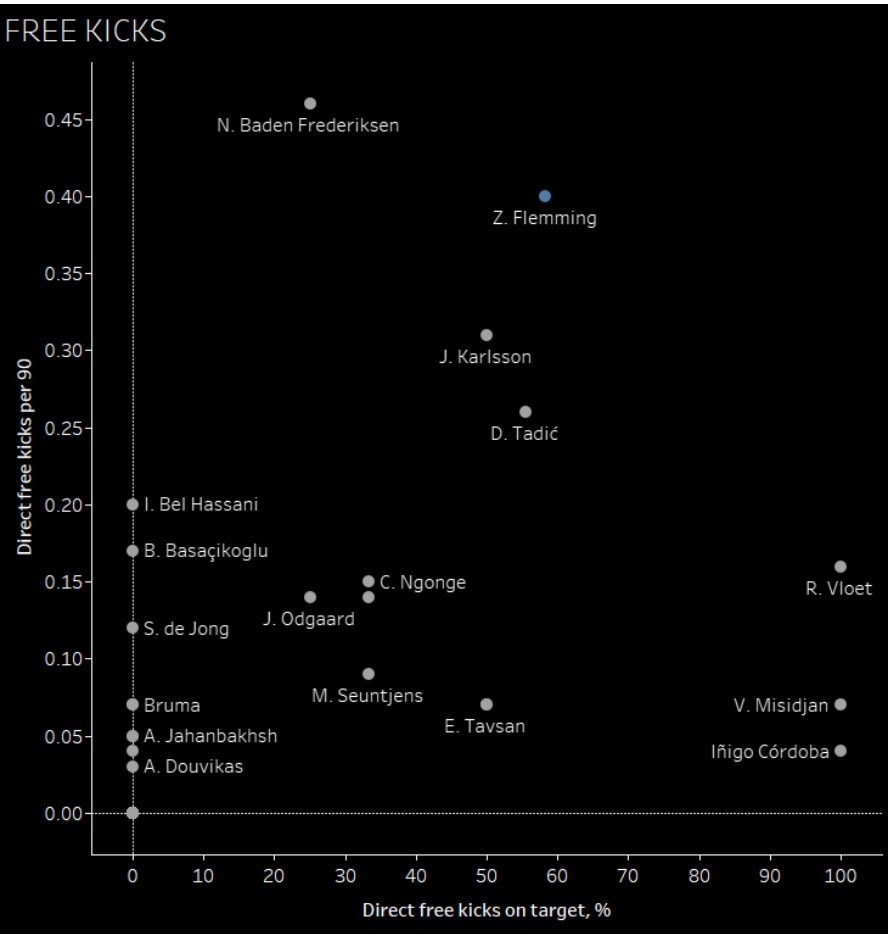 Again, we already touched on the Dutchman's free-kick-taking skills and as we can see, he appeared to have taken most of his team's free-kick over the season and got a decent percentage of them on target, again another benefit for Millwall.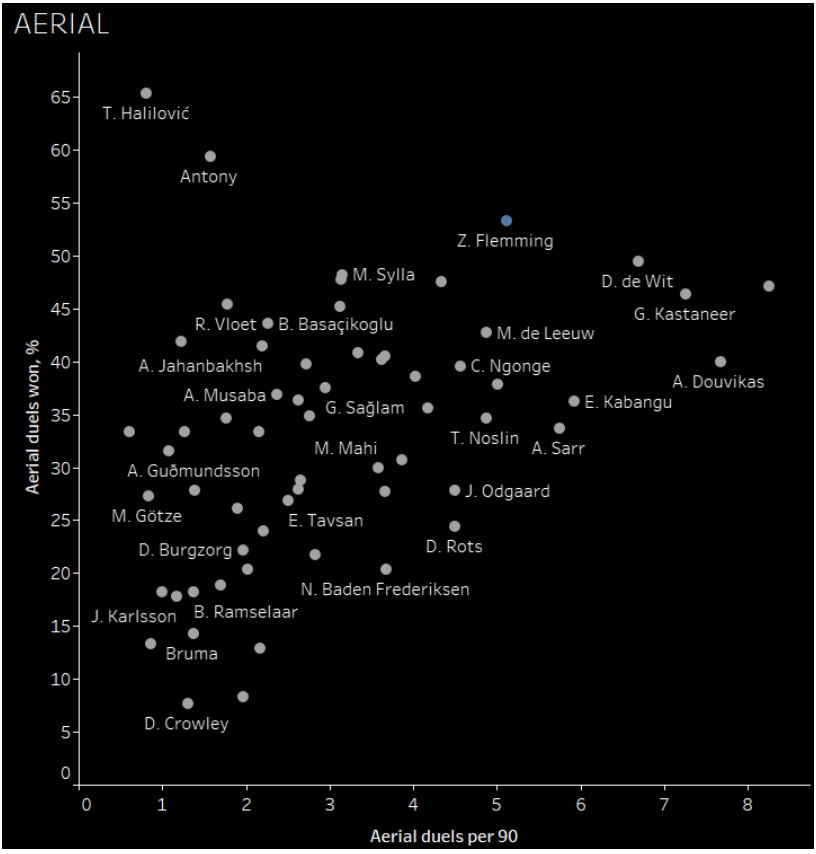 Finally, we look at Zian's aerial data. Again, ranking high for this metric we can see that he is not afraid to put himself about which for the way Millwall play will be another great benefit and a good sign that he will adapt well to English football with the physical side of the game in the EFL. This along with his shooting is a great asset apart of his game which certainly gives him the edge in games and hence why he had such a great season in Holland. 
Flemming in Action
In this section, we will cover some in-game situations and show Flemming's main attributes which paid off well in the games covered below.
Firstly, we can Zian's goal-scoring instincts as he is looking for a shot on the goal rather than looking for another pass to his teammate. This is one of a few examples, where the attacking midfielder showcases his long-range shooting well.

Here we can see how Zian's physical side of the game comes into use as he works hard to win the ball back for his team in an aggressive manner which eventually leads to his team having a penalty. This particular attribute will do the dutchman some good in the EFL next season, as he will face more aggressive-minded players in the league compared to in Holland.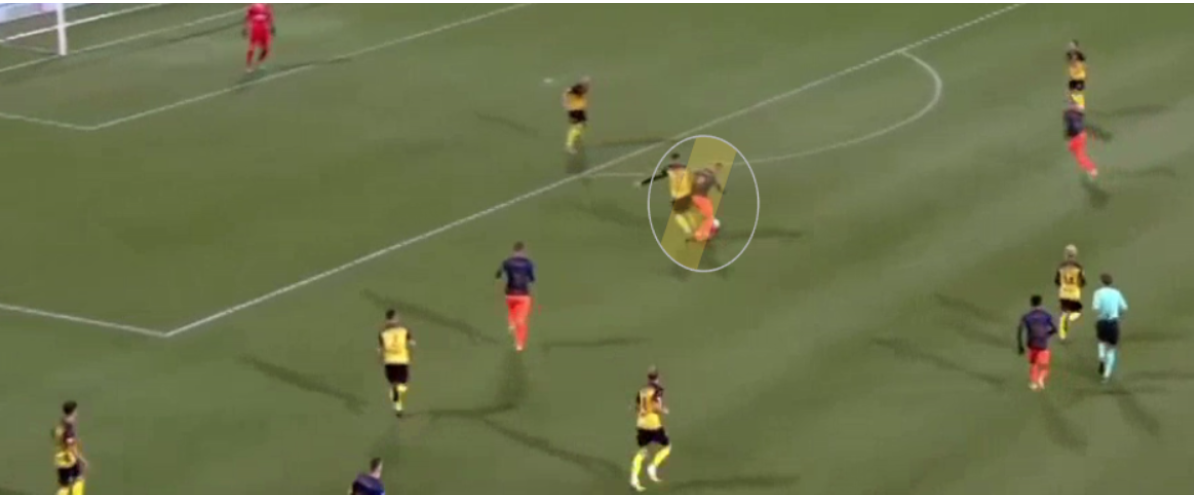 The above graphic displays Zian's off-the-ball movement as he makes a run forward towards a goal like a number 9 and finishes off this chance well, another great attribute to have is composure which judged on some other clips reviewed appears to be another great trait of his.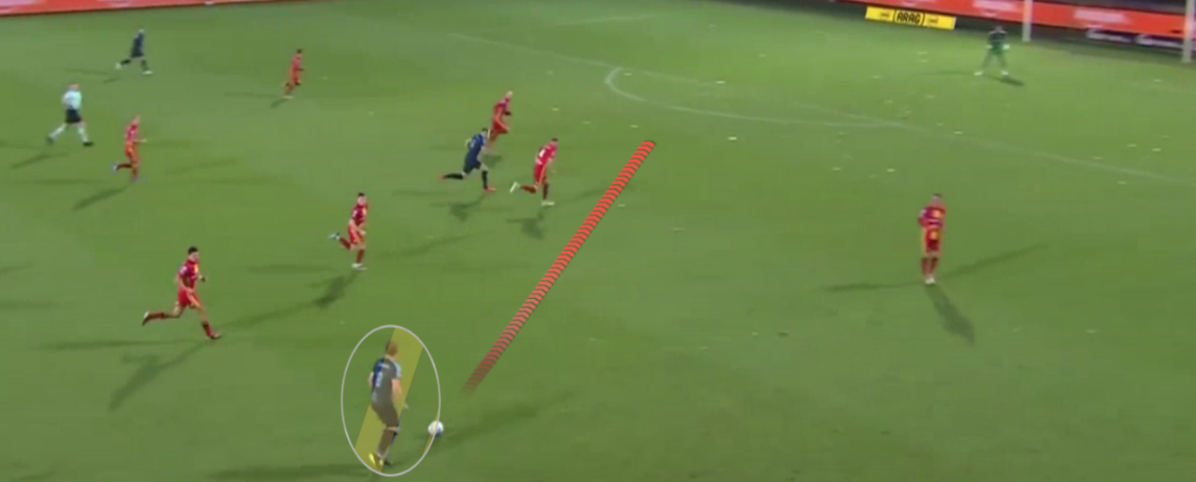 Here Flemming demonstrates that he has the ability to pick out a pass and put his striker in a great position in on goal. In this particular situation, Zian has drifted out wide to find space before putting through a great pass.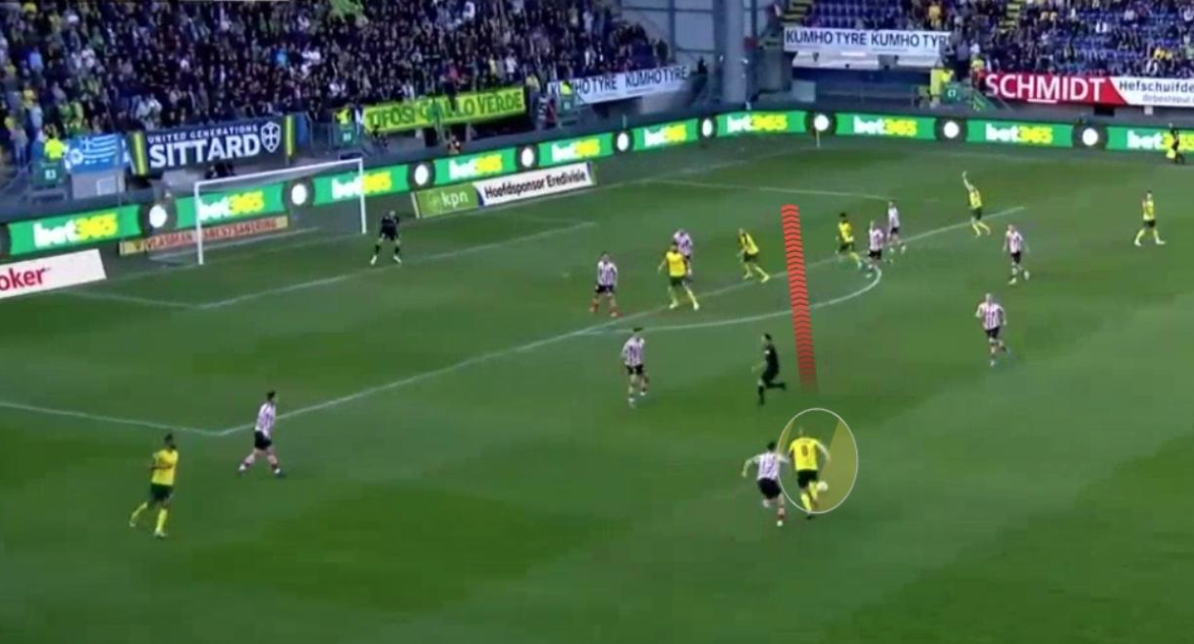 Another example here of Zian picking out a great pass, this time a more longer range of a pass this time. This type of passing will serve his new team well and again he opted to drift out to the left this time before putting this ball into a dangerous area which ended up being a goal.
How Zian Flemming Compares to Jed Wallace
As we can appreciate, Millwall will feel like they have lost a big player in Jed Wallace, especially on a free to West Brom. Hopefully, in this section, we can give Millwall fans some hope and how their new signing may be able to plug in the gaps well.

Below is a comparison graphic from (soccerment) which is comparing both players based on the season just gone. As we can see, where Jed goes well in the vision and dribbling department, Zian makes up for it in the other areas such as physical and attacking. 
Here is a quick data analysis on both players based on their stats last season. As we can see, Flemming comes out on top in most parts of this however, Wallace was more of a provider for his side with a higher amount of assists. 
Purely from this graphic, this suggests that Flemming would add more goals to his new side and a different dimension in terms of his attacking abilities. We can appreciate that the EFL Championship has become so much more competitive however, Flemming did extremely well to pluck out these stats below in a league where his side just about beat the drop and was playing higher-quality teams such as Ajax and PSV.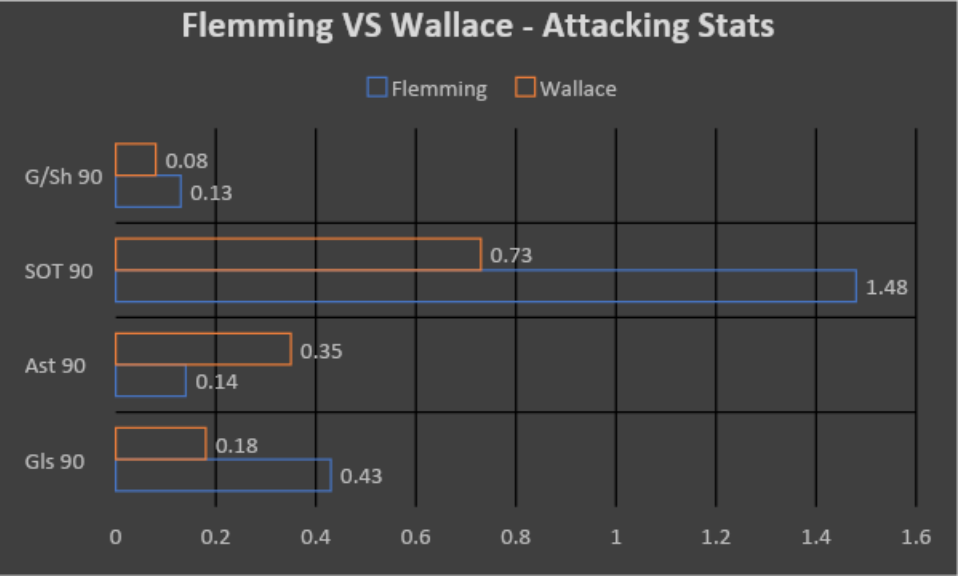 Conclusion
Firstly, take nothing away from Jed Wallace he will be a big miss for Millwall and he was one of their star men. However, based on everything showcased today, I believe Zian Flemming will be a top addition to the side and if to be honest, surprised that he didn't attack the interest from clubs ranked higher than Millwall on paper. 
Millwall have picked up a great talent for a club-record fee of £1.7 million, a player who still has room for development and is already showing great promise. He could become one of Millwall's key players as long as he settles in well and has a chance to make a big impact for the upcoming season.
It will be interesting to watch the progress of Zian, which has so many qualities that he possesses one can only see him progressing even further, especially now he has made a switch to English football where there will be more eyeballs on him for sure.
Overall, Millwall have potentially made one of the signings of the summer so far which is a big statement this early on but if this player beds in well and adapts quickly then this statement may be proven to be true come the end of the season. 
By: Dhillon Gill / @FMGegen
Featured Image: @GabFoligno / BSR Agency / Getty Images