Player Profile: Jed Wallace
Jed Wallace is an English right winger currently playing for West Bromwich Albion in the 2nd tier of English football. His professional career began at Portsmouth in 2012 where, after loan spells to Farnborough and Whitehawk, he made 121 appearances and scored 30 goals. His impressive form on the South Coast earnt him a move to Wolverhampton Wanderers in June 2015.
Things didn't work out for Wallace in Wolverhampton and after 2 separate loan spells and promotion to the Sky Bet Championship at Millwall, he would sign for the Lions permanently in 2017. At Milwall, Wallace excelled and was soon regarded as one of the best attackers in the EFL Championship. He spent 5 years at The Den scoring 38 and assisting 41 goals in 225 games. Wallace left Millwall as a free agent, after running down his contract, and in June 2022 was signed by promotion hopefuls West Bromwich Albion. 
Chalk-on-the-boots Winger
Like Dennis Bergkamp at Ajax, Wallace likes to feel the chalk on his boots when attacking. He's a perfect example of the idea that just because a player can play multiple positions it doesn't mean they should.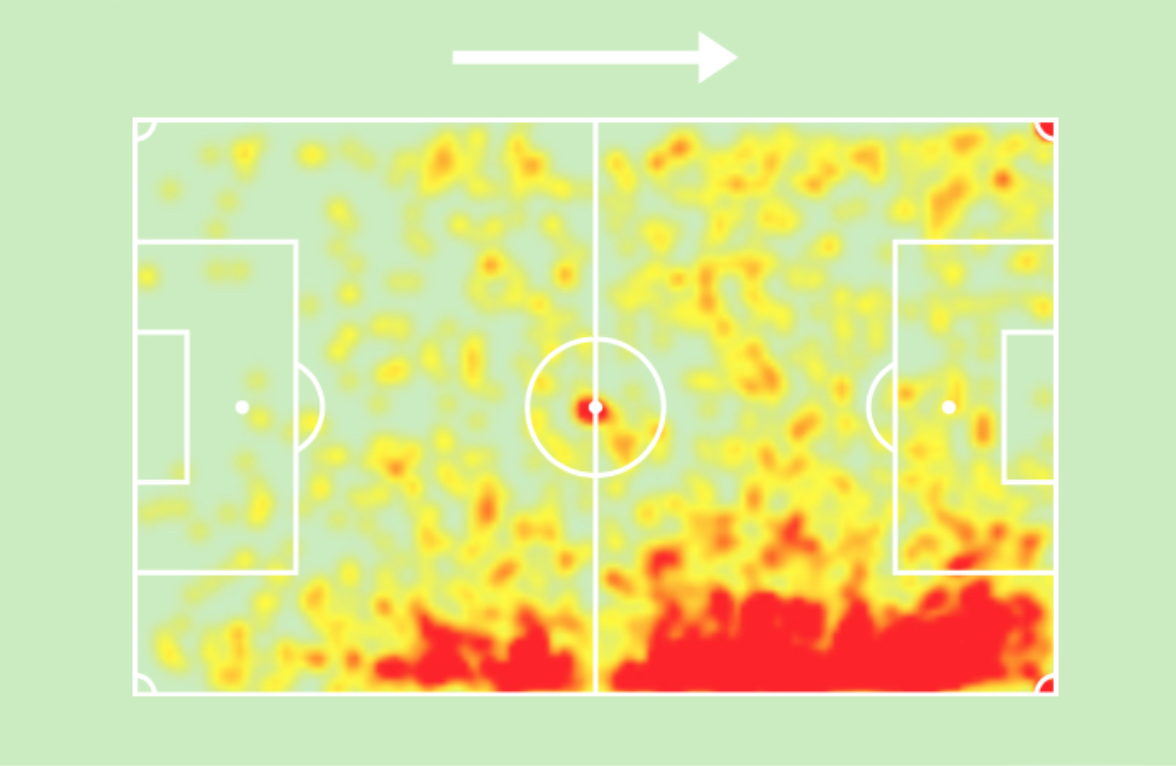 Jed Wallace 2022/23 heatmap (Sofascore)
This season he has played all across the forward line but his best performances always seem to come from the right wing. His profile isn't often seen in the modern game and he's a bit of a throwback to wingers of generations gone by in that he prefers to stay wide and go on the outside of his full-back. The player most similar to him currently playing in the Premier League is Ryan Fraser.
Jack-of-all-trades, Master of One
When it comes to attacking, Wallace does the majority of things to a sufficient standard.  He is an okay dribbler and his finishing, although inconsistent can't be called poor. It's also important to note that he has a wide passing range and that he is capable of hitting cross-field switches with incredible accuracy. His movement against high lines can be effective at times and this season nearly half of his goals have come from direct runs in behind. His goal against Rotherham is a perfect example of this.

The move starts with Wallace narrow due to a long Rotherham goal kick

Wallace spots the space and starts his run

He reaches the through ball and takes a touch away from the defender and onto his, weaker left foot.

He spots a gap at the keeper's near post and shoots early and scores

Despite this, his real strength is crossing. Any cross, whether it be from deep or the byline, whipped with pace or looped over a defender, you can trust Wallace to deliver with quality. He prefers to cross from deeper areas and likes to aim for the "area of maximum opportunity".
This is the space where central defenders and the goalkeeper are at an equal distance from the ball. He isn't restricted to this though and he will, when possible pick out a teammate's run. For example, against Cardiff, he received the ball out wide and space was restricted. Despite that, he delivered an inch-perfect cross to Daryl Dike who finished with a volley.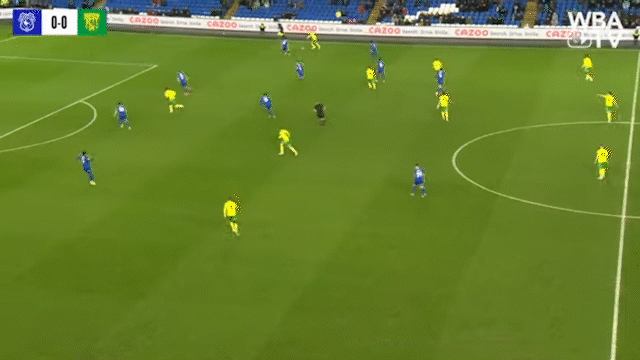 He is also capable of delivering from more advanced positions near the byline with cutbacks and low crosses into the box. This variation is what makes him so dangerous and is a big part of the reason he is amongst the most threatening players in the EFL, from the right flank.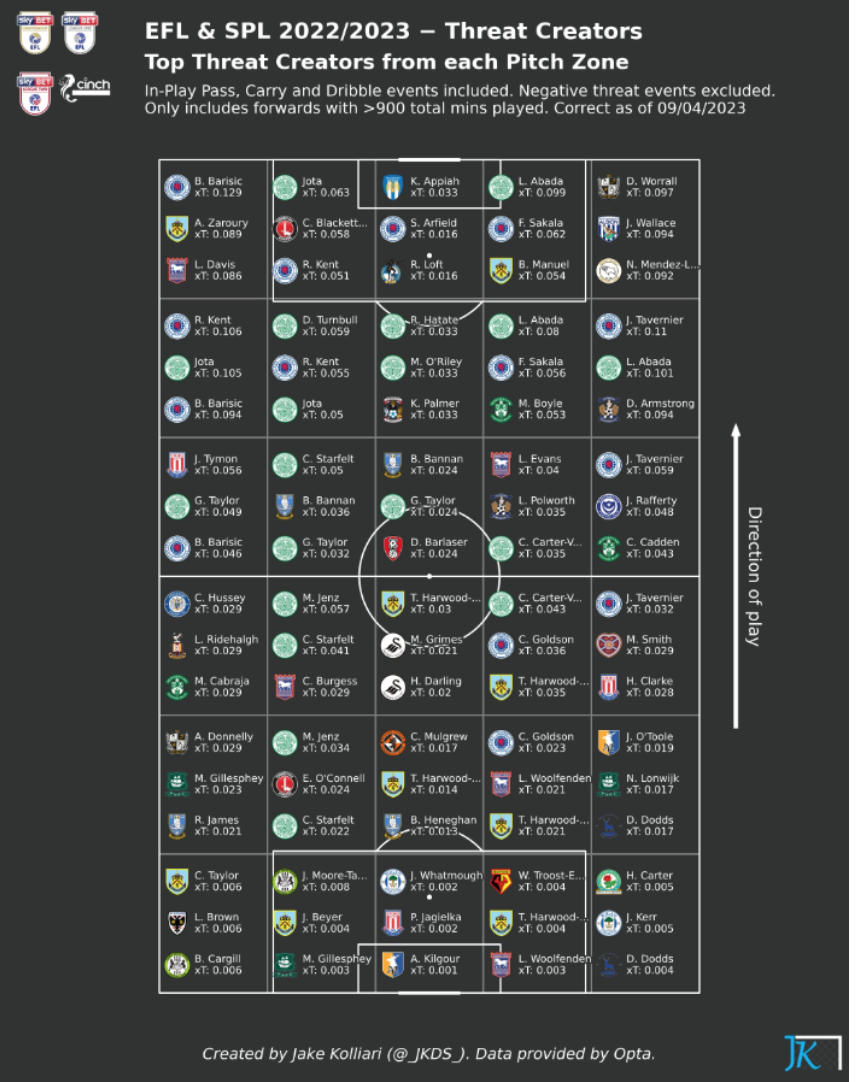 xT by zone EFL and SPL. Viz by @_JKDS_
Pressing
His work rate is phenomenal. He plays with the energy of a schoolboy and looks to have a real love for the game. But, this isn't always a good thing and he often gets caught chasing lost causes when he should be returning to position and pressing out of the block. For example, he likes to chase down goalkeepers which can at times leave gaps in his team's defensive block. This is fine against inferior opposition, but when up against teams capable of playing out from the back and exploiting gaps in defences, it's a dangerous game.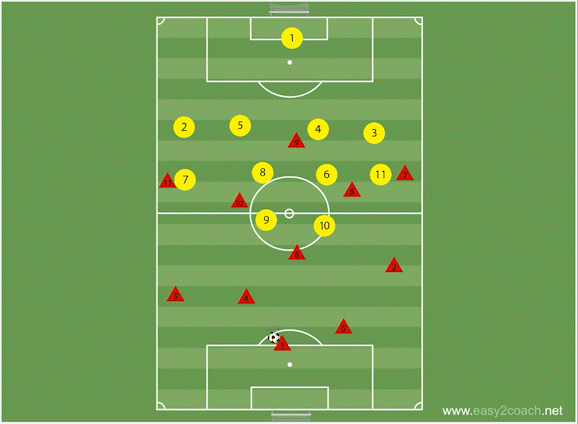 In addition, he is weak in his defensive duels and sometimes skips into tackles which can prevent him from winning the ball back. That isn't to say he's a bad presser as for the most part, he closes down opponents with intelligence.
Problems with Dribbling
Wallace would likely be playing in the Premier League by now if he was a better dribbler but, unfortunately, beating his man seems to be his fatal flaw. His problems when dribbling stem from being unable to shift the ball and follow it with a sharp burst of pace which makes it difficult for him to go on the outside of his man.
As well as this, he isn't capable of cutting in and being impactful on his left foot. He cannot go on the outside and probably shouldn't go on the inside so he has to go through. When he beats his man it is usually a result of the defender over-committing and allowing Wallace the chance to nutmeg them. 
Too Direct?
An issue with Wallace is that he doesn't seem to have the ability to calm down on the ball. He possesses very little composure with the ball at his feet. When playing centrally he has developed a tendency to run into defenders, seemingly because he didn't look up often enough. For a player nearing the twilight of his career, his immaturity in possession is disappointing.  
Upon joining West Brom it was reported that when things weren't going well on the pitch he could develop a "hero complex" which led to him making poor decisions with the ball. Based on the evidence of this season, it's hard to disagree with that.
How to Get the Best Out of Him
Wallace doesn't suit a possession-based team too well. He benefits from space to run into and doesn't do well when 1v1 against a fullback. He has failed to complete over 40% of his take-ons for 2 seasons now and those numbers are likely to fall further with age. If he isn't able to consistently beat his man 1v1 he needs to be receiving the ball with space to run into as often as possible. This is why he'd suit a counter-attacking team so well. In possession, Wallace needs two things to succeed, space and bodies to play a cross towards.
His best position is probably right of a 4-4-2 with two physical centre forwards looking to get on the end of his crosses. He would benefit from his team sitting deeper and looking to play for transitional opportunities as it is in these moments he is most effective. 
[Wallace is #7]
He could also suit a 4-3-3 which doesn't require him to do much out of possession well. Leaving him and a striker forward, although risky,  could certainly be effective, especially against teams that play with advanced fullbacks.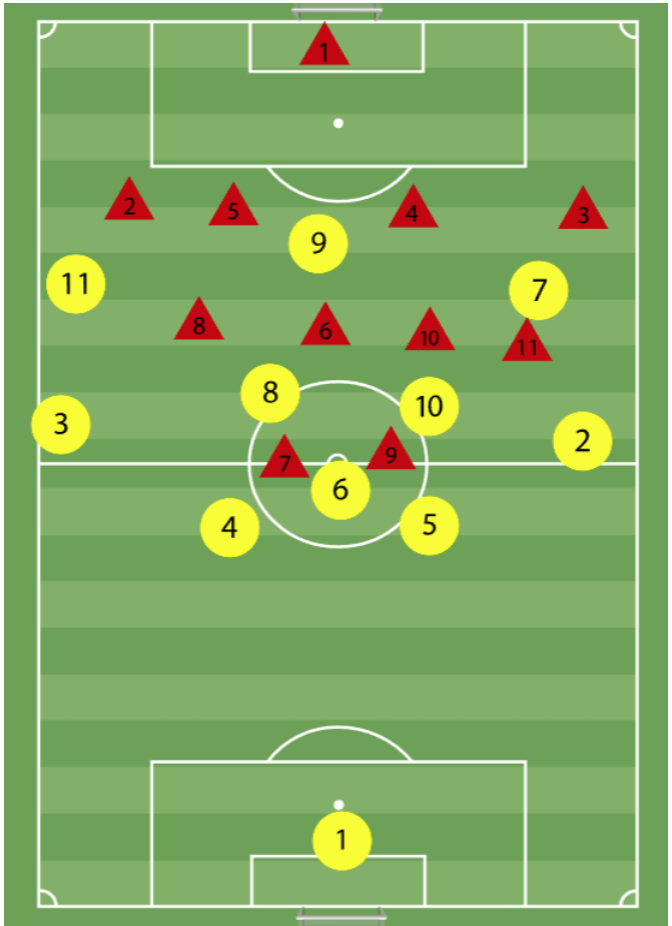 4-3-3 in possession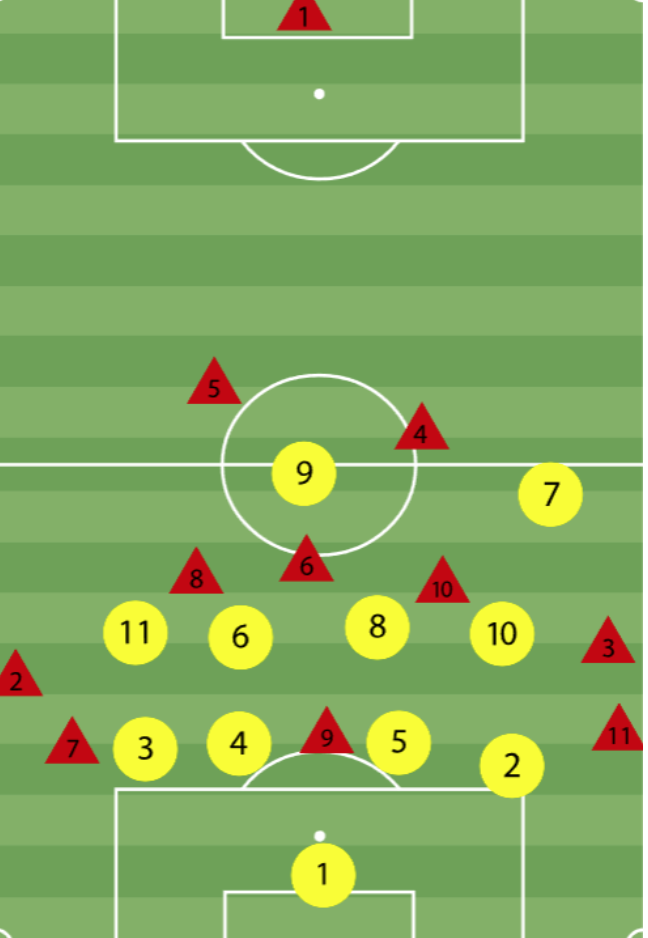 4-4-2 out of possession
Sensible Transfers
Newcastle United
Wallace would be a solid signing for the Magpies. In a rotational capacity, he could offer some moments of quality and would be a valuable asset in the games where they don't see much of the ball. He would fit in with the personality of the squad and it is likely his hard-working attitude would be appreciated at St James Park.
The big question mark over this move is clear though. Newcastle could sign pretty much any right winger on the planet so why on earth would they sign Wallace? The truth is they probably wouldn't, but that doesn't take away from how good a fit he is for their current squad and the positive impact he would have if he were to move to Tyneside.
Blackburn Rovers
Blackburn would suit Wallace well. The Rovers are currently in the playoff race and could be a premier league team come June. Their current top scorer, Ben Brereton Diaz will be leaving on a free transfer at the end of the season and they will need to find a way to replicate his output. If he joined, Wallace would likely be able to form a partnership with 6"4 centre forward Sam Gallagher. Wallace's crossing ability combined with Gallagher's strength in the air could be lethal and would certainly aid in this replication.
Conclusion
Jed Wallace is by no means a complete player, but, in the right set up he is one of the most effective wingers in the Championship. He is one of the best crossers in England and had he received better coaching earlier in his career it is likely he would've spent the majority of his career in the top flight. Even still any Premier League team looking for a budget right winger may find it worthwhile to have a look at the former Millwall man.
By: Ricky Lee Griffiths / @rickyleegriffi2
Featured Image: Adam Fradgley / West Brom