Player Profile: John Swift
West Bromwich Albion attacking midfielder John Swift graduated from Chelsea's academy in 2012. Although he made his debut for the first team, (albeit only as a substitute for Eden Hazard in the dying minutes of a 2-1 win vs Cardiff City in the last match of the 2013-14 season), he wasn't quite good enough to stay there. He didn't make an appearance for Chelsea in the following season and was sent on loan to (then) League 1 side, Swindon Town in January. At Swindon, Swift made 19 appearances and scored two goals, helping the Robins to a 4th-placed finish.
Swift was again sent on loan, this time to Brentford meaning he would be playing 2nd tier football in the 2015-16 season. This was Swift's first taste of Championship football and he adapted in no time, scoring seven goals and assisting four. Despite this, Chelsea decided to let Swift go permanently at the end of the season. After his release from Chelsea, Swift signed for Reading, which was where his career would find much-needed stability – He was nominated for the EFL Young Player of the Year award in his first season at the Royals. 
In his six years at Reading, he played 202 league games and contributed to 61 goals. This spell established him as not only one of the best players in the EFL, but, also as a modern-day icon for Reading. Unfortunately for Reading, all good things must come to an end and Swift left Berkshire in search of pastures new at the end of the 2021/22 season. Swift would then go on to join his current club West Bromwich Albion before the start of the 2022/23 season and was expected to explode in a team consisting of the likes of Jed Wallace, Grady Diangana and Daryl Dike. 
With Steve Bruce at the helm things weren't going to plan and despite scoring on his debut in a 1-1 draw with Middlesbrough, Swift's impact was minimal and West Brom found themselves in a relegation battle and at the foot of the Championship table in October. Luckily the arrival of Spanish head coach Carlos Corberan saw West Brom and John Swift's form improve drastically, but ultimately, it wasn't enough. Despite taking the lead on two separate occasions, West Brom fell to a 3-2 defeat at Swansea, missing out on a spot in the playoffs by three points.
Passive but Effective
Swift thrives in the "10". He isn't fast enough to be a winger and he lacks the work rate to play as an "8" for most teams so it's best to leave him in the position he is most comfortable.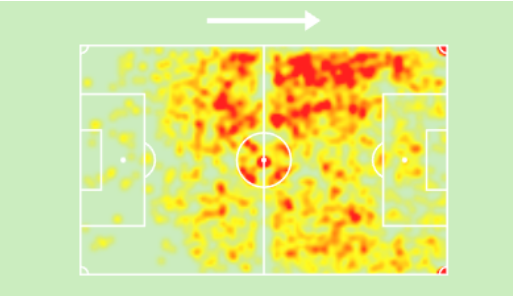 Swift's heat map for 2022/23 [SofaScore]
 He does his best when allowed to drift around the final third, linking up with teammates against an opposition block. He is a smart passer but can sometimes be accused of being too passive when the opportunity to shoot or play in a teammate presents itself. Far from ruthless in the final third, Swift acts as a tempo setter in attack. He uses his intelligence and ability to draw defenders into him with his quality in tight spaces to create space and chances for others as opposed to finding the quickest route to goal. It works too, Swift ranks first in key passes and shot-creating actions in the Championship this season, while also being 2nd for xAG, according to data from FBRef.
John Swift percentile rankings
Attacking midfielders with a minimum of 10 90s in the 2022/23 season
Viz by @analyticswba
Despite Swift's numbers being excellent this season, it is likely that taking set pieces and being the main creator in one of the most possession-based teams in the league has inflated them slightly. 
A Lack of Versatility
This season Swift has played his best football as a roaming 10 in Carlos Corberan's 4-2-3-1 formation.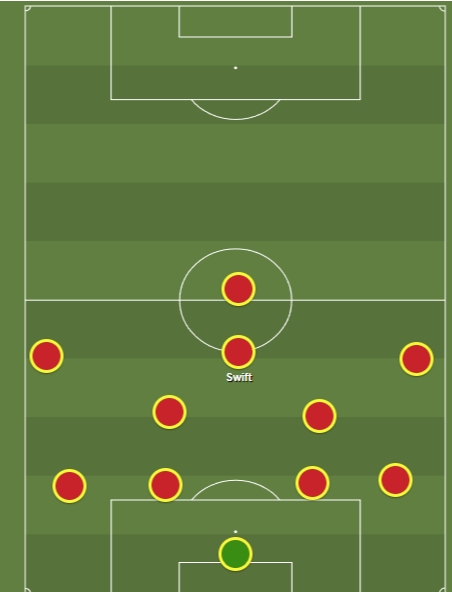 This system allows Swift the freedom to drift around the final third in an attempt to unlock the opposition's defence. It is one of the few roles in Corberan's system that allows for complete freedom of movement which helps explain Swift's struggles when playing either out wide or deeper in midfield. 
In possession, this system moves into a form of 2-3-5 with fullbacks usually inverting as opposed to overlapping the wingers. This lack of a consistent overlap is a big reason Swift struggles when playing on the wing, he doesn't possess the pace to go on the outside of his man. This has created scenarios where he beats his man multiple times with his exceptional footwork but then loses the ball when trying to complete the take-on as the defender is quicker than him. The role is much more regimented too which hampers his creativity, his freedom of movement and expression is what makes him so effective when played in the middle.
An issue when Swift plays further up the field can be his lack of desire to find pockets of space to receive the ball and the same can be said of Swift in deeper positions too. When West Brom played against Coventry City away from home, it was clear Swift had been instructed to drop deeper and help with building out from the back to help a struggling Okay Yokuslu. 
This didn't work as when Swift would receive the ball his first touch always seemed to go backwards and he didn't look interested in turning on the ball and looking to progress play up the pitch. This is something seen regularly, Swift looks either uncomfortable or uninterested in playing in a deeper position.
A Calm Presence Through the Storm
Winning the ball high up the pitch is the most effective way to create chances in football. Defences are disorganised which makes finding teammates in attacking positions easier. But a lot of players don't have the calm head in these moments to pick the right pass. John Swift has mastered this skill.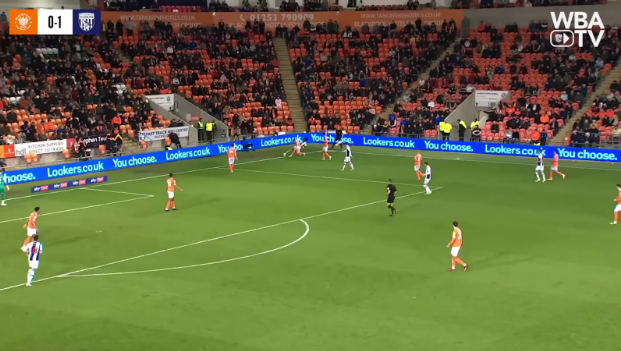 .
Brandon Thomas-Asante battles to keep the ball in play.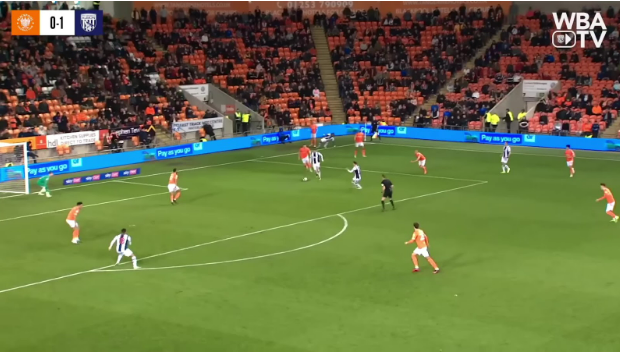 A lapse in concentration from a Blackpool defender allows Swift to receive the ball with space.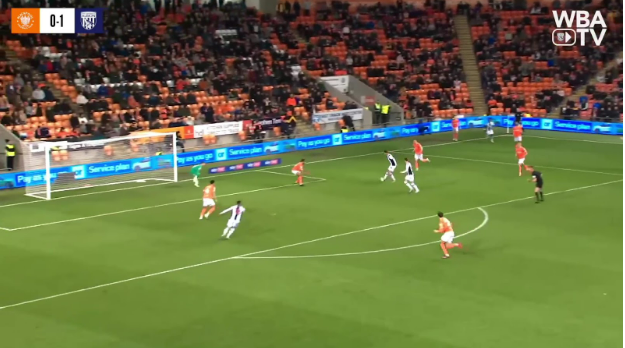 Swift takes a touch inside, committing the Blackpool defender before laying off a perfectly waited pass for Taylor Gardner-Hickman.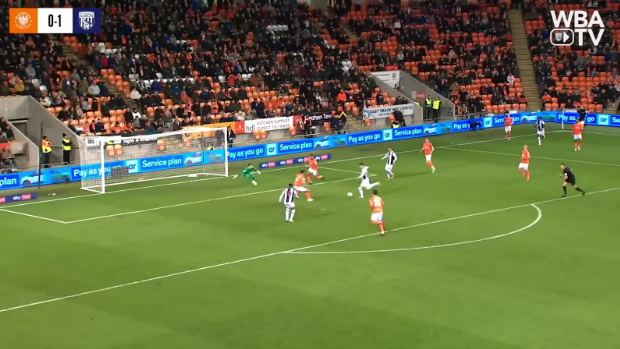 Pass reaches Gardner- Hickman, who shoots…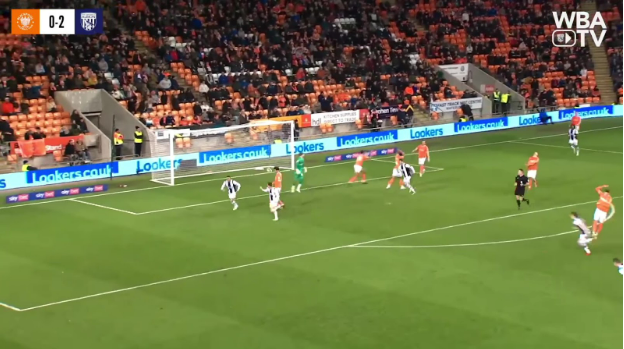 ..and scores.
This goal perfectly demonstrates Swift's composure when presented with opportunities in transition. Another example of this is his assist to Okay Yokuslu vs Preston where West Brom win the ball back high up the pitch and Swift once again waits for the defender to commit before making the pass.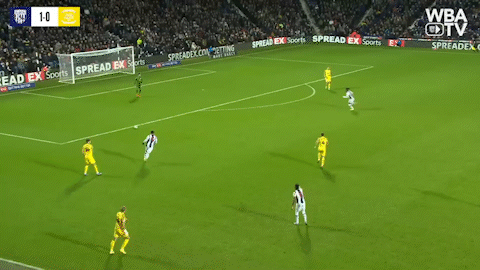 How Can He Make the Step Up?
When Carlos Corberan took charge of West Brom on October 24, they were bottom of the Championship table. They would finish ninth, missing out on a playoff spot in the final matchday of the season, and John Swift's performances are a big reason why this was even a remote possibility. However, at 27, Swift still hasn't shown himself to be much more than a very good Championship attacking midfielder, if he wants to be more than that he needs to work harder. In the Premier League, the teams play faster, press harder and are more physical on the whole, meaning a team like West Brom, who would certainly be in a relegation fight would not be able to carry a passenger off the ball. Currently, Swift's lack of intensity with the ball is also reflected in his actions without it and it would be a massive problem in the Premier League.
He could do with learning when to pull the trigger too. Swift's passivity with the ball has been positive since the arrival of Corberan, as West Brom has seen a lot of the ball due to teams setting up in low blocks against them, but earlier in the season under Steve Bruce, Swift struggled to play a more transitional game. Swift isn't the type of player who will keep attempting long through balls in an attempt to find players high up the pitch on the counter, and playing a style that required him to do this left some fans wondering what he does.
Should West Brom achieve promotion in 2024, they would not have the luxury of playing this way and it looks as if Swift might struggle with adapting to that. A problem Swift has is that he seems to be the type of player that makes a good team better as opposed to making a bad team good which means he would almost certainly struggle playing in a recently promoted team.
Similar Player: Bernardo Silva
On the ball, Swift reminds me of Bernardo Silva. They have a similar dribbling technique and use little steps, body feints and little bits of trickery to beat their man. They also seem to have a gravitational pull and can draw defenders onto them just by having the ball at their feet. Neither of them likes to play long passes and they both suit a possession-based style of play. With that being said Swift isn't close to Silva athletically. Silva has a better engine, is faster and more intense with and without the ball. It is obvious Swift is not as good as Silva but that doesn't mean they aren't stylistically similar.
Sensible Transfer Destination: Brighton
It is looking likely Brighton will be letting go of a considerable amount of talent next season with Alexis Mac Allister just one of the names linked with moves away from the Seagulls. Should attacking midfield be a position Brighton look to add to next season John Swift makes perfect sense. His patience in possession would be perfect for the way Roberto De Zerbi likes his teams to play. He already has experience playing this sort of football under Carlos Corberan and it's likely he would cost less than any alternative. He would fit in well as a squad player.
Strengths
Creativity

Patience

Dribbling in tight spaces

Drawing in defenders

Link up play

Ball retention

Set piece taking

Composure
Weaknesses
Intensity

Athleticism

Finding pockets of space

Reluctance to help in build-up

Shooting
Conclusion
John Swift is an incredibly talented footballer who, if he had applied himself earlier in his career would be playing in the Premier League right now. He shows his quality but an unwillingness to help his team out both with and without the ball is worrying. He is currently 27 and entering his prime and with time running out he will be incredibly hopeful that he gets his shot at the Premier League sooner rather than later.
By: Rickylee Griffiths / @rickyleegriffi2
Featured Image: @GabFoligno / Adam Fradgley / West Brom