Prince Mumba: Zambia's All-Action Midfielder
Prince Mumba was born on 24 March 2001 in Zambia, a country in southern Africa. He started his professional footballing career at Zambian club Kabwe Warriors, where he still plays. Over the past two seasons he has gone from a young prospect in their squad to one of their most important players. 
Mumba has also represented Zambia at senior and youth level. He made his debut for Zambia in a 3-0 defeat against Senegal in June 2021 and has made one further appearance since then. At youth level, he played for Zambia's U20 team at both the 2019 and 2020 COSAFA Cup. In the 2020 edition, he won the Player of the Tournament award. 
Player Summary
Mumba is right-footed and predominantly plays as a central midfielder. A table setting out his strengths and areas for improvement can be viewed below.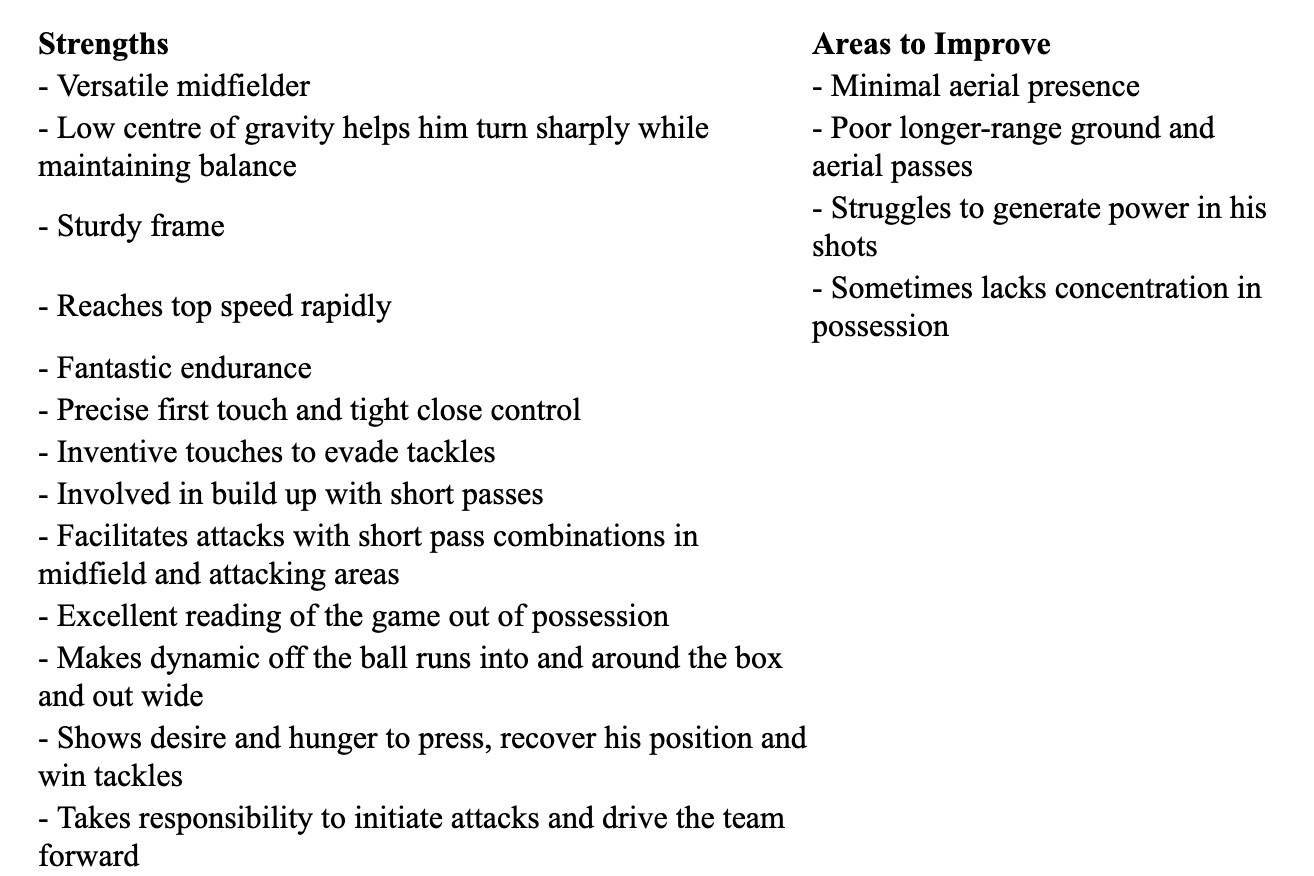 Position
Mumba usually plays as a box-to-box central midfielder player for his club and country. Mumba's versatility means he can also perform as a defensive midfielder, attacking midfielder or even as a narrow wide player if required. 
At club level, Mumba is generally played as a box-to-box central midfielder in a 5-3-2 formation. In this system, he usually occupies one of the wider central midfielder positions. However, this 5-3-2 formation sometimes switches to a 4-4-2 formation, and he is pushed into one of the wide midfield positions. For Zambia at both youth and senior level, he is usually deployed as one of the two wider central midfielders in a 4-3-3 formation. 
As Mumba most commonly plays as a box-to-box central midfielder for club and country the focus will be on his role in this position. In this box-to-box role, he appears to be assigned a multitude of responsibilities. In possession, he is expected to offer a passing option for the defenders, retain and recycle possession, attempt to carry the ball forward to break lines, make runs into and around the box to support attacks and combine with wider teammates to create openings and overloads in these areas.
While defensively, he is expected to hassle opponents once they enter the midfield third of the pitch, try to intercept forward passes, shift wider to support and cover the wing-back on his side of the pitch and be capable of winning tackles in the zones directly in front of the defence. 
Physical Attributes
Mumba is very small in height as he looks around 1.63m-1.65m. The key benefit flowing from his size is the low centre of gravity it gives him. He can turn in different directions sharply while maintaining his balance and retaining close control of the ball. An example of this is the assist he provided for Zambia's second goal versus Comoros in the 2020 U20 COSAFA Cup.
He received the ball in the final third with his back to goal and flicked a delicate outside of the right foot touch and spun in the direction of the touch in an instant which allowed him to manouevre away from a taller opponent behind him. He then burst into the box and crossed the ball with his left foot for a teammate who put the ball into the net. Without his low centre of gravity, he would not have been able to pull off the flick and turn, maintain his balance and retain the ball. 
Mumba's lack of height could be a problem as some teams will simply not consider him because of this. However, he may still grow a couple more centimetres over the next year, because most males continue growing until they are 21 years old. As he is so short, he has little aerial impact or presence and there is not much that can be done to improve this.
Prince Mumba – CM/AM – 🇿🇲
• Helps the build up with quick short pass combinations
• Makes runs into the box
• Can evade challenges with smart touches
• Anticipates loose balls well and makes good recovery runs
• Presses well to force errors
• Clever tackler pic.twitter.com/QuMCjV7FLu

— Daniel Ajuh (@Daniel_Ajuh) August 27, 2021
It is worth noting that despite his height, if a high ball is launched towards him he will still try to compete for it which on some occasions at least distracts or disrupts the opposing player challenging for the ball.  Mumba has deceptive strength and a sturdy frame. He uses his small build well to hold off opponents and retain possession.
In particular, he sticks out his solid backside when receiving the ball with a player pressing him from behind which keeps the ball further away from the pressing opponent and sometimes induces a foul and on other occasions helps him create the time and space necessary to turn or pass the ball or win a foul. 
Mumba has impressive acceleration and reaches his top speed very quickly. This is useful both defensively and offensively. Defensively it means he can react quickly and reach loose balls before opponents and keep up with speedy opponents for long enough to execute a tackle. Attacking wise it means he can burst past opponents in central areas and create enough separation between himself and opponents over 5-10 yards to allow for a pass, cross or shot free from pressure. 
The energy and stamina Mumba displays sets him apart from other midfielders. He has a fantastic engine which means he can cover the ground both vertically and horizontally in attacking and defensive situations. In attacking situations his energy means he can consistently attempt to drive past opponents, make runs into and around the box and move into wider areas to combine with the wide players. '
Defensively, his stamina provides several benefits. It means he can counter-press immediately after a turnover whether that be in central or wider areas, and he can make quick recovery runs when the ball is lost and a counter-attack attempted. It also enables him to shuttle across from a central to a wider area and back to help provide defensive solidity in wider and central areas. 
First Touch and Close Control
Mumba has a precise and crisp first touch when receiving the ball or when intercepting a pass from an opponent. The quality of his first touch does not vary much when quicker, more powerful passes are played to him as he is able to take the sting out of the pass and keep the ball close to his foot. This epitomises how precise his first touch is. 
The creativity of Mumba's close control and touches is impressive. When pressed in the midfield or shepherded into tight areas near the touchline where there is only space behind him, he uses clever drag backs to pull the ball away from pressing opponents and give himself more space to find a pass to retain possession.
#DidYouKnow.. Zambia's 🇿🇲 Prince Mumba was named Player of the tournament at the just ended #COSAFAU20. He won the trip train 2 weeks at Laliga side, Villarreal CF. Yesterday Micho confirmed that him & 5 others will be in #CHAN squad. #continuity #grassroots #Scouting #TalentID pic.twitter.com/hxcy6BHqW8

— Kudzai Chitima (@cudzy12) December 15, 2020
When there is a 50/50 ball or he takes a heavier touch which lures in an opponent to make a challenge, when he gets there first, he is inventive with his touch to evade the challenge. For instance, he uses a clever chip to lift the ball just over the opponent's tackling leg to ride the challenge and drive forward with the ball. 
Mumba's tight close control is also visible when he travels with the ball. He takes lots of small, rapid touches to keep the ball glued to his foot as he travels and changes direction with the ball. 
Passing Ability
Mumba tends to make shorter passes with his right foot, rarely playing passes more than 15 yards. He does this to recycle possession quickly, help maintain the build-up rhythm and facilitate attacks. The short pass combinations he does with teammates across the midfield and attacking areas help bypass pressing opponents and create space to exploit. 
When Mumba does attempt longer ground or floated passes to break lines, he is prone to under-hitting them. They lack the requisite speed to reach the intended target comfortably which means they are intercepted, or the intended target has to run back towards the ball to collect it before an opponent reaches the ball, rather than waiting for the ball to arrive at their feet and moving forward with the ball. This disrupts the fluency of the build-up or attack.
To improve Mumba's longer-range passing he needs to work on his passing technique with both feet via passing drills at training focused on improving the strength of contact he makes with the ball with his instep and top of his foot. This should help him increase the speed of these passes making them more accurate and better weighted. 
Shooting Technique
Like with Mumba's longer range passing, he struggles to generate enough power in his shots from inside and outside the box. He does not strike the ball cleanly and most of his shots tend to bobble to the goalkeeper for an easy save, wide of goal or into the path of an opponent to block or control.
As a box-to-box midfielder Mumba needs to improve his shooting because this will increase his goal return and make him a more valuable player. He can improve his shooting by utilising training ground exercises that work on his ball-striking technique with different parts of both feet in different areas of the final third. This will include the way he approaches the ball as he is about to shoot, the way he swings his leg, the area of the ball he makes contact with and his body position when he strikes the ball.
Reading Of The Game Out of Possession
The regularity of Mumba intercepting forward passes, reaching heavy touches first and pinching the ball of the toes of opponents across the pitch is illustrative of his excellent reading of the game. In the opponent's defensive third, Mumba is particularly adept at judging when an opponent is going to try a forward pass and reacting first to step across the path of the ball and recovering it.
He also positions himself smartly when the ball is played to an opponent into or close to the midfield area on his side of the pitch, enabling him to react quickly and use his great acceleration to collect the ball from an opponent's heavy touch before the opponent can reach the ball. Alongside this, Mumba is quick to notice when an opponent is running down a blind alley in the zone of the pitch he is stationed.
Prince Mumba's brace and Augustine Mulenga's goal in Chipolopolo's friendly win over City of Lusaka

Do not forget to SUBSCRIBE to ensure you don't miss a video from the FAZ TV YouTube channel.
► Subscribe: https://t.co/HyAdmKnOgb pic.twitter.com/oLDfWWjXnX

— FAZ (@FAZFootball) July 1, 2021
When he sees this, he intensely follows them, snapping at their heels, pressuring them physically and psychologically. This usually forces them to carry the ball out of play or kick the ball out of play or upfield without any thought.
But when they try to keep the ball instead of in this scenario, he is generally in position to make a tackle and dispossess the opponent. His knack for spotting this type of situation unfolding and then reacting with such determination makes him a great fit for a counter-pressing team. 
Mumba is also quick to recognise when he can win the ball off an opponent when they have their back to him. He notices they do not have their arms wide enough to prevent him getting close enough to win the ball without fouling, at the point when they are taking a touch to get the ball out from their feet to make a pass.
When this arises, he catches the player in possession by surprise by nipping in front of them from their blindside using his burst of acceleration and shortness to pinch the ball before they can react. He then positions his body between them and the ball enabling him to play a pass to a teammate or draw a foul. 
Off-the-ball Runs
Mumba's great endurance comes in handy as it helps him make plenty of off the ball runs during matches. He combines his physical capability to make off the ball runs with making the right runs at the right time as he makes late and untracked off the ball runs into and around the box.
This means he can attack crosses or receive the ball free from pressure in these areas. In the games reviewed these forward runs were impactful as some crosses and passes were played to him, in space, in dangerous areas allowing him to shoot on goal. 
Prince Mumba from Kabwe Warriors wins man of the match as Zanaco FC win 6-5 on post match penalties making it to the Absa Cup semifinals. We were honored to have the Football Association of Zambia President, Andrew Kamanga & Zambia National Team Coach 'Micho' today. #AbsaCup2021 pic.twitter.com/vD5fyjcM3e

— Absa Bank Zambia (@AbsaZambia) March 14, 2021
Not only does Mumba make forward runs into and around the box he also makes well-timed diagonal runs from a more central position in behind the opposition's midfield into the right channel or right wing to offer a passing option. These runs also help create an overload in wide areas and allow for him to play quick, short pass combinations with a wider teammate to open up the defence and enable his team to put a cross into the box. 
Mentality
Mumba's mentality out of possession is good. He uses his energy effectively throughout the match and displays real hunger and desire to press higher up the pitch to recover the ball, but also to make recovery runs to help his team defend and win the ball back in the midfield and defensive thirds. 
In possession, Mumba sometimes lacks concentration resulting in lackadaisical, loose touches and misplaced simple passes. He therefore needs to ensure he is more focused when he has the ball. This will come with maturity, experience and playing in a more demanding environment. 
Despite the lack of concentration Mumba displays at times, he takes responsibility in possession to try and make things happen and drive his team forward from midfield. This happened irrespective of whether his team were winning, losing or drawing. Overall, Mumba has a leader's mentality and his attitude on the field explains why he was the captain of the Zambian Under 20 side. 
Long-term Potential
After reviewing Mumba's footage for club and country, he has displayed an interesting profile for a box-to-box midfielder. His potential is quite high, and he could develop into a starter for a club in Europe's top 10 leagues.
Potential Future Clubs
Mumba has been a regular for Kabwe Warriors this season showing himself to be one of their best players. At 20 years of age and with solid experience in the Zambian Super League, Mumba is now ready to take the next step in his fledgling young career.
It is crucial that his next move is to a club that will give him a reasonable amount of first-team minutes during his first season and then provide him with a platform over the following seasons to become their key midfielder. So, let's take a look at two clubs that could do this for Mumba:
1. CD Tondela
CD Tondela finished 12th in Liga Portugal Bwin (Portugal's top division) last season. That was a respectable position, and they will be aiming to finish around this position or potentially a little higher this season. They have signed a few players to enhance their starting lineup but still lack options and depth in certain areas.
Tondela are probably the most 'Spanish' team in the recent history of the Primeira Liga. Pako Ayestarán has been coaching them for the past year and plenty of Spanish youngsters like Mario González, Pepelu, Jaume Grau, Manu Sánchez and Roberto Olabe have passed through the club.

— Zach Lowy (@ZachLowy) August 12, 2021
An area of CD Tondela's team which is glaringly in need of another option is central midfield. They have a few decent options including Tiago Dantas who is on loan from Benfica. However, they need another midfield who can be rotated with their current options. A player who they should consider is Mumba. His style would suit Portuguese football as he is a technical and energetic box-to-box midfielder who can help engineer attacking opportunities but is also diligent in his defensive work.
His blend of attributes would give them something different compared to what they have at their disposal. Plus, he would fit in well as one of their two more advanced central midfielders in the 4-3-3 formation they usually play in. If needed he could also be used as a lone defensive midfielder due to his defensive qualities. 
CD Tondela could probably sign him from Kabwe Warriors for a low transfer fee of around £50,000 if there was a high sell-on fee of around 35-40%. This would make him affordable as they tend to sign players for low fees, on free transfers or on loan deals. Mumba would be taking a huge step from Zambia to Portugal if he moved to CD Tondela.
This would not be an easy change and he would need some time to adapt. However, he has already played at the senior international level, has good experience at the U20 international level and has been a regular for his club despite his young age. These experiences are invaluable and would help cope with the increased demands of playing in Liga Portugal Bwin.
Additionally, their small first-team squad would probably provide him with the opportunity to gain a decent amount of first-team minutes this season as a rotation option. If he could adapt and show he can perform at that level, which his characteristics suggest he can, then he could become a regular first-team starter within 12 months. 
2. IFK Goteburg
IFK Goteburg are currently 12th in the 2021 Allsvenskan (Sweden's top division) after a poor run of form recently. This is the same position they finished in last season's disappointing campaign, It is extremely unlikely they will be able to reach a European spot this season, although they could finish in the top 8. 
If IFK Goteburg want to improve their chances of finishing in the top 8 this season and thinking ahead to the 2022 Allsvenskan they need to add a young box-to-box midfielder. This is something they are lacking in their squad especially as they usually play either a 3-5-2 or 4-4-2 formation. Mumba would be the perfect fit for this role.
Marcus Berg! IFK Göteborg reducerar till 3-2
Se matchen på https://t.co/U8GJcAsMFu pic.twitter.com/MVa2rt8mpO

— discovery+ sport 🇸🇪 (@dplus_sportSE) August 29, 2021
He reads the game excellently out of possession and is dogged and tigerish in his defensive duties. In possession, he has impressive close control and helps set up attacks. He also supports attacks with forwarding runs into and around the box and into wider attacking zones.
In terms of cost, he would be affordable as a fee of around £50,000 with a large sell-on percentage would probably be enough to sign him or they could offer a higher initial fee of around £100,000 which would likely be accepted too. 
Moving to Sweden to play for IFK Goteburg, would be an easier transition for Mumba than playing in Portugal for a couple of reasons. The difference in level between the Zambian Super League and the Allsvenskan is less than between the Zambian Super League and Liga Portugal Bwin. As such, he would likely be able to demonstrate his quality faster and be ready to start earlier.
Additionally, he can speak English because this is an official language of Zambia and as most people in Sweden can speak English too this would make it easier for him to adjust, fit in and settle in new surroundings. 
By: Daniel Ajuh / @Daniel_Ajuh
Featured Image: @GabFoligno / Council of Southern Africa Football Associations