Ridle Baku: Germany's Rising Young Fullback
Ridle Baku has enjoyed a seismic rise over the past 12 months, swapping relegation-threatened Mainz 05 for Champions League football at the Volkswagen Arena. At an age where many of his peers are just beginning to take their first steps in the Bundesliga, Baku has already started over 75 topflight matches, won a U21 European Championship, and narrowly missed out on Germany's Euro 2020 squad.
With summer interest from PSG & Bayern, it won't be long before Baku is tearing up the pitch for Hansi Flick's national team and competing for silverware at one of Europe's elite. In this player analysis, we delve deep into the features which have made Baku an influential presence for VFL Wolfsburg, and why he could become the future at right back for the German national team.
If you enjoy this article make sure to subscribe to Adam Khan's German Football Newsletter to receive similar Bundesliga content every Friday!
The 23-year old Mainz native has often been compared to Naby Keita and Philipp Lahm in the past, two players who share little in common, but whose differing skillsets are expressed as one in the form of Ridle Baku. As for the comparison with Keita, Baku personifies his energy and ability to carry possession forward.
Whereas the Guinean international has made a home in central midfield, Baku's engine has been primarily utilized in right midfield or rightback since making the move to VfL Wolfsburg last October. There, Baku covered the second most distance of all Wolfsburg players, and even led the Bundesliga in sprints last season (1061).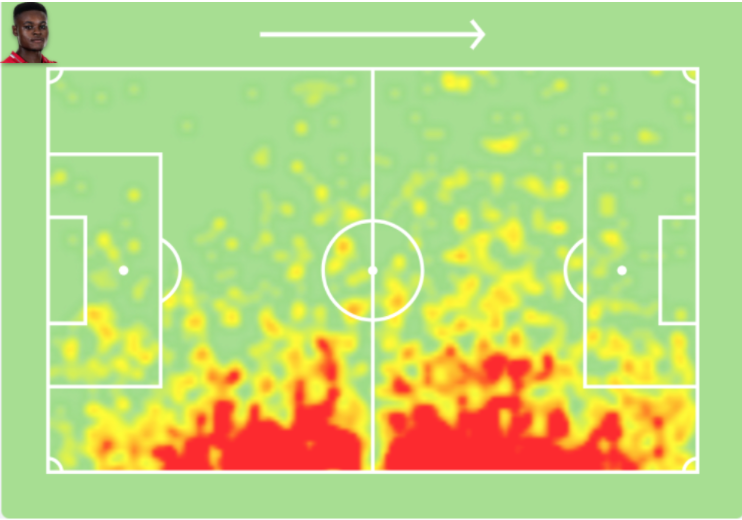 Photo: Sofascore
It's clear to see Ridle Baku's exceptional output through his 2020/21 heatmap (above), covering practically every blade of grass on either side of the halfway line. The 23-year old was more than willing to make lung-busting runs forward as well as make the hard yards back to rescue a situation defensively. The comparisons to Keita don't just stop there, with one of the major similarities between the two being their ability to carry possession forward with unusual ease.
With both players under 1.76m, the pair have had to learn how to use their low center of gravity to get the better of bigger, stronger, opponents. With quick changes of direction, a glue-like control, and fluid movement, Ridle Baku is able to wriggle free from any lunging challenges and create the attacking impulses which have made him such a resounding success at the Volkswagen Arena.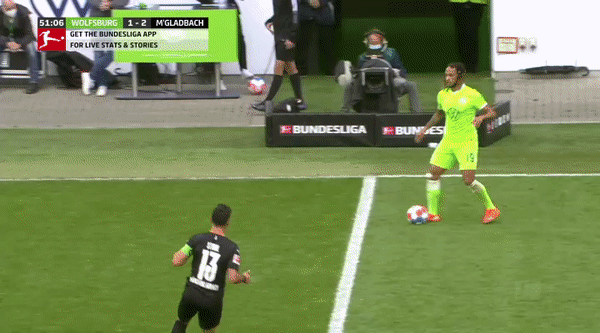 Following an opposition free kick, the ball finds the feet of Ridle Baku on the edge of his own box. Aware of the onrushing defender, the German international takes one good touch to control the ball and then with a quick change of direction leaves him for dead. With a better layoff Wolfsburg could have created a 3v2 situation in their favor.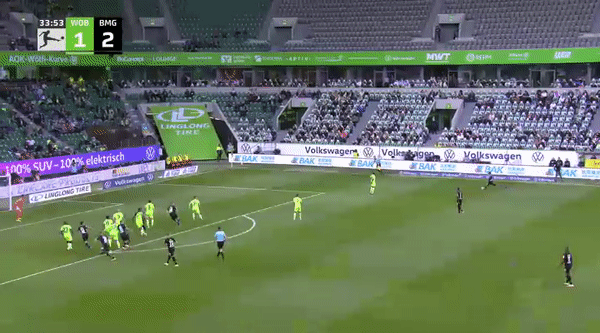 Just minutes into the second half Baku once again showed his astute awareness and fluid change of direction. Having received a ball from Kevin Mbabu, Baku takes one touch to allow the opposing fullback to bite before turning in the blink of an eye and racing towards goal. With a slightly deeper cross, the 23-year old's exceptional dribble could have been rewarded with a goal.
Even more so than Naby Keita, Ridle Baku's comparison to Philipp Lahm shows what a generational talent Wolfsburg have on their books. Despite perceived physical deficiencies, Lahm was able to carve out a brilliant career through intelligent positioning and a complete mastery of his role. Pep Guardiola has even gone as far as to say that the Bavarian native is "the most intelligent player I have ever trained."
Though Ridle Baku has a long way to go before winning 113 national team caps, and 17 major titles, the intelligence in his positional play is right in line with FC Bayern's former captain. Whereas Lahm made the switch from rightback to defensive midfield in the latter stages of his career, Baku has undergone the opposite transition, playing primarily as a midfielder for Mainz before operating almost exclusively on the right flank at Wolfsburg.
Just as Lahm was adept at moving inside from rightback or dropping into the wide channels from a midfield role, Baku's ability to drift into the halfspaces have made him an absolute nightmare for opposition fullbacks. The Under-21 European Championship last Spring were perhaps the best example of this. Baku, operating primarily at right midfield in a classic 4-2-3-1, was electric from start to finish, ending the competition with the most goal contributions as Germany lifted the title with a 1-0 victory over Portugal.
With an overlapping fullback behind Baku for 4 of Germany's 6 matches, the Wolfsburg star was primarily tasked with dropping into the halfspaces to create central overloads. With his incredible game intelligence and history as a central midfielder, Baku created countless issues for opposition fullbacks who were caught between tracking him infield and/or protecting the wings.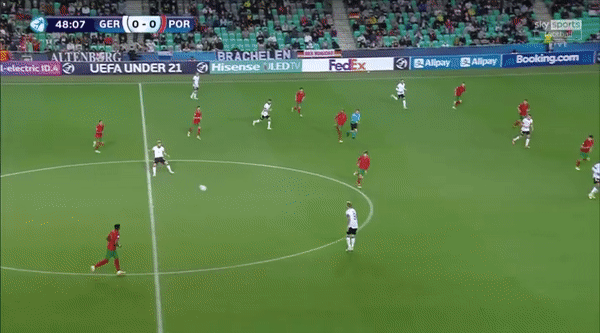 Ridle Baku ended the tournament with a tournament-high 3 assists, with one of them setting up the goal in Germany's victory over Portugal. (above) Recognizing the space afforded to him in-field, Baku drives at pace at the Portuguese fullback rather than retaining his width and slowing down the attack. A well-timed through ball full-ended the move for a simple finish from his now Wolfsburg teammate; Lukas Nmecha.
This isn't to say that Baku isn't adept at retaining his width though, with the 23-year old capable of providing dangerous aerial deliveries in typical fullback fashion.
Baku completed the 5th most crosses of any Bundesliga fullback last season, routinely searching for the head of Wout Weghorst or providing a driven ball into the run of an advancing midfielder. Whilst he may not be as prolific as either Borna Sosa or Filip Kostić, the variety of ways Baku can hurt an opposition defense makes up for his somewhat inconsistent crossing.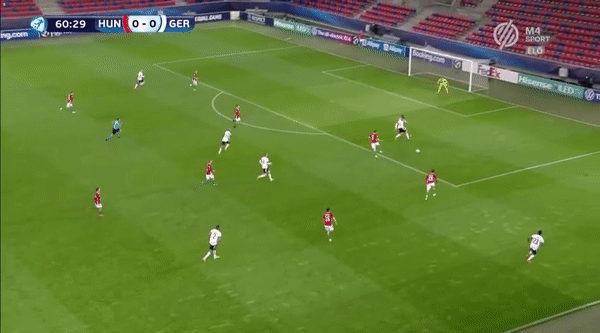 Ridle Baku may have only registered 1 assist from the wide right channel this season, but when afforded time and space he is more than capable of finding his target. The best example came against Hungary in the under 21 Championships. With nobody applying pressure, Baku was able to pick his head up and find the head of Lukas Nmecha.
A pacy, energetic, fullback with the intelligence to drift into midfield, and the technical ability to turn under pressure, Ridle Baku looks like the prototype ready to kickstart another World Cup-winning generation. However, the youngster still has flaws that need to be ironed out if he is to cement a place in Hansi Flick's plans.
Despite impressive pressing numbers and the aforementioned willingness to track runners, Baku is far from a top-tier 1v1 defender and lacks a competitive aerial ability. Whilst his deployment in right midfield has offset some of these deficiencies, the competition for attacking places in the national team setup means Ridle Baku will find a home at right back under Hansi Flick.
There, the 23-year old Congolese-German needs to improve his numbers if he is to be relied on in an international tournament where mistakes are ruthlessly punished. In his competitive debut against Liechtenstein Baku failed to win any of his 3 aerial duels and contested just 1 tackle in his favor.
Having failed to convince defensively against a side ranked 188th in the FIFA world rankings, one can only imagine Flick's hesitance to bet on Baku when faced with an opponent like France or England.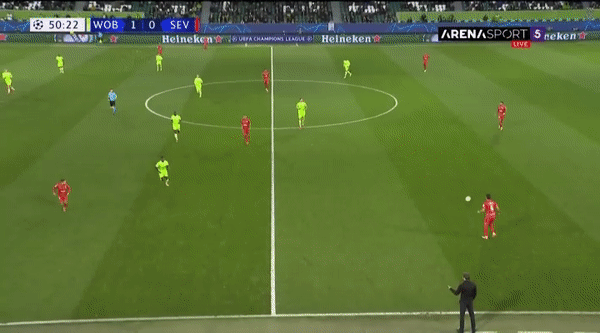 When it comes to providing pressure and defensive intensity Baku is second to none. However, when deployed in a deeper starting position, the German international has a tendency to overcommit to 1v1 situations and allow himself to be easily drawn into fouls or beaten by an opposition winger.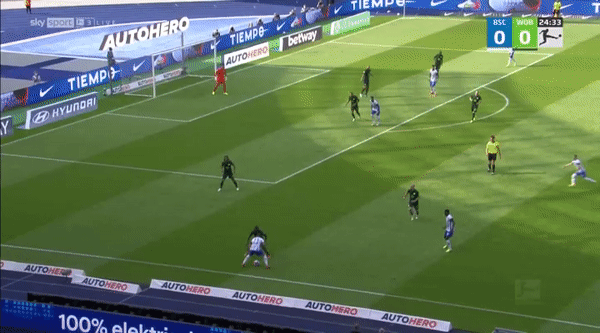 It's been a solid start to the 2021/22 season for Ridle Baku and VFL Wolfsburg. The 23-year old has started all but one match in all competitions, whilst Wolfsburg sit 5th in the Bundesliga after 7 matchdays and remain unbeaten with a ⅓ of the Champions League group stages gone.
The blow of missing out on the current round of World Cup qualifiers will have stung for the German fullback, but his impressive performances at Wolfsburg and ability to continuously improve his game will make him a key factor for Hansi Flick when the Qatar World Cup rolls around next November. 
Did you enjoy this article? If so, then make sure to subscribe to Adam Khan's German Football Newsletter to receive similar Bundesliga content every Friday!
By: Adam Khan / @XxAdamKhanxX
Featured Image: @GabFoligno / DeFodi Images