Romelu Lukaku: The One-Man Press Resistance Mechanism
Since arriving from Manchester United for a club-record fee of €80 million, Romelu Lukaku has enjoyed a new lease of life at Antonio Conte's Inter Milan, scoring 47 goals and 8 assists in 67 appearances. More than his goals, Lukaku himself provides a direct route of ball progression, allowing Inter to escape pressure and launch into dangerous attacking transitions.
 Through using his strength at holding up the ball, Lukaku often brings others into play, creates dribbling opportunities, or draws a foul. Accordingly, Inter's possession system built around him as he can reliably win the physical duel with his opposing marker, facilitating a transition. Conte has engineered his team's attacking automatisms and build-up patterns around Lukaku's strengths and skills.
Inter's most common pattern goes as follows: the right center-back shifts wide, rotating with either the defensive or right midfielder depending on the formation, adopting the positioning of a typical full-back. Whilst the right wing-back either goes high and wide or inverts, with the right-sided midfielder or attacking midfielder depending on formation coming to support completing the movement of the wing-back. Meaning that if the wing-back inverts, they overlap whereas if the win-back overlaps they provide a passing option.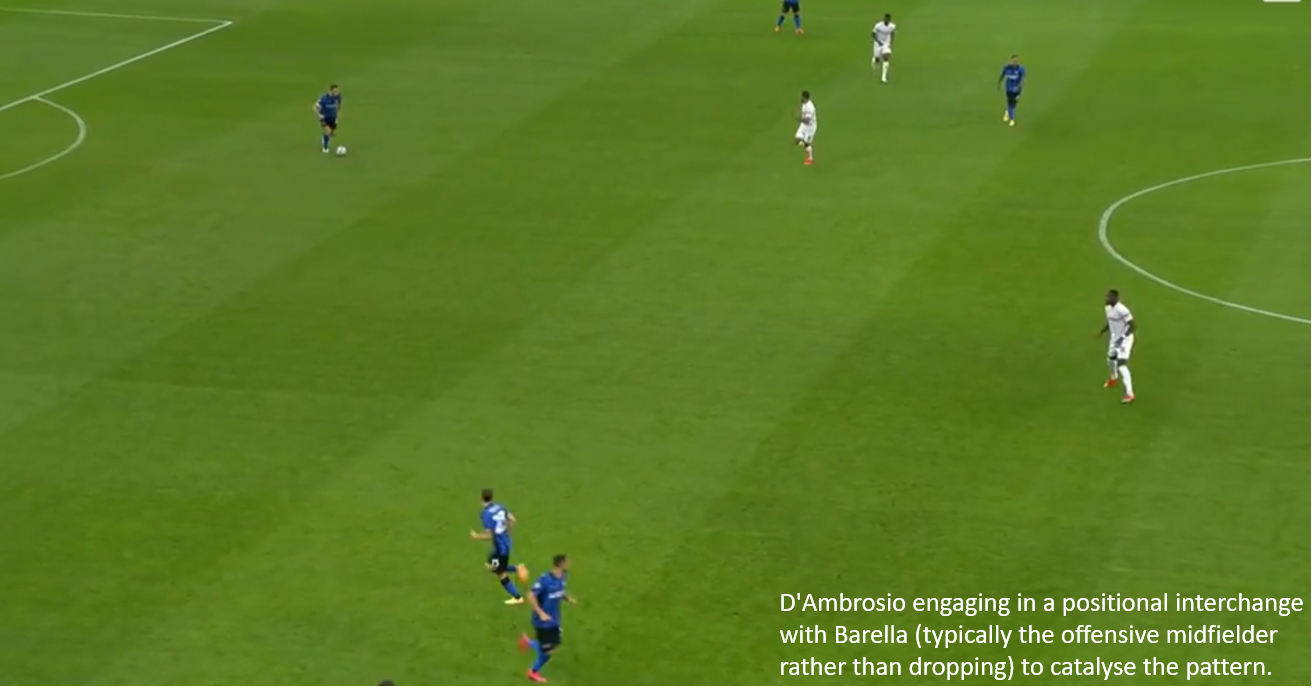 All these thus far are nameless because the pattern is not contingent on them individually, although the preferred arrangement has Milan Škriniar, Achraf Hakimi and Nicolò Barella to occupy the respective positions. The crucial player is Lukaku, who drops deeper, typically dragging a center-back, of whom he leverages to either spin or bring others into play through the vacated space via a rotation.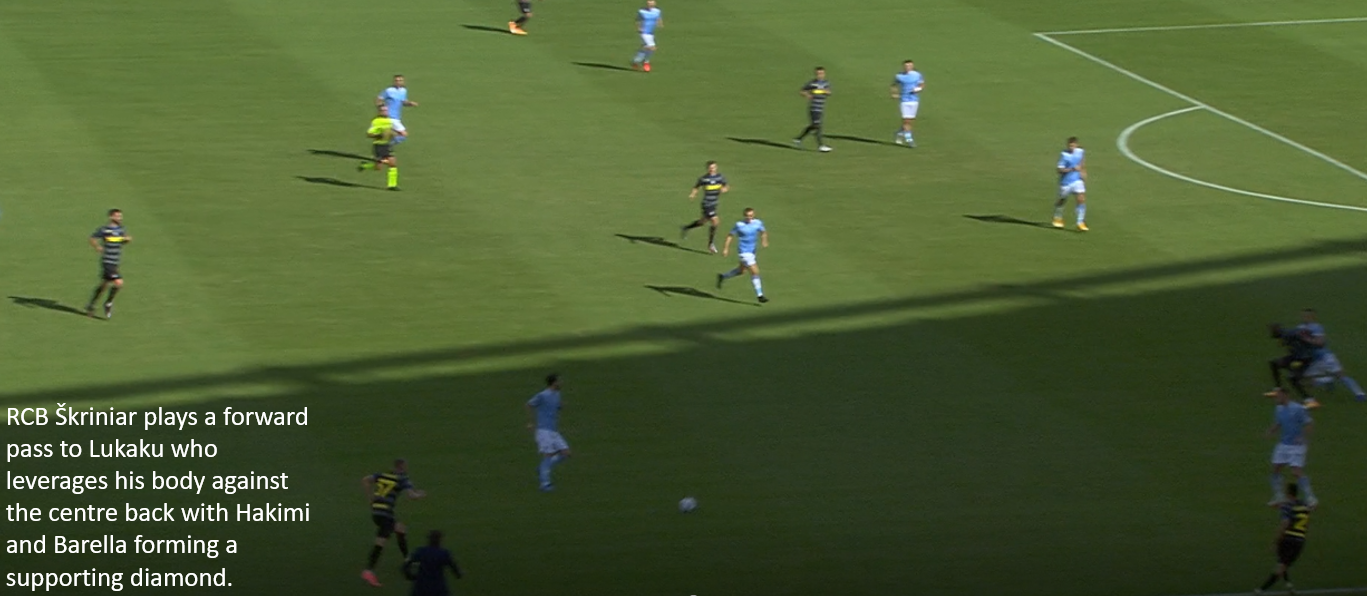 Most notable here is Lukaku's use of his body to hold off the center-back. He can consistently beat his opponent in a physical duel (he moreover uses his body intelligently, it is more than just strength, however, it is the most important component) which allows for this method of progression to be used so regularly.
Borussia Mönchengladbach attempted to counter their second half against Inter in Matchday Five of the UEFA Champions League group stage by making Denis Zakaria responsible for marking Lukaku. However, it failed, with Lukaku winning the duel more often, demonstrating the power of a qualitative superiority in negating the opponent's tactical plan.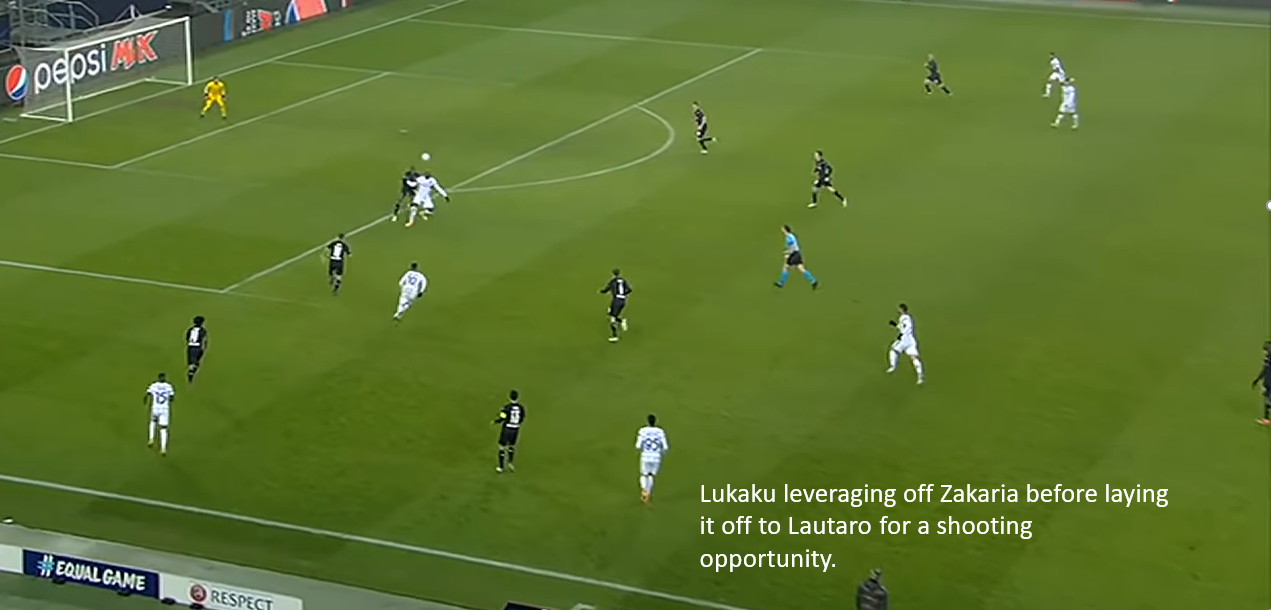 Through, purposefully positioning himself on the center-back and effectively taking them out of the game due to his effectiveness in duels, he leaves vacated space. This is particularly dangerous when there are two onrushing supporting players as typically there is only the full-back covering, resulting in potential overloads.
And even when there is not numerical superiority, it is still a challenging situation to defend due to the struggles of tracking players who are moving through multiple zones, with the defenders having the conundrum of whether to play offside or to follow. From there the question becomes how to follow and when to engage.
Typically, if Matteo Darmian is playing, the approach of sit off and constrain is safer, however managing Hakimi offensively is a more difficult task. Because of the predictability, teams will likely have a plan beforehand as to how to handle the problem. Nevertheless, there is no panacea, with each approach coming with its respective weaknesses.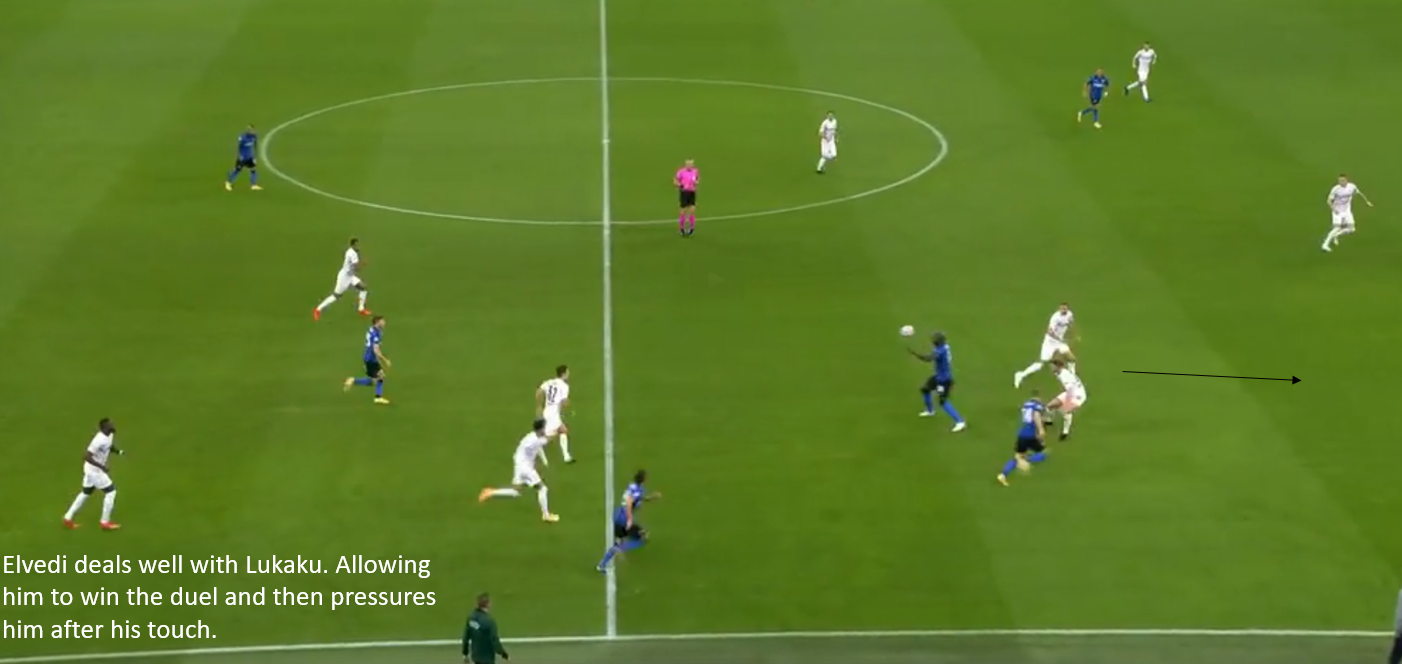 An example of a more effective approach was that used by Nico Elvedi in this sequence. The Swiss defender sat off Lukaku and allowed him to win the duel uncontested, thus removing the mechanism of leveraging. This made it more difficult for Lukaku to win a foul when no passing options were available.
If we are additionally working from the presupposition that you cannot beat Lukaku with his back to goal in a duel, only make the situation less comfortable at the expense of space in behind, this strategy seems intelligent as it prevents quick link-up. This is as Elvedi can still cover the overlapping run, while still being able to pressure Lukaku who is pivoting because teammates would have been able to cover for the rotation by the time he can play the pass.
This seeks to constrain Lukaku's progressive passing options, through closing the space in front of him after reception rather than trying to win the initial duel where rotations can occur. Because Inter predominantly build and look to find the Belgian striker down the right flank, shorter negative passing options can be covered if the team was engaging in a touchline press beforehand. Conversely, when Elvedi attempted to engage directly with Lukaku, it allowed for the switch to occur, as Lukaku advantageously used his body to lay-off.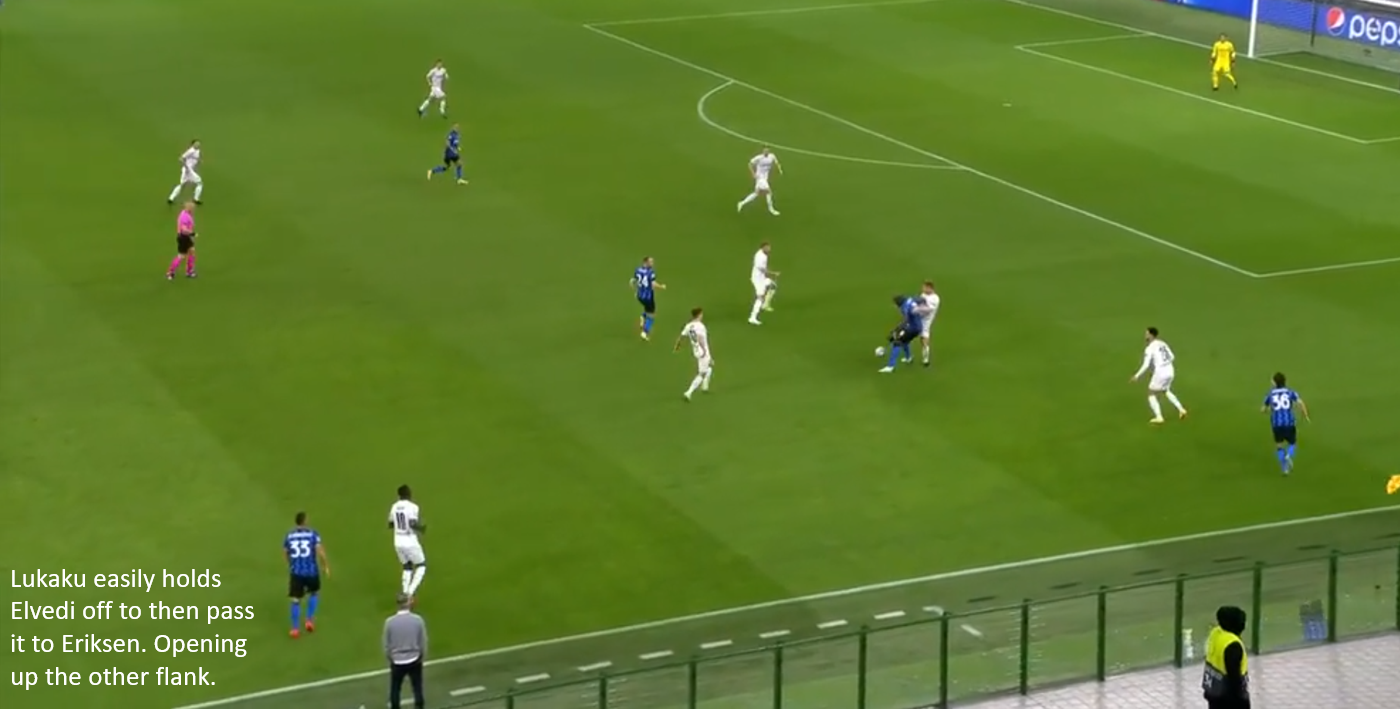 Getting tight to a crucial actor during build-up play is typically good advice as it makes receiving the ball more difficult and forces a negative pass. However, Inter are prepared for this and even thrive off it with predetermined runners supporting Lukaku at all times.
This means allowing him to play with his back to goal through getting tight gives him control of proceedings as the chances of cleanly winning back possession are low. Whilst the typical positive outcome of a negative pass is reversed as Inter have a player running in behind (typically RWB) and a player ready to thread a pass to exploit the space left exposed by the tight marking and aggressive engagement.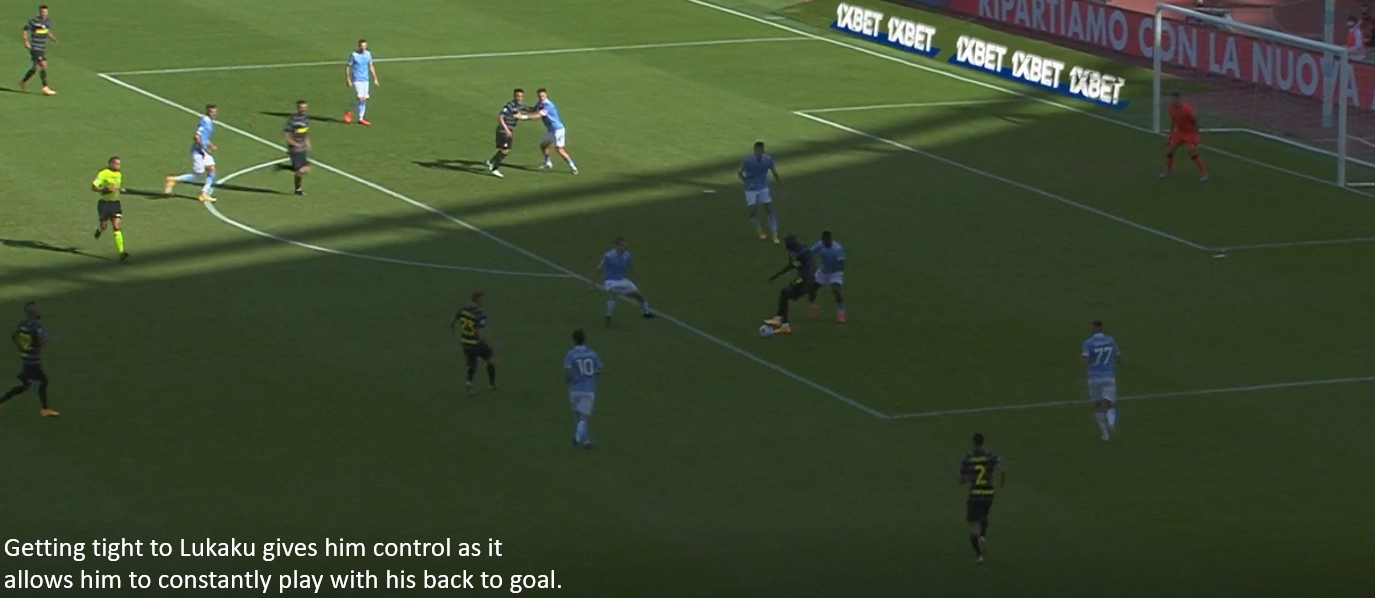 Inter commit heavily numerically to this pattern, with the ambition being either to overload the flank and play a ball in behind into the right wing-back in order to create a crossing/shooting opportunity or to draw the opponent over to subsequently switch play with the free wing-back, typically Ashley Young who now has space to progress.
Either way, the centre is often only used as a connection and finishing point between the two flanks as Inter seldom progress directly through it. This is because of the extra security granted through building down the flanks defensively when a playstyle is predicated on onrushing players as it is easier to contain the opponent if a turnover occurs. It is moreover easier to play in behind on the ground in wide areas due to the opponent having worse coverage typically or if they do compact the space, the other flank must be free.
There are parallels between this approach and Atalanta's desire to create wide diamonds during build-up. Similarly, to Atalanta, Inter employ the centre-back / midfielder rotation because the positioning of the centre back in the half-space allows him to more easily manoeuvre out wide with forward momentum dribbling, with the vertical dropping of the midfielder making this transition often seamless. This has the additional benefit of potentially disrupting more man-oriented marking schemes.
Inter's approach however is more rigid and predicated on Lukaku compared to Atalanta where abiding by principles with multiple players being capable of fulfilling the respective roles. Hakimi is potentially the player with the greatest licence for freedom, inverting and dribbling inwards much more frequently than either Darmian or Young has in that position.  In this regard, Inter seek to maximise the qualitative superiority Lukaku offers to the fullest extent.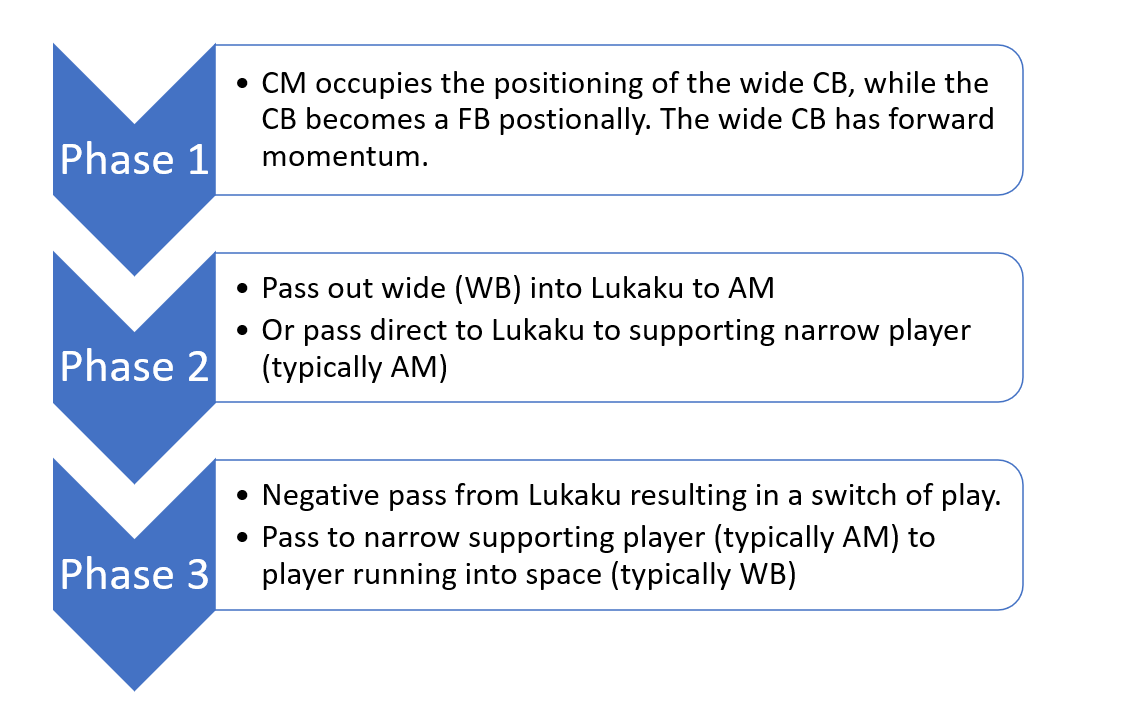 Lukaku's hold-up play is still useful in more spontaneous elements of play as it invites others into the game who can typically receive in space due to their forward movement granting them the initiative and the defender being pinned by Lukaku. If the opponent can shut off effective space by remaining horizontally compact, they can limit the efficacy of this.
However, that involves the risk of leaving one flank open, similar to how the negative pass is dealt with in more advanced regions, which makes the opposing team susceptible to overloads. Systematically countering Lukaku is difficult because of the dangers of remaining overly compact should Inter's interplay succeed.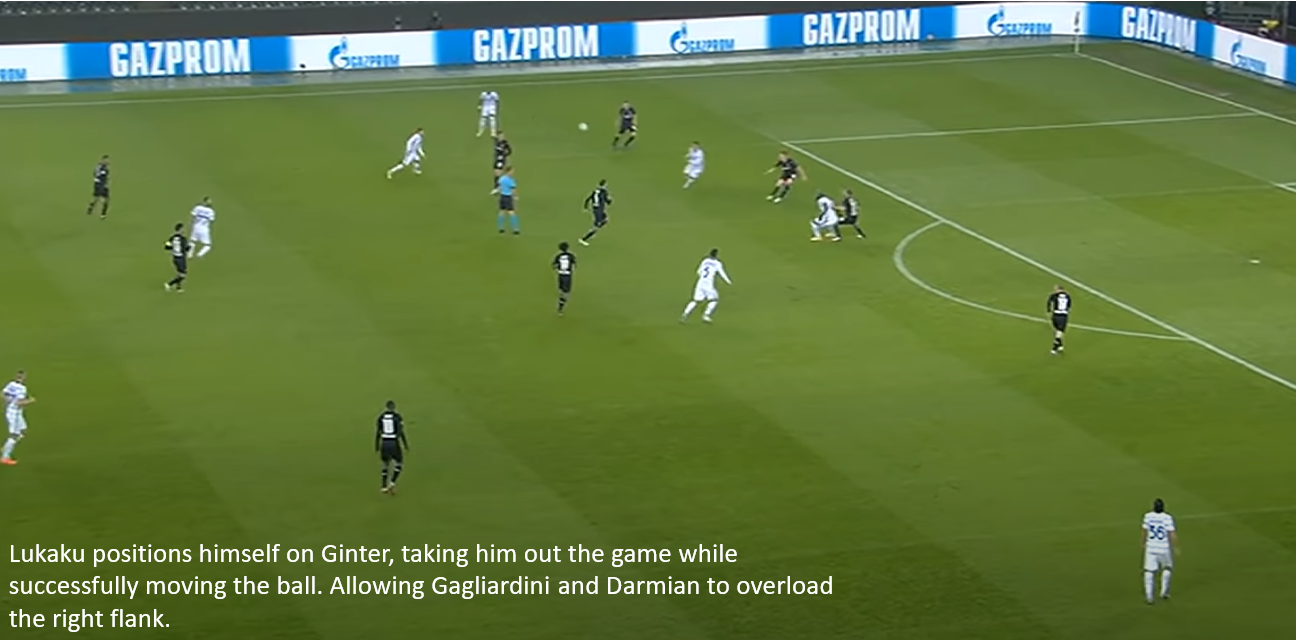 Romelu Lukaku is crucial in enabling Inter's preferred method of transition, with his importance to the side far exceeding his goalscoring. He has a unique set of attributes which makes countering this method problematic, with the skill set moreover being useful in more spontaneous occurrences because inviting others into play, creating space, and potentially running in behind if he can turn his man have utility in most attacking situations. Very few players, if any can replicate his type of hold-up play to a similar level. 
By: @mezzala8
Featured Image: @GabFoligno / Clive Brunskill – Getty Images