Sepe Elye Wahi: Montpellier's Teenage Talisman
French football's penchant for churning out young prodigies is only matched by those prodigies' penchant for adapting to the biggest clubs in Europe. William Saliba and Aurélien Tchouaméni are the latest recruits by the continent's elite to have already successfully stepped up to the next level. Jonathan David remains on their radars and Hugo Ekitike may well have been in a black & white jersey if not for PSG's interest.
The next player who will likely be gobbled up by the big wigs across the channel, or hopefully elsewhere for the balance of competition, is Sepe Elye Wahi. With as many goals (4) as Lionel Messi, Alexis Sánchez, Alexandre Lacazette and co. in his first eight games, the 19-year-old looks ready to beat his tally of 10 from last season.
What Is He Like as a Finisher?
Despite playing for a side that so far in France, has averaged 46% of the ball, Wahi thrives on instinctive one-touch finishes inside of the box. That's an encouraging sign, succeeding with minimal interaction with the ball.
In fact, across three seasons in southern France, Montpellier's youngest ever goalscorer has uniquely outperformed his XG every single year. He's got 17 from an XG of 12.7 in the league, an overperformance that puts him in the top 11% of forwards in Europe. 
ATP podcast favourite Elye Wahi took this goal superbly for Montpellier last time out against Bordeaux.

Timing of the run, looks like he's getting forced out wide but knowing when to put the burners on. Then a pinpoint finish from the angle.

Player.

— TL (@TomLove_18) March 30, 2022
Wahi is a pacey striker who does excel in transitions, but his flexibility and range of finishing make him a lethal threat even for a deep-sitting side. While just one of his last 14 goals came from anything but his right foot, he can generate so much power and likewise so much accuracy in his finishing to make up for it.
Elye Wahi. 👀🔥 pic.twitter.com/EkrS6FyBY5

— Ligue 1 Türkçe (@Ligue1_Turkce) August 30, 2022
Standing at 5ft 10, he has the potential to be even more of a threat. The Frenchman may win just 18% of his aerial duels, but having only turned 19 in January of this year, that should improve as he gets older.
How Is His All-round Play?
Some of the issues with the former Caen man come when he's operating anywhere outside of the penalty box. He may be getting asked to hang on the last defender, but the result is that Wahi has averaged just 22 touches p90 over the past year.
Strikers aren't typically meant to be touching the ball too often even in a possession dominant team, just see Erling Haaland for example, but it's astonishing that Wahi is in the bottom 1% of all forwards in the big five leagues for this metric.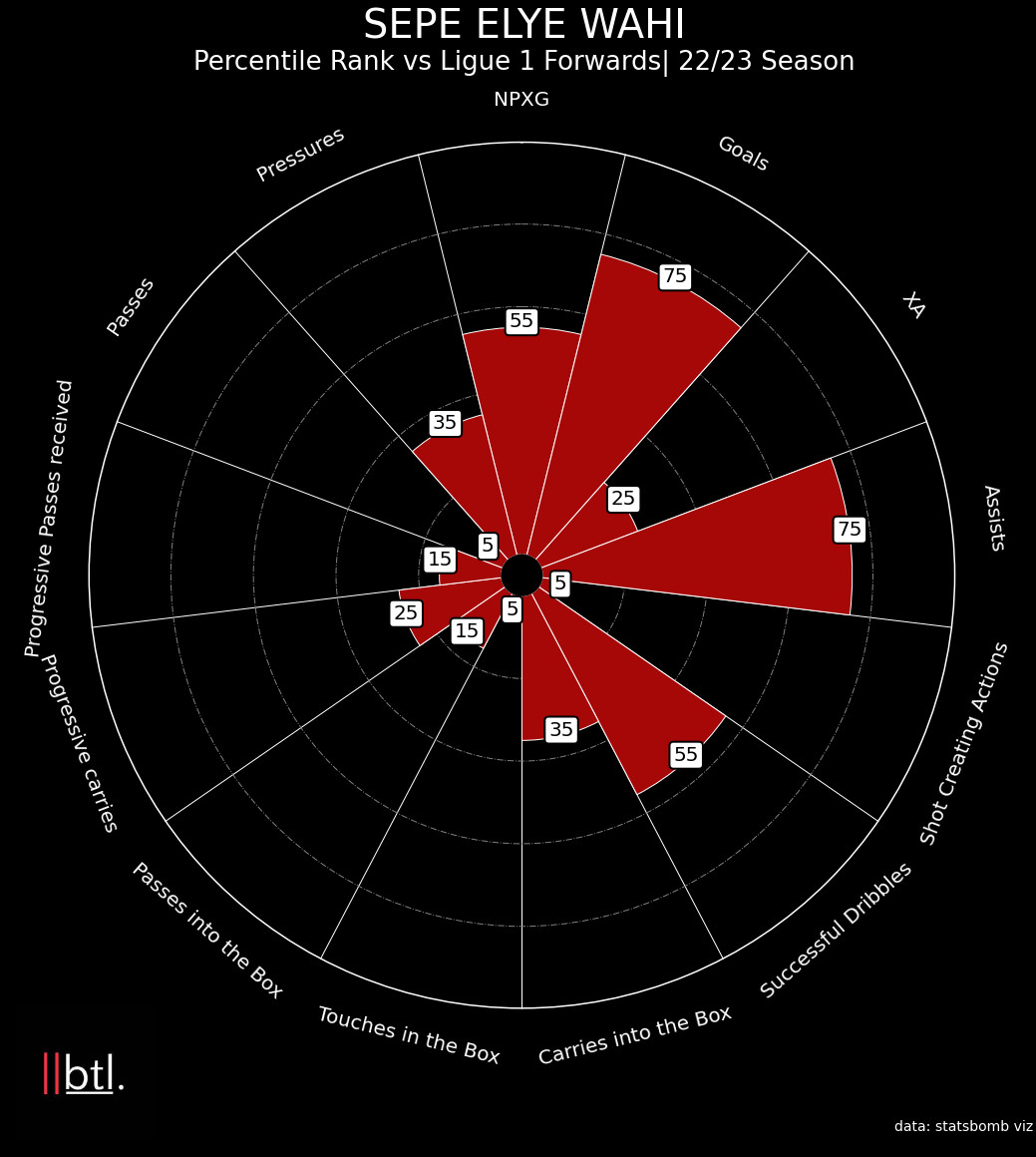 Wahi ranks in the bottom 5% of Ligue 1 forwards for passes and touches in the box p90 [stats provided by FBRef]
This season is looking brighter though now, as the teenager has taken on a starting birth under Olivier Dall'Oglio. Wahi is attempting 1.4 dribbles p90, the same as last season, but has seen his success rate rise by 20%.
On paper, he should be linking up with his teammates more as he averages just 12 passes p90. However, when watching the French U19 international, he's solid at heading down high balls down to teammates. He likes to play safe backward passes, which at least helps his team hold possession.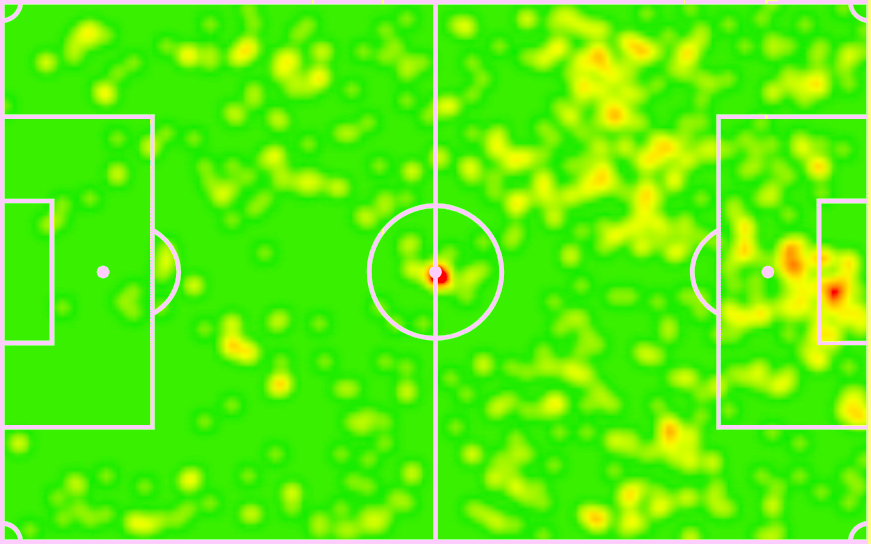 Wahi's heatmap from the 21/22 season across over 20 league appearances
What's the Verdict on Wahi?
The 22/23 season needs to shine more light on the other aspects of Sepe Elye Wahi as a footballer, and with him starting every game so far upfront that appears all the more likely. If he can keep averaging 0.6 goals p90, he'll end up being talked about as much as Hugo Ekitike was in the summer of 2022. The one-touch finishing is exquisite, and he could be deadly in another counter-attacking side. 
By: Alex Barker / @EuroExpert_
Featured Image: @GabFoligno / Scoop Dyga / IconSport