Tete: Lyon's Brazilian Phenom in Attack
With the issues between Russia & Ukraine continuing during the summer from a political level, this also contributed to the footballing side of affairs. Shakhtar Donetsk had to let go of many high-profile international players around Europe but Lyon managed to snap up the Brazillian winger Tete, who has bags of potential. 
Tete started in the youth ranks of Gremio in Brazil and stayed on for many years. Tete did not feature for the Gremio first team however, Shakhtar had seen something in Tete and snapped him up at the age of 19 for £13.5 million according to Transfermarkt. 
The young Brazilian started to make an impact and his most notable contribution of recent years for the Ukrainian side was a goal and an assist again Real Madrid in the Champions League. During his time in Ukraine, he made 108 appearances before making a move to France on loan. 
Today, we will be looking at the progress Tete has made for Lyon this season and if we are likely to see other clubs around Europe keeping close tabs on the attacking winger. 
Profile:
Name: Mateus Cardoso (Tete) 
Age: 22
Nationality: Portuguese  
Height: 175CM
Position: Right Winger
Pref Foot: Left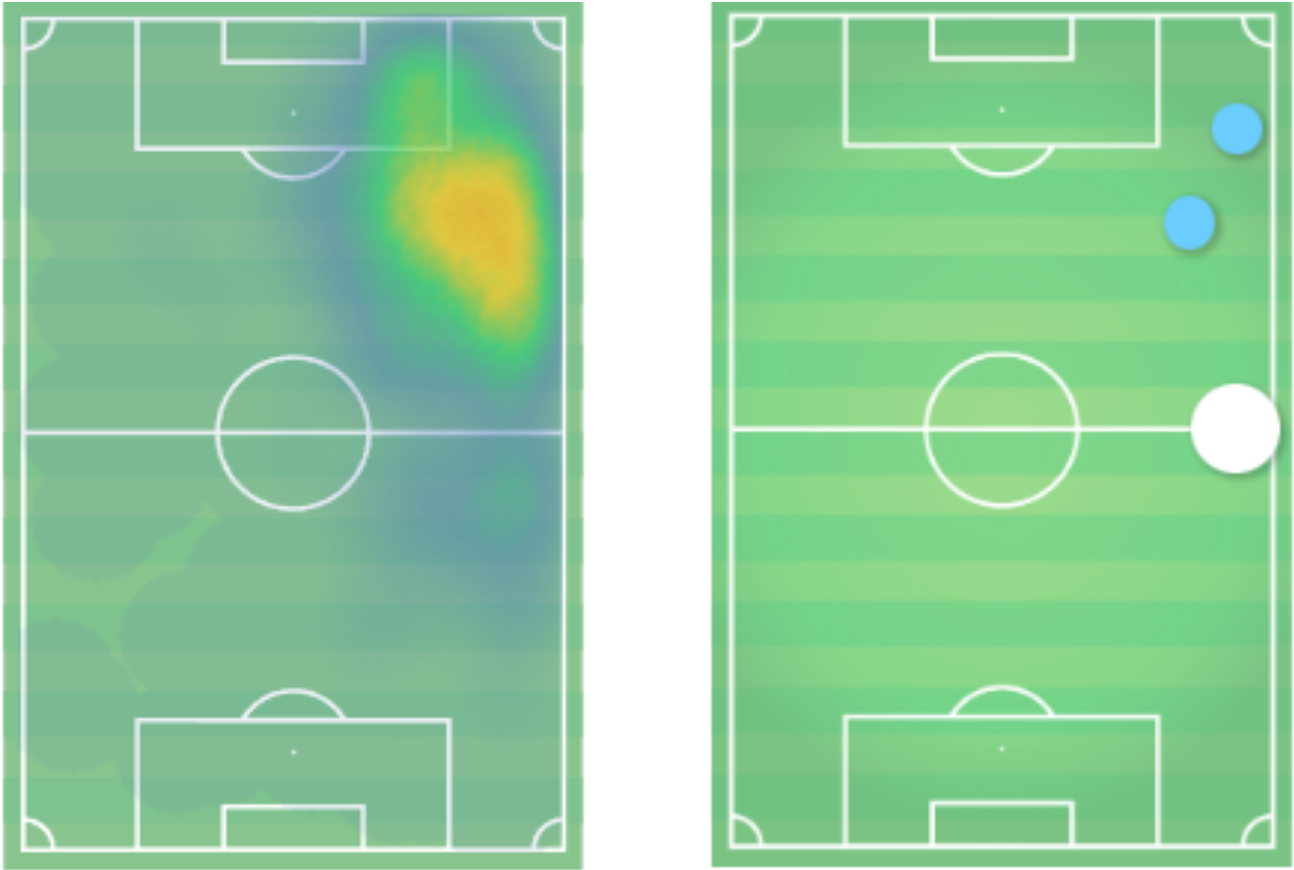 Tete is a left-footed player who likes to operate on the right-hand side. His main role is as an inverted winger, so he would like to cut inside onto his stronger foot and attack the opposition. He has been known to be comfortable playing across the attacking midfield line however, the right-hand side is where he is enjoying his time the most at present. 
Data Analysis:
Firstly, we look at the wingers in Ligue 1 and how they compare in terms of successful attacking actions VS progressive runs. As we can see here, Tete looks to have approx. 5 successful attacking actions per 90 and approx. 3.5 for progressive runs per 90. For his attacking actions, he is just above average compared to the other players and similarly for progressive runs.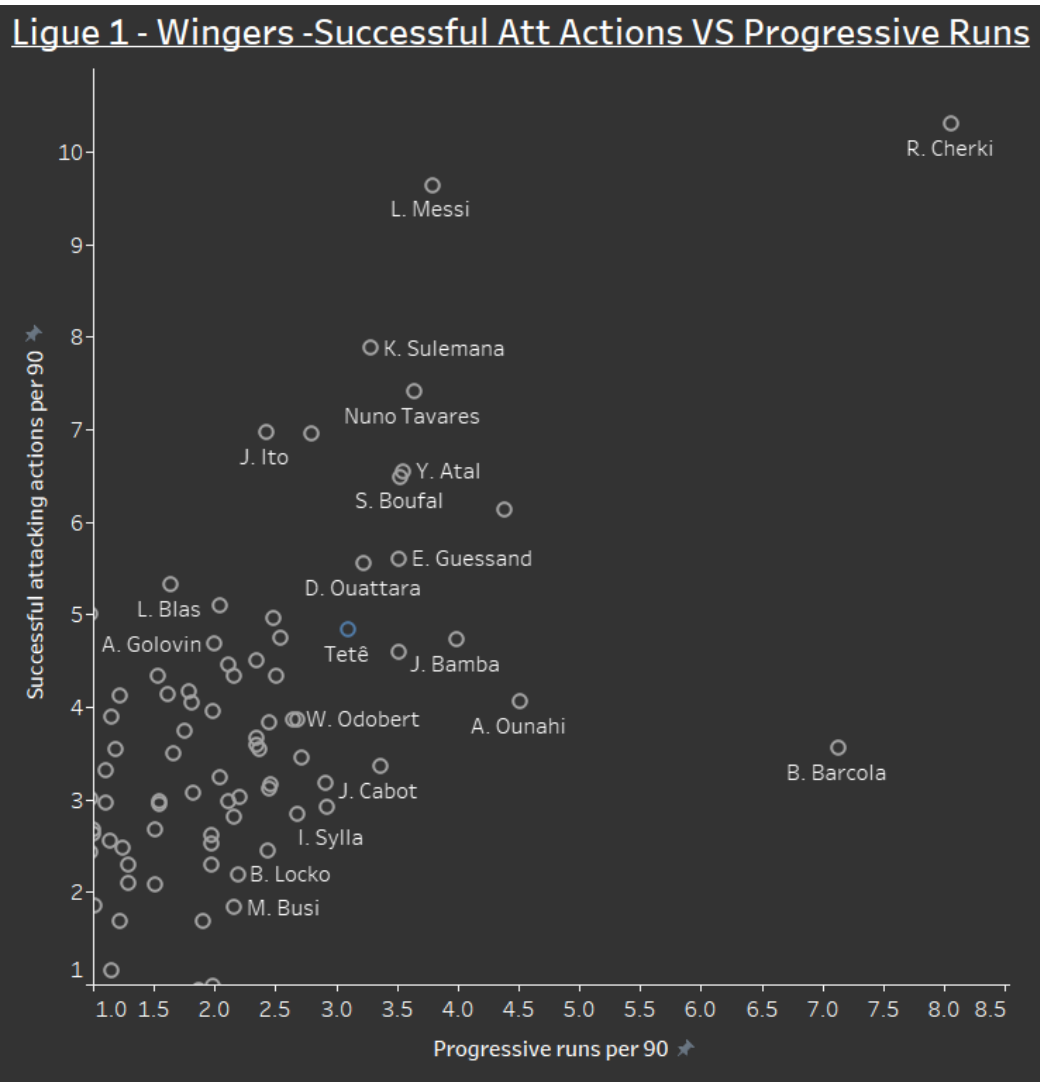 Next up, we look at the crosses vs. accurate crosses %. As we can see here, Tete is making approx. 3.5 crosses per game but is lacking in the accuracy department. Tete would typically cut inside and cross the ball from the right-hand side, the accuracy side is one metric that could do with some improvement for sure.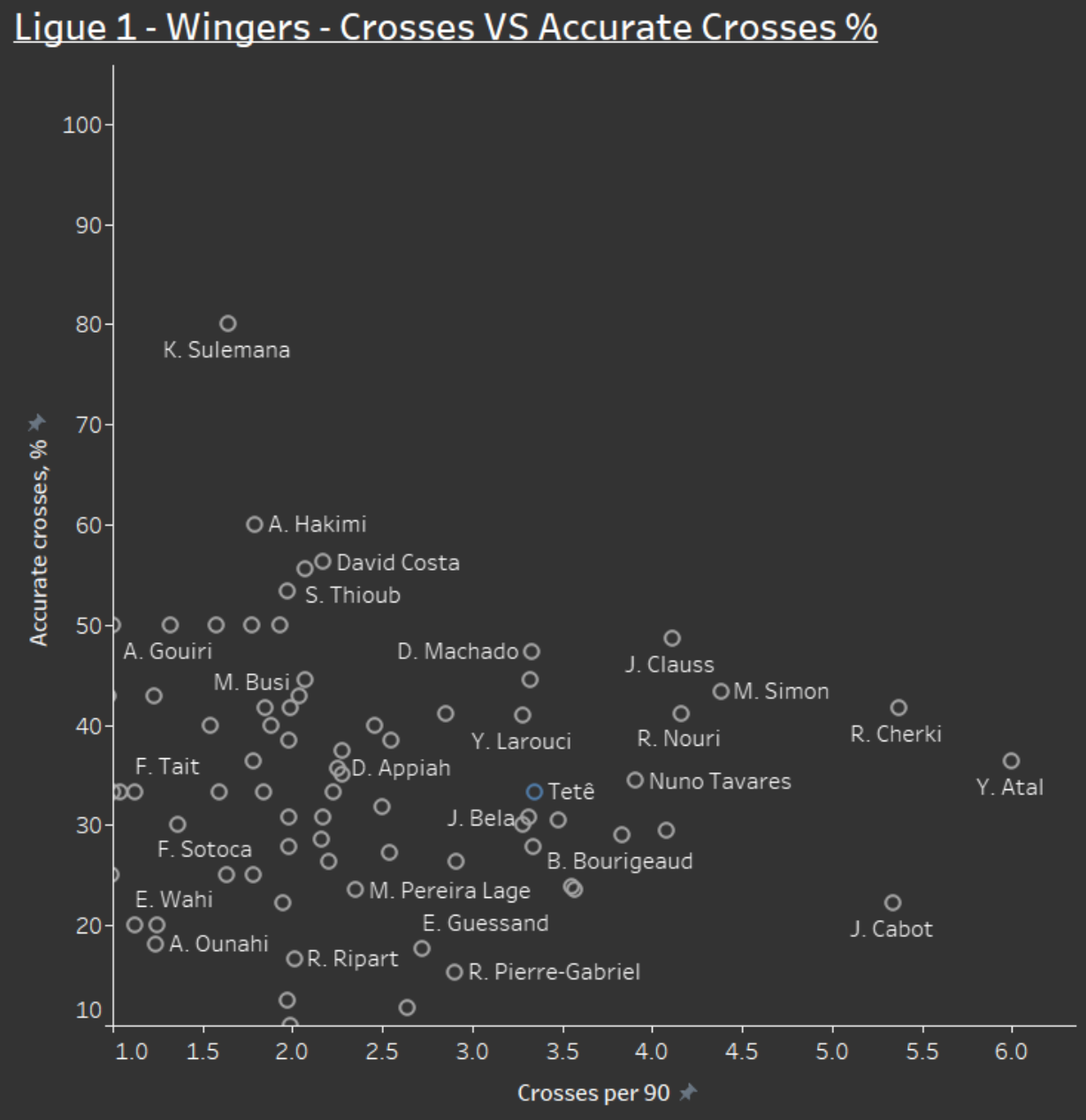 This time, we look at the accelerations vs. dribbles per 90 for the wingers in the league. Tete appears to make a decent number of dribbles however, according to the stats, he is not making many accelerations per 90, which suggests he may look to be more of a creative winger rather than a traditional winger.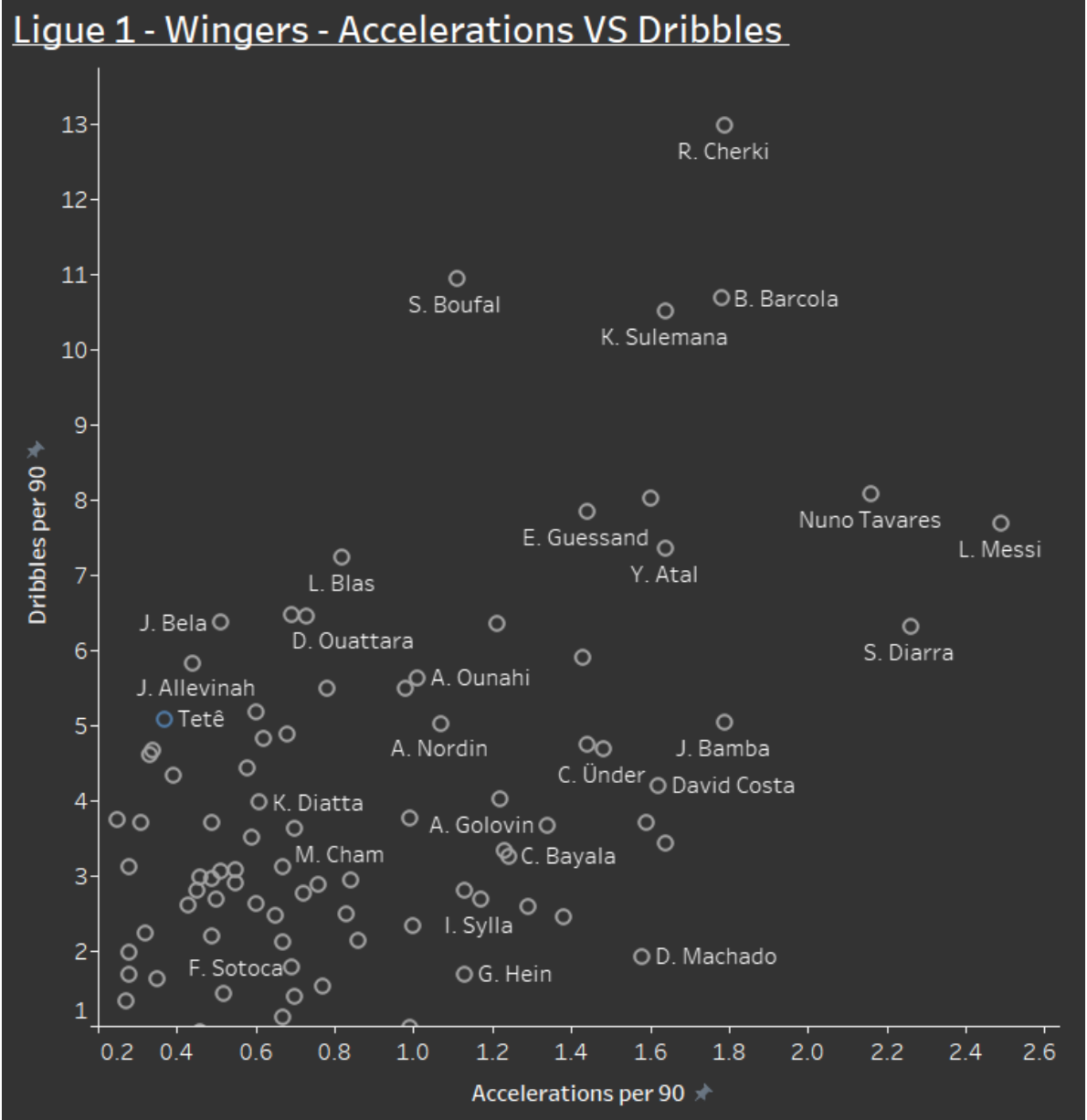 Now, we will see the shots on target vs. shots per 90 for the wingers in the league. Tete is getting a decent amount of shots per game at 2.5 however, he is having almost half of them on target. This could be another area of development for Tete and hopefully work on improving the shots on target % over the season.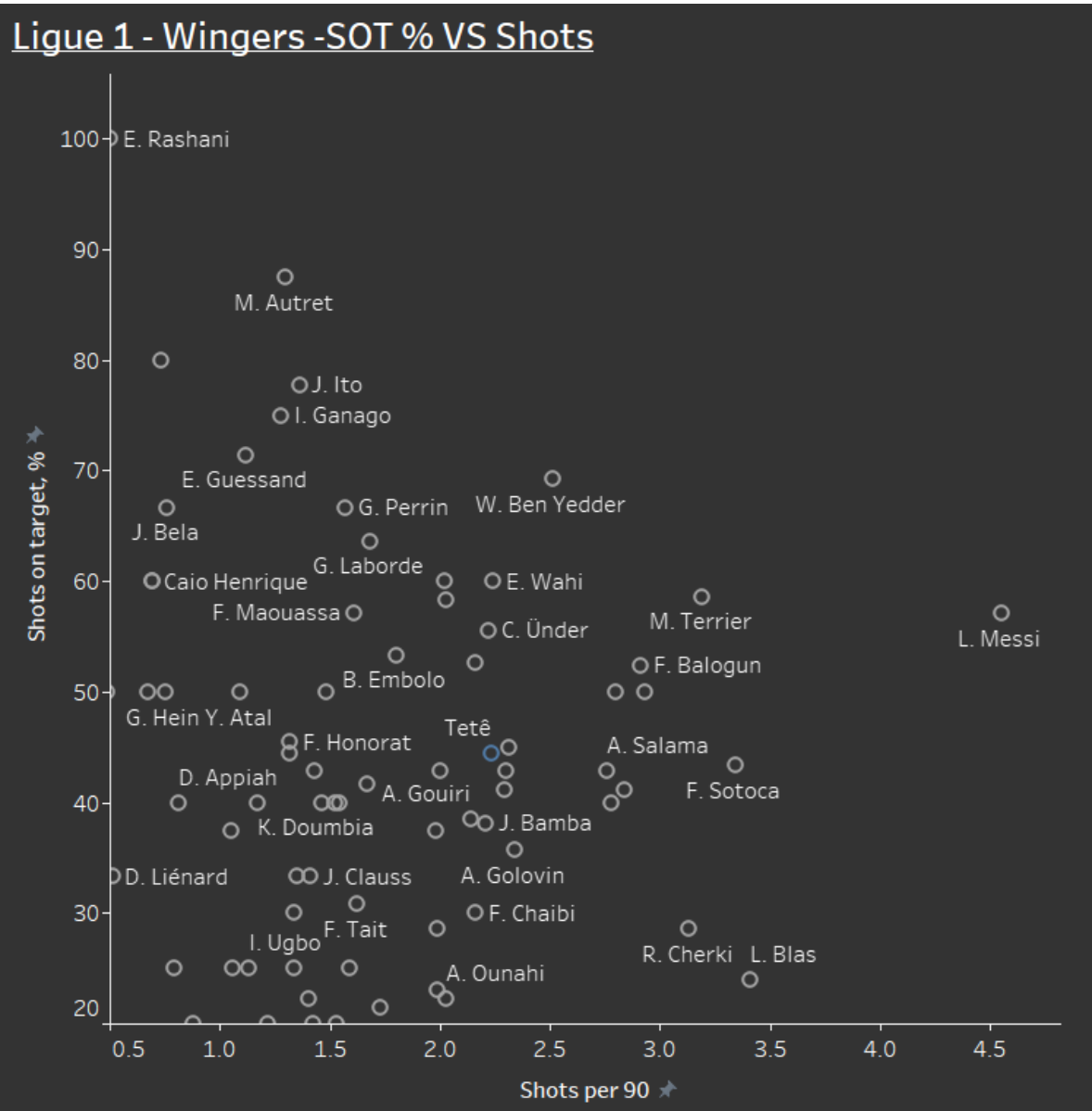 Now, we will review the progressive passes vs. key passes per 90. Tete is just below average according to stats for his key passes however, has a good amount of progressive passes per 90, as he is getting just over 5 a game.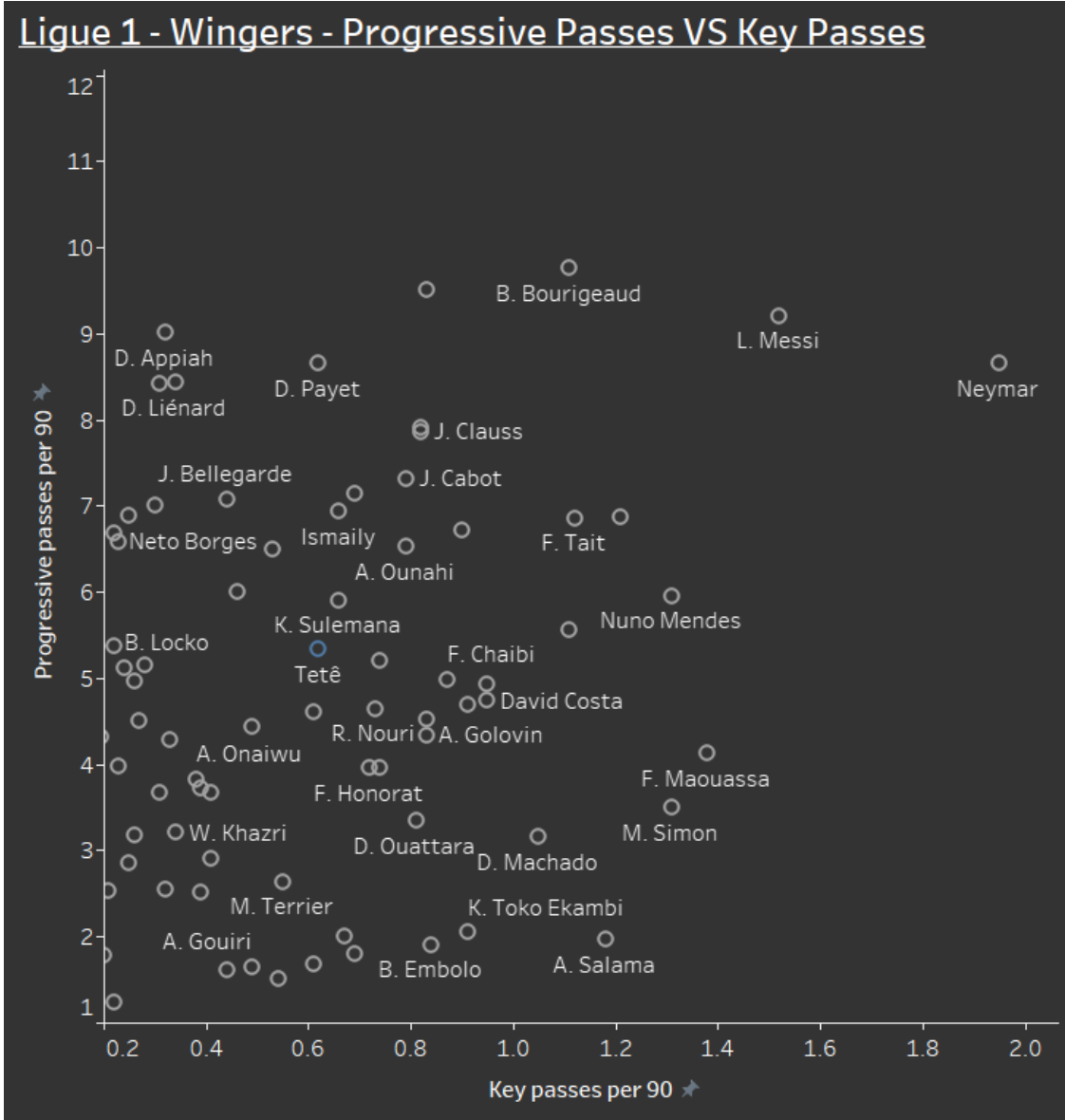 Finally, we look at the goals vs. assists this time around. We can see that Tete has got off to a good start so far this season, with 4 goals and 3 assists. Not many players are in front of him for these metrics, a good mix of goals and assists from the wing.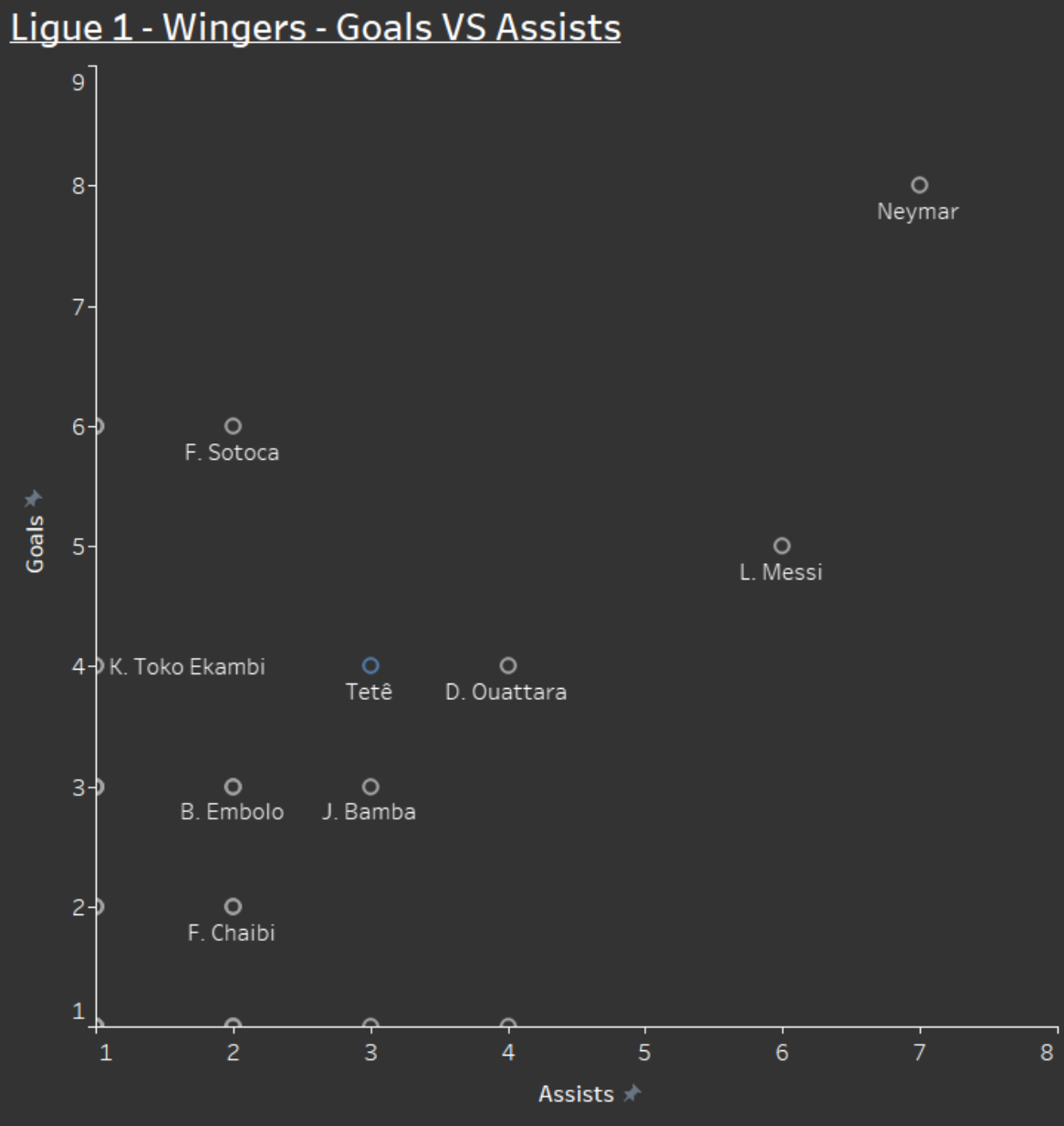 Video Analysis:
In this section, we will cover some in-game video analysis to showcase some of Tete's main attributes. In this first video, we can see how Tete likes to come in on his favored foot and put a dangerous cross into the box.
As we saw earlier in the data analysis, his crossing accuracy can do with improvement, however, these types of balls into the box are not easy for the opposition to deal with at times. This is a trait of Tete's in most games, from reviewing the video footage.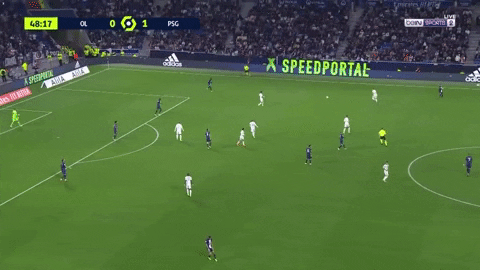 This time, we look at how Tete operates in a counter-attacking situation. As we can see, he likes to drift inside onto his left foot and ends up placing a lovely ball to set off an attempt on the counter. Again, another trait that we are seeing often in his game, in terms of cutting inside and progressing up the pitch.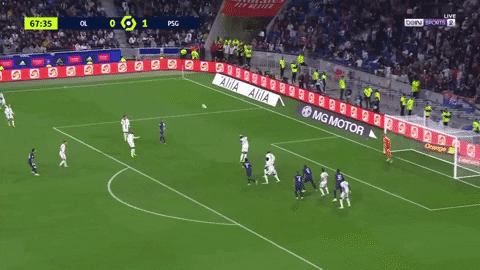 This time, we look at a goal scored by Tete in a Ligue 1 game. As we can see here, Tete does like to arrive in the box and be an option when it comes to an attack from the left. In this case, Tete gets a goal by scoring on his weaker foot as he tapped it into the goal. This type of movement explains where his goals are coming from and this isn't a surprise, especially how we find the spaces behind the defenders.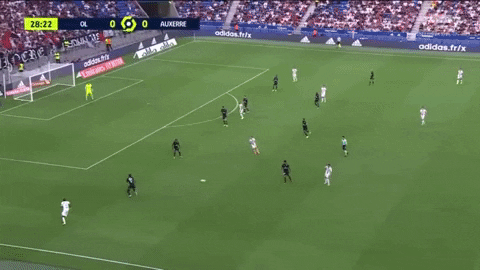 Finally, we take a look at another goal from Tete. Here we can see again how effective it is when he cuts inside and the way it puts the opposition on the back foot. From here, it is easy for him to draw in a foul but in this case, he takes on 2 defenders and slots it into the goal nicely.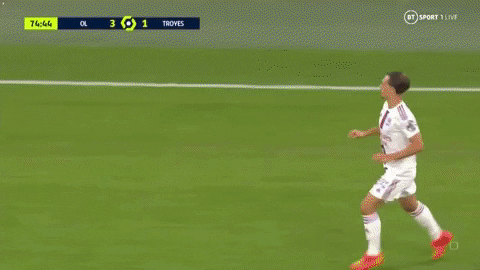 Conclusion
Tete does look like a promising player and playing for Lyon should only increase his development during the season, as he is playing at one of the top leagues in Europe. We also highlighted areas of improvement as well as some great traits Tete has, which he can hopefully polish as the season progresses. 
The Brazilian winger has a bright future ahead of him, only 22 and already becoming a key player for Lyon this season. It will be interesting to see if Lyon manages to keep hold of him beyond the season or if anyone else comes in for Tete at the end of the season once he returns to Ukraine.  
By: Dhillon Gill / @_iamdhillon
Featured Image: @GabFoligno / Icon Sport