The Brilliance of Scott McTominay
Pressure was mounting on Ole Gunnar Solskjaer back in October when his Manchester United side were humiliated in a 6-1 annihilation at Old Trafford at the hands of Tottenham Hotspur at Old Trafford. To many, there was a sense of inevitability surrounding the Norwegian's reign as the United boss.
However, since then, despite being eliminated from the UEFA Champions League in the group stages for the first time in five years, Solskjaer has proved doubters wrong in the Premier League by entering a title race. Sitting in second place, five points behind neighbours Manchester City, the Red Devils are currently defending an 18-game unbeaten streak away from home – the longest in the club's history. 
Key to Solskjaer's turnaround has been none other than academy graduate Scott McTominay. The Lancaster-born midfielder has formed a formidable midfield partnership with Fred, with the two showing chemistry and a real understanding with each one another.
Whilst his Brazilian counterpart has won United fans over after a disappointing debut campaign at the Theatre of Dreams, McTominay has still had his doubters amongst the fanbase over whether he is truly good enough to play at the top echelon of football. Contrary to popular belief, the Scot offers an abundance of quality and there are many reasons why his manager invariably selects him for their most important fixtures. 
McTominay has been at the club since he was just five years old. Nineteen years later, having recently worn the captain's armband, he is now described as "undroppable" by his manager. But it was under José Mourinho where McTominay broke into the first team, coming on as a substitute against Arsenal at 20 years old, before starting United's final league encounter of the season in May 2017 – a 2–0 win at home to Crystal Palace.
Originally a forward at youth level, McTominay became a useful squad member under Mourinho, being deployed either side of the '6' in his 4-3-3 system. His versatility in midfield allowed him to play a variety of roles such as a box-to-box midfielder, a man marker or a defensive midfielder. Defensively astute, the Scot was able to break up play with his aggressive interceptions and the capability of marking opposition attacks.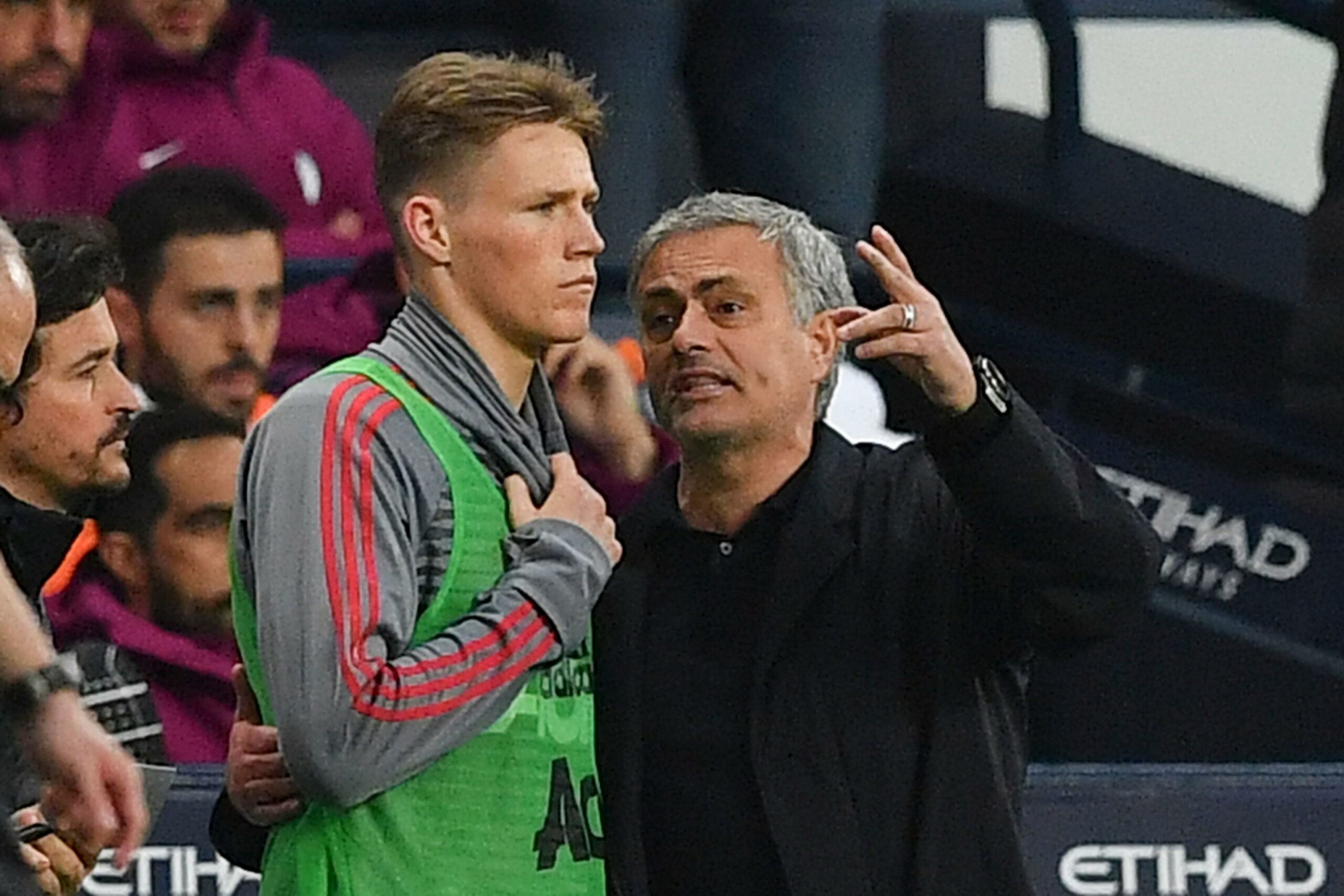 Photo: Ben Stansall / Getty Images
His physical stature and decent passing skills saw him possess plenty of the ball, acting as a connect between defence and attack. However, he was still a raw talent and was sometimes criticised for giving the ball away too often. At 20 years old at the time, many fans weren't convinced that he could sustain his place at the top level, despite his obvious passion and willingness to win. But this only enlarged McTominay's remarkable desire to improve.
Following Mourinho's departure, McTominay fell down the pecking order slightly, with the likes of Nemanja Matić, Fred, Ander Herrera and Paul Pogba all being preferred options for Solskjaer. But an injury to Matic served as an opportunity for McTominay to shine, leading to a run of game time that included the club's memorable night in Paris in March 2019.
The midfielder received plaudits for his significant contribution as United overcame PSG in the last 16 of the Champions League. Ole's go-to choice of midfield partnership that we see today of McTominay and Fred was first seen on this night, where McTominay boasted an impressive 96% pass accuracy, 100% tackle success rate and 4 ball recoveries. A subsequent 'Man of the Match' performance against Barcelona in the home leg of the quarterfinals proved he was ready for the big stage and thus became a mainstay in Ole's team selection. 
Taking up the right central midfielder role partnering Fred, McTominay provides compactness in defensive transition, protecting the center-backs when the full-backs push forward. He often delays his tackles when defending transitions, allowing his teammates to get back into shape – an underrated aspect of his game. In addition, carrying forward his aggressive interceptions attribute from playing under Mourinho, McTominay ensures the opposition has difficulty playing the ball around in the midfield, averaging 1.5 interceptions per 90 and boasting a tackle success rate of 80%. 
McTominay has vastly improved his pass selection this season, rarely losing the ball and completing a high number of passes. By keeping things simple, he circulates the play enabling United to keep control a game. When the opportunity does arise, he will switch play to the flanks with his accurate long balls (76% success rate). The tenacious midfielder has also become incredibly press-resistant in recent time, often skipping past attempted presses from the opposition. 
The 24-year-old is also more than capable of progressing play, completing 1.6 dribbles per 90 and 5.5 progressive carries over the past year. These numbers are highly impressive compared to other players in his position, with his dribbling numbers being in the 90th percentile in Europe's top five leagues. His progressive passes and progressive carries are in the 60th and 77th percentile respectively. His bursts forward occur in conjunction with Fred taking a step back and holding a more conservative position, highlighting the understanding between the two.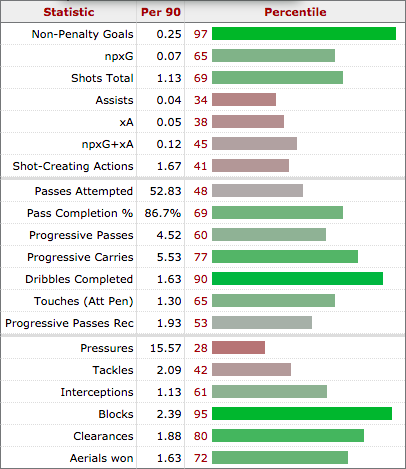 Scott McTominay's statistics per 90 minutes compared to positional peers across Europe's Big 5 Leagues and European Competition over the last 365 days. Based on 2150 minutes played (fbref.com)
Solskjaer's go-to man has won many fans over recently with his goal-scoring output, netting in each of his last three games taking his tally for the season up to seven. Over the past year, he supplies an astounding non-penalty goals per 90 of 0.25 – placing him in the 97th percentile of midfielders across Europe's top five leagues. This betters Kevin de Bruyne's rate of 0.20. 
The majority of McTominay's goals this season have come from making late runs from deep – a move that enabled the likes of Frank Lampard and Aaron Ramsey to score so many goals. His reading of the game paired with his striker's instincts from his earlier playing days makes him an able goalscorer. Furthermore, in previous seasons he has displayed an impressive long shot ability, scoring important goals from outside the box against Arsenal and Manchester City.
McTominay's towering stature means he is a threat aerially for set pieces. He showcased this by heading in the third goal in United's 3-3 draw with Everton, beating four men in the process. His aerial prowess sees the Scotsman wins 1.6 aerial duels per 90 and yields a 56% aerial duel win rate. 
Overall, Solskjaer has the luxury of managing a powerhouse of a player packed inside McTominay. The Scotsman's passion and work ethic combined with his innate talent and versatility has qualified him to become a top tactical weapon for Solskjaer. He possesses similar qualities to Jordan Henderson and United cult hero Darren Fletcher, as well as mirroring them situation-wise. Similar to McTominay, both players were criminally underrated at a key point in their careers before they became universally respected.
In conclusion, he is everything a manager would want in a central midfielder – completes a high number of passes; rarely loses the ball; provides a good balance of keeping the ball and progressing play; tireless work ethic; good defensive attributes; and the capability to score goals. These are the essentials for a player that operates in the second phase of play – all of which McTominay performs to an excellent standard. 
His style of play can be deftly compared to the very best midfielders in the Premier League, including Thomas Partey, Declan Rice and Jordan Henderson. Slowly but surely, he is being recognised for his brilliance and consistency and although Ole deserves credit for his development, it is the player's attitude and sheer desire that has got him here.
Ultimately, Scott McTominay gives his manager the blessing of having the full package of a midfielder in his team. He is an ever-improving player humble enough to listen to his manager's every instruction and follow them to a superb standard. Along with aiding Scotland to European Championship qualification for the first time in 15 years, his form and consistency have made him Manchester United's most reliable central midfielder. 
By: James Lloyd
Featured Image: @GabFoligno / Matthew Peters – Man Utd