The Numbers Behind Cristian Romero's €55m Move to Tottenham
Italian transfer gurus Gianluca Di Marzio and Fabrizio Romano reported on Wednesday that Tottenham Hotspur had reached an agreement with the Bergamo side, Atalanta, on a deal to secure the services of Cristian Romero for a fee of €55 Million. Just how good is the 23 years-old Argentinian? Let's take a look at the numbers.
Under Gian Piero Gasperini, Atalanta played with the shape of 3–4–3 or another variation of a back three, be it 3–4–1–2 or 3–5–2. Gasperini's squad played an attractive style of attacking football, pressing the final third (27%) and trying to eliminate opponents' attack in the middle third (56%). No other team in Serie A last season had better pressing numbers in the final third more than them. This waffle plot below shown their pressing zone: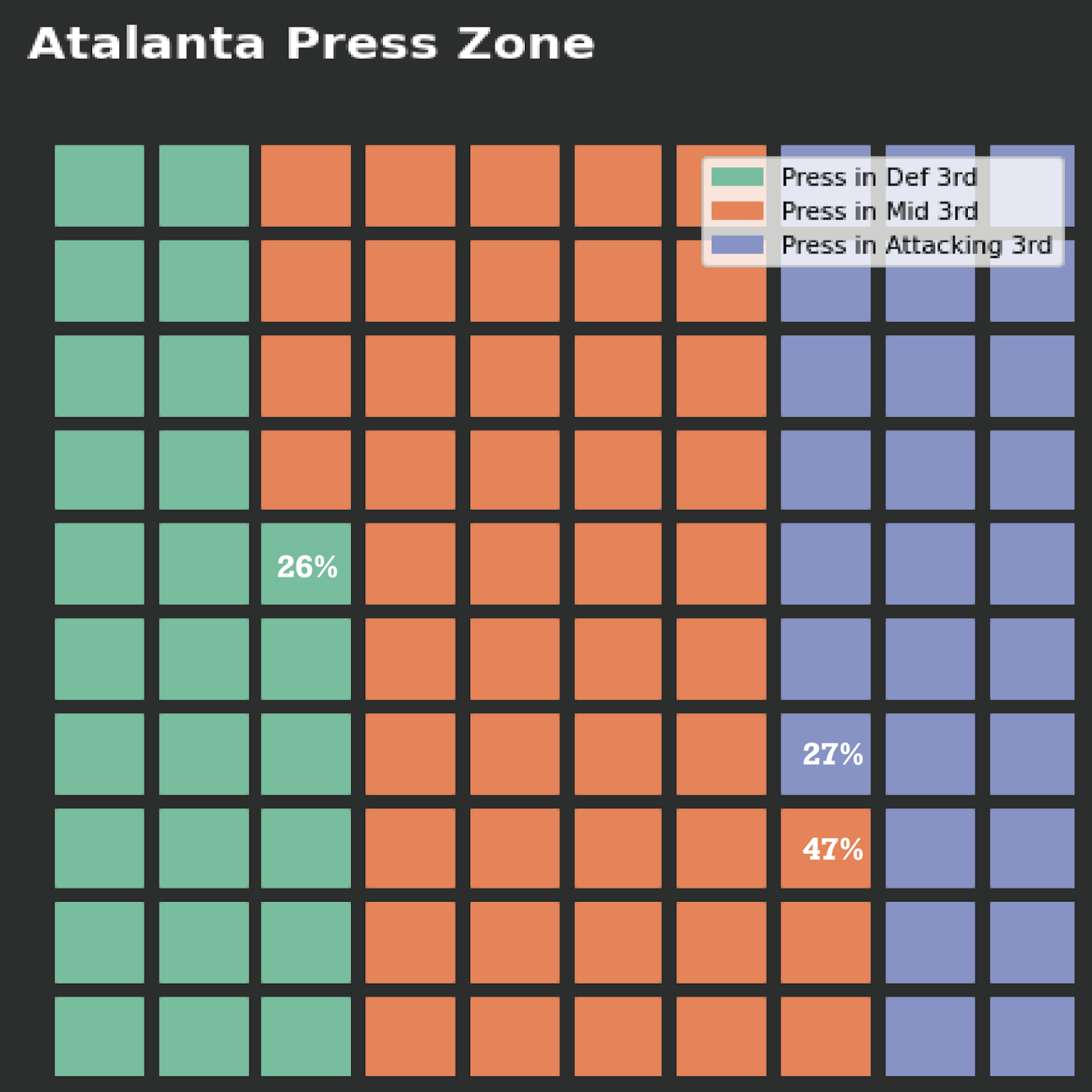 Atalanta's PPDA (Passes-allowed Per Defensive Actions) – stats widely used to see how high the pressing numbers, calculated by opponents' passes allowed before a defensive action (tackle, intercept, fouls, block) made- in 2020/2021 is 9.05. Only Sassuolo (8.79) and Verona (8.55) made higher PPDA than them in Serie-A last season.
Their PPDA was even greater in 2019/2020, allowing opponents just 7.76 passes per defensive actions. With this high press and man-to-man defensive scheme, Gasperini tended to use one aggressive centre back in the trio. Before Romero joined Atalanta in 2020/21, a fellow Argentinian José Luis Palomino did the job for Gasperini. Palomino made higher press numbers than the other fellow defenders in 2019/20.
Enter: Cristian Romero
Romero joined Atalanta and offered something which Palomino (31 years old) would soon lose: speed. When a defender tends to be aggressive on the opponent's ball receiver, there's a huge risk if the opponent is really good in a 1v1 situation, velocity might be the issue in the need to catch up.
Let's get back to our early question: how good is Cristian Romero? This pizza charts below showing the percentile of defensive actions among top 5 league defenders and might answer the question: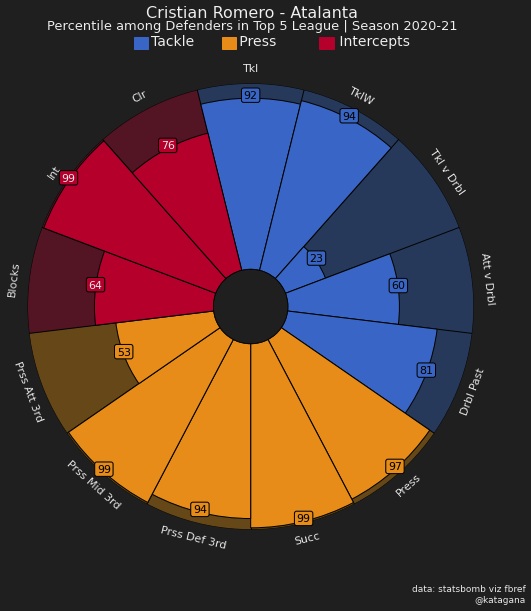 Romero is in the top percentile of press numbers among defenders in Europe's Top 5 Leagues. He made more press in the Mid 3rd rather than the Defensive 3rd, and while he might not be on the top percentile in Tackle vs Dribbler and any Defensive Attempts vs Dribbler because of his traits to be aggressive on the ball receivers and not letting the opponent made dribble, he anticipates these attacks, reads the situations and makes crucial interceptions.
Tottenham will undergo a new era under new manager Nuno Espírito Santo next season, and if Nuno does continue with the back three that he commonly used at Wolves, Romero may be a perfect fit. However, one only has to take a look at his performances for Argentina during this summer's Copa América to see that he is capable of playing in a back four too.
What's Next for Atalanta?
With Romero leaving, Gasperini's centre-back options currently are Berat Djimsiti (28), José Luis Palomino (31), il capitano Rafael Tolói (30), along with Boško Šutalo (21) who came last season. They recently signed Hellas Verona's promising talent Matteo Lovato (21). But it seems Gasperini is not satisfied yet. Di Marzio and Fabrizio Romano reported that they will sign Juventus' Merih Demiral on loan with a buy option at the end of next season. If Demiral really lands in Bergamo, I think we can see he'll be the protagonist in Atalanta's center-halves trio.
Merih Demiral on average made around 10 pressures/90 last season, the numbers might not be too high if it's compared to Romero who made 17 pressures/90. But, if we watch how Juventus' defending traits are really different to Atalanta, then Demiral's tendencies to press the opponent might be granted whole-heartedly by Gasperini. It remains to be seen, however, if Demiral can have the same success that Romero enjoyed after trading Turin for Bergamo.
By: Karaeng Katagana
Featured Image: @GabFoligno / NurPhoto