The Rapid Rise of Albert Sambi Lokonga
As international tournaments find their victors and pre-seasons commence, the summer transfer circus begins to pick up its pace with teams looking to bolster their squads ahead of the 2021/22 season. Mikel Arteta will be particularly keen to bring in reinforcements at Arsenal following another disappointing eighth-place finish. Already, he has managed to secure the signing of left-back Nuno Tavares from Benfica.
Now, Arteta is on the verge of bringing in one of Belgium's most prominent talents in Albert Sambi Lokonga. Lokonga, born in Brussels on the 22nd of October 1999, made his first team debut for Anderlecht at 17 years old in the 2017/18 season and finished with seven appearances. Since his debut, he has played an increasingly important role for the club, amassing a total of 5,172 minutes despite his young age of 21.
Anderlecht's on-pitch performances upon his emergence reached their deepest point of destitution in the 2019/20 season, when they finished eighth. To make matters worse, the club's financial situation was bleak and further compounded by the impact of Covid-19, leaving them with a reported debt of €100 million. 
Franky Vercauteren had been appointed to turn the clubs' fortunes around. However, after just two games into the 2020/21 season, he decided to step down due to disagreements with the board, and Vincent Kompany was re-appointed (the 35-year-old had an earlier stint of four games at the start of the 2019/20 season as a player-manager but reverted to a player when he led the clubs worst start in 21 years). Now equipped with the appropriate coaching qualifications, he was tasked to turn around one of the most despairing spells in the club's history. 
To improve on-field performances, the former Manchester City defender turned to the academy for help. Fortuitously for Kompany, the Purple and White is a phenomenal breeding ground for some of Belgium's biggest footballing stars, including the likes of Romelu Lukaku, Youri Tielemans, Dries Mertens and many more. He deployed Lokonga as one of the more experienced players and awarded him with the captain's armband. 
In the trying environment, Lokonga helped Anderlecht to a third-place finish with a late-season flurry of positive results. Still, they were unable to build on the performances in the playoffs and finished without a win in their group for Champions League football. Despite a meagre end to the season, Lokonga's individual campaign drew the interest of Belgium manager Roberto Martínez, and he was put on Belgium's standby list for the 2020 Euros. 
So far, Lokonga has managed to accomplish a vast amount in the footballing world at such a young age, speaking volumes about his potential, which gives a slight indication as to why Arteta is so keen to bring him into Arsenal. Not only has he received regular commendation from his manager and Martínez, but interest was reportedly spurred on by ex-Arsenal legend Thierry Henry.
The Player on the Pitch
Lokonga is a robust midfielder who can assume numerous central roles, but he was most frequently played as a box-to-box or defensive midfielder. As shown on his heatmap, he covers all areas of the midfield and has a strong work rate.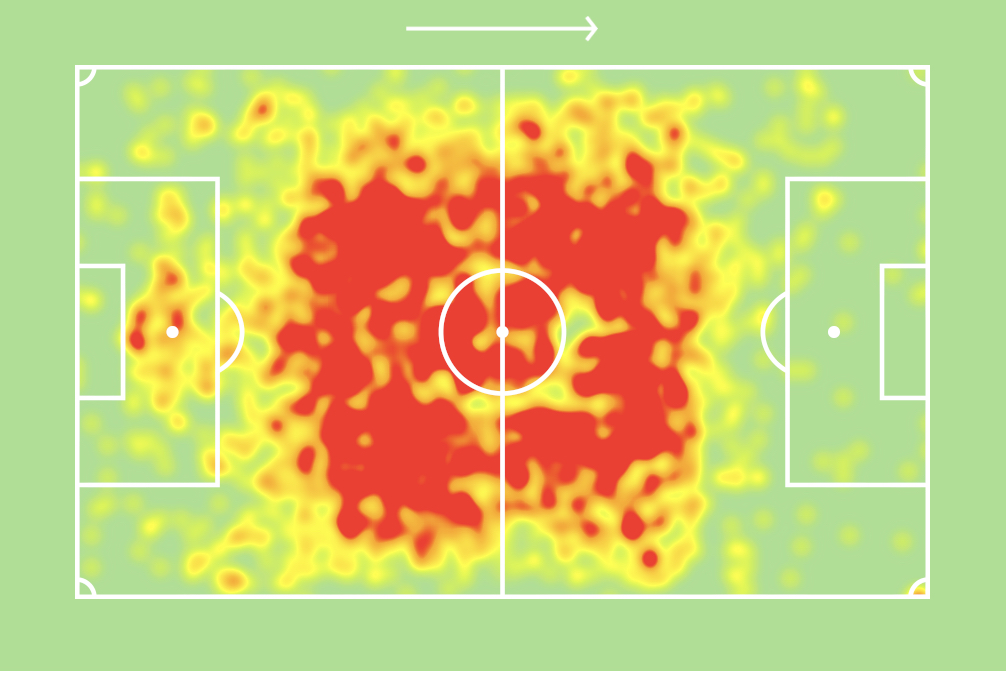 Photo: SofaScore
Physically, he is six feet tall and uses his large frame effectively to execute defensive, attacking and transitioning actions. Defensively he likes to anticipate passes, aims to dispossess attackers early, and is relatively strong in his tackles, winning 66% of his ground duels (averaging 6.6 per game).
Whilst he is not extremely active on the defensive front, he is effective at using his body shape to shepherd attacks wide, defending spaces rather than faces. When attacking, he glides forwards in a hungry effort to progress play. He is exceptionally adept at winning fouls (fouled on average 3.0 times per game) and makes intelligent runs, causing defensive dilemmas for his opponents.
Thomas Partey vs Albert Sambi Lokonga – Comparison Radar

It really does feel like Arsenal said to their data guys, go find me the closest under 23 player to Partey. pic.twitter.com/OG4Uz75JV0

— Scott "says soccer" Willis (@oh_that_crab) June 30, 2021
Not only is Lokonga a physical marvel, but his technical ability is at the heart and soul of his potential. He has good vision, which complements his wide passing range and awareness when receiving the ball under pressure. This will be a trait that Arteta is eager to employ, given the significant amount of pressing that was instigated by oppositions against Arsenal last season. 
The Belgian scored three goals in the 2020/21 season, including one against Zulte Waregem, in which he displayed his awareness to attack the goalscoring space and then the composure to finish past the keeper on his weaker foot. However, Zulte Waregem would claw their way back to a 2-2 draw as Gianni Bruno equalised ten minutes later.
⚽ Albert Sambi Lokonga
🅰️ Yari Verschaeren

Un but made in Neerpede pour le @rscanderlecht hier soir ! 🟣⚪#ZWAAND pic.twitter.com/zm0BN2zDMu

— Eleven Sports (FR) (@ElevenSportsBEf) December 5, 2020
Lokonga has also shown his eye for goal from distance against Club Brugge. Here he gathers a pass outside the box using his studs, then strikes across the ball, adding swerve to wrong-foot the keeper. A goal highly reminiscent of Granit Xhaka against Manchester United's David De Gea, it proved sufficient to complete Anderlecht's comeback against the eventual champions, with goals from Lokonga and Lukas Nmecha canceling out Noa Lang's opening goal.
The 21-year-old still needs to make overall improvements in his decision-making which at times has shown to be slow and indecisive. Arteta will also want to work on the tactical side of his game which will be essential for his development. Finally, a general level of consistency is absolutely crucial in taking the step up to the Premier League standard, which is wholly unforgiving and has the finest of margins between success and failure.
Where Does Lokonga Fit At Arsenal?
Lokonga is expected to be a player for the future. Arteta will most likely look to gradually integrate him into the squad to adapt to the league intensity and novel surroundings. Furthermore, reports continue to suggest that Arsenal are far from finishing their summer transfer business, with rumblings of Houssem Aouar, Ruben Neves and Yves Bissouma continuing to arise. 
Although with Matteo Guendouzi finalising his move to Marseille and the futures of Granit Xhaka and Lucas Torreira at Arsenal growing increasingly in doubt, Lokonga may not have to wait too long for his first-team debut. As seen previously with Gabriel Martinelli, one strong pre-season can significantly alter a young players' first-team trajectory and boost their chances of joining the first-team squad earlier than expected. 
The signing of Lokonga would be a very welcome sight for Arsenal, as they add another supremely talented youngster to the clubs' young core. Already Gabriel Martinelli, Bukayo Saka and Emile Smith Rowe are established first-team players, and there is an exhaustive host of academy prospects aiming to breakthrough. There is still a long list of transfers that Arsenal will be hoping to execute, but the acquisition of Lokonga could very well be one of the more underrated transfers that they complete this summer.
By: Toby Rathborne / @TobyRathborne
Featured Image: @GabFoligno / Sylvain Lefevre / Getty Images