The Renaissance of Dutch Football
On March 25, 2017, the Netherlands lost 2-0 to Bulgaria in a World Cup qualifier, a game that many Dutch fans would call 'the worst footballing performance they have ever witnessed.' Fans would assign plenty of blame to then manager Danny Blind, claiming his lack of tactics and inability to motivate the team caused them to stumble.
Things would only get worse from there. Facing off against a tough opponent in Sweden, a 7-0 victory was necessary to progress. Despite a pair of goals from Dutch legend Arjen Robben, they were unable to secure a large enough victory, having only won 2-0. Three years after reaching the World Cup semifinals, they failed to even reach the 2018 FIFA World Cup in Russia.
Two years prior, Dutch football fans were equally heartbroken as a loss to the Czech Republic kept them from the knockout stages of the Euros. Only one year before the Euros heartbreak, the Dutch national team, led by manager Louis van Gaal, had defeated Brazil in the third-place consolation game, earning them a place on the podium in Brazil. 
Photo: Getty
Despite these recent painful results, the Dutch national team has a very bright future ahead of them, as the old guard is finally being replaced with young, promising players.
Two of Holland's brightest talents, Matthijs de Ligt and Frenkie de Jong both got major moves last year to Juventus and Barcelona respectively. The Eredivisie is coming off one of its most competitive seasons yet, with the top four teams (Ajax, AZ Alkmaar, Feyenoord, PSV Eindhoven) all finishing within 7 points before it was cancelled due to the COVID-19 outbreak.
Some of their most talented players and managers seem to be hitting their stride, but how these players and managers will develop is yet to be seen. That said, let's take a look at some of Holland's brightest and best young players and managers.
Erik Ten Hag
In 2017, Ajax appointed former Utrecht manager Erik Ten Hag as their first team manager. After several years struggling to win the title with their previous managers, Ajax felt they had finally found their man. But even his staunchest supporters could not have predicted the amount of success he would have had in just three years.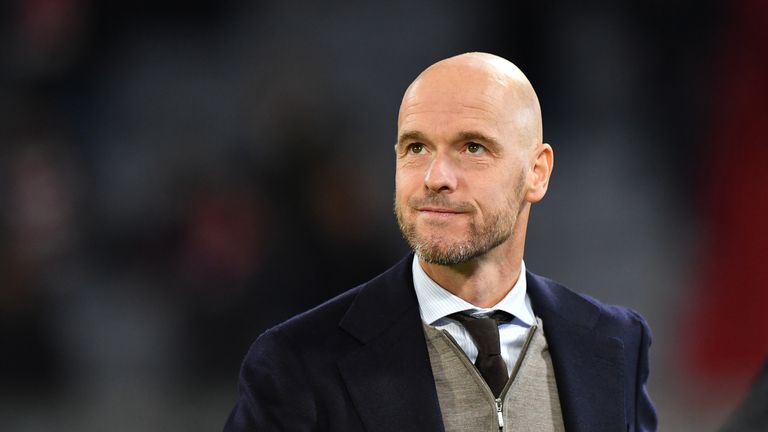 Photo: Getty
Ajax won league title in 2018-19 whilst also reaching the Champions League semi-finals, all while playing a beautiful style of football. Known for their immaculate pressing ability and quick passing combinations, Ten Hag's Ajax has become the prime example of high-risk, high-reward football. 
In their standard 4-2-3-1 formation, Ajax use a double pivot with a central attacking midfielder, usually Donny Van de Beek, whose intense work rate has made him perfect for that role under Ten Hag. They play in a very narrow fashion that not only enables their rapid fullbacks to overlap and create options in attack, but that also gives their forward lines an injection of fluidity and freedom in their positions.
The most impressive part about Ten Hag's coaching has been his pressing patterns. Immediately after losing the ball, Ajax launch into an intense counter press. This is aided by their narrow attack which ensures that there are multiple players near to the ball at all times, both in and out of possession. This is often also their biggest weakness, because teams that are able to break out of the press can quickly counter and catch them out of shape.
Despite crashing out of Europe in the group stages and losing key players such as De Ligt and De Jong, Ajax continued to play their impressive and high intensity football and retain their top spot in the league. Crucial players such as Hakim Ziyech, Van de Beek, André Onana and Nicolás Tagliafico may be moving on in the coming transfer window and could leave Ajax very thin. This will be a true test of both Ten Hag's squad building abilities, and his ability to motivate whatever squad he's able to field. 
In 2019, Ten Hag signed a new contract that tied him to the club until 2022, but his future is still uncertain. Rumors have circled about him moving on, with clubs like Dortmund and Barcelona being potentially in the market for a new manager. It seems likely that he will remain in Amsterdam this summer, but he will have no shortage of offers if Ajax can replicate their title-winning form next season.
Arne Slot
Photo: PA Wire / PA Images
After hanging up his playing boots in 2013, Arne Slot took up coaching, working as a youth coach at PEC Zwolle for a year before taking a job as an assistant coach at Cambuur. In 2017, he was hired as an assistant to John van den Brom at AZ Alkmaar, and when Van den Brom left to join FC Utrecht last summer, Slot was chosen as the new full-time manager at AZ.
In his first full season as a manager, he has led AZ to the Champions League for the first time in 10 years, when Louis van Gaal's Ajax won the league title. AZ defeated Ajax twice and matched their point total, although they trailed Ajax's goal differential by 12 goals. They progressed out of their Europa League group, but their continental dreams were ended by LASK Linz in the Round of 32.
Slot uses strong and organized pressing to force his opponents into making mistakes. Another manager who uses a version of the 4-2-3-1, Slot takes a page out of Ten Hag's book with his intense pressing patterns. His use of inverted fullbacks is one of the main similarities with Bayern Munich teams of old. Jonas Svensson and Owen Wijndal both tuck inside to come level with the pivot, helping to create a passing lane for the wingers as they go wide.
This is where they differentiate from Ajax's tactics. Both fullbacks, Wijndal especially, are also great in the overlapping spaces and can do damage in the final third. The attack also thrives because of their versatility. They're able to fill gaps around the field, for example, their fullbacks will often tuck inside and center midfielders will fill in those positions. 
It has been an impressive season for AZ, with the likes of Myron Boadu and Calvin Stengs having sensational performances under Slot. With AZ's academy continuing to produce gems, there's no ceiling on what Slot can achieve with this side.
Calvin Stengs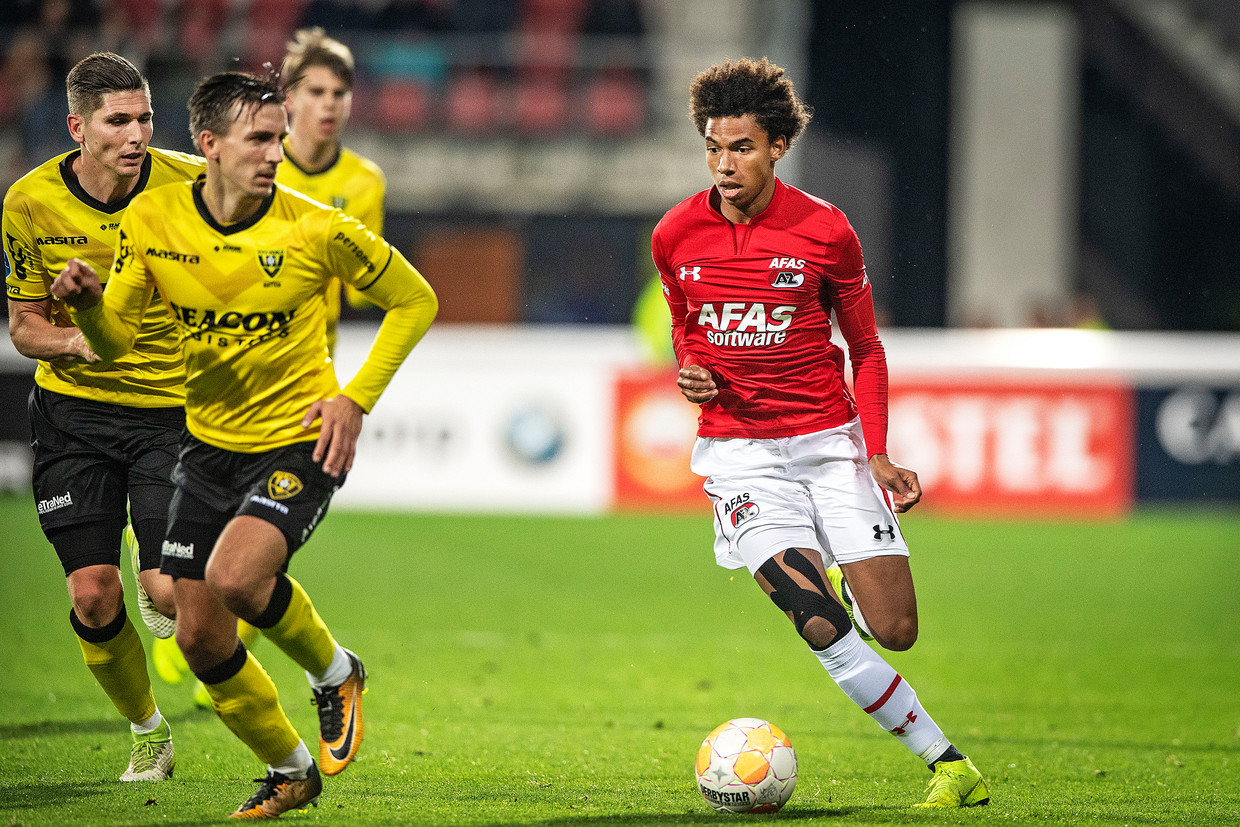 Photo: Beeld Guus Dubbelman / de
Known for his outstanding left foot and his hair, Calvin Stengs is a name that should be plenty common in the vernacular of Dutch football fans.
Standing at 6'2, Stengs is one of the taller players on the field. That said, he is also one of the most skillful, something very uncharacteristic of a player at his size. His dizzying skills on the ball and electric pace have become staples of his game combined with a slicing pass across his body. 
Totaling seven goals and ten assists between 33 appearances, Stengs's contribution to this high-flying AZ team cannot be understated. Even with these numbers, the quality that he brings to a team is seen even past the numbers, as his intelligence off the ball along with his ability to create space for his teammates and link up with fullbacks have made him irreplaceable on the team sheet for Slot. 
Stengs needs least one more season in the Eredivisie before moving to his next step, but his upside is very high. Any team looking for a left footed attacker should be watching him and how he progresses.
Kik Pierie
Photo: Ajax.nl
Immediately after losing De Ligt to Juventus in the summer, Ajax found multiple players who may fill that gap for them, one of them being Kik Pierie. While there were rumors that Manchester United and other super clubs were monitoring him, the Boston-born center back elected to stay in the Eredivisie and moved to Ajax from Heerenveen. On top of this, he also elected to play for the Dutch national team rather than the United States.
A player well beyond his years, Pierie has the ability to read the game on par with a seasoned midfielder with multiple years under his belt. This makes him a lethal ball playing center back who's able to unlock defenses with a single pass. Along with that, his intelligence allows him to snuff out chances; he averaged over 7 interceptions per game last season.
His versatility is also a fantastic asset, as he was able to feature as a left back in multiple games last season for Heerenveen with little adjustment to make. An outstanding player with plenty of upside, Pierie is another player who still has a lot of room to grow. If it all falls into place and Pierie is able to adjust to the first division, he could quickly follow in De Ligt's footsteps. 
Mohamed Ihattaren
Photo: Getty
Quickly becoming one of the first names on PSV's team sheet, Mohamed Ihattaren's attacking ability and vision is something to marvel at. In 22 games, he's been able to tally three goals and six assists within the Eredivisie, having started 20 of those games.
His left foot has also added some versatility to his game, giving PSV licence to play him out wide on the right side. On top of this, he's also been used in a 4-3-3 as a center midfielder.
Ihattaren shines in three main areas, having the highest xA on the team, the most smart passes per 90 and the most passes into the penalty area on the team. Outstanding under pressure and with an immense ability within tight spaces, it's entirely unsurprising that Ihattaren is so highly rated within the Netherlands. 
Arguably the most complete player in this list, Ihattaren is a player that will be on teams's radars pretty soon. Despite playing the traditional 10 role which has been slowly going out of fashion, Ihattaren's versatility is sure to give him plenty of chances at game time. 
By: John Zuidema
Featured Image: @GabFoligno