The Renaissance of John Stones?
As John Stones and Rúben Dias high-fived and fist-bumped on the half-way line at Southampton on Saturday, there was an immense feeling of satisfaction throughout the Manchester City camp. Dias, a sturdy, rugged man, with adrenaline coursing through his veins, was celebrating a hard-fought victory, and yet another clean sheet, with his sensational centre back partner, who, for once, had a smile etched across his face. 
It's now four consecutive Premier League clean sheets for Stones and seven in a row in all competitions. That's 630 minutes of football – ten and a half hours – without conceding a single goal, with the last coming over 3 months ago, in the season opener at Molineux. In fact, City haven't lost a game that Stones has started for well over a year, winning 13 out of those 15, and have only failed to win once this season with him in the starting eleven – a Manchester Derby stalemate, that Stones won man of the match in, anyway. 
It's hard to believe that just weeks ago, there was talk of an exit. Experts urged him to move on, to put his "nightmare spell" behind him in search of regular football. "I don't even think it's a big decision to leave – it's just the right decision," said former Manchester United centre back Rio Ferdinand. " If he wants to be a top centre half and play for England again, he can't stay at City.'
Testament, then, to Stones' attitude and commitment, that he's turned transfer talk into extension speculation with just a handful of opportunities handed to him by Pep Guardiola. Many wrote him off as the club's fifth-choice center back after City spent big on Nathan Aké and Dias in the summer and after Eric García ended up staying at the club after a prolonged transfer saga with Barcelona. The stage looked set for Dias to form a solid partnership in defense with Aymeric Laporte, with Stones remaining on the bench.
Despite starting the season opener against Wolves, Stones would make just one start in the next two months, playing next to Aké in a 3-0 victory against Olympiakos. However, his situation changed after City's 2-0 loss to Tottenham Hotspur; Laporte was dropped from the side and the 26-year-old Stones has been vindicated in his effort to fight his way back into this team, becoming a virtually undroppable asset in the heart of defence.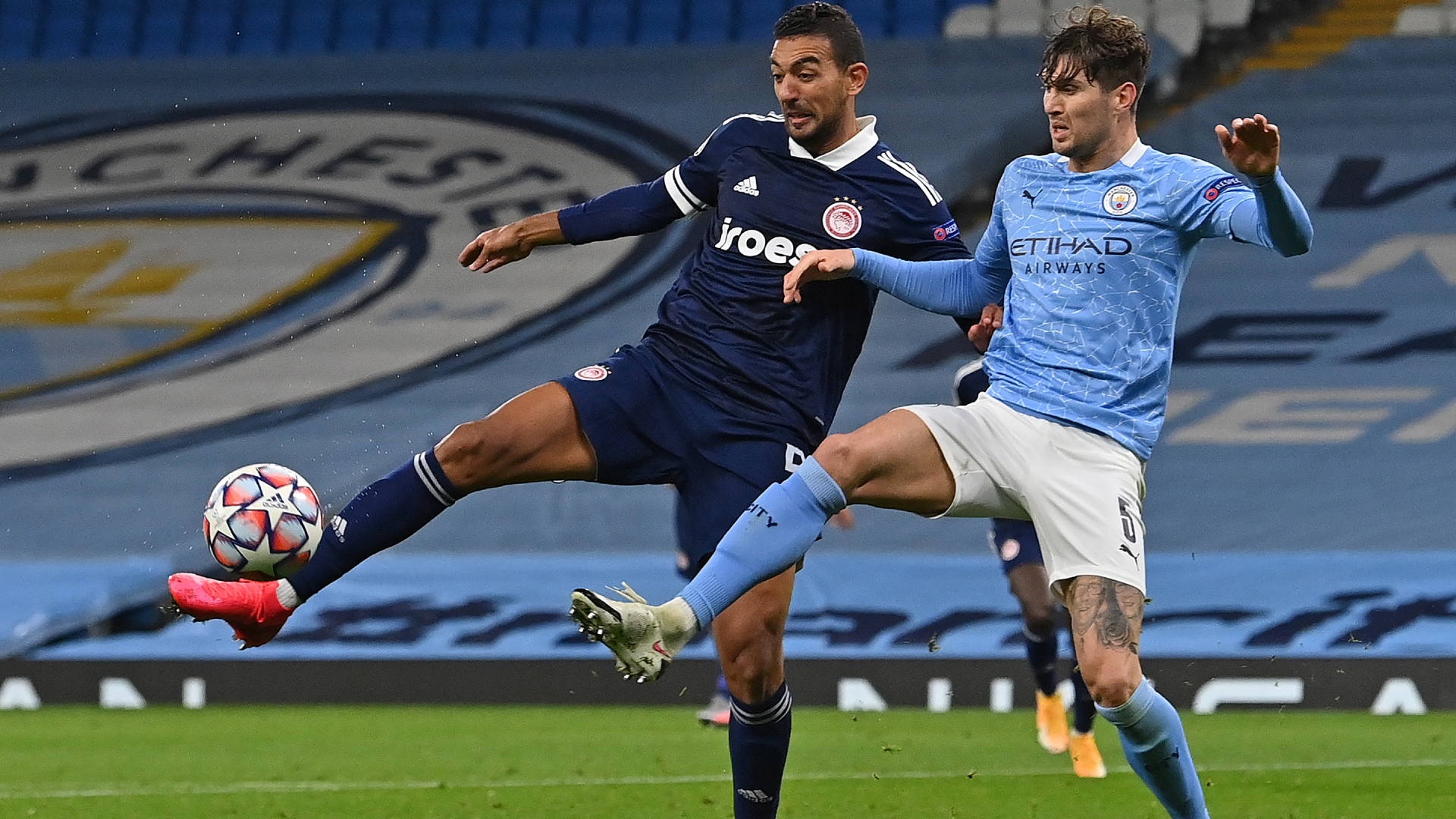 Photo: Getty Images
His latest performance, away at Southampton, was another quietly dominant display that showcased Stones at his elegant best. Assured in possession and assertive out of it, the centre back barely broke stride to keep an in-form Southampton at bay, winning all of his aerial duels, putting in two fantastic blocks to deny Danny Ings and Che Adams and mopping up every single loose ball, ensuring to take great care of possession in doing so.
It's a stunning transformation from the player that arrived in Manchester four years ago, an erratic, unpredictable centre half carrying the nation's expectations on his shaky shoulders. With his £50 million price tag, and a reputation as a ball-playing centre-back, he quickly became a symbol of Guardiola's expansive, tiki-taka football – a foreign concept, that many seemed to desperately want to fail in Manchester, to show the rest of the footballing world that the English game was different, made of tougher stuff.
As such, every single Stones pass was scrutinised, every move tracked, and every mistake lambasted, as a nervous start to his Manchester City career was proudly presented as proof that you can't tiki-taka in the Premier League. But those mistakes have quickly been eliminated, having not made an error leading to a goal for over four years in the league – and Stones, if anything, has become a figure of dependence.
There's a certain maturity about him on the ball, an assurance that's come hand-in-hand with a more considered approach to possession retention, waiting for the correct moments to try the more ambitious pass, and very rarely giving the ball away. In fact, with a passing accuracy of 95.1%, he has the highest accuracy of any outfield player this season to have played at least 90 minutes in the league this season.
Where, in his first season at the club, he often looked desperate to impress, eager to justify his label as that creative defender, Stones now looks relaxed and unfazed by such expectation, and plays the game at his own pace, only looking to utilise his passing ability when he deems it necessary. As Guardiola himself remarked, 'He's so concentrated on not making mistakes'.
Despite this, though, he has still been able to create from deep and has been consistently influential in breaking down the first line of the deep block, leading to crucial numerical advantages in compact midfield battles. He has become an expert at finding short, incisive passes into half-spaces behind the opposition midfield, and, more importantly, selecting when to attempt them.
In the example below, sensing an opportunity after a sudden loss of possession by Marseille, Stones ignores the more conservative pass to Kyle Walker and punches through a sharp, line-breaking pass to Bernardo Silva in the half space. In doing so, he helps to create a 5v4 counter-attack in City's favour, which would lead to the breakthrough goal to put his side 1-0 up, showing the importance of his change of tempo.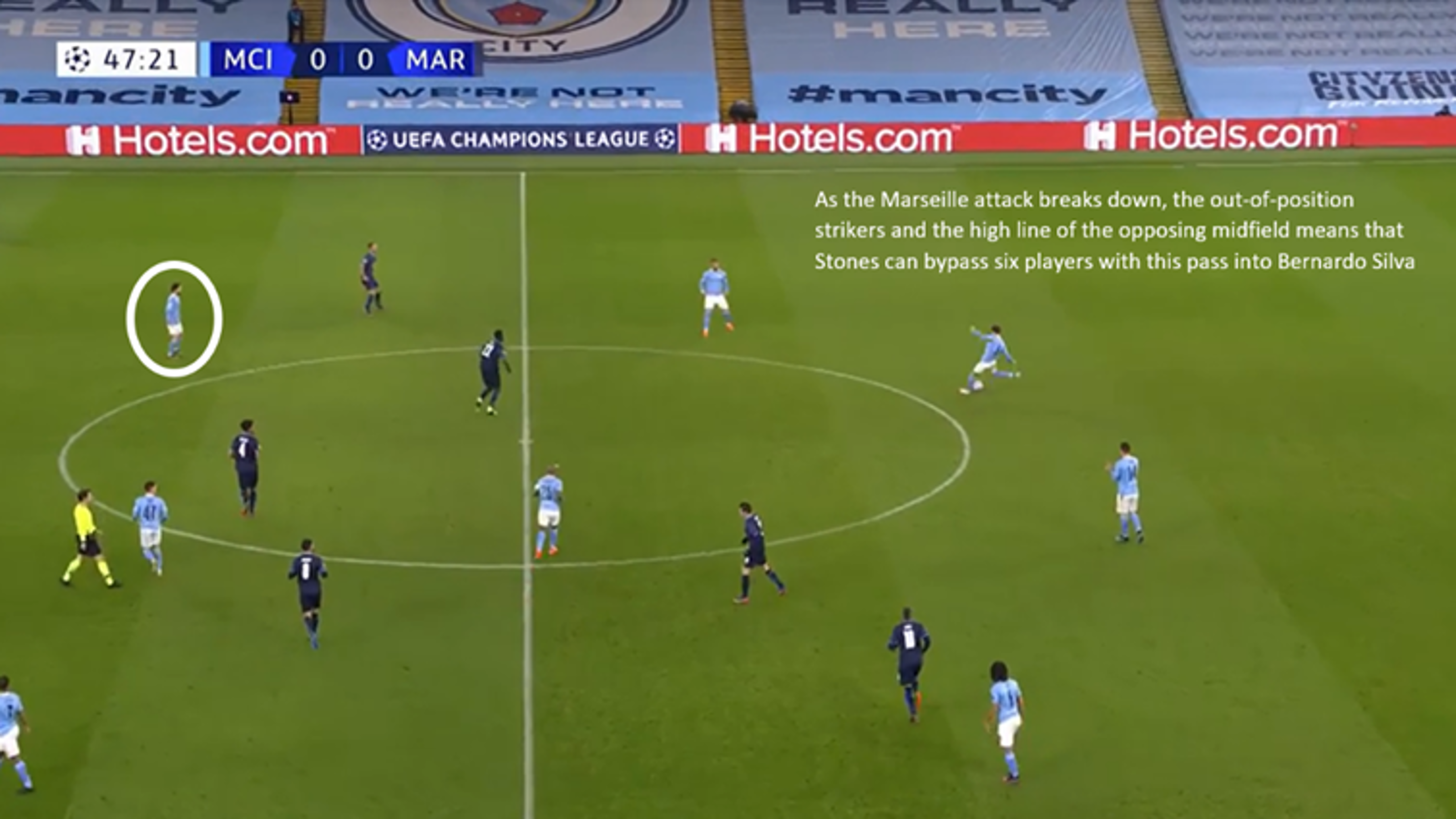 Bernardo Silva's position, reminiscent of that of his magical namesake, David, is exactly the sort of space that Stones has become so adept at exploiting. It's hugely beneficial to Stones when the Portuguese plays, along with İlkay Gündoğan and Kevin De Bruyne in particular, as they often occupy the half-spaces that a centre-back with such ball-playing capabilities can find consistently.
In another example from last week's game, Gündoğan could have set Ferran Torres through on goal with a better lay-off. Again, taking six players out of the game with his pass, Stones' decision making is now such that every single time he breaks the pressing line with a pass, he creates a huge opportunity.
In short, while he never misses the chance to create the numerical advantage and set his side on the front foot, he's also stopped trying to force those opportunities with unnecessarily risky pick-outs, leading to improved passing accuracy and fewer mistakes.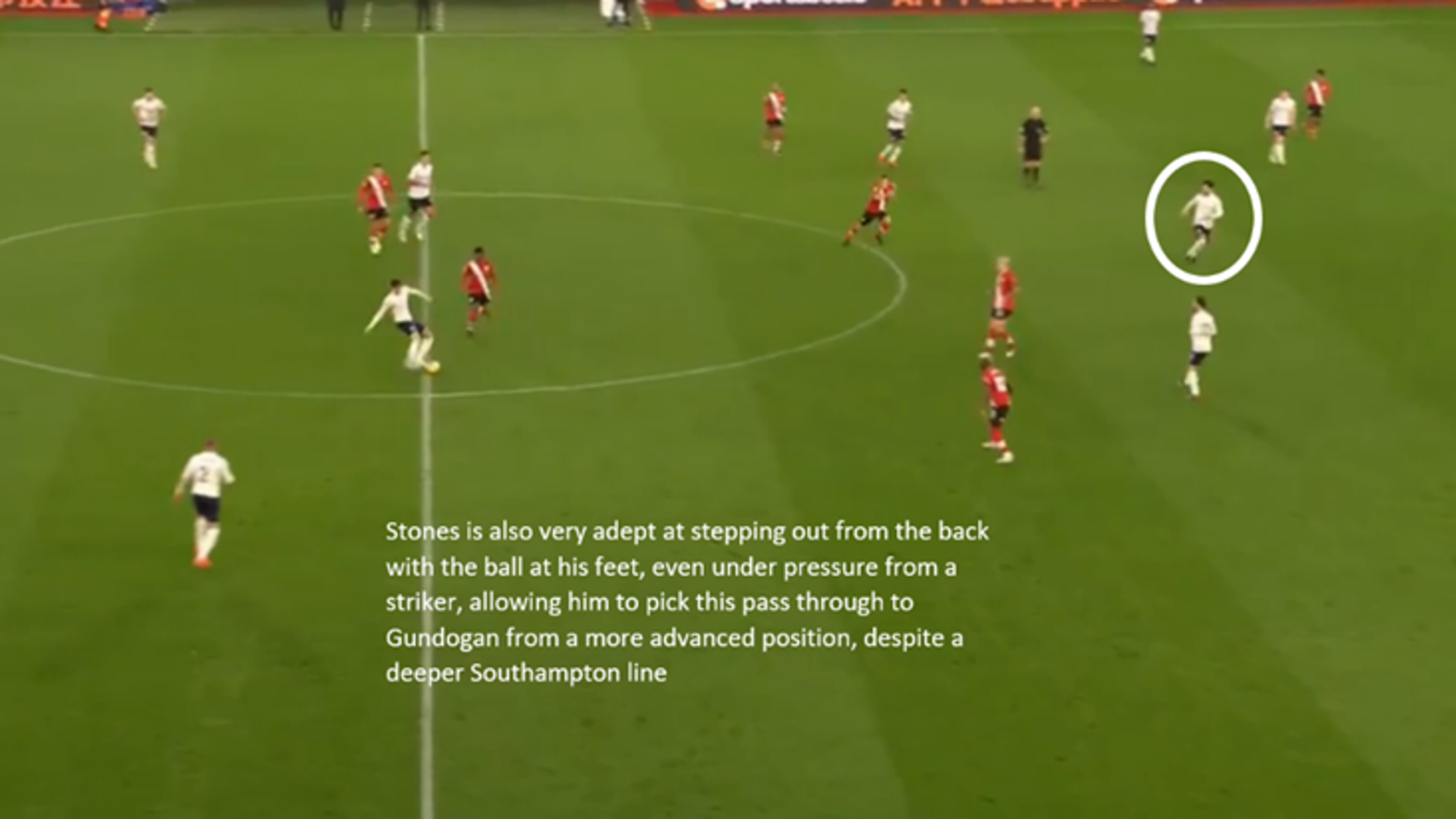 Further to his decision making on the ball, his reading of the game off it has also significantly improved. He has developed a tendency to stay on his feet, doing well on multiple occasions in that Southampton win to shepherd the striker infield before blocking the shot.
This ability to stick to a striker, no matter how much they try to wriggle free, has started to characterise Stones' defending, where the centre-back prefers to jockey rather than to lunge in, with his fantastic defensive positioning meaning that he rarely gives the striker a chance to get through. He's also started to become dominant in the air, shown brilliantly in the recent 5-0 win over Burnley, where he won 100% of his aerial duels, which, up against Chris Wood and Ashley Barnes, by the way, is no mean feat. All, while maintaining a passing accuracy of 97%, of course. 
Key to his improvement, undoubtedly, is his concentration, and Stones will be all too aware that any slip will be punished, especially with Laporte, one of the league's outstanding centre backs last season, waiting in the wings. Although, if anything, Stones seems to thrive with competition, and raise his levels to match the quality around him.
He's noted himself that Guardiola "demands and expects a lot from us". He knows that when he gets his chance "he has to take it". Yet, while many saw Dias' £64 million move as a nail in Stones' coffin, he saw it as fire to his flame. 
"I do see it as motivation. I like the challenge" said Stones. "I haven't come through the things I have done to not keep fighting. I want to prove my worth for the squad." And, alongside Dias, he is now back to doing just that. 
A great amount of credit must also be given to Dias himself. At just 23, moving to a foreign league with a hefty price tag, the Portuguese has revolutionised and reinvigorated this Manchester City defence, and a huge portion of Stone's improvement can be pinned on the stability that Dias has brought. He's said to have made a "significant impact" on his City teammates already, with his leadership qualities shining through, emerging as a "strong voice" in the changing room and on the pitch.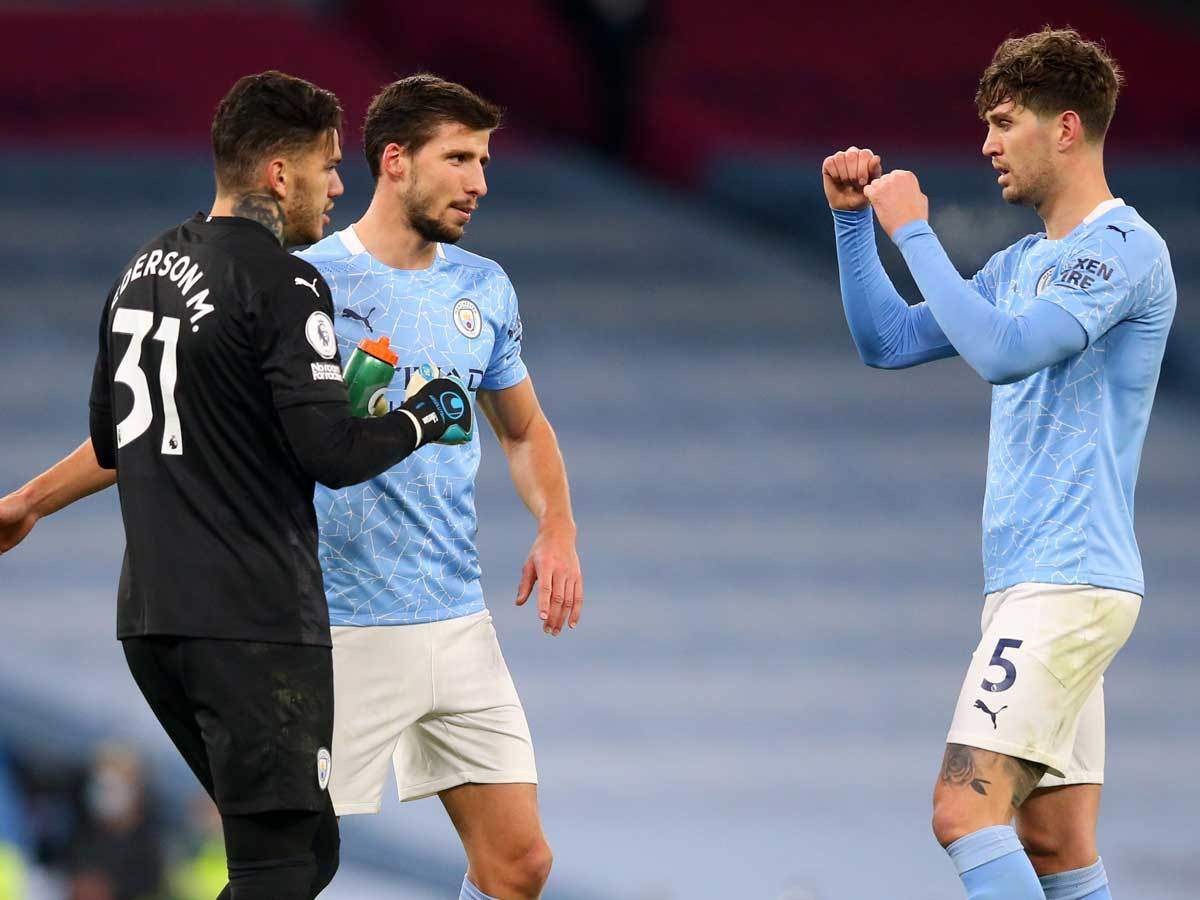 Photo: Getty Images
If anything, Stones' new partnership with Dias mirrors those he's had with both Vincent Kompany and Aymeric Laporte in the past, where, with the latter, he went on a similar clean sheet winning streak at the start of the 17/18 season.
It's clear that with an authoritative, self-assured partner, Stones' confidence in his own ability rises, and that leads to the type of performance that we've been seeing so far this season. Gone are the days of opposition teams putting him under pressure, trying to force an error, because, at the moment, anyway, there's not really much point. 
What next, for Stones, then? Guardiola seems to have lain down the gauntlet, commenting that "it would not be fair" to drop Stones or Dias after "they did not make a single mistake" against Manchester United and Southampton. So, whether Laporte likes it or not, it seems that Stones will be retaining his Premier League place for Manchester City, as long as he keeps focussed and avoids the kind of mistakes that plagued his first season in sky blue. 
As for England, and again, it's just a case of continuing to do what he's doing. "I've literally looked into the smallest details of everything" says Stones,  "diet, gym, lifestyle. I am literally doing everything I can to stay in City's team and then, hopefully, get back into the England squad. Playing for England, I can't put into words what it means to me". 
Stones is clearly a very committed, determined young man, who, at 26, is fast approaching the peak of his career. We can all see the difference in his confidence, his fitness, his physical condition – he looks faster, taller and stronger – and seems to have that swagger back about him, where he'll pick up that ball, waltz out into midfield and fire that pass away, with absolutely no thought in his mind of making that mistake. Barring injuries and slip-ups, we could well, fingers crossed, be witnessing the renaissance of John Stones. 
By: Thom Harris
Featured Image: @GabFoligno  / Alex Caparros – Getty Images