The Worrying Decline of Dele Alli
It only feels like yesterday when Dele Alli had the whole of the world at his feet; the Milton Keynes-raised midfielder joined Tottenham Hotspur in 2015 with a lot of hype that was justified immediately. He was a key catalyst to the rise of Mauricio Pochettino's Tottenham, putting up impressive returns for someone who was merely touching adulthood.
There is no getting away from the cold truth that ever since, his career has gone in a horrible downwards trajectory. He is more of a puzzle than a footballer nowadays. The 25-year-old was outcasted by José Mourinho to the point where seeing Dele in a Premier League was a rare sight. Nuno Espírito Santo has offered him more minutes, for sure, but his performances on the pitch are still a true ghost of his former self. 
Defensive and Pressing Role Under Nuno
Whereas the Dele we all grew to love was fielded as more of a shadow striker, this new version has a very different set of jobs. Nuno has typically set Tottenham up in a 4-3-3 shape with Dele playing on the right or left of the midfield three. 
The Portuguese's cautious approach to games has meant that a lot of Dele's actions are off the ball rather than on it. Below is an example from the recent 3-1 loss to Arsenal in the North London Derby.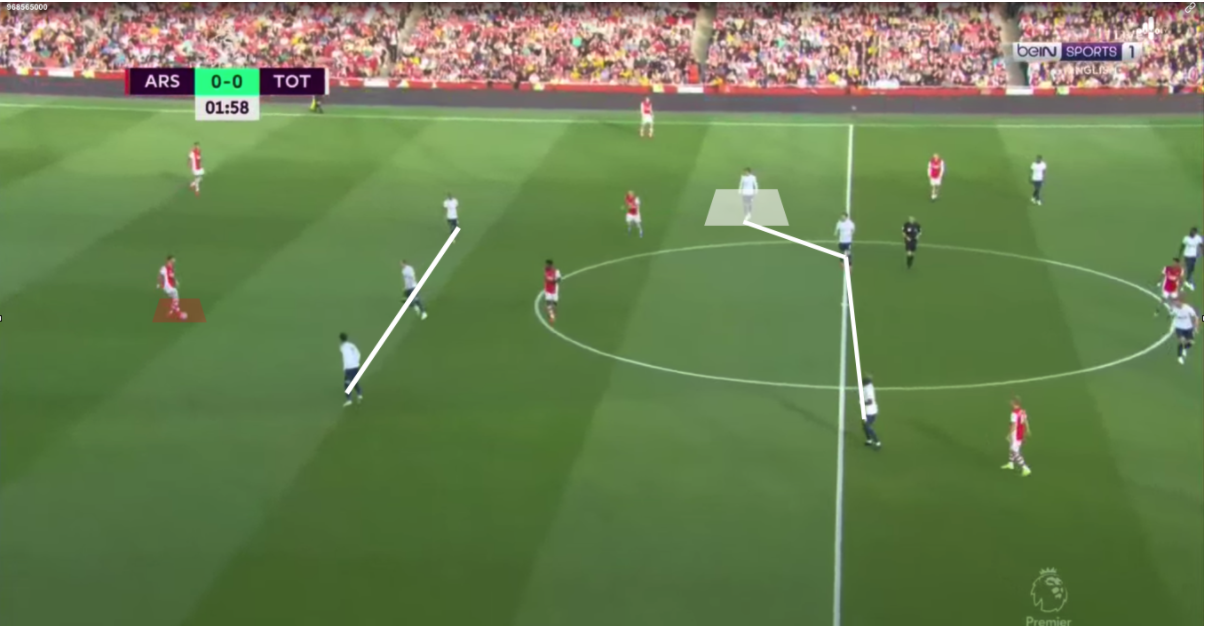 Tottenham are set up in two lines of three out of possession. Both sets are very narrow to try and stop Arsenal progressing the ball through them centrally. Naturally, this leaves spaces in the wide areas. Dele had to shuffle across to shut down a full-back when they received the ball as you can see below.
However, this action was not one that brought success, at all. It left a huge, dangerous space behind him and the distance between his midfield partner, Pierre-Emile Højbjerg, is wild – Arsenal's offensive players picked up these vacant spaces and wreaked havoc, especially in the first half.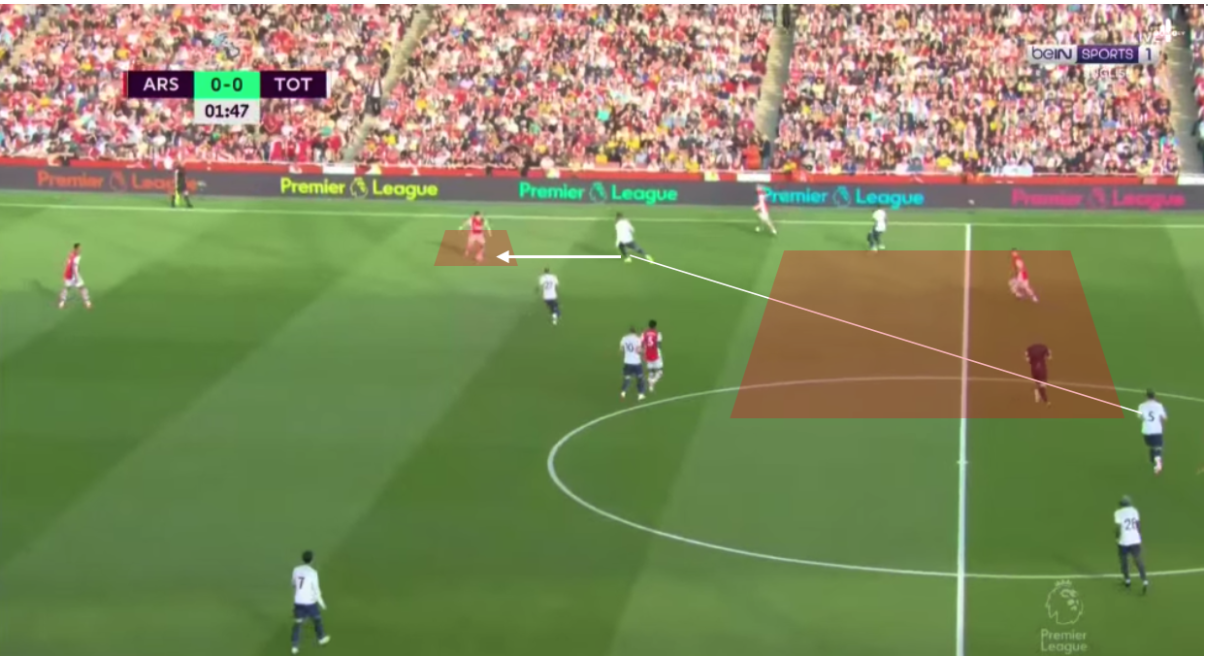 The image below is another example of Dele's ineffective and disorganised pressure off the ball. Both him and Højbjerg put pressure on Granit Xhaka and this leads to another huge space for Emile Smith-Rowe to drop in and collect the ball with a ridiculous amount of ease.
In the picture below, you can't even see the defence with shows the disconnect in the team's overall pressing structure. Dele's off-the-ball work was very poor and ineffective, a sight that has been common this season.
Offensive Work Under Nuno
In terms of offense, Dele, despite being involved in a midfield three, is not involved in the first phase of deep build-up play. As you can see in the image, he is not even in shot when Davinson Sánchez recevies the ball from a goal-kick.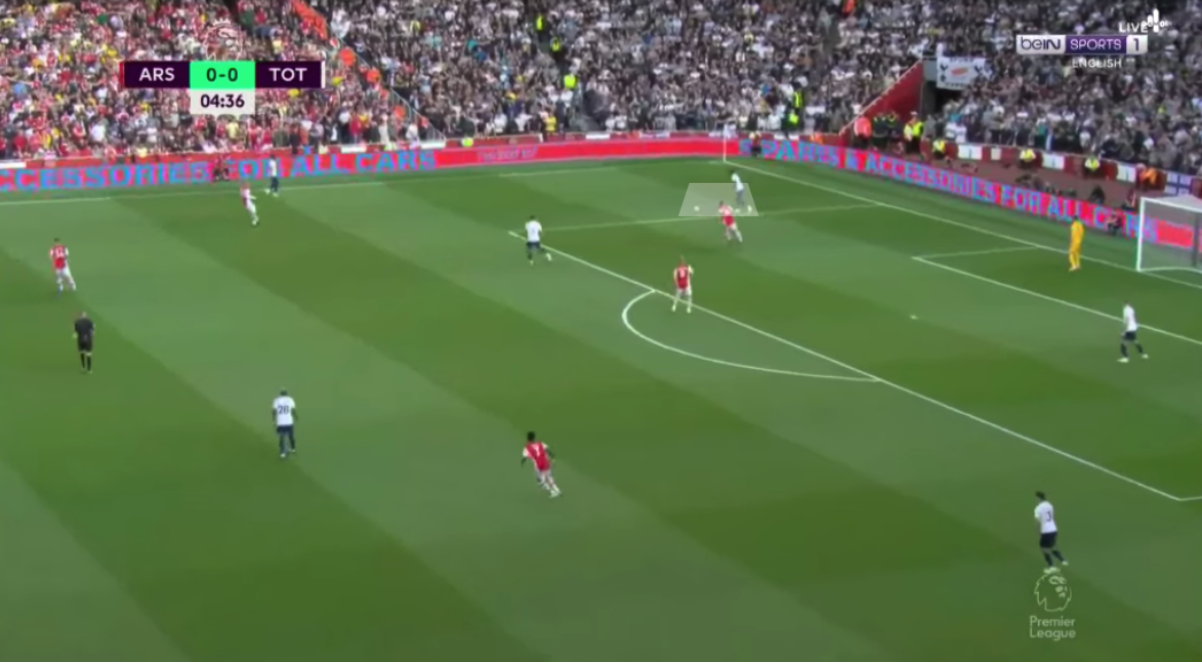 As you can see below, Tottenham's build-up play was very direct, with often one or two passes ending in a long ball up to Harry Kane who attempted to win a flick on for Dele, Heung-min Son or Lucas Moura. This had little to no success, with Arsenal often very commanding in winning the header with Kane; this then resulted in Dele leaving a huge gap behind him again for Arsenal's offensive players to step in.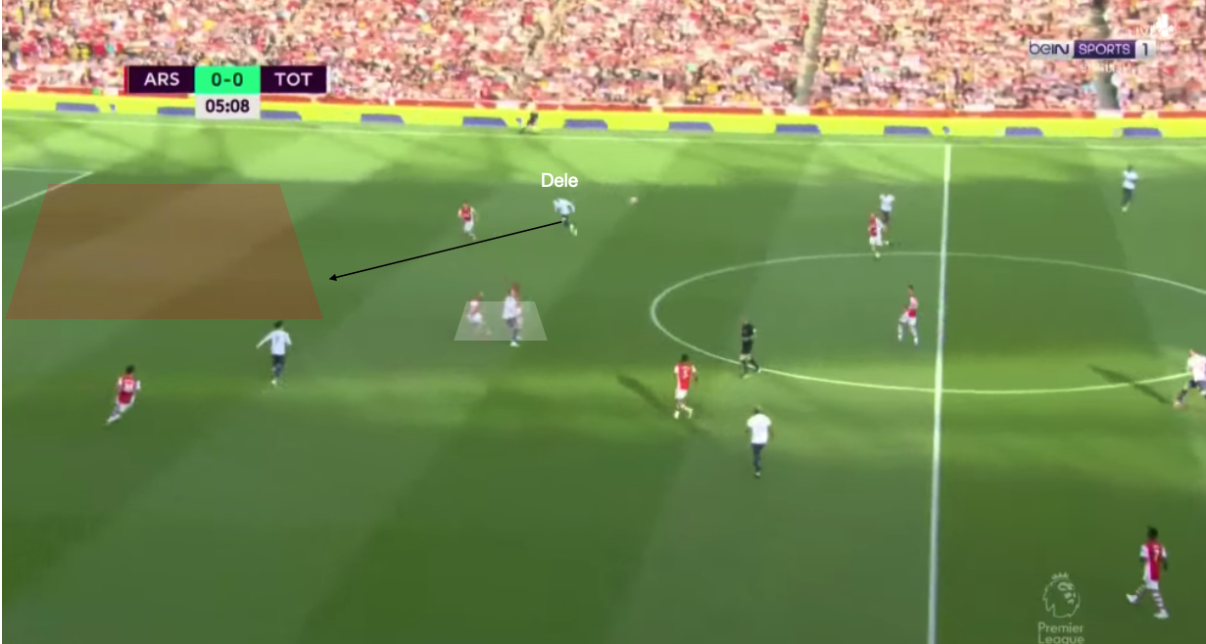 Dele's role against Crystal Palace was slightly different. Nuno went for a 'diamond' shape in midfield with Dele at the top: often a role where creativity and end product is a requirement. Below is an example of Dele's sharpness in the role fading.
The 25-year-old is rushing away in a dangerous position with Palace's shape very stretched and wide open. With the high-flying Sergio Reguilón making a run on the left, a good pass and a good touch could see the left-back in on goal.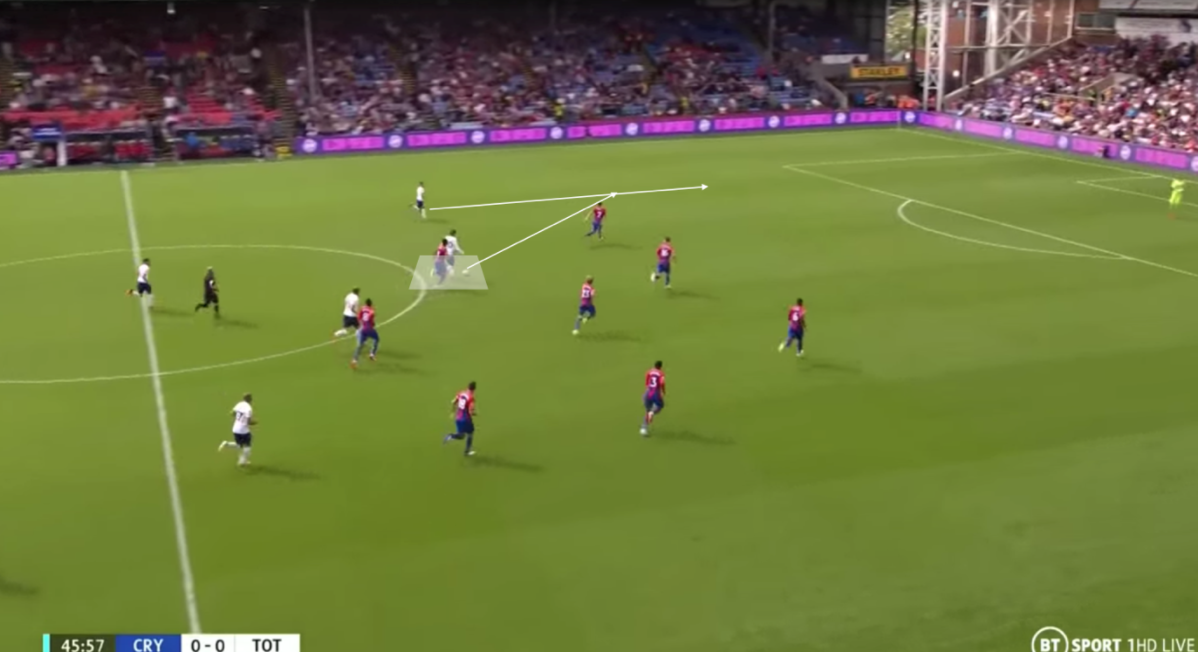 However, Dele overcooks that simple pass and Palace regain their shape. This sort of pattern is a common sight and is one that is frustrating Spurs fans. That moment, with the score 0-0, could change the game entirely. Dele has to show more quality in this sort of situation to win back the critics.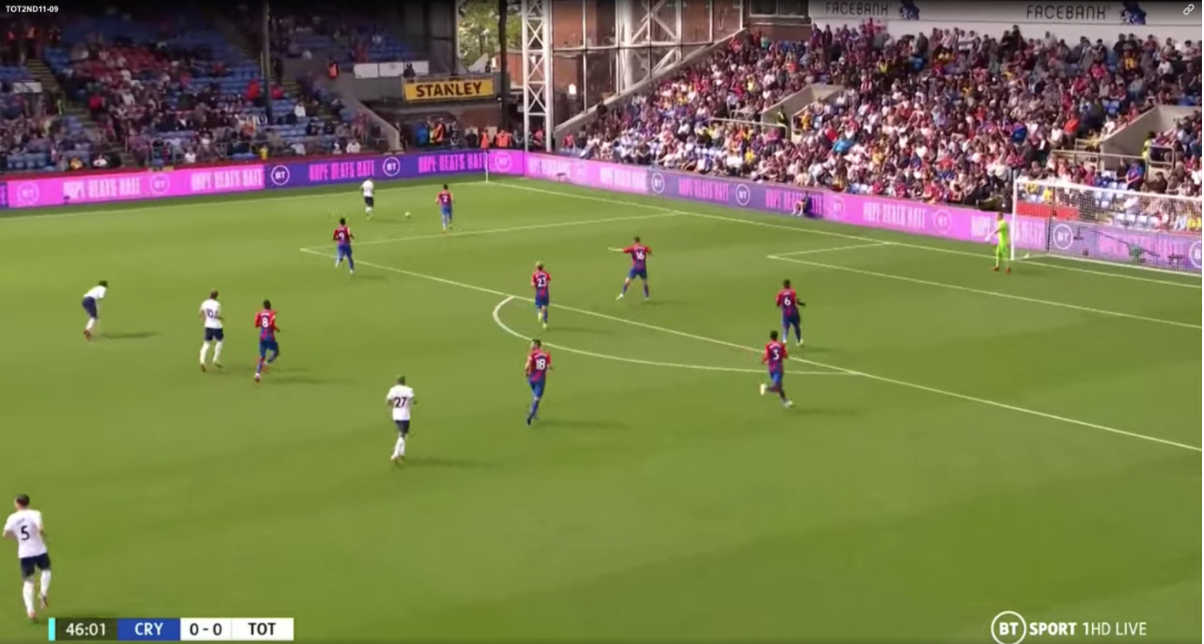 Dele has been tasked with a more defensive role, clearly, which has maybe left his sharpness in the final third lacking. Below is Dele's touch map against Palace a few weeks ago. A game, remember, in which he was supposed to be supporting the front two in an offensive sense.
He has more touches in the opposition box than his own.  Also, there are barely any notable touches in the final third. For sure, Tottenham's general setup may be to blame for this, but this is still a sight with Dele that is far too common.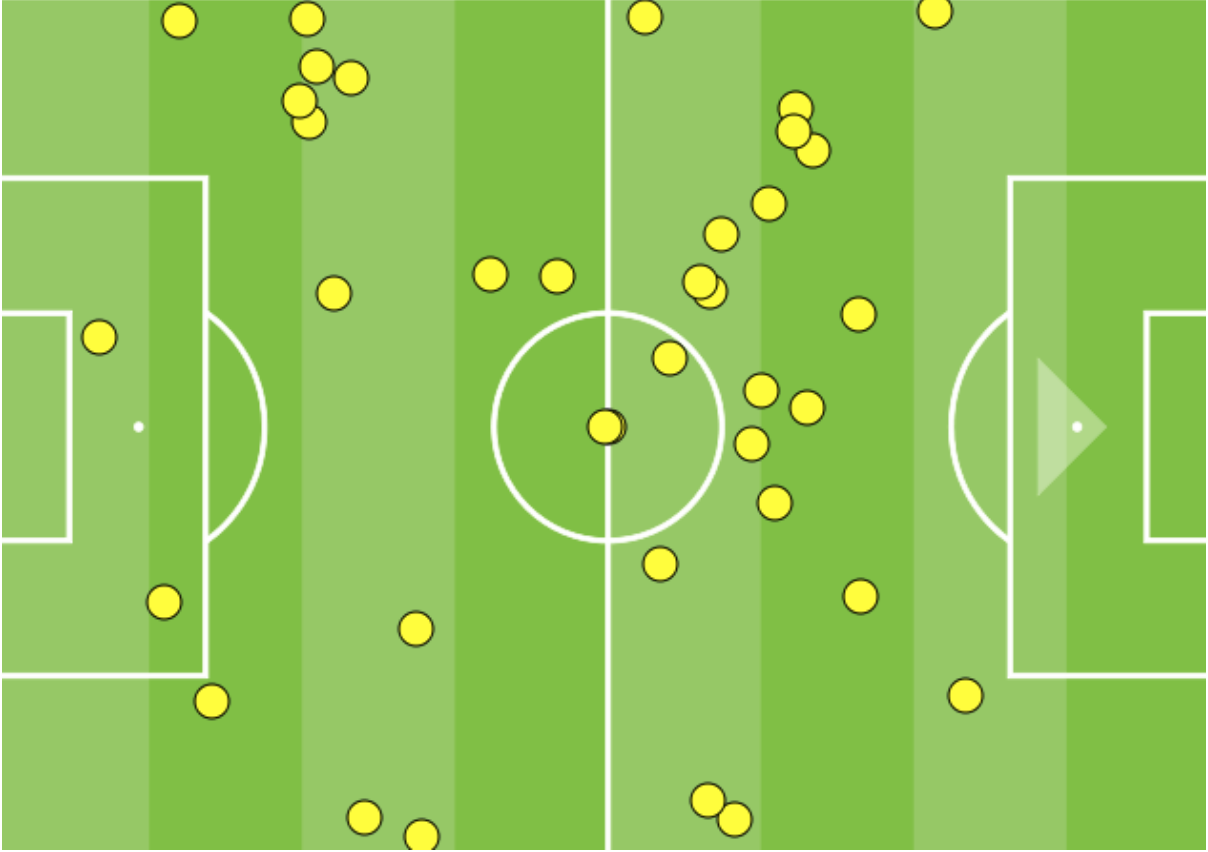 Dele's transformation was always going to be a big subplot of this Premier League season. Despite being afforded plenty of game time, he is failing to give Nuno any reasons for the minutes to keep coming in thick and fast. His role is slightly confusing and disjointed. Tottenham are a side that lack creativity and goals in general and Dele is doing little to find a solution to this problem. 
The 25-year-old's work off the ball, especially in recent games, is also ineffective. So, what exactly is Dele now? A question that needs answering, and fast. 
By: William Furness / @w_furness1
Featured Image: @GabFoligno / Robbie Jay Barratt – AMA – Getty Images