Under The Lens: How Jonathan Clauss Became a Driving Force in Lens' Sensational Return to Ligue 1
RC Lens have struggled since competing for the Ligue 1 title back in the 2001/2002 season and were powerless to stop the dominance of the Lyon side that followed their title win and eventually found themselves relegated to Ligue 2. Having returned to the topflight in 2020, Lens have impressed many with their consistency which resulted in a seventh-place finish in both the 2020/21 and 21/22 campaigns. 
The right wing back Jonathan Clauss has proven to be a key player under Franck Haise. He is fundamental to the way Lens play in both attack and defence, able to progress the ball into the final third and is very often able to pick out a teammate to create goal-scoring opportunities without shirking his defensive responsibilities. 
As Clauss is persistently linked with a move to Chelsea in recent weeks, this article will use data and video from Wyscout and FBRef to assess how he has played a pivotal role in the Lens team of recent years. 
Biography
Name: Jonathan Clauss
Position: Right Wing Back 
Age: 29 Years
Nationality: French
Preferred Foot: Right
Market Value: €15 million
The graphic below is a good indication of what kind of player The Blues would be buying should the Strasbourg native make the move to West London. He has been the primary creator for Lens during the 21/22 season, notching up 10 assists which places him the fourth highest in Ligue 1. Clauss is a very creative player with great vision which benefits the team in both attacking and defensive phases of play as well as transitions.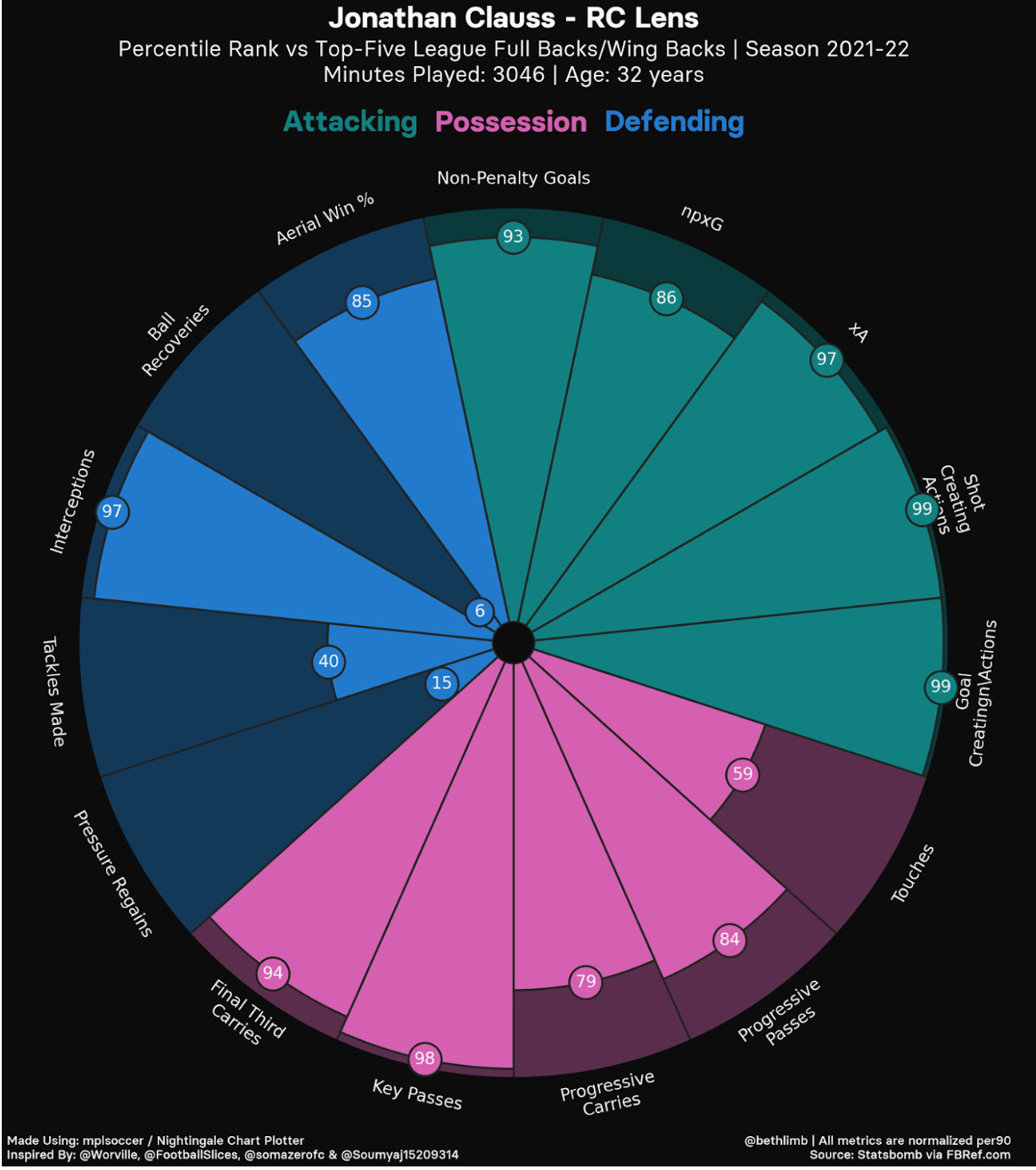 Lens typically line up in a 3-4-2-1, the back three creates defensive stability as Haise likes his team to be proactive and search out attacking opportunities. Many of these opportunities are generated from crosses into the penalty area, the majority from Clauss who averages 5.3 crosses per 90.
Despite displaying great creativity in the wide areas, Haise likes his team to play fairly narrow and compact as to not get caught out on the counterattack. This enables them to play through the lines using short-medium passes and off-the-ball runners (often the forward(s) dropping back and the midfielders pushing on) to create space. A typical Lens line-up can be seen below.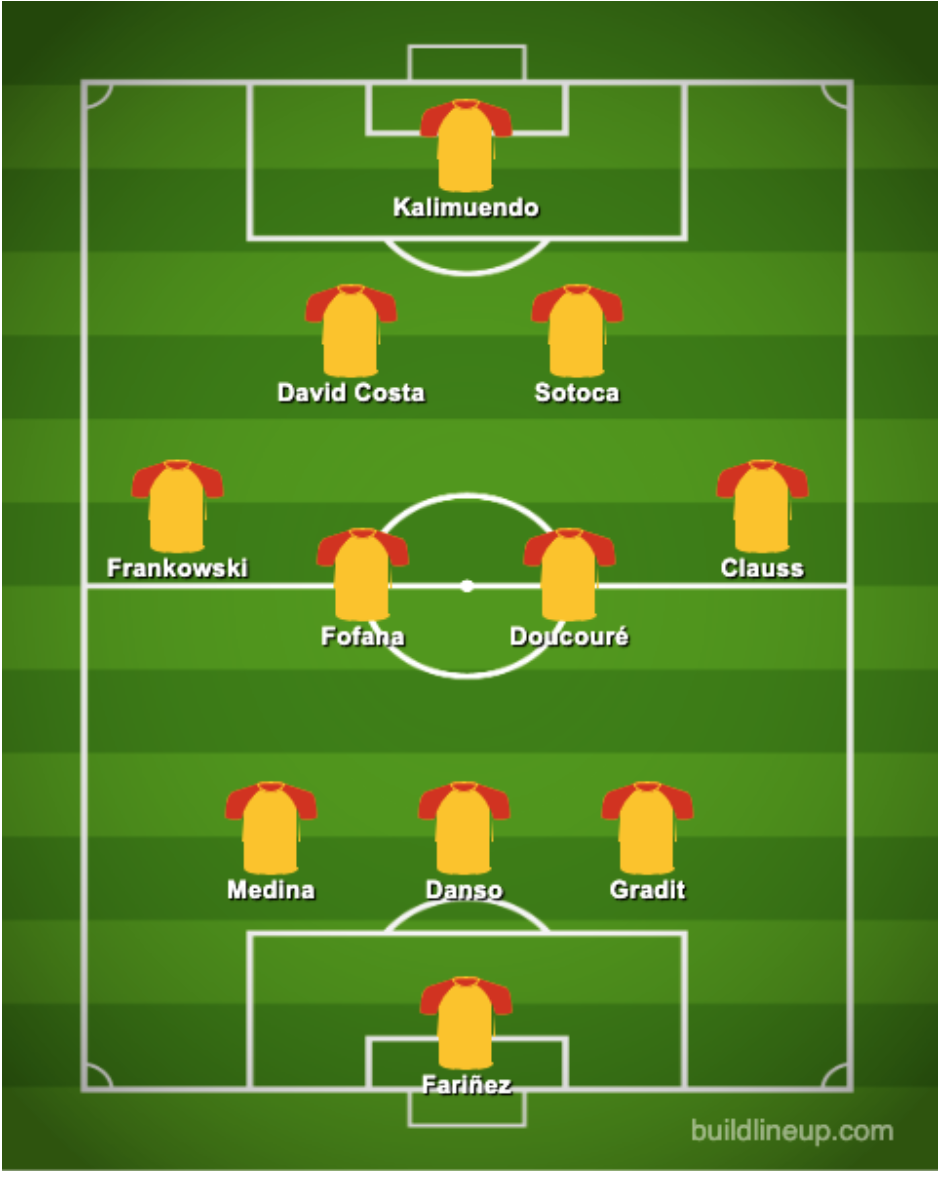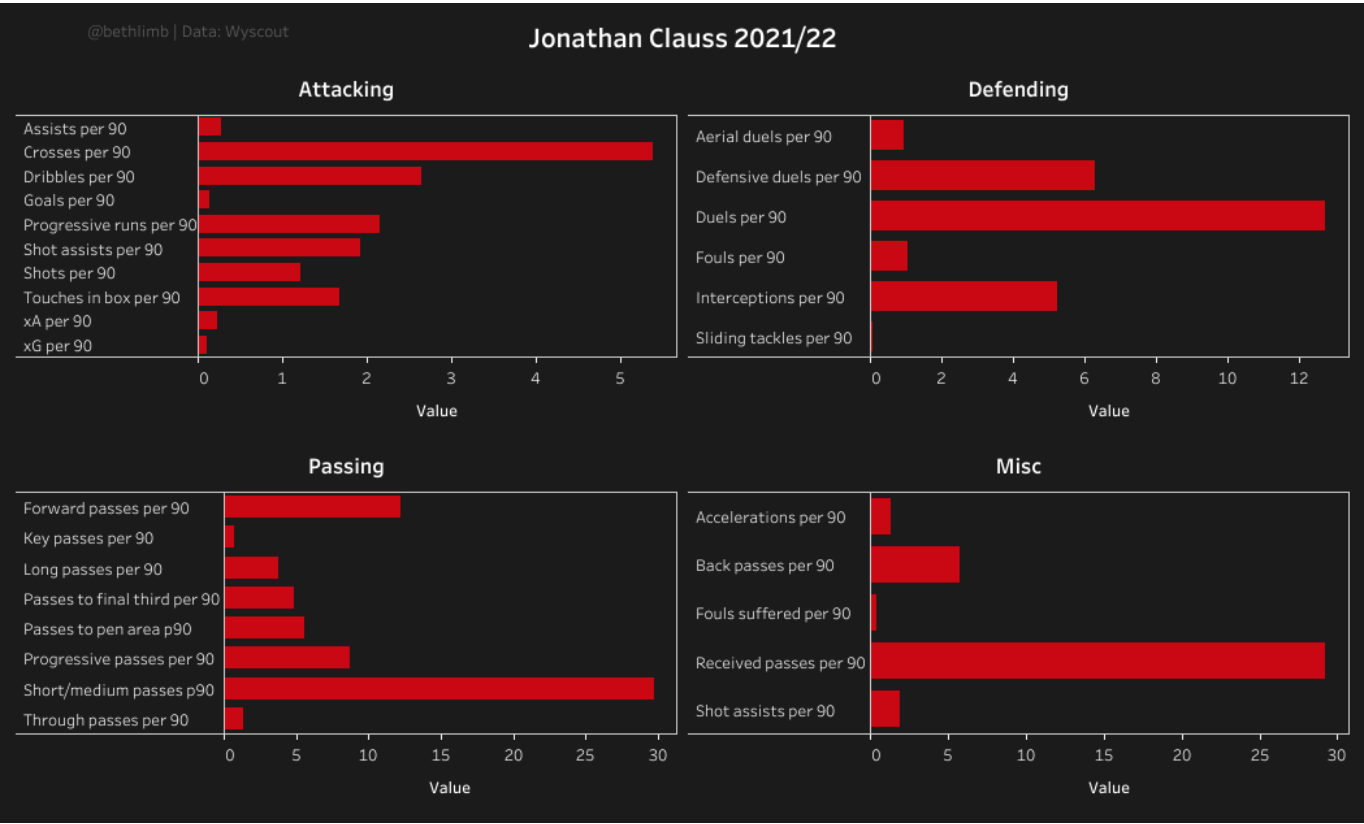 Jonathan Clauss is the player Lens primarily look to utilise for his playmaking qualities, he averages 29 received passes from his teammates per 90. He averages 2.1 progressive runs per 90 which shows how willing he is to get forward into attacking positions. Clauss is very confident with the ball at his feet, he demonstrates a willingness to take on opposition players to drive the attack forward as his heat map below displays.
In attack, the Lens wing back can often be found hugging the touchline which creates plenty of space and time for him to either pick out a pass or decide to run down the right flank with the ball.
He scans the pitch frequently for teammates making runs in behind and is able to play passes over the top of the opposition defence which for the most part reach their desired destination as Clauss had a pass accuracy of 70% during the 21/22 season. Though if he is going to play for a top-level team, this needs to be improved upon.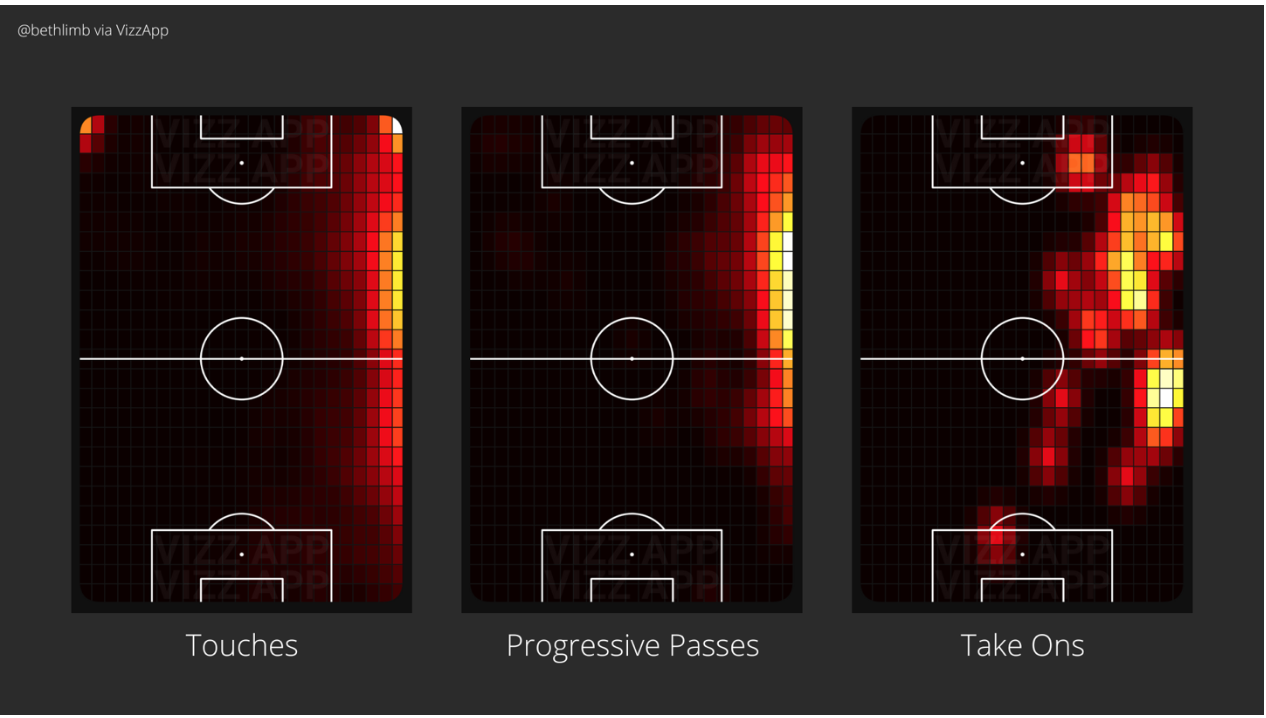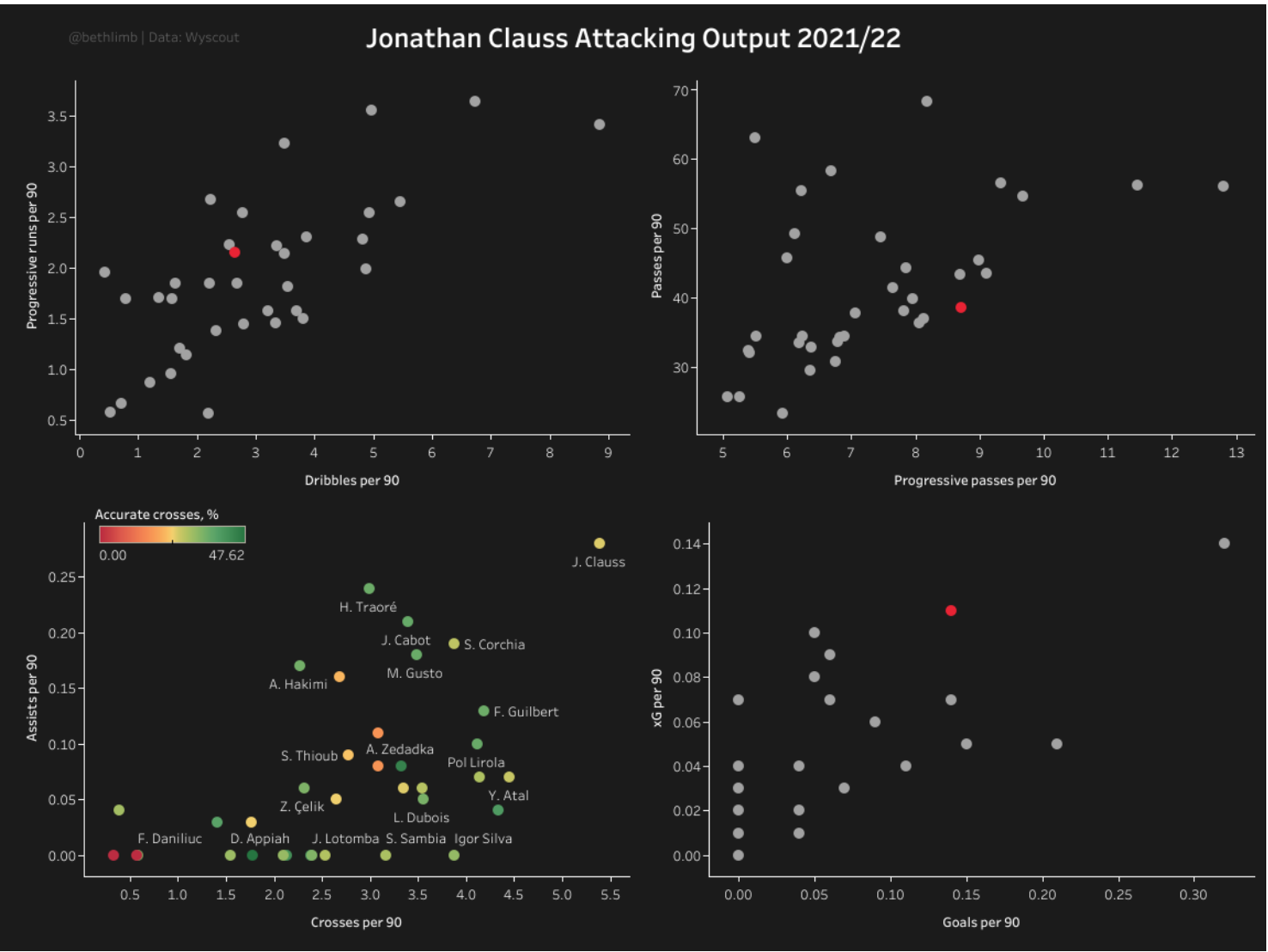 Clauss has a good capability to retain possession which is especially useful as Lens commit many bodies forward during the attacking phase of play. As mentioned previously, he averages over 5 crosses per 90 which is far more than any other Ligue 1 player and leads to a high number of assists. He is also one of the principal set-piece takers for Lens, he has a good delivery and is able to pick out players incredibly well. 
Clauss has contributed 5 goals this season, from an xG of 4.34 with an average of at least one shot on target per 90. He possesses very good decision-making in the final third where he can swiftly decide when to play the ball and when to hold on to it.
The 29-year-old displays great understanding of the game and makes some fantastic off-the-ball runs, whether it be underlapping or overlapping out wide or taking up a more central position he demonstrates a great aptitude for knowing where he needs to be on the pitch.
He can be seen to be always scanning the pitch when making off-the-ball runs, assessing where the space is, his teammates are and where the opposition players are. He is able to break forward at speed and is not scared to lead the counterattack when required.  
Despite being one of Lens' most vital attacking outlets, Clauss does not avoid his defensive obligations. He is very proactive in terms of his defending as he averages 5 interceptions per 90 and is rarely forced into a tackle.
He is able to do this as he has such a good reading of the game and is capable of putting that intelligence to good use on the pitch. The heat map below shows where Jonathan Clauss' defensive actions take place.
When his team loses possession in the final third he presses high up and tries to win the ball back early to prevent Lens from being hit on the counterattack, however, he demonstrates good knowledge of when to drop back and sit in the defensive shape.
 A slight criticism of Clauss' game would be that he plays with his attacking duties in mind and occasionally this can make him slow to react defensively. There have been times this season where he has been slow to track back just in case a teammate wins the ball back and Lens can counter, this can lead to opposition players running into the Lens third unmarked or untracked.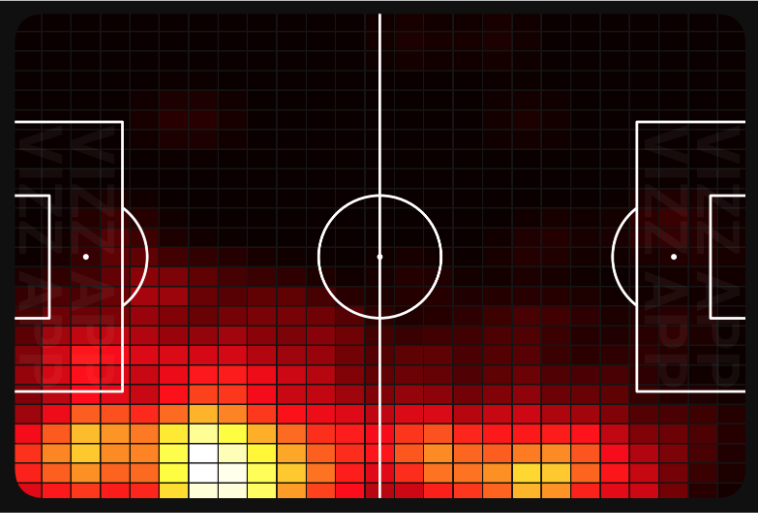 Clauss' Defensive Actions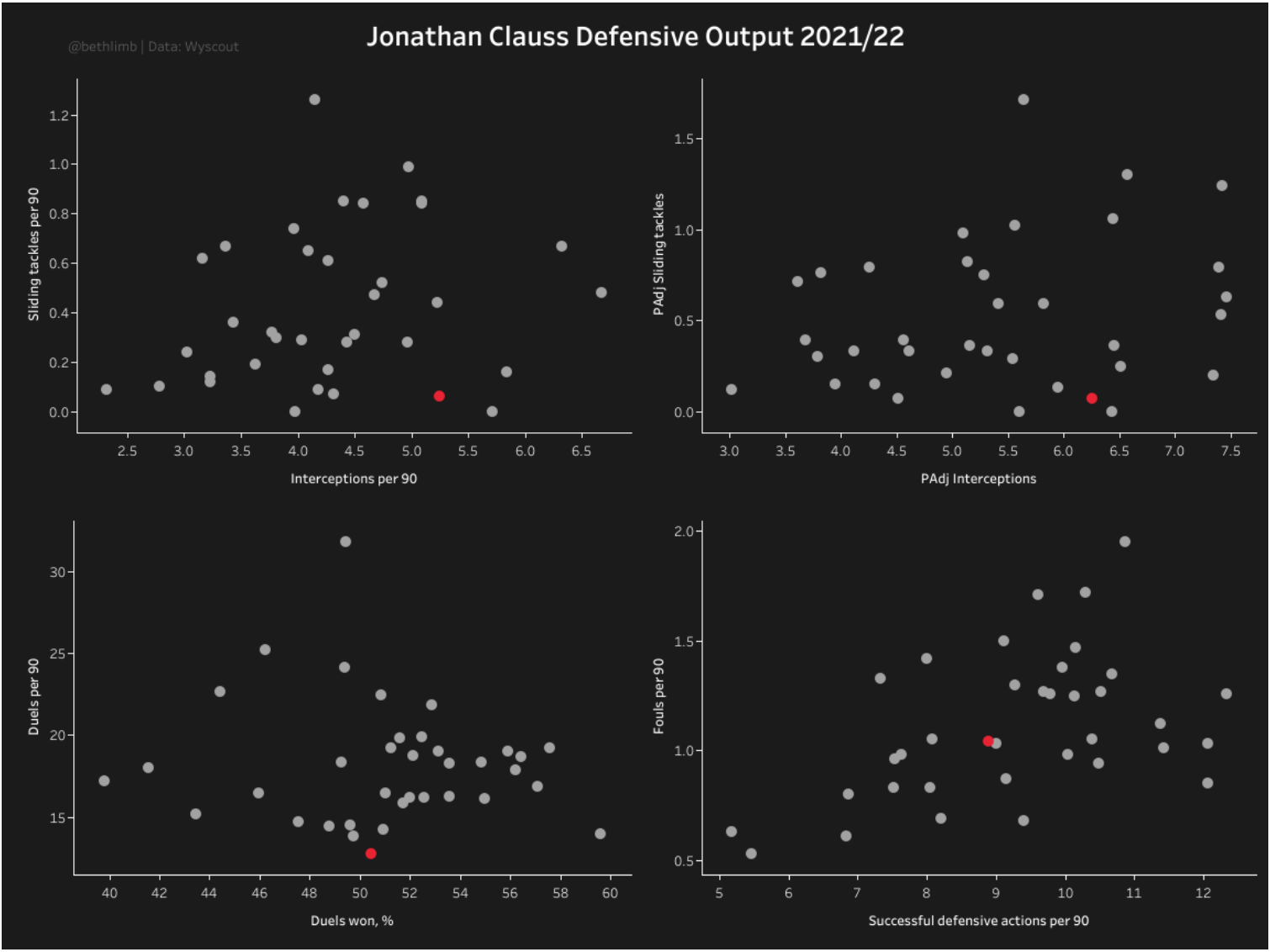 The graphic above demonstrates Clauss' defensive output in Ligue 1 during the 21/22 campaign. He does not engage in a high number of duels per 90 however, he has won over half of his duels throughout the season.
Many of Lens' defensive frailties have been highlighted when they have over-committed in numbers during the attacking phase, leaving spaces to be exploited by the opposition. The 29-year-old is a very willing defender, he understands how important his role is in both attack and defence. 
Jonathan Clauss has been integral to Franck Haise since his appointment as Lens manager. He is a very intelligent player who plays with his head up and is constantly observing the events around him.
A very good crosser of the ball from open play and set-piece situations he is able to provide a relentless attacking threat for his team which in turn increases Lens' goalscoring efficiency. He is willing to make off-the-ball runs to create spaces for teammates and often shows good positioning on the pitch. 
Whether Clauss would get regular first-team football should he move to Stamford Bridge will likely be very much dependent on the form and injury status of first-team regular Reece James.
Nonetheless, Jonathan Clauss would be able to provide a constant flow of goal-scoring opportunities which would undoubtedly improve Chelsea's attacking output. Should he leave the Stade Bollaert-Delelis this summer it's fair to say that Lens would find it extremely difficult to replace such a key player. 
By: Bethany Limb / @bethlimb
Featured Image: @GabFoligno / Hugo Pfeiffer / Icon Sport