Valentín Barco: Boca's Latest Wonderkid
The blades of grass on the Maracanã Stadium has seen the pioneers of 'Joga Bonito' and their footballing children samba their way through fodder in the heart of Rio de Janeiro. Whether it was Pélé, Zico, Garrincha and Romàrio in the 20th century or Ronaldo Nazário, Ronaldinho, Neymar Jr and Vínícius Jr in later times. Yet this article is not about any of these players. Nor in fact, about any Brazilian.
It is about a young Argentinian footballer by the name of Valentín Barco, a prepositioned star of tomorrow. He proudly dons the shirt of Boca Juniors, which this season boasts a shade of blue splashed with the traditionally thick horizontal yellow stripe. On Sunday, he suited up for the biggest game of his career, operating on the left side of attack in Boca's 4-4-2 and lasting 78 minutes before being subbed off in the Copa Libertadores Final.
Serhou Guirassy: The Guinean Striker Hitting Record Heights at Stuttgart
Fluminense would go on to win 2-1 in extra time via a goal from John Kennedy to secure their first-ever Libertadores title, whilst Boca — having lost in the 2018 final to archnemesis River Plate and the 2012 final to Corinthians — once again missed out on a chance to win their seventh Copa Libertadores trophy, squandering an opportunity to go level with Independiente for the most championships (7) in South America. A Brazilian club has now won the competition five years in a row, with Fluminense becoming the 11th Brazilian side to win the tournament.
Background
Valentín Barco was born on 23 July 2004 in Buenos Aires. Some people tend to exaggerate the phrase 'lives and breathes football', but Barco was signed to local team Sportivo Las Parejas at the age of 3 when most toddlers are mastering the art of walking. At the age of 9, he was offered a trial with Boca Juniors after being scouted by Ramón Maddoni.
The legendary scout's discoveries could rival an establishment like La Masia by himself and have been credited with finding multiple fenomenos such as Carlos Tevez, Esteban Cambiasso, Juan Román Riquelme, and recent World Cup winner Leandro Paredes. For Maddoni, who is in his 80s now, Barco presents as the latest duckling of this new generation that is ready to break away from the pack.
The Argentine signed his first professional contract in 2020 and made his debut for Boca in July 2021 against Club Atlético Union, a few days shy of his 17th birthday. He made 3 appearances for the side that season, before returning to Boca's B side for the following season. 2022/23 provided his breakthrough season, as he made 26 appearances across 4 competitions for Boca, scoring 1 goal and providing 3 assists.
Player Profile
Barco is a left-footed full-back, but under Jorge Almirón has been playing in a more slightly advanced role in left midfield. The tactical flexibility that Barco gives to his manager is a great asset at such a young age. He even played in central midfield in 22/23 for two games, grabbing an assist against Lanús.
Below you can see a comparison graph between Barco and Rico Lewis of Manchester United, whom Pep Guardiola deployed in a holding midfield role at times last season. This comparison seems sensible on the rationale that both players had breakthrough seasons last year, albeit in different continents: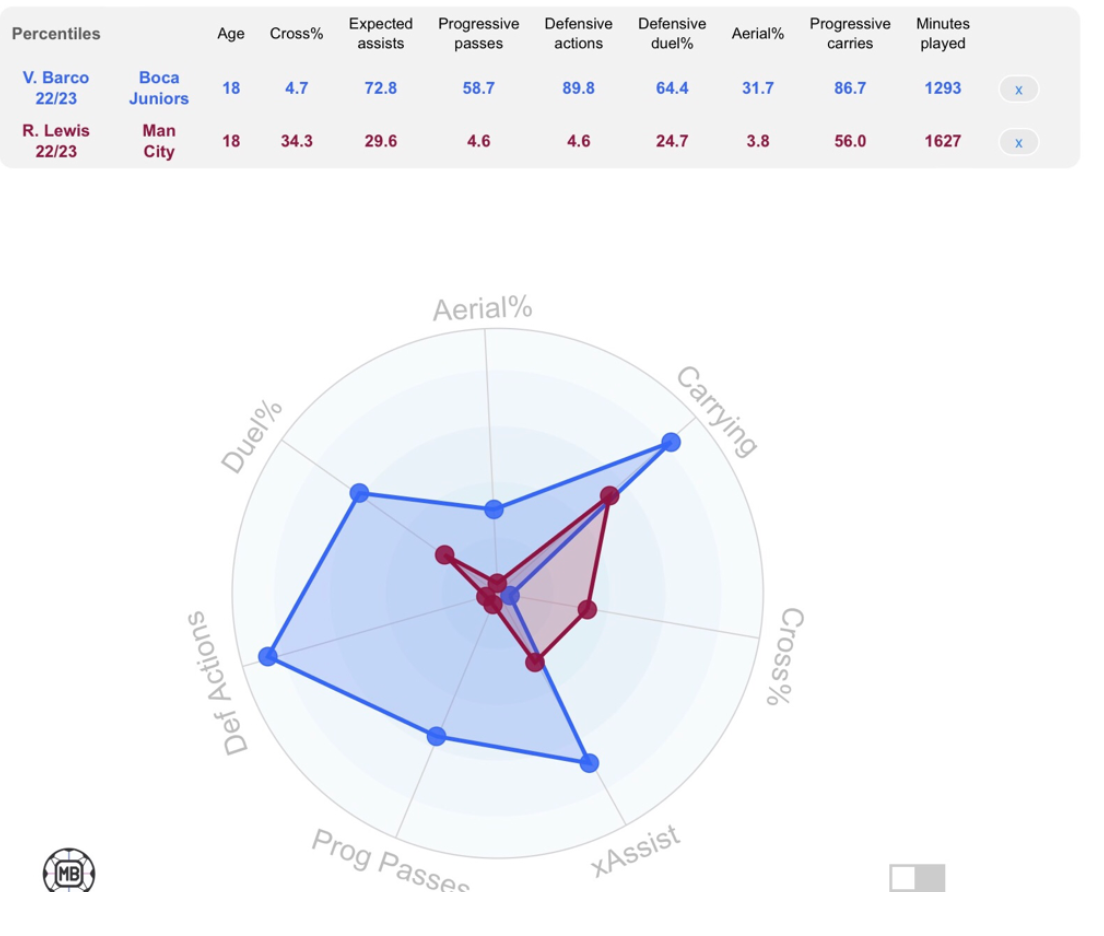 This graph illustrates Barco's confidence in carrying the ball and completing defensive actions for the team despite playing in various roles. The variable to take into account is the level of competition between the Premier League and Primera División, which shows a stark difference in both players. This season, he has played 28 games for the club so far across 4 competitions, as his influence grows on the team amidst being mildly catcalled by a number of Premier League clubs.
Some of his best strengths are his ability to hold width in a tactical shape. In an age where many full-backs/wingers are drawn into (or instructed) inverting as inside forwards, he disciplines himself well to hold his position more often than not. His pace and ability to cover vast amounts of ground suits him for the role across the left side, whether it be advanced or deep.
Some of the areas that Barco could improve upon are his discipline and aerial duels. At 5ft 6, he needs to compensate for his height with a higher level of tenacity to match bigger players, which will be an element of concern to pick up on if he ever moves to the Premier League. Picking up 4 yellow cards in 2023 in the Priméra Division, at a rate of a card every 299 minutes. In addition to this, as good of a technique as his crosses have, the delivery rate is poor and is something Barco would need to improve upon.
Conclusion
It was tempting to end this article with some Muhammad Ali quote regarding fearlessness and courage. Instead, these are the words of Barco himself speaking ahead of the Copa Libertadores Final on Saturday: "At the Maracaná it will be all about Boca. They are going to take over everything as always, every place we go it is always all from Boca. They are crazy, and people's support is always felt a lot. They play well but so do we, so we are going to go and win." If that doesn't sound like a young man who is about to hit the big time, then what is?
By Abdullah Mamaniyat | @mxmnyt
Featured Image: @GabFoligno / Marcelo Endelli / Getty Images
Data Visual: @DataMB_