What Happened to Lucas Torreira at Arsenal?
Coming off the back of an impressive 2017/18 season both with Sampdoria and the Uruguayan national team, the hype surrounding Lucas Torreira was astronomical. After a decade, Arsenal fans finally thought they had a Gilberto Silva replacement. A fellow South American, embodying the Garra Charrúa mentality, with the heart, desire, energy and determination to rejuvenate the Arsenal midfield.
The hype was justified, whether it was battling with Cristiano Ronaldo, sacrificing his head to stop an attack or his ability to play with an air of confidence few see in one so young on a stage as immense as the World Cup. To the eye, there was plenty to like.
His play was backed up by numbers too and as teams now scout in a data-driven manner, this would have been key to his eventual signing at Arsenal.
In a full season at Sampdoria (2017/18) starting all his 35 matches, Torreira would average 2.0 interceptions and 2.8 tackles per game ranking him 3rd in Serie A for most tackles (101). He also had a great eye for a pass, completing 87% of them. In terms of his whereabouts on the pitch, he was everywhere.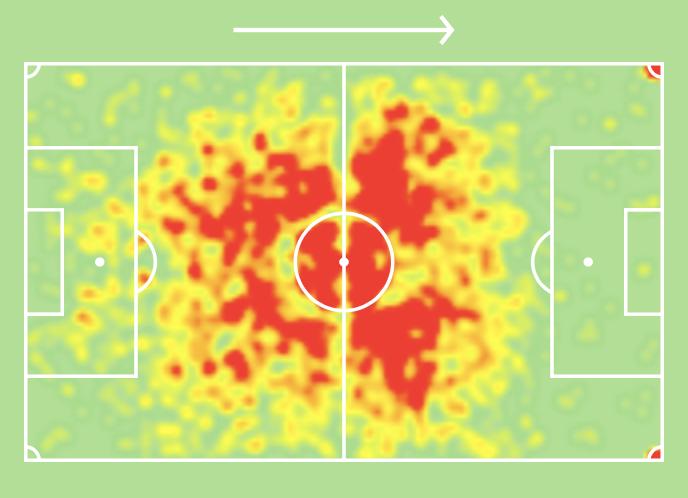 Torreira's heat map for Sampdoria in the 2017/18 season [SofaScore]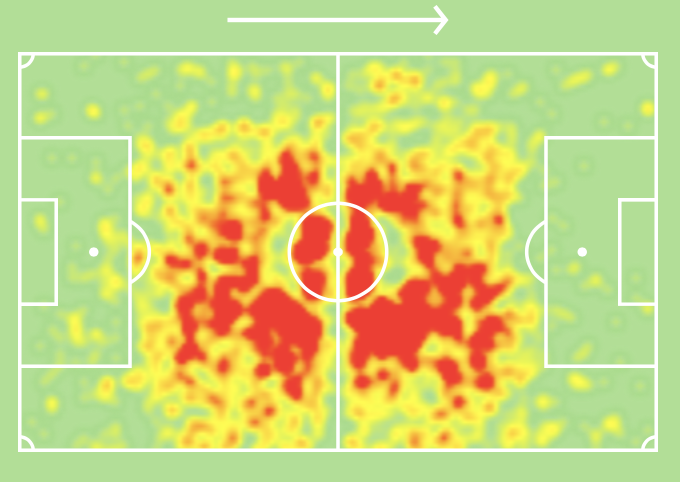 N'Golo Kanté's heat map for Chelsea in the 2016/17 season [SofaScore]
When comparing the two, Torreira covered more of the pitch than Kanté. Nevertheless, the Premier League is an entirely different animal, so stats should be taken with a grain of salt. For Arsenal, however, they had seen enough, and on the 10th of July 2018, the rumours rang true as Lucas Torreira was formally announced as an Arsenal player.
But as we approach the end of the summer transfer window, the vast majority of Arsenal fans are calling for him to leave with Arsenal seeming to offer his services to any willing club. So, what went wrong?
First Season at Arsenal
Torreira was signed by the renewed regime at Arsenal headed by then Head of Football Raul Sanllehi and would be under the instruction of newly appointed head coach Unai Emery.
The Uruguayan would compete for his position with club captain Granit Xhaka and rising star Mattéo Guendouzi. As impressive as Guendouzi had been in pre-season, Emery would eventually select a midfield partnership of Xhaka and Torreira.
Defensively, the two would work in cohesion pressing high up the field eager to win the ball or sitting deep in front of the defence keeping space between lines at a minimum. In attack, they would spread the ball side to side as well as occasionally threading the eye of the needle into overlapping fullbacks or zipping the ball into the feet of Mesut Özil leaving him to innovate.
This partnership proved its worth as Emery's side would go the next 18 games unbeaten in all competitions, Torreira would be the star man in these fixtures earning himself numerous Man of the Match awards. However, one performance eclipsed them all, that being in the North London Derby.
In what was one of the most passionate derbies in recent memory. Torreira put on a gritty display, upsetting attacks, winning fouls and despite conceding two goals, Arsenal mounted a spectacular comeback to win 4-2.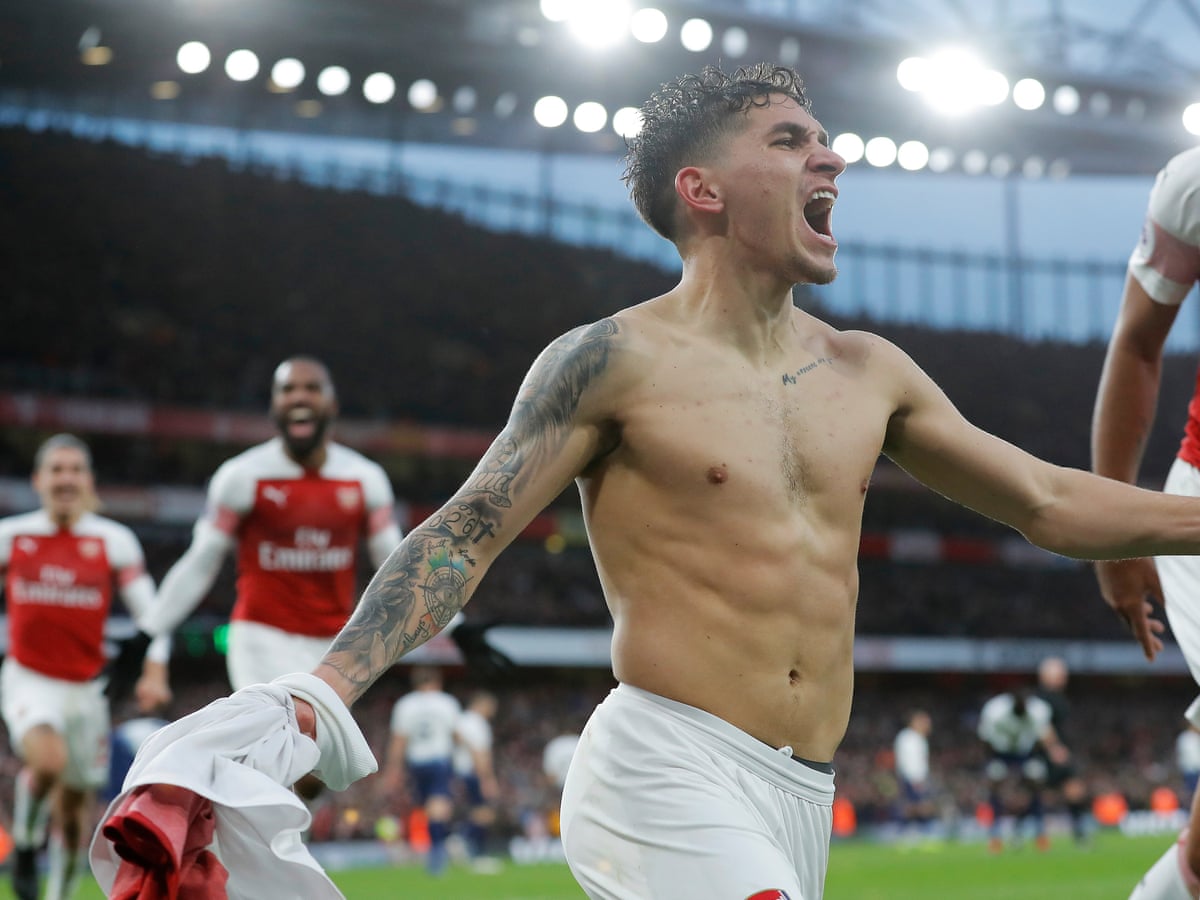 Photo: Tom Jenkins / The Guardian
Torreira would score his first goal for the club by lashing a strike past Lloris in the 77th minute to kill the game. The Emirates around him erupted as he pounded the carpet in euphoria announcing his name to the Arsenal faithful. His performance was a true personification of the Garra Charrúa mentality and the desire to fight back against all the odds. Something which Arsenal had been crying out for.
Ultimately, the rest of the season would not be so fruitful. After being knocked out of the FA Cup in humiliating fashion to Manchester United and a series of subpar performances in the Premier League left them with no chance of competing with frontrunner's Manchester City or Liverpool. Then in the Final of the Europa League, the Gunners were dismantled by the brilliance of Eden Hazard who dazzled in his final match for Chelsea bringing the trophy to West London.
For Torreira a season which had started so brilliantly then slowly trailed off as he was unable to replicate any of his performances seen early on in the season. Ultimately coming to an end when in the 67th minute of the final, he left the pitch in tears as he was substituted.
It was by no means a bad season, but instead, one that lacked consistency. His stats dropped off considerably from his time with Sampdoria, averaging only 1.2 interceptions and 1.9 tackles per game with Arsenal. While this is expected when a player moves to a new league and a team which is ball-dominant, it is fair to say it was underwhelming.
The Second Season
The worst for Torreira was yet to come. The 2019/20 season. To start, it seemed that Emery had licenced the bizarre task for Torreira to play further up the pitch. Emery was leaving a mistake-prone defence with even less protection than it had before. Liverpool successfully exploited the issue in the league cup which ended 5-5; Arsenal were knocked out on penalties.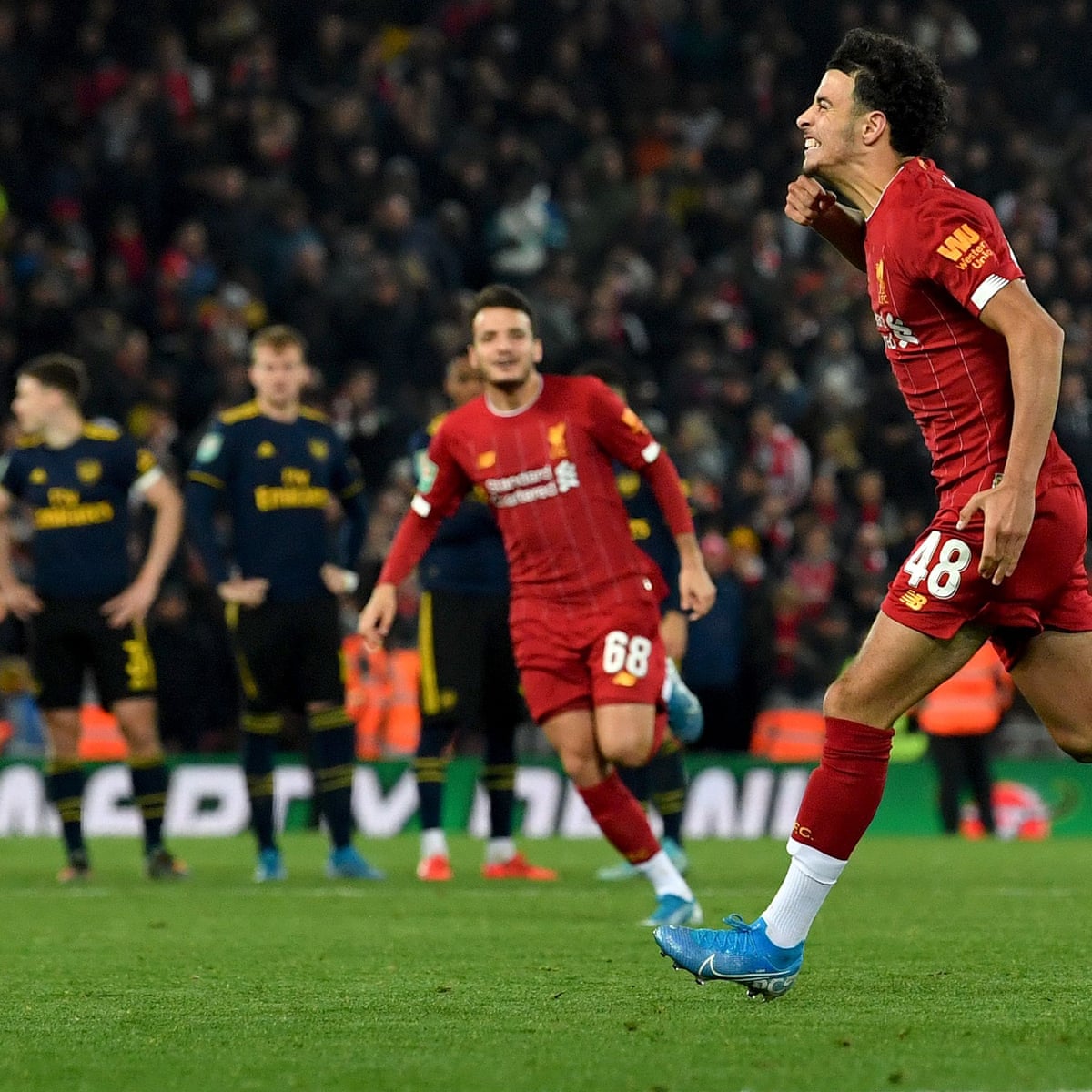 Photo: Paul Ellis/AFP via Getty Images
Next was the persistence in building from the defence, with players who do not have the ball-playing ability. Passes often found wrong-coloured shirts or the touchline and when the ball did come to Torreira, there were very few options to progress the ball.
Players seemed unsure of positioning, and with teams utilising the high press, a single mistake is all it took for the house of cards to come tumbling down. As a result, Torreira was forced to pass back to his defenders/goalkeeper, which put enormous pressure on the defence leading to errors and goals conceded. 
Teams continually took advantage of this weakness, and soon enough Arsenal went tumbling down the table. Ultimately the sacking of Emery would follow.
Next was the appointment of the former Arsenal captain Mikel Arteta. Who was a breath of fresh air for the club. Many thought this would give Torreira a second chance to regain his form. Arteta though, was not convinced. Instead, he opted for a midfield pairing of Xhaka and Dani Ceballos.
Ceballos implemented similar energy in the midfield like Torreira but was a more artistic proposition going forward, giving the Gunners a different dynamic in attack. Ceballos would go on to have a stellar season post lockdown leading the side to their 14th FA Cup trophy, earning another loan move to the club.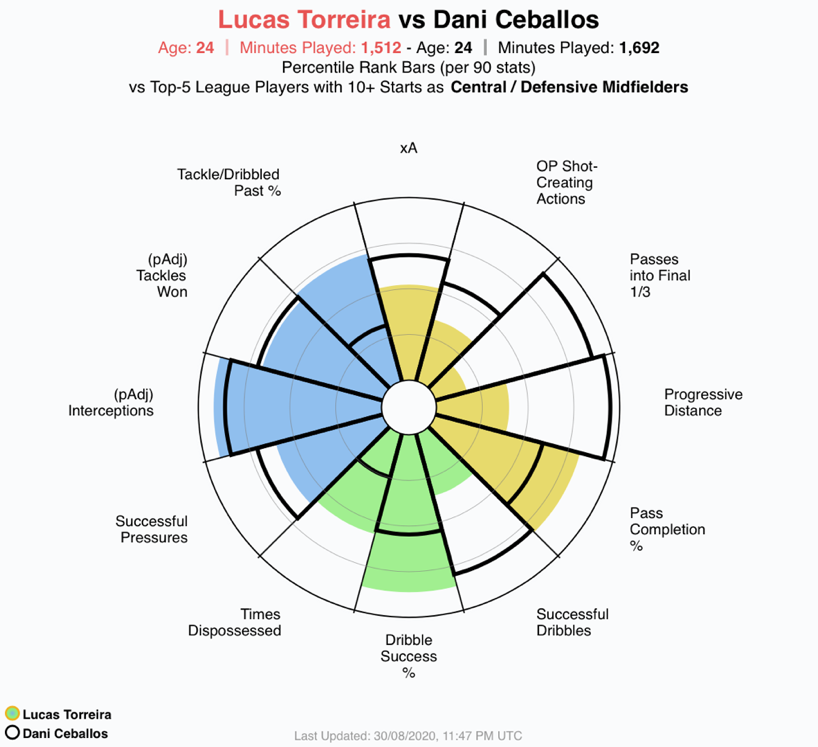 Photo: StatsBomb
So, What Exactly Went Wrong for Torreira?
Firstly, his physical attributes. The Premier League is the most unpredictable league in the world. The teams faced will come in a multitude of styles, ranging from Pep Guardiola's tiki-taka approach to Sean Dyche's bully-ball. This demands the players's fitness to be at the highest level, something which Torreira has not been able to maintain, hence his drop off in performances in his first season at the club.
Standing at 5 feet 6 inches, Torreira often finds himself outmatched. In aerial battles he is small on average winning only 0.4 duels per game, on the ground he can be beaten one on one (60% of his ground duels won in only 3.1 attempts) and lacks the athleticism to recover. These flaws made it very hard for Torreira to survive out of possession and even more so in counterattacking situations.
In addition to individual flaws, the way both Emery and Arteta set-up their sides do not get the best out of Torreira.
During his time at Sampdoria, Marco Giampaolo would use a compact formation (4-3-1-2). In attack they would flood the box, pushing fullbacks high up the pitch to whip in dangerous crosses. In defence, they would press in groups leaving little space between lines to prevent teams from attacking. Giampaolo wants his players to express composure on the ball whilst under pressure and encourages his side to play with an air of arrogance.
For Giampaolo, Torreira was the centre piece to his Sampdoria side, proving to be crucial in attack and defence. Torreira would control the tempo in the team distributing to his former teammates Karol Linetty and Dennis Praet to continue the attack. He would also utilise his excellent passing range to play to the two strikers or overlapping fullbacks.
On the ball, he is calm, collected, with impeccable close control making him a difficult player to dispossess. Moreover, if a team did decide to press, his small stature allowed him to win fouls, on average he was fouled 2.3 times per game (2017/18).
Helping Sampdoria to overcome the press, enabling his teammates added time on the ball to choose a pass. Additionally, Torreira took all the set-pieces for Sampdoria, his incredible crossing ability causing plenty of chaos from dead-ball situations.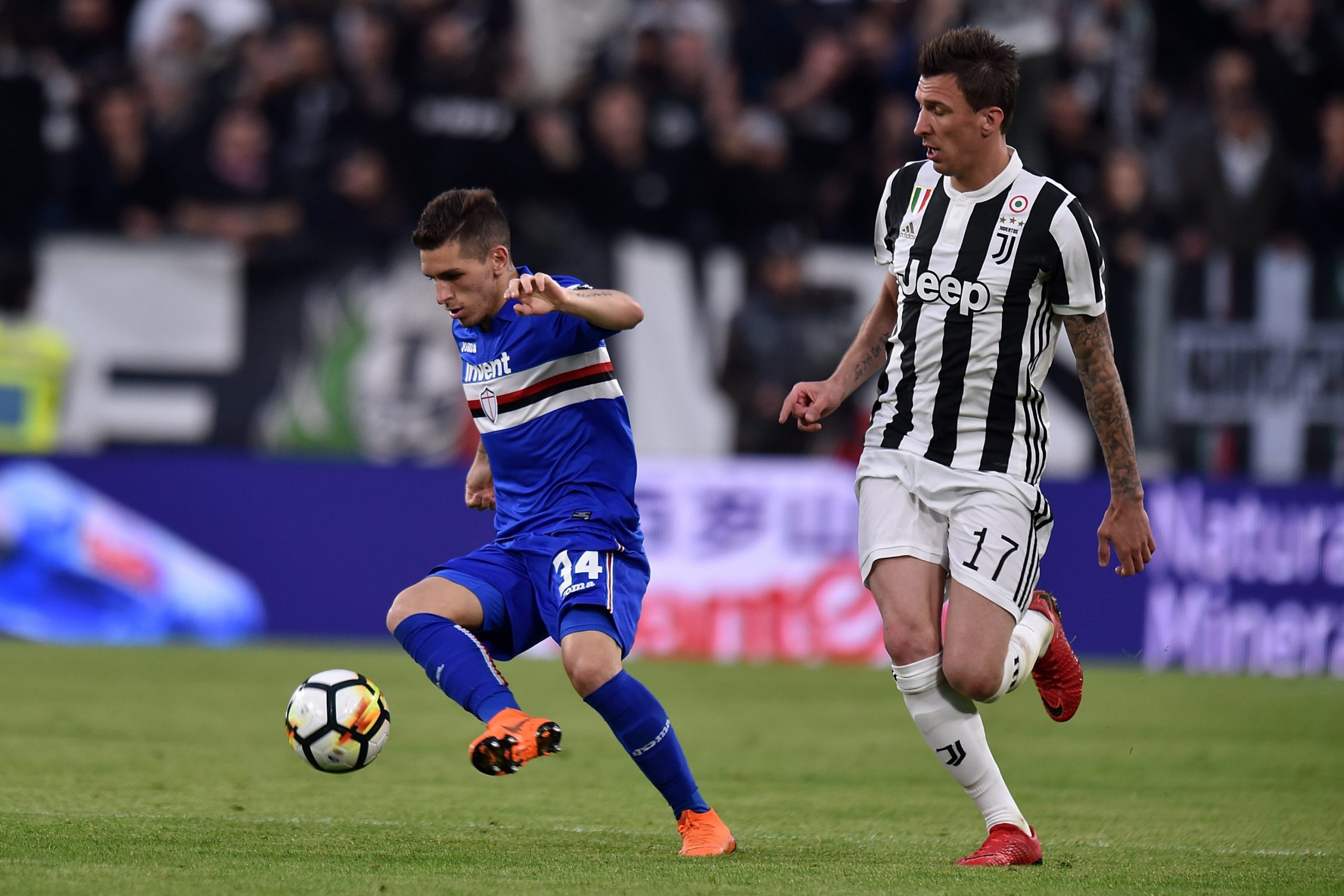 Photo: Tullio M. Puglia/Getty Images
This system played into the aggressive strengths of Torreira. Any misplaced touch or pass and he was pouncing on the ball. Showing an unbelievable knack for getting in-between passes or disrupting the pattern of play and with Sampdoria pressing in groups usually one of his teammates would pick up the scraps.
So, the majority of play was centred around Torreira, with teammates to hide his physical flaws. Whereas at Arsenal, the team has an attacking focus. The motive to play a beautiful brand of football built around the mercurial Aubameyang.
Unfortunately, this leaves Torreira to fend for himself, and due to his small stature, he is usually at a disadvantage. Consequently, he has struggled to replicate the form he had at Sampdoria and has been pushed to the fringes with Arteta preferring to play Ceballos.
Where Next for Torreira?
There had been rumours of Torino being interested and with the side recently appointing the same Marco Giampaolo that oversaw Torreira's rise it would be no surprise that the Italian side would like to acquire his services. However, recent reports instead suggest that Atlético Madrid are the frontrunners.
The culture is a perfect fit both on and off the pitch, so it would be easy to adapt. But most importantly for Torreira, he would be coached by Diego Simeone. A serial winner, someone with a style of play that is perfect for Torreira's profile and would gift him the opportunity to hit the heights he did with Sampdoria.
At the moment, it's Arsenal that hold all the bargaining chips, and maybe a deal involving Thomas Partey could materialise. However, Atlético is adamant if a team wants him, they must pay the release clause. It will be an exciting end to the transfer window for Torreira with a move on the cards and it would not be surprising to find him playing in a shirt which does not don the Arsenal badge this season.
By: Toby Rathborne
Featured Image: @GabFoligno / David Price / Arsenal FC