What João Palhinha Can Provide to Marco Silva's Fulham
Fulham Football Club have, once again, found themselves playing Premier League football; this time around, they'll be hoping their return to the top level of English football lasts longer than a single season. During their last two spells in the Premier League, the Cottagers have only spent a single season in the top flight before being immediately relegated.
Similarly to Norwich City, Fulham have become the quintessential yo-yo club and this is a cycle in which no club wants to become stuck. That said, in their most recent Championship campaign, Fulham played some exceptional football at times. 
Marco Silva's expansive style of football led the team to an impressive 106 goals scored — 32 goals more than the next best team — and an eventual title win. However, it goes without saying that the Premier League is an entirely different beast; squad and style adjustments are required to adapt to the elevated standard of competition.
This is largely why Fulham have shelled out approximately £17 million on João Palhinha from Sporting Clube de Portugal to bolster their midfield and strengthen their defensive solidity.
Fulham Plans for Next Season as Marco Silva's Side Look To Avoid Fate of 2021 and Avoid Relegation Upon Premier League Return
Palhinha is an astute ball-winning midfielder. He's extremely aggressive defensively and never backs out of a challenge, often diving into tackles in an attempt to curb opposition attacks. He's especially aggressive in stopping counter-attacks early by lunging into challenges, often preferring slide tackles in order to maximise his tackle radius.
This ability to be effective in the counter-press is particularly important for a Fulham side that plays an attack-minded brand of football and is subsequently vulnerable to opposition breakaways. Not only is the Portuguese destroyer aggressive, but he's also extremely proficient defensively. He presses aggressively in a mid and low block and records a high volume of tackles due to his proximity to the player in possession.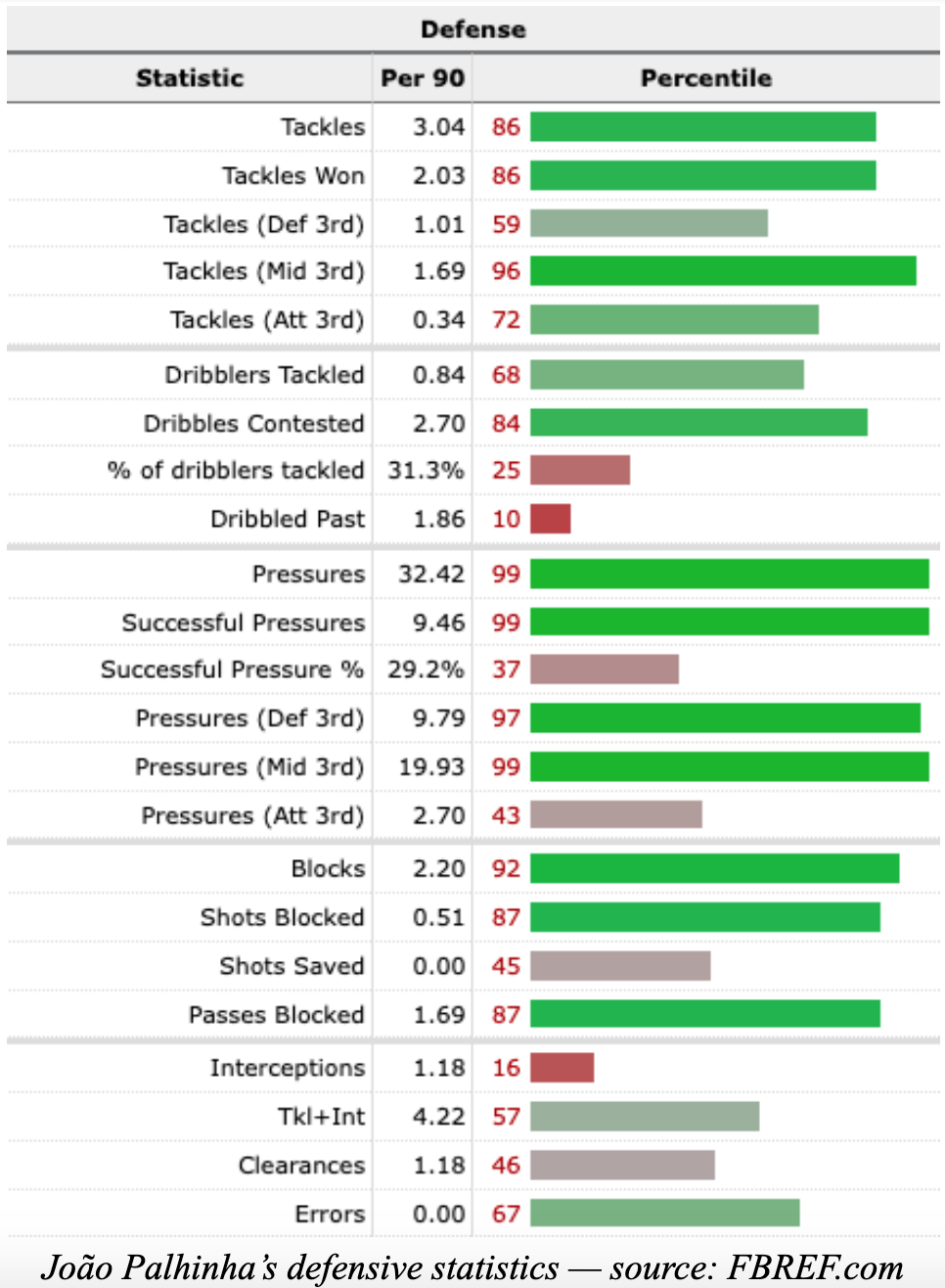 When compared to midfielders in Europe's big 5 leagues, João Palhinha is statistically one of the most proficient defensive midfielders in Europe. He is a committed presser of the ball, ranking in the 99th percentile in pressures, successful pressures and pressures in the middle third of the pitch, as well as ranking in the 97th percentile in pressures in the defensive third of the pitch.
This is the ideal work rate for a defensive midfielder, especially one expected to protect his defence against Premier League opposition. He puts himself in strong positions to make tackles as he ranks in the 96th percentile for tackles in the middle third of the pitch.
Palhinha is evidently a very well-rounded defensive player, but his weaknesses in possession perhaps prevented him from landing a bigger move this summer. He's not a particularly dynamic passer of the ball and was subsequently not asked to act as the primary deep ball progressor for Sporting CP.
This will likely be the case at Fulham too, with Harrison Reed and Andreas Pereira being superior technicians and likely being Fulham's primary options in possession in the midfield. This works to Palhinha's strengths as he can dedicate more of his attention to his defensive gifts as opposed to his offensive weaknesses.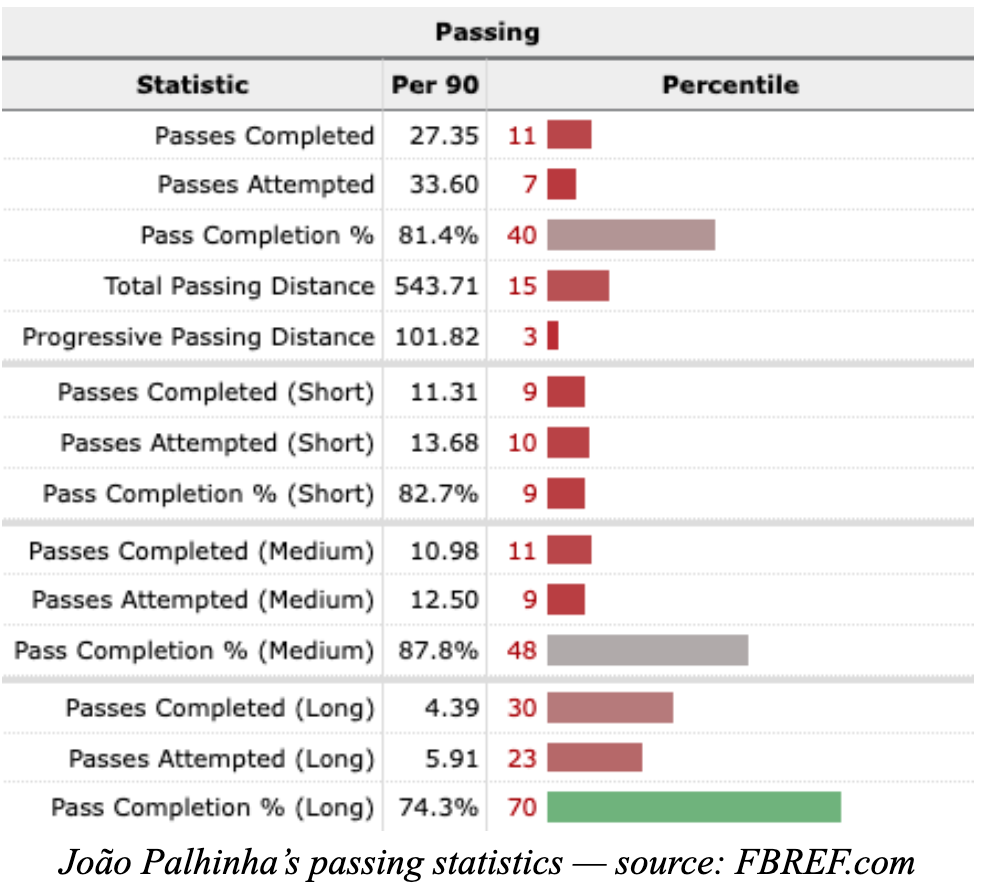 In a Sporting CP side that averaged 60.4% possession during the 2021/22 season, Palhinha's statistics are very underwhelming and that is precisely why it's so important to surround him with quality passers and ball carriers.
Fulham were a possession-based side in the Championship too, recording the second highest average rate of possession, behind only Swansea City. This ball dominance will certainly decrease in the Premier League, but it shows the extent to which the Lilywhites value ball retention in the implementation of their style. That said, where exactly will João Palhinha play in Marco Silva's side?
During the 2021/22 season, Fulham largely played in a 4-2-3-1 formation. However, early signs point towards Marco Silva deploying a 4-3-3 more often this season. This formation is not totally foreign to the Fulham players as they occasionally set up in this shape last season, but it's likely to be their primary shape this season.
This change is presumably with the aim of giving the team more solidity in the middle of the park whilst still maintaining the juego de posición concepts that Marco Silva has implemented in West London.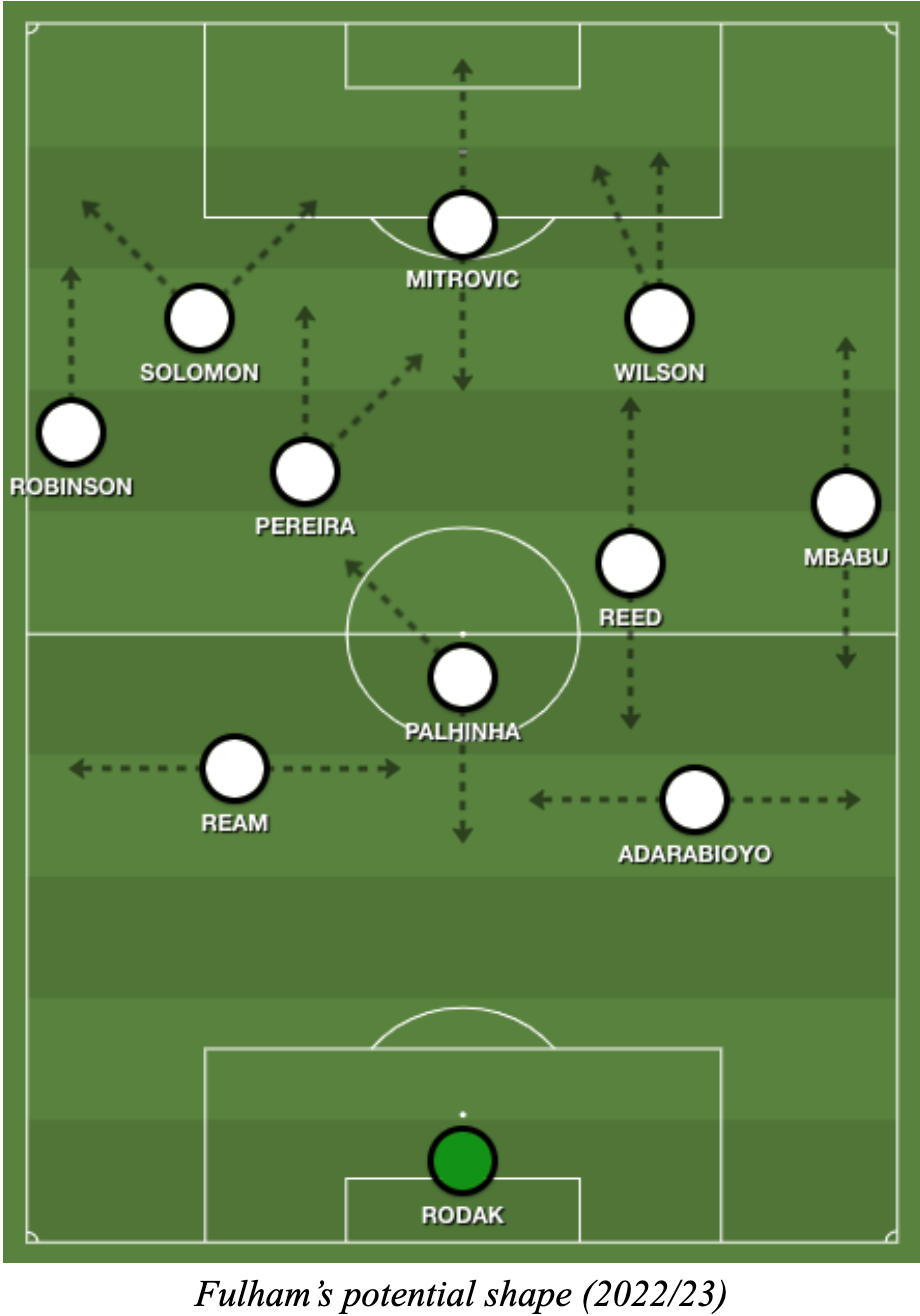 This shape allows Palhinha to drop between the centre-backs in the first phase of build-up and play simpler passes without having his blindside exposed. He also benefits from having Tosin Adarabioyo next to him in the first phase, with the former Manchester City academy graduate possessing an incredible passing range, especially in cross-field diagonals.
Palhinha's weaknesses in possession can largely be hidden and his manager will certainly be weary of opposition teams using him as a pressing trigger. The Portugal international will have to adjust to being a holding midfielder in a single pivot. He was most commonly deployed in a double pivot for Sporting CP, regularly playing as a right-sided central midfielder.
Coupled with the three centre-backs usually fielded by Sporting boss Rúben Amorim, Palhinha generally had plenty of protection in the event that he pushed forward to press the ball and make a tackle, or if he happened to lose possession in the middle third.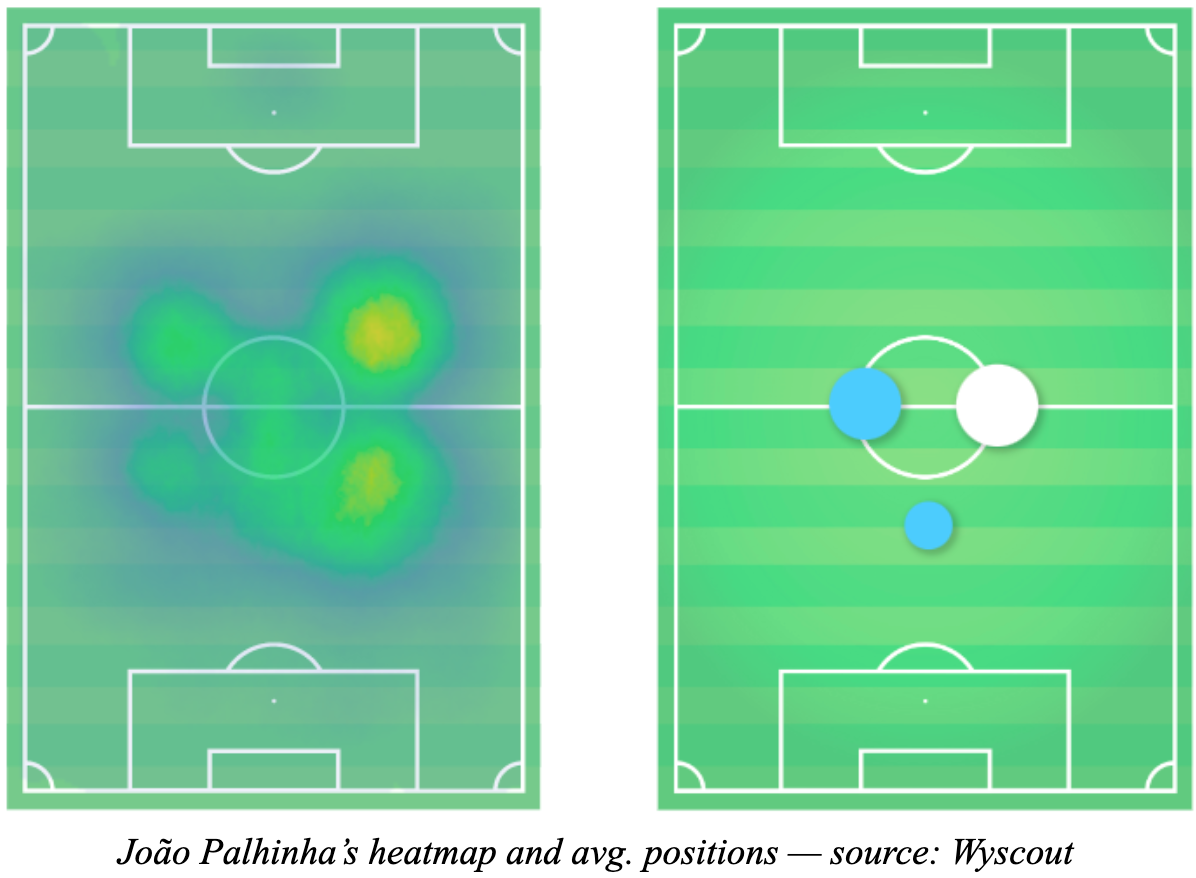 The shift to becoming a holding midfielder in a single pivot is a difficult one and requires far more discipline positionally, in and out of possession. That said, João Palhinha is an intelligent player with experience in the Champions League and with the Portuguese national team — these experiences often translate to an ability to adjust to role changes and an increase in the level of competition.
Fulham have made prudent decisions in the transfer market in preparation for a big season back in the top flight; the acquisition of João Palhinha is no exception. He'll have some adapting to do and may experience some early difficulties, but, if he's allowed to play to his strengths, he should be a valuable addition to a Fulham side that will likely be fighting to stay in the Premier League.
By: Lebohang Mwamuka / @lebzygold
Featured Image: @GabFoligno / Gualter Fatia / Getty Images