What's Behind Grady Diangana's Recent Upturn in Form?
Grady Diangana contributed to four goals in as many games leading up to the November international break, earning him a second international call-up from the Democratic Republic of Congo. This is the first time he's contributed to goals in consecutive matches since the start of last season when he followed an assist against Watford with a goal against Blackburn, and he continued where he left off, doubling the lead after halftime in a 2-0 victory against Ipswich Town.
West Brom currently sits 5th in the Championship, two points behind Southampton, three behind Leeds, 10 behind Ipswich and 13 behind Leicester, one point above Preston and two above Cardiff and Hull, and if Diangana continues to perform as he is currently we should expect them to be in the playoff places come May. He's struggled for confidence and suffered with injuries since joining West Brom but the style of play implemented by West Brom Head Coach Carlos Corberan seems to have him enjoying his football again.
The Style
Since mid-October, West Brom have been playing a De-Zerbian brand of football focused on baiting the press to create space for attackers. This has benefitted Diangana who prefers to be running onto the ball in space to receiving the ball into his feet against an organised low block. The structure has changed a few times but the principles of play remain similar, the only difference being the speed they attempt to play into the box.
Structure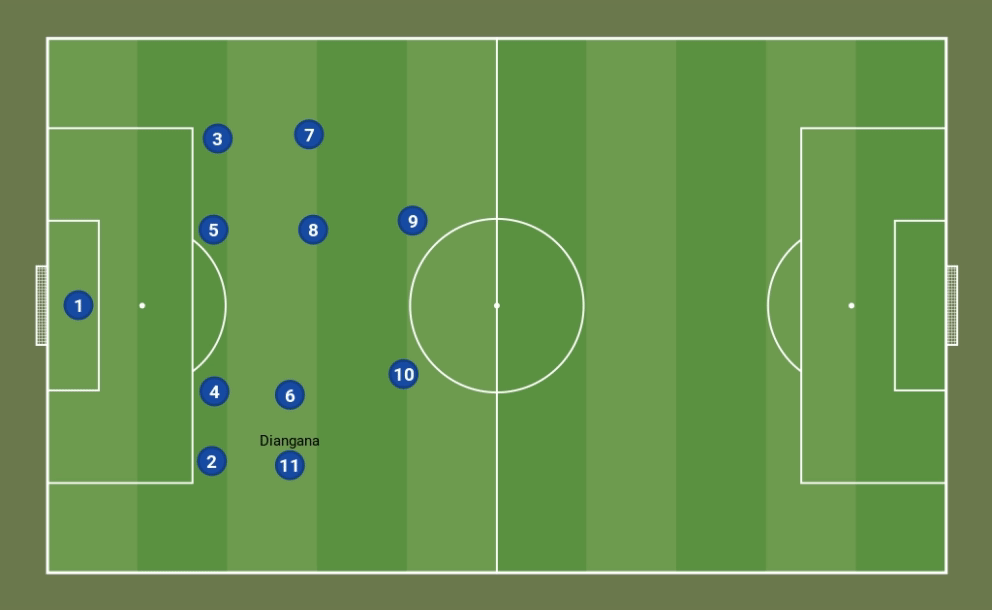 West Brom's different structures out of possession
West Brom have used 4-4-2, 5-4-1 and 5-3-2 shapes off the ball recently. When possible he plays right midfield out of possession but if they aren't defending with wide midfielders he joins the forward line. His work out of possession has been excellent which is no surprise given how at 21 he already understood how crucial the defensive side of the game was, he told the Guardian in 2019 "Whatever I have to do for the team I'll do."
This willingness to perform different tactical functions has been to his detriment at times though as the former West Brom coach, Valerien Ismael persisted with him using him inside right. Diangana was West Brom's best presser under Ismael but his role in possession stifled his 1v1 threat out wide and him being used primarily as a goalscorer took the fun out of his football. His lack of quality on the half turn and strength meant he struggled in central crowded areas so consistent use in those zones saw his confidence and form dip.
A principle of West Brom's style has been moving attackers across the forward line and making them occupy different zones. Diangana has struggled with this against QPR and Coventry but due to excelling when isolated with a fullback he's been given a free pass to stay on the right touchline in games against Hull and Southampton.
Benefitting from Artificial Transitions
Under previous managers, Diangana was seen as the answer to the team's creative problems but under Carlos Corberan he is viewed as part of the solution. This shift in mindset has eased the pressure on him and was best seen in his contribution to West Brom's 2nd goal against Hull City: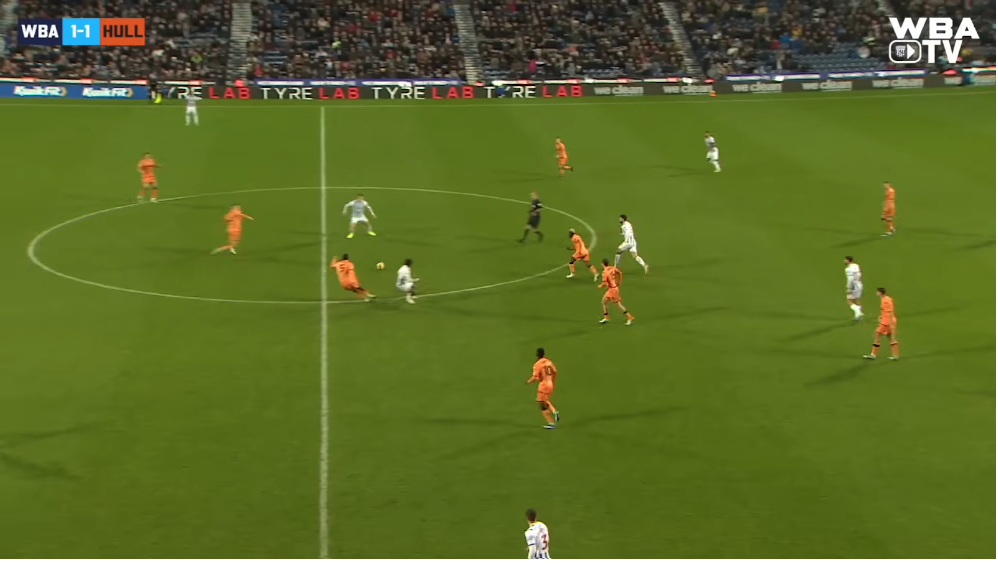 He knows he's able to stay wide and wait to receive the ball as the move had been worked on in training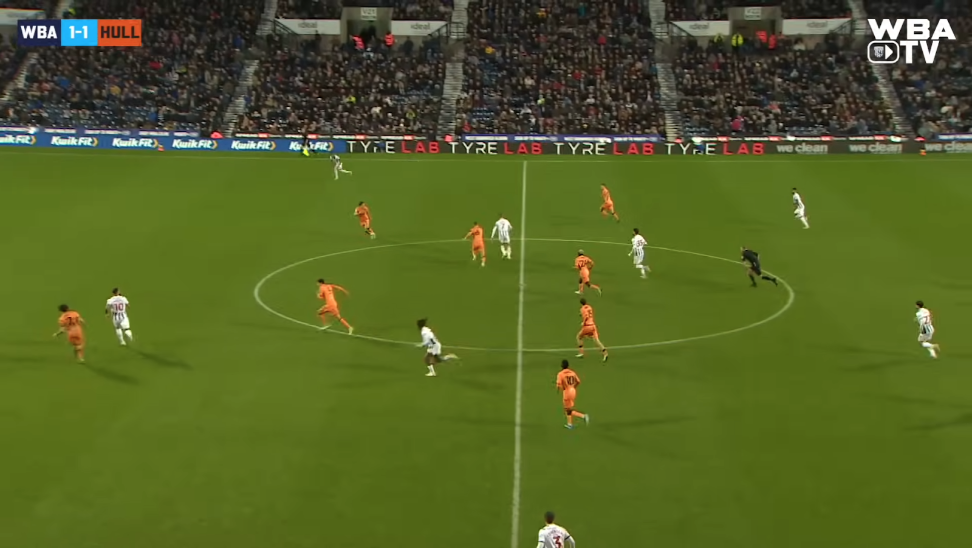 Starts a slightly curved run at full pace towards goal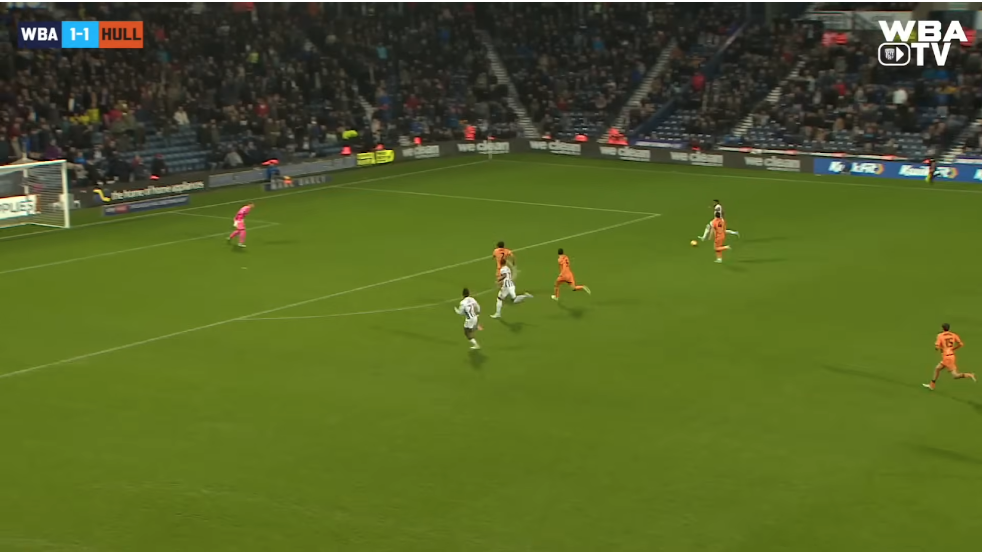 He controls the ball and begins decelerating before his 2nd touch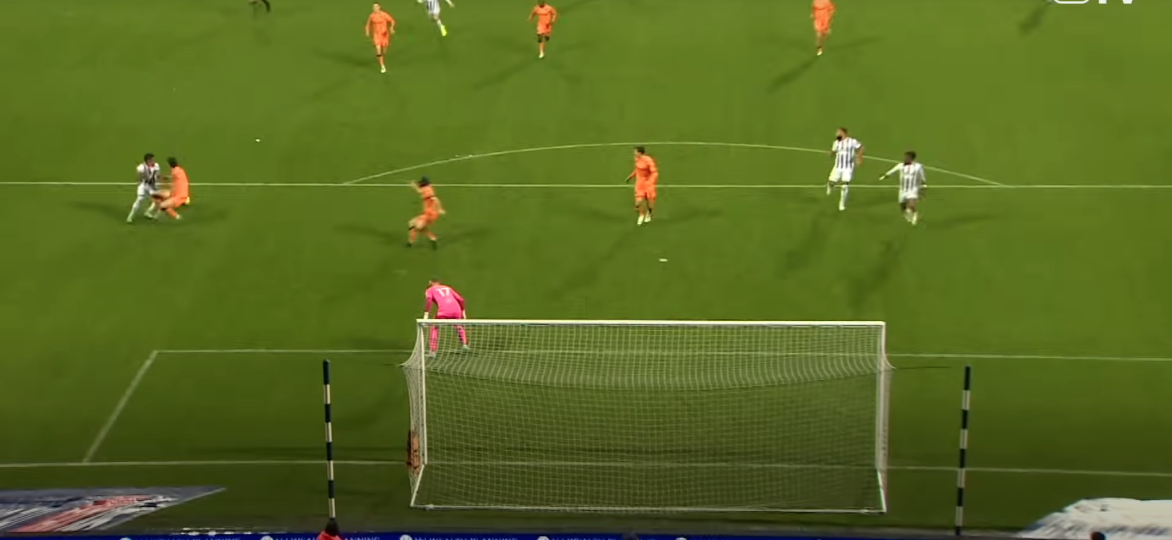 Deceleration allows him complete control of the ball to chop the defender, leaving space to play across the box into Matt Phillips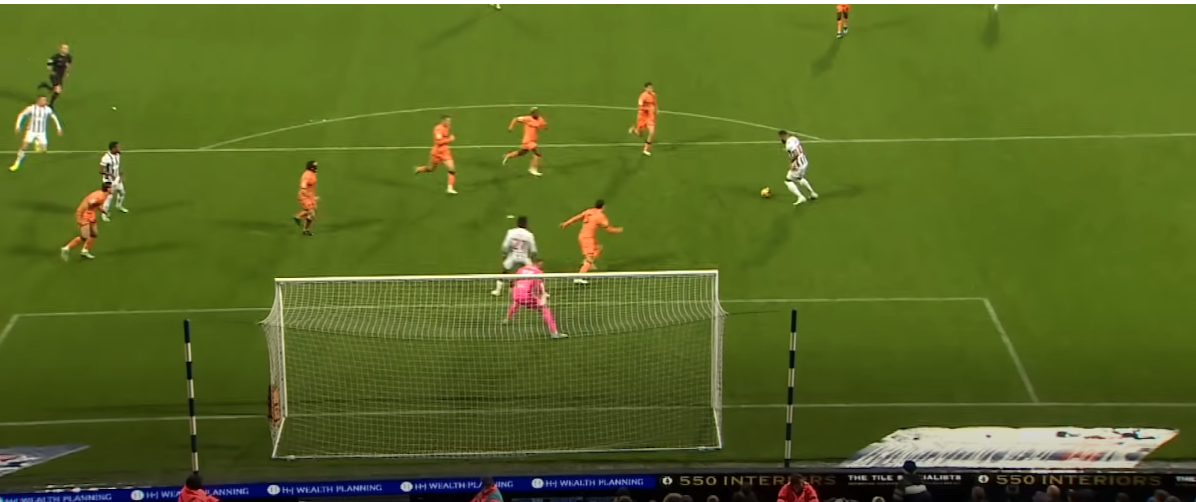 This sort of move happened a few times against Hull and the aim was to give Diangana the ball with space to run into.
The difference between Corberan and West Brom managers before him can be seen in these artificial transitions. It's no secret that Diangana is a threat on transition but Valerien Ismael and Steve Bruce lacked an effective method of creating it for him which meant he spent a lot of the time doubled up on facing a low block.
Confidence Against a Low Block
When Diangana joined West Brom on loan he talked of how the players bantering and the positive atmosphere around the club made him feel comfortable. Four years on that same positivity surrounds the club and it seems to be giving him the confidence to attack defenders one-on-one again. Players were often hounded by fans for losing the ball last season but now Diangana is given support from the crowd if he loses the ball attempting to take on a man. He showed the supporters how much that means when celebrating after their 2-0 win against Coventry City.
An edition of 𝗳𝘂𝗹𝗹-𝘁𝗶𝗺𝗲 𝗳𝗲𝗲𝗹𝘀 we're sure you'll enjoy. 🥰 pic.twitter.com/Mbkl29KTze

— West Bromwich Albion (@WBA) November 1, 2023
Dribbling Style
He very rarely uses his right foot when dribbling but his comfort using the inside and outside of his left makes him difficult to defend against. West Brom's preference of hitting the byline and cutting the ball back suits Diangana as he tends to shape his body to move inside of the defender before moving the ball to the outside with the inside of his right foot.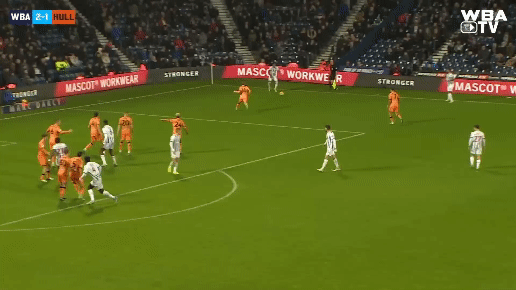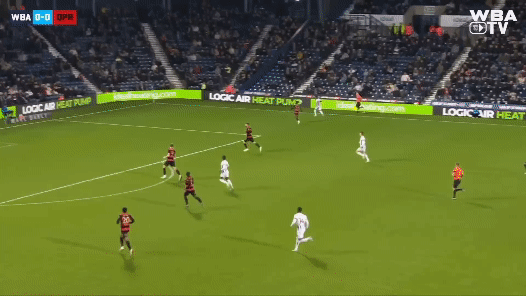 This method of dribbling has contributed directly to two goals in his last four games
Goalscoring Instincts
Diangana struggled when asked to perform solely as a goalscorer under Valerien Ismael due to teams defending deep in their penalty area and Ismael's style being heavily cross-based but he's beginning to show good instincts in the box. He's never been a great finisher but for his goal against Coventry, he followed in Nathaniel Chalobah's effort from range and pounced on the rebound whilst for his goal against QPR he timed his movement perfectly and got on to the end of a Chalobah cutback. He's shown signs of this before with his goal in West Brom's 3-0 win at home to Rotherham last season but it hasn't been implemented this consistently until now.
Conclusion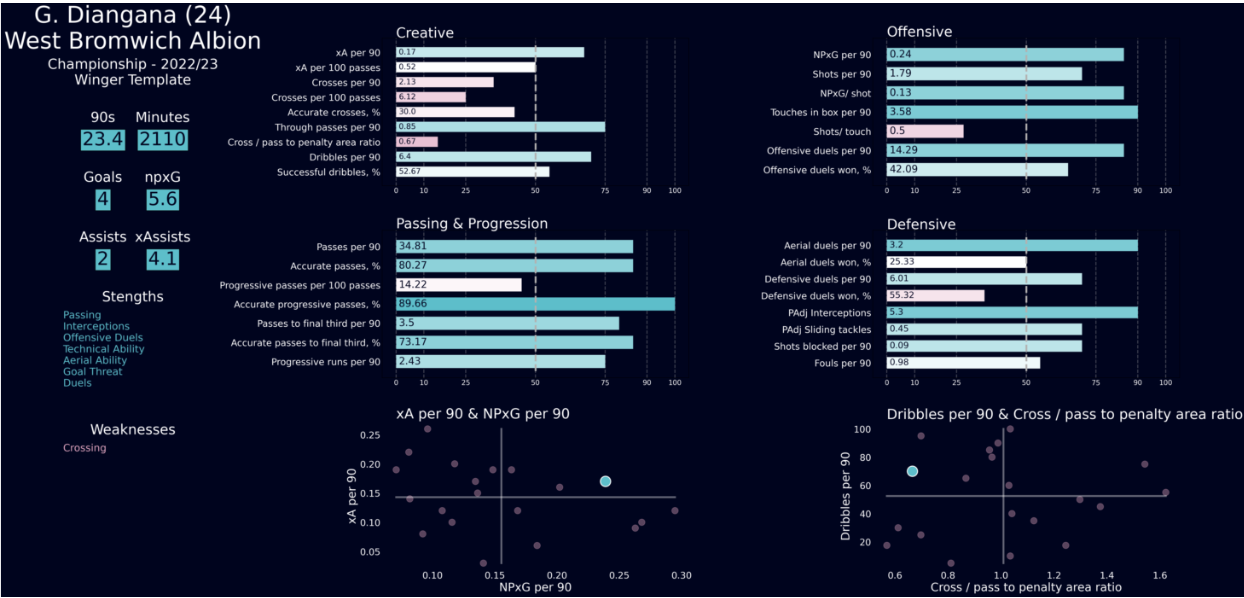 Grady Diangana percentile viz (Championship wingers with 23+ 90s) X – @analyticswba 
It's important to note Grady Diangana was playing fairly well up until his injury at the end of last season but this is the best he's played since his loan spell. The criticism had always been that he didn't affect the game enough but with him adding goals and assists to his game alongside a newfound confidence in one-on-one situations it's no surprise he's shining again. If West Brom can keep hold of him in January he'll be crucial in making any promotion dreams come true.
By: @rickyleegriffi2 / Ricky Lee Griffiths
Featured Image: @GabFoligno / Adam Fradgley / West Brom